We all like something free if we can get it and so does monkey. However, being one of the three wise monkeys he also knows that it is not often you get something for nothing. He does not want to speak out about services that do not charge if they are not worth considering, so he is keeping his hands firmly clasped over his mouth for the time being and asked us to look into them. So, if you are considering going with a free VPN provider but want to know more, read on to find what we discovered.
Have you thought about the free trials?
One thing we would like to point out is that you can choose to sign up for a plan with one of the leading VPN providers and take advantage of a free trial. This way you can benefit from all the advanced features and benefits offered to test them out and if you still decide you don't want to spend money you can get your money back.
You can get a plan without paying anything in the long-run as providers offer an unconditional money-back guarantee. This means although you initially pay for the service, providing you ask for your money back within the guarantee, you will not pay a single cent. You do not have to give a reason as to why you want to claim your money back and there is no hassle in getting it back.
You could take advantage of the money-back guarantee if you are taking a trip and want to unblock content abroad that is censored, or overcome geo-restrictions. These are two things that you usually do not get without paying for plan.
So, with this in mind we are going to look at three of the top paid providers who all offer a good money-back guarantee, along with providers offering gratis plans.
In this article, we are going to look at:
Why not paying may not be the best choice;
Why you might want to consider a paid provider;
Our choice of the top five free providers.
Why free VPN providers may not be a good choice
You can certainly take the no payment option if that is your choice and there are many out there. However, you do have to consider some factors if you do and you have to choose a provider wisely.
Not all providers offer the same quality service and this includes providers offering plans you do not have to pay for and paid. Therefore, it really pays to shop around, even when looking for a free provider. Some offer a great deal more than others do and of course, choosing a VPN is going to depend on how you want to use the service.
There is good (it does not cost you a cent) and bad with all providers offering plans that do not cost anything and here are some of the main pitfalls.
Restrictions and limitations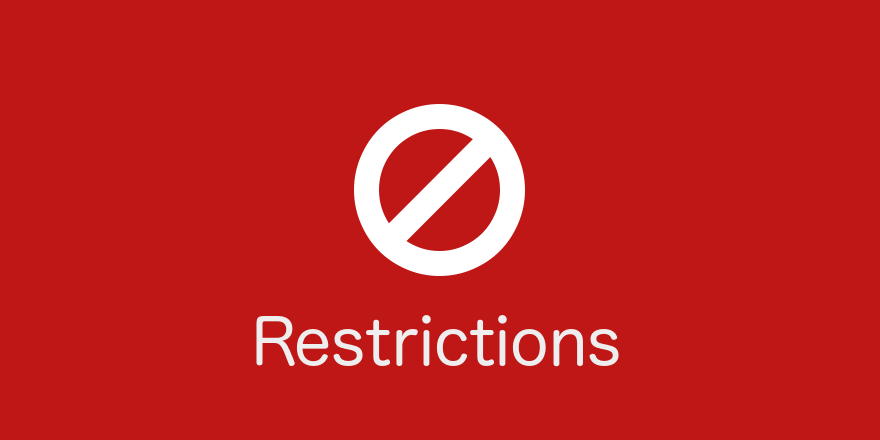 Free VPN providers have many limitations that paid providers do not impose. Generally, they put limits on bandwidth, allowing only a small amount per month. This is no good if you want to stream in HD.
The number of servers is usually limited to just a bare few, in many cases only one or two in a couple of countries. Paid providers on the other hand offer many thousands.
Speed is often restricted with the fastest speeds offered with paid plans if the provider offers them. Even without limits, the speeds are not the same as those offered by the top VPN providers out there.
Restrictions and limitations are also put into place on how many simultaneous connections can be used. Most paid providers allow people to use a plan on several devices at the same time, so all the family can use the plan. Plans from a free VPN provider generally only support one device.
Companies offering Virtual Private Networks that  won't cost anything do not have the money to work on apps and software for a huge range of devices as paid ones do.
Low security levels
Free VPN providers usually do not offer high levels of security offered by paid ones. Generally, fewer protocols are offered and the ones offered are less secure.
Paid providers generally offer a choice including OpenVPN, IPSec, L2TP/IPSec, SSTP and IKEv2/IPSec.
Most paid providers, including ExpressVPN, have AES 256-bit military-grade encryption to secure personal data via a tunnel. This is the best and most secure encryption out there making it impossible for anyone to read your data.

This is not a luxury provided by all providers out there. In addition, when using a service without paying you generally do not get benefits such as leak protection
With security being one of the main reasons people choose a Virtual Private Network, this is a real downside. It means that the connection will be less secure.
Lack of servers
Paid providers offer many thousands of blazing-fast reliable servers based around the globe. This is not something that providers that don't charge can offer.
Running servers around the world costs a great deal of money, which the paid provider gets back with subscription costs. Those offering a service without charging do not get an income, so generally only offer a choice of a couple of servers in just a few countries.
With only a few servers and countries to choose from you are not going to be able to use a plan for overcoming geo-restrictions or censorship using a free VPN provider.
Server connections are slow
As only a few servers are offered they can be congested, and this affects the speed. Therefore they are no good if you want to stream content or download.
When using a  service you are not paying for you cannot expect to get the same speeds as paid providers offer.
In some cases, even browsing the internet is a drag as the speeds are so slow.
Personal details may be sold
A big downside to not paying for a plan is the lack of a no-logs policy or having a questionable policy. The top paid providers all offer a strict no-logging policy, with ExpressVPNs being put to the test by independent auditors.
Providers have to get their money back by some means and one way is to collect personal details and browsing habits and then sell them on.
Essentially this means the provider tracks your online use, such as what websites you visit and what you purchase online. This information is valuable to third parties. If you see ads that reflect your browsing activity this is a sign that you are being tracked.
Bandwidth restrictions
Many free VPN providers restrict the amount of bandwidth used when using the service. If you want a service with no restrictions on bandwidth, your best bet is one of the paid providers.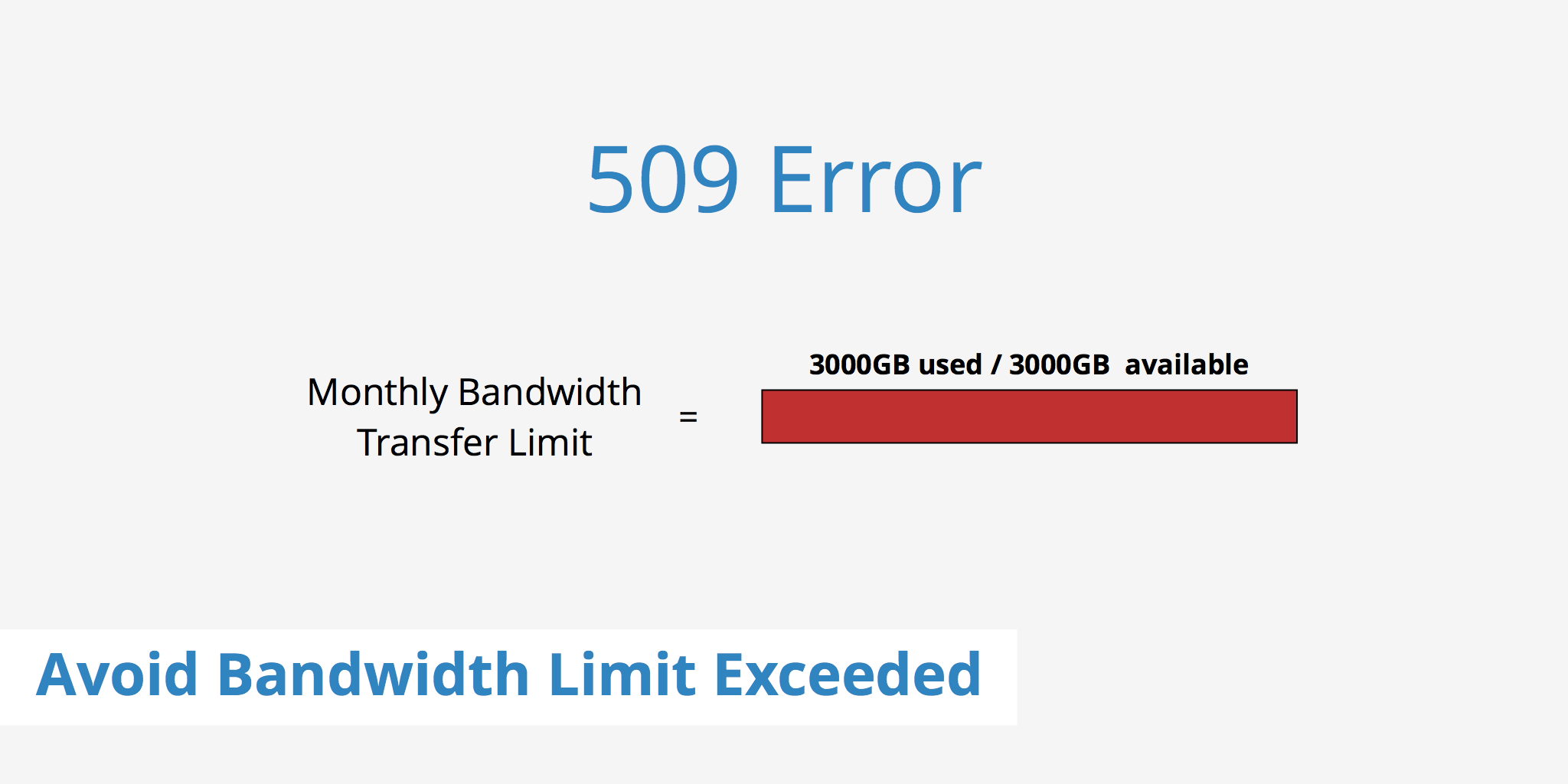 It is common for them to limit the bandwidth to as low as 500MB per month. Yes really, this low, what can you do with such a low amount? You certainly cannot use it for streaming or downloading.
No torrent support
Many people use a Virtual Private Network when torrenting. Torrenting in itself is legal; however, it is illegal to download copyrighted content. If you download copyrighted content, it can lead to fines as the ISP invariably finds out what you do online. To be able to torrent safely you need superb encryption, leak protection and a Kill Switch.
Without paying for a plan you can forget about torrenting. Along with this you usually are not offered the security of a Kill Switch.
Plenty of ads
One way free VPN providers get money back is to bombard you with ads. Ads can slow down your browsing experience but worse still, they can contain malware. Most free ones rely on pay per view ads and hackers use them to infect computers with viruses.
Logging
Paid providers take a lot of pride in offering a no-logs policy. This means the company offering plans do not track you in any way.
They do not track how you use the service, what you download and they do not save your personal details. The same cannot be said if you use a free service. This means you run the risk of the provider selling on your personal details or handing them over to authorities if requested.
Why pay for a VPN?
Before we move on to reveal who we think are the top best free VPN providers in 2021 out there, we want to talk about three of the best paid providers and what they offer.
One of the biggest reasons for choosing to pay is you get a plan with no restrictions that is safe, secure and reliable. However, as you will see below there are many more benefits and features.
ExpressVPN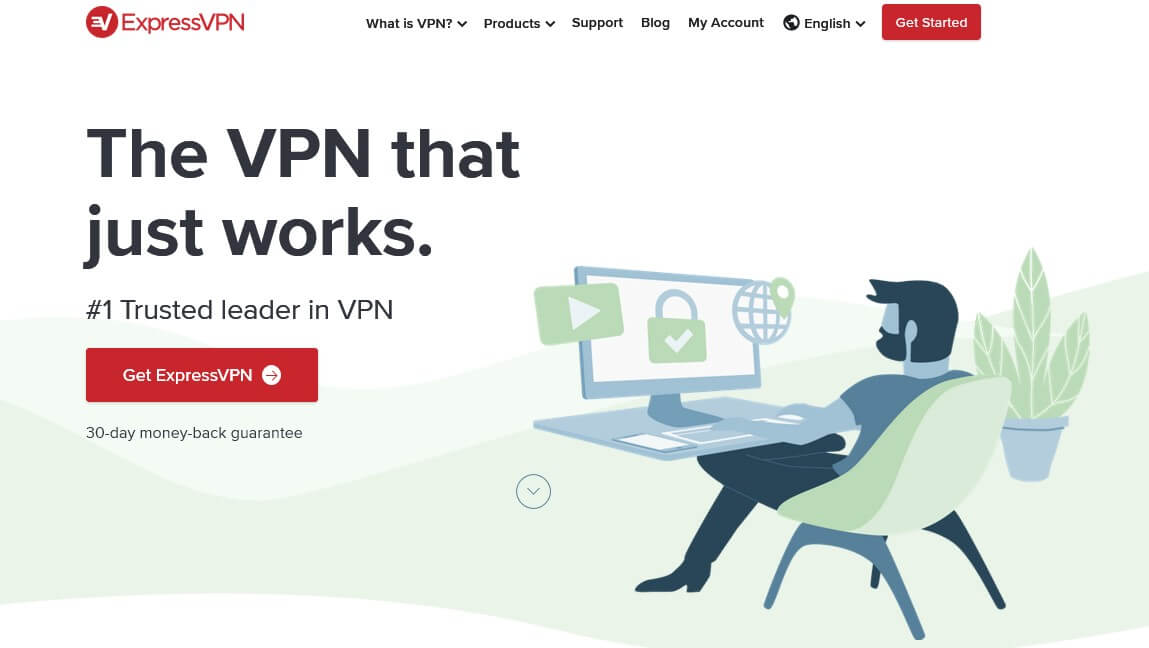 Comparing ExpressVPN with a free provider is like comparing a Ferrari with a beat-up second hand Hyundai. There really is no comparison, but it does show you the huge difference between the two.
ExpressVPN offers many thousands of blazing-fast servers located in numerous countries worldwide. You could choose a provider located close to your own country or one from halfway around the world.
This makes the provider a superb choice for overcoming geo-restrictions and censorship, as servers are secure and reliable. This is something that free providers cannot offer.
256-bit encryption is offered with plans, which is the strongest available. Plans also include a Kill Switch in case the server connection fails. This stops any information from leaking over the internet and is essential if you want to overcome censorship or simply protect your privacy and remain anonymous online.
In addition, unlimited bandwidth and speed is included, which means downloading and streaming is fast, even in HD. That's actually the area for which it's the best in 2021 !
ExpressVPN supports torrenting, so whatever monkey business you get up to when downloading you can be sure your ISP will not find out. This means you can download safe in the knowledge you will not receive a warning in the post about downloading copyrighted content.
With ExpressVPN, great discounts are available on yearly plans and to top it off you can get a 30-day unconditional money-back guarantee. This essentially gives you a 30-day trial; so, if you are not happy with the service simply ask for your money back.
The provider also offers a great level of customer service 24/7 courtesy of live chat, email, phone, FAQ and more. Something you cannot get with a free VPN provider.
You get our point. If you want to test our favorite VPN provider, just use its Free trial during 30 days and make your own opinion. You'll directly understand what you pay for.
NordVPN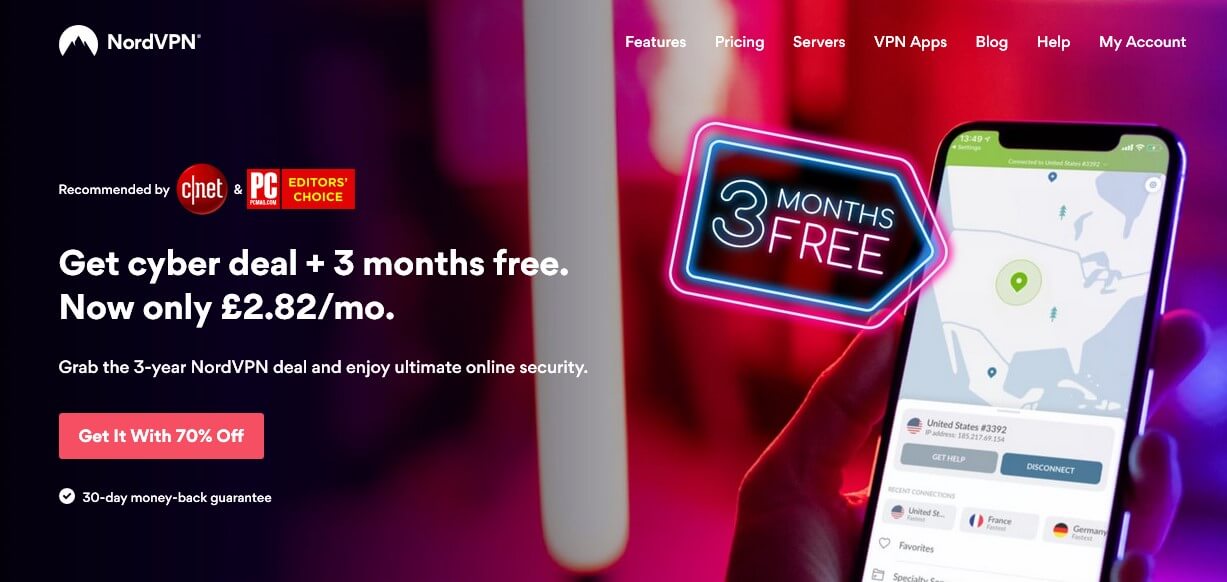 NordVPN is a close second also offering many thousands of fast worldwide servers with unlimited bandwidth, plus much more. Great savings on plans are made by choosing a yearly or longer plan.
For security, you get military-grade encryption and a Kill Switch. This means your personal details remain secure as even if intercepted no one can read it. With a Kill Switch in place, if the server connection is lost, your details remain safe as the internet connection stops.
NordVPN is a great choice if you want to unblock content and stream in HD. Thanks to the SmartPlay feature you can access streaming websites securely without having to take any extra steps. As the servers are fast and with no speed restrictions, there is no buffering.
Additional benefits offered in plans include being able to connect to two servers at the same time with double VPN. With this feature, you have doubled the protection and security. If you're looking for the best possible protection, this might be an excellent option !
NordVPN also offers a suite of tools built-in to stop malware, ads and tracking. The CyberSec feature offers enhanced security along with better performance as suspicious websites are automatically blocked not giving cyber threats a chance to infect your device.
By stopping ads your browsing experience is faster and the chances of ads infecting your device with viruses drops.
The provider does not log. Therefore, even if requested they cannot hand over any personal information about you.
NordVPN also offers a 30-day money-back guarantee with no questions asked and a good level of customer service 24/7.
As you can see from the features offered by NordVPN, you get a great deal more with paid ones than you do with free VPN providers.
CyberGhost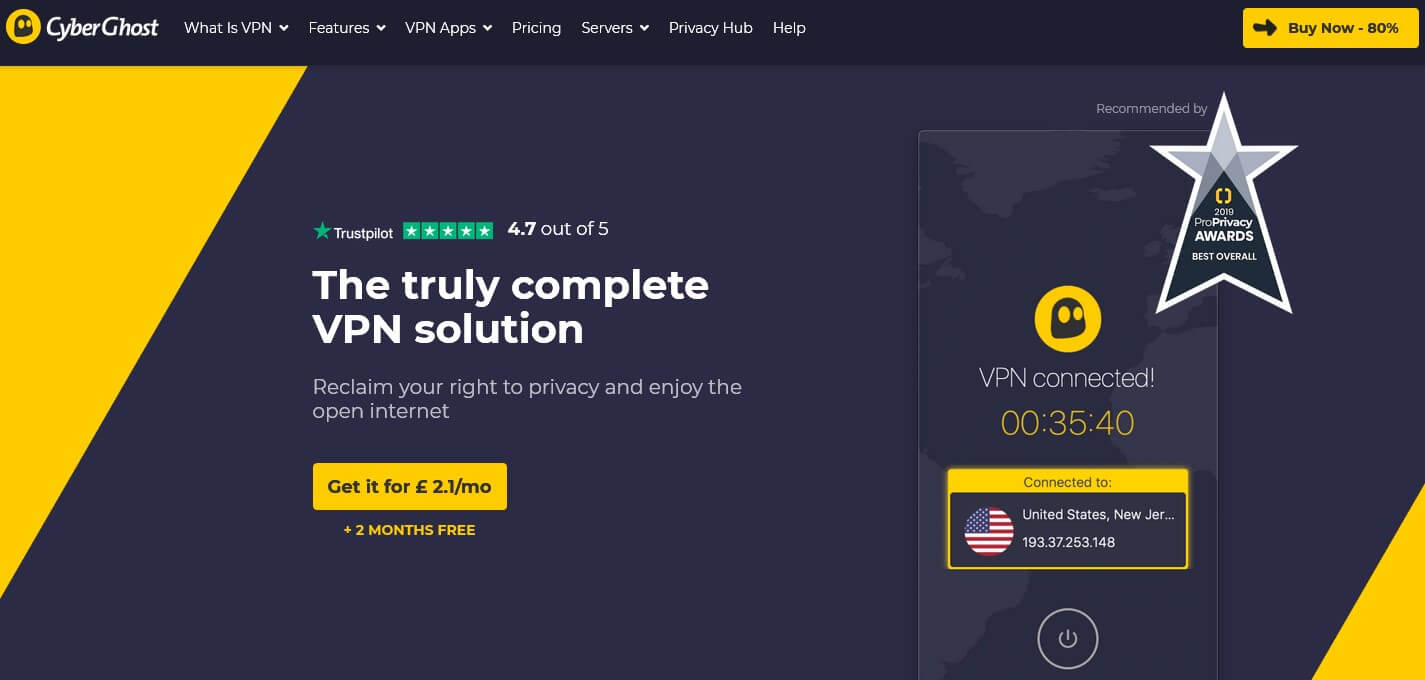 CyberGhost packs numerous features into plans including many thousands of worldwide servers and own their own datacentre.  The No-spy servers are operated independently, offering state-of-the-art encryption and there are servers optimized for torrenting.
With servers located around the world unblocking streaming services such as Netflix, Amazon Prime, BBC iPlayer and more is easy. What's more, CyberGhost offers servers specifically optimized for streaming, this means buffering is a thing of the past.
All apps are easy to use and with just a single click, you can mask your IP address and remain anonymous online. Using shared IP addresses it is impossible for your ISP to track what you do online. This means you can torrent anonymously.
CyberGhost plans come with an Automatic Kill Switch, unlimited traffic and bandwidth, DNS and IP leak protection and a choice of numerous protocols.
As expected from one of the best a strict no-log policy is in place.
The provider also supports a large range of devices, from Windows and macOS to FireTV and SmartTVs.
CyberGhost offers users a 45-day money-back guarantee so you have nothing to lose by trying the service. You can consider the 45 days as a free trial.
Finally, 24/7 customer support is offered via live chat and email..
Now that we have looked at paid providers and the numerous benefits and features offered, we are going to move on to what we think are the top free VPN providers. You can then make your own mind up whether you want to stick with your original plans and not pay out anything or choose to spend a few dollars per month for a more comprehensive plan.
Top 5 best free VPN providers
Now we will move on to talk about the providers who offer a Virtual Private Network with no subscription needed so that you can compare what they offer to the paid providers. None of the VPNs below cost anything unless you want to upgrade to receive more features and benefits. So what is the best free VPN?
They are all REALLY free ! Unless you want more, you won't have to pay anything. So just enjoy our selection starting with our favourite free provider, Windscribe.
Windscribe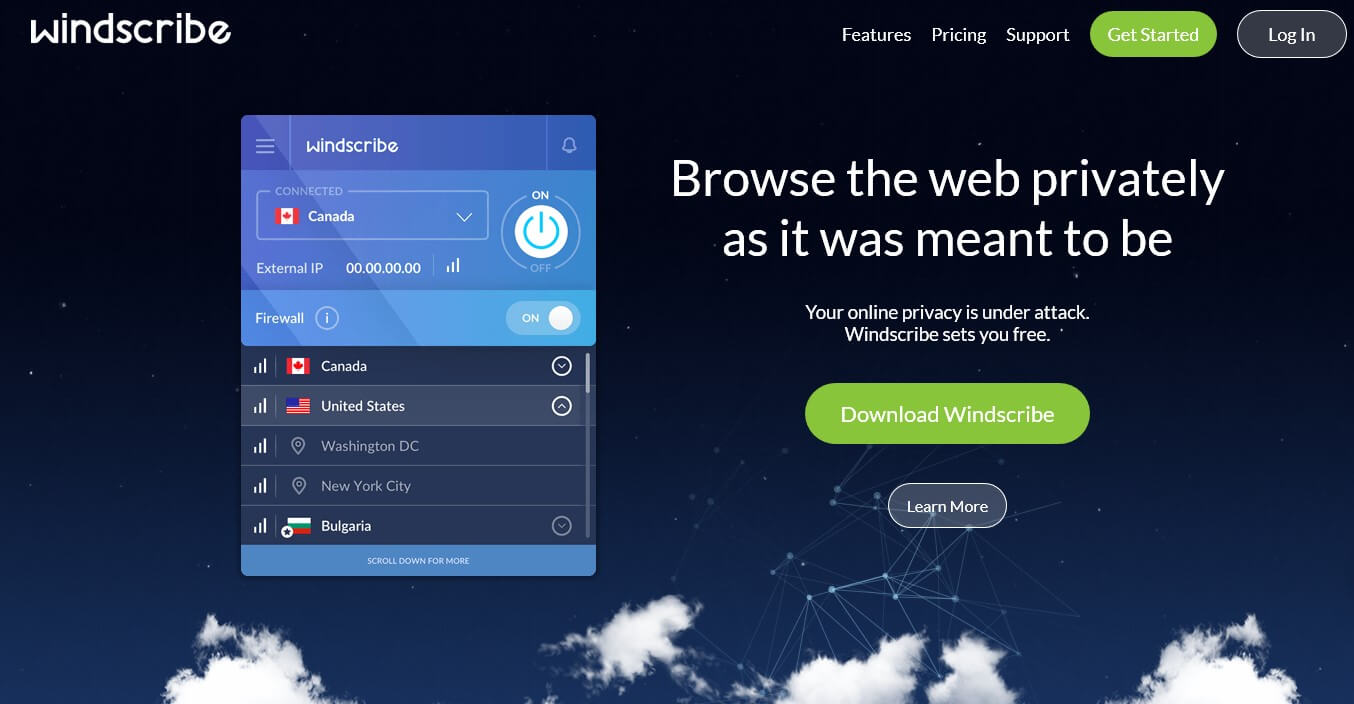 First on our list is Windscribe. If you have to go with a free VPN provider in 2021, this would be our first choice. Of course, they still cannot match up to the best of the paid providers.
Windscribe does offer some good benefits despite no subscription needed, although there is an option to subscribe and pay.
While many of the free ones out there severely limit the amount of data that can be transferred each month, this one is very generous. You can get 10GB per month of data providing you confirm your email address.
With Windscribe, you get access to servers in 10 countries around the globe. Paid plans from them offer access to servers in 60 countries and 110 cities.
Plans allow you to put an end to tracking and browse privately as the provider offers a good level of AES-256 bit encryption. Windscribe also offers a range of protocols for different devices.
Surprisingly for a free VPN provider, the company behind it does not log. If they do not log they cannot share any details about you.
One of the general features offered by Windscribe is a "server-side domain and IP blocking tool" known as R.O.B.E.R.T. With this feature, users can block malware, ads, trackers, social media sites, pornography, gambling and more.
With this feature enabled your browsing experience is faster as fewer ads are shown and you use less data. If you don't pay for a play you can use this feature; however, the only choice of blocking is for malware. Again, another restriction because you are not paying anything.
Windscribe offers support for a range of devices including Windows, Mac, and Linux, iOS, Android, browsers and more. All software is minimalistic ensuring they are easy to use. They can be downloaded, installed and run without any configuration.
Once installed you can set the program to run automatically on start-up and auto-connect to the last location used. Locations can be ordered by alphabetically or geographically to make choosing easy.
That's definitely the best free VPN provider right now. Try it and enjoy its great apps.
ProtonVPN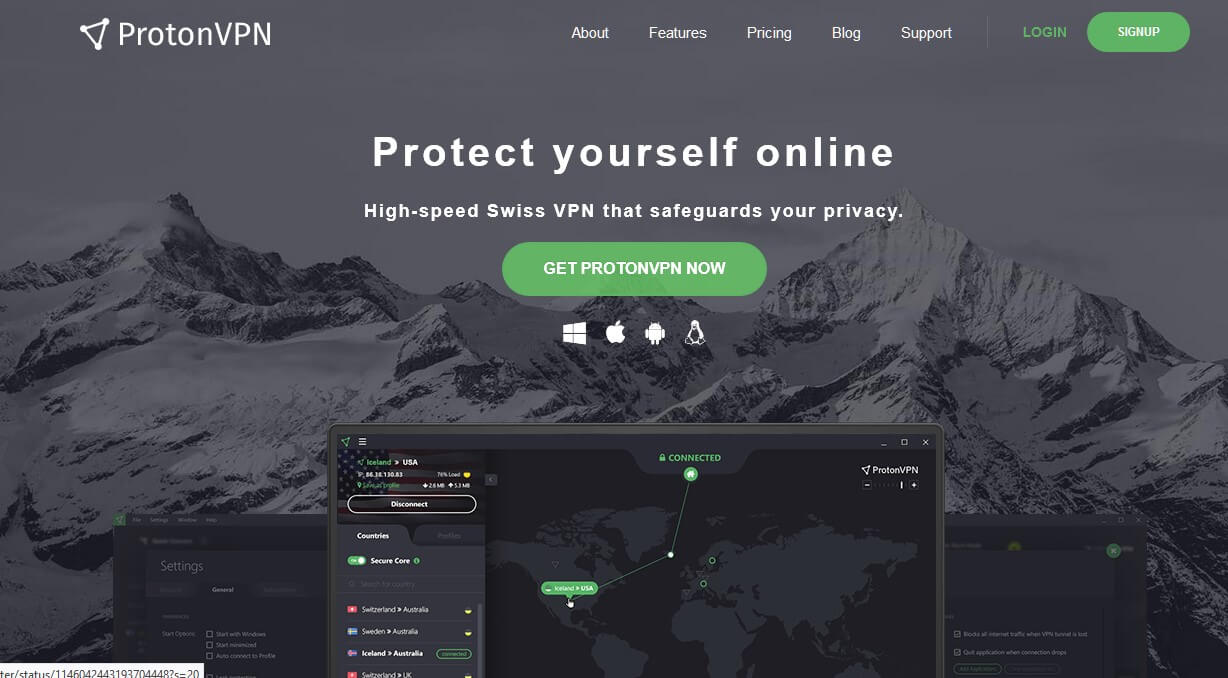 ProtonVPN is another good choice of a free VPN provider. However, choices of servers are limited. If you don't take out a subsciption the plan only offers 7. You can only choose from two US servers, two from the Netherlands or three from Japan.
All users can choose to use the "Secure Core" option, which provides additional security protection. It is also possible to create profiles offering options to connect quickly to one of the server choices based on certain protocols, countries and specific server without paying a cent.
Users can also choose to have the app run automatically and start minimized to the system tray on Windows. Along with this, the service can be configured to connect automatically on start-up. This can be to the fastest or a random server.
Surprisingly ProtonVPN offers a Kill Switch in all plans, paid or otherwise. This means internet traffic stops if the connection drops. DNS and IPv6 leak protection is also offered in the settings.
Another surprise is bandwidth. There is no bandwidth limit each month. Yes, you read it right, no limit. This makes it an excellent choice if you want to use it for torrenting and downloading but you do not want to pay.
However, there is bad news and this is the fact that the plan is not going to be suitable for using to overcome geo-restrictions or censorship due to the limited server choices.
TunnelBear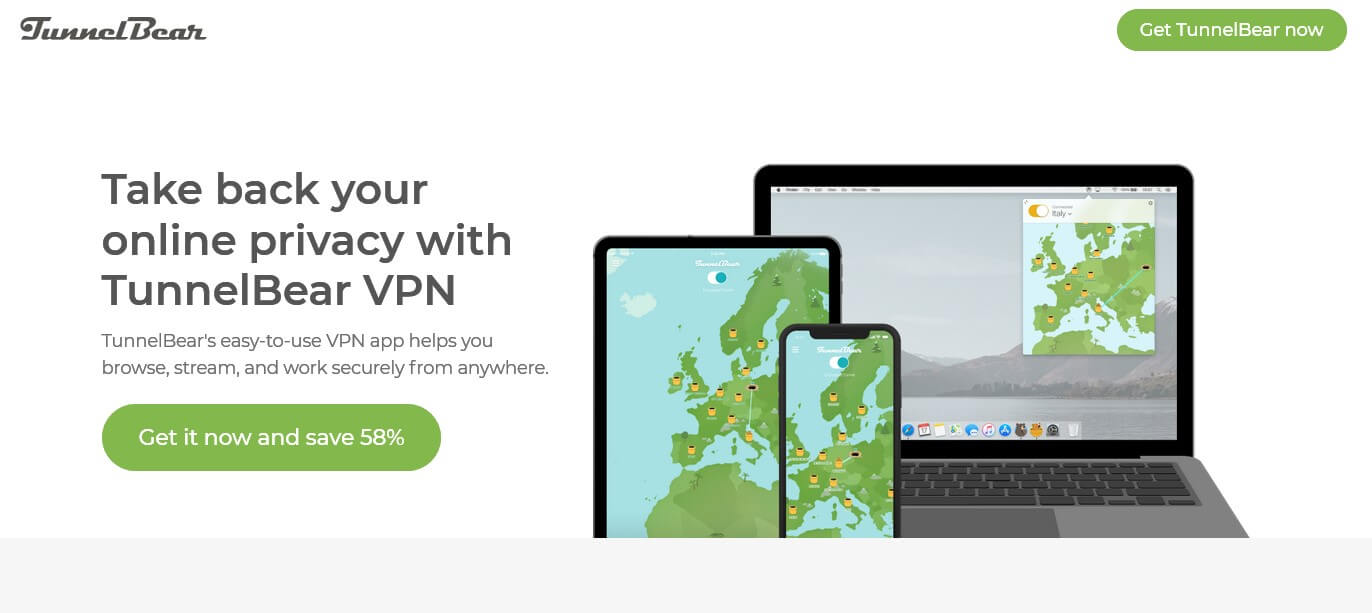 TunnelBear does not offer much by way of bandwidth each month at just 500MB. You will be lucky to get a week of web browsing, checking out videos and sending and receiving email with this limit. However, if you send a Tweet about this VPN provider you can boost this to a total of 1.5GB.
The provider uses strong encryption with the OpenVPN protocol and a choice of other protocols. There is also a no-logging policy and torrenting is allowed.
The apps are easy to install and use and software is available for Windows, macOS, Android and iOS, along with browser add-ons.
The apps also have a colourful interface, with a map showing the servers available and the amount of data left for that month.
The provider also offers a useful feature called "GhostBear". This makes encrypted data look like regular data and it is available for all users whether paying or not.
What stands out about TunnelBear is the number of servers for no cost. This is a huge 1,700 spread out over 20 countries.
Before you get too excited, there is bad news. It can take a long time to connect to servers and when you do, you find they are unreliable and drop many times per session. Ping times are also high and speed is nothing to get excited about.
TunnelBear offers a Kill Switch, which they call "VigilantBear". If you move between access points or the WiFi drops there is the risk of data leaking, thankfully, this feature prevents that happening.
Even though it's a real, 100% free VPN, it is way too limited because of its 500MB of bandwidth. Just watch 1 or 2 videos on Youtube and you'll be done for the whole month.
Hide.Me

Hide.Me is very honest about the fact that other Virtual Private Network providers offering gratis plans sell data, throttle speed, show ads and more. They are quick to point out that the plan from them is totally without cost, without any of the above.
The provider does not throttle speed and offers servers that are reliable with 99.9% uptime.
The bad news is that there is a choice of only 5 server locations. These are Canada, Singapore, the Netherlands, US East and US West. Another downside is only one device connection.
2 GB per month is the limit of data. There is not a great deal you can do with this small amount.
Hide.Me has a no-log policy and does not collect data; a leading independent security analyst has audited them. This means they cannot pass any personal information on if asked or sell it.
Customer support is available 24/7, including live chat, which is fantastic for a plan that does not cost anything. You might want to consider the VPN as a trial to try out the service and then consider upgrading for more benefits and features.
Hotspot Shield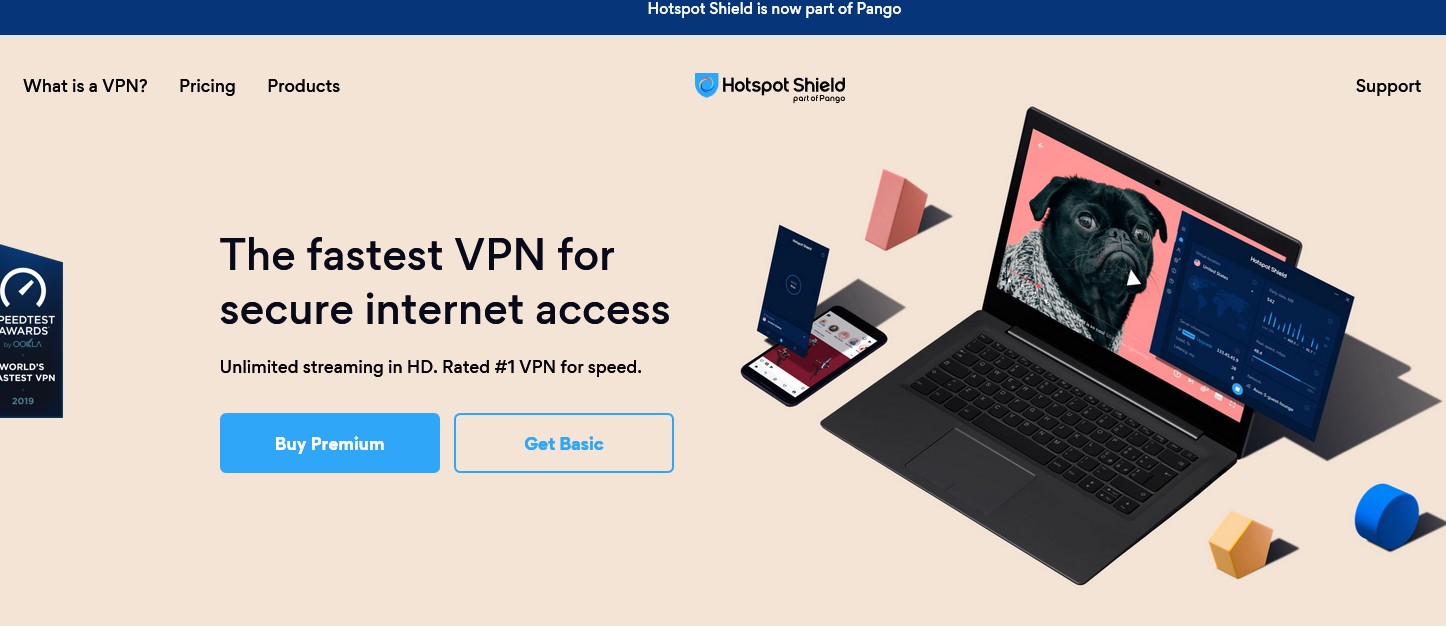 Hotspot Shield offers some great features including military-grade encryption and ultra-fast servers. Of course, do not expect the same speeds as paid provider ExpressVPN. Paid plans offer server access with up to four times the speed of those without charge.
Due to speed limitations and only country one available this is not a provider worth considering if you want to use it for streaming US Netflix or overcoming geo-restrictions. Another limitation is streaming is only available  in standard definition.
There are no server and country choices if you do not want to spend money. In order to access the many more in over 70 countries, you do have to take out a plan.
Hotspot Shield has their own proprietary VPN protocol with the name of Hydra and it is based on the OpenSSL library. The protocol offers performance and speed unrivalled among VPN providers offering a service without charging for fast and seamless streaming and gaming.
Hydra also includes a built-in malware database. This protects users from websites known to host viruses, malware and phishing scams.
Hotspot Shield has a no-logging policy. This means it does not log browsing activity and the company pride themselves on offering an annual transparency report to back up claims. It is ranked as the most transparent service on the market.
An unpaid plan supports just one device. However, paid plans from them offer up to five simultaneous connections at the same time. Software is available for Windows, Mac, iOS and Android.
Opera
Opera is a well-known web browser and it comes with VPN built-in. The downside to this is that it only works when you are using the web browser so it is not available for all devices.
The good news is that this free VPN provider offers unlimited bandwidth each month. To use the service there is no subscription or payment and you do not have to download any additional extensions.
As there is nothing to download to use the Virtual Private Network users just have to enable the VPN in the browser through Menu – Settings – Privacy – VPN.
An icon resides in the address bar giving you easy access to the VPN. It comes in handy if you want to turn the service off, just click the icon.
Opera VPN offers different server locations in countries; these are the Americas, Europe and Asia. In total, there are 10 servers from which to choose. While there is not a wide choice of servers, surprisingly it does unblock US Netflix.
Server speeds are relatively slow when compared to other providers. So, while the company behind it claims you can stream Netflix, expect to have to wait for buffering.
There are many downsides to Opera Virtual Private Network. There is no military-grade encryption.
You're gonna be tracked …
Another downside is this free VPN provider does track you. The privacy policy states the company uses a unique ID for tracking. Among the things tracked are the features you use, how often you use them, the runtime environment and UI session activity. This is not good news for anyone who values privacy.
Opera is more along the lines of a proxy service instead of full-blown VPN. It lacks encryption, you cannot use it for torrenting, and there is no protection outside of using the web browser. Leak protection is absent as is customer support.
The only good thing is the unlimited bandwidth and you do not have to pay.
Not having a no-log policy is a huge concern. Opera comes from a company in Norway. However, VPN services come from SurfEasy in Canada.
This sends out red flags as Canada falls under the Five Eyes Surveillance Alliance. This means countries share information. As Opera admit to logging some information, they might turn that information over to the Canadian government if requested.
All-in-all, it does mask your IP address and you take on one from the server. However, with data not encrypted anyone looking can see it
Finally, if you need help when using it you are out of luck. There is a button you can click on, called "Go to Help", however, all this does is take you to the browser help page and you can read about the VPN. There are no options. No chat, no phone number, contact form or FAQ page.
In conclusion
If you do not want to pay for a plan that is up to you. However, none of them comes anywhere close to the features and benefits you get if you choose to pay a few dollars per month to go with one of the best Virtual Private Networks out there in 2021.
So, now, monkey (and you) knows the best free VPNs to choose and the paid ones, and why you might want to consider a paid provider. Monkey can shout it out from the rooftops but of course, one of his siblings cannot hear what he is saying with his ears covered and the other cannot read this with his hands over his eyes. Not to worry they will work it out between them and more importantly, you have the information to decide whether to choose a paid or a provider that does not charge.
Enjoy the best VPN now by choosing ExpressVPN.