When it comes to underrated providers, we think that ProtonVPN is there at the top. Although not many European providers are very good, this one is, in our opinion, an exception to that rule. This provider focuses mainly on security, making it great for those in less secure countries. With tons of additional features to make your experience seamless, we thought it would be good to test it out. This is our in-depth review or analysis (whatever you want to call it) of ProtonVPN. We suggest that you stay with us because it's quite an interesting company.
What is ProtonVPN?
ProtonVPN is a well-known Swiss Virtual Private Network provider located in Geneva. Switzerland has been always a neutral country throughout history, and in 2021, the situation remains the same. This is an excellent ground for a service like this, especially regarding privacy and security issues
The company that owns the service is called Proton Technologies AG. It's the same company that stands behind ProtonMail. ProtonMail is yet another secure and encrypted email platform that the provider drew a lot of influence from.
If you scroll through some of the Reddit VPN-related topics, you'll see that this provider ranks pretty high. But, as many say, you shouldn't believe blindly everything you read on the internet. We are here to review it out for you and give you our honest and expert opinion about it.
In case you want to buy it right away, don't hesitate to press the button above. It will lead you straight to the provider's website where you can get a discount for your purchase.
Compatible Devices and Ease of Use
Having a VPN by your side on all of your devices is something we all want. Luckily, every provider supports at least a couple of platforms. ProtonVPN, fortunately, won't disappoint you in this regard. Here's a screenshot from its website, where supported devices are mentioned:

As you can see, all the major platforms are here. Windows, macOS, Android, iOS, Linux, and even routers. We'll talk more about routers later. Also, there's a Chrome extension that works great. But no extension for Firefox, unfortunately.
For now, let's focus on computers and smartphones.
Computers
Computers don't need to be desktops necessarily. It can also be your laptop. Whatever your choice is, the provider supports Windows, macOS, and Linux platforms. As always, we are going to show you the installation process and the app on some of these platforms. We'll use Windows 10, updated to the last version.
Upon purchasing the subscription, the provider will offer you to download the apps you need. Download the one for Windows and click on the .exe file to install it: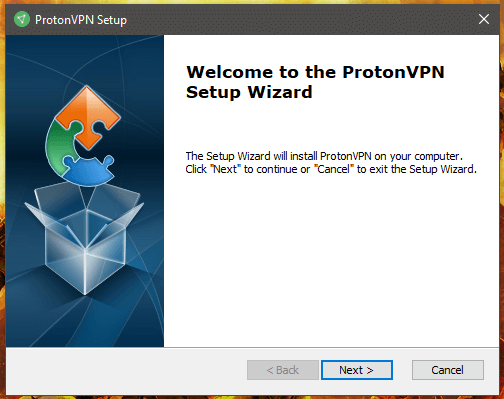 Click Next and select where you want to install the app. Then, this screen will appear: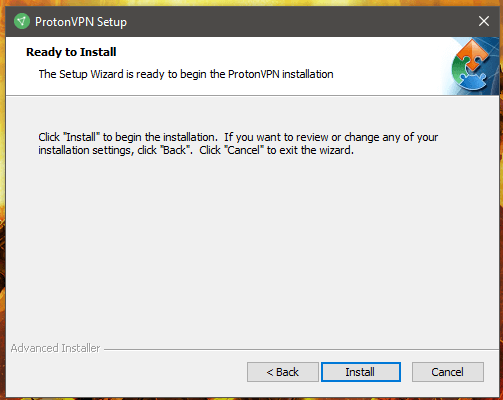 Click Install and your app will install in 10 to 20 seconds, which is very fast. Now, the app will open automatically and you'll be greeted with the login screen, as shown in the picture below: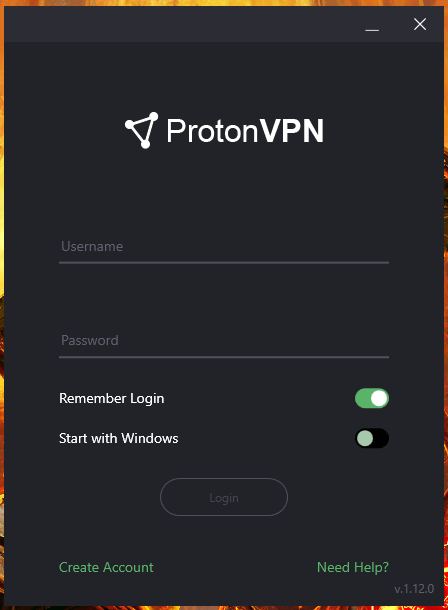 Type in your email and password, and click on Login. You can select or deselect the two options above. We've chosen to stay logged in and disabled Start With Windows option. Now that you're logged in, the app will show you a huge world map of available servers:
In the upper left corner, the app informs us that we're not protected. So, we went on and connected to the USA server, as we always do. You can connect either by using a world map or the server list on the left side. Here's how the app looks when the connection is established: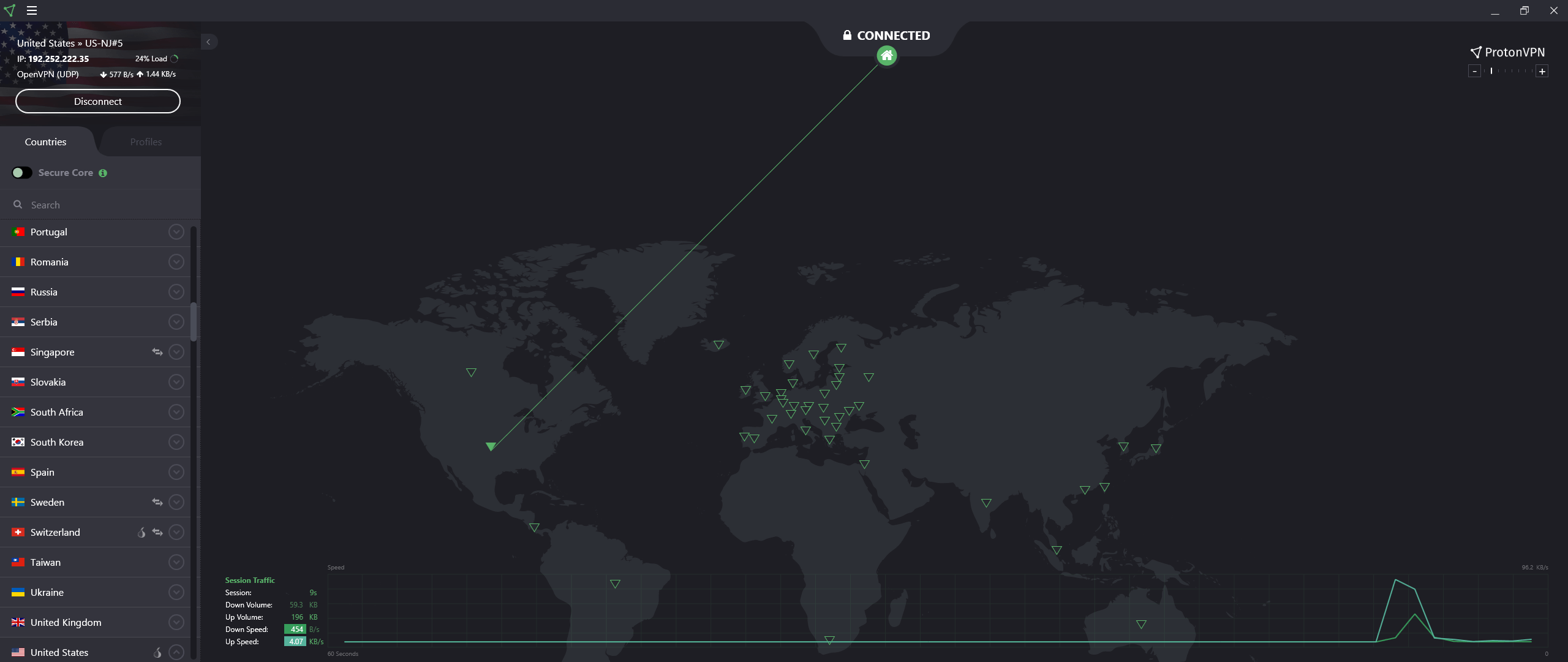 There's one more thing we wanted to mention briefly and these are the Secure Core servers. There's three of them on the map, as shown in the screenshot below: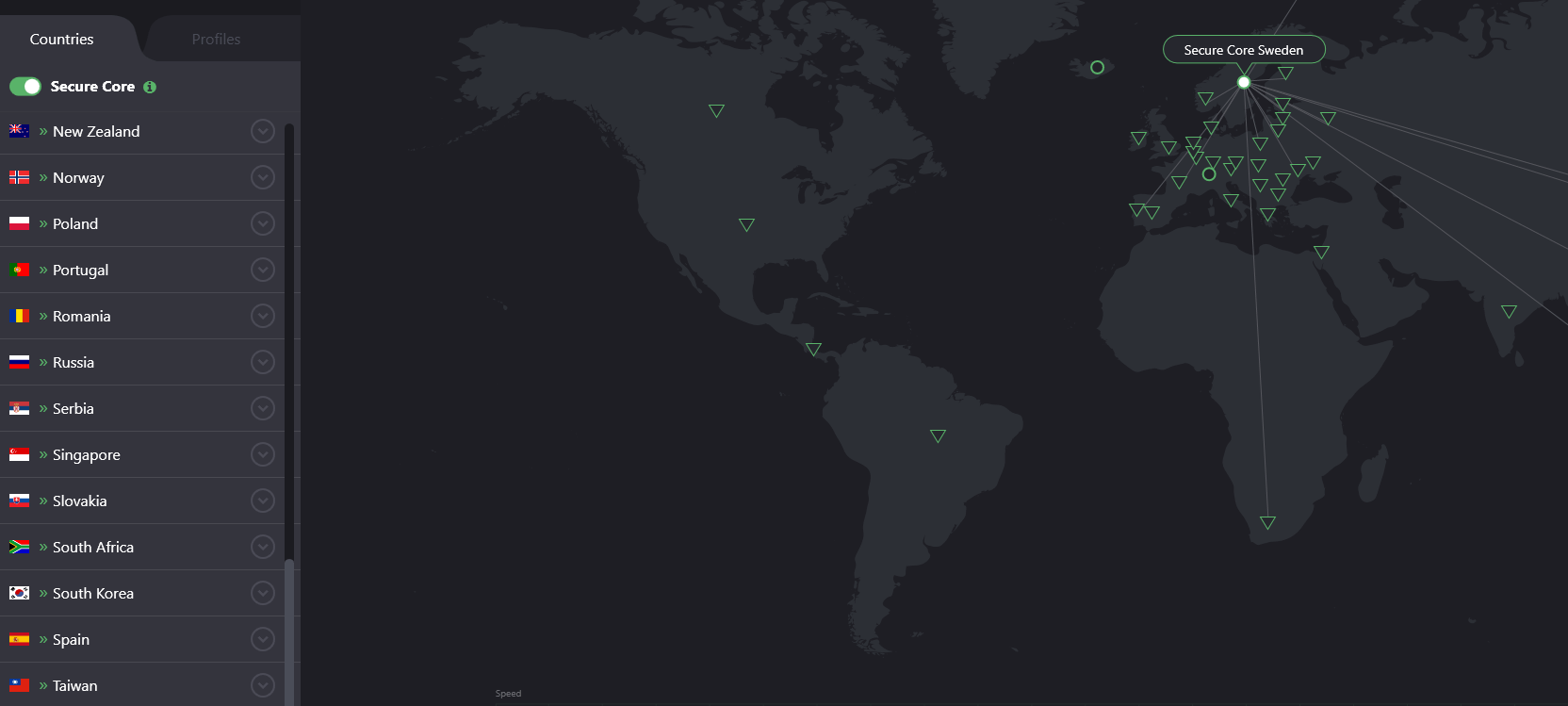 One is in Switzerland, one is in Sweden, and the last one is in Iceland. This is one of the best features of this provider that we're going to talk about later. All in all, connecting to the server of your choice is very simple with this provider, hence it's good even for newbies.
Smartphones and Tablets
It is important to note in this review, that ProtonVPN also supports smartphones and tablets. The supported platforms include Android and iOS. We'll use the Android phone to show you the installation process. For the start, you'll need to download the app from the Google Play Store. This step is in picture 1.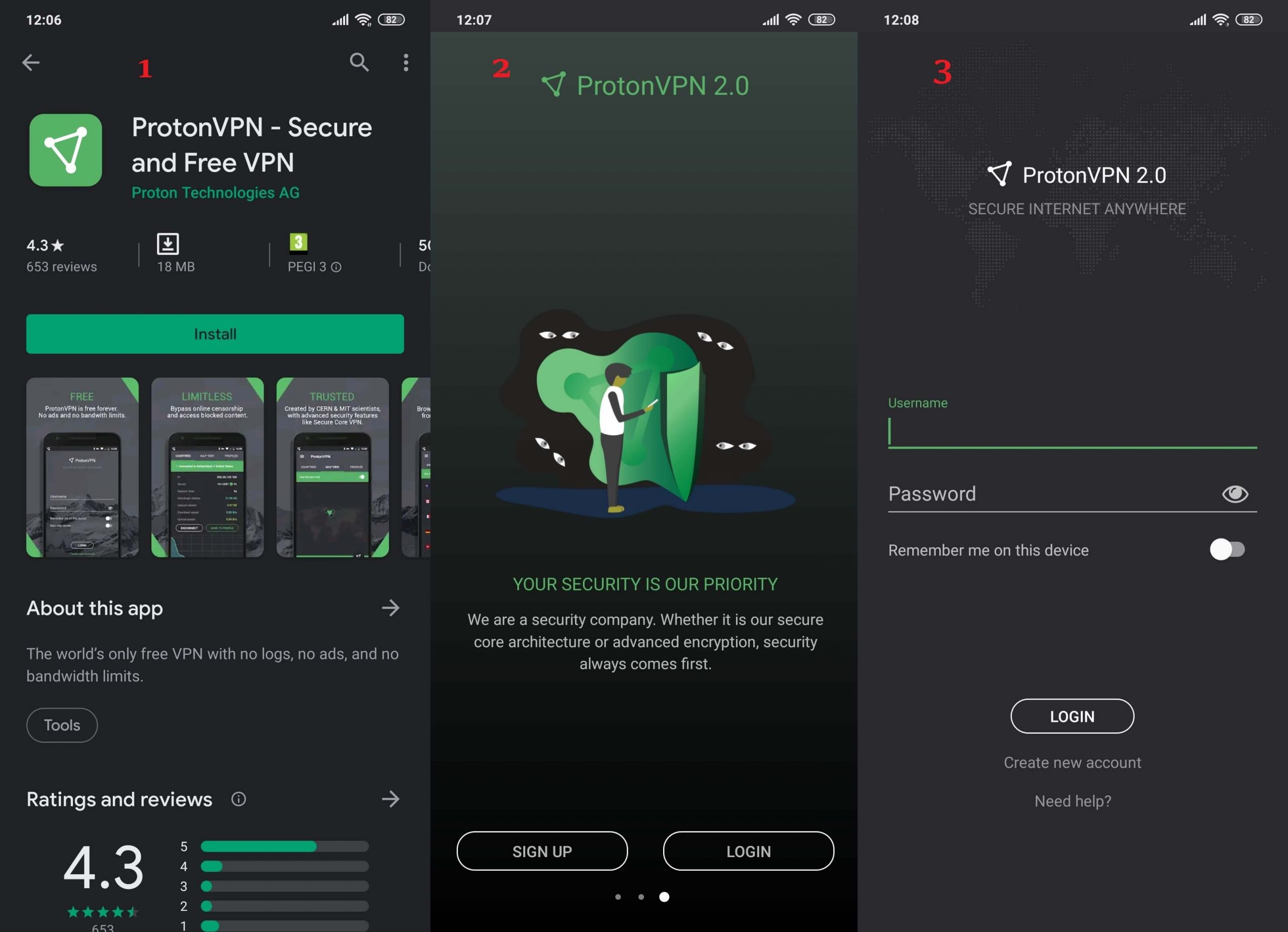 Picture 2 shows the app's initial screen. Click LOGIN and then, as shown in picture 3, type in your email and password. After that, you'll see the app's home screen that looks exactly the same as in picture 4.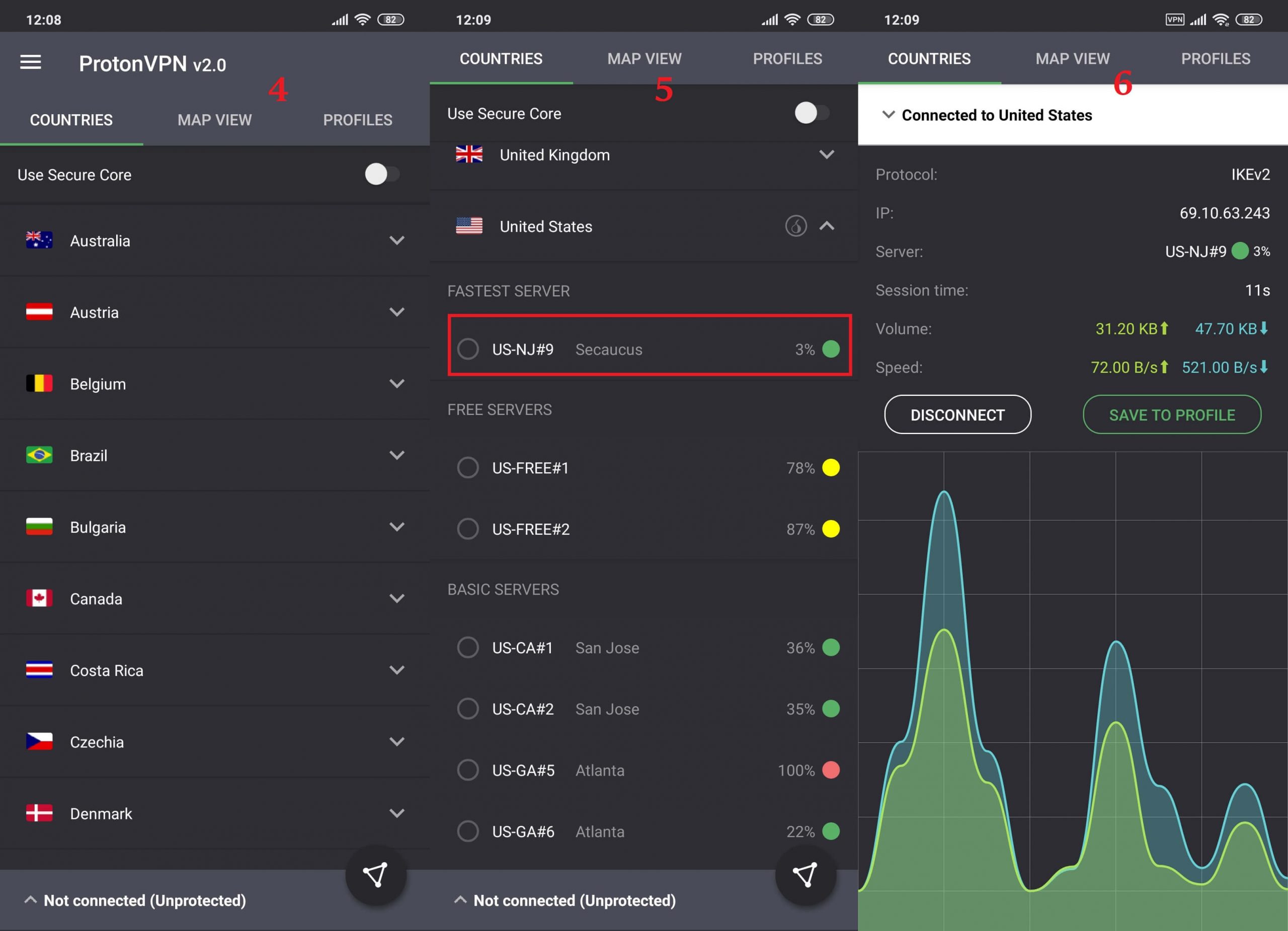 We scrolled down to find the US server. In picture 5, the server we used is omitted by the red rectangle. To connect, simply tap on the server and click Connect. Lastly, in picture 6, we established the connection and used the IP shown above.
To summarize, the smartphone/tablet app is very simple to use. You can connect within 30 seconds and enjoy your free and anonymous internet browsing.
Other Devices
ProtonVPN supports other devices e.g. the devices we didn't mention.
By other devices, we think about routers. Because, when you use it on your router, you're effectively covering 16 to 32 devices, depending on your router type. Although the provider offers a guide on how to set up the Virtual Private Network on your router, there's also a page where you can buy a supported one: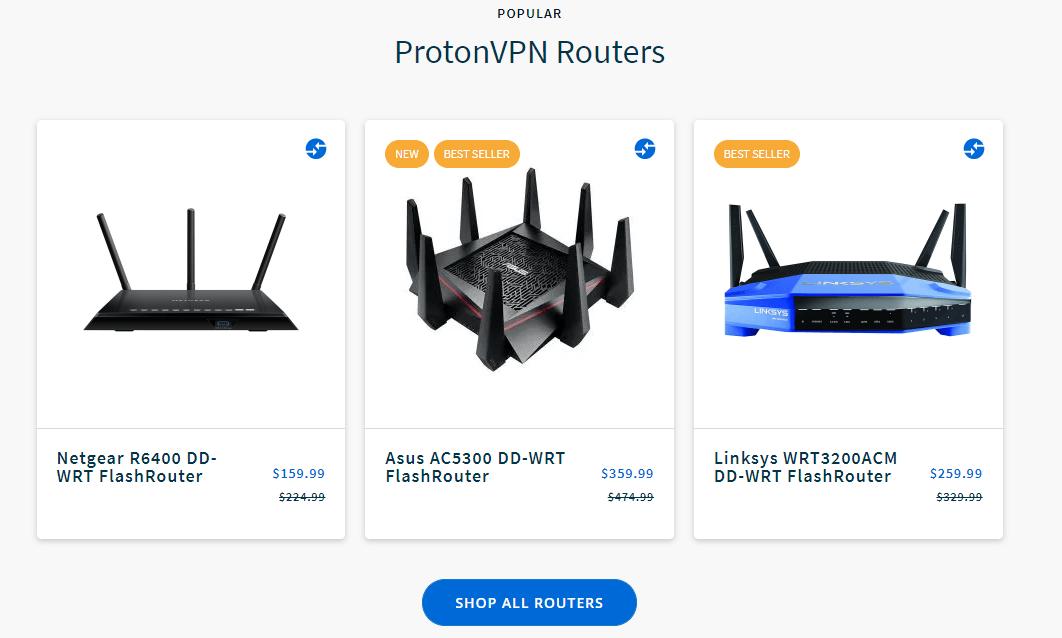 If you already have a supported router, you can install the VPN right away. However, if you don't have it, you can always buy one from the link above or use the provider's installation guide. Needless to say, every device connected to the router will be protected. Even your gaming consoles, Apple TV, Roku, Firestick or any other device.
How Fast is ProtonVPN? We Checked its Speed!
Before we talk more about the speed in this ProtonVPN review, there are two important things to mention. First, the provider offers several subscription plans that are mentioned below. These are Basic, Plus, and Visionary, with the addition of free servers for free trial users.
We used the Plus plan since the provider clearly states that it's their best offer. Speeds in Basic, Plus, and Visionary plans are marked as "High", whereas the Free plan is marked "Medium". Another thing is that all providers reduce your internet speed to some extent.
Some do it by 10% and some do it by 80% – of course, there's a huge difference. But, we must take into account that many factors play a role here. It can be your internet speed, the distance of the server you're connecting to, and many other factors. Here's how we did our tests:
We did 3 tests in the morning, 3 in the mid-day, and 3 in the evening, for 3 different locations – we also kept the best score. Furthermore, we connected to the best location among these 3, when the option was available.
Our physical location is in the USA (non-VPN test) and we used these 3 countries for testing:
The United States
The United Kingdom
Australia
Here are our internet speeds without using a Virtual Private Network active:
Ping: 11ms
Download speed: 211.88Mb/s
Upload speed: 202.20Mb/s
Now, when using ProtonVPN, these are the results we got for ping, download, and upload speeds respectively:
US server: 13ms / 174.20 Mbps / 180.77 Mbps

UK server: 91ms / 139.14Mbps / 97.10Mbps

Australia server: 285ms / 47.66 Mbps / 38.02 Mbps

In our native country, speeds were quite impressive. Our ping was almost the same, while we lost approximately 10 to 15 percent of upload/download speeds. The UK showed decent results, while Australia was, once again, the worst, although not very bad.
For instance, when using HMA or IPVanish, we received even higher ping and much lower download/upload speeds. To conclude this section, its premium VPN offers one of the best speeds on the market.
How Good is ProtonVPN for Streaming?
Streaming is a big thing nowadays. Everyone's going crazy about Netflix, Hulu, HBO, DAZN, 10Play or any platform you prefer. Of course, Netflix is a daddy of all these platforms, and as such, it's very important. If you've already bought a subscription without reading our review, you're lucky – ProtonVPN works flawlessly for Netflix!
We managed to access American, UK, Canadian, and Australian catalogs with ease. If you want to watch Witcher slaying throats of the beasts, know that looks amazing thanks to the Ultra HD available on Netflix, especially with a fast Virtual Private Network.
Also, thanks to its solid speeds, watching GoT in 4K directly from HBO Go was a breeze.
Other unblockable platforms include 10Play, Hulu, Amazon Prime, DAZN, and Disney+. Interestingly, we couldn't access BBC iPlayer, no matter what – take a look:
On the flip side, we accessed 10Play and Disney+ with ease. Take a look at our Disney+ screenshot below, using the USA server: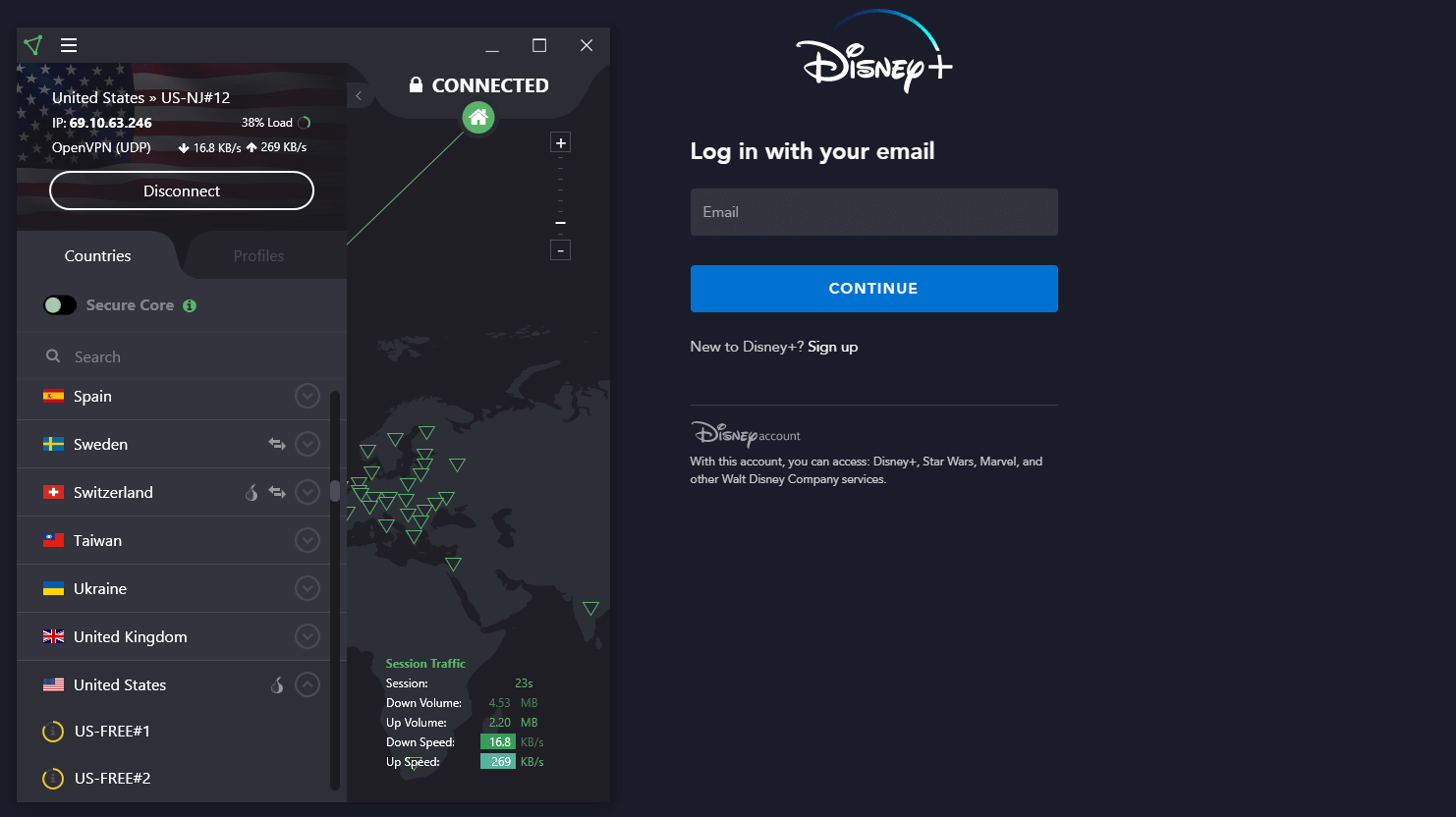 So, is ProtonVPN good for streaming? We would say so, albeit it's not great. Still, if you want to watch your favorite content on every platform (including Fire TV/Firestick), the provider will give you that possibility. Also its free application for the iPhone is really worth a try, so check it out.
Confidentiality, Security & Logs
The Swiss government is perhaps one of the best in the world. In case you're wondering, we aren't from Switzerland – we're just objective. The reason for this is that ProtonVPN is backed-up by Swiss law, especially when it comes to the zero-log policy.
Despite their zero-log policy being very short, it's crystal clear and tells you everything you need to know. Take a look below:

In short, they don't store any of your personal info, which includes your IP address, websites you visit, and so forth. The only thing they store is a single timestamp of your account's most recent login. With Swiss law standing firmly behind this, we are sure that the provider will never be forced to hand over the sensitive info to anyone.
Not to mention that Switzerland isn't a part of the 14 Eyes alliance, which makes it all the more secure. Before we move on to the next section, we need to do our IP leak test. Here are the results from it:

Compare the IP addresses from the app and the IP leak test and you'll see that they're the same. In terms of security, the provider also offers 256-bit encryption, multiple VPN protocols, an automatic kill switch, and a couple of bonus features we're going to talk about later.
Simply put, ProtonVPN is one of the safest providers in 2021.
Can I Do Torrenting Safely with ProtonVPN?
Since the provider is so safe, engaging in P2P activities shouldn't be a problem, right? Of course. There are two conditions that every provider should fulfill for anonymous torrenting – a zero log policy and P2P support.
While the first condition is fulfilled, the second one isn't to a full extent. The provider doesn't support P2P file-sharing on every server. To better understand which servers support it, evade free servers and those with # higher than 100. Fortunately, the server we used above supports P2P since it belongs to Plus Servers, so here are the results:

If you scroll back to the IP we used a few minutes ago, you'll see that it's the same one. This means that, if we want to download a game, we would be able to do that safely and anonymously. Of course, if a particular server supports P2P. If not, the provider will automatically redirect you to the supported server.
Can I Use ProtonVPN to Bypass Censorship?
Having military-grade encryption and lots of security features sometimes means that bypassing censorship is easy. This doesn't always have to be the case. When it comes to censorship, we talk mainly about China, albeit some other countries are also in this ballpark – Russia, Turkmenistan, Belarus, Iran, Iraq, and the UAE.
The Great Firewall of China is, even to this day, unbeatable by many providers. The provider, surprisingly, has 5 servers there but not every server is unblocked. Some still work decently, mainly because they're located in Hong Kong, which is a relatively free part of this country.
If you want to access local Russian or Korean content, know that you'll find some Plus Servers in this country. The takeaway is that ProtonVPN can bypass censorship in the vast majority of the countries. If you have problems connecting to the aforementioned servers, the provider's support will help you within a few minutes.
Pricing and Plan Options
A VPN doesn't have to break your bank to offer you some great performance and features. Is it the case with this one? Let's take a look at the screenshot below: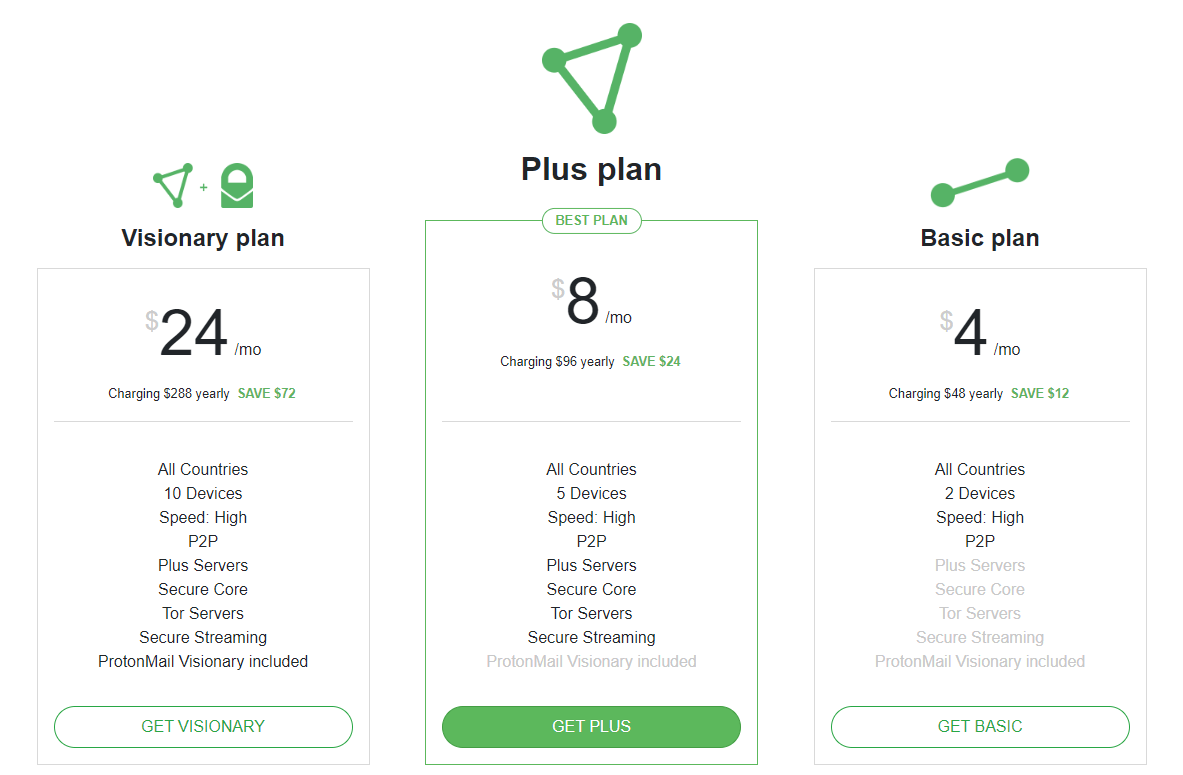 As you can see, this provider isn't exactly the cheapest, despite the applied coupon for discount. Let's start with the best plan in the middle – the Plus plan.
This one costs $8 a month for an annual subscription or $6.63 for a two-year subscription. In the first case, you'll pay $96 a year and in the second one, you'll pay $159 every 2 years.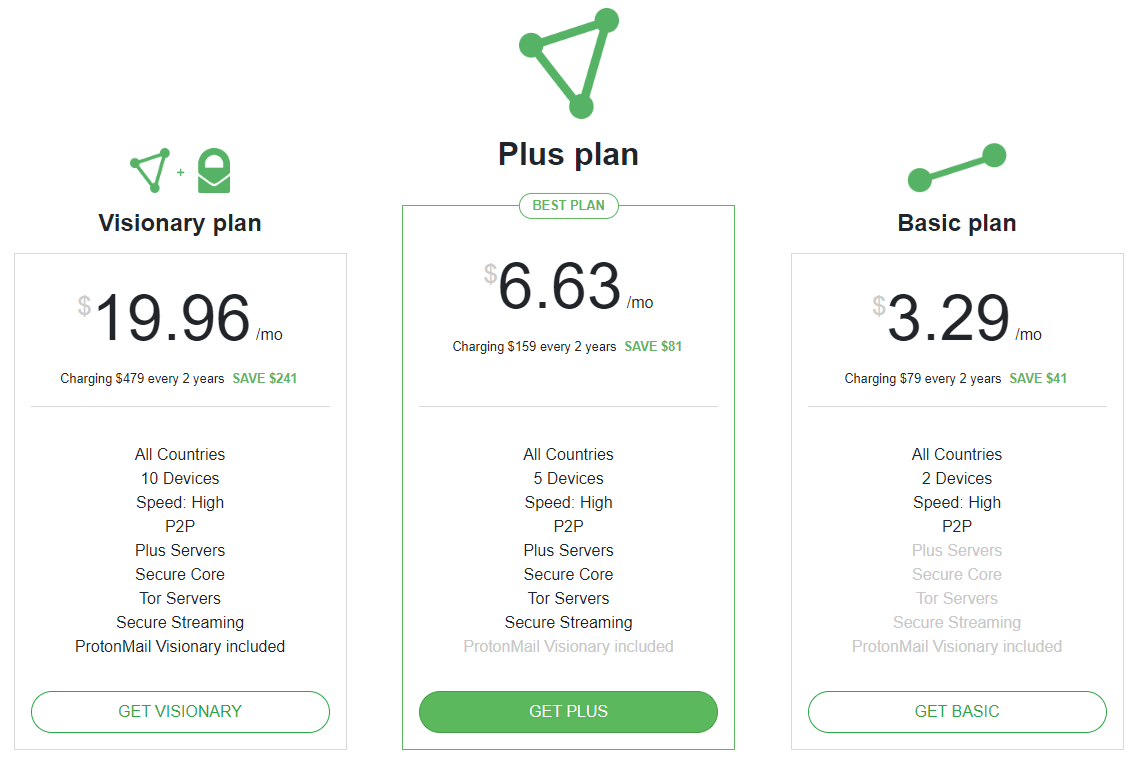 Surprisingly, this isn't their best plan, yet costs about the same as ExpressVPN, which is a better provider. In the screenshot above, you see what this plan offers – 5 simultaneous connections, P2P, and everything else, except the ProtonMail service.
The plan on the left is a Visionary plan and costs whopping $24 a month for an annual subscription or $19.96 for a two-year subscription. This translates to $288 yearly or $479 every 2 years, which is for many users VERY expensive. The only difference is that you get up to 10 devices and the ProtonMail feature – that's it.
Finally, there's a basic plan that offers fewer features. It's $4 a month or $48 a year and in the other case, $3.29 a month of $79 every two years. But, as you can see, you miss out on some of the great security features.
Don't get us wrong. ProtonVPN is a great provider. In fact, it is certainly one of our favorite free VPNs for Android. However, if you want to get all the important features, we suggest a Plus plan, which, as you can notice, isn't very cheap, even with a coupon.
And now, one of the biggest let-downs – the lack of live chat. So, if you want to use a 30-day refund period, you'll have to submit a ticket and wait up to 24 hours to get a response. Every plan gets a 30-day refund, except if you've bought the subscription from third parties.
How can I Contact ProtonVPN?
Speaking of tickets, that's the only way of contacting the company's customer service. There is no live chat support! You can do that by clicking Support in the top right corner and you'll get this screen: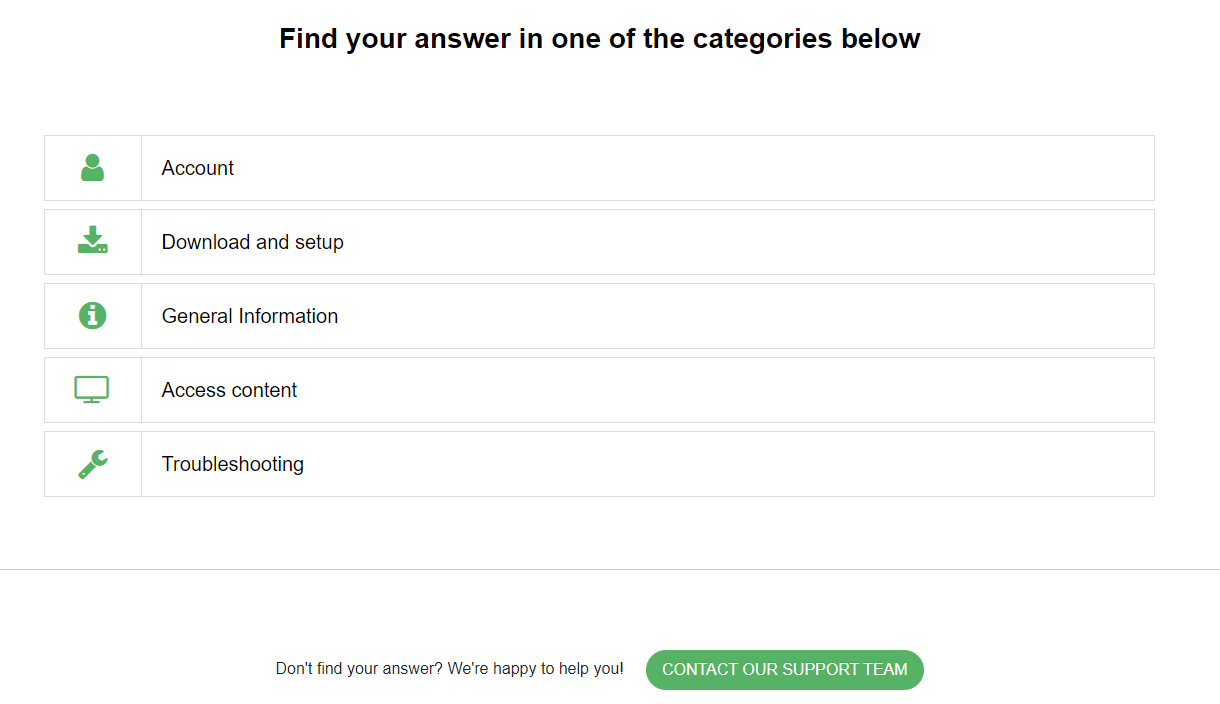 Now, you need to click on the green button below and the template for filling out the ticket will be displayed: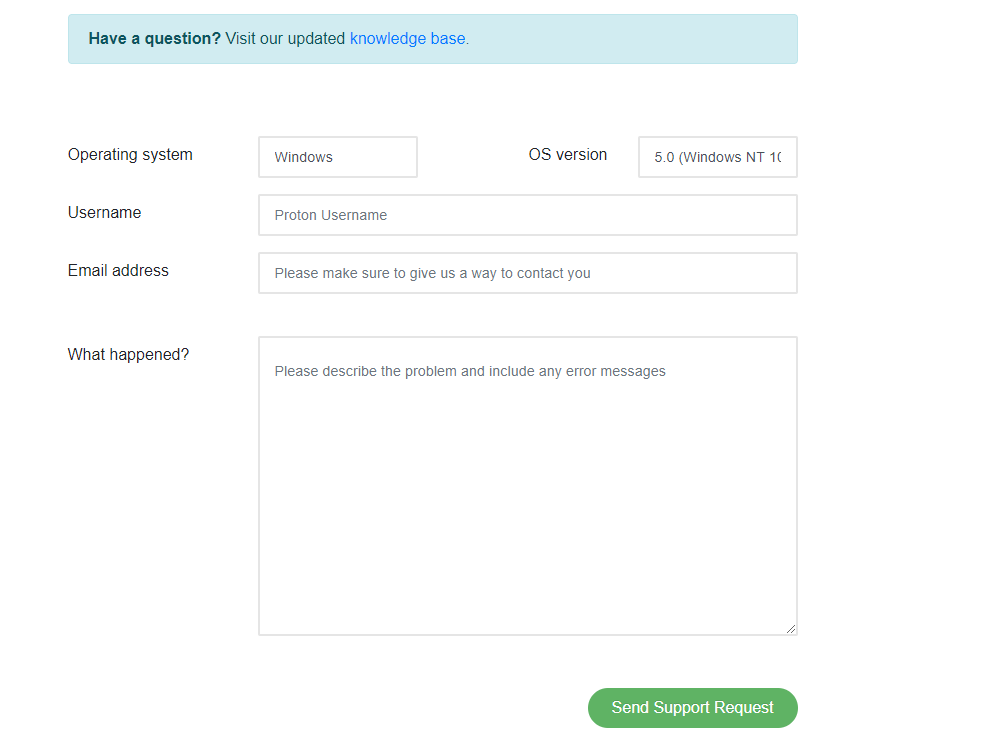 Fill in the blanks shown above and submit a ticket. Alternatively, you can use the FAQ section displayed above if you don't want a refund. At least, the FAQ is good and informative.
The Special Functionalities
We mentioned a few minutes ago in our review that ProtonVPN has some great special features. Well, we didn't lie. Here's what you get:
Secure Core
Secure Core is such a unique name for an amazing feature. Despite not being unique, it works in favor of the provider, enhancing your security and privacy online. Simply put, it's here to defend you from network-based attacks by routing your traffic through several servers before leaving the provider's network.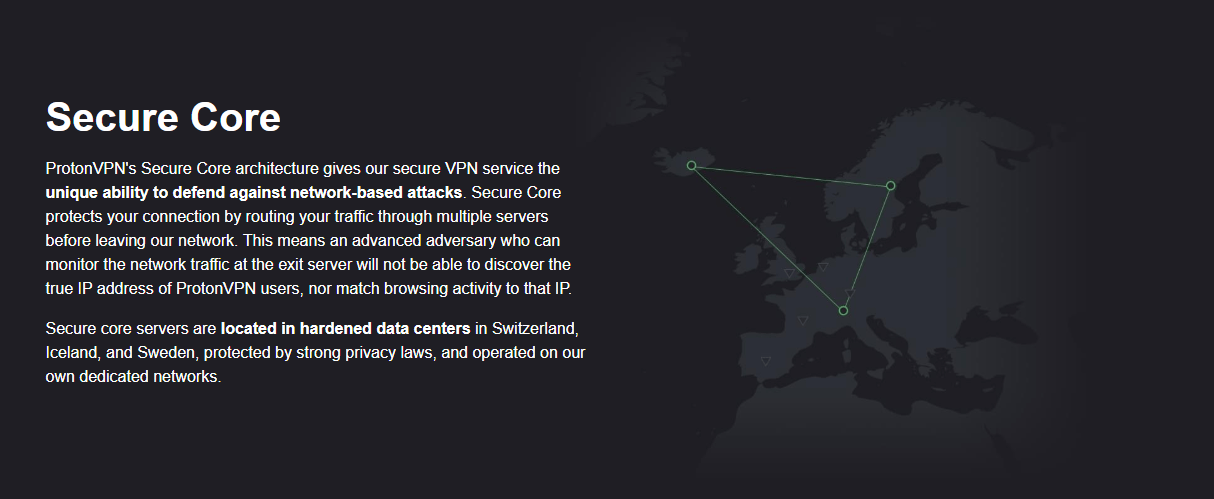 This is a great feature because it prevents your ISP or the government from tracking you and finding out your real IP address. As mentioned before, the servers that support this technology are located in Sweden, Switzerland, and Iceland, operated by the provider.
Forward Secrecy
Forward Secrecy is yet another security-oriented feature that works flawlessly. It's here to prevent your traffic from being captured and decrypted if the encryption key from your session gets compromised. The way they do it is by generating a new encryption key for each connection you establish.

By doing that, the provider prevents the key from being used in other sessions. Accompanied by 256-bit AES encryption with 4096-bit RSA, this is one of the strongest security systems we've ever seen in a VPN.
Other Things You Should Know
Before buying a subscription from any provider, it's important to know all of the tiny details about it. Let's talk about things that we didn't mention in the article:
Number of Servers
One thing that you might see as a downside is the relatively small server count. The screenshot below is straight from the provider's website.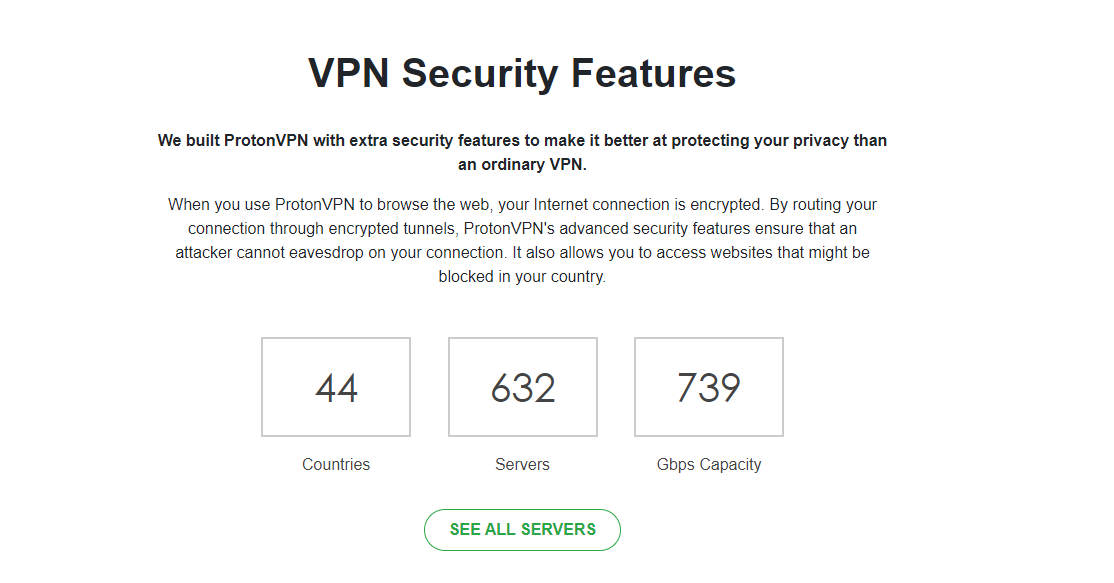 As you can see, they offer 632 servers worldwide. Compared even to smaller providers such as Hide.me, Surfshark or HideMyAss, it's still smaller. But, as we said earlier, these servers are secure and fast, so it should make up for the lack of servers.
Number of Countries
From the picture above, you can see that the provider offers 44 countries to choose from. While it's not the highest number, we're glad that you get the most important countries. These include the UK, the USA, Australia, Germany, Switzerland, Belgium, Russia, China, and many more.
Number of Simultaneous Connections
The number of simultaneous connections depends on the subscription plan. In a Plus plan, you get 5 of them, in a Visionary plan, you get 10 of them, in a Basic plan, you get 2 of them, and finally, the free plan gives you just one device.
What do Other Users Say About ProtonVPN?
We'll now take a look at some of the comments online about this provider. Getting an opinion of other users is crucial to get a full picture of the company. So, let's start from Reddit, where the provider is almost always praised:

This is a short review that praises the stability and the speed that ProtonVPN offers. But, that's enough for many potential buyers to know. Now, let's see what the mobile users say, starting from the Apple Store: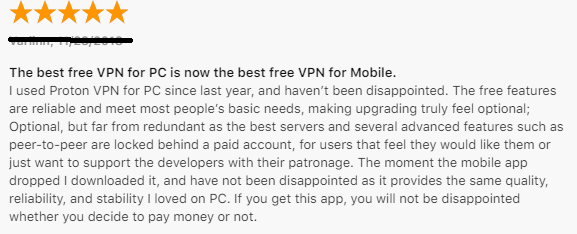 Although it's a bit longer review, the moral of the story is the same. This user used the Apple and PC apps and didn't have any problems. But, does the provider works great on Android devices? Let's see:

This review was left for a December update version of the app but nevertheless, it's very important. The user says that it's the best premium provider for him, although he dislikes not having an option to pay with Google Pay, and he isn't willing to use Bitcoin. He finishes by still recommending it and giving it a 5-star review.
Finally, there's a review from Trustpilot:

The user says that the provider is excellent but with a caveat – the expensive price. He also said that he would like to see more servers and countries, and we share that opinion with him.
Conclusion: Should You Take It?
When you see ProtonVPN online, you can immediately recognize it. Despite not being as popular as the largest providers, it's unique. Its interface is beautiful, the device support is overwhelming, and you get some solid speeds. Despite what we just said, is it worth a dime?
Yes, it is – if you want one of the safest providers on the planet.
With the Secure Core technology, military-grade encryption, and a no-log policy, you get everything you need for safe and secure internet browsing. The pitfalls are that the provider can't unblock BBC iPlayer and that it doesn't have a live chat feature.
Other than that, we would say it's a great and reliable provider. If you want an even better one, try ExpressVPN. It's our top-rated VPN!