Aside from security and privacy, a Virtual Private Network can offer a lot in terms of performance. Those who often encounter ISP throttling can improve their internet speeds. And on the other side, you can avoid government surveillance and censorship in every country. However, our main concern today is speed. Because of that, we've devoted our time to carefully test and evaluate every provider. There are a lot of benefits to having a blazing-fast VPN. You can stream, torrent, and browse the internet effortlessly. That being said let's check our 7 best picks for the title of "Fastest VPN in 2021".
Fastest VPN Providers in 2021 – Top 7 Picks
Let's get something out of the way. All providers will slow your internet to some extent. That's a small price you'll have to pay for being safe and secure online. Depending on your choices, however, it can be a big price, if a provider is very slow.
Just for the reference, our internet speed is 250 Mbps in download, and 150 Mbps in upload. This is the internet speed without a VPN activated.
Using a fast VPN for streaming is very beneficial, for example. It allows you to bypass geo-restrictions and enjoy favorite Netflix shows. We'll talk more about other benefits later, though.
For now, let's see what are the best options for speed in 2021:
1. ExpressVPN
ExpressVPN is, by far, the best option in 2021. It's very fast and allows you to perform your day-to-day internet activities swiftly. We tested it for streaming, torrenting, and casual internet browsing. Needless to say, every activity was a breeze. You can find more about our test results below.
Server in the US (New Jersey) : 247 Mbps / 139 Mbps

Server in Europe (Germany) : 193 Mbps / 130 Mbps

Server in Australia (Melbourne) : 105 Mbps / 49 Mbps

What about other features? Well, ExpressVPN manages to make us happy every single time. For the start, you get a no-log policy, which is a very important feature. The provider is stationed in the British Virgin Islands, far away from the 5 Eyes alliance, so they're not forced to keep logs.
Military-grade encryption is also there and is accompanied by a few more useful features. These include a kill switch, DNS and IPv6 leak protection, and split tunneling. The last feature is a very useful one. It allows you to choose which part of your traffic will use your native IP, and which one will use the fake IP.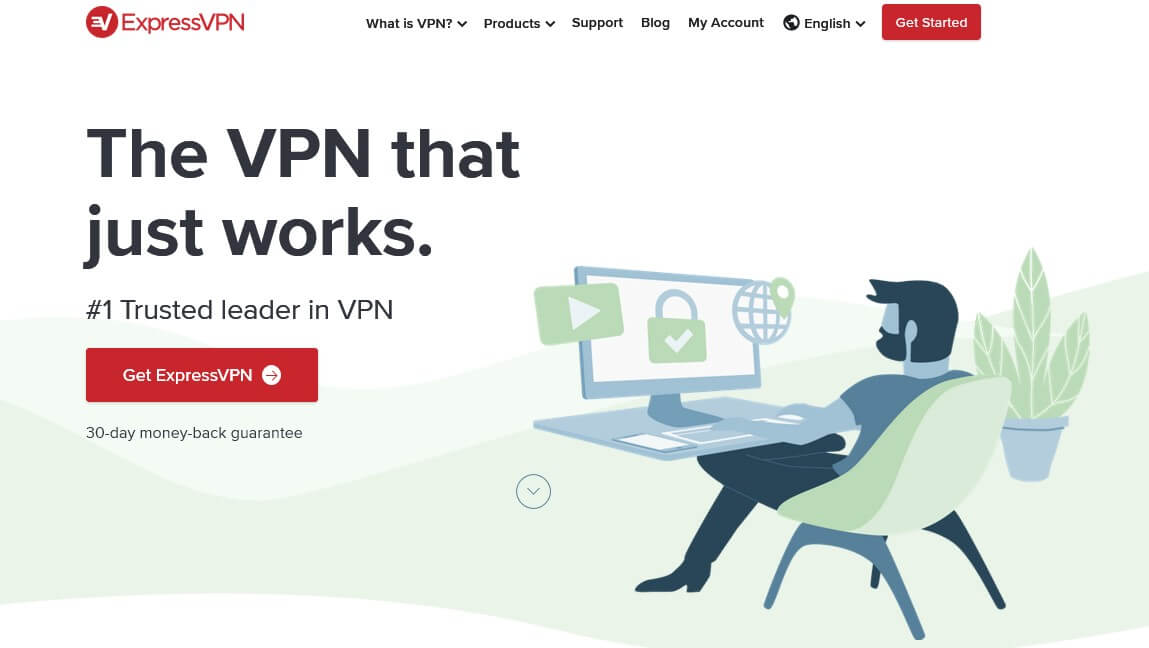 In terms of unblocking geo-restricted websites, we had zero problems with ExpressVPN. Platforms that you can unblock include Netflix, Hulu, Sky TV, HBO GO, Amazon Prime Video, Disney+, DAZN, and many more. Coupled with some stunning speeds, your streaming experience will be a whole new level.
Finally, ExpressVPN allows browsing swiftly even in India or any similar country. The speeds are consistent and we had no problems using any of 3,000+ servers in 94+ countries they offer. Those interested in this provider can get it for a heavily-discounted price.
To be precise, the provider offers its services at a 49% discount for a 12-month plan. Plus, you get 3 months free and a 30-day money-back guarantee. Right now, this is one of the best deals you can get if you're looking for the fastest VPN available!
2. NordVPN
Speed-wise, NordVPN isn't the most popular option, especially when we look at ExpressVPN. However, in our tests, this provider constantly scored very high, just slightly below the aforementioned provider.
We had no choice but to give it what it deserves in this ranking of the fastest service. Our speed test results are shown below.
Server in the US (New York) : 225 Mbps / 147 Mbps

Server in Europe (Germany) : 175 Mbps / 127 Mbps

Server in Australia : 94 Mbps / 52 Mbps

With the speeds so stable and reliable, we even forgot that we were using a VPN. Browsing, torrenting, and streaming were all buttery-smooth, regardless of the server location. Much like the previous provider, NordVPN is as versatile as it can get.
If you're all about streaming on Netflix or any other platform, you'll be able to do it in a matter of seconds. NordVPN unblocks all the major streaming platforms and works perfectly in China if that's what you want. We managed to access a new Disney+ platform, for example.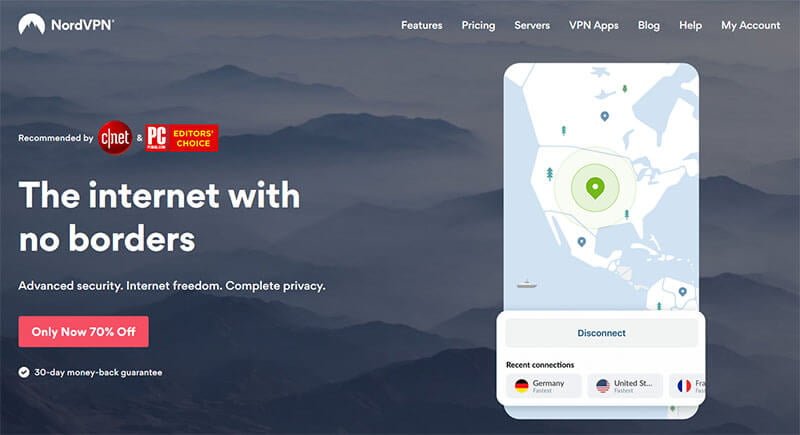 And that platform, for your info, has a very strong encryption. To make things better, the provider is very easy to install and use. Its intuitive interface is probably what will keep you around, and of course, its blazing speeds.
NordVPN has 5,500+ servers in 59 countries, which makes it one of the largest providers. But, this isn't where the story ends. It offers all the standard security features (including a no-log policy), as well as a couple of bonus features. These include CyberSec, Double VPN, Onion Over VPN, and many more.
3. CyberGhost
CyberGhost is a European giant that beats all of the providers in terms of server count. Yes, even NordVPN is inferior in this regard! As always, let's be precise – CyberGhost has 6,000+ servers in 90 countries. If that's not impressive, we don't know what is.
Now, what about its speed? Is it a fast VPN? Well, our ghosty friend is a tad slower than the previously mentioned providers. Although it's not painfully slow (neither of the providers on this list is), it's still enough for every purpose. We managed to stream in 4K on Netflix, and even 8K videos on YouTube were perfectly smooth.
Server in the US (New York) : 233 Mbps / 121 Mbps

Server in Europe (Germany) : 156 Mbps / 118 Mbps

Server in Australia (Sydney) : 87 Mbps / 30 Mbps

Speaking of Netflix, you probably want to know how good it is for unblocking geo-blocked websites. In one word – stellar. As of recently, CyberGhost doesn't work in China and our tests showed that it can't unblock DAZN.
These aren't the big drawbacks but we think it's something you need to know. Security-wise, our ghost-like friend shines. You get a no-log policy, an automatic kill switch, dedicated servers, and 256-bit encryption. Dedicated servers are perhaps one of the best features of this provider that make everything easier.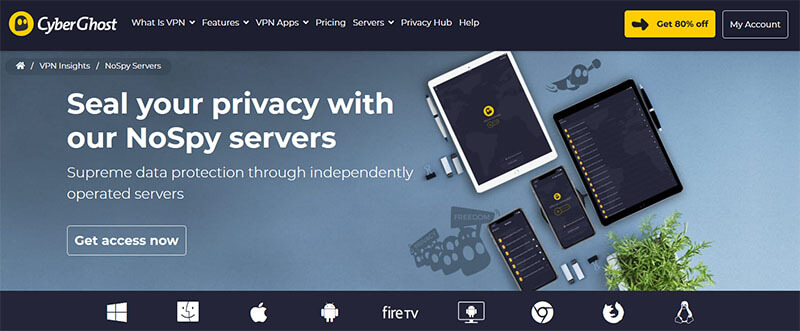 With a 45-day money-back period, CyberGhost is more generous than any other provider on the list. Plus, you'll get a huge discount if you click on the button below, so don't hesitate to do that if you're interested.
4. Surfshark
Surfshark doesn't have tons of experience that some providers on the list have. However, this provider managed to pierce through the market and become one of the best and fastest VPN very quickly. With only a couple of years of existence, Surfshark has done some great things for this industry.
Server in the US : 218 Mbps / 107 Mbps

Server in Europe (Germany) : 143 Mbps / 129 Mbps

Server in Australia : 75 Mbps / 42 Mbps

For example, it brought some lightning-fast speeds at an affordable price. You've noticed that we said 'for the price', meaning that it's not faster than other providers mentioned before it. Nevertheless, we decided to try some 4K streaming and voila – it worked flawlessly.
Netflix, Hulu, HBO, DAZN, and even Disney+ were all unblocked with a single click. Surfshark gave us some low ping values, so our websites opened within a second and our gaming session became more enjoyable. After all, you see our test results, so we don't have to explain anymore.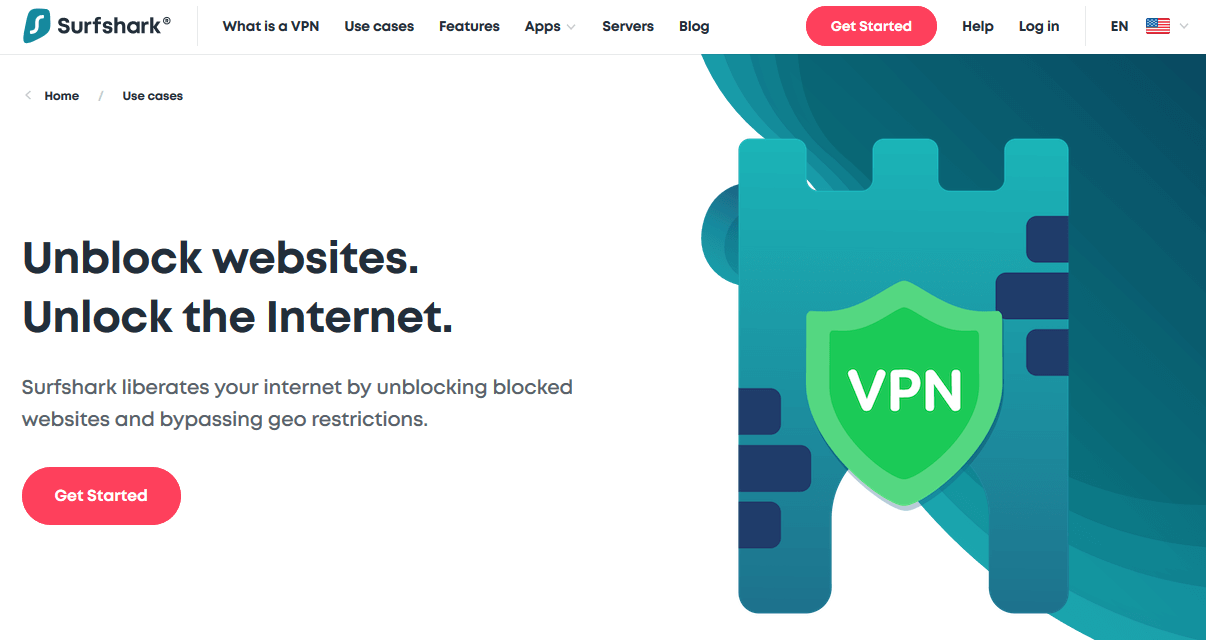 What we have to explain, though, are other features. Surfshark comes with a unique feature called MultiHop. It works by routing your internet traffic through multiple servers, making it impossible to track.
Other features include a no-log policy, kill switch, 256-bit AES encryption, and DNS leak protection. Furthermore, each of its 1,000+ servers in 61+ countries support P2P file sharing, great for torrenting. As an icing on the cake, there's a 30-day money-back guarantee, so don't hesitate to try it.
5. ProtonVPN
ProtonVPN is a provider we don't often mention around here. Monkey said that ExpressVPN is his favorite provider but he also said that he liked this one in terms of speed. For that reason, we decided to include it in our comparison and test of the fastest VPNs for 2021.
Server in the US : 227 Mbps / 109 Mbps

Server in Europe (Germany) : 108 Mbps / 117 Mbps

Server in Australia : 63 Mbps / 47 Mbps

This is a provider based in Switzerland, a neutral country, as many call it. Being neutral as a neutral cream, this country isn't under severe government surveillance. Do you know what that means? A zero-log policy!
What about speeds, then? Well, ProtonVPN has some solid speeds that allowed us to enjoy all our online activities. We tried streaming first and noticed that it works fine with Netflix, Hulu, and Amazon Prime Video. Unfortunately, we couldn't unblock BBC iPlayer when we tried servers in the UK.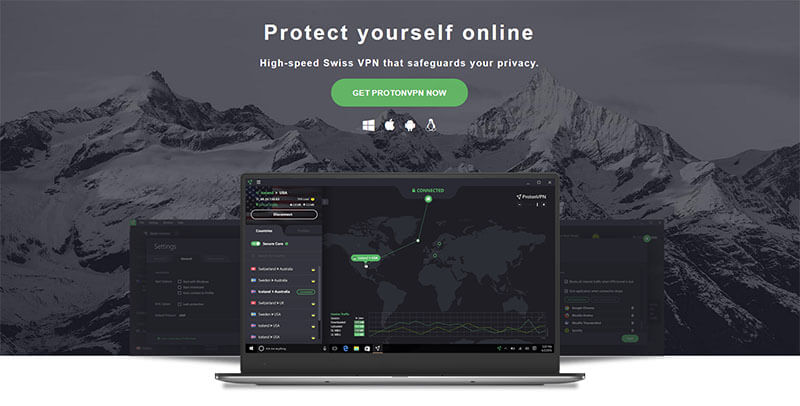 Nonetheless, streaming is buttery-smooth with ProtonVPN, and so is torrenting. Speaking of torrenting, you get P2P support on all servers and if you're interested in seeding, we managed to preserve a huge portion of our upload speed.
Security is also a strong point of this provider. It offers the so-called Secure Core feature that works flawlessly and enhances your security online. Beware that ProtonVPN also offers a free plan, although we don't recommend it.
It's basically a cut-down, or better said – a severely cut-down version of paid plans.
6. IPVanish
IPVanish comes from the United States, which some of you may find… strange. Let us tell you that there are many providers in the US. However, many of them are either low-quality or straight fraudulent. Luckily, this provider has some nice features, one of them being a no-log policy.
Server in the US : 184 Mbps / 97 Mbps

Server in Europe (Germany) : 95 Mbps / 108 Mbps

Server in Australia : 73 Mbps / 38 Mbps

Offering 1,300+ servers in 75+ countries, IPVanish is decently-sized. In terms of speed, it's nothing less impressive. Our tests showed amazing download/upload speeds and low ping. Although not faster than previously-mentioned providers, it will still offer a satisfying online experience.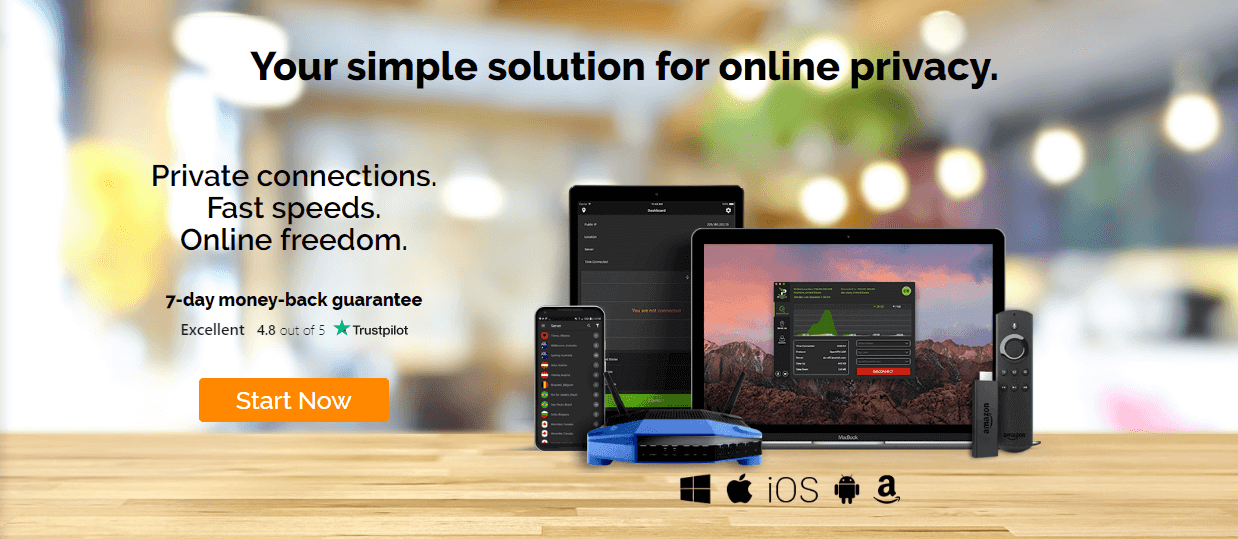 We encountered slightly lower speeds in very distant servers but that's perfectly normal. Other than that, IPVanish is jam-packed with features. It supports numerous security protocols, split tunneling, a kill switch, military-grade encryption, and much more.
7. Windscribe
It's odd to see Windscribe on this list of the fastest VPN out there, but hey – we give every provider what it deserves. Nothing less, nothing more. This time, the provider managed to achieve some decent speeds in our speed tests. We need to mention that this is a free provider but it also offers paid subscription plans.
Server in the US : 193 Mbps / 84 Mbps

Server in Europe (Germany) : 78 Mbps / 86 Mbps

Server in Australia : 65 Mbps / 43 Mbps

The test results are shown below. With Windscribe, we managed to enjoy full HD streaming on Netflix. Interestingly, the provider can't unblock many streaming platforms, so we decided to stick to this one. Ultra HD streaming, for instance, wasn't as smooth as with other providers on the list, yet it's watchable.
Windscribe is a feature-rich provider, given its cheap price. If you go for a premium plan, you'll get unlimited bandwidth and servers in 60 countries. A free plan limits your bandwidth to only 10GB a month and as you've guessed, speeds are much slower.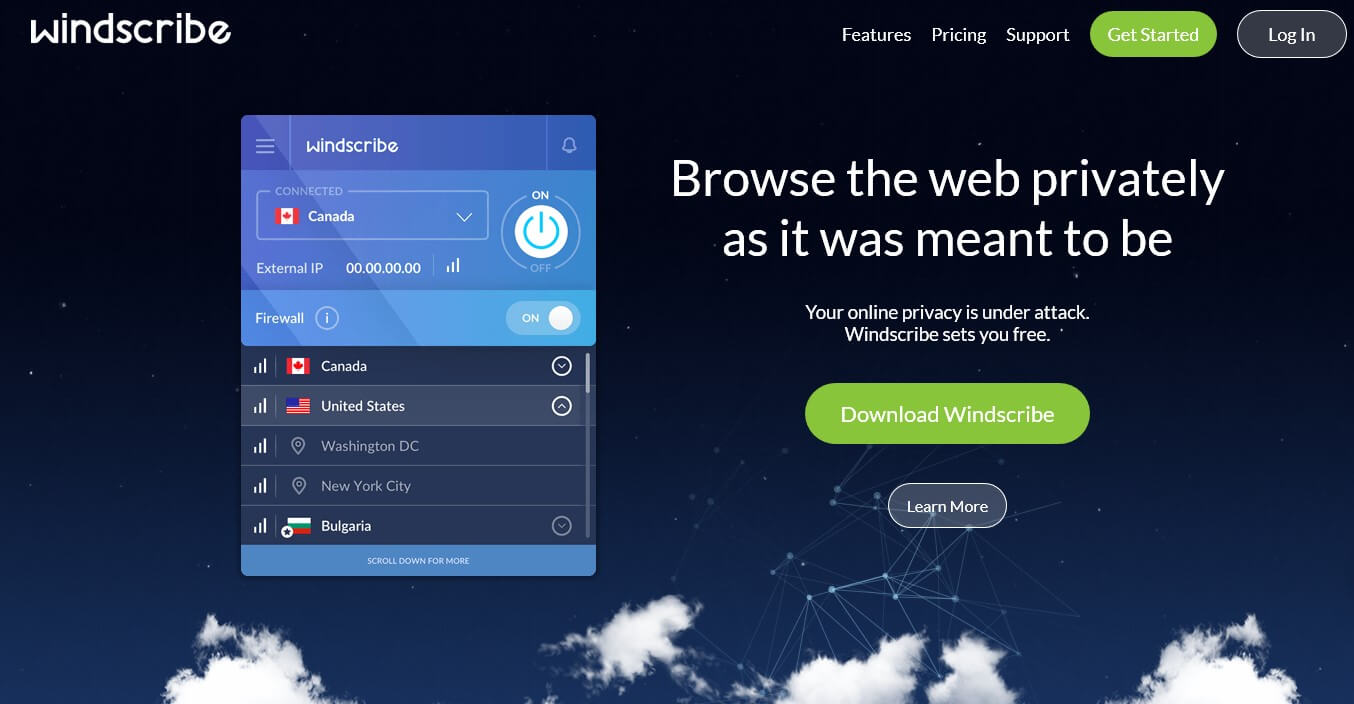 Still, this is a decent provider for less-demanding users. It allows streaming, torrenting, and casual internet browsing. Plus, there's a bonus feature called R.O.B.E.R.T, with the function of blocking ads, malware, and trackers.
Why Use a Fast VPN?
Using a fast VPN provider brings you tons of benefits. But first, check out our how-to-install a VPN guide if you don't know how to set it up on the desired platform. Now, let's see what a fast provider can bring you:
Fast Download Speeds
If you're often downloading torrents or any other material, you can benefit from some high speeds. In some cases, a provider can increase your internet speed if you're experiencing ISP throttling.
Having to wait for days to download a brand new game is infuriating. Luckily, with a fast Virtual Private Network, it doesn't have to be the case.
Reliable Upload Speeds
Uploading files to the cloud and the internet in general is very important for some people. If you're one of them, you'll enjoy doing this anonymously with your favorite provider.
Streaming High Definition Content
Last but not least, streaming is buttery-smooth with a speedy provider at your disposal. You don't want to wait for hours for your movie to buffer – don't you? The fastest providers even allow you to stream 4K content, which is great if you're all about the footage quality.