India, although not the richest country at a first glance, is a very popular traveling destination. For example, in 2017, more than 10 million tourists visited this country, and this number is only expected to grow. But, given its harsh internet laws that are only exacerbating, many of those visitors will need the best VPN while in India. Not only will it help alleviate geo-restrictions but also provide an additional layer of security. This is why we came up with this list of best providers for this country (after many tests). We strongly suggest you don't go anywhere, so stay with us!
Is VPN Legal in India?
With tensions in this country rising in terms of free internet access, people start to worry that it's illegal to use a VPN in India. The government is very strict when it comes to internet access. There are daily restrictions that often prevent its residents from accessing even some social media websites.
Furthermore, this country is known for its violent protests that often result in an internet blackout. For example, in 2017, the government shut down the internet 20 times in the first five months of the year. Although this isn't in direct correlation with a Virtual Private Network, not being able to use the internet makes it futile.
But, using it in this country is completely legal. You won't get charged if you use it, which doesn't have to be the case if you're not using it. With the laws so harsh, you never know when you can get punished simply for visiting a website or posting a status on Facebook.
Why You Should Use a VPN in India?
Since it is legal, it means that you can use a Virtual Private Network now. Below are the reasons for doing so.
Avoid Government Surveillance
As many of you know, India is one of the largest countries in the world, not only geographically but also demographically. On top of that, they have a very developed internet infrastructure with jaw-dropping 462 million of internet users. In terms of the internet market, it's in second place, just behind China, and way above the 3rd country – the US, with 286 million users.
Just a few years ago, this country wasn't favorized by the Freedom House. Its report from six-seven years ago gave it a 41/100 rating, implying that it is "partly free". Although the situation has slightly improved in 2021, we still don't see it as being a free country.
The reason for this is, obviously, government surveillance. Every step you take on the internet is immediately visible to your ISP and the government. Your ISP can track you and if you're doing something "suspicious", they can report it to the government e.g. you can get into serious trouble!
The government's influence is so strong, that they block numerous websites daily. On top of that, we can't say which websites are blocked because they don't release the official lists and reports. All we know is that there are at least 20+ social media websites blocked as we speak. This can be a traumatic experience for some people.
Just imagine being abruptly cut out and not being able to communicate with your family and friends. If you're there on a vacation, that seems very stressful and to be honest, it is. Luckily, if you have the best VPN for India, this isn't going to be the case. You'll be able to access all the blocked websites, including the social media ones.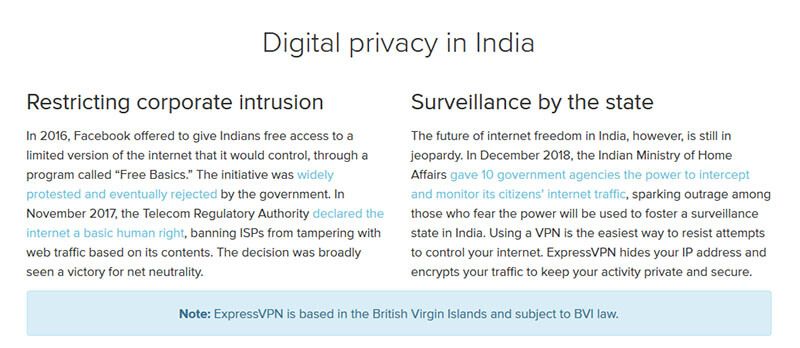 Get Rid of Censorship
As you might've guessed, India is very strict about its censorship. You can get into serious trouble just for saying stuff on the internet. And if you're thinking we're joking, think again. The authorities from this country have a rich history of resident detention just for posting something on WhatsApp and Facebook.
Furthermore, even WhatsApp group admins were also arrested, even though they didn't post anything. This just backs up what we said a minute earlier.
Now, if you're a journalist going to India, we don't suggest posting anything without a VPN activated. Journalists are always the favorite targets for the government, and as you know, many of them get arrested and even killed!
If you're using your Facebook or Instagram account on your real name, also consider changing it or don't post anything. All the things you say online can easily be linked to you. Of course, this apply only if you don't use a Virtual Private Network.
Bypass Geo-Restrictions
Many Indian people use a VPN in order to access blocked porn sites or streaming platforms. This country is VERY keen on putting an end to pornography and every attempt at accessing it is heavily punished. As for Netflix, Hulu, HBO, and BBC iPlayer – don't even think about using it here.
Even if you think about it, you won't be able to do that. For example, let's take a look at Netflix. Netflix is accessible to every country but the US version isn't. Of course, this version has the largest movie and TV show base that is often shown in high resolutions.
Because of censorship we just mentioned, even some YouTube videos can be blocked. If a YouTube video is not available in your country, you can use a VPN in India to unblock it or any other websites.

Torrenting Safely and Anonymously
Despite all of the things we just said, torrenting is legal in this country – thank God! But, let's not shift into 5th gear immediately. Let's just pull a handbrake and think about ever-changing internet laws in this country. You never know when certain laws can start appearing and crushing what we just said.
Torrenting could very well be illegal in India really soon and you probably wouldn't be aware of that. Furthermore, your ISP can often throttle your internet speeds if it detects that you're using BitTorrent. Your only option is to stay anonymous when downloading them and you know how to do that if you've read the article carefully.
Best Providers with Servers in India
Traveling outside of your home country has one huge caveat – missing on favorite local shows. But, this doesn't always have to be the case. Here are the best VPN providers with servers in India:
Best VPNs for India in 2021
Whether you're traveling to this country or out of it, you need a fast and reliable companionship in the shape of a Virtual Private Network. Let's see our top VPN picks for India in 2021:
ExpressVPN
CyberGhost
NordVPN
Surfshark
HideMyAss
Now, let's review these providers and see why they're good for this country.
1. ExpressVPN

ExpressVPN is the fastest VPN to use in India. This provider is known for its blazing-fast speeds and ability to bypass geo-restrictions, making it extremely popular. All of your Netflix, HBO+ or Hulu shows will now be unblocked. And if you're not from this country, you can use servers there to watch Bollywood movies.
What sets this one apart is its ease of use and customer support. Its Android app is very easy to use and other platforms are no exception. Speaking of that, ExpressVPN supports all the major platforms, so you'll have no problems using it. Even routers and gaming consoles are supported!
Customer support works 24/7 and they respond within minutes, successfully solving all your issues. Sure, they can't solve issues between you and your girlfriend but hey, at least you can access the internet anonymously.
There's also a 49% discount and 3 months free for a 12-month plan. Plus, a 30-day money-back period can be used. Next time you think ExpressVPN is expensive, return to this article and read this bolded section again.
2. CyberGhost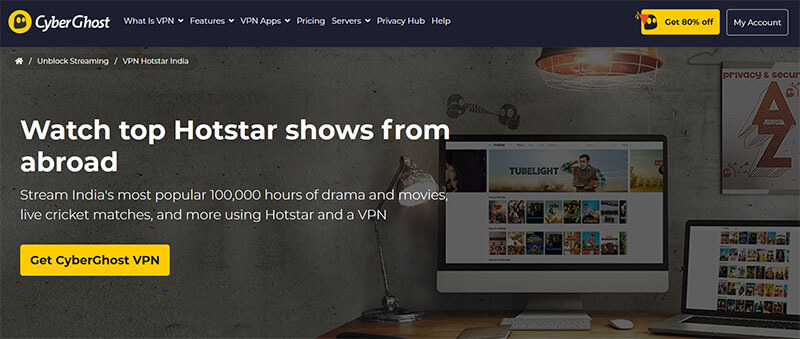 CyberGhost is another VPN provider we gladly recommend you to use while in India. Not without a reason, though.
It has more than 6,000 servers worldwide and offers a plethora of easy-to-use apps for all the major platforms. Android, iOS, macOS, Linux, Windows, and even routers are here. Bypassing geo-restrictions is also easy, so you don't need to worry about that.
Sure, you can't unblock DAZN but Netflix, Hulu, and HBO+ are all there. In terms of security, which is very much needed in this country, you get 256-bit encryption, kill-switch, and DNS leak protection. Since it's based in Romania, there's also a no-log policy. Thankfully, this country isn't a part of the 14 Eyes, which is another good thing about it.
With a 45-day money-back period and 7-day free trial on Android, iOS, and Windows, generosity never ends!
3. NordVPN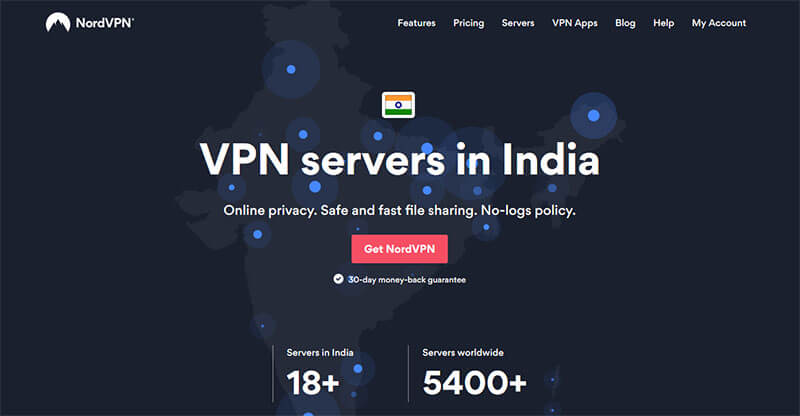 NordVPN comes from the blazing-hot beaches of Panama and brings all of its firepower with itself.
For the start, it has numerous security features that can benefit residents of this country. There's 2048-bit encryption, DNS leak protection, and zero-logs policy. Furthermore, Double VPN and Onion Over VPN are here to add an additional layer of security.
Speed-wise, this isn't the fastest provider. However, your streaming experience isn't going to suffer, especially since it can unblock geo-restricted websites. Yes, even Netflix is here, before you ask. Yes, yes, and DAZN or Hotstar, too! Smash the button below if you don't believe our Monkey – but don't let it hear you, though.
If you want to benefit from this VPN service in India, you should know that there is currently a 80% discount available on its 3-year plan!
4. Surfshark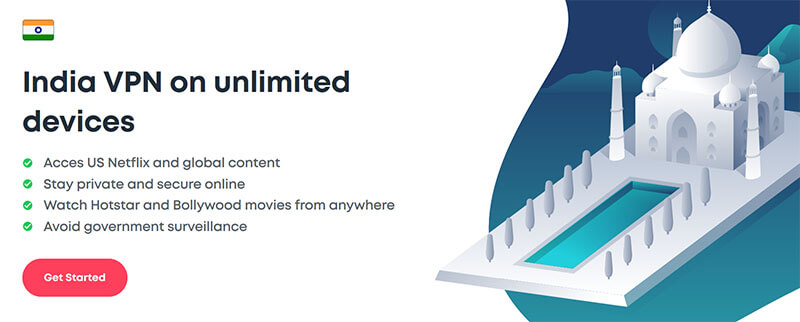 Surfshark has 1,040+ servers in 61+ countries, including some in India. Its name is perfectly justified in this case. It's relentless as a shark, meaning that it can unblock even the strongest geo-blocks. Of course, it's so speedy, it'll make you needy!
For those who like streaming, Surfshark unblocks 15 Netflix libraries, and of course, there are other streaming platforms you can get. Because of no-logs policy, you'll enjoy gliding under the government's radar since they can't track your internet activity.
One thing we pledged not to forget is device support. This is among the rarest providers that offer unlimited simultaneous connections with just one subscription. Given its cheap price, this subscription is worth all the gold!
5. HideMyAss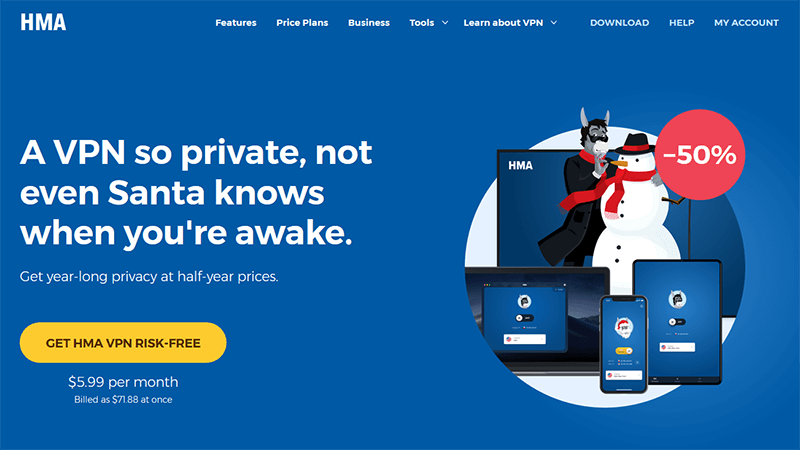 HideMyAss is the latest provider we wanted to present you in this article about best VPNs for India. Although they offer "just" 1,000+ servers worldwide, their coverage still manages to be impressive. On top of that, you get a free trial, which is rare to see on a premium-grade provider.
Speaking of premium features, this also applies to security. 256-bit AES encryption, a no-logs policy, and DNS leak protection are only some of the things you get here. Although it supports up to 5 devices simultaneously, you can get it for your router and cover all the devices in your home.
We know it's a silly name for a provider but hey, as long as it gets the job done, we're recommending it. And this one – it rocks!
Summary
Using the internet in this country can be a double-edged sword. Unprotected, however, it's more like using a single-edged sword and holding it inversely. To bypass numerous geo-restrictions, censorship, and access the internet freely, you'll need a Virtual Private Network, regardless of your location.
We've decided that ExpressVPN is the best VPN for India, given its second-to-none features and fast speeds. With this provider, you'll be able to enjoy every internet benefit you'll normally enjoy in countries with free internet access.