Whenever someone talks about porn, many people see it as a taboo topic. But, the truth is, many of us have entered these websites at least once. This industry is one of the largest regarding filmography and it's not strange to see famous female adult movie stars enjoying millions of dollars. However, in many countries around the world, websites like XVideos, XNXX, and RedTube are blocked. On top of that, you can receive a serious penalty if you're caught watching this kind of content. Luckily, a VPN can help you bypass these restrictions, so let's see what are the best ones.
Why Do You Need a VPN for Accessing Porn Sites?
The countries with no government surveillance typically don't have any problems accessing this type of content websites. If you live in the USA, for example, accessing it is completely legal and you won't have any consequences. But, despite being legal, your Internet Service Provider (ISP) knows what websites you're visiting. In fact, your ISP knows every step you take online.
Without a VPN, you leave your identity exposed for everyone to see. So, if you're watching some kinky stuff on Xhamster, XNXX or Xvideos, know that your ISP and the government can see that. Now, you can always use your Incognito Window on Chrome but still, you aren't safe. You can even see that when you open the Incognito Window!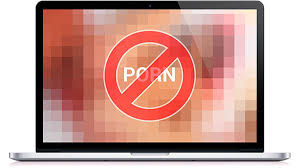 Deleting your search history will prevent your brother, father, mother or whomever from seeing it. However, this doesn't mean you're deleting it for good. Let's take the case from 2012 as an example. The famous website called Brazzers was hacked and 800,000 users' info was stolen.
Although this event transpired almost 8 years ago, rumors are that the hacked data still lingers somewhere on the dark web. In December 2019, a popular RPG (role-playing game) called High Tail Hall was also hacked. Furthermore, Pornhub was attacked with hundreds of malicious adverts, endangering the users' info.
All of this implies that you shouldn't visit these websites without some kind of protection. Since you can't get STDs from watching, you don't need that kind of protection. Instead, you need a proper Virtual Private Network. When using a VPN, you're completely safe and your privacy is conserved, even when visiting these websites.
Apart from that, a VPN can help you bypass censorship and get access to any censored website, not only sites like this.
Why You Should Use a VPN for Porn in the UK?
We know the United Kingdom as being a free country in terms of internet access. Heck, they can even access almighty BBC iPlayer, which no other country can access! But, if you're a bit into politics, you know that the situation is slowly changing in this country.
Age-verification law
In a few years, who knows if the UK will be as free as it was before. If you want to access adult websites in the UK, you'll need to pass an age verification. This law emerged on July 15, 2019, and is notorious for requesting the users to share their info.
Every user that wants to access his favorite porn site is forced to share personal details with the particular site. With the cybercriminal growing each day, this is a very dangerous trend that could compromise the personal data of millions of users in the UK.
What if your info gets into the wrong hands? Obviously, the UK government didn't think of that. Or perhaps they did, and this is intentional. We'll not get into conspiracy theories now. As the government claims, this law is here to protect children from the X-rated clips and content they shouldn't see.
The AgeID System
Free adult sites such as YouPorn, RedTube, and XNXX are all included here. These websites attract more than 3 billion visits every month worldwide! So, if you want to watch adult videos on some of these websites in the UK, you're going to be the victim of a new AgeID system.
This system requires users to verify their age using an official form of ID. As James Clark, AgeID spokesman says, every adult website will have a certain non-pornographic 'landing page'. When the user wants to visit a certain website, he'll be greeted by this page, which will prompt him to verify the age before accessing the site.
Each website will have a unique landing page for this purpose and users will be required to enter their AgeID username and password to access the site. Although it's a one-time verification, many users find it annoying. Furthermore, sites can be charged up to 250,000 pounds if they don't comply with these rules.
So, you have to be 18+ to watch porn… but not with a VPN! You can use a VPN to connect to the server in a different, non-censored country, and watch it anonymously. On top of that, it will protect your identity, as you don't have to provide your ID or any other data.
This is why a VPN for streaming in the UK is mandatory!
Should You Use a Free VPN?
Why should you pay for a VPN if there's a free one, right? As much as it sounds tempting, it can cost you a lot – even more than using a paid provider. Free VPNs are known to offer lackluster protection and security features, so they're used only in rare instances.
Some statistics, like this one, for example, tells us that approximately 75% of free providers implement some kind of tracking. If you're worried about your privacy and security while watching porn, you should steer clear of these providers.
Furthermore, free VPNs are known for DNS leaks, inconsistent protection, as well as ads, which expose you to malware attacks. That being said, do not use free VPN providers in this particular case.
The Best VPN Providers for Unblocking and Watching Porn Anonymously
Now that we've got free VPN providers out of the way, let's see what providers you should use. Before we start with the list, we need to tell that EVERY provider here allows you to unblock and stream porn anonymously.
Whatever your choice, you'll be able to utilize them for this purpose. Here are our top picks:
ExpressVPN
NordVPN
CyberGhost
Surfshark
Hide.me
Let's review them and see why they're so good.
1. ExpressVPN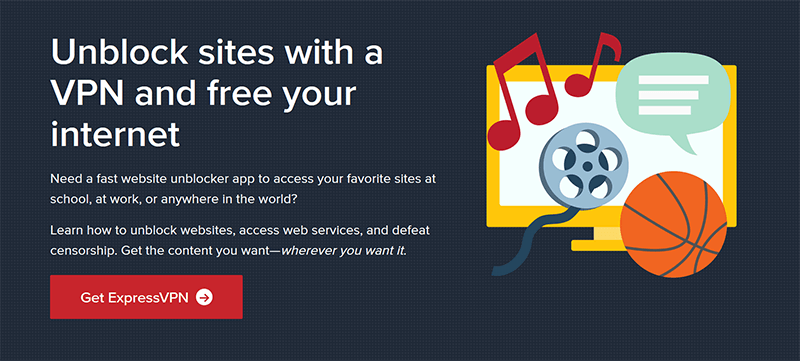 ExpressVPN is our monkey's favorite VPN. Since he loves testing them on a daily basis, we've got no choice but to comply. The provider owns more than 3,000 servers in 94+ countries. Even the most censored countries are covered, although with virtual servers. They say that less than 3% of the total server count is virtual.
This is because these countries are fighting against VPN providers and putting a physical server there is a huge risk. Not only it's blazing-fast but also smart, just like our monkey! All jokes aside, the provider is the fastest you can get, although it's not the biggest.
The important thing is that they have thousands of servers outside of the UK, so you can watch porn all day (although you shouldn't!). Apart from unblocking adult websites, it's also a great choice if you want to unblock betting sites when abroad.
Netflix, Hulu, HBO+, and BBC iPlayer will all be unblocked with ExpressVPN! Security-wise, it has 256-bit encryption, kill-switch, DNS and IP leak protection, and zero-logs policy. The provider didn't cut any corners, which is expected, given their credibility and a rich history of success.
ExpressVPN offers a 49% discount and 3 months free for the annual subscription plan. Buying it gives you a 30-day money-back guarantee, so if you don't like it, you'll not lose a single penny!
2. NordVPN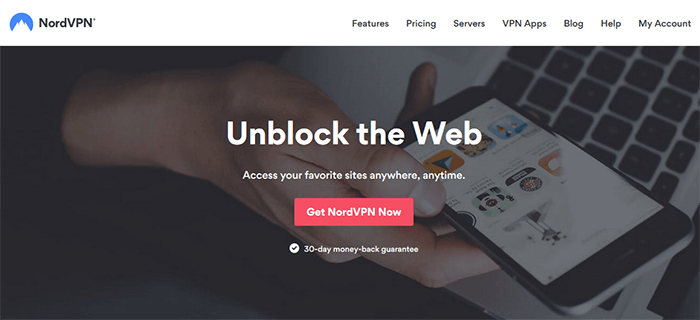 NordVPN is another provider we wholeheartedly recommend. The reason for this is that it has 5,400+ servers worldwide. And whenever there are a lot of servers outside of the UK, that's something to admire. This means that you can, once again, watch porn anonymously the whole day. Which, once again, you shouldn't do!
In terms of bypassing geo-restrictions, NordVPN is astounding. Netflix, Amazon Prime Video, Hulu, and HBO+ will be accessible with this provider. Of course, PornHub, XNXX, RedTube and Xvideos as well. Since the provider is located in Panama, you won't face any privacy issues, thanks to its zero-log policy.
Whatever you're watching on the internet won't be tracked by either the government or hackers. Those who value security the most will be happy to own NordVPN apps. The provider offers rock-solid 2048-bit encryption, impenetrable even by the nuclear warhead.
Of special features, NordVPN offers Double VPN and Onion Over VPN, all tailored towards your safety and security while enjoying some Kendra Lust videos. Now, you can do it on 6 devices simultaneously, so it's all yours for a few bucks a month!
3. CyberGhost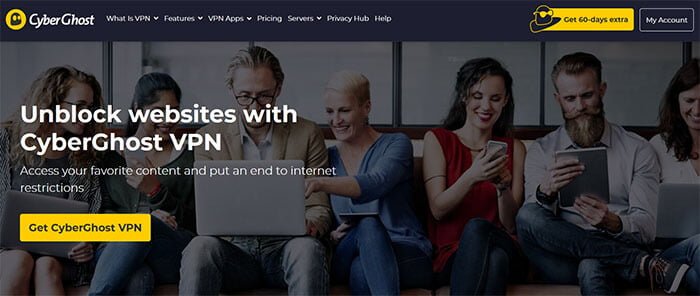 CyberGhost is a Romania-based provider with 6,000+ servers worldwide. Although it has 441 servers in the UK, the rest of them are outside of this country, leaving you free to watch videos safely. Speed-wise, CyberGhost is also known as one of the fastest providers, although not faster than ExpressVPN.
But, they offer unlimited bandwidth, so you don't need to watch clips in 240p. Instead, you can watch it in 4K, like a boss, and not worry about exceeding bandwidth limits. The reason millions of users use this provider is its price. It's very affordable, yet easy to use, with its intuitive interface.
Furthermore, security features are all here and they'll hide you from the eyes of the government. It can unblock not only popular sites but also streaming platforms like Netflix, Hulu, etc. Since it has DNS and IP leak protection, kill switch, and 256-bit AES encryption, you'll enjoy impenetrable security on up to 7 devices simultaneously.
Needless to say, there's a zero-log policy, so even your ISP can't see your activities – checkmate!
4. Surfshark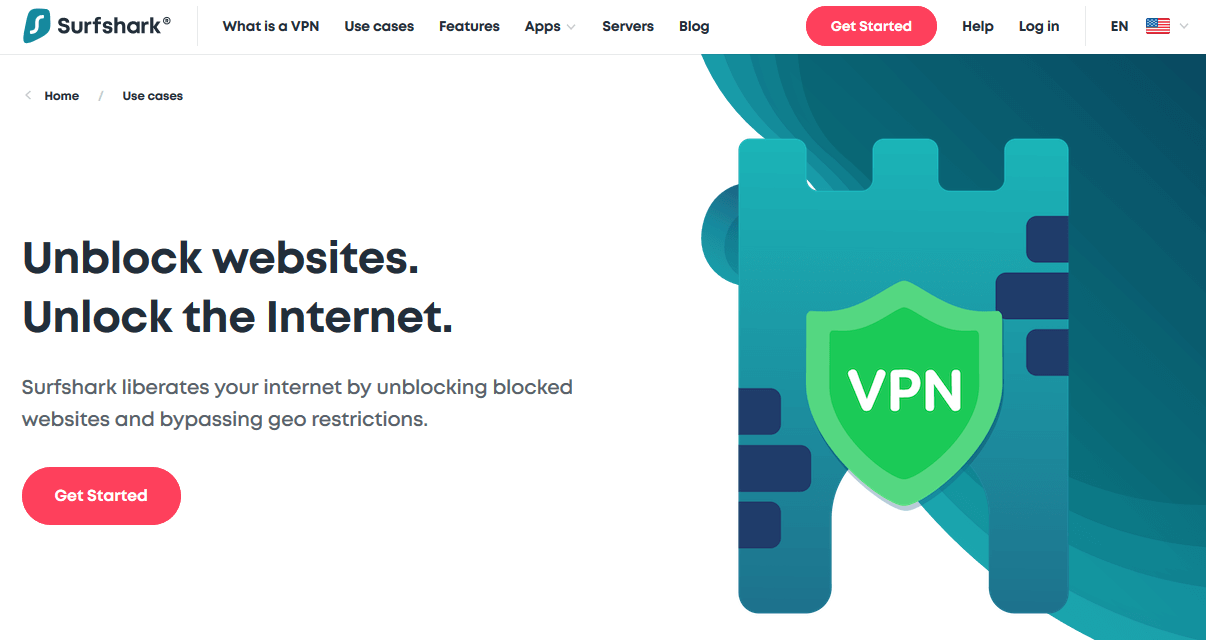 Surfshark is here to devour every geo-restriction you face during your internet adventure. If your adventure takes you to some adult sites, you shouldn't worry either. This provider is excellent at unblocking geo-restricted websites, including top-notch adult sites. Although it has servers in the UK, it has hundreds of them outside of it.
With 1,040+ servers in 61+ countries worldwide, you'll have a rich palette of servers to choose from. There's also a zero-log policy, as the provider is located in the British Virgin Islands, a privacy-friendly location.
While watching sensitive videos, you're probably worrying about your security in the back of your head. But, Surfshark will also devour these doubts with its 256-bit encryption, DNS and IP leak protection, and kill-switch. These protocols are applied to all supported devices!
If you're tired and don't want to sit in front of your PC, you can watch pornographic videos on your phone, for example. Speaking of all devices, all the major platforms are supported. Windows, iOS, Android, macOS, Linux and even Fire TV platforms are here.
Despite not being among the fastest providers, its security features make up for it.
5. Hide.me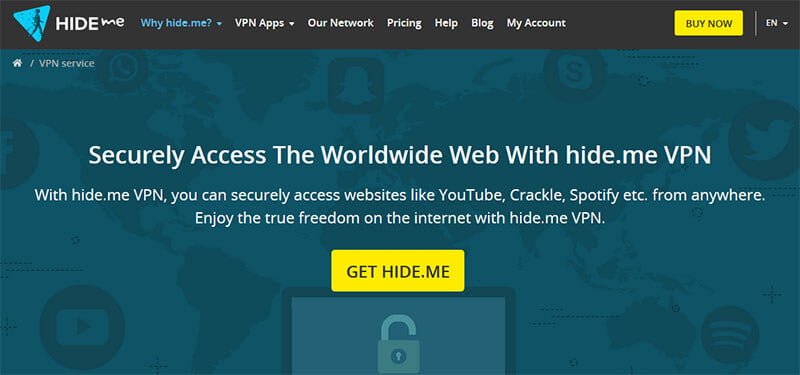 Hide.me has more than 1,400 servers in 57 locations across the globe. This is one of the best providers regarding flexibility and versatility, allowing you to connect up to 10 devices simultaneously. All of the apps are supported on all main platforms, too!
Aside from its eye-watering platform support, the provider offers a zero-log policy. As they say, they're dead serious about this fact, so we believe them. Now, it might not be the fastest VPN but given its affordable price, we can't complain.
On top of that, advanced privacy features are all there and will guard your back while you're watching all kinds of videos. Features like Stealth Guard, Split Tunneling, IP Leak Protection, and IPv6 support are also here. If you have questions, you can always use their 24/7 customer support to resolve your doubts.
Summary
With all being said, you'll need a reliable VPN companionship to bypass censorship and geo-restrictions. If you're in the UK, you'll have free internet access with the exception of adult websites. The best provider for unblocking and watching porn anonymously is ExpressVPN.
It combines lightning-fast speeds with top-of-the-line security features, which is all you need for a proper experience. Now that you've read this article from start to finish, our Monkey boss is happy and you should be too because you learned something new.