Have you tried to log into your online betting account from abroad only to be denied access? When you are outside of the UK or US, geo-blocks make it difficult to access your favorite bookie. The good news is there is a workaround and our little monkey is eager to show you how to unblock your bookmaker and bet online abroad. This article mostly applies to UK/US visitors but it will still come in handy if you live in another country.
Why your bookmaker is blocked?
In a perfect world, you would be able to login to your online betting account anytime, anywhere. However, in the real world, things are a bit different, thanks to issues such as licensing and regulations.
If you are traveling outside of the UK or USA and you try accessing your favorite betting site, you will likely be met with a strange notice saying the site is not available in your current location.

Why does this happen?
Online bookmakers such as GTBets, William Hill, PaddyPowder, BoyleSports, Betway, bet365 and others have to apply for licenses in every country they want to operate in. They also have to comply with the regulations in each of these countries.
For this reason, if a bookie has not paid licensure to operate in a certain country, it will not be possible for you to place bets when you are in that country. In other words, the bookmaker will be blocked in that particular location.
Unblock any website thanks to ExpressVPN >
IP addresses and online betting while abroad
Another question that might come to mind is 'how do bookmakers know which country I am in?'
The simple answer is IP address.
Each of your devices that are connected to the internet has an IP address. Like your zip code, an IP address helps to identify your location.
When you are in the UK, for example, your laptop or smartphone would have a British IP address. However, if you travel to Mexico, your devices will have a Mexican IP address. This is how online betting sites (and any other websites) can know which country you are in and subsequently place geo-blocks when necessary.
How to bet online abroad?
Not being able to bet with your favorite bookmaker can be such a bummer. However, just because you have been blocked does not mean placing bets is completely impossible.
A simple workaround is to use a Virtual Private Network. Also known as a VPN, this is an application that hides your true IP address (and therefore your location!) and assigns you a new one.
Essentially, a VPN allows you to pretend as though you were in a certain country while you are in an entirely different one.
For example, say you are traveling in Mexico and you want to unblock William Hill or 888Sport in the UK. A VPN assigns you a UK IP address so that the bookmaker will 'think' that you are in the UK when obviously, you are in Mexico.
This way, you will be able to access betting sites and place your bets as though you were in the UK.
Using a VPN to unblock betting sites abroad
It is quite easy to use a VPN to bypass geo-blocks placed by bookies while you are outside of the UK, US or any other countries. You can install a VPN app on any of your devices whether that is a laptop, smartphone, or tablet.
Rest assured that Virtual Private Networks are legal. Generally, using one will not get you into any trouble with your bookmaker (at best you will get denied the access until your protection is OFF).
Most VPNs are also relatively affordable and many providers allow you to connect several devices at the same time. This means that you and your family members can use a single VPN subscription.
Follow these simple steps to unblock your favorite betting site using a VPN:
1. Choose a VPN provider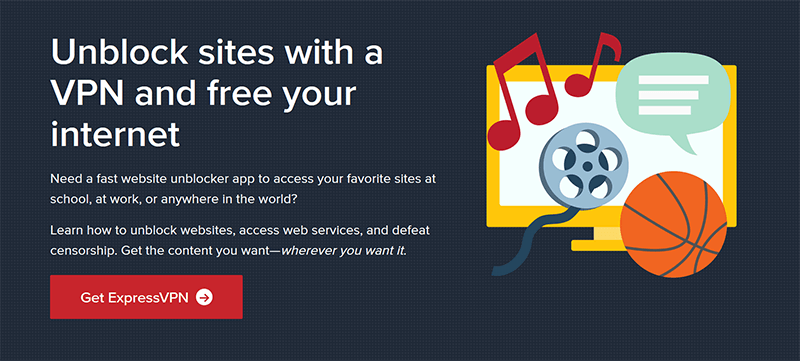 While there are so many providers available, you want to choose a trusted one that consistently unblocks online betting sites. A low-quality VPN will easily give you away and cause the bookmaker to block you again.
One of our top recommended providers for online betting is ExpressVPN. Not only does it have fast connection, it also has advanced encryption technology to completely hide your real IP address. Additionally, it has numerous servers in the UK and US, making it easier to unblock sites when you are outside the country.
If you want to try ExpressVPN, you can enjoy their 49% discount and get three months free when you sign up for their yearly plan.
Try ExpressVPN and get 3 months free >
2. Download the app
Download the appropriate app for your device. For example, the ExpressVPN app supports many devices including iOS devices, Android devices, Windows devices, routers, etc.
With this particular provider, you can connect up to 5 devices simultaneously. Which is very interesting if you want to share your account with other peoples in order to also let them do betting online abroad.
3. Launch and connect the app
Once you download, use the given login details to launch the app. Now, at this point, you will need to choose your preferred server location.
The VPN will assign you an IP address that corresponds to your server location. For example, if you choose a server located in the US, you will be assigned a US-based IP address. This way, you would be able to unblock GT Bets and place bets regardless of where in the world you might be.
The same applies to British betting sites. For example, if you are in Singapore and you want to unblock Betfred or BoyleSports accounts, you will need to choose a UK server to be able to acquire the appropriate IP address that makes it look like you are in the UK.
Once you select your server location, click Connect to run the app.
4. Connect to the bookmaker site
Now that the VPN is up and running, you can head over to your browser and open your favorite UK or US betting sites with no limitations. Just use your usual login details and start placing bets.
Conclusion : use a VPN to unblock your bookmaker abroad!
Finding out that your bookie is blocked when you are traveling outside the country can be quite frustrating. Wether you're using Betway, bet365, William Hill…
However as you've seen, with a solid VPN such as ExpressVPN (or NordVPN / CyberGhost), you can bypass geo-restrictions and access popular betting sites with complete ease while being abroad.