Whoer VPN is on the paper a very decent provider. It seemingly offers some of the most advanced features like Double VPN and VPN masking, which promise rock-solid security. Moreover, the provider prices its services pretty high, so it's interesting to see how well it stacks against its premium competition. Without further ado, let's delve deeper into this review and see if Whoer VPN is worth a shot.
What is Whoer VPN?
Before heading deeper into the review, we need to examine Whoer VPN and see what it is and where it's based. Obviously, this is a VPN service, and a premium one, which is important to mention.
The good thing about the provider is its jurisdiction. It's based in a small country – Cyprus, which has some of the best privacy laws. Here, the government uses minimum surveillance and you have an unlimited amount of online freedom.
This means, in theory, that Whoer VPN won't be pressured into handing over any personal information. Needless to say, it will have a very positive impact on your privacy. So far in this review, Whoer VPN sounds like a pretty decent provider.
However, we're always here to nit-pick and analyze everything we get in-depth. That's why we've prepared a thorough analysis of Whoer, to see if it's worth your hard-earned money.
Compatible Devices and Ease of Use
Kicking things off, we need to talk about a very important topic in regards to this provider – supported devices. In this category, the more devices are on the list, the better it is. Premium providers nowadays support a plethora of devices, even including routers and streaming boxes.
Whoer VPN falls right under this category, and when you first take a look, it seems like it ticks all the boxes:

It says "all platforms, all devices, any browser." Well, the truth be told, the provider really covers all the major platforms, but it forgot one thing – routers. In the image above, we can see Windows, Linux, Android, iOS, Chrome, Mozilla, and Opera, which is fine.
But, if you're going to call yourself "premium" and charge for your services in a not-so-cheap fashion, we always expect more. Nevertheless, we won't bash Whoer VPN too much for the lack of routers. At least, Linux is on the list, and we don't see that very often, even in other premium offerings.
Computers
If you're going to use a VPN for your computer, you have plenty of options to work with. You can use a great VPN for gaming or get a Whoer VPN app and/or browser extension.
Whoer VPN's browser apps are basically extensions and they work like a proxy – which they are. We're more interested in the app itself, though, hence we're going to test it on our Windows testing rig.
Once you download the setup file, double-click on it to initiate the installation process.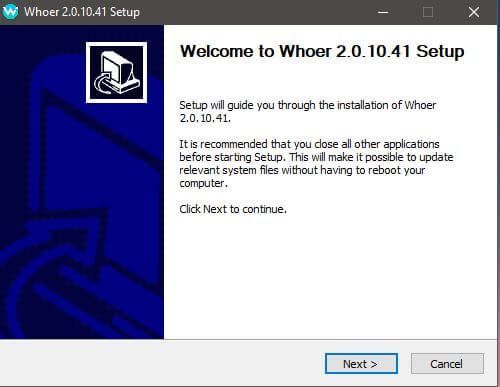 To continue, click Next.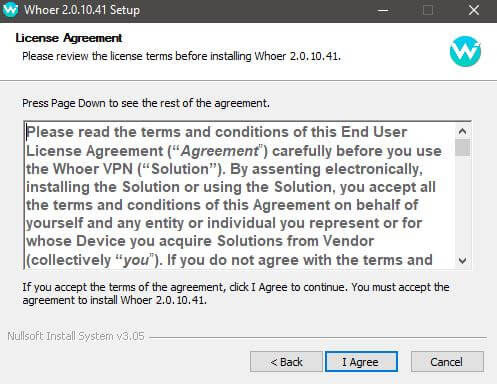 Of course, to continue, click on "I Agree" if you agree with the terms and conditions. Bet you didn't read it, right?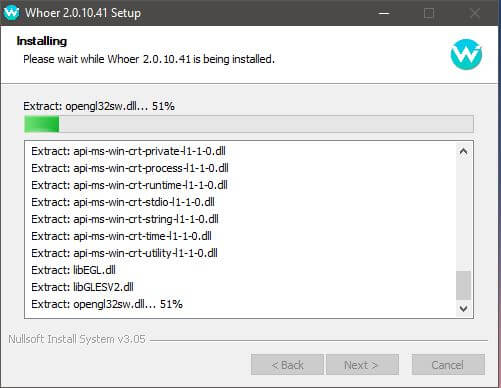 Once you pass the previous step, the Whoer VPN app will begin installing. This process lasts for about five seconds on our SSD, and after that, you only need to finalize the installation by running the app: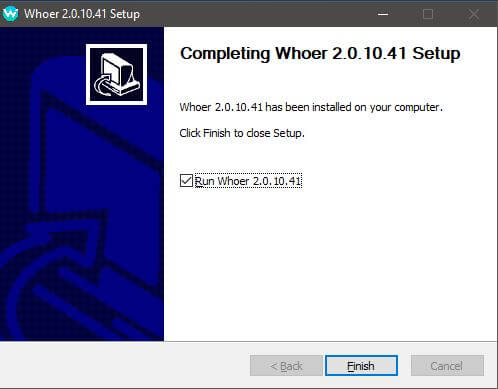 Now that Whoer VPN is installed, let's see how its app looks like.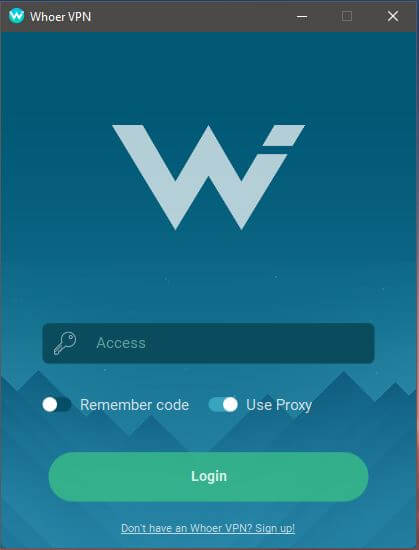 The first step is simple here – just sign in using the credentials that you provided when buying it and click on the Login button.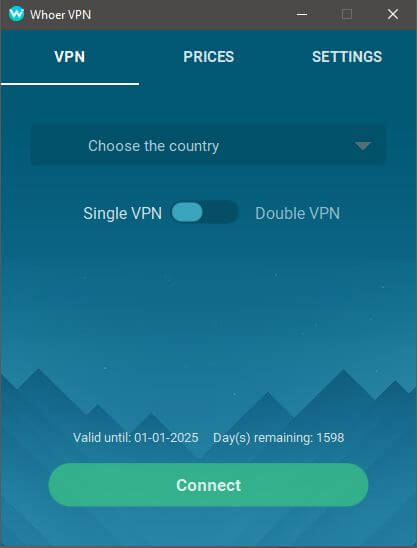 Then, to connect, click on the "Choose the country" menu to open the server list. Click on the country you want and use the connection button to establish a connection.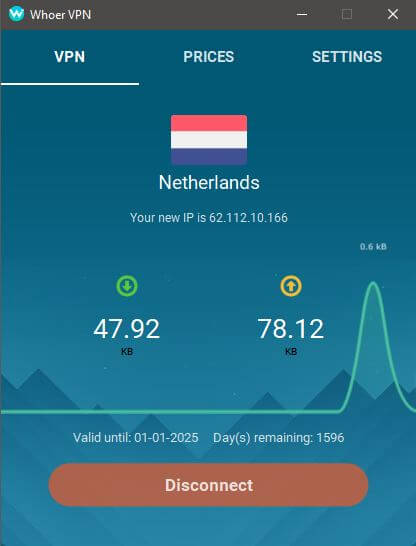 You can see how the app looks when it's connected. Now, before we move on to smartphones, let us tell you how BAD the app is. It's very buggy and refuses to connect 8/10 times.
We click on the Connect button only to wait for 10 to 15 seconds, and nothing happens. And then again, again, again, until we establish a connection. Something's really off with the provider's apps, which can also be seen on some of the reviews online about Whoer VPN. More about them later.
To digress, the app looks cool and is easy to use. But, until connection issues are fixed, we can't deem it great.
Smartphones & Tablets
We like it when VPNs make identical apps for smartphones and computers, which Whoer VPN did here. To show you how the app looks, we use an Android smartphone but nevertheless, the iOS version of the app looks, more or less, the same.
To get the app, visit the Google Play Store and download it from there (image 1).
When you download it, you can try it for free or sign in if you've already bought it (image 2). Depending on your choice, you'll have to enter the access code you got through email and click on the Activate button (image 3).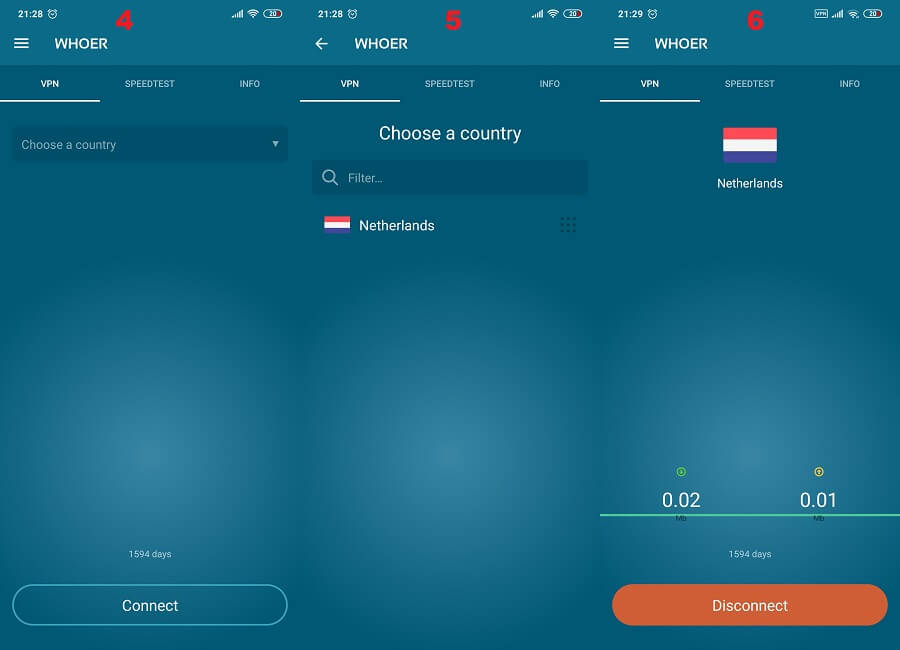 The app's home screen in image 4 looks quite bland, which isn't a big problem. After all, you aren't going to look at it 24/7. We tested the free version of the mobile app, so we got only the NL server in image 5. To connect to it, tap on the server and then use the Connect button.
As we can see, image 6 shows us how it looks when it's connected – almost the same as the PC version! Sadly, this also translates to issues that are ever-present on both apps. Whoer VPN – you'll need to do some serious work to make your apps great!
Other Devices Supported by Whoer VPN
Whoer VPN, apart from devices we mentioned earlier in this review, doesn't support anything else.
Additions like Apple TV, routers, Chromecast, Roku, and Fire TV would be welcome, but none of them can be supported, given that you can't connect Whoer VPN to the router.
For this functionality, we recommend ExpressVPN.
How Fast is Whoer VPN? We Checked Its Speed!
Speeds are very important for an overall VPN experience. You want a provider that's going to keep you safe and secure online but you don't want your pages to load for minutes. The best providers on the market are usually the fastest one, which speaks volumes about the importance of this factor.
Beware that all VPNs will reduce your speed to some extent once you connect to them. It happens because of encryption and obfuscation techniques, and it's a small price to pay for what you get in return.
Some providers reduce your speed more, and some not very much (ExpressVPN). Let's see how fast Whoer VPN is. We tested it on 3 different servers, during morning, mid-day, and night-time, and we kept the best possible score.
Also, our physical location is the United States, and we used these 3 locations for testing:
United States
United Kingdom
Hong Kong
Without using Whoer VPN, our native internet speeds are:
Ping: 11 ms
Download Speed: 211.88 Mb/s
Upload Speed: 202.20 Mb/s
Now, when using Whoer VPN for this review and test, our ping, download, and upload speeds respectively, for 3 testing locations, are:
US Server: 56 ms / 57.52 Mbps / 71.36 Mbps
UK Server: 180 ms / 21.22 Mbps / 37.94 Mbps

Hong Kong: 377 ms / 10.63 Mbps / 3.65 Mbps

It's quite obvious that this provider did a really poor job in our speed test. Even when using the US server, our speeds saw a massive reduction, which had a negative impact on our browsing and streaming experience.
The Hong Kong server was the worst of the bunch, with our upload speed reaching single digits. All in all, don't expect it to allow you to enjoy MotoGP stream or anything bandwidth-hungry.
How Good is Whoer VPN for Streaming?
Since we touched on streaming, it's time for our streaming test. A provider needs to fulfill two main conditions to be great for this purpose. It needs to be able to unblock streaming platforms and have decent enough speeds to make the stream buttery-smooth.
With its speeds, Whoer VPN definitely won't impress you. However, let's see if it's capable of unblocking some of the popular streaming services, starting with Netflix.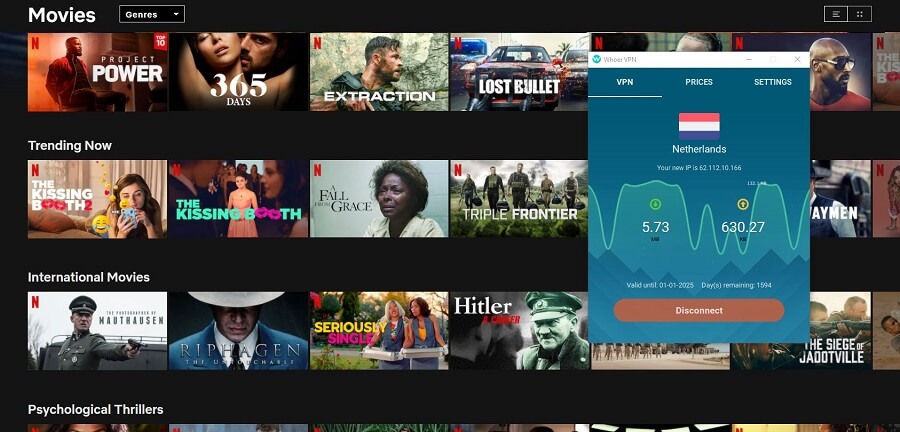 Surprisingly, Whoer VPN can unblock Netflix but don't expect too much from it. When starting a movie or a show, it will take some time to buffer it properly, and depending on the server you're using, it may stutter or lag a bit. Definitely not a streaming experience you want.

Another platform we tested for this Whoer VPN review is Prime Video, which didn't work. The platform immediately detected that we're using a VPN, hence it locked us out immediately.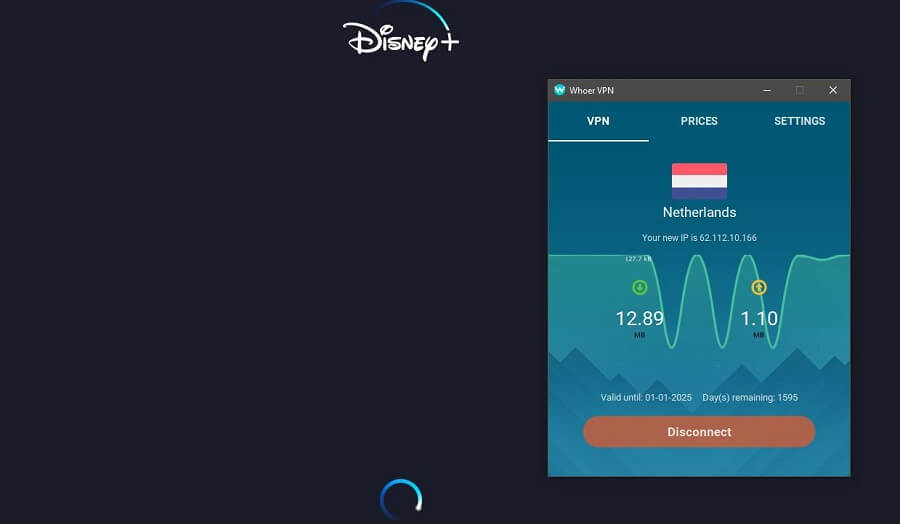 At first, Disney+ was looking like it was going to work. But, after clicking on the "Login" button, we got this infinite loading screen. This means that Whoer VPN doesn't work with Disney+.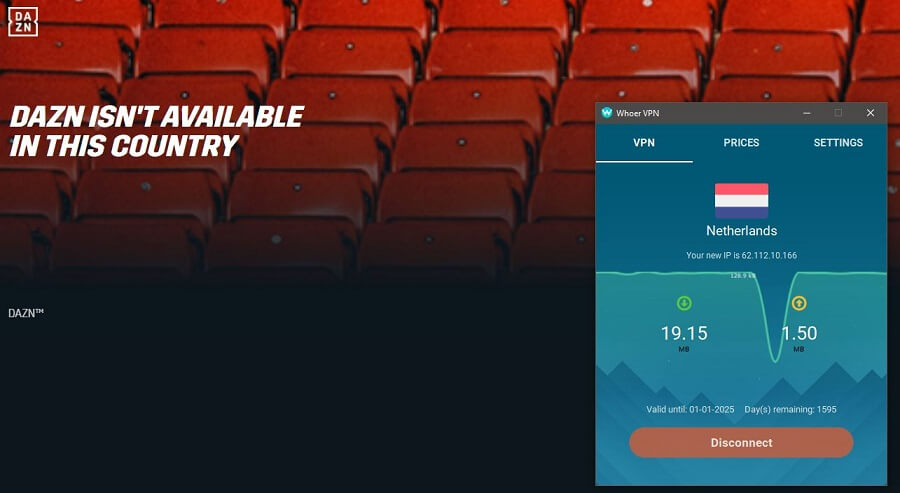 One of the hardest platforms to unblock is DAZN, and as expected, it didn't work.
To review Whoer VPN properly, we tested platforms like HBO GO and Hulu, as well. Hulu didn't work, while HBO GO worked, although with minutes of buffering when streaming.
Whoer VPN won't impress you with its streaming capabilities. Sure, it will unblock a few platforms here and there but nothing worth bragging about.
WhoerVPN: Confidentiality, Security & Logs
Being from Cyprus, the only department where Whoer VPN can impress us should be the security one. Countries like the US, Canada, UK, and Singapore are bad for basing your VPN service in.
The same can be said for other 9 or 14 Eyes members, such as Germany, Italy, France. Cyprus is a very small country, geographically far from the ones we mentioned, and is, so to say, home to privacy.
Let's check the provider's privacy policy and see if it collects any compromising information: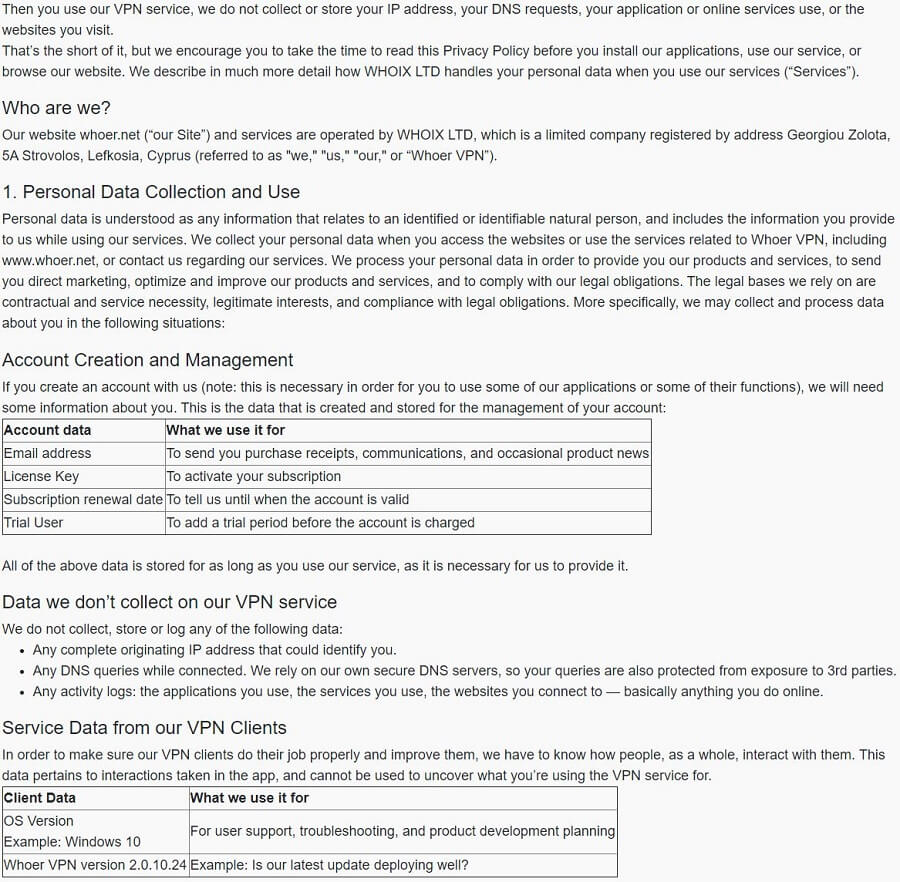 This is how the privacy policy looks like, with a few irrelevant paragraphs down below. The information they collect isn't going to put your privacy in jeopardy. Whoer VPN stores your email address, renewal date, license key, and so forth.
All of this information is needed to function properly and to have insight into your subscription. The provider states that it doesn't collect your IP, DNS queries, activity logs, etc, etc. Overall, this is a very good zero-log policy akin to providers like ExpressVPN and NordVPN.
Oh, and if you're reading this, please change the word "then" into "when" at the start of the policy. Having these typical mistakes won't make you look more serious!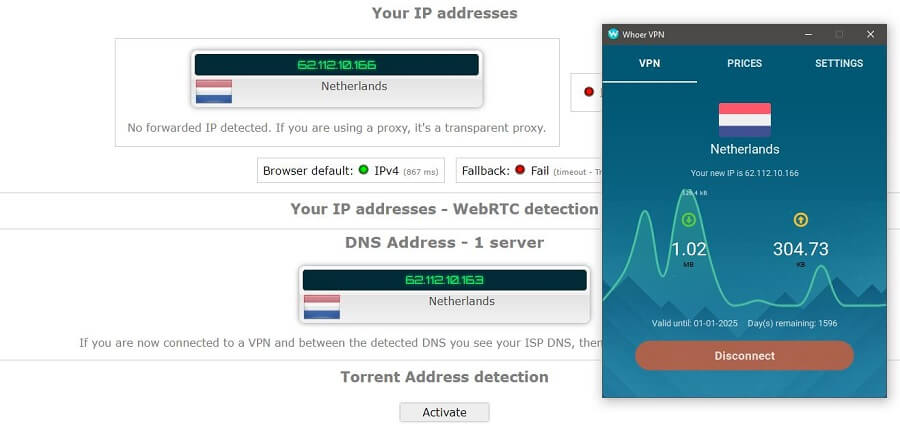 The IP leak test shows great results, as well! No IP or DNS leaks detected, meaning that the provider really has rock-solid security. Speaking of security, it uses 256-bit AES encryption in conjunction with several other features: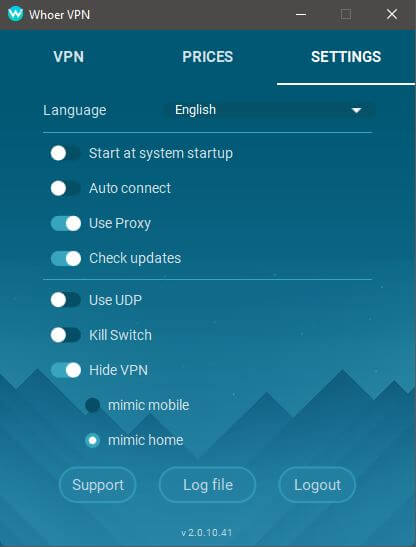 There's a kill switch and the ability to use UDP instead of TCP. This means that Whoer uses OpenVPN by default, with no ability to change protocols.
Can I Do Torrenting Safely With Whoer VPN?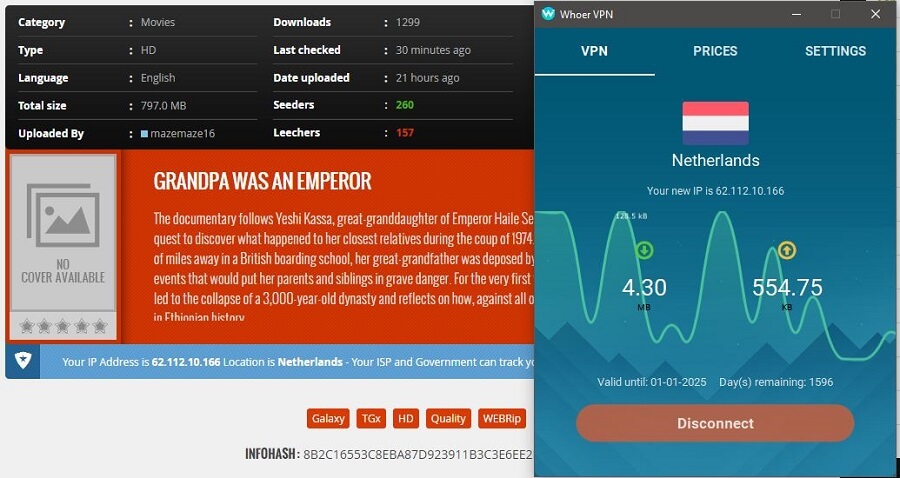 Torrenting with the provider that has a no-logging policy is rarely dangerous. With Whoer VPN, you can rest assured that your torrenting habits won't end up in the hands of the government or the ISP.
The issue is, once again, the speed. Downloading movies such as the one in the image above won't be a chore. But as soon as you start downloading big AAA games that take more than 50 or 100 GB, that's where the problems will arise.
Obviously, this isn't the best VPN for torrenting, albeit, it allows you to torrent safely. For downloading torrents safely AND quickly, our recommendation is NordVPN with its dedicated P2P servers.
Can I Use Whoer VPN to Bypass Censorship?
Firewalls placed by the governments worldwide are getting stronger each day. One of the strongest censorship measures is The Great Firewall of China, a measure that many VPNs fail to bypass.
Whoer VPN is a low-end provider with not enough firepower to blast through this firewall. Our testers in China did their job of testing it well, but with no avail. The fact that you can't switch protocols is another problem.
With IKEv2, it's sometimes possible to bypass censorship in China or Russia. The provider doesn't allow you to control which protocol you're using, so don't expect it to work for bypassing censorship.
There are much better options to use in China, Russia, UAE, and other censored countries, than Whoer VPN.
Pricing and Plan Options
Now we've come to one of the most important parts of this Whoer VPN review – the pricing. Everything we found out about the provider up until this moment implies that it's not really a premium one. What do the prices say?

Well, here you go. Generally speaking, the provider is cheap at first glance. Its monthly plan costs $9.90 a month, a six-month plan is $6.50, while the annual plan costs $3.90 a month. The prices you see above are well below the industry standard.
That is if we take a look at the annual plan only. The monthly plan is quite expensive, and with $12.95 a month, ExpressVPN is a much better deal. A six-month plan isn't very cheap either, at $6.50, compared to CyberGhost that sells it for $7.99.
The prices are below the standard, which can't be said about the value for money. You'll save a bit of money on Whoer VPN and get lackluster performance, which is a compromise we aren't willing to make.

If you still decide to buy this provider, here's how you can pay. You can use your credit card, E-currencies, and cryptocurrencies. Unfortunately, PayPal isn't available but Bitcoin can be used if you want to make an anonymous purchase.

An interesting thing we found is that the provider offers a 30-day money-back guarantee but under some… well, special conditions. If you don't like the service, you CAN NOT get your money back. Instead, you must have an issue which you'll have to prove with a screenshot.
Then, if the provider can't fix the issue, you're eligible for a refund. In the opposite case, when they fix the issue, you can't get a refund. That's not very user-friendly, is it?
How Can I Contact Whoer VPN Support?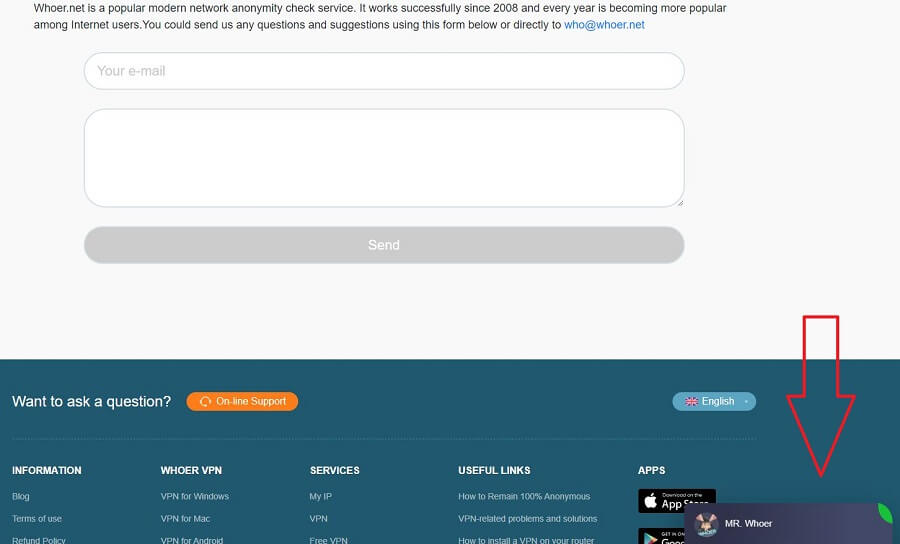 Contacting the provider is a really simple thing to do. You can use the live chat functionality in the lower-right corner or contact it through email. When using live chat, Whoer VPN will respond relatively quickly, in about 30 seconds.
The support team members sound kinda robotic and have no "soul" as they do on NordVPN, for example. Nevertheless, they're helpful and will provide necessary information to fix potential issues.
One thing we found annoying is that email support doesn't work. We contacted them a few days before writing this review, and as we speak, we still didn't get an answer from Whoer support. Support is, simply put, all over the place.
When you charge for your services, you can't have a half-baked product. Bake it first, make it proper, and sell it. That's what we have to say about support and provider in general.
The Special Functionalities of Whoer VPN
What about special functionalities? Well, the good news is that Whoer VPN thought in advance, letting its users take advantage of a few useful tools for privacy/security. Let's talk about them:
Double VPN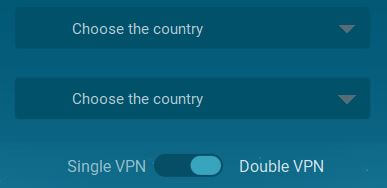 A very cool feature that Whoer VPN has is called Double VPN. Double VPN is a well-known feature in the cybersecurity world but not many providers offer it. The best provider offering this feature is NordVPN but it offers several presets, so you can't choose which two countries to chain together.
Here, though, that's not the case. You get to choose both of the countries, after which you can easily connect and enjoy a double layer of privacy. Given how slow Whoer VPN is, the main thing is that you'll have to sacrifice a LOT of speed.
On the brighter side, the feature works fine, with no IP/DNS leaks or anything that would compromise your online identity.
Anonymity Check (Website)
Anonymity Check is a feature you won't find in the app. Now, we usually don't mention features on the websites of providers, but this one deserves mentioning for two reasons. The first reason is that it's very useful and shows you every bit of information about your IP address, ISP, location, etc, etc.
We like that it shows you the anonymity percentage but also gives you solutions to make it 100%, which is the second reason we like it. When you apply the fixes, however, it never goes to 100%.
To test it out, we connected to ExpressVPN and our anonymity was at 90% still.
Really?
It's more like an advertisement tool, it seems, "forcing" you to buy Whoer VPN to be anonymous completely.
Other Things You Should Know about Whoer VPN
There are a few things we haven't talked about in our Whoer VPN review, so let's go over them before we see what other people think about the provider.
Number of Countries and Servers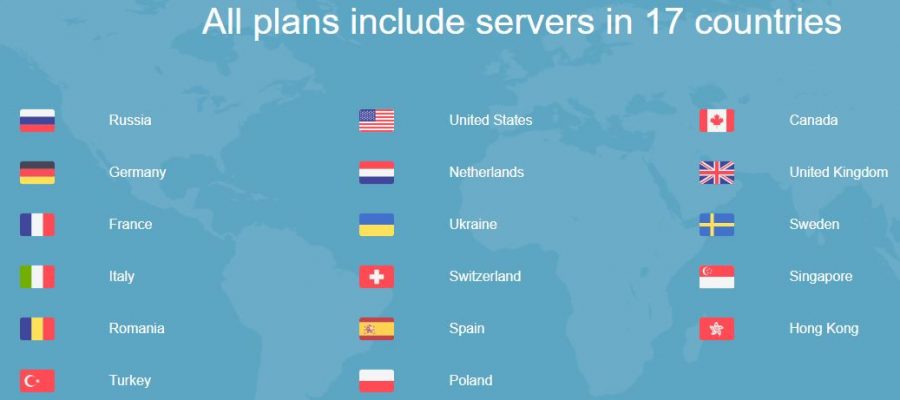 Whoer VPN fails to impress us when it comes to servers and countries. The provider has servers in only 17 countries, which is really a minuscule number. Heck, they don't even have servers in Australia and India – come on!
Moreover, they don't mention the number of servers anywhere. It's just "all plans include servers in 17 countries". Our experience showed that when the provider doesn't talk about its servers, it means that it's not proud of it.
In other words, this number probably isn't a triple-digit one.
Number of Simultaneous Connections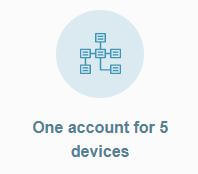 Much like ExpressVPN, this provider offers up to 5 simultaneous connections on a single device.
It has become an industry-standard nowadays. Maybe ExpressVPN should up its game a bit, to match the likes of NordVPN and CyberGhost with 6 and 7 simultaneous connections respectively.
What Do Other Users Say About Whoer VPN?
If you want to find other people's opinions about this provider, know that it won't be an easy task. Whoer VPN isn't a very popular option, so you can't find reviews on sites like Reddit and Trustpilot.
We glanced over to the Google Play Store to see if we can dig out something, and we succeeded:

A very short review about WhoerVPN on Google Play isn't a positive one. It's one-star feedback that says that the mobile service doesn't work. Basically, that's what we said earlier, about the provider refusing to connect time after time.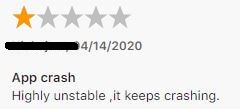 On Apple Store, there are only TWO reviews and both of them are very negative. Once again, this user complains about unstable connections and crashing – two issues that didn't bypass us, either.
Conclusion: Should You Go For Whoer VPN?
Whoer VPN feels like a half-baked cake. It has some parts that are delicious and crunchy, while some are just bland and not worth trying. This provider nails it in terms of security and privacy, but also its intuitive apps for mobile and desktop platforms.
Sadly, the provider doesn't offer anything else to look forward to. The speeds are very slow, it's not the most capable of streaming, and offers a very small server network. For us, the biggest turn-off was the instability and buggy apps.
There's no doubt that Whoer VPN is a long way off to be a recommended option. Therefore, we can't recommend it at this moment. Our suggestion would be ExpressVPN instead, as it's the best VPN on the market.