If you're not acquainted with the laws regarding torrenting, yet you're still doing it, you're just asking for a trouble. Downloading copyrighted material without protection can have serious consequences in some countries. Of course, we're talking about a Virtual Private Network that can help you do this anonymously. In this article, we're going to talk about the best VPN providers for P2P activities. We test them regularly and with all this knowledge, we feel confident to display the results. Grab your cup of coffee and don't go anywhere – this will be a useful read!
The Best VPN Providers for Torrenting in 2021
A VPN will keep you perfectly protected for your downloads on TPB, 1337x or any other torrent website. Because of that, let's talk about our top 5 picks first. Here they are:
1. ExpressVPN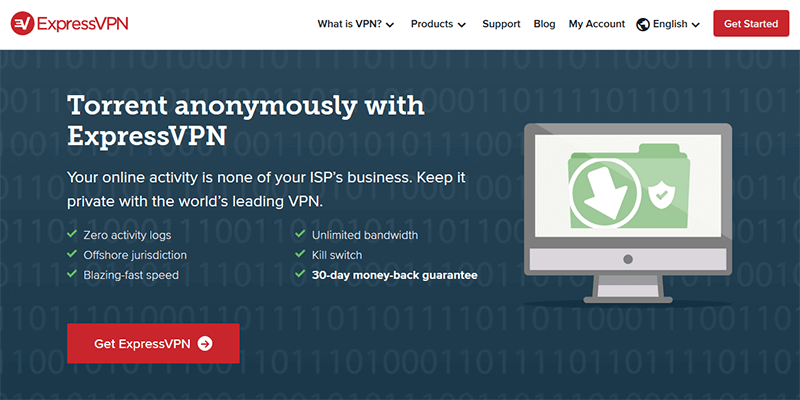 ExpressVPN is, in our tests, constantly the best provider in all departments. When you use BitTorrent, all that you want for the start is speed. We all hate when our torrents download at snail-like speeds, so we're forced to wait two hours for a movie to download.
Fortunately for you, this is the fastest provider on this list of the best VPN for downloading torrents safely. What about other features, then? Well, we would lie if we said we're not impressed. The company is hell-bent on being the best in the business. For example, you get a no-log policy, which is extremely important when torrenting but also using Popcorn Time (for example).
The company is located in the British Virgin Islands, so they aren't forced by the 5 Eyes to keep logs. In case the server you're using crashes, which never happens, there's an automatic kill switch. Security is further strengthened by 256-bit encryptions, DNS and IP leak protection, and split tunneling.
Split tunneling is great when you want to split your internet traffic. You can check your PayPal account with your native IP and download a game with your new IP, for instance. The possibilities are endless, given the fact that ExpressVPN has 3,000+ servers in 94+ countries worldwide.
We can't forget to mention the fact that you can bypass geo-restrictions. This is also the best provider for that purpose. It can unblock DAZN, Amazon Prime Video, Netflix, Hulu, and many more. Finally, ExpressVPN offers a 49% discount and 3 months free for a 12-month subscription plan.
If you don't like it, you can get your money back within the first 30 days of purchase.
2. NordVPN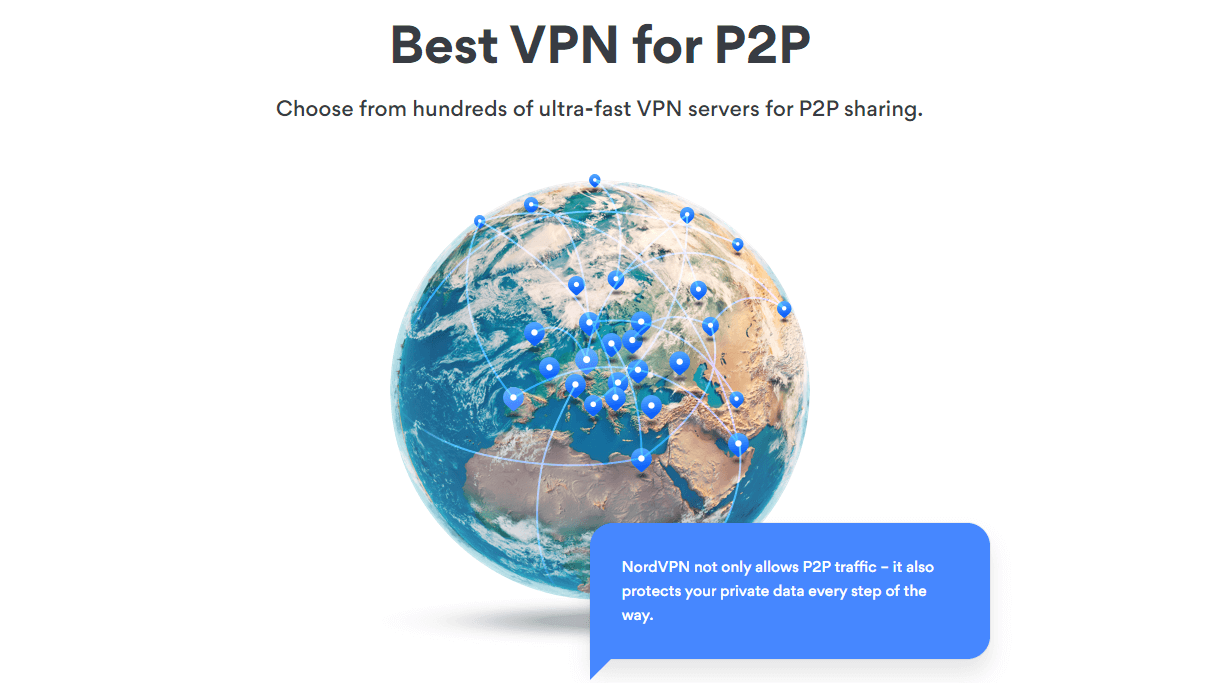 Quality services and features don't have to cost a fortune. NordVPN is here to prove that point. The company is stationed in Panama, which carries tons of benefits with itself. One of them is that you get a zero-log policy, explicitly displayed on the provider's website. Which is a very good news if you're looking for the best VPN to do torrenting.
Although Panama's internet infrastructure isn't on the highest level, the performance is top-notch. We managed to achieve some great download and upload speeds, accompanied by low pings. This is great both for torrenting and for gaming. If you're a gamer, you might want to read this article about the advantages of VPNs for online gaming.
When you visit The Pirate Bay, for example, games won't be the only thing you'll be able to download freely. With NordVPN, you're completely protected from the government or your ISP, making downloading every type of content a breeze.
Security features of this provider are, simply put, second to none. Aside from the no-log policy, you also get P2P support on almost all servers, as well as an automatic kill switch. The great thing is that there is DNS and IPv6 leak protection, just to watch your back.
Other features include Double VPN, Onion Over VPN, and CyberSec, a bonus feature for blocking ads and pop-ups. The provider offers 5,500+ servers in 59 countries, making it easy to find a stable and reliable connection.
All in all, NordVPN is in a league of its own. It's a fantastic VPN provider that we wholeheartedly recommend in order to download torrents in full security.
3. CyberGhost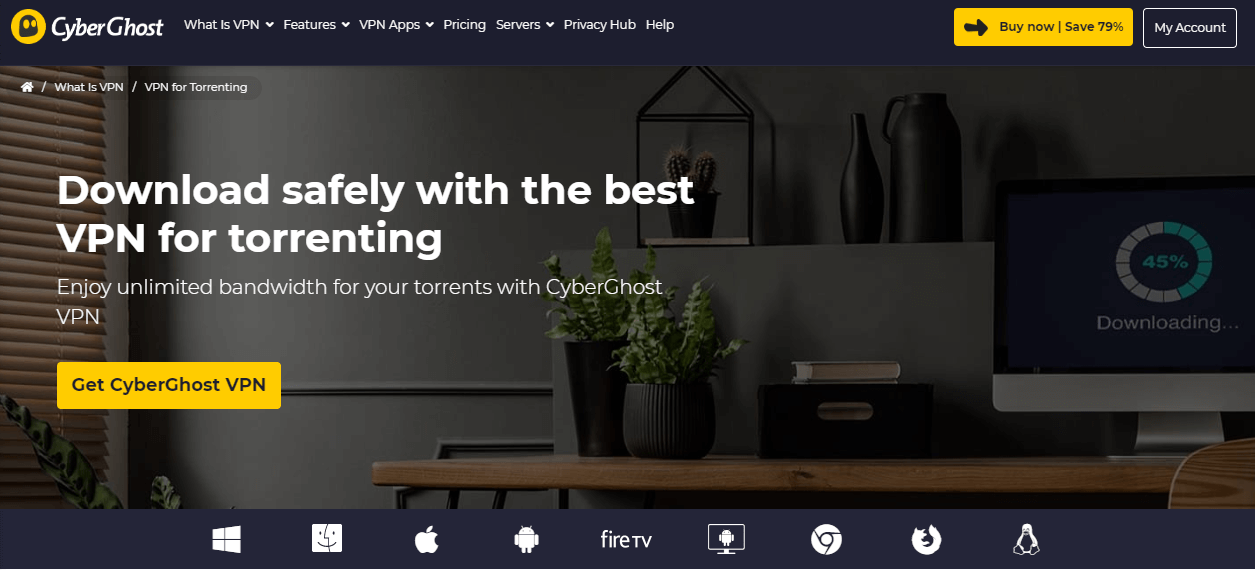 CyberGhost comes with its dedicated servers, which can be a life-saver for some users. To explain, the provider offers servers for different activities on the internet. When you boot the app, you get to choose from torrenting, streaming, internet browsing, and a couple more.
Now, you choose what you want, and you're automatically connected to the best server for the purpose. Interesting, isn't it? Well, it has a small caveat – CyberGhost doesn't support P2P activities in some countries. This is a bit of a let-down.
However, the supported servers are blazing-fast and we managed to get some insane download speeds. In terms of security, CyberGhost has all you want. Starting from the no-log policy and 256-bit encryption and ending at DNS and IP leak protection.
Server count implies that this is the largest provider on the planet. It has 6,000+ servers in 91 countries. But, if you're strictly interested in torrenting, this number will be reduced. You'll get approximately 4,800 servers for this purpose.
Nevertheless, other functions work just fine. We successfully unblocked all the most popular streaming platforms like Netflix, Hulu, and HBO. The best of all is that it's dead-cheap and for this price, CyberGhost offers more than you'll pay for.
4. Surfshark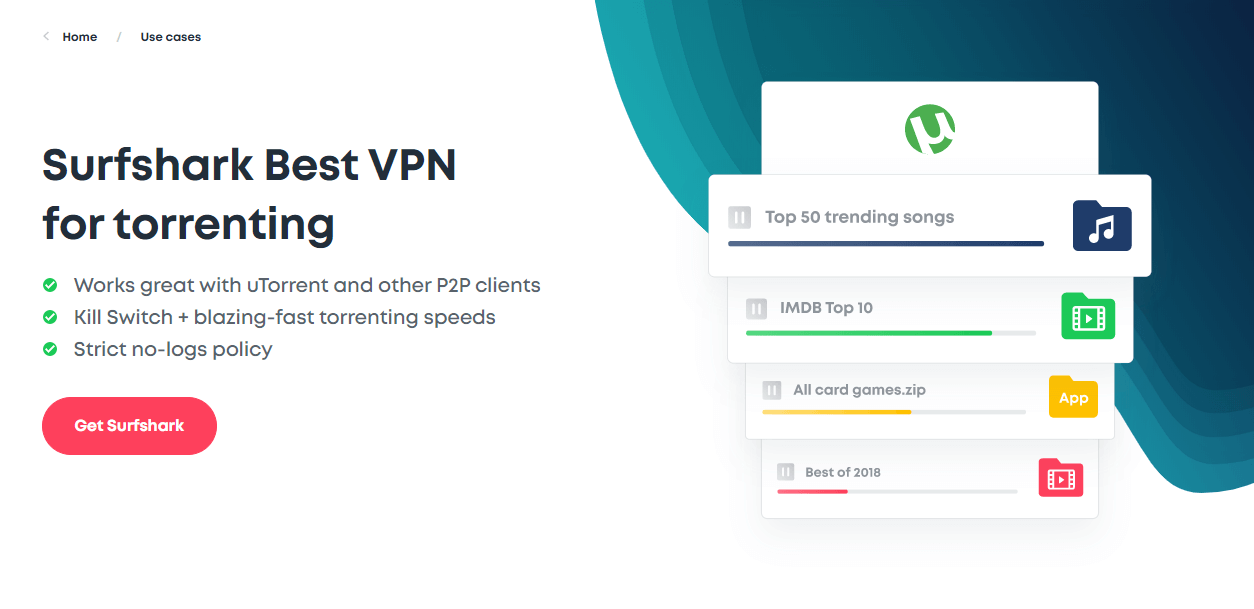 If you're our avid reader, you probably noticed how often we mention Surfshark. This is a new provider that we couldn't resist but test as soon as possible.
Results? Fantastic.
Despite its smaller server count of 1,000+ servers worldwide, the speeds are incredibly fast. To top it all up, the connections are as reliable, with no accidental disconnections and slowdowns. For this purpose, Surfshark is equipped like a Tiger Tank from the WW2. So we don't need to tell you that it will also be a great VPN for downloading torrents in peace.
Since it's from the British Virgin Islands, you get a no-log policy from the get-go. There are 256-bit encryption and protection against IPv6, DNS, and WebRTC leaks. Like ExpressVPN, Surfshark also offers split tunneling for added convenience.
P2P activities are supported on all servers, so you can seed and download to your heart's contempt. The best thing about Surfshark is that it allows unlimited connections. How many providers do you know that offer this feature? Hmph… zero, perhaps?
To digress, this is one of the best providers we've used in recent years. Given how young the company is, we expect it to be even better in the years to come.
5. IPVanish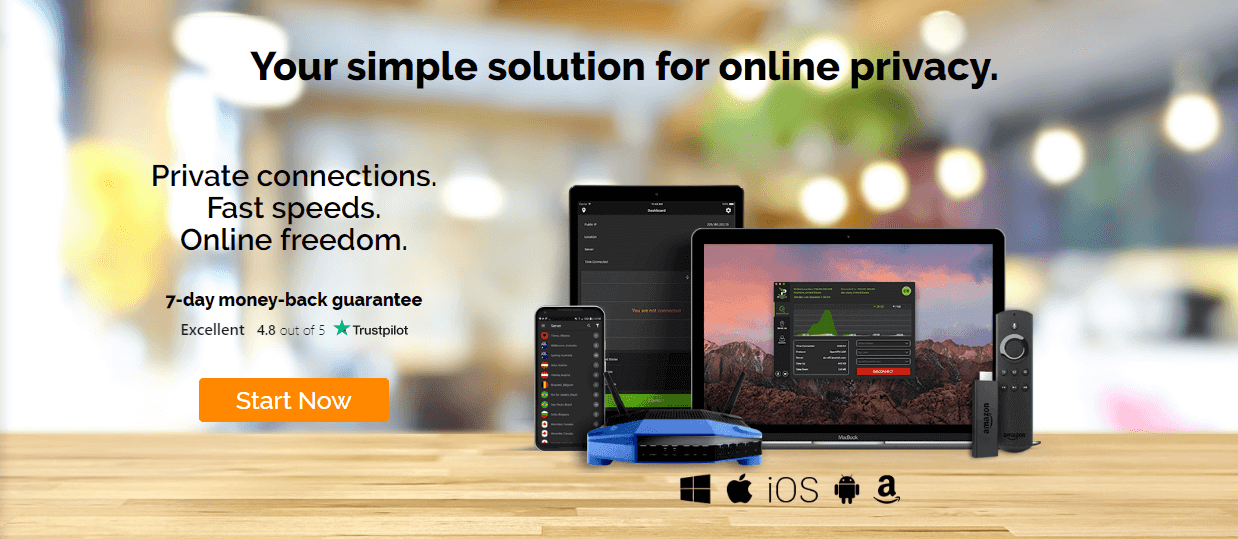 IPVanish comes from a country where torrenting is a very dangerous activity. And no, that's not Canada. Speaking of this country, if you live in Canada, you'd better use a VPN. Of course, we're talking about the USA. The almighty (or not?) United States that has access to Netflix and other streaming platforms.
Because of this, many users are concerned about IPVanish's zero-log policy and its existence. Luckily, it has one and it's explicit on the provider's website. Now that we got that out of the way, what else does it offer?
Well, there's no dedicated profile for P2P activities although the provider supports them. We tested it on numerous torrent websites and got fantastic results. Sure, speeds were a tad slower than with the previous providers but we must take into account that this isn't the best provider in the world.
We also like the inclusion of many security protocols. You get OpenVPN, SOCKS5 proxies, an automatic kill switch, 256-bit encryption, and many more. Also, 24/7 customer support works flawlessly, so you can contact them if you have any problems regarding free internet access or their apps.
The only thing that we don't like is a 7-day money-back guarantee, which is silly, compared to other providers on the list of the best VPN for torrenting that offer 30+ days.
Benefits of Using a VPN for Torrenting
A VPN has numerous benefits regarding internet safety and security, and the same applies to P2P activities. So, here's why using it for these activities is a good idea:
Staying Anonymous
First and foremost, it's important that you're anonymous while performing this activity. The reason being is because some countries are very harsh when it comes to violating copyrights. For example, a country may allow the use of BitTorrent but will not allow downloading copyrighted material.

This is, however, pointless. If the material isn't copyrighted, it usually means it's free of charge. Why would someone download it from these websites, then? Also, there are cases of people getting punished for using BitTorrent even if they didn't download any copyrighted material.
As you can see, the laws aren't exactly in place in the majority of the countries. This is why you MUST stay anonymous when engaging in P2P activity. The provider you choose must have a zero-log policy, IP leak protection, 256-bit encryption (at least), and native support for Peer-to-Peer file sharing.
Avoiding ISP Bandwidth Throttling
Bandwidth throttling is a pretty common problem that many people fail to recognize. Now, let us ask you something. Have you ever streamed Netflix and your internet started struggling all of a sudden? Or perhaps, instead of downloading a game at full speed, you get half of it, if not less – did it happen?

If so, you were a victim of the so-called ISP throttling. As you can see, it's a process in which your Internet Service Provider intentionally slows down your internet speed, so you use less bandwidth. This happens a lot when streaming, especially on platforms like Netflix, Disney+, and other popular services.
When streaming or torrenting, you use a lot of internet data, so the speed must be limited. We know about several cases where Netflix had to pay to certain ISPs to avoid this problem. But, with a Virtual Private Network, your IP address will be hidden, hence the internet provider wouldn't be able to do this.
Unblocking Torrent Websites
Last but not least, unblocking websites. You know how good a service like this is at unblocking all kinds of sites. Netflix, Hulu, HBO, Sky TV, DAZN, and many others are on this list. However, torrent-based sites are also here.
The Pirate Bay, for instance, is the most popular website of this kind. It's currently unavailable in 20+ countries, pretty much including every continent. If you can change your IP to a country in which it's accessible, accessing a blocked website will be easy.
This is another benefit that's very important. In case you can't access the website, how are you going to download something from it?
Why Free VPN is Not a Good Option?
How about you save some cash and use a free VPN in order to download torrents? It sounds kinda cool. You don't have to pay or subscribe. Instead, you just download the app, launch it, and access hundreds of servers in a matter of seconds.
Well, it's time to wake up from the fairytale. Free providers come with multiple limitations that make them unusable for this purpose. Oh, God, where do we begin? From the start, as they say. And the start is that they offer limited bandwidth.
We guess you're okay with getting anywhere from 500MB to 2GB a month… or not? In rare cases, you'll get more than that. Like 10GB on Windscribe or perhaps unlimited bandwidth on ProtonVPN (but not for torrenting or streaming).
The next limitation is the lack of security features. One crucial feature is often missing from free providers – can you guess which one it is? A zero-log policy. This is a very important feature for this purpose. Unfortunately, free providers don't have it, in most cases.
This means that they can sell your data to third-party companies and earn some revenue. Another way to prosper is by implementing annoying pop-ups and ads, which hinder your browsing experience. To be honest, many of them do it.
And finally, a deal-breaker for many users is that they can't unblock the most popular streaming platforms. Netflix is rarely unblockable, Hulu is sometimes, DAZN, Amazon Prime, and Disney+ are pretty much never accessible.
For all these reasons, we don't recommend free VPN for torrenting. Especially if you want to stay anonymous and safe.

FAQ
Let's answer the questions we didn't mention in the article.
What is the best server location for torrenting?
There's no such thing as the best server location. However, there are server locations you should avoid. These include China, the US, Russia, Latvia, South Africa, Portugal, Malaysia, and Australia. On the contrary, countries you can use safely are Poland, Canada, Spain, Switzerland, and the Netherlands.
Experiment with them and see which servers work the best for you.
Is P2P file-sharing legal?
P2P file-sharing or in other words, torrenting, is legal. At least, in most places. Another aspect of this activity isn't – distributing copyrighted material. If you download royalty-free material using BitTorrent, you shouldn't have a problem, although some countries will punish you regardless.
To make sure you're completely safe, take the necessary precautions we talked about a minute ago.
How important is a zero-log policy?
Very important. It's crucial that your provider doesn't keep logs of your internet activity so that it can't sell it to third parties. If a provider doesn't have a no-log policy, we suggest avoiding it for this purpose. You never know when these logs can end up in your ISP's office and if that happens, you're knee-deep into trouble.