Using a VPN for online gaming seems like a crazy idea but if you've ever used it, you don't think like that. Sure, there might be pitfalls like higher ping or slower connections but generally, the idea is pretty good. We would say that a service like this can bring you so many benefits, not just in terms of playing games. Sometimes, gamers just want to rest their fingers and watch some Netflix shows, which is, in this case, possible. Nevertheless, without wasting a second more of your time, we'll delve deeper into this topic and see your best options wether you're playing on PC or consoles (Xbox, PlayStation…).

Why You Should Use a VPN for Gaming?
If you're a passionate gamer and you spend multiple hours in front of your monitor, we don't suggest leaving now. Here are the reasons why you should consider using a VPN while gaming:
Conserving Your Privacy
Of course, the primary reason for using a service like this is to conserve your privacy. When connecting to an online gaming server, your IP is exposed to the server provider and other players. A server host MUST have your IP visible to be able to issue a ban or kick you from the server if you're not behaving appropriately.
This is how the ban works. The ban can be either permanent or temporary, depending on the severity of your misbehavior. However, if you get a permanent ban, you won't be able to access a particular server ever again. If you use one of the best VPNs listed at the end of our article, however, this doesn't have to be the case.
Getting banned isn't a big thing. The big thing is getting your privacy jeopardized. Anyone who wants to do you harm needs only your IP, which is now visible to the players. It happens a lot when gaming online, especially if you get into a fight with someone.
This should be your number one priority for using a VPN provider. Not only for gaming but in general.
Avoiding DDoS and DoS Attacks
DDoS stands for Distributed Denial of Service, while DoS stands for Denial of Service. Although these two are similar, they're not the same. We'll explain briefly what these are, so you can get the picture.
The person who wants to attacks you uses TCP and UDP packets to flood the server, to overload it, thus making it unavailable to other devices on the network. This applies to the DoS attack, whereas in a DDoS attack, this is being done by multiple systems.
Because of that, a DDoS attack is much more effective and makes it harder for you to recover. If you've ever experienced it, you know how it happens. You play your favorite game, then boom – you're offline, with your whole network being taken down.
It can happen for numerous reasons. If you're cheating, swearing or simply playing too well, that the server admin thinks you're cheating. Either way, DoS and DDoS attacks are pretty common things that can, luckily, be evaded thanks to the best VPN to use while gaming (ExpressVPN for us).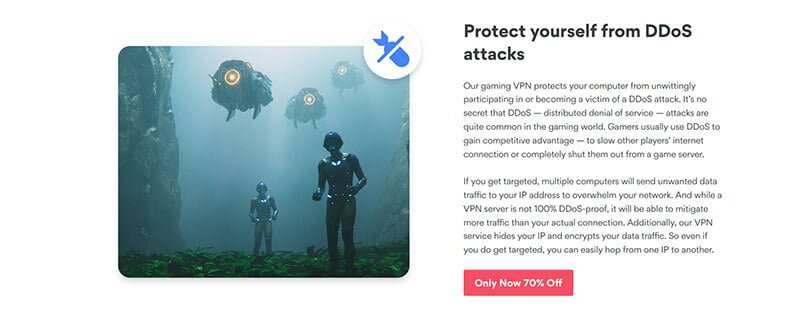 Avoiding Swatting Attacks
Swatting attacks are probably what you think they are. We know it seems ridiculous but there are cases that led to fatalities. So, if a hacker knows your IP while you're playing online, he can send a team of heavily-armed SWAT police to your door with a hoax threat. As you probably know, your IP contains info about your location, leaving the doors open for the hacker.
This can be VERY dangerous, especially because you're unaware of that. You just hear the police outside of your house and depending on what the hacker said, the police can go on you guns-blazing. We know that this doesn't happen often but you don't want to take risks. It's better to risk in your casino than risking your life, although both are pretty foolish.
If you don't believe us, here is a recent case that confirms what we just said.
Connecting to Servers in Another Continent
Let's say you're from Europe. You enter your game, just to find out that European servers are almost all empty or full, so you can't access them. More often than not, you'll find available servers throughout Asia, South America, and even Australia. The catch is that these servers will have sky-high ping.
We're talking about ping of 100ms and above. Your ping should never be this high unless your internet connection isn't working properly.  But, when you can connect to a VPN server in a different country, you can connect the gaming server in the same country.
This is a reason many gamers use a Virtual Private Network, even on consoles like Xbox One and PS4.
Accessing Geo-Restricted Content
Believe it or not, geo-restrictions aren't only a problem for streamers. Gamers are the ones suffering from this, too. Now, this geo-restricted content doesn't have to be whole games. It can be certain items in the game, that you can't normally access from your home IP.
This is why it's crucial that you can connect to servers in other countries, especially the American and Asian servers. These continents (South America and Asia) are where the gaming flourishes, hence geo-restricted content can often be found there.
Saving Money When Buying Games
If you're a budget gamer like 90% of us (yes, we are also big gamers!), you're hell-bent on saving some hard-earned cash. We would like someone to explain this logic, though.
A triple-A title on Steam usually costs $60 for users from the USA, while the same game costs €60 for users from Europe. €60 equals to $66, which is, as we see, more expensive.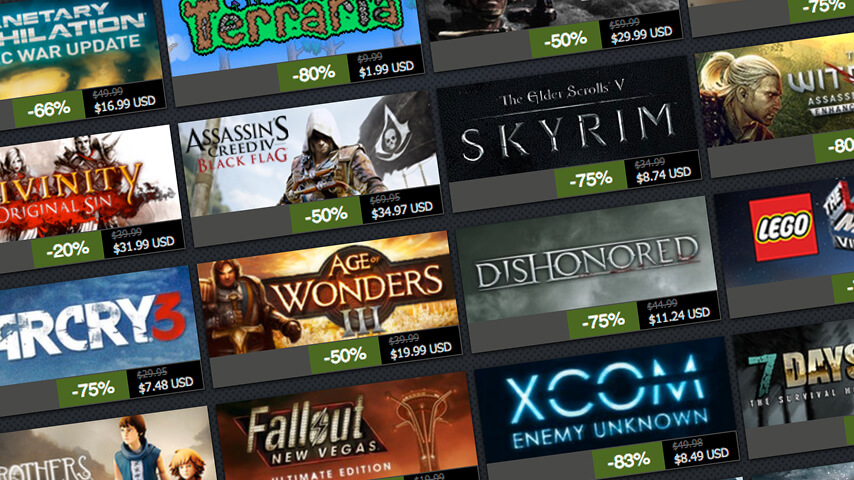 This isn't the only case of discriminating users from another continent. There are platforms that allow you to buy game keys, which are then copied and pasted into the gaming client, to activate the game. Even there, the prices are sometimes vastly different.
Either way, you don't have to be from the USA to buy your favorite game at a discounted price. If you connect to the server in this country, you can buy a game priced in dollars, and not in euros or any other currency.
Buying Games Before Their Release Dates
Not every game becomes accessible worldwide upon its release. Some developers will first release the game for certain countries like the USA or Japan, for example. Many times, gamers from around the world will wait for weeks or even an entire month to get their hands on the product.
Have no doubts – this is a very long period. In a month, you can even finish the game. You know what we're going to say now. If you have one of our favorites VPN for Gaming (console AND PC), this doesn't have to be the case!
Are Free VPNs Good for Gaming?
When someone offers services for free, you shouldn't just run to them like a sheep. Instead, take a step back and look at it from a different perspective. Free providers seem like a good deal. You don't have to pay anything – just install the apps, and enjoy your blazing-fast internet browsing.
However, there's always a catch. Otherwise, other providers would be abolished and removed from the face of the earth. First of all, many consoles don't support VPNs, which is why you need to install it on your router (if you can of course ;)). And now, free providers don't support routers!
Those who use a VPN on their PS4 or Xbox One don't install it directly on the console. Instead, they use a premium provider that supports routers, so they cover the entire house. Furthermore, these providers come with bandwidth caps, anywhere from 500MB to 2GB.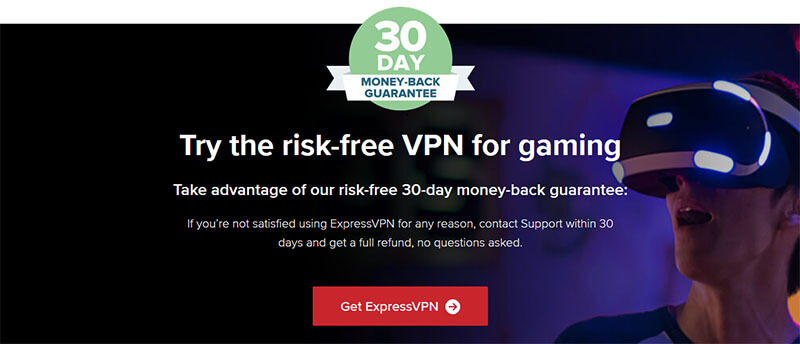 Plus, in terms of speed, even a turtle is faster than most of them. This means that you'll "enjoy" high pings, lagging, and stuttering like you're playing on your Pentium 2 PC from the beginning of the 21st century. Not to mention that they're not as secure as premium providers.
Although they'll hide your IP, the provider stores your browsing data, which can be sold to third-parties. Our suggestion is to use a premium provider and get rid of all the possible headaches. To set it up on your router, check out our guide.
And for those who don't want to read the entire section, here's your answer in bold – no, they aren't.
The Best VPNs for Gaming online
Whether you're playing your games on PS4, Xbox One, PC or any other consoles, you'll need a decent VPN provider. Our top picks for strengthening your security during online gaming sessions are:
ExpressVPN
NordVPN
CyberGhost
IPVanish
VyprVPN
Now, let's review these and see why you should use them.
1. ExpressVPN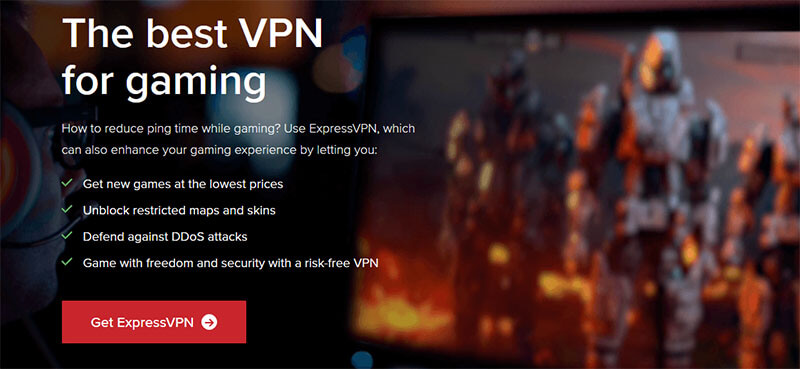 ExpressVPN is our favorite provider because of its lightning-fast speeds. If you want a lag-free experience with the lowest ping possible, this is the one to go for. We know that many professional gamers use it and you know how things are in this industry. Even a millisecond is important!
Aside from its speed, the provider goes guns-blazing in terms of features, just like the SWAT team we mentioned above. The provider is stationed in the British Virgin Islands, granting a 100% no-log policy. This means that your internet browsing activities won't be saved on the provider's servers.
To top it all up, there's 256-bit AES encryption, kill-switch, and DNS and IP leak protection. Your IP plays a crucial role when gaming, so ExpressVPN keeps it safe and secure. There's also support for OpenVPN encryption, where you can choose from TCP and UDP. UDP is better for this purpose, though.
Being available for all platforms (including routers), with the addition of 24/7 customer support, we don't see the reason for not getting it. Heck, you can even use it on Kodi.
If someone told you that it 's very expensive, hear this. ExpressVPN offers a 49% discount and 3 months free for an annual subscription plan! On top of that, you get a 30-day money-back guarantee if you don't like it. Smash the button below if this offer sounds decent to you.
2. NordVPN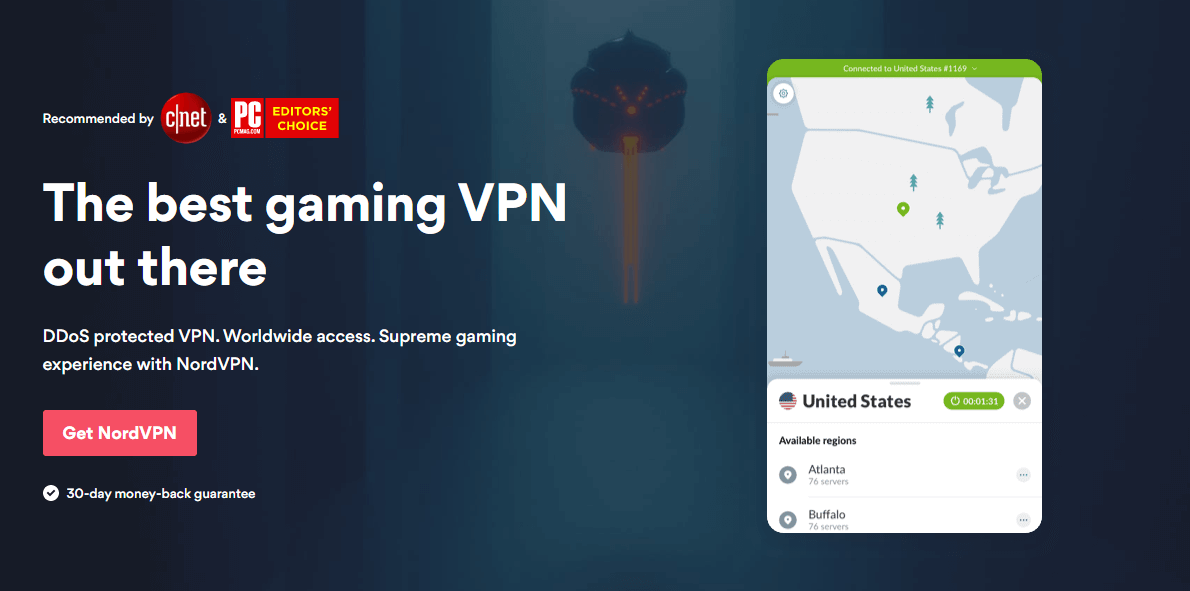 NordVPN is our second favorite VPN provider for gaming wether its on PC or console (PS4 or Xbox One).
The reason being is because it offers consistent, reliable, and speed connections. Some providers are very fast, although not consistently. Well, this one isn't the fastest but you get what you pay for at any moment. And to be honest, you won't pay much for their service.
The provider is known for its affordable pricing and cutting-edge technology in terms of security. You get whopping 2048-bit encryption, DNS and IP leak protection, kill-switch, and no-logs policy. To add two more layers of protection, there are Double VPN and Onion Over VPN features.
With all these features, NordVPN can also unblock geo-blocked content. All your Netflix, Hulu, and HBO shows will then be at your hand's reach. We mean, in case you get bored of gaming. Like ExpressVPN, this one also supports all platforms, so setting it up on your router shouldn't be a problem.
We nearly forgot to mention the huge number of servers NordVPN has. To be exact, 5,400 of them. This covers all the most important countries for playing games online, leaving you with zero worries.
3. CyberGhost

If this is your first time thinking about using a VPN while gaming online, you should consider CyberGhost. Of course, even if you're an experienced user, you know that the provider wouldn't disappoint you. The provider is known for its intuitive interface on all apps. On top of that, you'll pay less than a few bucks a month for its services.
Since it's based in Romania, you get a no-log policy for the start. Romania, thankfully, isn't a part of the 14 Eyes or any other nefarious conglomerate. Security-wise, you get 256-bit encryption and almighty DNS leak protection. And to add some sugar and spice & everything nice, you get 6,000 servers worldwide.
So, if you're worried about bypassing geo-restrictions, think again. You can change your online location to 6,000 places in the world (and 90 countries)! That's not a small thing, our friends.
4. IPVanish

IPVanish is another fast provider that we think would help your online gaming adventures. It has more than 1,300 servers around the world, in more than 75 locations. Although it's not faster than the fastest provider, it's still enough for lag-free sessions with your buddies.
Since we're talking about a premium provider, you can expect all the standard security features. These include 256-bit encryption, zero traffic logs, OpenVPN, IKEv2, and L2TP/IPsec protocols. There's 24/7 customer support, although we noticed that they're available for slightly less than that a day.
Nevertheless, IPVanish will easily bypass all geo-restrictions and allow you to enjoy your time online. If you want to test it, you can do it only for 7 days because of its modest 7-day money-back guarantee. Unfortunately, this is what puts IPVanish on the fourth spot.
5. VyprVPN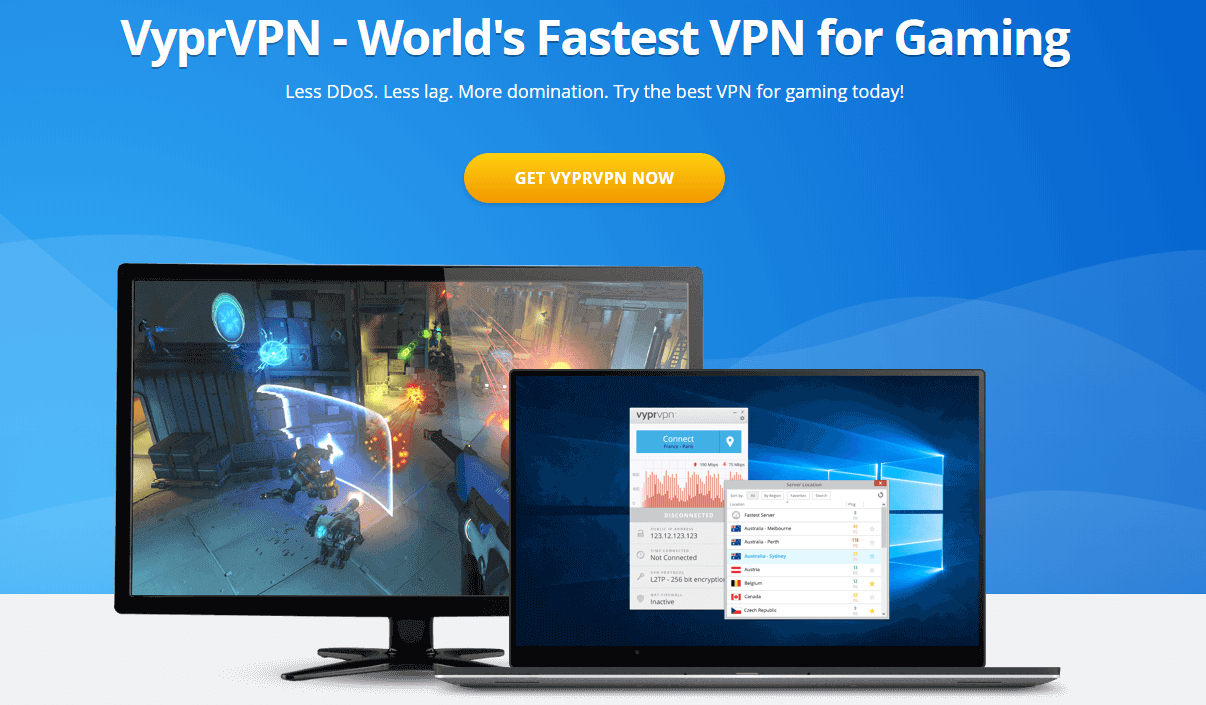 VyprVPN is a property of Golden Frog, a company that's well-known for its intake in cyber-security and privacy. With the company being with us almost since the inception of the internet, we had no doubts it will deliver on its promises. Luckily, this provider, although not the biggest, is still great for this purpose.
Despite offering just 700+ servers worldwide, the provider offers 200,000 IP addresses. However, the speeds are where VyprVPN shines, as you would expect because of its name (Vypr – Viper). In terms of security, you get all the standard features except a very important one – a no-log policy.
The company keeps some logs here and there but nothing to be concerned about.
Frequently Asked Questions
Are VPNs Legal?
Whether or not this service is legal, depends on the country. Some countries ban it because they associate it with criminal activities, for example. However, in most countries, it's completely legal to use a VPN while gaming. And since it's being used by millions of internet users worldwide, you'll have zero problems using it for this purpose.
Also, you can't get charged for using it since it will hide your IP address from the government. If you want to stay safe even before you buy a subscription, you can buy it with Bitcoins, if the provider supports them.
Will a VPN Increase My Ping?
Yes and no. If you go for a premium provider like ExpressVPN or NordVPN, it won't increase your ping much. Premium providers are fast and reliable, so this is, in most cases, unlikely to happen. With free providers, this isn't the case.
Despite using the premium provider, your internet speed could still be affected. This is because of the encryption and various technology that they use for keeping your safe and secure. But, if you're using a free provider, don't expect a difference this small. They will surely throttle your internet speed.
Is No-Logs Policy Important for Playing Games?
Not exactly. It's more important if you watch porn in a country where that's illegal, for example. If you just plan to sit down and play games, it won't have a significant impact on your safety and security.
Summary
After reading all this, one question still remains – is a VPN mandatory for a decent gaming experience? We would say that it isn't. Millions of gamers play games without a service like this. Still, if you're concerned about your privacy and you've had problems preserving it, then it's mandatory that you have one wether you're on PC, PS4 or Xbox.
In case you decide to buy a subscription, we recommend getting ExpressVPN. It's fast, reliable, and offers everything a passionate gamer would need. With its ability to bypass geo-restrictions, you aren't going to be limited only to games. You'll have unlimited access to any type of content online.