With monkey looking forward to his upcoming trip to China to visit his cousin, he asked us to look into VPNs in the country. As a wise traveller, monkey already knows the pitfalls of geo-restrictions and censorship when travelling abroad to some countries. He does not want to be caught out again. Therefore, we were tasked into looking into everything associated with Virtual Private Networks in China to pass the information on to him and him in turn onto you. So, if like monkey, you are visiting the country, read on to find out more about VPN for China.
In this article, we are going to look into the following aspects of using a VPN in China:
Whether it is legal to use a VPN in the country;
The ban on VPN services;
Why the Chinese government bans VPNs;
Why you might want to use this software;
Which VPNs work in China;
How to use a VPN to bypass the Great Firewall;
What to do if the service isn't working;
Whether you should consider using a free provider.
So without any further ado let's jump right in and find out all there is to know about using a Virtual Private Network in the country.
Is it legal to use a VPN in China?
The first thing we wanted to look into is whether using a VPN in China is illegal. This is something that has always been of a grey area with people not knowing if they are breaking the law by using the service.
China is a very oppressive country. Not only does it have a Great Wall around the country, it also has a Great Firewall around the internet. This leaves people in the country looking for ways to bypass the Great Firewall.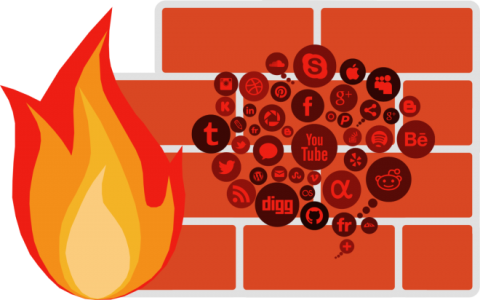 So, can you legally use a Virtual Private Network or do you risk breaking the law if you do?
China banned VPNs
Let's start out by saying that Virtual Private Networks were banned in the country in 2018. However, banning VPNs and the service being illegal to use is two different things.
Banning providers means that you cannot visit the website of a VPN provider in the country, as the ISP will block your request. This means if you want to use a Virtual Private Network in the country you should sign up for one and install the software while in your own country. This is because looking for a working VPN in China is like looking for a needle in a haystack, impossible.
So, is it illegal to use a VPN for China?
While the government banned VPNs in China this does not automatically mean that it is illegal to use a Virtual Private Network.
There were reports of using them being illegal, but this was mainly associated with businesses. However, there is nothing concrete to suggest that you can be fined for using one. It seems that most of the issues were around businesses in the country that used VPNs without getting clearance from the government.
A ruling was set in place that businesses had to get approval from the authorities if they wanted to use a VPN. This ruling only affects businesses, not citizens and visitors to the country.
There is no mention of it being illegal for citizens or visitors to use a Virtual Private Network to bypass the Great Firewall in the Country.
It does seem to be something of a grey area though, but right now, it looks as though it is legal to use a VPN. It is only the providers who are banned from selling their products in the country.
We have not heard about any person visiting the country using a VPN and being handed a fine or worse. Out of hundreds of millions of people, that should be reinsuring !
Why are VPNs banned in China?
The next thing we want to look at is why VPNs are banned and why is it so difficult to find a working VPN in China? Why is the government so opposed to this security software which is so commonly used in our countries?
Well, the answer to that is what you can and cannot do online in China is very restrictive.
There is a huge list of apps and websites blocked in the country courtesy of the technology behind the Great Firewall. The reason the government gives for banning sites and apps is to protect citizens from outside influence along with harmful information.
In other words, if the government does not like something or they do not want people to know about it, they block it, using the pretence of protecting citizens from harmful information.
Many of the websites and apps blocked are those used around the world every day by people. They include Facebook, Snapchat, Twitter, WordPress, Gmail, WhatsApp, Netflix and many more.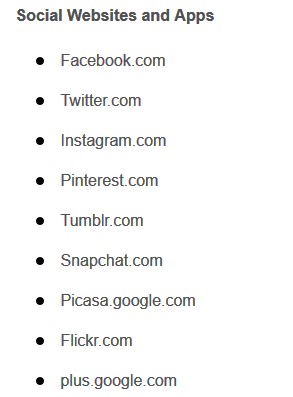 So, to answer the question why are VPNs blocked in China? It seems the government wants to stop people from using the service so they can gain access to websites and apps banned by the government.
This brings us to the next question:
Why use a VPN in China?
With the country being so restrictive about what you can and cannot do online, many people choose to use a VPN in China.
As mentioned above, it is important to sign up and download VPN apps while you're at home. This gets around the fact that you will find it impossible to visit the website of a provider once inside the walls of the country.
Here are some of the most common reasons and benefits of using a Virtual Private Network when visiting the country.
Bypass the Great Firewall censorship
One of the main reasons for using a Virtual Private Network is to bypass the strict censorship in the country.
If you are taking a vacation or a work trip, you are going to want to keep in touch with family and friends. One of the easiest ways is using one of the popular messaging services, WhatsApp, Facebook etc. This is easier said than done, as these apps and sites are on the government block list.
If you do not have a VPN in place before you visit China, you are not going to be able to use these apps.
When you try to visit a banned website the ISP notices your IP address is located behind the Great Firewall and blocks access. You get a notice telling you the website is censored.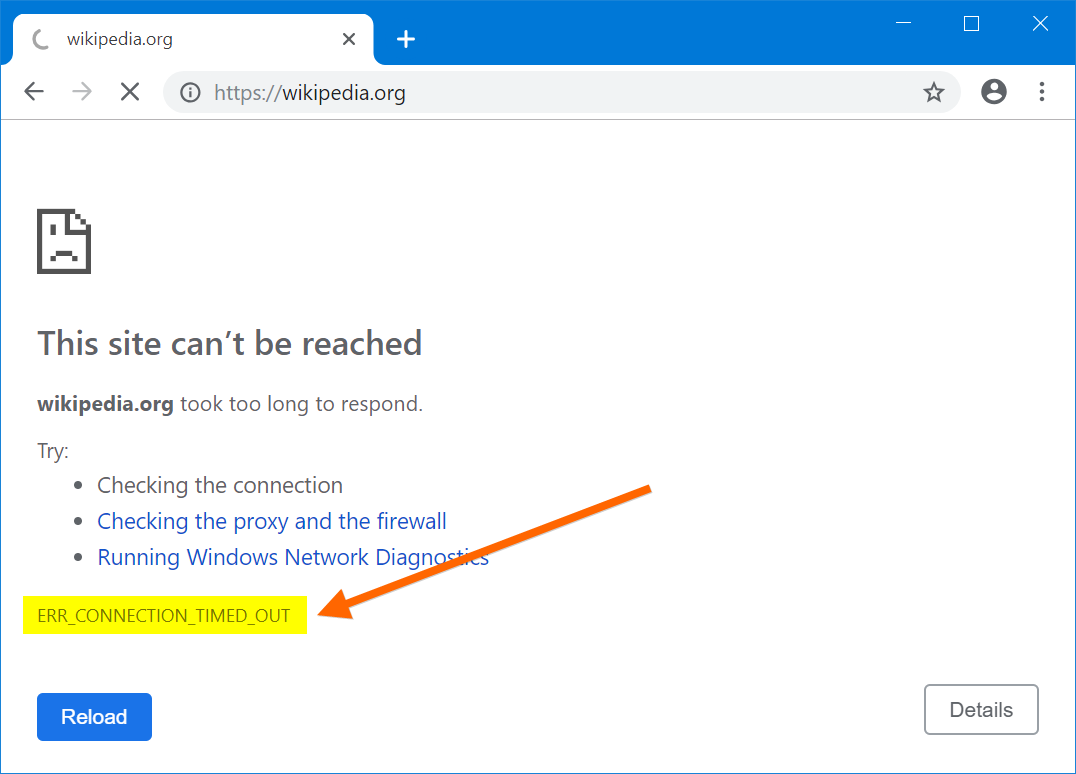 To get around the block you can use a VPN. The service will get around it as it puts you behind an encrypted virtual tunnel.
Any data, such as the name of the website you want to visit, is unreadable by the ISP. As they do not know what website you want to visit, they cannot put a block in place. Therefore, a VPN for China allows you to bypass censorship and visit any site that was restricted.
Get around geo-restrictions
Another popular reason people rely on a Virtual Private Network is to beat geo-restrictions.
The term geo-restriction means the content is restricted to a specific country. For instance, you watch US Netflix and can access the entire catalogue of content in your home state in America.
However, in other countries, you are restricted to the local version, if Netflix is offered in that country. In China, it is among the sites on the restricted list.
When using a VPN you can choose a server from any of those offered by the provider. This means you could connect to a server halfway around the world from your actual location. Your own IP address is masked and you take one on from the server you connected to which makes it look to the ISP as though you are located in that location.
If the ISP sees the IP address as being located in the United States, you can access the US Netflix version and stream your favourite shows. Of course, the same applies to any streaming platform and any country.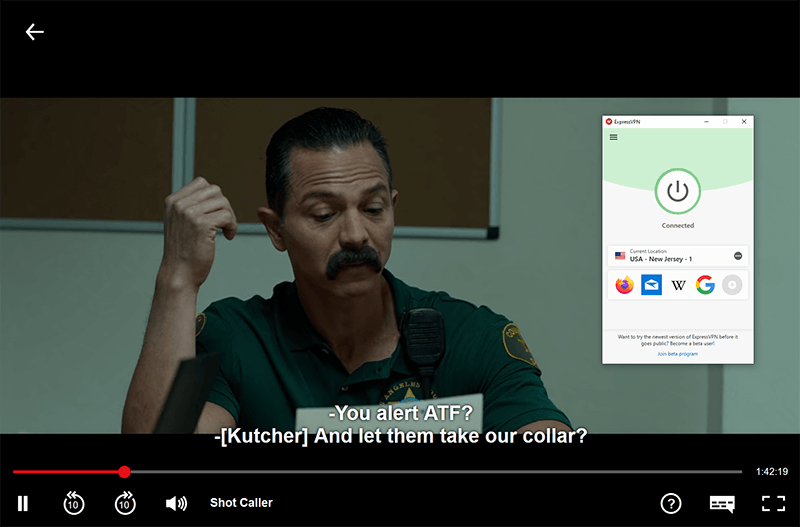 At the same time, the encrypted tunnel protects your information.
Remain anonymous
With the government being so restrictive, you really have to watch what you say and do online.
The government does not like anyone speaking out against their beliefs and the ISP has eyes on everything you do online. Your ISP knows what sites you visit or try to visit, what you download, chat about, the emails you send and more.
With a VPN, you can remain anonymous online. In the first instance, you can take on an IP address from halfway around the world and have the ISP believe that is where you are located. Secondly, you are behind an encrypted virtual tunnel so no one can read what you type online; see what websites you visit or what you download.
Torrent in safety
Downloading copyrighted content is illegal anywhere in the world. Along with this, torrent websites are on the list of sites that are blocked in China. However, with a VPN for China in place you can remain anonymous.
If you are anonymous, the ISP does not know what you are downloading. Therefore, there is no issue of them finding out you are downloading copyrighted content and they cannot send out warnings.
Online security from hackers
Online security is a big issue wherever you are in the world. More so if you rely on free WiFi connections to use the internet.
Hackers can infiltrate WiFi connections to steal your data, including credit card and bank details, along with any other personal information. They could use this information to steal your identity and ruin your life.

With an encrypted tunnel in place, even if someone were to intercept your information online, he or she would not be able to read it.
Hackers cannot find out information about you from your IP address if you have connected to a server offered by the VPN provider. This is because your own IP address is masked. You could choose to connect to a server many thousands of miles away from your true location and to anyone looking this is where you are located.
What are the working VPNs in China?
When considering a VPN to use in China it is important to bear in mind that not all providers have the technology to bypass the Great Firewall.
The best VPN for China is one that offers military-grade encryption so you can remain anonymous behind the virtual tunnel. The provider should have many years of experience and above all else reliable servers that can overcome censorship and geo-restrictions.
While you might think that all providers offer this criterion, surprisingly, they do not. Not all providers offer reliable servers that work inside China. However, on monkey's behalf, we did the homework.
Below are five providers who meet the criterion needed and more.
1. ExpressVPN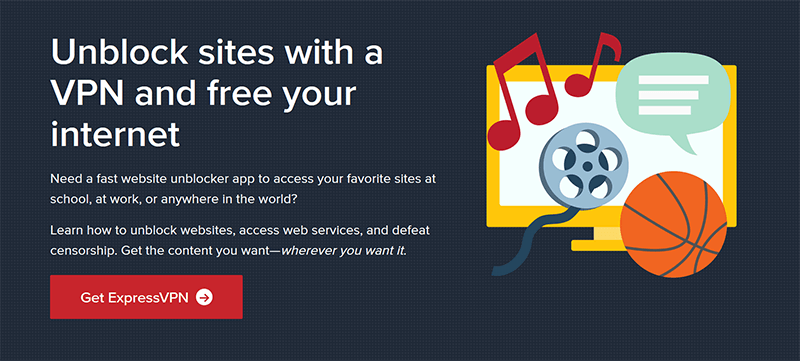 ExpressVPN is the number one choice of provider if you want to use Facebook, Twitter, Netflix or any other blocked site. This provider does not "monkey around" as they offer easy to use apps that can establish a secure connection in just one click.
The provider is well known for its ability to bypass the strict security of Netflix and China by offering servers from around the globe. Servers are among some of the most reliable out there.
ExpressVPN uses 256-bit encryption, which is the same type of encryption used by governments and militaries around the world. The encryption ensures that you remain completely anonymous online, so not even the ISP knows what you do once connected on the web.
Along with this, the provider includes a Kill Switch. This ensures that if the connection to the server is dropped, the ISP cannot see your true location as the connection stops.
ExpressVPN offers a super-charged VPN that has unlimited bandwidth and super-fast servers. Both of which are ideal for overcoming geo-restrictions and streaming in HD.
Being the best VPN in China, the provider also offers great savings of 49% when subscribing to a yearly plan and they give you three months protection free.
Finally, it also offers a 30-day unconditional money-back guarantee without any questions asked so you have nothing to lose. Just subscribe and enjoy a free internet !
Avoid censorship with the help of ExpressVPN >
2. NordVPN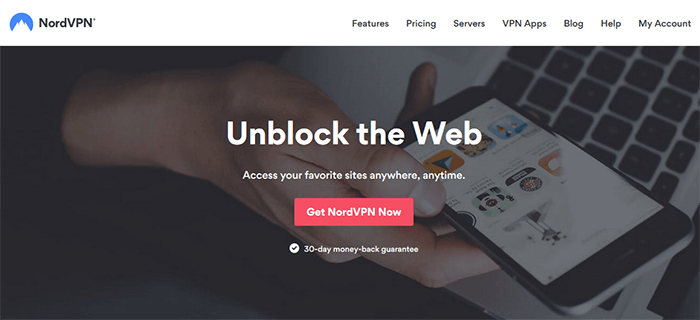 NordVPN is another great choice of VPN for China if you want to unblock Netflix, Facebook, Instagram or any other blocked site or app.
The provider offers many thousands of servers located in numerous countries around the world to spoof your location. NordVPN is among the few who can successfully get around the Great Firewall and its censorship technology. This is why we rank it second in this ranking of the best working VPN in China.
Among the many features offered by NordVPN that you can use to your advantage, is the double VPN. With this feature, you have twice the encryption and double the privacy by connecting to not one but two servers.
Other features to help beat censorship and keep you safe online include automatic Kill Switch and DNS leak protection.
DNS leak protection is particularly valuable in countries with high censorship laws. If leaks occur, some traffic can go outside of the encrypted tunnel. This means your ISP can see what you do online, along with anyone else who might be looking. This means they would see websites you are visiting, the services you use and downloads.
You can get some good discounts for the 2 and 3-year plans with NordVPN. To test the second best VPN for China, just click the button below.
Unlock any blocked site with NordVPN >
3. Surfshark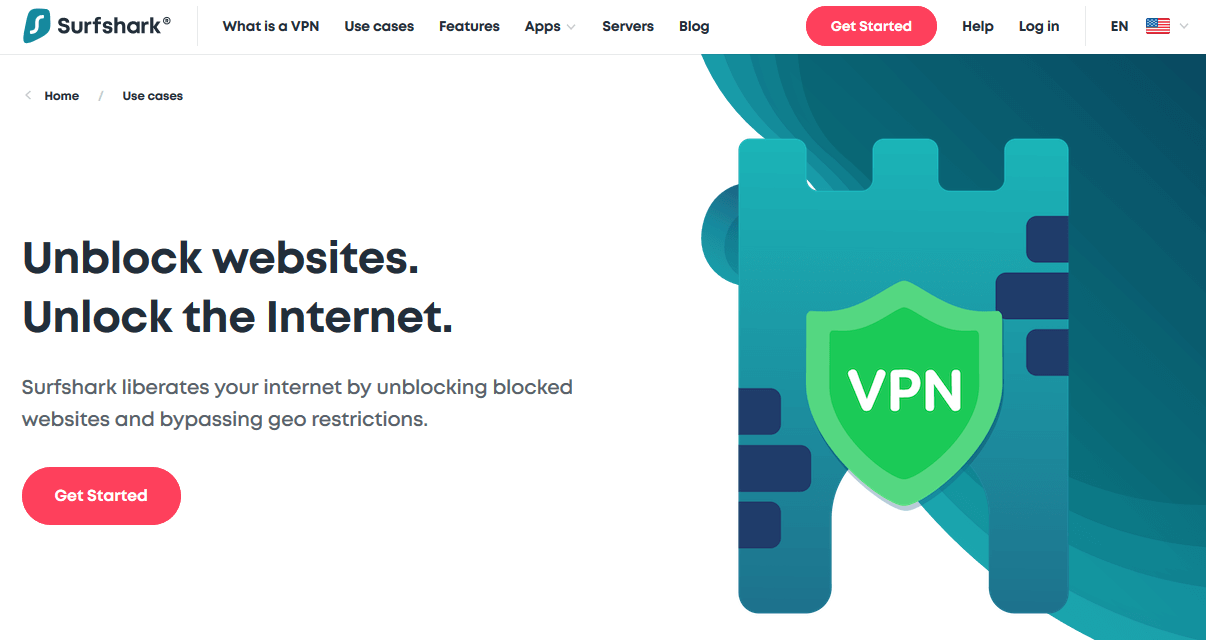 Surfshark is a great choice among the best VPN for China in 2021 and despite it being among the more affordable options, it still offers all the benefits needed for overcoming geo-restrictions and censorship.
The provider literally disproves the saying "if you pay peanuts you get monkeys", as they offer a reliable, fast server with plenty of features and superb service.
The provider offers support for unlimited devices simultaneously, making it a great choice for big families. In addition, apps are available for a wide range of devices and the provider includes Kill Switch protection and DNS and leak protection.
Surfshark plans include a "Camouflage mode" so you can remain anonymous online. Not even your ISP can spy on what you do online.
Another great feature is "Multi-hop". This feature allows you to connect to servers in more than one country at the same time, which doubles the security and anonymity.
The "No Borders" mode offered by Surfshark makes the provider a great choice of VPN for China to bypass the Great Firewall. Users can unblock restricted websites thanks to a choice of thousands of servers, along with gaining access to censored content.
Surfshark uses AES-256-GCM encryption to safeguard data and supports a range of protocols including OpenVPN and IKEv2/IPsec.
Surfshark: a cheap solution to avoid censorship in China >
4. VyprVPN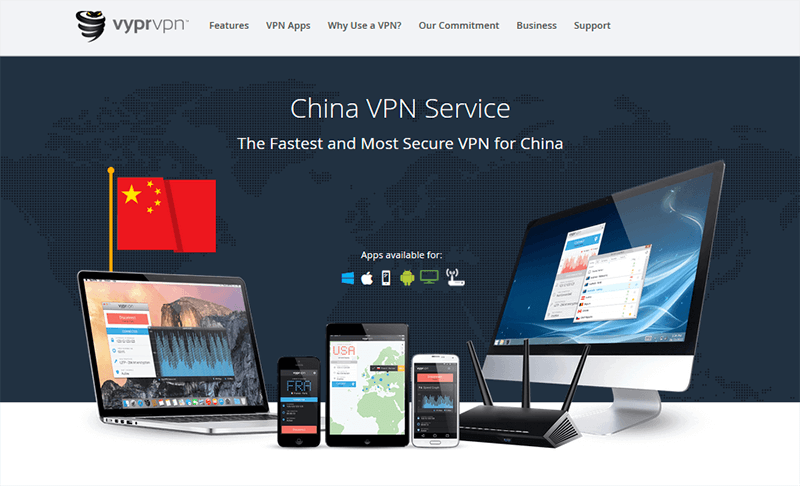 VyprVPN is a provider worth consideration and is among the best VPN for China and other countries where censorship is high.
The provider developed "Chameleon" protocol technology specifically to fight back against censorship. The technology scrambles the OpenVPN packet metadata, which makes it unrecognisable through deep packet inspection. Yet, it remains fast. The tech uses OpenVPN 256-bit protocol for data encryption allowing users to bypass the Great Firewall.
VyprVPN is a great choice of provider for anyone who wants to avoid hackers. DNS protection by way of VyprVPN is offered to keep users safe from man-in-the-middle attacks.
Plans also come with an automatic Kill Switch to block all traffic should the server disconnect or is disabled for any reason.
Servers are extremely fast which makes them ideal for streaming in HD; with the provider owning the servers, so there are no third parties involved. On top of that, VyprVPN offers servers in numerous locations around the world, providing users with more than 200,000 IP addresses.
Finally, VyprVPN offers a strict no-logging policy, support for a range of devices, up to five simultaneous connections and a 30-day money-back guarantee.
Take advantage of current promotions at VyprVPN >
5. Astrill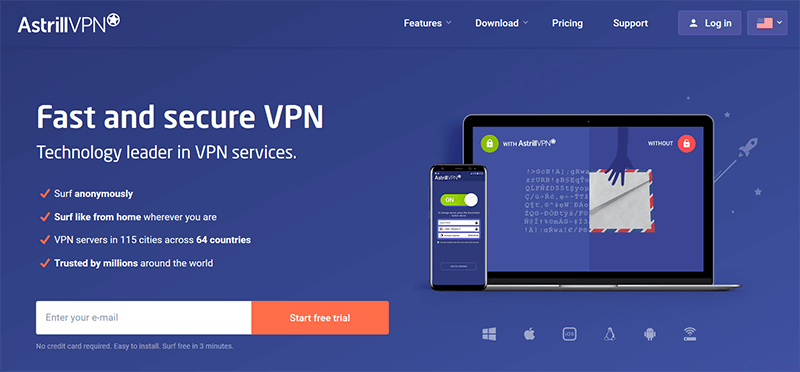 Astrill does not disappoint with the VPN service offered. The provider gives access to servers based in numerous cities around the globe in 60+ countries and state-of-the-art encryption.
For the fastest VPN experience possible, the provider offers "Smart Mode". The Smart Mode is a great feature for using in China where censorship is high. It can be turned on in the settings of the app.
The technology allows users to use any service and visit any website without having to worry about the IP address being blocked.
Instant messaging services can be used; news, TV series or movies can be streamed once the technology is enabled. In short, with the technology, you do not leave any clues or signs that you are behind a Virtual Private Network.
Finally, thanks to the Kill Switch implemented into the apps, you can avoid DNS leaks if the server should suddenly disconnect. This means you remain safe online and your personal identity is not exposed to the ISP, hackers or the government.
Opt for Astrill VPN to avoid government oversight >
How can I use a VPN in China?
Using a VPN in China is relatively easy. However, it is important that you sign up and download the apps while outside of the country as the government has stopped providers offering their service in the country.
To use a VPN just follow the steps below:
Choose your provider and go ahead and sign up
Decide which plan you want to go with, the best deals are found by paying up-front for a plan for a year or more
Download an app or apps for the device(s) that you are planning on using during your trip abroad and install the apps
Open the app on the device and sign in using the credentials you made at the time of signing up
Choose a server in the country of your choice to spoof your location by masking your IP address and taking one on from that country
Connect to the provider
You are now behind a virtual encrypted tunnel and have an alternate IP address
You should now be able to visit any websites previously blocked and remain anonymous online.
What to do if my VPN is not working in China?
While all of the Virtual Private Network providers we have mentioned above are reliable and can overcome censorship and geo-restrictions, there may be times when you are faced with issues.
Thankfully, all providers offer a great level of customer support. Usually, you can just head over to the website of the provider and get help. However, if you are in China it is a different story as many of the websites are blocked, which means you are left high and dry.
Here we are going to cover some of the most common reasons why your VPN might not be working and what you can do to try to fix the issue.
Connection issues
Sometimes connection issues may be the reason. Therefore, the first thing you might want to do is check to make sure that your actual internet connection is working.
While you might think this is obvious, it is surprising how many times it is the internet connection and no one thought to check it.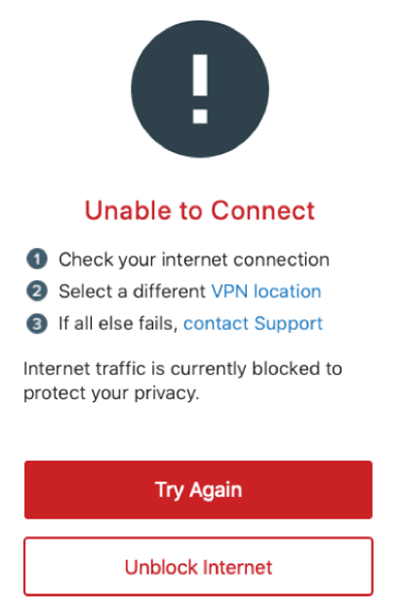 So, check to ensure that the connection is actually working by using it without the VPN. If you still cannot get online, this tells you that it is not the fault of the Virtual Private Network but the actual internet connection instead.
Login details
If you cannot connect to any server, you might want to check your login details are correct.
Generally, the login details will be kept after the first time you sign in the app. However, in some cases, it may not.
If you type in your password or user name manually, you might have entered them wrongly. So, double-check them to make sure this is the reason you cannot connect.
Server connections issues
In some cases, it might be the server you are trying to connect to that is suffering from issues.
If you cannot connect or the server keeps disconnecting try to connect to a different server in the same region. Issues with server connections may be due to the server being down or too many people are trying to connect to it.
Restart your device or service
Your device may be causing the issue and not allowing you to connect to a server. To rule this out you should restart your device, which in turn restarts the VPN app and try connecting again.
If you are using a browser plugin, you should close the browser down and then open it up again and clear the cache. You should also make sure that your browser is kept up to date.
VPN tunnelling protocols
The VPN tunnelling protocol may be causing issues with connections.
In this case, go into the network or VPN settings and try to use a different protocol. Protocols offered are usually OpenVPN, IKev2/IPsec, and L2TP/IPsec. Choose a different protocol and then try to connect to a server.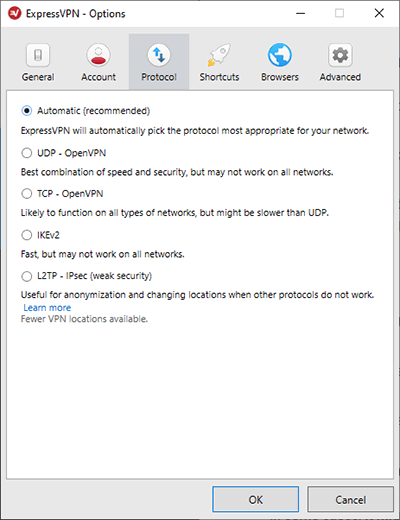 Connection ports
Connection ports are also known to cause connection issues. Therefore, you might want to look at whether a specific port has been blocked.
It can pay beforehand to check with the VPN which port number or numbers they use. If it is possible, try a different port and try connecting again.
Contact your provider
If possible, and you can manage to visit the website of the provider, you can check their FAQ and help pages to find answers. You could also use the forum to ask other users for help. While many providers offer chat via the help system.
With ExpressVPN, which is the best VPN in China in 2021, you can access their website thanks to mirror versions. Therefore, even in China, you'll get assistance.
Can I use a free VPN in China?
When considering a working VPN in China you might be tempted to consider one of the free Virtual Private Networks out there. So, can you use a free VPN in China?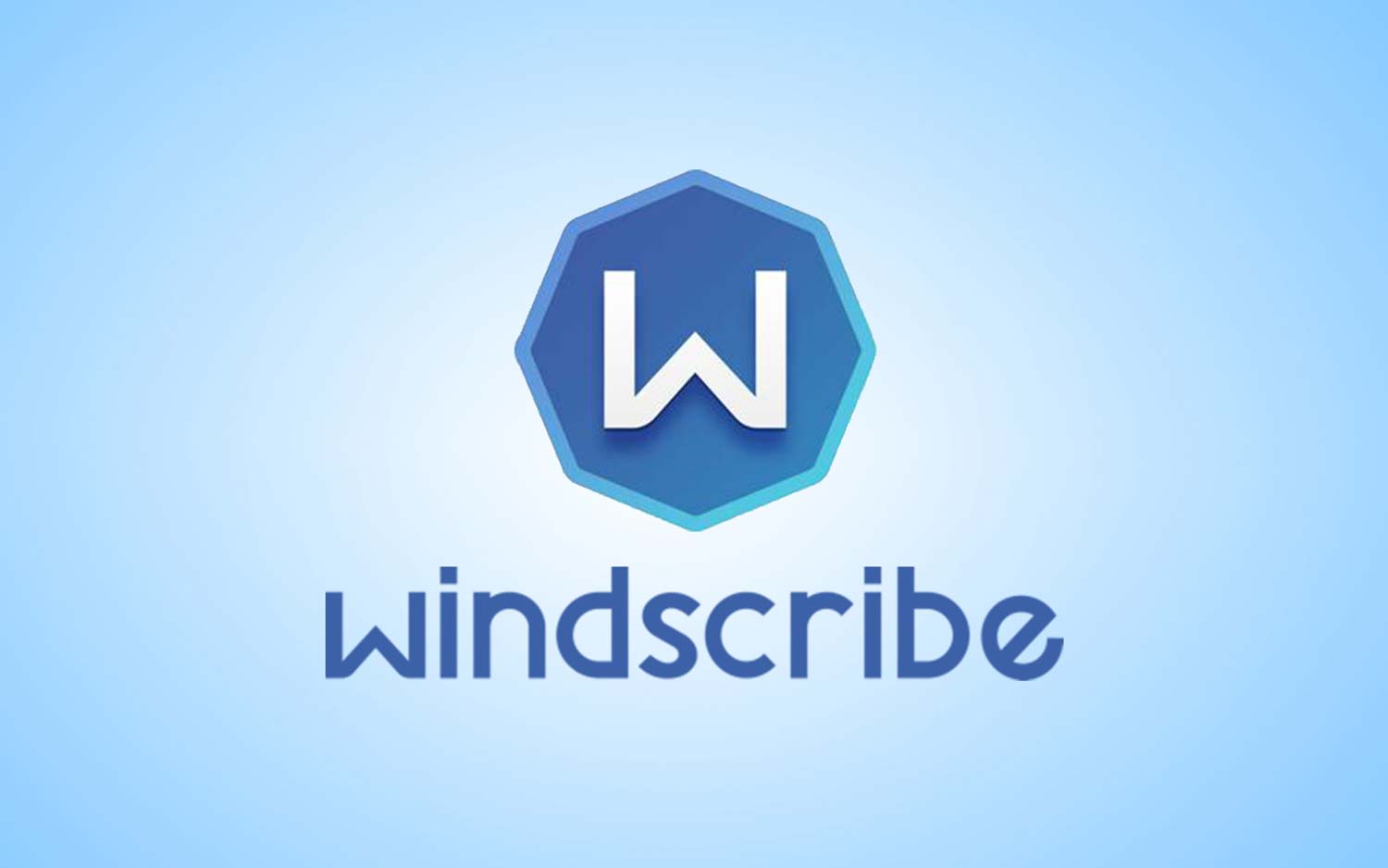 We certainly would not recommend using a free VPN if you want to overcome censorship. More so if you plan to use the VPN in China.
Technology is limited with free providers
Its takes the latest technology to be able to bypass the Great Firewall in the country. Free providers out there cannot offer the same technology.
Bear in mind that the very best technology costs a great deal of money. So does offering thousands of reliable servers. This is why paid providers charge for the service. Providers charge to recoup the costs of offering servers around the world and ensuring the technology can overcome censorship.
Bandwidth and speed limitations
Free Virtual Private Networks come with many limitations. For instance, you are generally limited to the amount of data you can send and receive per day. Once you have used this limit, the connection ceases and you cannot use the internet again that day.
This is no good if you want to stream content in HD, as you would go through bandwidth very fast. Paid providers generally offer unlimited bandwidth and speed.
Limited server choices
Free providers cannot offer the same quantity of servers that paid providers offer. With paid providers such as ExpressVPN and NordVPN, users get access to many thousands of servers. Servers are often located in numerous countries around the globe.
With free providers, server choice is generally limited.  Free providers may offer just a few locations around the world and only a few servers.
As there are only a few server choices and many people trying to connect to those servers, they can become extremely slow. Along with this the connection may keep dropping or it is difficult to connect.
No leak protection
One of the benefits of choosing a reliable paid provider is the DNS leak protection offered and Kill Switch. These are something not typically offered by free providers.
If a leak occurs, your data may be sent outside of the encrypted tunnel and anyone looking can access it.
Bombarded with ads and malware
Finally, free providers have to earn money somehow. One way is to bombard you with ads when using the service.
Ads are annoying and can slow down your browsing experience. Worse still, the ads can have malware, which can infect your device or steal your personal data.
To summarise
Whether you want to go in China on vacation having the time of your life or you visit on a business trip, choosing a reliable and one of the best VPN for China is essential.
With any of the providers we mentioned above you can unblock Facebook, Instagram, Netflix, YouTube and more in China.
To take advantage of beating the censorship, simply sign up with one of the working Virtual Private Network in China while outside of the country and install an app.
Once you have arrived in the country, all you have to do is open the VPN app and choose a server from outside of the country. You are then safe behind an encrypted virtual tunnel. Your own IP address is masked and you take one on from the server of your choice.