SkyVPN is a provider that does a lot of things right – on the paper. It offers both paid and free versions of its software, to accommodate both sides of the market. Moreover, it promises to give you access to "a real free world", implying that it's good for bypassing geo-restricitons and censorship. Sure, every VPN promises the same, so it's our job to put SkyVPN to the test and see how it fares. Here's our review of SkyVPN for 2021!
What is SkyVPN?
As said in all our reviews, every provider promises superb performance, impeccable security, and so on, and so forth. After all, a company like this must market itself to be able to attract new customers. SkyVPN is no different, and while it's not very popular on PC, mobile users are quite aware of its existence.
The reason for that is that SkyVPN offers a free plan, which mobile users usually prefer. Moreover, it has (seemingly) unlimited bandwidth, which is, again, a rest haven for mobile users. But, non-experienced users get caught in a trap of not thinking about the VPN's jurisdiction.
SkyVPN is based in Hong Kong and since it's a part of China, that's not a good thing. Hong Kong used to be a far cry from the rest of the country, but now, as the communist party takes over, it's most likely that things are going to change for the worse.
Hong Kong VPNs are almost never a good deal, and the prime example of that is PureVPN, a provider that violated its "zero-log" policy multiple times. Is this provider going to make things better? How good it is as an overall package?
Let's review SkyVPN service in-depth and see if you should spend your hard-earned buck on it.
Compatible Devices and Ease of Use
First off, we need to talk about devices. It's quite obvious that SkyVPN is focused on mobile platforms, which is great – in a way. Nowadays, a majority of users would rather visit the internet via a mobile phone than a PC.
As an all-around VPN, however, it's quite important that it supports as many platforms as it can. Here's what SkyVPN offers to its users:

There's Windows, Mac, Android, and iOS – really, a basic offer. We'd like to see the inclusion of Linux, routers, Roku, Apple TV, and so forth. Unfortunately, you have to look at this provider as being a basic one, so this is what you should expect – nothing more!
SkyVPN on Computers
If you're going to use this service on a computer, know that SkyVPN supports 2/3 of the systems. Why? Because there are 3 basic systems – Linux, Windows, and Mac. Linux-based variations are out of the list and you can only use the other two platforms.
Our testing rig is a Windows PC, so let's see how the app installs and works on this platform.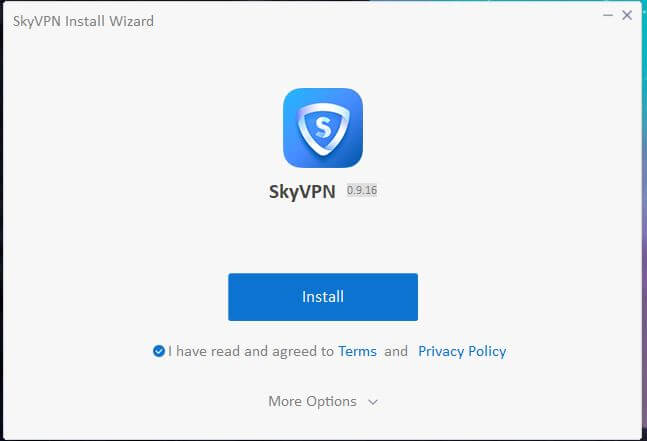 To initiate the installation, just click Install and make sure you accept terms and conditions. If you want, you can change the installation location by clicking on More Options.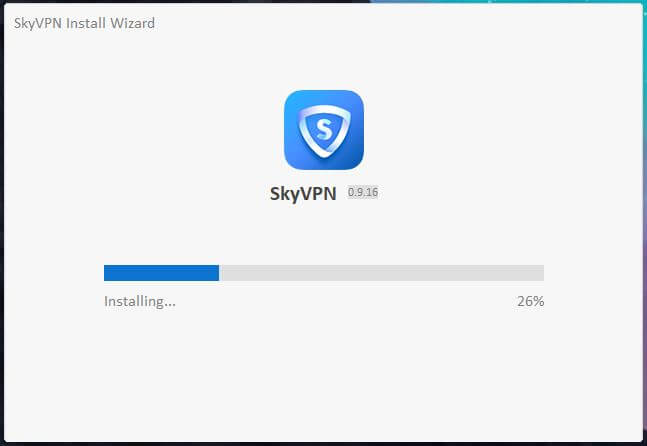 Immediately after that, the app will start installing, which on our SSD took less than 5 seconds. Speedy stuff!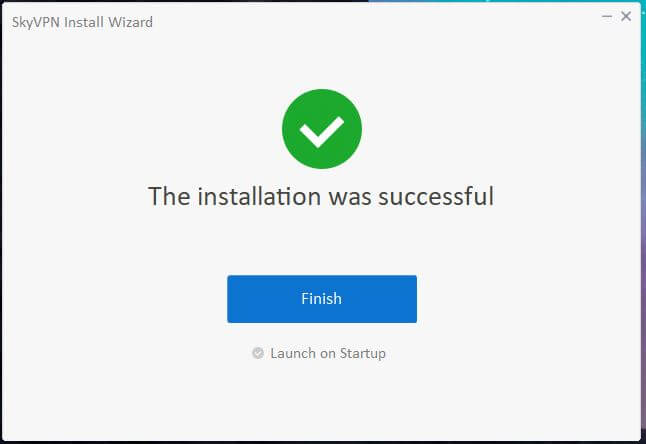 "The installation was successful" is the message you should see now, after which you can click Finish to close it up.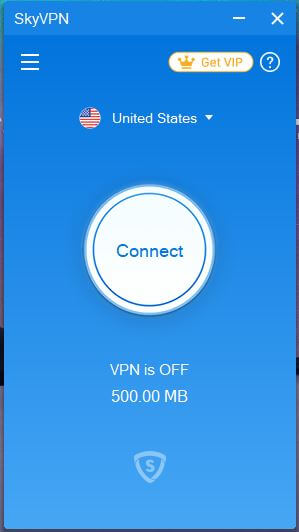 Here's how the app looks. It can be seen that it's optimized for mobile phones due to its simplicity, and honestly, not too many features. In fact, there are NO features in this app. You can just open the server list…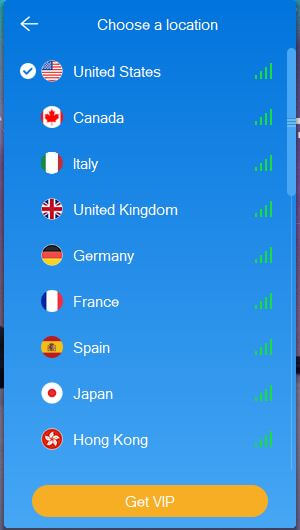 … and connect.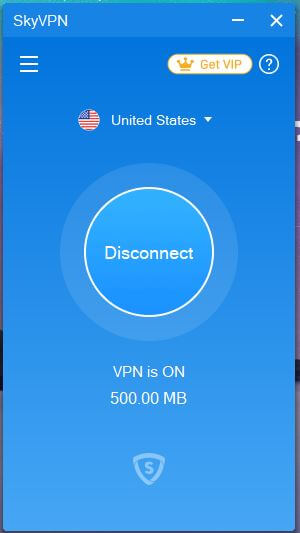 This is as far as this app can go. No fancy settings, no ability to change protocols – nothing! Heck, the kill switch isn't there, which is the basic functionality for safe and secure internet browsing.
In terms of usability, we can't complain, though. The app is dead-simple to use, works flawlessly, and connects every time. But if you want more features, we highly recommend you check out ExpressVPN.
It's simple as well but has all the security features that you'd benefit from.
Smartphones and Tablets
We said earlier in our review that SkyVPN is very popular on mobile devices and we weren't joking. If you take a look at Google Play, for example, you can see that there are more than 10 million downloads, which is just insane!
The mobile world is completely different than the PC world. Because of that, many mobile VPNs aren't popular on PC, and vice versa. Nevertheless, let's check the app on an Android phone – our testing device for this SkyVPN review.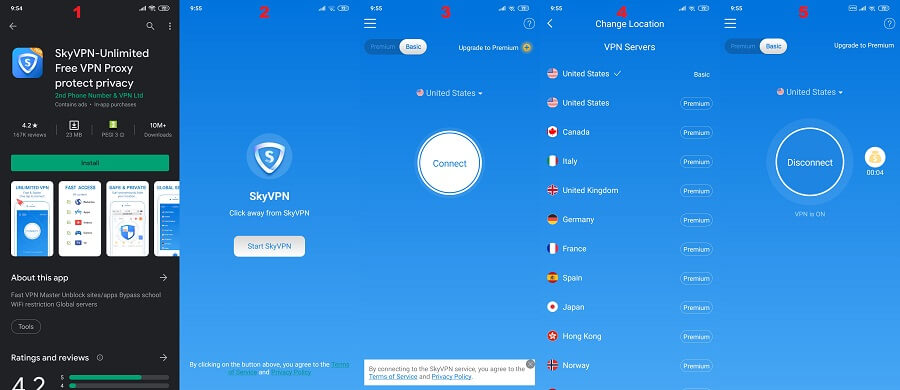 Surprisingly, SkyVPN has 4.2 stars on Google Play, which is a really good result. Once you download it, click on the "Start SkyVPN" button to access the app. The home screen, as we can see, is very reminiscent of the PC version, implying that this is sort of a direct port.
Even the server list on the image 4 is very similar. To connect to the server you want, tap on it, and then, tap on the connection button to establish a connection. The main issue with this app is its annoying ads. That's pretty common for a free VPN.
If you pay for SkyVPN, these ads won't exist, but if you're using it for free, you're in for an ad-littered experience that's just… terrible. What we said about the app for the PC will also apply here. It's functional, works fine, and we had no problems.
How Fast is SkyVPN? We Checked Its Speed!
Our section about devices was pretty short because the provider doesn't impress. However, when it comes to speed, different VPNs perform differently, and differences can range from being great to being utterly bad.
SkyVPN is a cheap VPN provider with a free version, which isn't screaming speed if you want our opinion. So, before we delve into our speed test, don't expect mind-boggling results because you aren't gonna get them here.
Every VPN reduces your native internet speed to some extent. It's a small price to pay for the security and privacy you get. But, there's a huge difference between 10% and 80% reduction, where your VPN experience can become a real pain in the ass.
We did 3 tests in the morning, 3 in the evening, and 3 in the mid-day, for 3 testing locations. Our results are based on the best possible outcome and our testing location is the United States. On top of that, we used 3 locations for review:
Our native internet speeds, without using a VPN, are:
Ping: 11 ms
Download Speed: 211.88 Mb/s
Upload Speed: 202.20 Mb/s
Now, when using SkyVPN, our ping, download, and upload speeds respectively, for 3 testing locations, are:
US Server: 74 ms / 42.37 Mbps / 36.19 Mbps

UK Server: 162 ms / 22.74 Mbps / 19.83 Mbps

Australian Server: 308 ms / 7.55 Mbps / 4.98 Mbps

When you compare our native speeds with VPN speeds, you can see a massive gap. Even when using the US server, which is the one in our country, the speed reduction is huge. From 200+ Mbps to merely 40 Mbps. Ping was also about 7 times higher.
The Australian server, as always, is the worst of the bunch, with speeds reaching single digits and ping over 300 ms. Needless to say, our browsing and streaming experiences were not very good.
Therefore, this not among the best VPNs in this regard.
How Good is SkyVPN for Streaming?
Streaming is one of the most popular hobbies nowadays. With the indisputable success of platforms like Netflix and Hulu, people are searching for new shows and movies on a daily basis.
Many platforms are geo-restricted as well, so they need a VPN to gain access. Let's see how good SkyVPN is in this test by accessing Netflix US: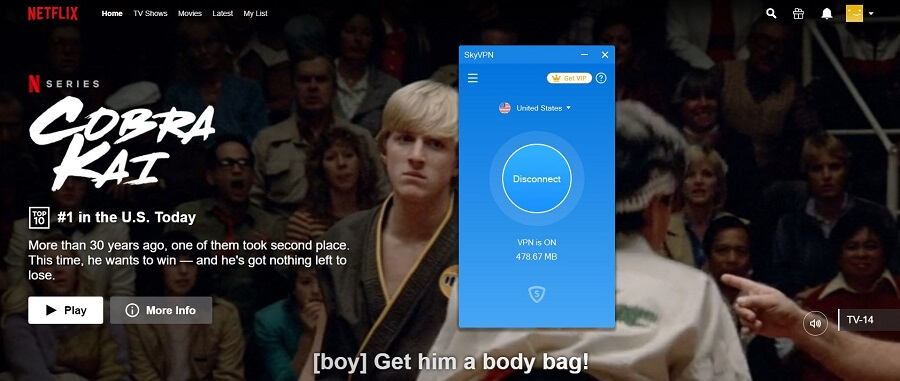 At first, it looks like it's unblocked but it isn't. "Parks and Recreations" is a show available only in the US, yet, with the US server, we couldn't find it. This means that SkyVPN doesn't work with Netflix.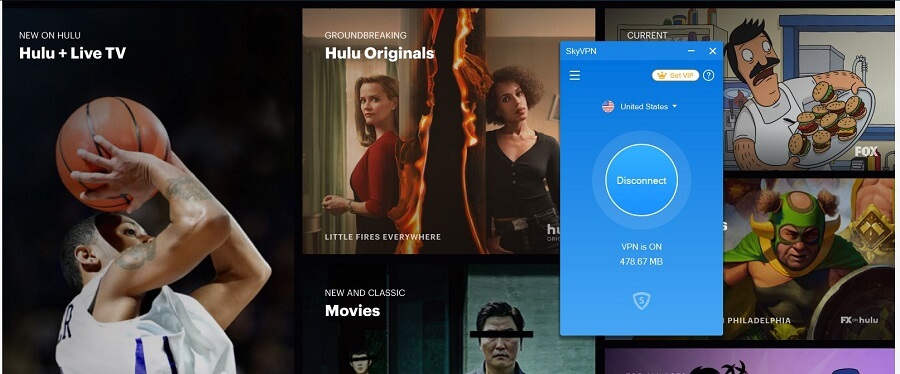 What about Hulu? The site works flawlessly, but when we tried to launch a movie while doing this review about SkyVPN, we got a well-known proxy/VPN error, so it's bad news.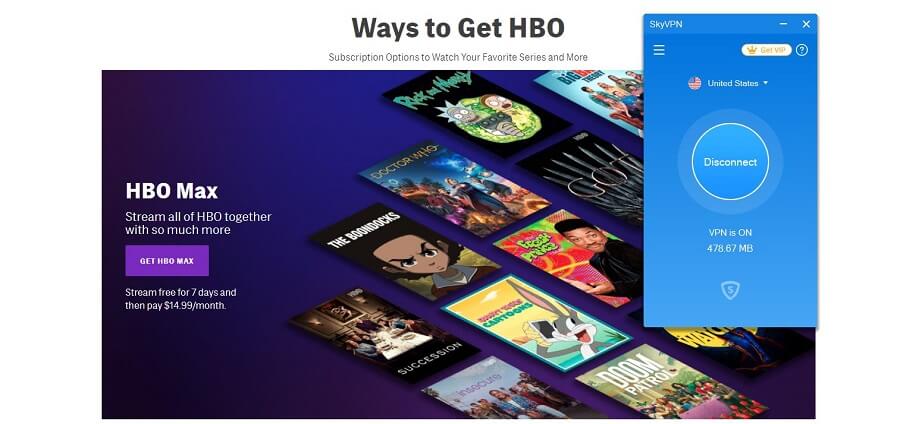 Luckily, HBO GO works just fine. It's available only in the USA, so be sure to use the corresponding server when accessing it.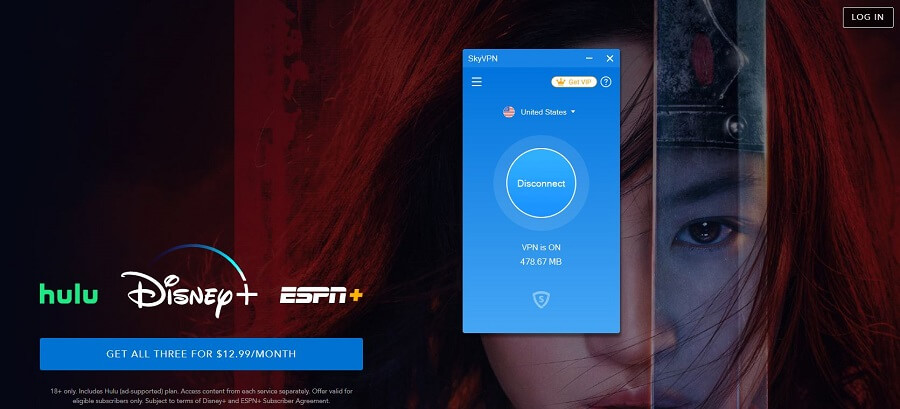 Another platform we tested with SkyVPN is Disney+, and as you can see, it works. When clicking on the login button, we don't get an infinite loading screen, meaning that we can access our account without a problem.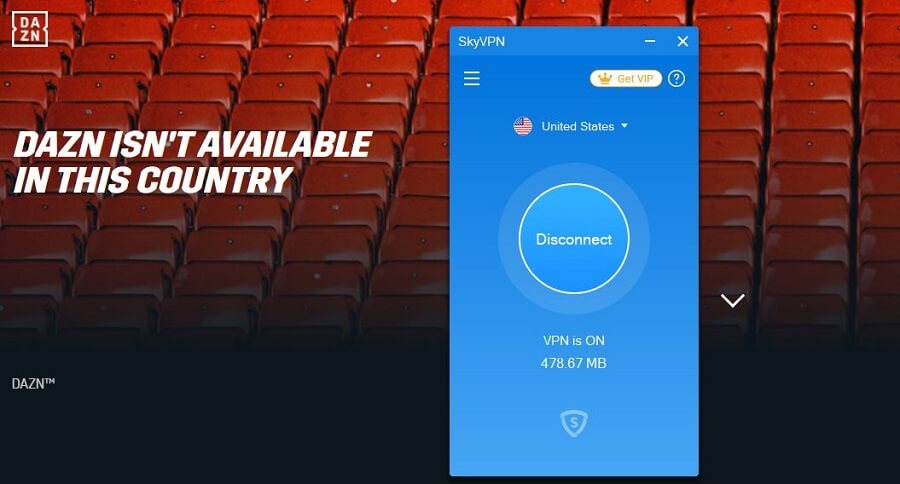 If you want to enjoy a live stream of MotoGP races or sports in general, DAZN is a good choice. Unfortunately, it doesn't work with SkyVPN.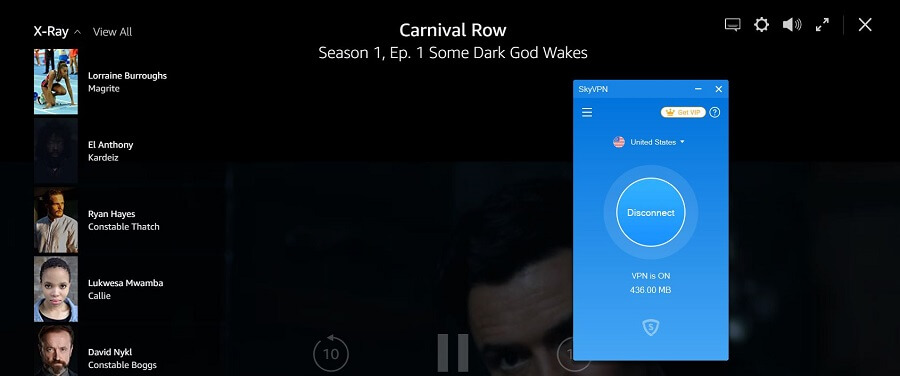 What surprised us is that Amazon Prime Video actually works. This platform has strict anti-VPN measures that SkyVPN managed to bypass somehow.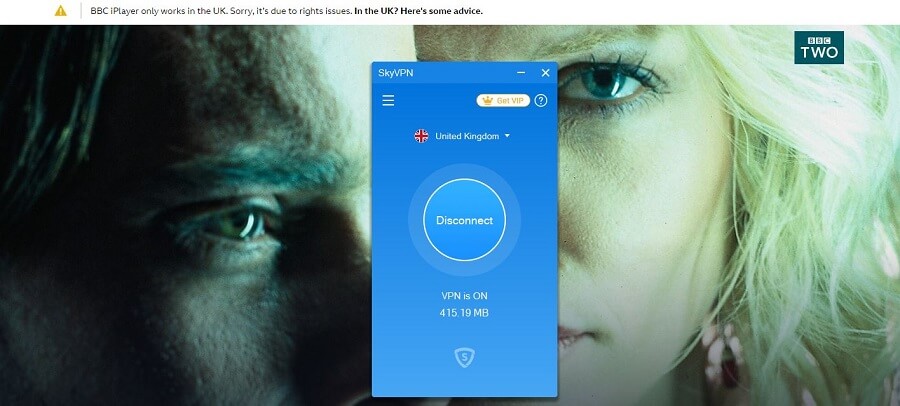 The last platform we tested is BBC iPlayer, and as we can see, it's not working. Shame, because it's free and offers some decent UK shows.
Overall, this VPN isn't that bad in terms of unblocking streaming sites. Yes, it's not working with Netflix, but at least, you can watch HBO GO, Disney+, and Prime Video. For us, the main issue was speed.
Although we managed to unblock the sites, our streaming was choppy and stuttery, making it unusable for the most time.
Confidentiality, Security & Logs : how good is SkyVPN?
Being from Hong Kong, SkyVPN doesn't have jurisdiction on its side. We mentioned this at the start of our SkyVPN review and we said that it's not very good. This usually reflects on the privacy policy, so without further ado, let's check it and see if it's a no-logging one.
Right of the bat, SkyVPN is pretty open about its data retention. And the list is pretty long, too! There's aggregate bandwidth, IP addresses, destination websites, originating IP, and cookies.
Cookies usually aren't a problem when collected by the provider. But pay attention to this. The provider says that these cookies can be dropped by either the VPN or third parties for "a variety of purposes."
So, third parties, after all, interfere with your activities when using this VPN. That's not all, folks! When installing the provider's app, the provider collects info about your device, including operating system, device type, MAC address, MCC, and even a list of mobile apps installed on your device.
Despite claiming that it's a zero-log provider, SkyVPN is far from being such a company. It stores basically everything, and a majority of this information is compromising and can lead third parties directly to your "doorstep."
Security-wise, the provider uses 256-bit encryption but there's no kill switch. Luckily, the IP leak test was negative when doing it for this SkyVPN review.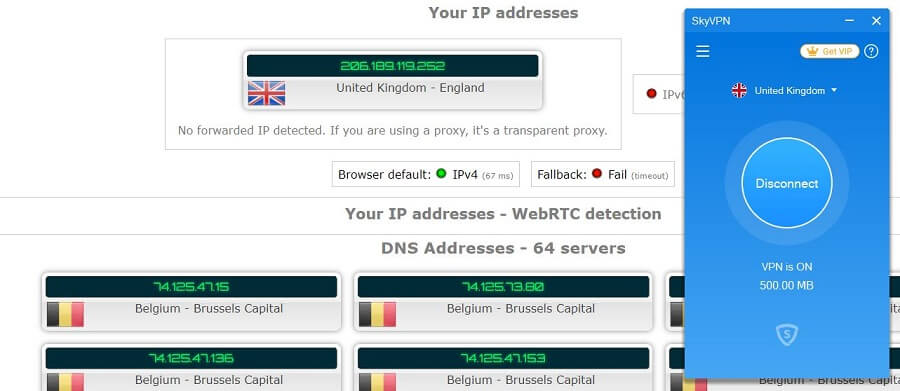 In other words, we haven't experienced any IP or DNS leaks. That's all in vain, though, given the provider's data retention policy. With so much info collected about you, it's hard recommending it even as a free provider, let alone spending your money on it.
Can I Do Torrenting With SkyVPN?
Are you still reading our SkyVPN review? If so, let's proceed with the torrenting test. Torrenting is a pretty dangerous activity if you're from the country with harsh anti-torrenting laws. In that case, using a secure VPN is a must.
Did you notice the word "secure?" Well, that's what SkyVPN definitely isn't.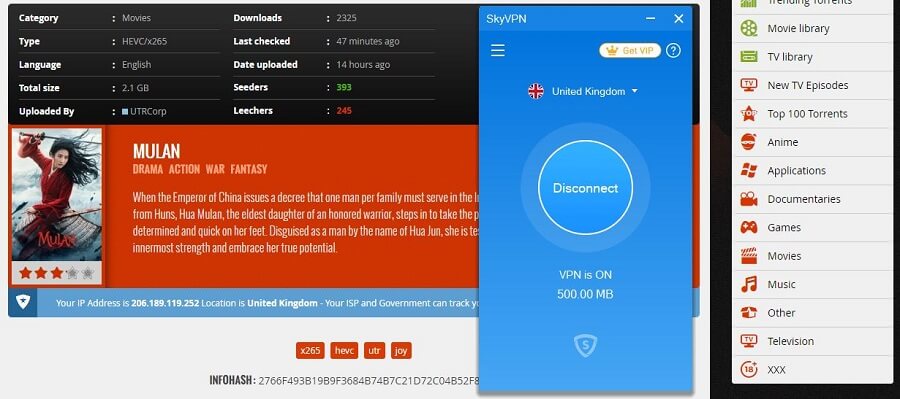 We tested it by downloading this Mulan movie from 1337x and it worked. However, we realized that this was a very risky move due to the fact that the provider knows your every move online.
Torrenting works with SkyVPN but speeds are, once again, atrocious. Coupled with the fact that you can't torrent safely, it's not a provider we'd recommend for this purpose. You'll be better off with ExpressVPN.
Can I Use SkyVPN to Bypass Censorship?
If bypassing censorship is what you want, you must observe the VPN market carefully. Many providers out there aren't capable of doing this for you, making them not worth your money.
So far, our experience with bypassing censorship was not very good. ExpressVPN and NordVPN work great, which can't be said for SkyVPN. We sent a review copy to our testers in China, to see if they can bypass the Great Firewall.
The VPN, unsurprisingly, didn't work. With these poor results, it's pointless recommending it for Russia, UAE, Iran, Iraq, and similar censored countries.
SkyVPN Pricing and Plan Options
Can you actually believe that a VPN like this offers a paid plan? We neither! But hey, unbelievable stuff happens and in the world of cybersecurity, it's more common than you think.

One month's worth of subscription here costs $10.99. That's only two bucks lower than ExpressVPN, which is quite insulting if you compare the sheer quality of the other provider against this one.
The provider's cheapest plan is a 3-year one, that costs just $1.99 a month. In comparison, CyberGhost prices its 3-year plan $2.75, and truly, SkyVPN is cheaper. At some point, you gotta ask yourself – is saving money more valuable than privacy?
In our opinion, it's not.
Despite being cheaper than its competition, SkyVPN is among the last options we'd recommend to anyone. And if you want this silly price of $1.99 a month, you can always go for Surfshark that delivers astounding performance and gives you 2 years of subscription for this amount of cash.

On the brighter side, SkyVPN offers a plethora of payment methods. There are credit cards, PayPal, Bitcoin, TOP, and many other services. Moreover, every plan is allegedly refundable in the first 30 days of your purchase.
The reason we say allegedly is that there's no mention of refunds in any of the policies on the site. Will you be able to refund your money, then?
Maybe.
Some VPNs refuse to give you a refund unless you provide proof of it malfunctioning. If you just don't like it and want your money back… well, that's not gonna happen!
We hope that SkyVPN didn't model its business after this scheme.
How Can I Contact SkyVPN Support?
When you visit this website, you'll notice its 'okay' design. Everything is intuitive and it looks like that some work has been put, which is always great. What's not so great is that it seems dead – no offense.
It seems deserted, with no updates and anyone's presence. What can we say about support when its privacy policy was updated almost 3 years ago at the time of writing the review?!
As you can anticipate, there's no live chat here. You can contact SkyVPN only by using the email address, and not from the website. When you click on the contact option, it thrusts you into Microsoft Outlook to write an email instead.
We're quite disappointed that there isn't at least a contact form.
Oh, and about support… it's rubbish. The support team isn't responsive, so you can expect to get an answer in more than 24 hours – at best! Now, imagine that you want a refund. You'll get it on the 30th of February, the same day you get a response – haha!
Other Things You Should Know about SkyVPN
We hate annoying ads that try to sell you a garbage product at a sky-high price, but we like one quote:
"Wait, that's not all!"
Simply put, what you know about SkyVPN is not all. There's more to find out in this SkyVPN review, so let's go over the necessary info quickly:
Number of Servers

SkyVPN claims to have 3,000+ servers, which is quite an impressive number given that ExpressVPN shares the same characteristic. However, we don't think that's the case. Numerous users online state that there are only 500 of them, for example, and that's already not a very good result.
Whatever the case, these 3,000 servers won't help the fact that the provider is far from being safe and secure.
Number of Countries
The provider has servers in 26 countries and we know for a fact that this is true because we counted each country from the app. We like that it covers "major" countries like the USA, UK, Australia, and European countries like Germany and France.
Number of Simultaneous Connections
Lastly, SkyVPN offers 5 simultaneous connections on a single account if you go for a paid subscription. A free download requires no account, so you can use it on as many devices as you want.
5 simultaneous connections are okay for the price since ExpressVPN offers exactly the same and is a bit pricier.
What Do Other Users Say About SkyVPN?
Some of our readers might not agree with our SkyVPN review, and we get it. A review is just a personal opinion that might differ from what other people think. For that reason, we should check other feedbacks online and see what other users have to say about this provider.

On Reddit, the user has no complaints about the provider. He used it to watch a local basketball game only once, and for his purpose, it worked fine.

The Trustpilot user left a pretty negative review about SkyVPN in 2021. He claims to have paid over 60 Euros for a service that keeps connecting and disconnecting all the time. Also, he confirms what we said about customer support – it's terrible.

Even though it has 4.2 stars on Google Play, the provider recently racked up a multitude of bad reviews. One of them is this one, which also mentions constant disconnecting, implying that the provider is unstable.

On the Apple Store, a user is dissatisfied with the service because it forces him to buy traffic through ads. That's because he's using a free version, and free VPNs are known to pull some of these things on users frequently.
This is, by the way, one of the reasons why free providers are garbage.
Conclusion: Should You Take SkyVPN?
If you've read our SkyVPN review all the way to the end, you already know what to expect, or better said – not to expect from it.
We're talking about a former free VPN that recently introduced paid plans. These paid plans made no difference, as the company's business model remains the same. Its privacy policy tells us that it stores a significant amount of logs, which will violate your privacy in a blink of an eye.
Not all is negative about this provider. The apps are simple to use and it unblocks some of the streaming platforms. However, the main function of a VPN is to protect your privacy, which this one fails to accomplish.
For that reason, we can't recommend SkyVPN. Our recommended pick instead, would be ExpressVPN, which is a much better choice in every regard.