PureVPN is a provider that usually leaves mixed opinions behind itself. Some people think it's better than others, while some people probably won't buy its subscription ever again. A situation like this always makes us wonder how much the experience differentiates from user to user. Because of that, we decided to use our testing methods and see how good or how bad it is. This is an in-depth review of PureVPN for 2021, so don't go anywhere! It's going to be a long read but you'll know exactly if the provider is worth your time.
What is PureVPN?
This provider is under the ownership of GZ Systems Ltd, a company focused on cybersecurity and internet freedom. Founded in 2007 in Hong Kong, PureVPN is one of the oldest providers on the market, which, in theory, means that there's lots of experience from the company.
But, as we usually see, this doesn't have to be the case. Users that are interested in this provider are usually those willing to save cash. This provider has some very cheap prices, making it attractive for the newcomers.
Being so cheap, you would ask: is it any good? Well, that's what we intend to find out in this comprehensive review. Below is a button that will take you to the provider's website, in case you just want to skip our analysis and buy it immediately.
Now, let's proceed with our journey, shall we?
Compatible Devices and Ease of Use
When a VPN has tons of supported devices, that's something we value quite a lot. Having all your devices protected means enjoying internet freedom on any platform in your house. Will this provider satisfy your expectations? In this regard, yes! Just take a look at this screenshot: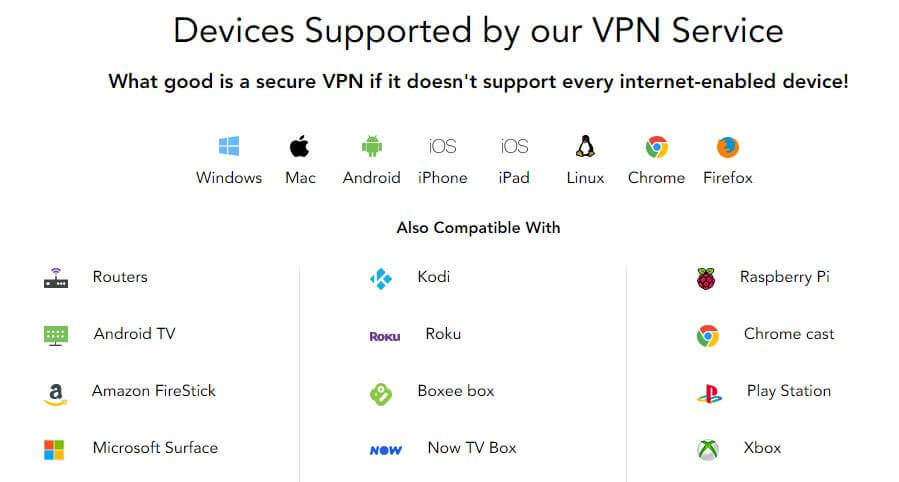 At the top, we have all the major platforms. Windows, Mac, Android, Linux, and even Chrome and Firefox extensions. A Chrome extension works great but it's not a full-fledged Virtual Private Network, which also applies to the Firefox extension.
Below, you'll see tons of devices that the provider natively supports. Routers are here, as well as Kodi, Roku, PlayStation, and Xbox gaming consoles. Just by giving it one thorough glance, you can see that the provider is very serious in this sense.
Computers
We'll start with computers. As you can see, the supported platforms by PureVPN are Windows, Mac, and Linux. We use Windows 10 here, so we'll show you the installation process and app, to see how good the ease of use is.
After buying the subscription, the provider will offer you to download the apps you need. Obviously, you need to download the one for Windows and start the installation. It looks like this: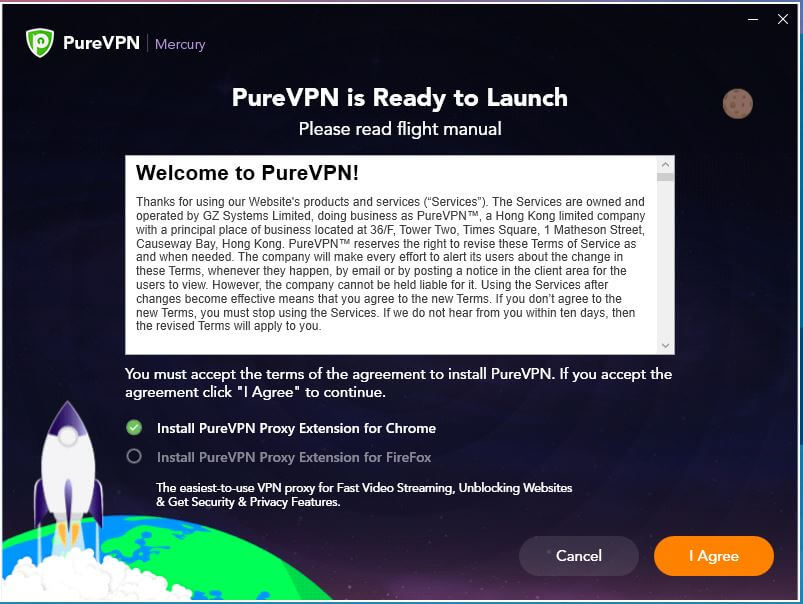 This is the initial installation screen. You see that they offer you a Chrome/Firefox extension from the get-go. Since you can't choose not to install any, choose the one that suits your browser and proceed: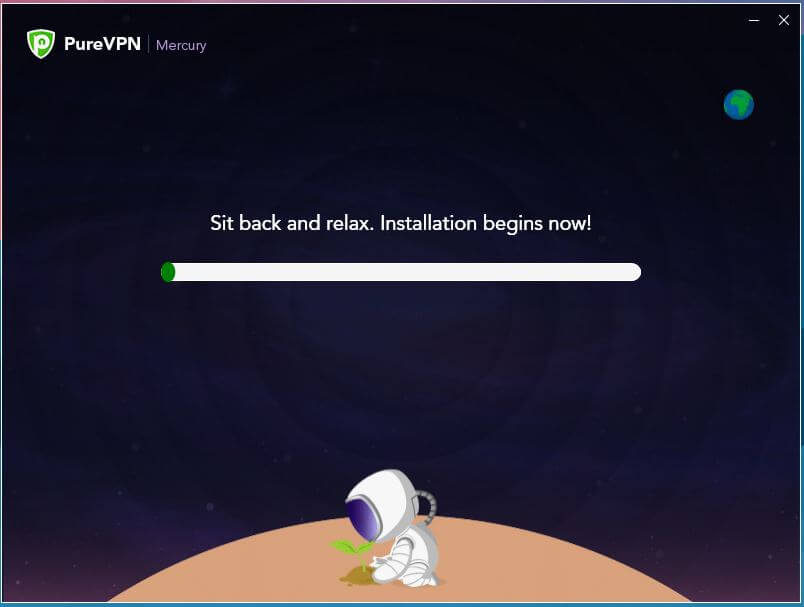 You'll need to choose where to install it and when you click Install, this screen will appear. The installation process lasts about 10 seconds, which isn't a lot. Next, the app will open. Here's how it looks:
You can log in or sign up. Given that we've already bought the subscription, we went straight to the login screen, typed our credentials, and arrived at the app's home screen: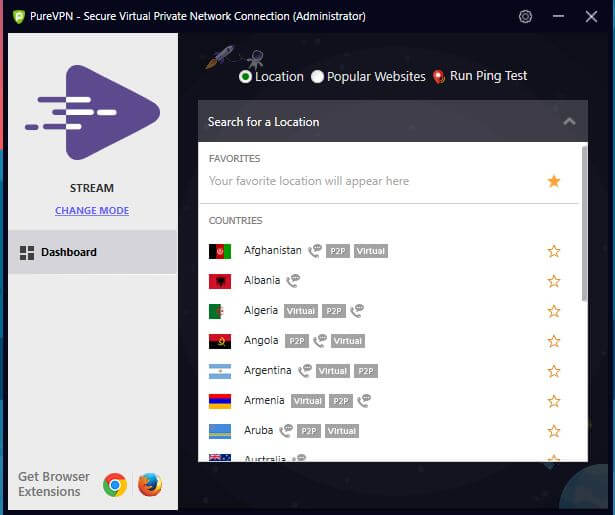 Interestingly, the provider offers dedicated servers, giving you the possibility to choose what you want to do on the internet. You can see that on the left side. We chose to stream and connected to the USA server from the list. Here's how the connected app looks: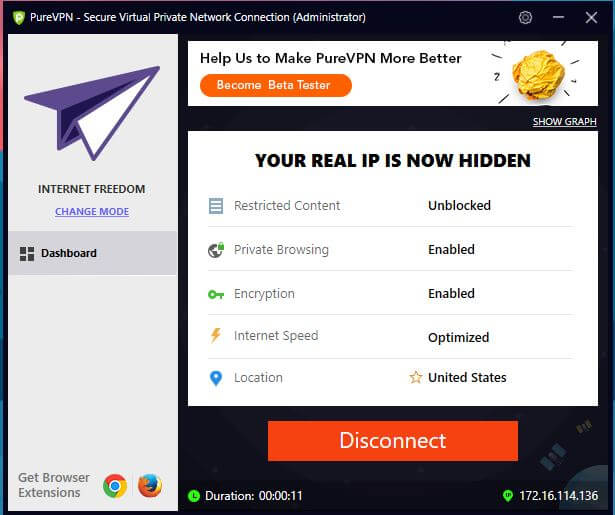 As you saw, the installation process is very simple, and so is the app. We managed to establish a connection in less than a minute. Even though the clarity of the app is not the best in our eyes.
Smartphones and Tablets
Computers aren't the only devices that need protection and internet freedom. Because of that, the provider offers its services on iOS and Android mobile devices. The installation process on these platforms is the same, so it doesn't matter which one you'll use.
In this case, we used our Android phone to demonstrate how the app works. Starting from picture 1, you can see how the app looks on the Google Play Store. Install the app and run it. You'll get the screen shown in picture 2.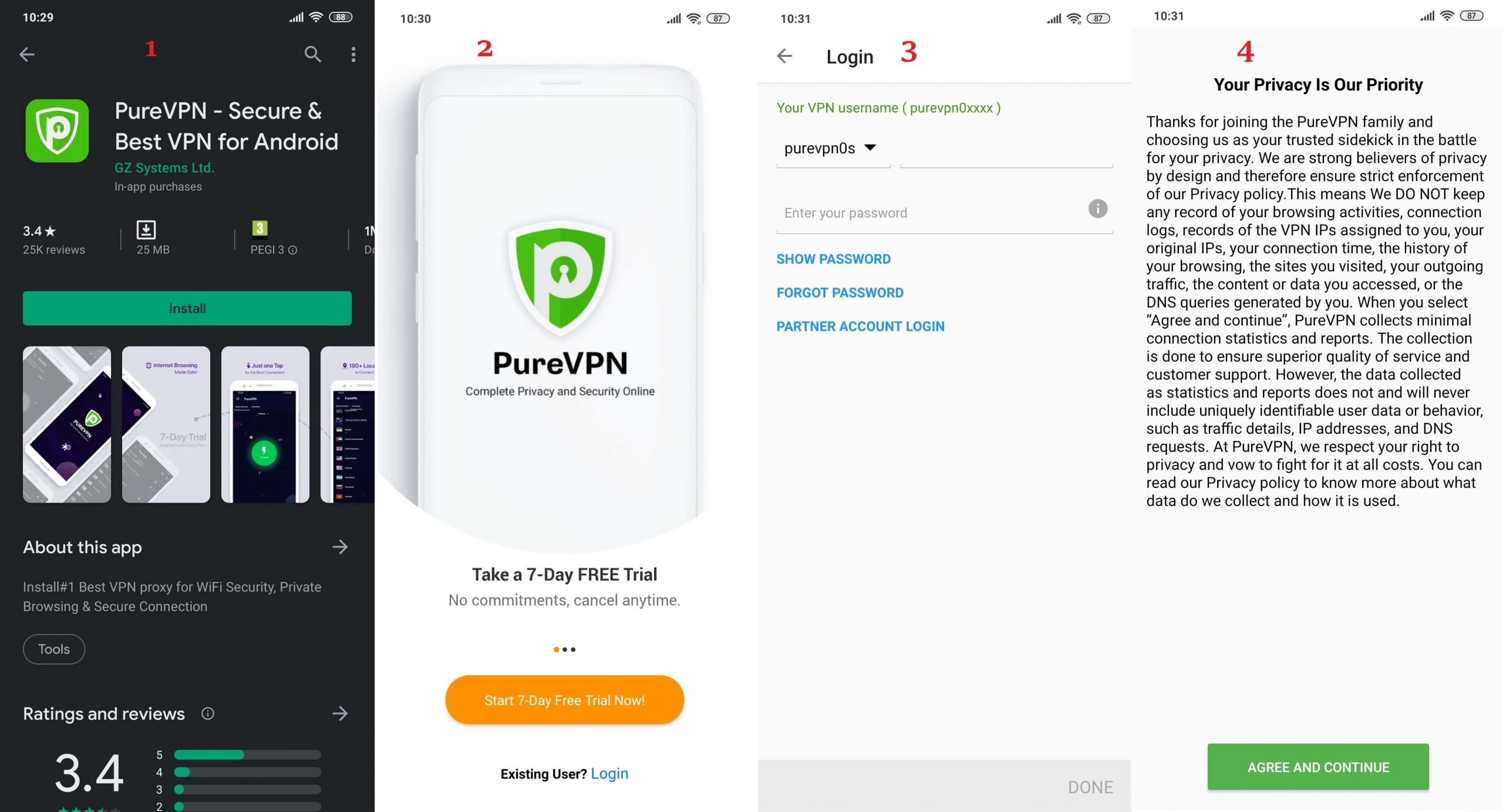 You can either take a 7-day free trial for phones or just log in. We went to the login screen shown in picture 3, typed our credentials, and got greeted by the screen in picture 4. Basically, the provider says that they don't store any logs and that they focus strictly on your privacy. That is yet to be seen, though!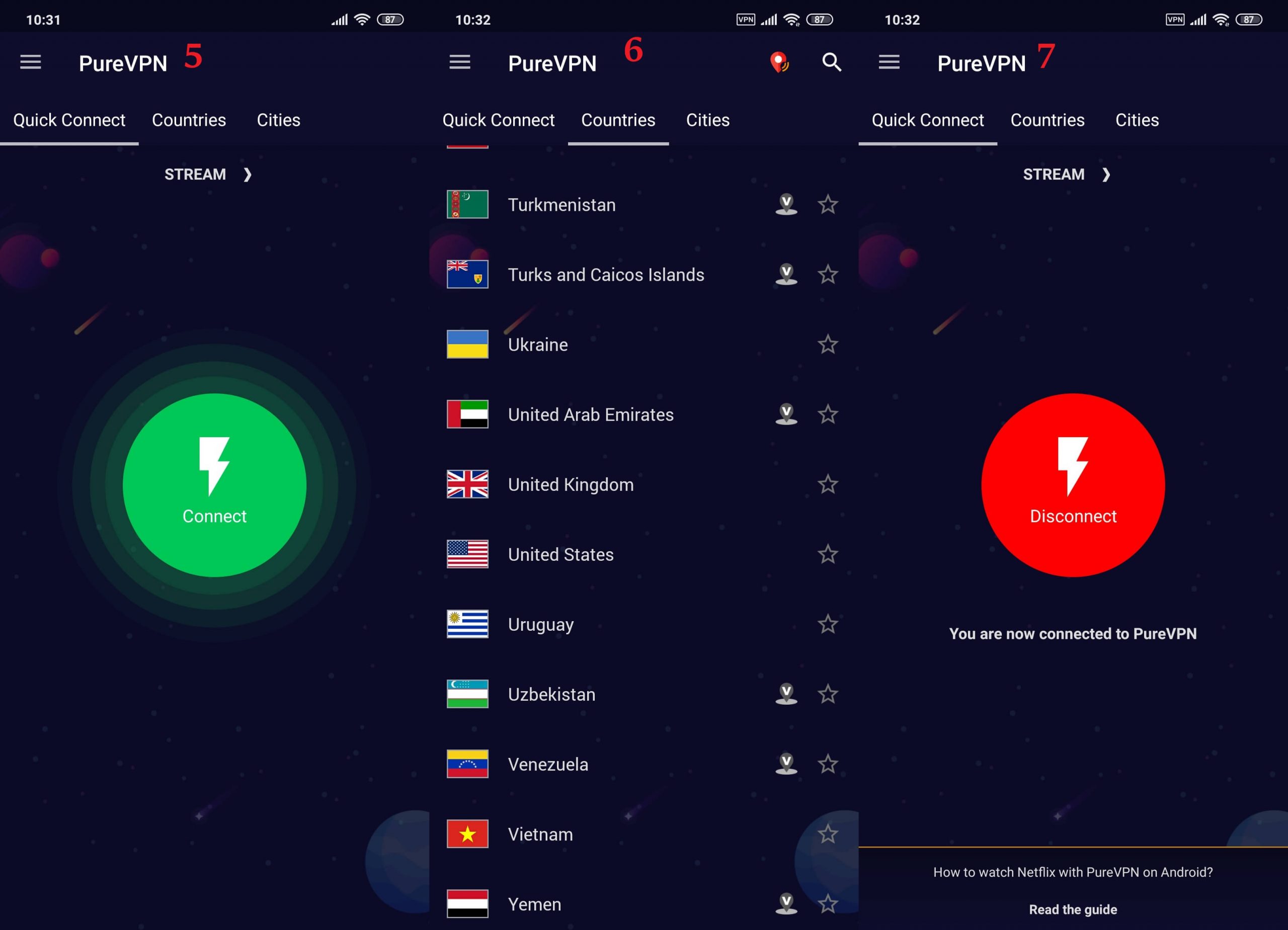 After proceeding, we finally made it to the home screen shown in picture 5. We then tapped on Countries, chose the United States (picture 6), and connected to the server. In picture 7, you can see how the app looks when the connection is established.
The smartphone app is, as expected, very simple to use.
Other Devices
If we glance back at the screenshot from above, the one with the devices, we can see what PureVPN supports. This couldn't be possible without the router support. A router usually supports up to 16 or 32 simultaneous connections. So, if you equip your router with a VPN, this means that this number of devices will be protected.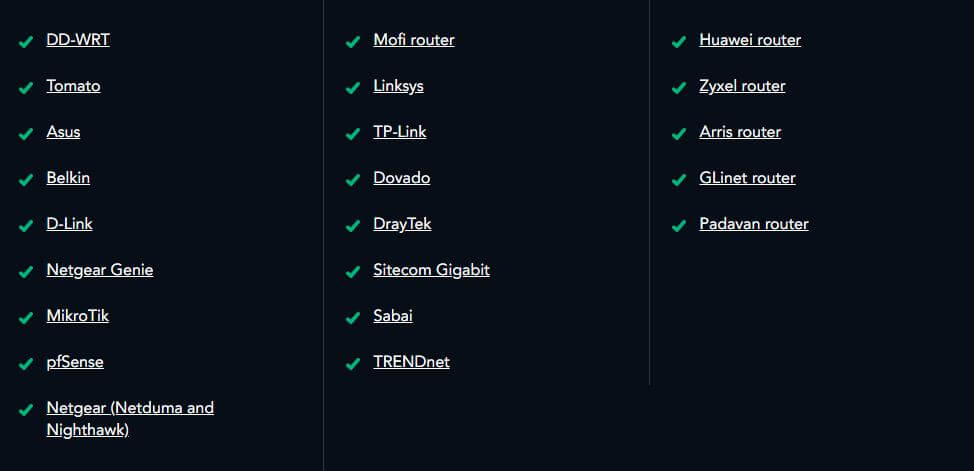 Above is a screenshot from the provider's site. These are all the supported routers and firmware. You must admit that the support is pretty extensive. And to be completely honest, it's one of the best we've seen in regards to routers. It will allow you to use it on Roku, Kodi, Apple TV, IPTV boxes, consoles, and so forth.
So far so good…
How Fast is PureVPN? We Checked Its Speed!
Some of you like fast cars, bikes or boats but we here, we value the speed of a Virtual Private Network. That's what makes us happy. But, when we talk about speed, there are some important factors to digest. All providers will decrease your internet speed to some extent. However, reducing it by 10% or 80% is a huge difference.
The fastest providers like ExpressVPN and NordVPN will do it by 10-20%, so you'll forget that you're using them. On the flip side, our recently-reviewed TunnelBear showed some bad results in our speed test. Will PureVPN also leave a bitter taste? Let's see.
We did 3 tests in the morning, 3 in the mid-day, and 3 in the evening, for 3 different locations. Also, we kept the best score and connected to the best location when the option was available. Our physical location is in the USA (non-VPN test) and we used these 3 locations for testing:
The United States
The United Kingdom
Australia
Without using a VPN, our internet speeds are:
Ping: 11 ms
Download speed: 211.88 Mb/s
Upload speed: 202.20 Mb/s
Now, when using PureVPN for our review and tests, our ping, download, and upload speeds respectively, for 3 testing locations, are:
US server: 47 ms / 158.42 Mbps / 74.16 Mbps

UK server: 101 ms / 68.51 Mbps / 103.77 Mbps

Australia server: 268 ms / 40.22 Mbps / 37.49 Mbps

The results are quite interesting, yet very peculiar. Starting from the US server, PureVPN disappointed us from the start. While ping wasn't very high, our download and upload speeds saw a dramatic decrease – especially the upload speed!
With the UK server, our upload speed, for instance, was faster than the upload speed in the USA, which makes it very strange. Finally, when using the Australian server, the provider made our browsing experience much worse. Our ping was increased to almost 270 ms and download/upload speeds were decreased multiple times.
To be honest, we expected a bit more from PureVPN. In the end, we got snail-like speeds and high pings when using Australian and UK servers. His speed disappointed us, which is a shame, given how good their device support is.
How Good is PureVPN for Streaming?
Being able to enjoy lazy weekends and watching Netflix became a blessing these days.
We live fast, busy lives, and we just want our bed to embrace us and let us watch some Witcher series. How good is this provider when it comes to accessing Netflix, then? Luckily, we managed to unblock US Netflix, which is the largest catalog available.
We tried the United States, Canada, the United Kingdom, and Australia. All of these worked fine connection-wise. As for the other platforms, PureVPN managed to unblock them. Here's a screenshot from Disney+: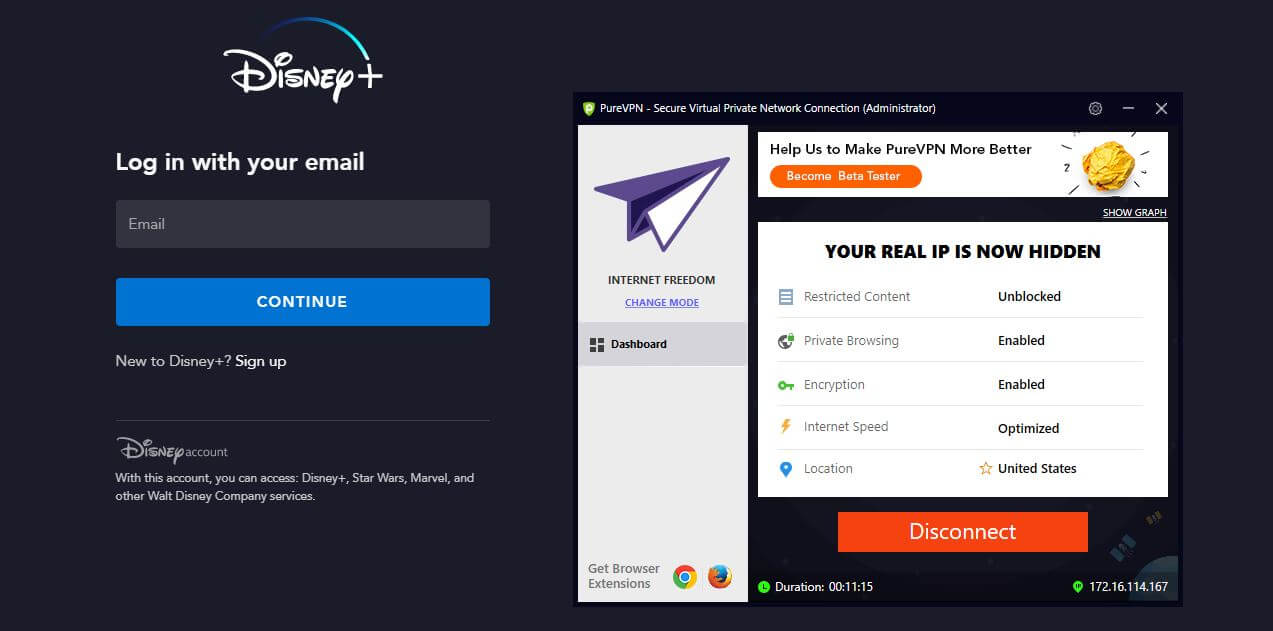 Much to our surprise, Disney+ worked flawlessly. Instead of the infinite loading screen, we successfully gained access to the website. We also tested HBO GO, so here are the results: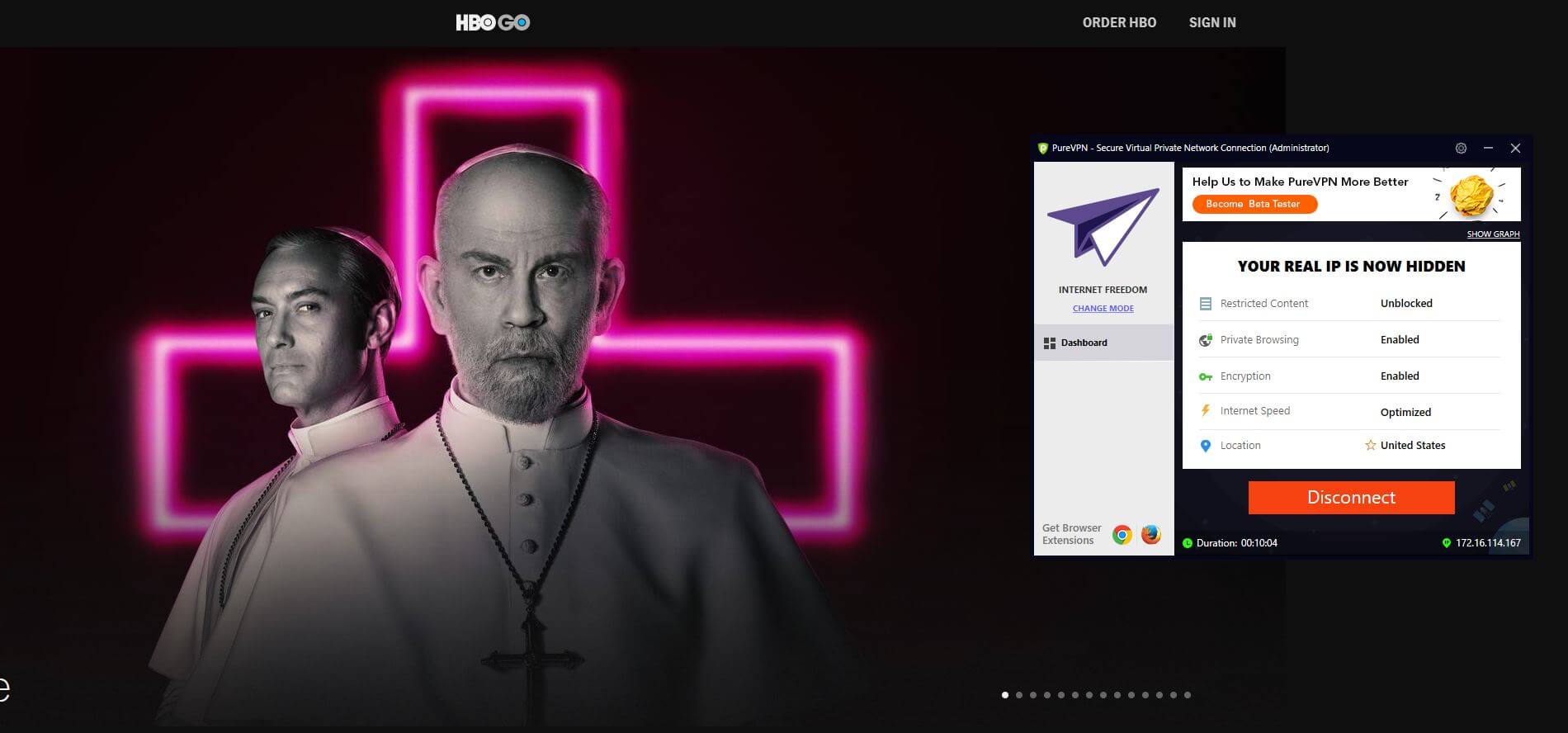 As you can see, HBO GO also works. Unfortunately, BBC iPlayer and DAZN didn't work. We tried multiple servers for unblocking BBC iPlayer, yet none of them worked. On the other side, Hulu works just fine.
The thing is, however, that PureVPN isn't fast enough for streaming. Sure, unblocking is easy but after that, you expect your video to load instantaneously. This provider won't give you that kind of experience. Forget about 4K videos on Netflix. You'll need to focus on 1080p footage and if you're lucky, you might be able to enjoy a buffer-free experience.
Long story short, PureVPN isn't very good for streaming, mostly because of its slow speeds.
Confidentiality, Security & Logs
This is where things start to get interesting. As we saw a few minutes ago, the provider is hell-bent on keeping you safe, secure, and anonymous online. Its security protocols are reliable and work just fine. There's even a no-log policy. Here's a screenshot: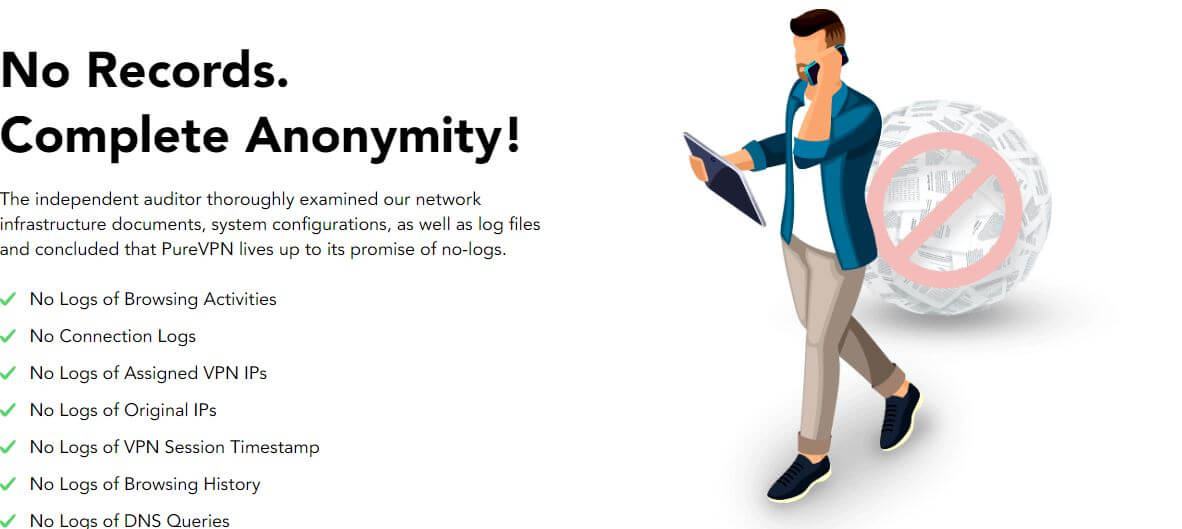 This screenshot shows you only a fraction of the no-log policy. For full policy, click here. All of this would be good if the provider didn't… well, lie. We don't like using this word but in this PureVPN review, it's completely applicable.
There's a case in 2016 when the provider's no-log policy was compromised. Just for the reference, Hong Kong is outside of the 14 Eyes, so the provider doesn't need to store logs. But, 4 years ago, the provider helped the FBI solve the case of cyberstalking. Take a look at this image: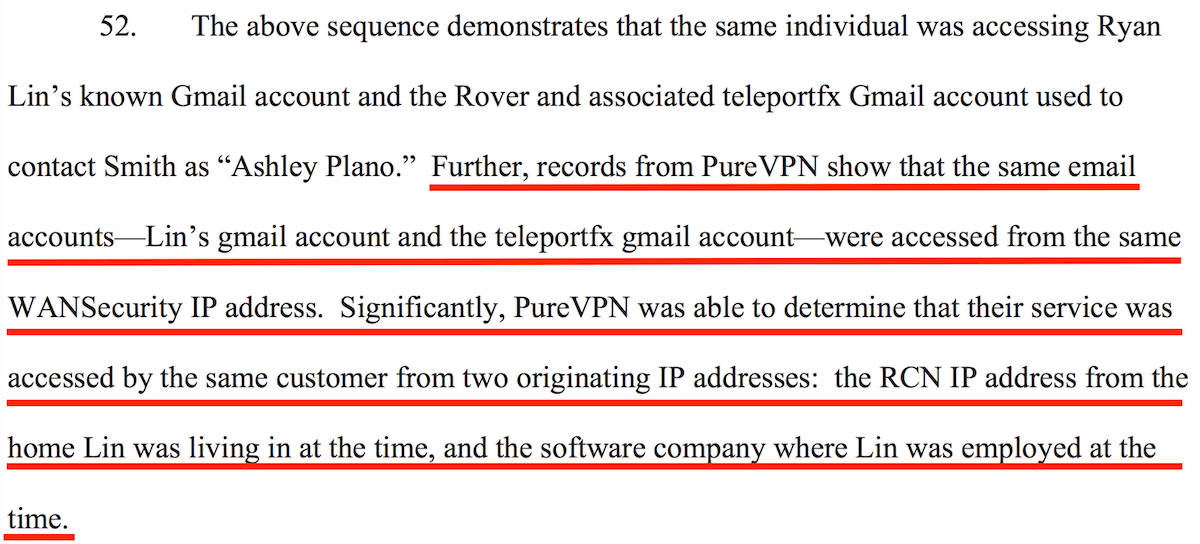 As you can see, the company gave information that compromised the user's privacy. This info contained the user's IP addresses from both the home and workplace and helped the FBI to catch Lin, a suspect of cyberstalking.
To make things interesting, PureVPN, immediately after this case, updated its no-log policy, saying that it doesn't keep IP addresses, timestamps, browsing history, etc. They simply made it look like nothing happened a few days ago. With that in mind, can this company be trusted?
We would say NO. To back this up, take a look at our IP leak test: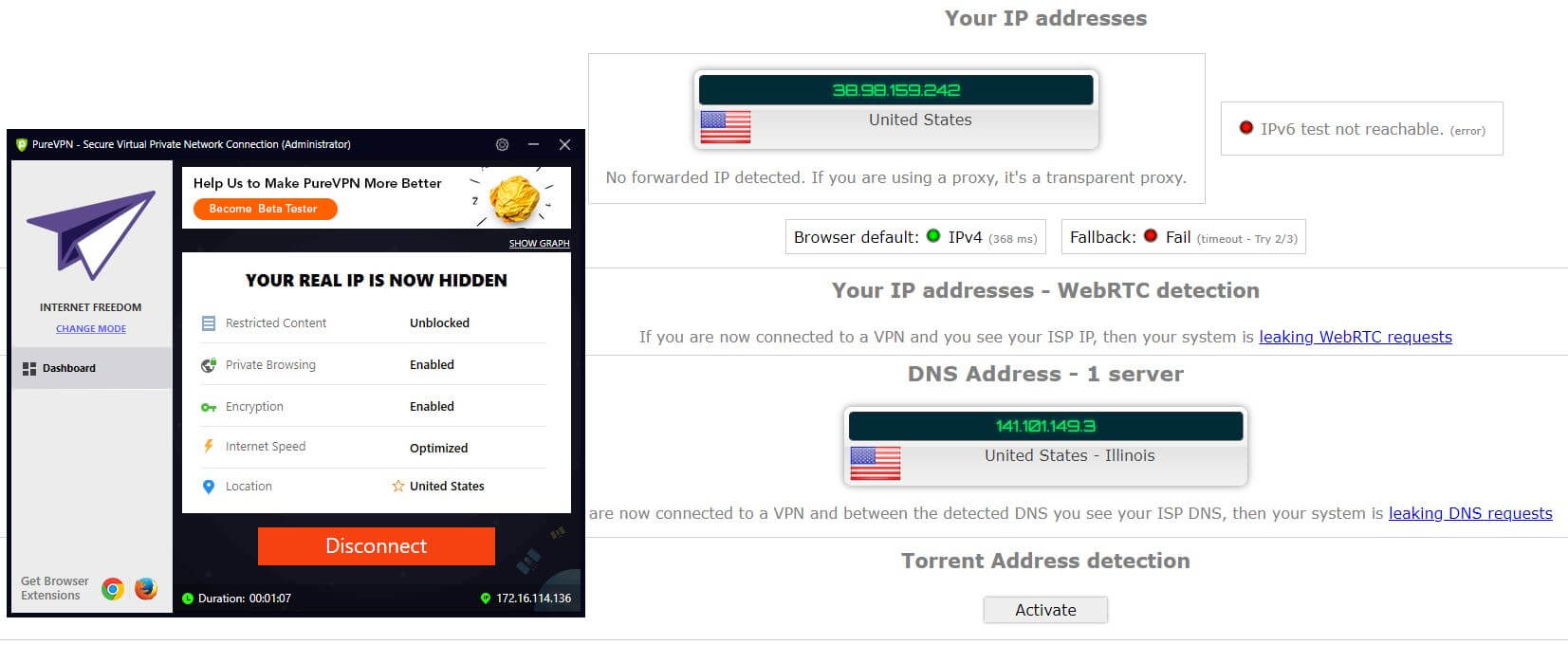 Take a look at the IP assigned to us on the left, and then, take a look at the right? These IP addresses are NOT the same! It looks like that the provider doesn't give you the IP they pretend to give. We tried the UK server and got the same results, so it's not an error on our end: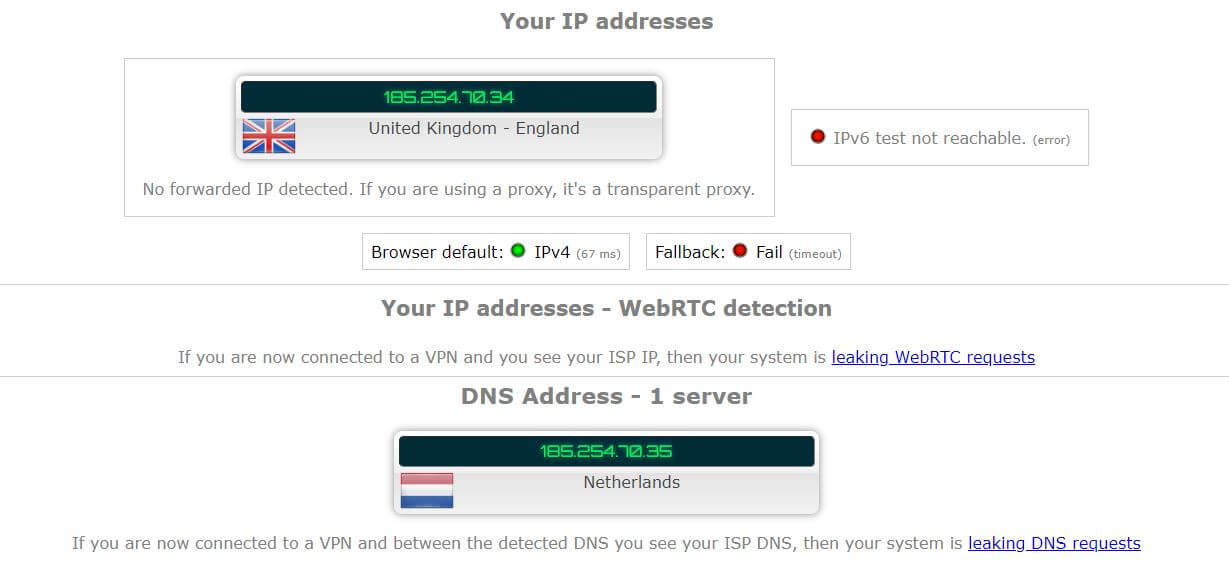 By the way, they used a virtual server for the UK and the physical one is in the Netherlands, as seen from the image above. Furthermore, the company has a history of DNS leaks, making it untrustworthy.
And when the VPN we use isn't trustworthy and safe, we immediately discard it. But, for those of you still interested in it, we'll continue our review of PureVPN.
Can I Do Torrenting Safely With PureVPN?
To be able to enjoy torrenting, you must get a provider that offers these two features – a no-log policy and P2P support. As we saw earlier, a no-log policy is questionable or better said, isn't exactly a "no-log" policy. As for P2P support, the provider has it. Here's what 1337x, a torrent site, has to say:

This here is our IP address from the IP leak test above. The app, once again, showed us a different IP. Since we aren't sure which is our new assigned IP address, we also aren't sure if we're safe and secure to engage in P2P file sharing.
With that in mind, we do not recommend it for P2P download.
Can I Use PureVPN to Bypass Censorship?
Since the provider is located in Hong Kong, being able to bypass censorship shouldn't be a problem. Whenever we mention censorship, know that we're talking mainly about the Great Firewall of China. A few years ago, China started blocking a vast majority of providers and unfortunately, PureVPN is one of them.
But, on the provider's website, we can see that they still have some servers there – 6 in Shanghai and 6 in Beijing. The good thing is that this provider can, in fact, bypass the Great Firewall of China, thanks to its SSTP protocol. This protocol allows you to use TCP 443 port, which can bypass the firewall.
On the other hand, the provider's website is blocked in this country. So, you'll either need another VPN to access it or buy it from a foreign country. Despite its SSTP protocol, we found out that some users still have problems with the provider in China.
Bypassing censorship with this provider is going to be a hit or miss, depending on your luck. If we were you, we wouldn't rely too much on it for this purpose.
Pricing and Plan Options
In the beginning, we said that this provider is very cheap. You know how it goes – the Chinese stuff is always the cheapest. While this one isn't the cheapest, it's pretty close to it. Here's what to expect:

In the middle, there's a 2-year plan that costs $3.33 a month. You also get a 70% discount when compared to a monthly plan. On the right, there's an annual plan that costs $5.83 a month and it's 47% off. Finally, on the left, you get a monthly plan at $10.95 a month.
We compared the pricing to some of the best providers and sure enough, we noticed that CyberGhost is a lot better offer at this price. CyberGhost will cost you $3.69 a month for a 2-year plan and this one costs $3.33. The difference between these two is pretty big (in term of services offered), of course, in favor of CyberGhost.
Every plan is eligible for a 31-day money-back guarantee, which is excellent if you're not satisfied with the product. Before we talk about refunds, here are the payment methods available:

PureVPN obviously did its homework. Lots of payment options are here, and even cryptocurrencies, for added privacy. That's not all, though. They offer you some bonus features for which you'll have to pay: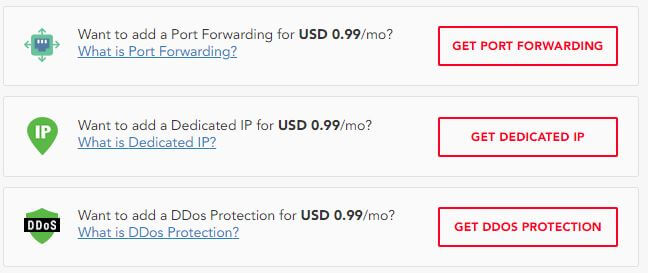 In case you want a refund, you can contact customer support by using the live chat feature. Here's a screenshot: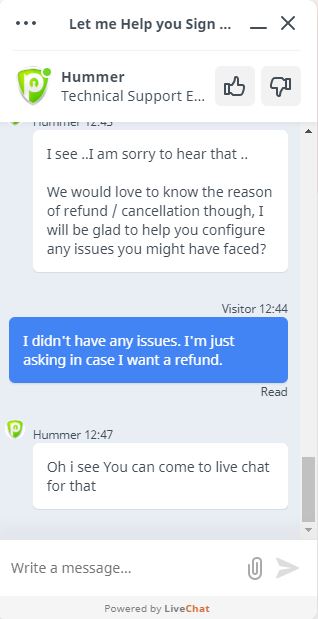 Alternatively, you can get a refund by sending an email to [email protected]. Of course, you can't get a refund if you've bought the app from a third-party source such as Google Play and Apple Store.
How Can I Contact PureVPN?
Although the provider didn't impress us, we're glad that you can at least use the live chat or the email feature. This image shows exactly how you can contact the provider: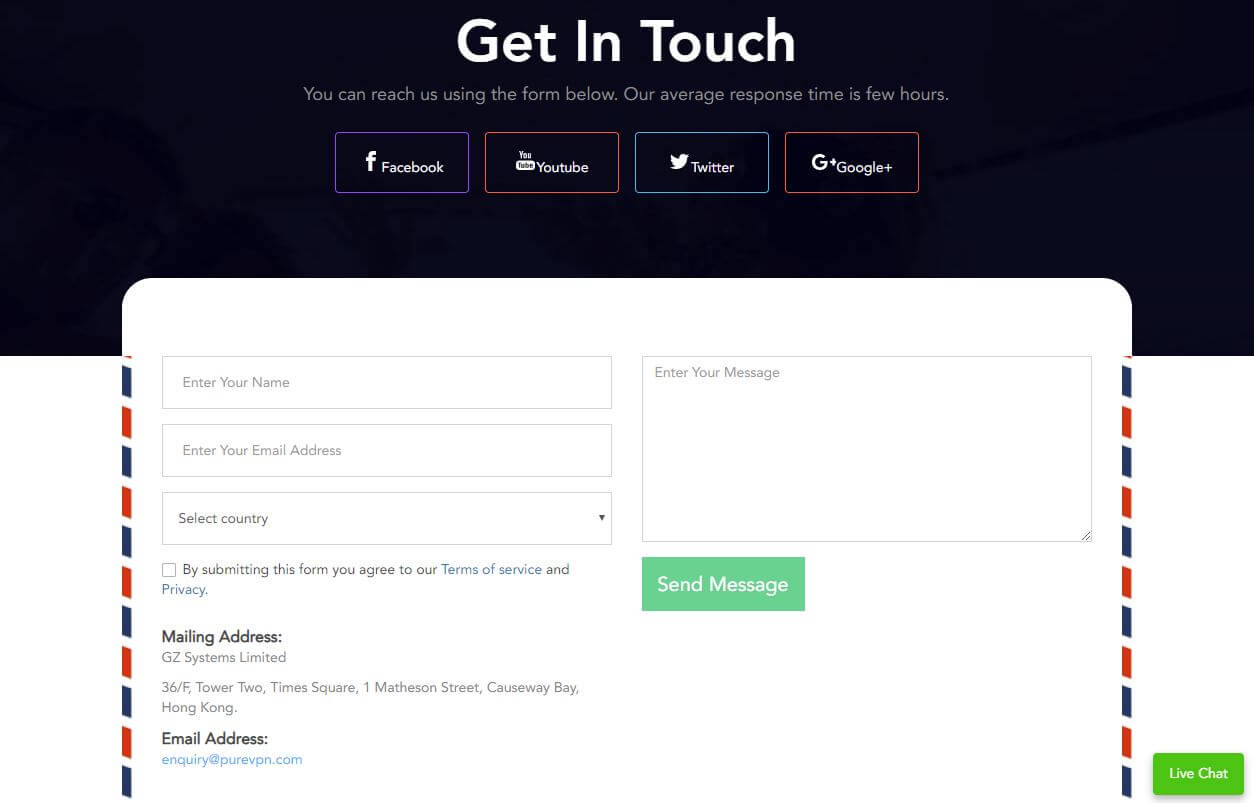 This here is an email form that you can use to send questions. You'll get a response within 24 hours, which is something we got used to. As for the live chat, we already mentioned it. Albeit, the support here isn't very fast.
We got the first response in around minute and we had to wait for more than 5 minutes for the second one. If you don't want to contact the company, there's Support Center that looks like this: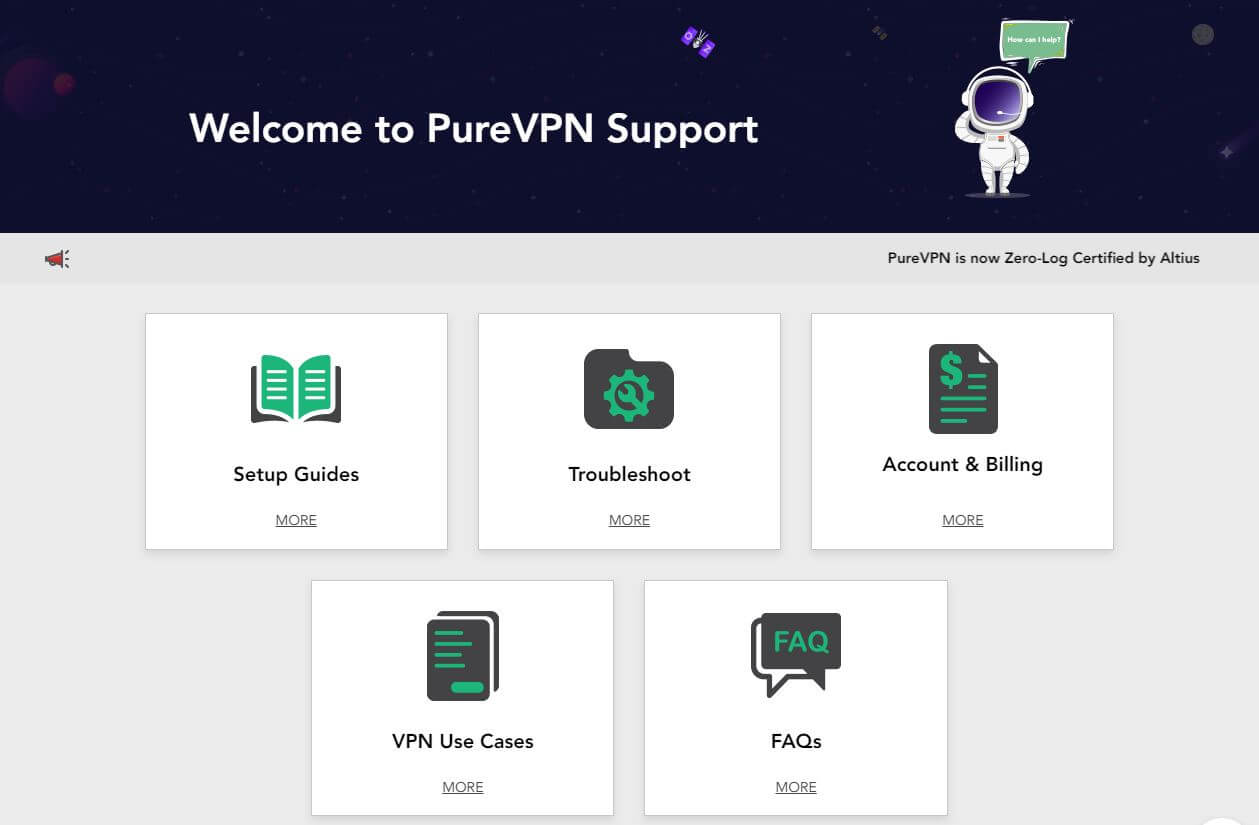 It has a decent knowledge base and will help you fix some of the minor issues.
The Special Functionalities
Oddly, the provider has a fair share of special functionalities that will, to some extent, make your experience with it better. Here's what you can expect:
Dedicated Servers
Dedicated servers are, for us, one of the best features a Virtual Private Network can have. We've seen it in CyberGhost and ZenMate, and both of these providers made it work flawlessly. Here's what you get here with PureVPN: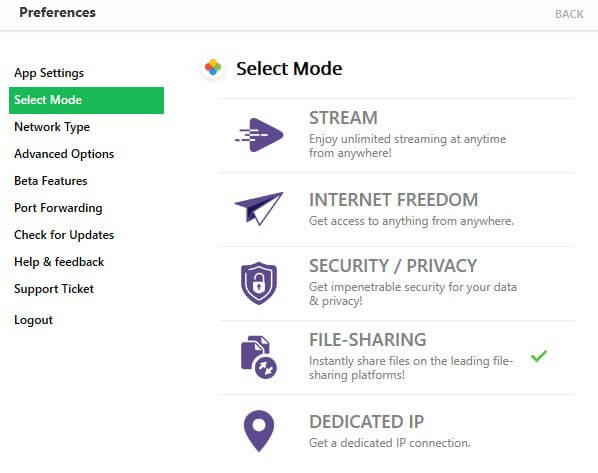 Basically, you choose a mode in which you want to use the app and it will assign you some servers to choose from. There's also a Dedicated IP option but as we saw, you'll need to pay $0.99 a month to use it.
Multi Port
Multi Port is a feature that takes advantage of an automatic port selection. It scans for open ports for establishing a connection, all while evading throttled or closed ports. Here's how it looks in the app: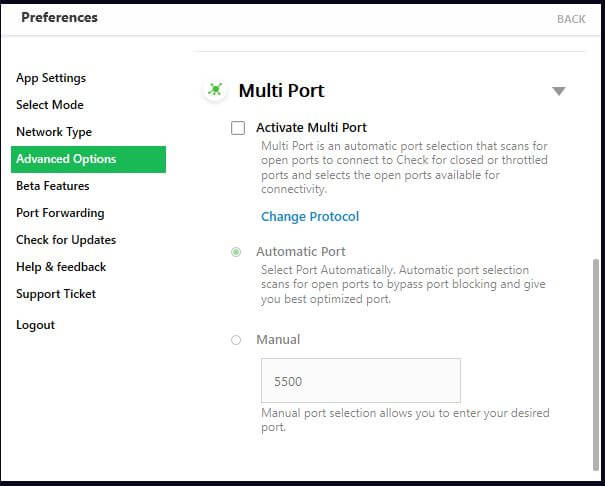 It's a nice addition to the app and will most likely help the advanced users that want to make the best out of their experience.
Ping Test
Finally, we discovered during our review that there's a ping test you can find when you open the PureVPN app, on the home screen: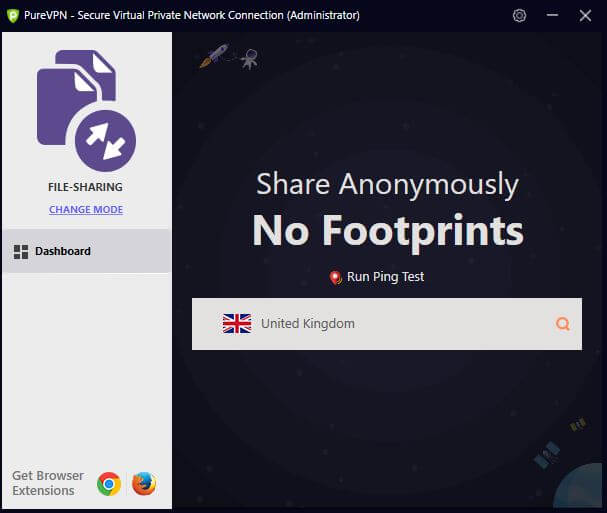 The ping test is here to estimate the distance between your location and the location of the server you want to connect to. Of course, the lower the ping, the better the server will work. Before connecting, you can use it to see if the server you want is going to work properly.
A speed test would also be a good addition. Nevertheless, we're glad that even a ping test is here.
Other Things You Should Know
These are the other things you should know about PureVPN before closing our complete review and test:
Number of Servers
When it comes to the size of the network, this provider isn't that bad. You get 2,000+ servers, of which most of them are located in Europe.

As we mentioned, there are servers in China but also in the UAE, Turkmenistan, Tajikistan, and Saudi Arabia. These countries are, just for the reference, not very friendly when it comes to VPNs.
Number of Countries
The impressive thing about this provider is that it offers servers in 140+ countries. As far as we know, this is maybe the largest number of countries in any provider. And truly, when you take a look at their offerings, you can't help but be amazed.
Number of Simultaneous Connections
If you don't intend on using this service on your router, you'll get 5 simultaneous connections.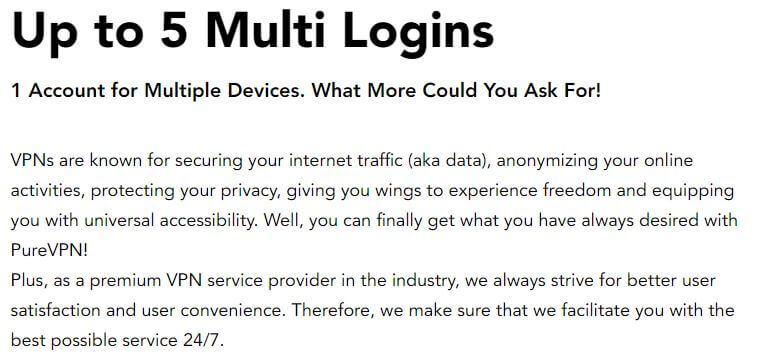 Of course, if you use it with your router, you can expect up to 16 or 32 connections at the same time.
What Do Other Users Say About PureVPN?
As always, we need to see what other users have to say about the provider. Let's start from Reddit:

This user "killed" two VPNs with one shot – PIA and PureVPN. The latter one is on today's menu, so let's see what he has to say in its review.
As you can see, his internet speed got reduced by 5 times, until he finally contacted support for a refund. There, the support team took a long time to get him a refund, so long, that he still waited at the time of writing this review – one year ago.
The second review of PureVPN comes from the Apple Store. Here's what it has to say: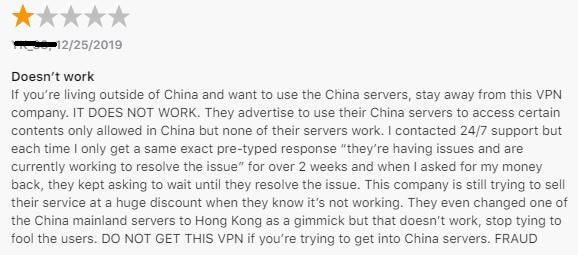 This user is obviously trying to access Chinese local content. He says that the servers in China don't work, despite the fact that the provider claims that they do. At the time of writing, they still didn't solve his issue, so he finishes his review by saying that you shouldn't buy it.
What's the situation like on the Google Play Store? Well, the app has 3.7 stars, which isn't very favorable. Here's a recent review:

Once again, this user complains about the provider not working in China. So, he isn't only trying to use Chinese servers but he's located there. Long story short, he encountered many bugs regarding the app, split tunneling, inconsistent speeds, and so forth.
Last but not least, we need to see what users on Trustpilot say:

This user gave the provider 4 stars, albeit, his short review isn't very favorable. He says that he needs to "log out of PureVPN, exit the app, then log back in more than he would like." That's certainly not a very user-friendly experience!
Conclusion: Should You Take It?
We'll give you the answer straight-up. You should not buy PureVPN. The reason being is because the provider isn't trustworthy. And if you think that's just us, you're dead wrong. Take a look at Reddit and you'll see what we're talking about.
The fraudulent zero-log policy, frequent DNS leaks, and turtle-like speeds aren't going to make you love the provider even more. Despite having some easy-to-use apps and a couple of bonus features, this doesn't outweigh the fact that the provider is NOT SECURE.
Instead, we suggest you go for ExpressVPN. This is the best provider in 2021 and will not let you down, whether you're streaming, browsing, torrenting, or just want to be safe and secure online.