When a certain provider calls itself "the truly complete VPN solution", we're tempted to test it. That was also the case with CyberGhost, a provider that many praise in their reviews for its all-around features. Furthermore, this is one of the most popular solutions today, given its low price (and 1 day free-trial!), yet decent performance. But, is this truly a complete solution? Or perhaps just another gimmick? Well, our Monkey team devoted some of its precious time to test it and give you feedbacks. This is going to be a long ride, so try to stay with us – it'll be worth it!
What is CyberGhost?
CyberGhost is a significant name in the world of cybersecurity. The provider is based in Romania, which is one of the VPN-friendly countries. This means that the provider is far away from the 14 Eyes, for instance, which is a very good thing for privacy. Later, we'll see why.
Since its inception, CyberGhost showed impressive results in terms of speed, security, and connectivity. And if we take into account that its initial release was in 2004, this provider spent 16 years on the market! Without a doubt, this is one of the oldest companies in this industry.
We expect a lot from our ghostie friend in 2021 and we went into this analysis pretty hyped up. However, we still remained objective and our opinions aren't biased.
Let's delve deeper into this comprehensive review of CyberGhost service for 2021!
Compatible Devices and Ease of Use
The provider offers support for numerous devices, making it very versatile. Here's a table from its website that encapsulates all the supported devices:

As we can see, computers, smartphones, tablets, browsers (Google Chrome AND Firefox), and even some routers are supported. Note that you can also use the service on your Firestick (Amazon Fire TV) or with Roku.
Computers
Virtual Private Networks are mostly used on computers. For that reason, we'll examine the installation process and the app's ease of use. In this example, we used the Windows 10 platform but even on Mac and Linux, the app looks the same.
The first step is, of course, to install the app. We bought a subscription using PayPal and when the payment was verified, CyberGhost automatically downloaded setup for Windows. Double-click on that exe file and you'll get this screen: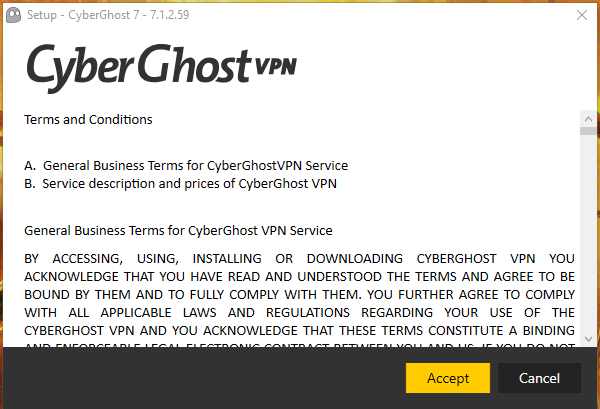 These are terms and conditions. Be aware it's a pretty long read. If you're not going to read or if you're finished reading, click Accept and you'll get an interesting screen. Take a look: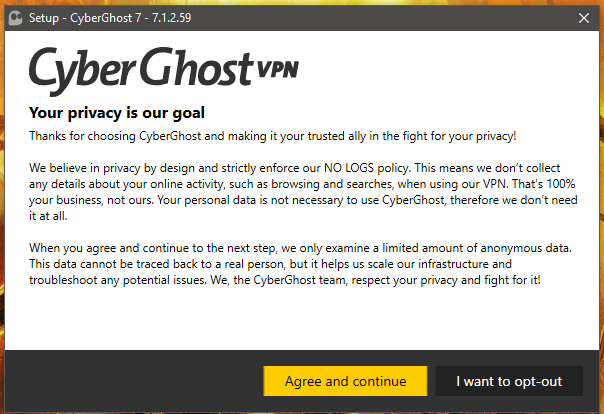 Here, CyberGhost tells you that it has a strict no-log policy, which is a very good news in the case of our review and test.
However, note that if you agree with what they say, the provider will examine only a fraction of anonymous data. Luckily, this data can't be traced but is here to help the company improve its infrastructure and fix potential issues.
You can accept it or not – it's your choice. When you choose, the installation will last 10 seconds and you'll get a login screen from the app, as shown below: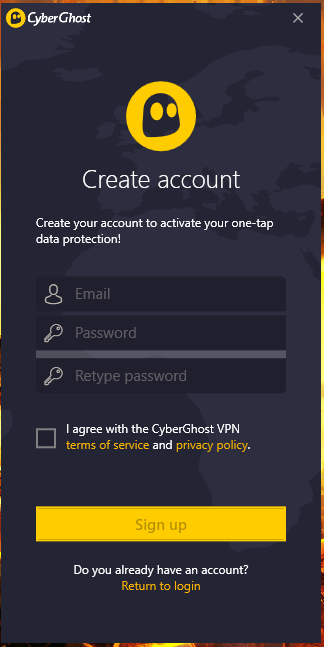 Given that you've already bought a subscription, log in to your account, instead of signing up. When you do that, here's how the app will look: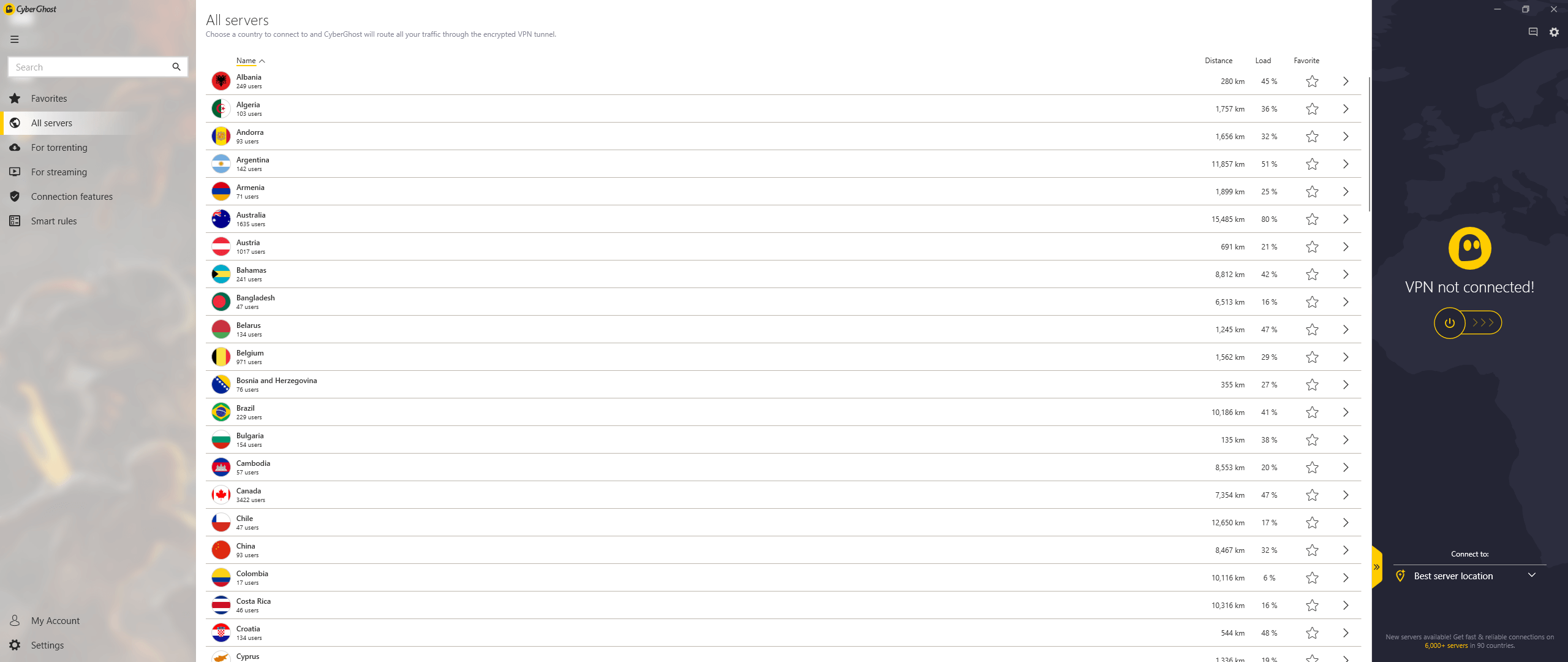 In the middle, there is a list of countries that the provider offers. There's one interesting thing, though – the server load. Each server has its load in a particular moment, which CyberGhost shows you in percentage (just like NordVPN). So, if the server is loaded 50% or more, it means it's not ideal at the moment.
Get CyberGhost App on your Computer >
You can then connect to a less-loaded server and enjoy faster speeds. Furthermore, on the left side, we have dedicated servers, which is a unique feature of this provider. We'll talk about it more later. For the test, we used an IP address from New York, USA, so here's how it looks when you're connected: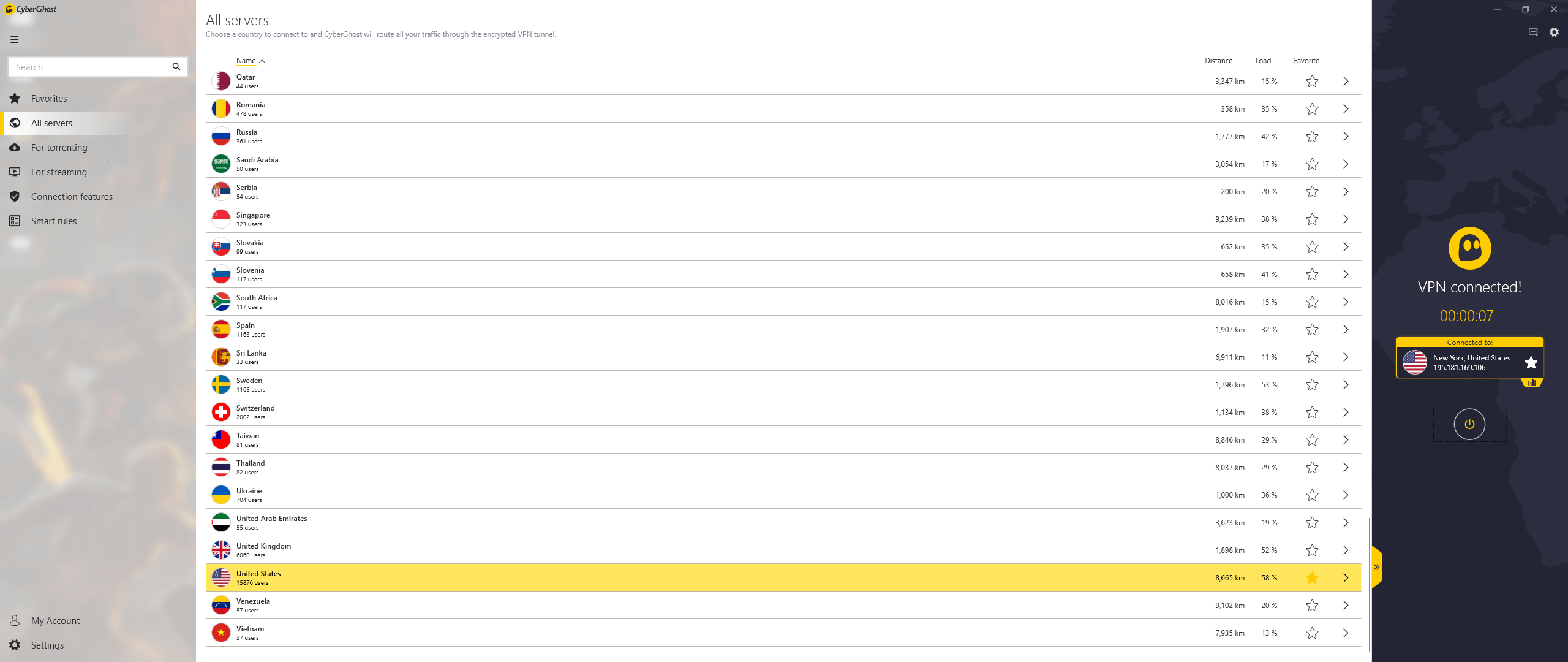 And that's all. With a single click on the country, we managed to connect in just a few seconds. Very simple and beginner-friendly.
Smartphones and Tablets
Now, let's see how the provider app looks on a smartphone. We'll review the Android app of CyberGhost in our case. Also, apps on iOS and Android are the same, as well as on tablets, which use the same operating systems.
If you're an Android user, visit the Google Play Store and download the app, as shown in picture 1. Next, open the app and you'll see the login screen in picture 2. Type in your credentials and log in. You'll now see the simple app interface, as shown in picture 3.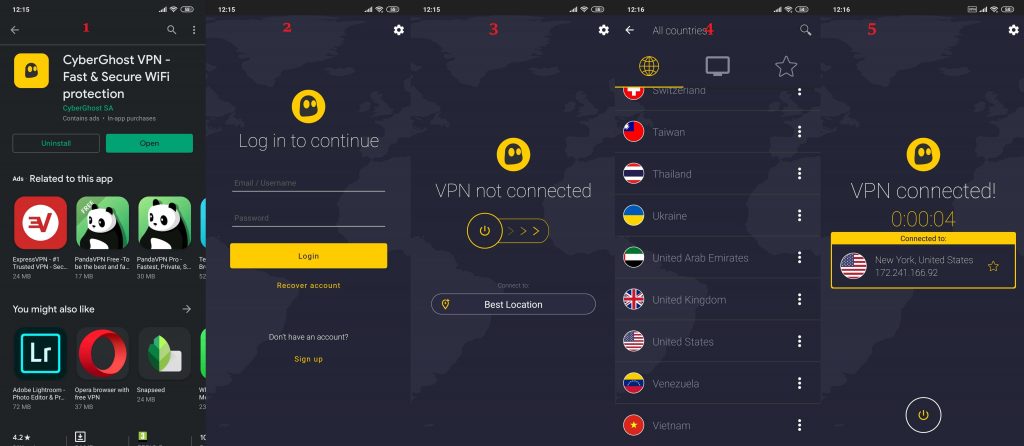 To connect to the best location, simply click on the yellow power button. However, if you want a custom location, click on the Best Location button, and you'll see the countries that the provider offers – picture 4.
From there, you can click on the country and be connected to the best server there. Alternatively, you can click on the three vertical dots and access a particular server in that country. As you can see in picture 5, we selected New York and our connection was successfully established.
The mobile app is as easy as the computer version. Which is a very good news!
Other Devices
Other devices are routers and smart TVs. We suggest you connect it with your router, so you can cover every device in your house. Let's remind ourselves, routers support 16 or 32 devices. Also, if you're looking for a VPN that works well with Kodi, this is the one to go for.
Also, as stated previously, you will be able to install a the CyberGhost VPN extension on your web browser. It is available for free. The provider supports Firefox and Google Chrome in that matter.
How Fast is CyberGhost? We Checked its Speed!
Before talking about speed, we need to get something out of the way. To make things clear, ALL providers reduce your internet speed. However, some do it aggressively, while some will decrease it by a tiny margin. Free providers, for instance, are very slow and they can reduce your speed up to 80%!
Premium providers, on the other hand, are expected to do this by 20% on average. Of course, it all depends on the server location. For example, if you're from Bulgaria and you connect to an Australian server, your speeds will be slower than on the Greek server. So, how did we do our tests?
Benefit from the Speeds offered by CyberGhost >
We ran 3 tests in the morning, 3 in the mid-day, and 3 in the evening, for 3 different locations. We also kept the best score. When the option was available, we connected to the best locations of these 3 we tested.
Our location is in the USA and 3 locations we used for a VPN test are:
The United States
The United Kingdom
Australia
Our internet speed without a Virtual Private Network on is:
Ping: 11ms
Download speed: 211.88Mb/s
Upload speed: 202.20Mb/s
Now, with CyberGhost turned on, our ping, download, and upload speeds respectively are:
US server : 28 ms / 233.78 Mbps / 121.22 Mbps

UK server: 108 ms / 156.51 Mbps / 118.23 Mbps

Australia server: 273 ms / 87.85 Mbps / 30.55 Mbps

The results are good although not exceptional. In Australia, for example, our ping was 273ms, which is on the higher side. In both the US and the UK,  our upload speeds were pretty high, just to drop in Australia (mainly due to distance).
How Good is CyberGhost for Streaming?
When it comes to streaming, many of you think about Netflix or Amazon Prime Video. Can CyberGhost unblock both of these? Yes, after a complete review and many tests, we can confirm this. Of course, these platforms have the largest catalogs in the USA, so we suggest using a server from this country.
We used the New York location but you can use whatever you want. From this server, we managed to unblock a plethora of streaming websites. Netflix, Hulu, HBO GO, Sky TV, Amazon Prime Video, and even Disney+ are easily accessible.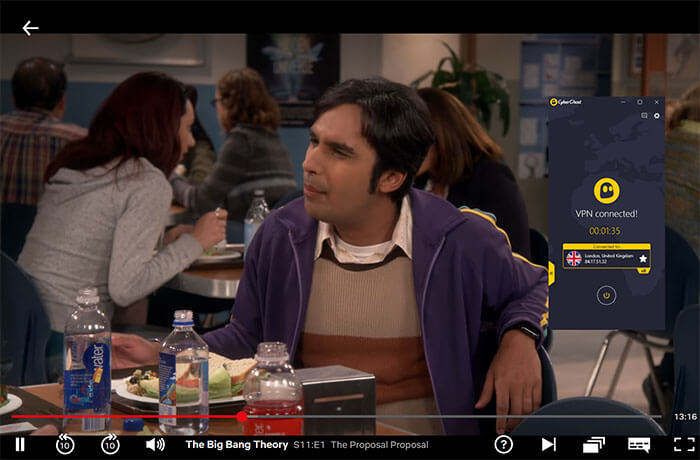 Furthermore, CyberGhost offers dedicated servers for streaming. Some of them are in the USA and they are strictly optimized for US Netflix… and other in the UK to help you unblock BBC iPlayer. We tried them, and as expected, they worked flawlessly. In terms of speed, there's nothing to complain about.
Having streamed 3 hours of quality Ultra HD content on Netflix and BBC iPlayer, we can only say that it's blazing-fast. If you're, however, planning to watch DAZN, know that the provider can unblock it. It had some issues with this site recently but when using the New York server, it works flawlessly.
That being said, it offers great functions for streaming – both in terms of server count and speeds. And if you're not satisfied, you can always cancel your subscription and get a full refund thanks to a money-back guarantee.
Watch ALL Netflix catalogs thanks to CyberGhost >
Confidentiality, Security & Logs
You know how much we value security and privacy on this website. We built it just so we could help you stay anonymous online and protect your personal information.
For that reason, we went straight to CyberGhost's zero-log policy while reviewing its service to see if it meets our expectations. Of course, we were in for a pleasant surprise. Take a look at this crystal-clear no-log policy: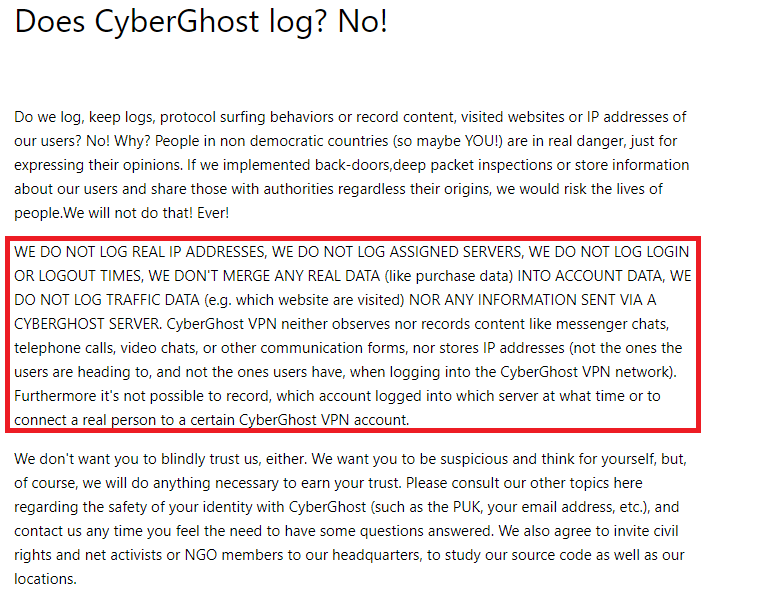 Look at this part of the text omitted by the red line. It says that the company doesn't store any of your sensitive information. This information includes IP addresses, purchase data, account data, traffic data, video chats, calls, and so forth. We must admit that this is one of the clearest no-log policies we've ever seen.
But, that's not all. How safe are you when using CyberGhost in terms of IP leaks? We won't leave you without that info. Here's a screenshot of our IP leak test while using a VPN:

On the left, you can see that we're connected to the server in New York. On the right, our IP address is exactly the same. This means that we didn't encounter IP leaks, hence we were 100% secure when we used the provider.
Also, this is the IP address with a VPN – 37.120.138.57. Remember it because we'll mention it in the next section.
Can I Do Torrenting Safely with CyberGhost?
If you scroll back to our section about the computer app, you'll see that the provider has servers dedicated to torrenting. This means that it supports torrenting. Also, when it comes to torrent, two features are of the utmost importance – P2P file sharing and a no-log policy.
CyberGhost supports P2P on every server (plus you can connect to specific servers in order to download torrents) and as we said, the no-log policy is here.
So, we entered 1337x.to and tried to download a game. As you've probably seen, every torrent website displays your IP address, to let you know that your ISP can track you. Here's what we got:

Do you remember the IP from above? Compare it to the one we got now. This means that we're completely anonymous and downloading this game won't get us into trouble. To digress, CyberGhost is both safe and fast for torrenting.
Can I Use CyberGhost to Bypass Censorship?
Countries with some harsh censorship are the UAE, Iran, Iraq, Turkmenistan, Russia, and China. However, we'll focus mainly on China, as this is one of the worst countries in this regard. Whereas Surfshark offered a NoBorder mode and NordVPN offered its obfuscated servers, CyberGhost has neither of these.
Unfortunately, it's among the many providers that are blocked in China, so you can't use it there. And since it can't pierce through the Great Firewall of China, bypassing censorship with it will be almost impossible. Needless to say, the provider also doesn't work well in the UAE.
To summarize this part of our review, CyberGhost isn't great at bypassing censorship. You're better off with a NordVPN, Surfshark, and ExpressVPN for this purpose.
Pricing and Plan Options
Pricing is a determining factor for some people when buying a VPN. Of course, it plays a crucial role in whether the provider is worth your time or not. CyberGhost has some interesting pricing plans that are much cheaper than the competition at this level offer.
Find out all you should know about CyberGhost pricing >
Plus, you can get a 1-day free trial if you want to test the service first. Check the picture below to know more about prices:

The best value and deal, as seen in the picture, is a 12-month plan at $2.75 a month (79% discount – no coupon code needed). This plan includes a 45-day money-back period, as well as 6 months free. So, you get 18 months for $49.50, which is a tremendous offer.
What about other plans? Well, there's a 6-month plan at $7.99 a month or $47.94 a year. It's not very cheap, considering that some providers offer plans at less than five bucks. Finally, there's a monthly plan which is straight-up expensive at $12.99 a month. Even NordVPN, a better provider, offers its monthly plan for a cheaper price.
Let's now see the payment methods: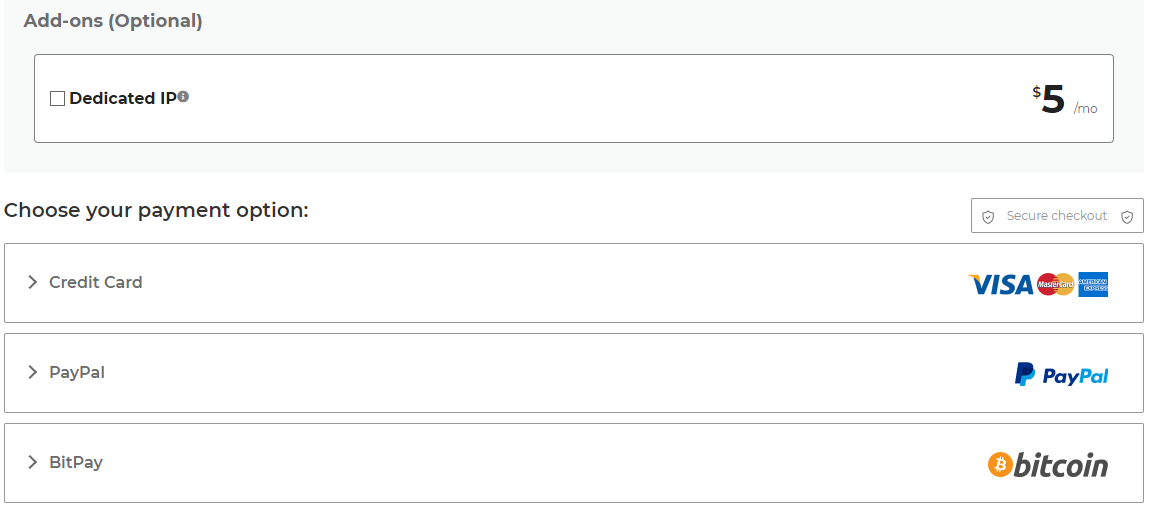 The first option is a dedicated IP that you can get for $5 a month. It's optional, though. Now, how can you pay for all of that? Well, there's an old-school method like a credit card, as well as PayPal and Bitcoin. We like the addition of Bitcoin since it makes your purchase significantly more secure.
If you want to cancel your subscription and get a refund, you can contact the support team via live chat, as shown in the picture below: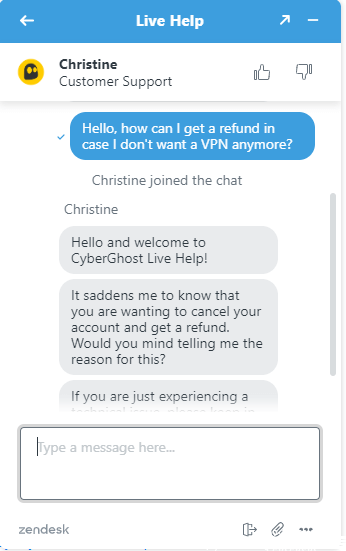 Tell them the reason you want a refund and they'll give you your money back. The important thing is that a monthly subscription is eligible for a 14-day money-back period and subscriptions of 6+ months are eligible for a full, 45-day period.
Also, CyberGhost won't give you a refund if you didn't make a purchase through its website. I.E, if you paid your subscription through the Google Play Store or Apple Store.

As for the pricing, CyberGhost's 3-year plan is second to none. You won't find a best deal and a cheaper provider at this level, for sure!
How Can I Contact CyberGhost?
We saw during our in-depth review that contacting CyberGhost is very easy and there are two methods. One method is displayed above and is called the Live Chat. It's like chatting to your friend on Facebook. You type in the question, wait for the answer, and the support team member will fix your issues.
If you're not in a hurry, the company has a [email protected]o email for this purpose. You don't have to send your question directly through your email, though. Instead, you can do it from here.
Type in your email address, choose the operating system, and a couple more factors, then send an email. You'll receive an answer in 24 to 48 hours, depending on how busy the support team is.
The Special Functionalities
Every provider has its set of special functionalities that differentiate them from other providers. CyberGhost is no exception.
More Infos about Special Features from CyberGhost >
Here's what the provider offers:
Dedicated Servers
In our opinion, this is the best special functionality that CyberGhost has to offer. It's very easy to use and will allow you to perform your online activities without slowdowns. There are two types of dedicated servers here – for torrenting and for streaming.
Depending on what you choose, the app will offer you certain servers. For example, if you choose torrenting, you'll mostly get European countries and for streaming, the numerous UK and US-based servers are offered for services such as YouTube TV, BBC iPlayer, ESPN, Amazon Prime, Spotify and so on.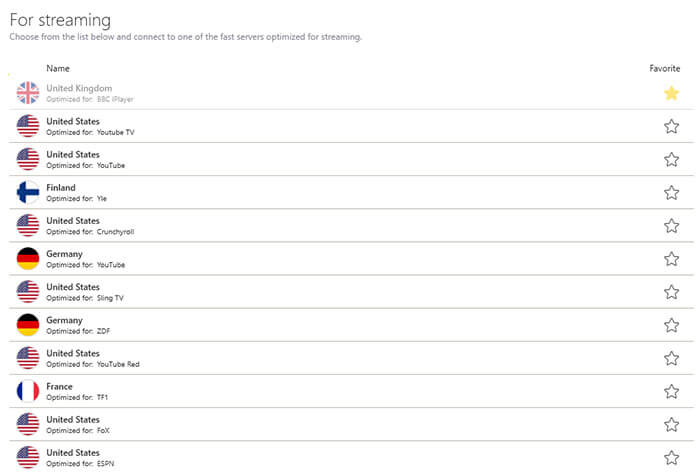 From there, you can choose the one you want and enjoy the well-optimized experience.
Ad Blocker
The ad blocker is something that many providers have these days. This feature is essential for your safe and secure internet voyage. As many of you know, ads often contain trackers that can track your location for "better advertising."

Needless to say, the ads are also malware-laden, so you'll find yourself cleaning them using Malwarebytes, more often than not. For that purpose, CyberGhost implemented this feature that works fairly well.
You can turn it on in Settings and we recommend to do so. Ads can not only endanger your privacy but also hinder your browsing experience. After all, it takes some time to load the ads.
Data Compression
Data compression is useful when you're on limited data. Sometimes, you don't want to load full-size images to avoid wasting your precious megabytes – and that's okay, we all do. CyberGhost is here to compress all of these unnecessary elements, to help you save your internet data.
Other Things You Should Know
Despite mentioning almost all the important stuff in this CyberGhost review, we left some things out. Let's talk more about them below:
Number of Servers
When it comes to the server count, we're talking about a gigantic provider. CyberGhost is the largest VPN company, boasting around 6,000 servers worldwide. To be precise – 5899 servers. This is slightly more than NordVPN's 5,500+ servers, making these two companies the biggest in this industry.

So, whether you want to stream, torrent or browse the internet, you're never going to run out of options!
Number of Countries
Our ghostie friend offers 90 countries and 111 locations at your disposal. Most of these countries have servers in one city. However, larger countries like the United States, the United Kingdom, Germany, Australia, and Canada have servers in more locations.
Most servers are located in the United States. This country has 1,115 servers, for instance, which is an impressive number. If we just think about that some providers have a total server count of 1,000 or so, CyberGhost managed to wipe the floor with most of them.
Number of Simultaneous Connections
With this provider, you get 7 simultaneous connections, which is stellar. Some give less, some give more, like Surfshark, giving unlimited connections. On the brighter side, you can use this VPN on your router and by doing that, cover the entire house, as we mentioned before.
What do Other Users Say About CyberGhost?
Sometimes, the opinions of other people shouldn't matter to you. But, in this case, it's important to see how other users feel about this service. We took a little trip around the most popular sites (Reddit, TrustPilot, Google Play Store, Apple Store…) to find out more about the provider's reputation, so here are the results.
The first user opinion comes from Reddit. This user left a short-but-sweet review that implies that he's very satisfied with the service offered by CyberGhost:

He says that he connected 5 devices and that the speeds are consistent when torrenting and streaming. Another user from the Apple Store is impressed with CyberGhost's customer service, take a look: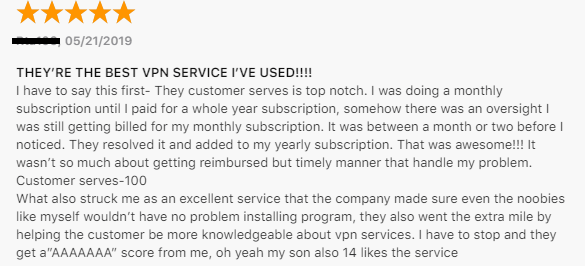 This review talks about how passionate are people from the company's support office. They helped him not only to install the apps but also taught him a bit more about cybersecurity. Oh, and his son who has 14 years also loves it! Now, let's see what the Android users have to say – this one, for example:

He says that he had no issues with the provider, mentioning that servers can sometimes be slow if they're busy. However, after the user switches to another server, all of the issues are fixed. Finally, he finishes by saying that he would recommend it to his friends looking for a VPN.
For the end, we have a user from Trustpilot who says the following:

This is a two-day-old review which is rather simple. The user says only that it works well with Netflix and that he can use the browser with no issues. To summarize, CyberGhost left a good impression on users online.
Conclusion: Should You Take It?
Given CyberGhost's performance, speed, ease of use, security, and other features, is it worth buying?
Our opinion is quite positive – IT IS!
This is one of the best providers as of today. It's fast enough, has thousands of servers, and is quite safe and secure. If you want to save some cash, yet still get a decent Virtual Private Network, this is an amazing option to pick.
And if you don't like  it, you can always get your money back, so you won't lose a single dollar.