Unlike other TV streamers, Kodi is not held back by licensing issues or in-built applications. With the option to download tons of third-party apps, you can stream whatever you like, at anytime. The downside though is that many of these add-ons are geo-blocked. Plus, your ISP can see what you are watching. A Virtual Private Network (VPN) is the best way to unlock Kodi safely and without limitations. Wondering which one to choose? Our little monkey has done it again and carefully picked out the best 5 VPNs for streaming with Kodi.
Why you need a VPN for Kodi?
While Kodi is all fun and games, this open-source software is not without legal and security issues. A Virtual Private Network is your best bet for getting around any gray areas that would otherwise land you in trouble.
If you are on the fence about investing in a premium VPN for this streaming platform, here are a few reasons why you really should consider one:
Avoid prying by your ISP
When you use this streaming app without a VPN, your ISP can see everything you are watching. This includes geo-blocked content or copyrighted material that is loaded on your streaming box.
For a while now, this popular streaming platform has come under the wrath of copyright warriors. These trolls work hand in hand with ISPs to catch users who they deem to be watching licensed content free.
Hiding your online traffic with a Virtual Private Network can help you stay under the radar of your ISP. You will also avoid potential fines, lawsuits, or DMCA notices.
Stay safe from malware
Third-party add-ons are where the magic of Kodi lies. The downside is that these apps are highly prone to security threats. Many of them are intentionally designed as malware to compromise your devices and online safety. A VPN encrypts your data, protecting it from malware and potential hacker attacks.
Bypass geo-restrictions
Some Kodi apps and streaming platforms are geo-blocked due to copyright issues. If you want to unblock Kodi and stream Amazon Video, BBC iPlayer, US Netflix, Hulu, and others, a solid VPN is the best way to do it.
A Virtual Private Network hides your real IP address and replaces it with a new IP. This way, you can pretend to be in a country of choice and therefore watch content that is otherwise geo-restricted to that particular country.
With a VPN, you can finally load your streaming box with as many add-ons and streams as you like. You can watch content from different parts of the world with no limitation.
Is it legal to use Kodi?
A question that often crops up is whether Kodi is legal. The simple answer is yes, it is. This is open-source software for home entertainment. Its allure lies in the fact that you can customize your entertainment using third-party apps or add-ons.
In and of itself, the software is legal. The controversy comes about with the add-ons. Some of them may contain copyrighted content that should not be viewed for free.
As a result, copyright trolls and many ISPs continue to crackdown on users who stream copyrighted content. In some countries, copyright infringement can attract hefty fines.
All in all, this streaming app is legal as long as you do not use it to watch license-protected content for free (most of the time you're using P2P to do so). A good VPN can help you enjoy your favorite shows and streams with complete anonymity.
How to choose the best VPN for Kodi?
Virtual Private Networks are not all the same. Many streaming platforms such as Netflix and BBC iPlayer have developed advanced technology to detect and block VPNs.
To get around Kodi blocks and remain anonymous, you will need a VPN that gets the job done.
Here's what to keep in mind when comparing the best VPN for streaming with Kodi.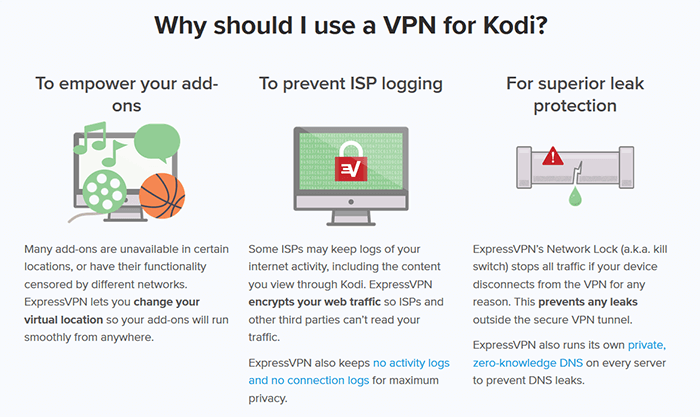 Security
Using Kodi comes with its own security issues such as the potential for malware attacks and snooping from your ISP.
To protect your traffic fully, opt for a provider that offers military-grade encryption (AES-256) and top-of-the-range protocol. We recommend going with one that uses OpenVPN, which is powerful enough to encrypt traffic and bypass strict firewalls.
Other than that, you want a provider that absolutely keeps no logs of your online activities. This way, the provider will have no information to hand over if your ISP or government authorities came up and demanded your data.
Speed
Speed is super important for a buffering-free experience. How fast a VPN is depends on several factors such as the proximity of appropriate servers to connect to. Providers with a wide distribution of servers tend to offer fast speeds for streaming.
Compatibility
You can stream Kodi on almost any device including Android, PC, Mac, Raspberry PI, and even Apple TV. It is also compatible with Windows, Linux, iOS, and Android.
However, not all VPNs are compatible with these devices and platforms. Look for one that not only supports multiple simultaneous devices but also automatically configures itself on any device.
In the end, your best bet is a provider that lets you 'plug and play' and eliminates the need for manual configuration.
So what is the best VPN for managing Kodi? We tested a bunch of them and settled for five that did exceptionally well on the security, speed, compatibility tests.
Without much ado, our top recommended VPNs are:
ExpressVPN
NordVPN
CyberGhost
Surfshark
HideMyAss
Our top 5 VPNs for Kodi
We'll now discuss each provider in detail and see what makes them a great choice.
ExpressVPN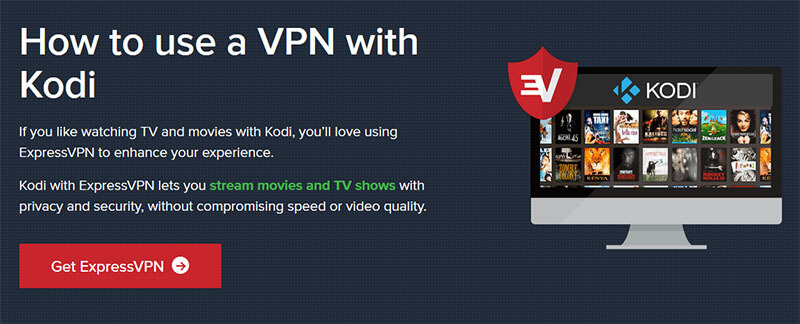 ExpressVPN tops the charts and is a favorite among streaming and torrenting buffs. With military-grade encryption, a strict no-logs policy, and OpenVPN protocol, this provider prioritizes your online security. A strong encryption and protocol also make it easier to bypass geo-restrictions on add-ons so you can enjoy your streaming app with no limitations.
DNS + IP leak protection and an automatic Kill Switch ensure that your online traffic is kept away from the prying eyes of your ISP. A feature worth mentioning is TrustedServer technology. This erases all your traffic from ExpressVPN servers so no one can trace this data back to you.
Additionally, this provider is the fastest we have tested. It boasts unlimited bandwidth and a wide range of super-fast servers spread out all over the world. Unblocking Kodi apps and stream sources wherever you are, becomes that much easier.
ExpressVPN can protect up to 5 devices simultaneously. It also comes with user-friendly apps for all devices including routers, Android, Windows, iOS, Linux, Mac, and so much more.
If you would like to try this VPN, you can enjoy a 49% discount plus 3 months free on the yearly plan. This offer is backed by a generous 30-day money-back guarantee.
NordVPN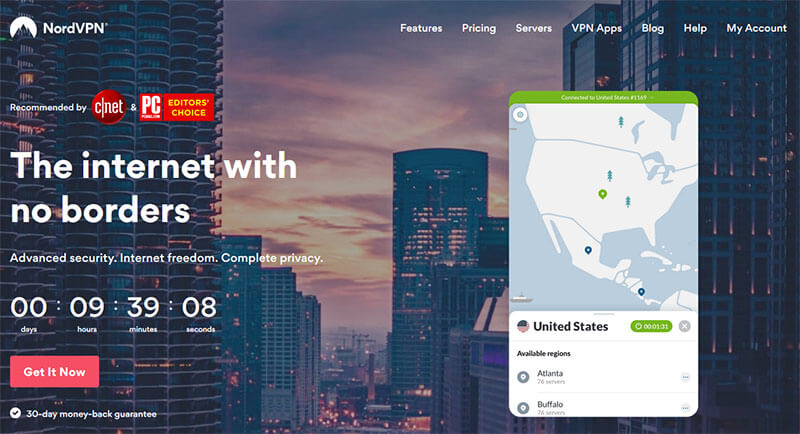 NordVPN comes in a close second as one of the best providers for unblocking Kodi and it's easy to see why.
For starters, this VPN packs on first-rate security features including military-grade encryption and an automatic Kill Switch. It also comes with a zero-logs policy, and DNS + IP leak protection.
All these work together to keep your Kodi traffic completely anonymous. They also help to safeguard your devices from malicious third-party add-ons.
One of its coolest features is the double VPN. This means that your traffic is shielded behind not one but two servers, offering an additional layer of privacy and security.
Additionally, NordVPN has an extensive network of fast servers specifically dedicated to streaming and torrenting. Whether you want to unblock US or Australian streams or to download any content, you can rest assured there is a super-fast server to connect to.
Other than that, with a single subscription, this provider lets you protect up to 6 devices at a go. It is also compatible with Chrome, Firefox, iOS, Android, Windows, macOS, Linux, and so much more.
NordVPN is definitely your go-to provider if you are looking for a mix of reliability, security, and speed.
CyberGhost

CyberGhost is a great choice for privacy-conscious torrenters and streaming geeks. This provider has one of the widest networks of low-latency, high-speed servers we have seen.
With this VPN, You can finally say adieu to buffering when watching your favorite shows on your streaming box. Plus, its support for peer-to-peer file sharing means you can avoid malicious add-ons and unfair DMCA notices.
In addition to this, CyberGhost comes with the standard security features we have come to expect from a top Virtual Private Network. These include AES-256 encryption, OpenVPN protocol, leak protection, ad and malware-blocker, and a kill switch. With all these, you can bypass any firewalls and geo-restrictions and enjoy safe streaming.
Other than that, the provider offers pocket-friendly prices, especially on its long-term plans. The best part is that you can take advantage of the generous 45-day money-back guarantee and try this VPN completely risk-free.
Surfshark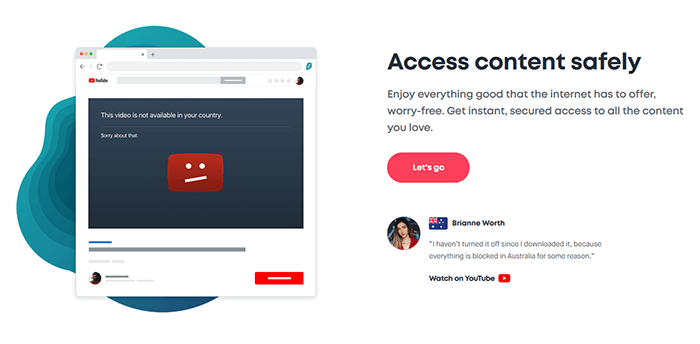 Surfshark is a relatively new kid on the block. But, its consistent security, speeds, and usability surprised us in a good way.
This provider boasts solid server coverage available in 60+ countries. Each server is not only protected against DNS and IP leaks; it is also optimized for streaming and torrenting. You should easily manage to unblock a ton of add-ons and customize your streaming experience.
Wondering about security? In addition to the usual repertoire of security features, Surfshark packs on some pretty impressive elements. These include camouflage mode, which ensures your ISP doesn't detect your use of a VPN. With the Unblock All Restricted Websites, you can overcome all types of firewalls on your Kodi streams.
If you are shopping on a budget, you will likely love Surfshark's super low prices on both their monthly and yearly plans. For a single subscription, you can protect an unlimited number of devices. The best part is that the budget prices do not compromise the reliability of this VPN.
HideMyAss

HideMyAss is the final contender on our list of VPNs for managing Kodi. This provider is based in the United Kingdom, which belongs to the Five Eyes group of countries. However, it does have plenty of good things going.
For one, it has a relatively wide server network spread out in 190+ countries. This means you are sure to find an appropriate server to connect to whether that's for streaming or torrenting. Impressively, some servers are specifically dedicated to streaming, making this a great choice for unblocking Netflix and even BBC iPlayer in the UK.
Additionally, you will enjoy fast speeds for a buffering-free experience and anonymous torrenting. HMA further boasts military-grade encryption, and DNS and IP leak protection. It also has an automatic kill switch, and a no-logs policy to boot.
What's more? All its apps are compatible with the major platforms including Android, Windows, and Mac. And you can protect as many as 5 devices simultaneously with a single HMA subscription, which really is great value for money.
Summary
What is the best VPN for Kodi in 2021? Our top picks are ExpressVPN, NordVPN, CyberGhost, Surfshark, and HideMyAss.
Each of these providers offers an impressive repertoire of security features that will encrypt your traffic. You can unblock popular add-ons, stay safe from malicious apps, and avoid the prying eyes of your ISP and copyright trolls.
While all our picks boast remarkable speeds, ExpressVPN is a particularly great choice for consistent buffering-free home streaming.
If you are shopping on a budget, both CyberGhost and Surfshark are worth checking out. For relatively pocket-friendly prices, you still get to enjoy all the perks of a top VPN.
Lastly, all our five VPNs performed remarkably well on the compatibility test. Whether you are looking to stream Kodi on your PC, tablet, smartphone, or television, these VPNs will completely protect each of your devices.
Kodi can be a fantastic way to take your home entertainment to the next level. With a solid VPN, you can safely unlock third-party apps and customize your streaming experience. By encrypting your traffic, a good privacy app will allow you to stay under the radar of snoopy ISPs as well as avoid DMCA notices and trolls.