A trusty Virtual Private Network is your best bet against cyber-attacks and surveillance in Canada. You will also need one to access geo-blocked content on Netflix and Hulu. Canadians abroad will need a VPN with servers in the country to catch up with local content back home too. Not all VPNs can get the job done though. But not to worry because our little monkey has rounded up five of the best VPNs for Canada that will meet your needs.
Best VPNs with servers in Canada
Canadians abroad might be unable to watch most of their favorite TV shows. This happens because of geo-restrictions related to content licensing and copyright regulations.
Fortunately, you can still catch up with shows back home simply by using a Virtual Private Network. In particular, you should opt for one with servers in Canada.
A VPN provider with servers in Canada will assign you a Canadian IP address. This way, it will seem as if you are in the country, even though you are obviously in a different country. You would then be able to stream CBC, Global, Rogers TV, TVA, and all your favorite channels.
Here are our top 3 VPNs with servers in Canada:
ExpressVPN: This premium provider has servers in the most popular locations in Canada including Toronto, Montreal, and Vancouver. Even when you are outside of the country, you can easily find a suitable server in any of these locations to stream your favorite shows.
CyberGhost: CyberGhost boasts 5000+ servers spread across 90 countries. In Canada, it has an impressive 362 servers at the time of this writing. So you will definitely have plenty of options to connect to the most suitable server for your needs.
NordVPN: This provider has a whopping 377 servers in Canada. It also boasts fast speeds and unlimited bandwidth for a great streaming experience.
Why do people in Canada use a VPN?
Generally, Canadians enjoy internet freedom and safety. However, the extent of government surveillance is more than most residents would appreciate.
Here are some reasons why you'd need a privacy app whether you are traveling or residing in Canada.
Keep your personal information safe from hackers and spies
Canada is one of the most developed and safest countries in the world. However, it is not immune to cyber-attacks. In particular, hackers love intercepting Wi-Fi hotspots where they can easily steal your sensitive information such as passwords and banking details.
The best VPN for Canada can prevent identity theft by encrypting your information. It does this by making your data unreadable to anyone who might be spying. That is why we recommend installing and connecting a privacy app on your laptop, tablet, and smartphone whenever you use Wi-Fi in public areas.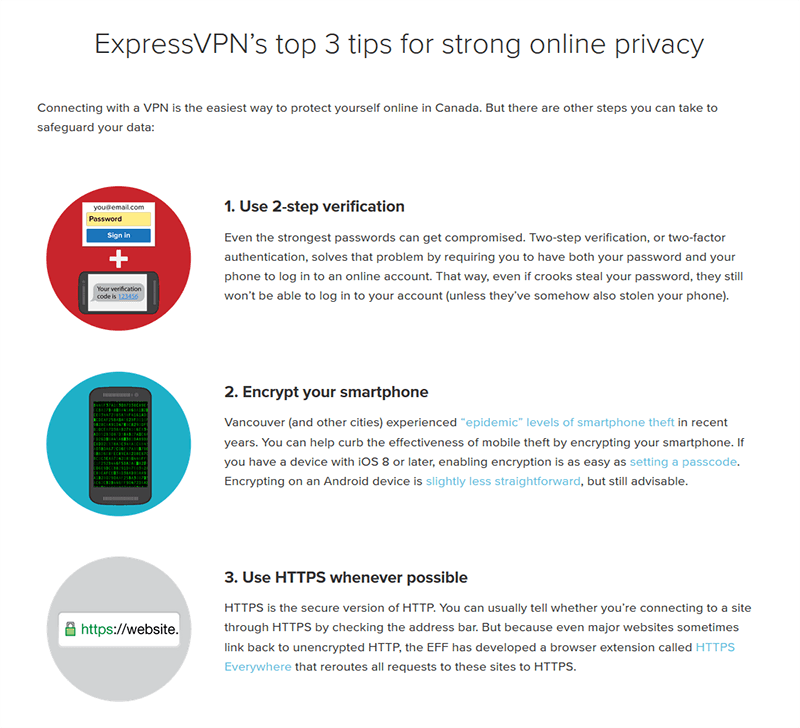 Access geo-blocked content
If you are traveling in the Great White North, sites such as Hulu, Netflix US, HBO Go, and BBC iPlayer might be blocked due to geo-restrictions.
In recent years, most of these sites have developed advanced technology to detect and block Virtual Private Network apps. Today, only a few can consistently bypass Netflix and Hulu. To bypass location blocks, we recommend using a provider with advanced encryption and one with servers in the target country.
For example, say you want to watch your favorite shows on US Netflix. You will need a VPN with military-grade encryption and several servers in various regions in the USA. This way, you can automatically switch to another server if Netflix detects your use of a VPN on one server.
Avoid government surveillance
Canada is a free country but the same cannot be said of netizens' right to internet freedom. All sorts of laws permit the government and ISPs to spy on people's internet activities and even share this data with other countries!
It is part of the Five Eyes countries, a group that consists of the US, UK, Australia, and New Zealand. This group requires its members to share intelligence information. If Canadian authorities spy on and gather information about you, they can share it with the other four countries.
Reporters, immigrants, and Muslims are especially at risk of blatant spying and surveillance. Laws such as Bill C-51 give agencies in the Five Eye countries permission to intercept your bank transactions and disrupt your travel plans if they suspect you of terrorism.
If online privacy and security is a concern, a rock-solid VPN usable in Canada is the only way to hide your personal data from the prying eyes of government agencies.
Torrent without any worries
Torrenting is not illegal. However, Bill C-11 allows ISPs to spy on and collect their customers' information. If you are suspected of copyright infringement, your ISP can store your data for up to six months and even share this information with the authorities.
So far, several Canadians have been fined for downloading copyrighted materials on torrenting sites. Sometimes, it is not easy to tell which material is copyrighted. Therefore, you can easily find yourself in legal trouble.
To torrent safely and avoid getting caught up in copyright issues, you need a VPN that can keep you under the radar of your ISP.
Whether you want to protect your privacy online, watch restricted content, or torrent safely, there's a simple solution. This is to connect to a Virtual Private Network.
How to choose the VPN to use in Canada?
Not all VPNs are suitable for use in Canada. With extensive government surveillance and harsh copyright laws, you need an application that can keep you safe online.
We have rounded up a couple of things you should look for in a Virtual Private Network for Canada.
Not located in the five-eyes countries
The location of a VPN provider might not seem like a big deal but it actually is. Go with a company that does not belong to any of the intelligence alliances such as the 5-Eyes or 14-Eyes group. If online anonymity is a priority, a provider located in a pro-privacy location is your best bet.
Strong encryption
Advanced encryption will hide your online activities from the prying eyes of government, ISPs, and hackers. The best providers offer military-grade encryption and OpenVPN protocol to keep you completely anonymous online.
No-logs policy
The right provider will have a strict no-logs policy. This simply means they never store their customers' information on their servers.
Even if authorities came asking, the provider would not have data to hand over. This is especially important in a country such as Canada where spying is rampant and ISPs can store users' data for up to six months.
Allows torrenting
Unprotected torrenting can land you in trouble. You need a provider that supports torrenting, adequately hides your IP address, and has servers optimized for peer-to-peer (P2P) file sharing. Good server coverage gives you plenty of options to select the ones that best suit your needs.
Supports streaming
As mentioned earlier, not all VPNs for Canada can unblock geo-restrictions. To consistently bypass these restrictions, a provider should guarantee several things.
One, they should have plenty of server options in the target country. The best ones automatically connect you to the most appropriate server for streaming your chosen content.
Two, they should have strong IP address encryption. The VPN should be able to consistently hide your actual IP and assign you one that makes it look like you are streaming from your country of choice.
Lastly, the provider should promise fast speeds and unlimited bandwidth. You want to be able to enjoy a buffering-free streaming experience. With all being said, here is our round-up of the best VPNs for Canada.
The best VPNs in Canada for 2021
ExpressVPN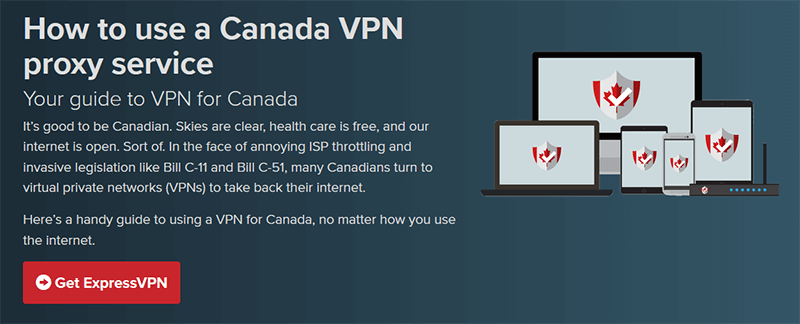 ExpressVPN is our favorite VPN app for Canada for several good reasons. For starters, it is located in the very privacy-friendly British Virgin Islands. This means you do not have to worry about authorities spying on you and sharing your online activity.
In addition to that, the provider has a strict zero-logs policy—they simply do not store any of your data. Their TrustedServer technology erases all your data from the servers so your anonymity is assured.
Other than that, it offers the security features we have come to expect from a top-tier provider. These include AES-256 military-grade encryption, OpenVPN protocol, and perfect forward secrecy.
It also provides an automatic kill switch, which turns off your internet connection when the VPN connection fluctuates. This ensures that you never connect to the internet without protection.
Another feature worth mentioning is the DNS leak protection and zero-knowledge DNS servers. Combined, both security features protect your traffic by firmly keeping it within the VPN's tunnel. Hackers and other spies will be unable to access your online activities.
ExpressVPN has more than 3,000 servers in over 90 countries, including in Canada. It is among the few VPNs that can consistently unblock Netflix, Hulu, Amazon Prime Video, HBO GO, and BBC iPlayer.
In addition to this, it is the fastest service we have tested to date. This, plus unlimited bandwidth means you can stream and share P2P files with no buffering or throttling by your ISP.
And finally, the provider offers apps that are compatible with all major platforms including Android, Windows, iOs, macOS, and Linux. Apps are available for routers too.
Enjoy 49% discount at ExpressVPN >
NordVPN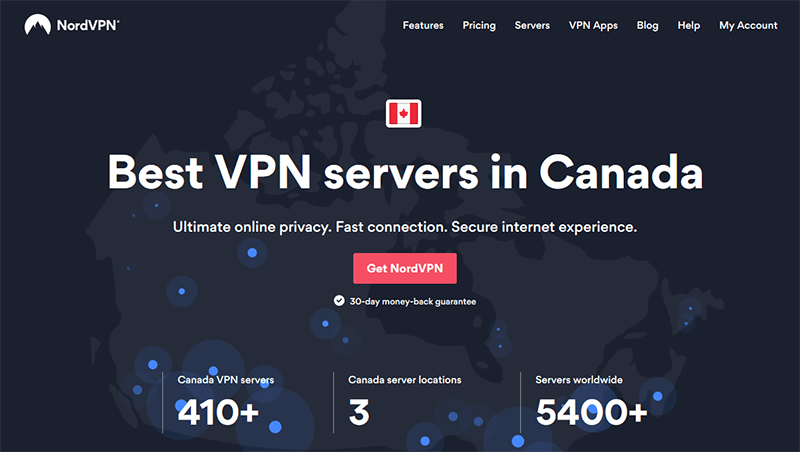 NordVPN comes a close second as one of our best VPNs in Canada. This provider is located in Panama, a pro-privacy location that does not enforce surveillance, storage, or sharing of user-data. This means your online activity, even when you are connected to the privacy app, is never stored.
This provider boasts an impressive range of security features that ensures your online safety. These include best-in-class encryption, IP and DNS leak protection, and a kill switch. It also has a strict no-logs policy, which is further assurance that your online activities are safe from prying eyes.
A feature worth mentioning is the Double VPN. Unique to this provider, this setting encrypts your online activity behind two, instead of the usual one, server. As you might have guessed, this offers an extra layer of online anonymity and security.
NordVPN is one of the best for unblocking US Netflix, Hulu, and Amazon Prime Video when you are traveling in Canada. It has more than 5,000 high-speed servers spread across, 60+ countries. You won't go out of options when looking for the best servers for streaming.
What's more, there are dedicated servers for torrenting. This combined with unlimited bandwidth makes it a top choice for privacy-conscious torrenters.
You can install the privacy app on any of your devices including Android, iOS, Windows, and Linux. And NordVPN also lets you protect up to six devices at a go using a single connection.
Enjoy 80% discount at NordVPN >
CyberGhost

CyberGhost is a crowd favorite as it offers some of the best-in-class features of a premium VPN on a budget. It spots AES-256 military-grade encryption, automatic kill switch, and IP leak protection.
An Israeli firm registered in the UK owns CyberGhost. However, the provider maintains a strict zero-logs policy. They have not been caught up in any privacy scandals and say their priority is to protect users' safety and anonymity online.
Impressively, this provider has one of the largest server networks consisting of over 5,500+ servers in 90+ locations. These high-speed servers are optimized for various activities such as streaming and torrenting.
This is one of the few VPNs for Canada that can successfully unblock Netflix US, Hulu, or HBO Go. You can also use it to stream your favorite sports on ESPN.
What's more, this provider is a big supporter of P2P file sharing. With strong IP address protection, unlimited bandwidth, and super-fast speeds, you can download torrents privately and securely.
Apps are available for Windows, Android, Ios, macOS, and Linux. You can also install apps on AndroidTV and Amazon Fire Stick. With a single subscription, you can protect as many as seven devices simultaneously. And, thanks to its generous 45-day money-back guarantee, you can try CyberGhost completely risk-free.
Enjoy 79% discount at CyberGhost >
Surfshark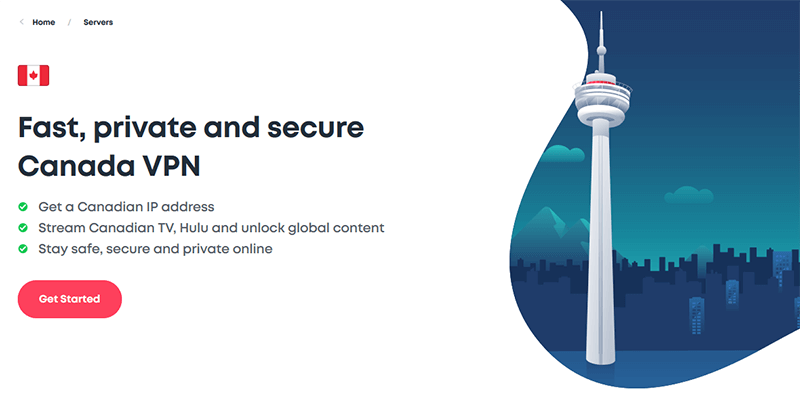 Surfshark is a relatively new provider but it holds its own in many ways. It comes with all the standard security features including military-grade encryption and the top-tier protocol, OpenVPN.
Additionally, it offers DNS and IP leak protection, a kill switch, and maintains a strict no-logs policy. It is also worth mentioning that this provider is based in the British Virgin Islands, which is known for its pro-privacy stance.
Other impressive security features include Camouflage Mode and MultiHop. These hide your IP address, let you change servers fast to avoid detection, and keep spies at bay.
Surfshark has quite a large server network consisting of 1000+ servers in more than 60 countries. Speedy servers, unlimited bandwidth, and strong encryption make this a favorite for streaming buffs. You can depend on it to consistently unblock Netflix US and Amazon Video.
In addition to this, this provider supports P2P sharing. It works seamlessly with torrenting software such as uTorrent and BitTorrent.
Surfshark is an all-round dependable VPN for streaming, torrenting, and casual browsing. With a single subscription, you can protect an unlimited number of devices. This makes it an ideal choice if you are shopping on a budget.
Enjoy 83% discount at Surfshark >
Hide.me

Last but not least on our list of the best VPN for Canada is Hide.me. This provider is based in Malaysia, which is not part of any of the intelligence alliances. This means that from the get-go, your online privacy and security is in good hands.
Other than that, it has some great security features to boot. It offers best-in-class AES-256 encryption, OpenVPN protocol, a kill switch, and no-logs. It is also compatible with all major devices including Android, Windows, iOS, Linux, and many more.
Another cool feature worth mentioning is Stealth Guard. This feature allows you to select apps or pages that you cannot open without connecting to a VPN. The setting prevents you from accidentally opening sensitive sites, such as your online banking page without VPN protection.
Additionally, it spots over 1,000 servers spread out in more than 20 countries. Many of these are optimized for lightning-fast torrenting.
What's more, this provider has a strong IP address-hiding technology, allowing you to bypass blocked websites. In particular, it is a great choice for accessing the full catalog of HBO Go, Sky Go, Kodi, and Spotify in Canada.
Hide.me has a free version with some pretty decent security features. However, this plan has a 2GB limitation per month. For better security features, you can always upgrade to a paid plan completely risk-free, thanks to the 30-day money-back guarantee.
Enjoy 64% discount at Hide.me >
Summary
Without a doubt, Canada has plenty of good things going. However, its role in the Five-Eyes intelligence alliance is a cause for concern if online privacy and security are important to you.
What's more, the country has very stringent laws against copyright infringement. As such, torrenters could easily find themselves on the wrong side of the law.
The country is also not immune to cyber-attacks. Public Wi-Fi hotspots are a huge target by hackers looking to steal information such as credit card or banking details.
In light of all this, it goes without saying that you need a rock-solid VPN application to protect your online privacy in Canada.
Whether you want to stream, torrent, or browse safely, you need a provider with top-of-the-class security features. They should also offer lighting-fast speeds, unlimited bandwidth, and wide server coverage.
 ExpressVPN is our top recommended VPN for those in Canada and Canadians abroad. Its security features are unmatched, offering you ultimate protection against surveillance, identity theft, and internet throttling. It is also among the few providers that will consistently bypass Netflix and Hulu.