Amazon is one of the largest companies on the planet%%. Aside from the well-known website, its numerous platforms exploded in popularity very quickly. But, we would lie if we said we're surprised, as Amazon Fire TV Stick lets you watch HD content for an affordable price. With the ability to stream thousands of channels but only in the US, you'll need a VPN to take full advantage of Amazon Fire TV offerings. Luckily, we have solutions for you. Now only will you learn what providers to use but also how to set them up.
Why You Should Use a VPN for Amazon Fire TV Stick?
Firestick TV is a great invention. It's a simple device that lets you watch all your favorite channels from the comfort of your home. But, as with every streaming-oriented product or website, there's always a catch. This catch is called geo-restriction. At one point in your life, you've probably experienced it.
For example, you wanted to access US Netflix, only to find out that you can't do it since you don't live in the USA. That's a very painful thing for someone who likes watching all the new Netflix shows. The same applies there and it can be very annoying.
So, here's why you should use a VPN for Fire Stick TV.
Bypassing Geo-Restrictions
Bypassing geo-restrictions is key to enjoying your Fire TV Stick as intended. Although it 0ffers thousands of channels, it's pointless having all of this but being unable to access it. Many streaming websites are blocked for certain countries around the world, which is why using a VPN is mandatory.
The first one, we already mentioned – Netflix. Netflix can be accessed from anywhere in the world but the experience is far more inferior to US Netflix catalog. The American version has all the latest and greatest shows in very high quality, even up to 4K!
Another example is BBC iPlayer, available only in Great Britain. The same applies to numerous similar platforms such as Spotify, HBO, Hulu, etc. When you're traveling abroad, you don't have to miss shows. If you have the best VPN on your Amazon Fire TV Stick, you can watch all your favorite shows and movies freely.
The way you'll do that is, connect to the remote server in a particular country and start streaming. For example, if you want to access US Netflix, connect to a server in the US from your provider. Only the best VPNs can do that, though. Note that you can also watch porn anonymously thanks to all of them!

Avoid ISP Throttling
ISP throttling is perhaps one of the most annoying things you can encounter on the internet. This happens especially when you use other platforms for streaming. As you know, your ISP can track every step you make on the internet, hence they can see when you're streaming. And this is where it starts. The ISP sees that you're streaming, cuts the bandwidth down, and your experience falters.
If it's some of the peak hours, where the internet is "crowded", know that you'll be the one to suffer if you're streaming.
Whatever the reasons for this, it's not okay, especially since you're paying your internet bills regularly. Nevertheless, with VPN's encryptions in place, your ISP won't be able to throttle your bandwidth, even when using Amazon Fire Stick TV.
Use Streaming Apps Anonymously
Streaming content from certain apps is a double-edged sword. On one side, you've downloaded a LEGAL app and you're enjoying your time. But, on the other side, this app uses different sources for displaying content. Some of these sources might use pirated content, which poses a certain threat in some countries.
You know how countries like the UK or Germany, for example, deal with these issues. If your ISP (and the government) detects you're streaming pirated or copyrighted content for free, you can get into serious trouble. With a Virtual Private Network hiding your IP, you remain anonymous while streaming TV shows or movies.
Privacy & Security
Privacy and security are logical reasons why someone would use a VPN on its Amazon Fire TV Stick. Since the platform allows you to access any website, you want to preserve your privacy on your internet voyage, especially in 2021. You can easily be put on the wrong side of the law and suffer brutal consequences in some countries.
On top of that, without a VPN, you can easily become a victim of hacking. Thanks to VPN's numerous features such as tunneling or encryptions, you can easily become invisible to prying eyes. Having your traffic go through the "tunnel", from you to a particular website you want to connect, even the government can't intercept it.
Avoiding Censorship
When it comes to censorship, you probably think about one country with the red flag. Yes, it's China and its Great Firewall. If you want to use your Amazon Firestick TV there, we must disappoint you – you can't. In this country, there are so many internet restrictions that you'd be baffled if you'd experienced them.
Accessing Facebook, Instagram, and even some YouTube videos is impossible without the best VPNs. Many Chinese people don't know anything that happens outside of the country due to this censorship. And if you want to be free, like most of us, going to China without a Virtual Private Network is foolish, to say the least.
Luckily, with a good provider, you can dodge these issues like Neo dodges bullets in Matrix.
How to Set Up a VPN on Fire TV Stick?
In this section, we'll give you two ways of installing a VPN on Amazon Fire TV Stick. The first one will include the App Store, while the other one will be to directly download the APK file.
These methods depend on the provider you want to use and if it's listed in the Firestick TV's apps. Providers such as IPVanish and ExpressVPN are available, although not in every country.
Let's see how you can install this type of solution on your Amazon Fire Stick TV.
Installing a VPN from the App Store
Click on Search on your Fire TV Stick and type your VPN provider's name. If it shows up, you can continue to the next step.
Click on the app and then click on the Download button.
Wait for the download to finish and then click on Open to launch the app.
Sign in to the Virtual Private Network app by entering your username and password.
Select a server in the US (

in case you want to pretend you're in the United States)

and click Connect.
If the VPN request appears, just click OK.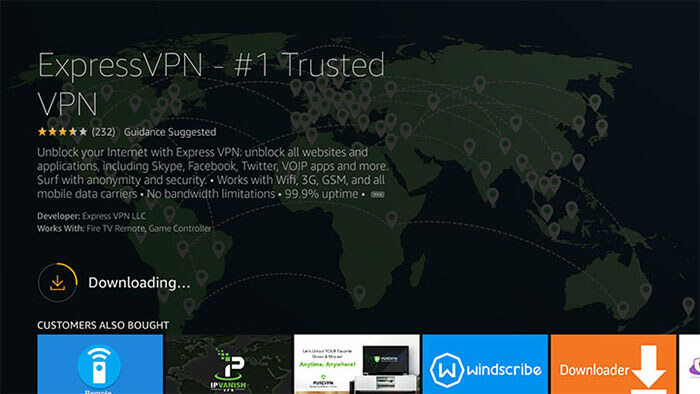 Installing a VPN's APK Using Direct Download
If the first method doesn't work for you, you can always download the APK file directly from your provider's website. We recommend doing that if your provider has an APK file on its website. Here are the steps:
Open Search on your Firestick TV.
Search for the "Downloader" app and click on the Download button.
When the downloading is done, click Open to launch the app.
Now, when the app is open, enter the URL of your VPN provider for direct download of the APK file.
Download this APK file. You should now be prompted to install it but if that's not the case, open the Download section of the Downloader app and install it.
Your application will now be shown in Settings and not Applications because you used another app to download it. Go to Settings and then Apps.
Select Manage Installed Applications and you should find your VPN app there.
Click on it and choose Launch Application.
Sign in using your Username and Password.
Select a server in the US and click Connect.
Notice that we always say to connect to the US servers. This is because you'll suffer the least geo-restrictions there and you can watch Netflix, Hulu, HBO, and many more. If you want to access BBC iPlayer, you'll need to connect to the UK server. For more infos, don't hesitate to look at our full setup guide.
Are Free VPNs Any Good?
When we talk about streaming or torrenting, we usually don't recommend free solutions. Unfortunately, using a free VPN for Fire TV Stick isn't a good idea, either. Free providers always provide services with certain drawbacks. While it seems easy to just slap a free service and enjoy your streaming, it's not that simple.
For the start, many free providers will give you turtle-like speeds and bandwidth limits. Furthermore, many of them won't allow you to access Netflix (and other streaming platforms). Even if the provider let you stream, it will usually limit your bandwidth, so you can watch your movies until that runs out.
For example, Windscribe gives you a 10GB cap, and although it's very generous, the speeds aren't impressive. Other providers will give you like 500MB or 2GB cap which isn't enough even for a whole season of Witcher or any other series.
With very slow speeds and constant buffering and stuttering, your streaming experience is quickly going to deteriorate. Although there are still high-security features in some free VPNs, many of them don't have a zero-logs policy, putting your data to the risk of being sold.
And finally, free applications are almost always littered with ads. At one moment you'll be watching a movie and just a minute after that, you'll be watching ads.
So, free VPNs for Firestick TV are a no-go for us! And this should be the same for you.

The Best VPNs for Amazon Fire TV Stick in 2021
Let's put the education on the side for a moment and focus on the nitty-gritty of the article. Now that you know how to set up a VPN for Fire TV Stick, it's time to see which one to choose. Here are our 5 best picks:
ExpressVPN
NordVPN
CyberGhost
IPVanish
Surfshark
And now, let's review them and see why they're so great.
1. ExpressVPN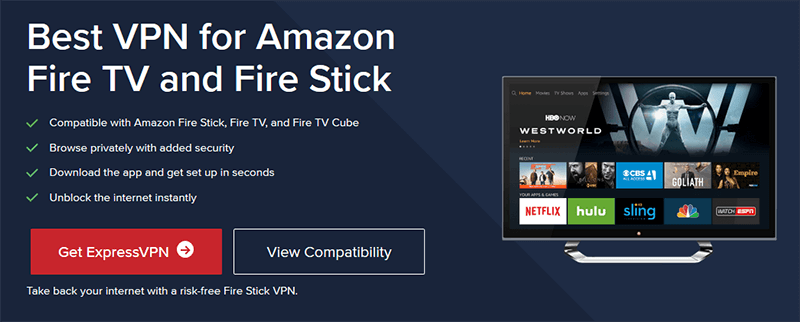 ExpressVPN is a well-known giant that always manages to win every battle with other providers. This time, it's no exception. The VPN provider goes hand-to-hand with Amazon Fire TV Stick and in conjunction, it provides an unforgettable experience you'll want to repeat every day. The reason for this is jaw-dropping speed.
The provider offers the highest speeds in the game, providing stutter-free Full HD and 4K HDR streaming experience. With more than 3,000 servers in 94+ countries around the globe, you'll be able to enjoy the content that you wouldn't see without a VPN.
Another great thing is that the provider offers native apps for almost every Amazon Fire TV device (second and third generation… and Cube). These apps are very easy to use and can be set up within a minute. In terms of security, ExpressVPN isn't a niggard. There's 256-bit encryption, kill-switch, DNS and IP leak protection, and zero-logs policy.
Aside from the full Fire TV Stick support, other major platforms are also supported. However, some users may find it annoying that you can connect only up to 5 devices simultaneously. Still, with a 49% discount and 3 free months for the annual plan, ExpressVPN is not the most expensive solution out there.
Of course, you get your 30-day money-back guarantee!
2. NordVPN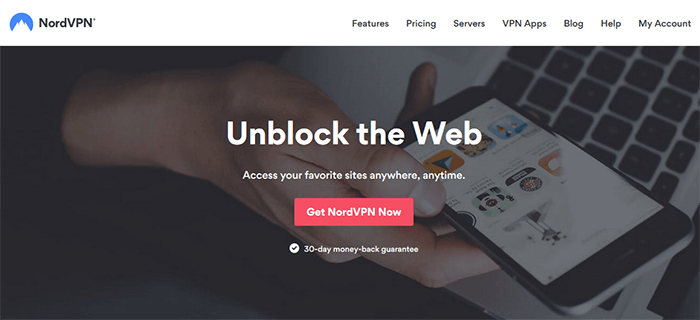 NordVPN is always a step behind ExpressVPN, although many users prefer this one. The reason for this is that the provider offers military-grade protection that's hard to beat. 2048-bit encryption, kill-switch, and zero-logs policy are only some of the features. Furthermore, there's a Double VPN feature that filters your traffic through 2 servers.
This prevents anyone from tracking you. On top of that, there's OpenVPN support, as well as Tor Over VPN, for combining the two solution, strengthening your privacy and security. Like the previous provider, NordVPN also has native apps for Fire TV Stick accompanied by 5,400+ serves worldwide.
Although not the fastest provider, its speeds can easily handle 1080p and 4K streaming your Amazon Fire TV platform offers.
The provider even accepts Bitcoin payments, which further takes care of your privacy. Since you can connect up to 6 devices simultaneously, every platform can get its treatment.
3. CyberGhost

CyberGhost is a Romanian provider with a lot to offer. First of all, this is the largest provider on the planet, boasting 6,000+ servers worldwide. Just a few months ago, it was 5,600, which speaks how fast they grow. But, nothing strange there, as it offers outstanding ease of use and affordable plans.
When it comes to speed, it's almost the same as ExpressVPN, making it among the fastest providers. You know what that means – speedy connections and buttery-smooth 4K streaming on Amazon Firestick TV thanks to this VPN. With more than 1,000 servers in the USA, accessing US Netflix, Hulu or HBO will be seamless.
Security-wise, we have all the standard features in place, with the addition of no-logs policy. Furthermore, CyberGhost also supports Bitcoin payments, so your payment info (and yourself) stays anonymous.
If you need more than 7 simultaneous connections (which is the limit), you can always install it on your router and protect all connected devices.
4. IPVanish

IPVanish will remove your IP from the government's eyes like Vanish would do with the stains on your clothes. With 1,200 self-owned and self-operated servers that provide fast speed and connections, this provider is among the best in the business.
Although this number doesn't sound imposing, we assure you that the performance makes up for it. Even servers in the USA are lightning-fast, offering you a possibility for 4K streams that some Fire Stick models provide.
To accompany this, IPVanish has other security features in place. 256-bit encryption, kill-switch, and of course, zero-logs policy. If you want to pay with your Bitcoin balance, this isn't possible here but that isn't a big drawback, at least for us.
Since it supports all the major platforms, you can connect up to 10 devices simultaneously. This is more than all of the providers mentioned above, even ExpressVPN!
5. Surfshark

Surfshark is a VPN provider that's hard to dislike, especially for Amazon Firestick TV owners. If you open the App Store, you'll find that Amazon supports this app natively, which is a huge plus. Furthermore, setting it up and using it is easier than walking in the park. Download, install it, log in, and fire up your engines for a great streaming adventure!
Speaking of 4K, Surfshark is fast enough to provide you that. Since it can easily unblock Netflix and other streaming platforms, Surfshark is all you need, in case you decide to smash the button below and buy it.
In terms of security, all the expected features are there. 256-bit encryption, DNS leak protection, a no-logs policy, and their Camouflage Mode. Camouflage Mode conceals you from the eyes of your ISP so that they can't tell that you're using a VPN.
As an icing on the cake, Surfshark supports unlimited simultaneous connections, so you don't need to limit yourself only to Fire TV Stick. Not every shark is dangerous as some people think!
Summary
Fire Stick TV is an awesome streaming platform that doesn't cost a whole fortune. With thousands of channels available for streaming, you'll only need a high-quality provider to enjoy it. For bypassing geo-restrictions, enjoying speedy connections, and staying safe and secure all the time, we recommend ExpressVPN.
ExpressVPN is the best VPN for Amazon Firestick TV in 2021, having in mind its outstanding features. With it, you can enjoy every streaming platform and unblock Netflix, Hulu, HBO, BBC iPlayer and many more within seconds.