Whenever shopping for a VPN or any other software, people are often looking to save cash. To us, that's completely understandable. However, many of these low-cost providers come with some compromises that many of us aren't ready to accept. Is ZenMate one of those, despite its low prices? Sure, this isn't the most popular provider but it's popular enough to spark our interest. This is our in-depth review 2021 of ZenMate. We'll examine if it's worth buying and if so, if you should buy it for your needs or not.
What is ZenMate?
ZenMate is a provider that many people in the world of cybersecurity know of. While it can't battle it out with giants such as ExpressVPN and NordVPN, it surely has its own fanbase. This provider started as an idea of Simon Specka and Markus, two tech-savvy people from Germany who wanted to make the internet a secure place.
With their hard work and dedication, in 2021, the provider managed to stack up hundreds of servers. Despite being from Germany, the company values privacy and security more than you could imagine. We know that this isn't the most VPN-friendly country, so it's interesting to see how this one will behave in our tests.
The continuation of our ZenMate review is below and if you want to buy the subscription immediately, here's a button above for doing that.
Compatible Devices and Ease of Use
As is the case with every provider, this one also has extensive device support. When you subscribe, you'll get to access the 'My Devices' tab. There, you'll see this picture under your device summary:

To translate, from left to right, we have Mozilla, Google, Opera, Windows, Mac, iOS, Android, and Linux. These are the platforms that you can install this VPN on. But, that's not all.
ZenMate even supports routers, so you can protect your gaming consoles, Roku, Apple TV, Firestick TV, and any other internet-connected device. More on that later.
Computers
We'll start with computers. As we said, the provider supports three computer platforms – Windows, Mac, and Linux. Furthermore, there's a Chrome extension, as well as an excellent Firefox extension. Now, we'll show you how the installation looks like on the Windows 10 platform, to determine how easy it is to use its app.
Upon subscription, the app will automatically download for you. Click on it and you'll be greeted with the following screen: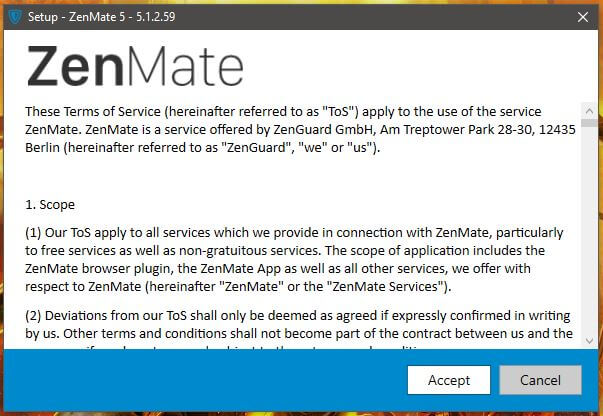 If this seems familiar to you, wait till you see the next screen and tell us of which provider does it remind you.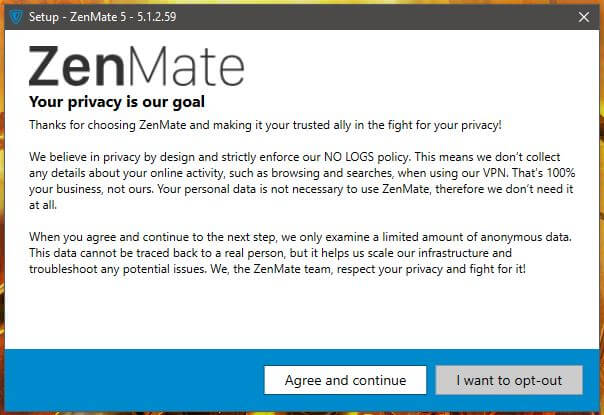 Of course, it's CyberGhost. It has the exact same installation process. Even this second screen is copied (which is understandable given that the company owning Zenmate is the same as CyberGhost).
Basically, they ask you if you want to give them a small fraction of your anonymous data to make their services better. You can either agree or opt-out. It's your choice. After that, the app will be installed and here's how it looks: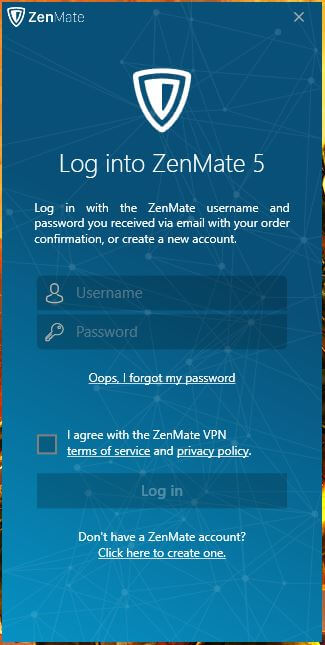 Enter your username, which is email, and then, enter your password that the provider gave you upon purchase. Click Log In and you'll get to the home screen of the app: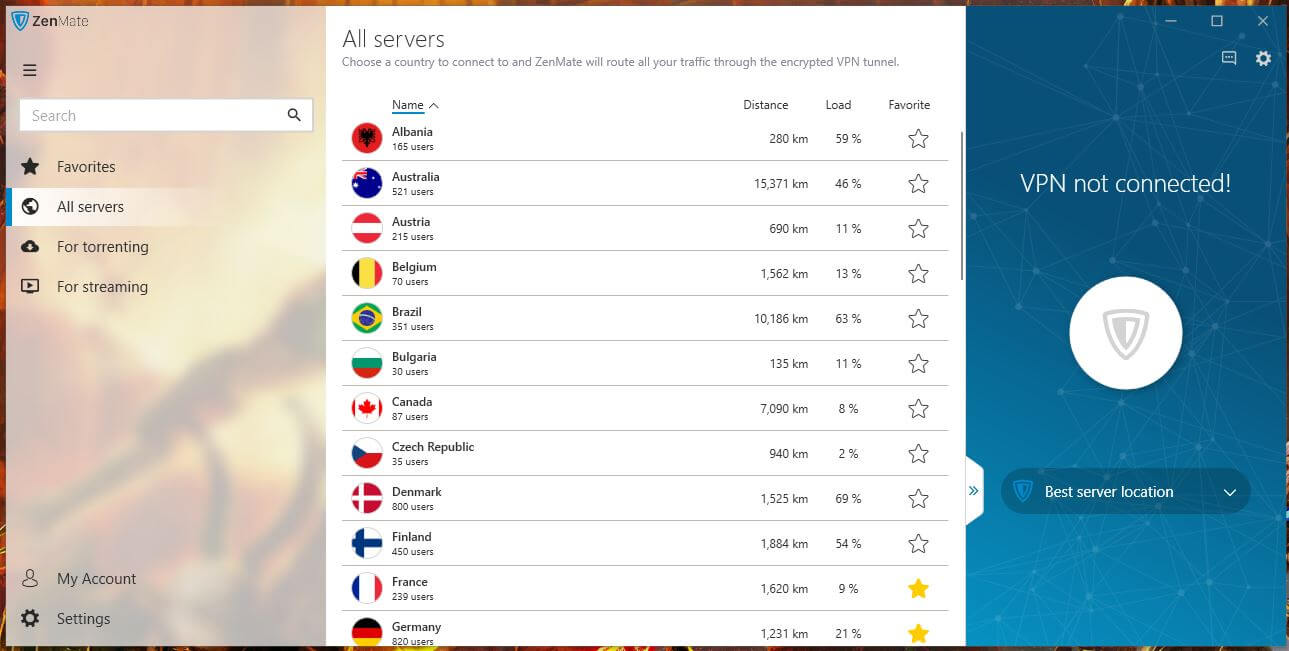 Before you ask, that's not CyberGhost – it's ZenMate, mate. The interface looks exactly the same and you even get dedicated servers on the left portion of the screen. Nevertheless, we scrolled down, chose the USA server, and established a connection. Here's how that looks: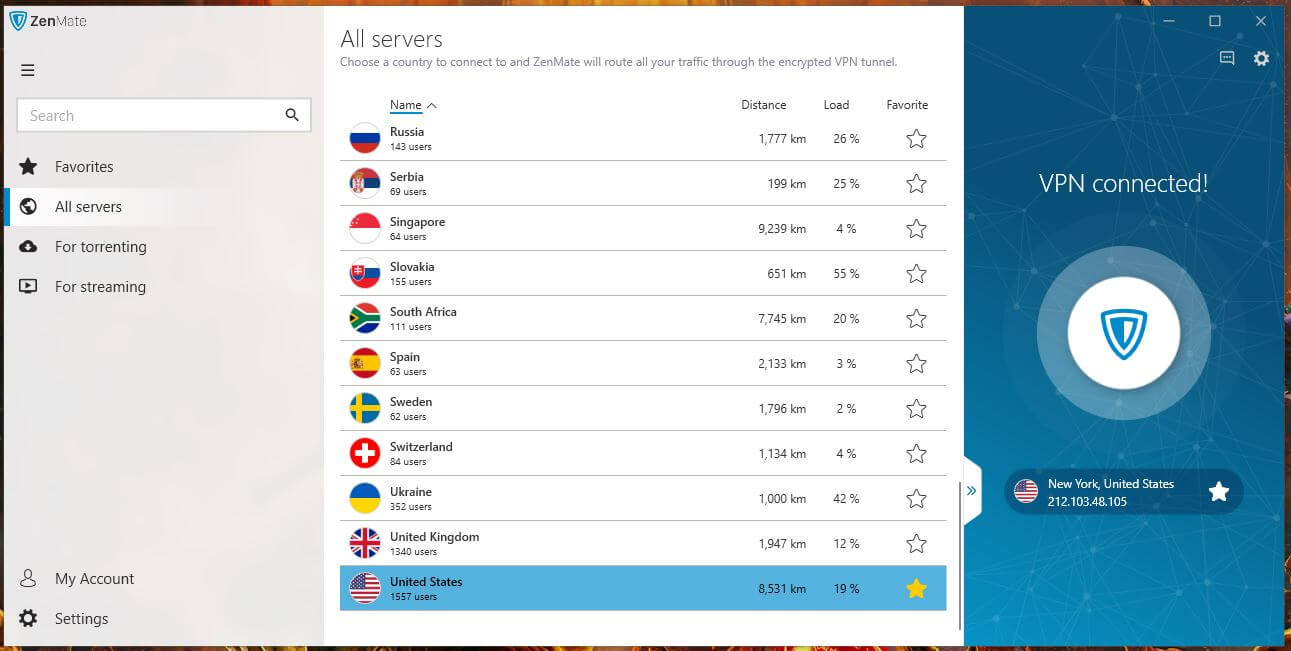 This USA server had only a 19% load at the time, which is excellent. As you can see, it's a server located in New York, with the IP address shown above. We'll tell about it what we said about CyberGhost – very simple, approved!
Smartphones and Tablets
When talking about smartphones and tablets, ZenMate supports iOS and Android platforms. We are going to talk about the installation process on an Android device. But, the same also applies to iOS or any tablet, so you can use these steps if you use an iPhone. First, download the app from the Google Play Store, as shown in picture 1.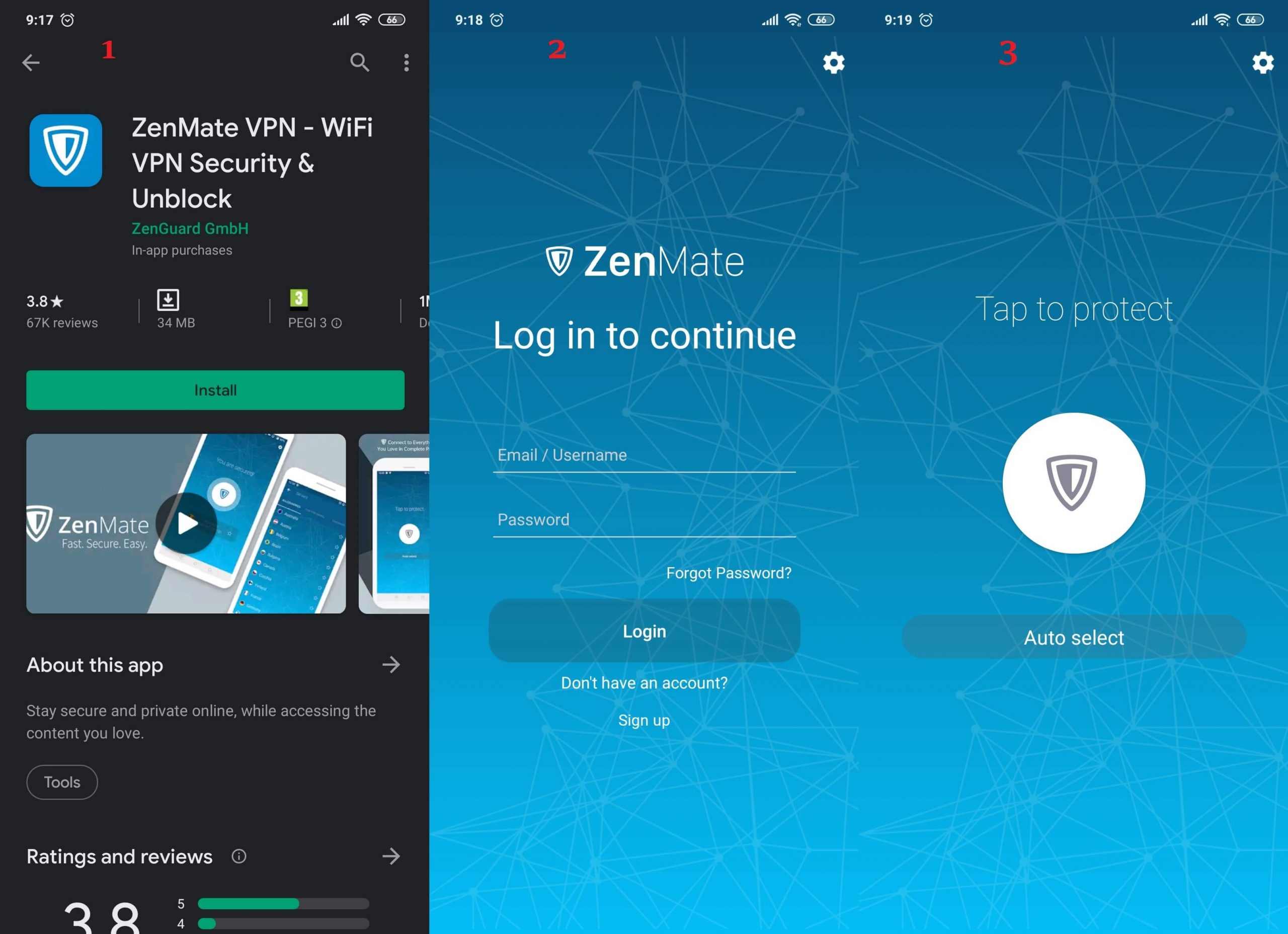 Then, you'll see the app's login screen, identically to picture 2. Type in your credentials and click Login. In picture 3, you see the home screen of the app. It's very simple and sports a minimalistic look that we appreciate. From there, you can click on the circular icon with the shield and the connection will be established automatically, with the best location.
Alternatively, you can click on Auto Select and there, the server list will open, just like in picture 4.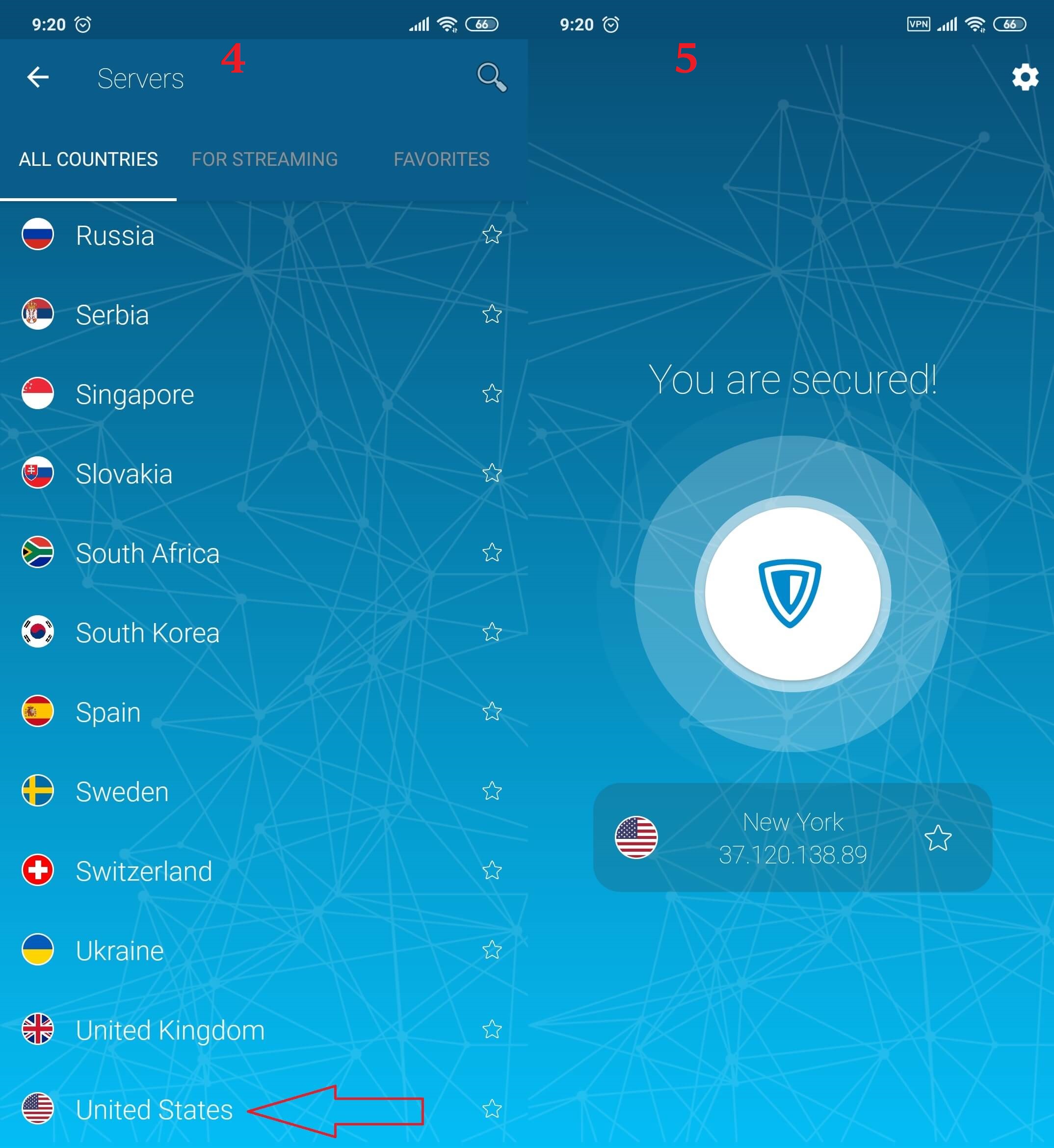 You can also see that we've chosen the US-based server in New York once again. In picture 5, you see how the app looks when the connection is established. You also get a small VPN icon in the notification bar up top. All in all, very easy, very clean, and very intuitive app.
Other Devices
We mentioned above in this review and test that ZenMate supports routers, which is awesome. With this feature in place, you can protect up to 16 or 32 devices, depending on your router. The great thing is that they have guides for setting up a Virtual Private Network on routers, so doing this will be much easier.

When your router is protected, you have unlimited possibilities. From there, your phone will have the protection, your PS4 or Xbox One, IPTV boxes, and many other devices.
How Fast is ZenMate? We Checked its Speed!
The speed plays a huge role in the provider's quality. We found out that many users value this aspect more than anything else. In an ideal scenario, a provider would be very secure and very fast. But, we know that there aren't many of these on the market, so we have to swallow that bitter pill.
Now, the important to mention is that all providers reduce your internet speed. Some do it by little and some degrade it by a huge margin. This has to do with the encryption strength as well as the distance of a VPN server you're using. Other factors also play a role, so it's crucial to tell you how we did our tests.
We did 3 tests in the morning, 3 tests in the mid-day, and 3 tests in the evening, for 3 different locations. Also, we kept the best score and used the best location when that was possible. Our physical location is in the USA (non-VPN test) and 3 locations we used were:
The United States
The United Kingdom
Australia
This is our internet speed without using a Virtual Private Network:
Ping: 11ms
Download speed: 211.88Mb/s
Upload speed: 202.20Mb/s
And now, here are our ping, download, and upload speeds respectively, when using ZenMate:
US server: 54ms / 147.52 Mbps / 72.31 Mbps

UK server: 108ms / 67.38 Mbps / 59.16 Mbps

Australia server: 284ms / 40.23 Mbps / 22.58 Mbps

Connecting to the US server, we expected a slight decrease in speeds. However, much to our surprise, it was way worse. Our ping increased to 54ms and download/upload speeds reduced significantly.
Needless to say, Australia performed very badly. Our ping was increased to 284ms, whereas download and upload speeds were 5 and 10 times slower respectively.
ZenMate definitely didn't impress us with its speeds during our tests.
How Good is ZenMate for Streaming?
We know how important a Virtual Private Network is for streaming. Netflix, Hulu, HBO, Disney+, DAZN, and Amazon Prime Video are some of the most popular platforms out there. Yet, if you're not from the USA, you'll have a hard time enjoying them to the fullest.
Since Netflix is the biggest name in the game, we tried it first and fortunately, managed to unblock it easily. We used the US, the UK, Australian, and Canadian versions successfully. Other platforms we managed to unblock are HBO GO, Hulu, and Amazon Prime Video. Interestingly, BBC iPlayer didn't work when using the UK servers. Take a look:

It says that we need to be in the UK, while we're obviously connected to the server in Manchester. Interestingly, Disney+ did work but when we click on log in, nothing happens. We had to type "Disney+ login" in our browser and from there, we successfully accessed the site.
Despite not being very fast, we found that our streaming experience was very good.
Even 4K shows and movies on Netflix work, so we can't complain too much. ZenMate is functional in the UK, of course, but it's strange that it can't unblock BBC iPlayer. And if you're wondering how to unblock DAZN when abroad, don't use this provider. It couldn't unblock it.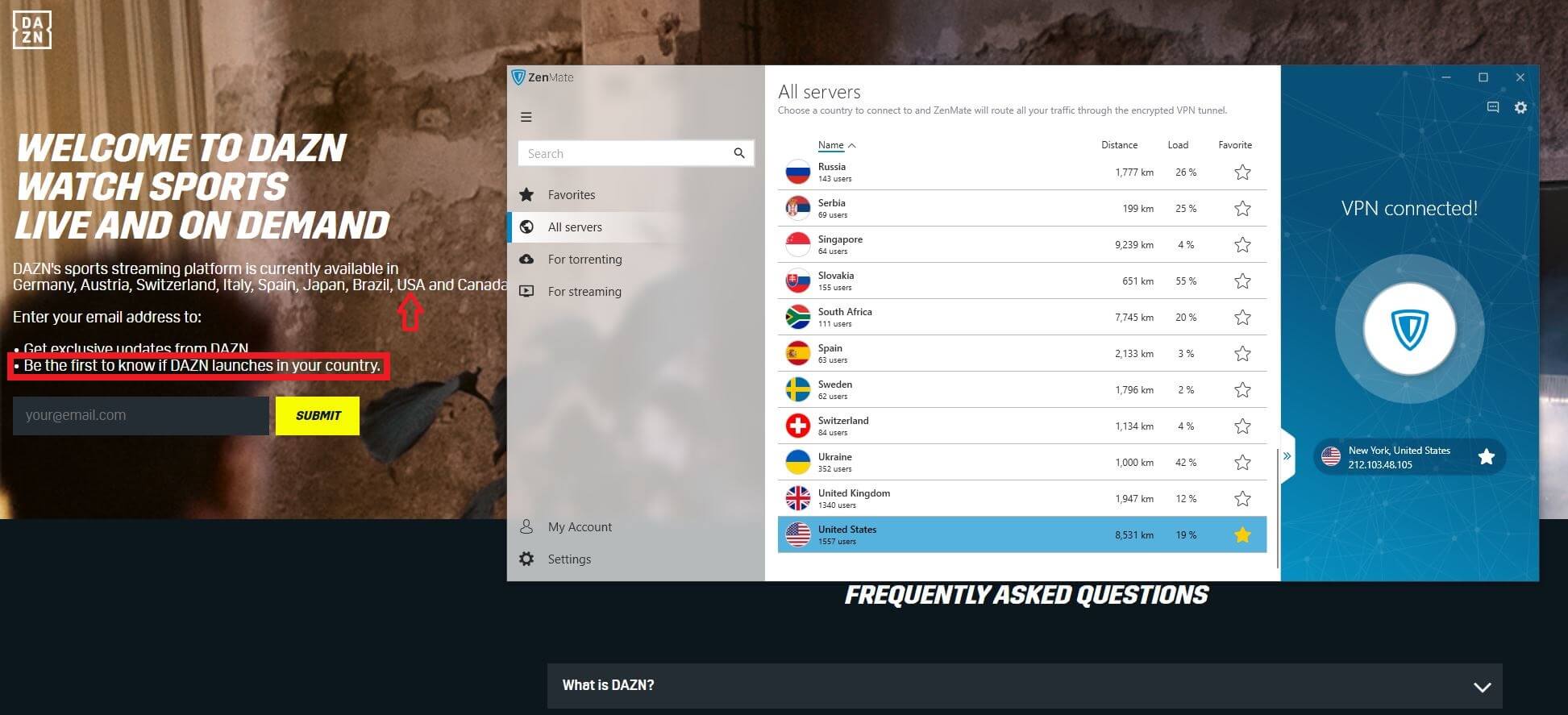 If BBC iPlayer and DAZN aren't your cups of tea, you'll have a great time streaming with this provider.
Confidentiality, Security & Logs
Many potential buyers dislike the fact that ZenMate is from Germany. Germany, as you know, is one of the worst countries for owning a VPN company. The reason being is because it's a part of the 14 Eyes Alliance, a conglomerate known for conducting surveillance on the residents of the countries that belong to the alliance.
Despite this, Markus and Simon, the owners of this company, promise you that they don't store any logs. But, they still store some info. Take a look:

Pay attention to the part at the bottom. It says that they collect your IP address, albeit in an anonymized format. Next, they collect an approximate location and transaction-related information. This is just a part of their privacy policy and you can read the whole thing here.
What we have to say is that we don't like the fact that they keep your IP, even though it's anonymized. At least, they don't store your browsing history, timestamps of your last connection, and so forth. A privacy policy created like this is still a zero-log one since the collected info is anonymized.
The only thing left to check is the IP leak test. Here are the results: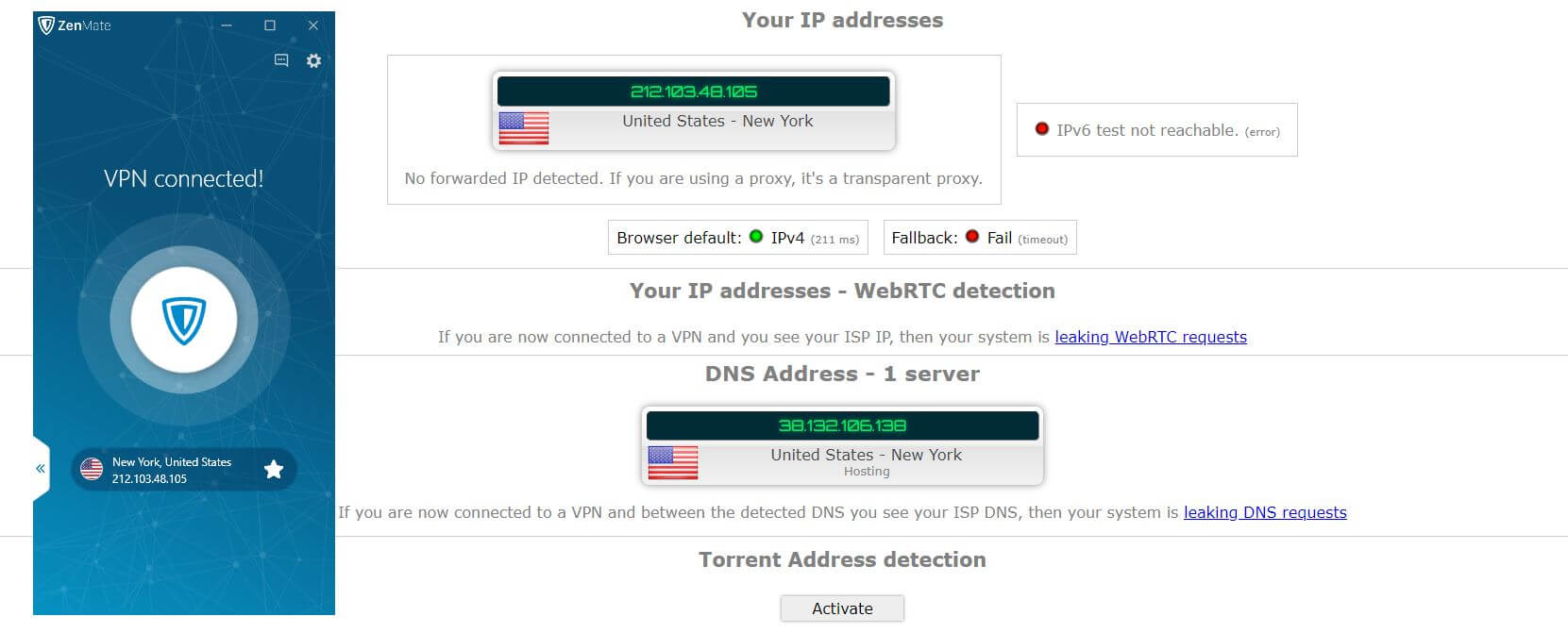 If you compare the IP shown in the app with the one shown in the IP leak test on the right, you'll see that they're the same. And on top of that, we didn't get any IP leaks, meaning that we're safe and secure.
To make things better, there's an automatic kill switch, 256-bit encryption, and DNS and IP leak protection. Safety shouldn't be your concern when using Zenmate.
Can I Do Torrenting Safely with ZenMate?
Those who live in Germany know how this country views torrenting – as a crime. For this crime, you'll be expected to pay quite a lot, even over 2,000 Euros in some instances. Since ZenMate is a VPN, you expect it to perform like a champ when you use BitTorrent.
Thankfully, it performs pretty well. It even has dedicated servers for torrenting and some of them are in Germany – a brave move, we must admit! However, we conducted our test using an American IP from above. As you know, torrent sites show your IP address to let you know that you can be caught downloading torrents by your ISP. Here's what we got:

Of course, the exact same IP from above, meaning that we're safe and secure. Still, we suggest using the IP address of some countries from Eastern Europe for this purpose. Serbia, Slovakia, and Hungary, for example, are very good and they didn't forbid torrenting just yet.
Torrenting with ZenMate is possible, thanks to its overwhelming P2P support and dedicated servers.
Can I Use ZenMate to Bypass Censorship?
The following post was published approximately two years ago and this is from the provider's website. We can confirm that nothing has changed since then. Here's what it has to say:

As you can see, using this provider in China, Iran, and Saudi Arabia isn't possible, hence bypassing censorship can't be realized. The provider even goes so far as telling its users not to buy a subscription for China because they can't guarantee that it will work.
You also see that they say that it's not an issue on their end and that they're still investigating ways to fix it. But, since they didn't find any ways for 2 years, we doubt it will be fixed in the near future. Such a shame, though. ZenMate would've been much better if it worked in China.
Pricing and Plan Options
Since you've already seen the name of the article, you know that the provider is cheap. But HOW cheap? Well, that's a question we're going to answer now. Take a look at the provider's pricing and premium plan options: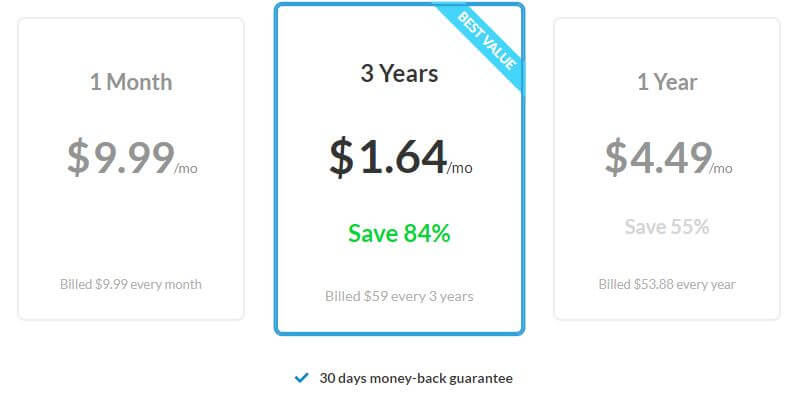 This plan in the middle probably caught your attention before you even saw this line of text. Well, it's a bloody cheap one, isn't it? You get 3 years' worth of subscription for $1.64 a month, which translates to $59 every 3 years. This is, without a doubt, one of the cheapest offers we've ever seen.
The plan on the right is an annual one and costs $4.49 a month of $53.88 a year. Compared to IPVanish, for example, it's slightly more expensive for an annual plan. Still, we think that this is a pretty competitive price for such a plan.
Finally, there's a monthly plan that costs $9.99 a month. That's, in our opinion, on the cheaper side of the spectrum. When we think that some providers sell their monthly plans for more than $12, this one is pretty cheap. ZenMate also offers a free plan.
This free plan has limited speeds but you get unlimited bandwidth, which is awesome for a free subscription. Needless to say, we recommend the plan in the middle, as it's the cheapest and you'll get exactly what you pay for. The free plan is limited, so you won't get the full experience.
Speaking of paying, here are the two payment methods you get here:

PayPal and Credit Card. No Bitcoin or other cryptocurrencies, which is such a shame. But, if you have a coupon code, you can apply it and get an additional discount. What if you want to cancel a subscription and get a refund? Well, you can ask for it via live chat, take a look: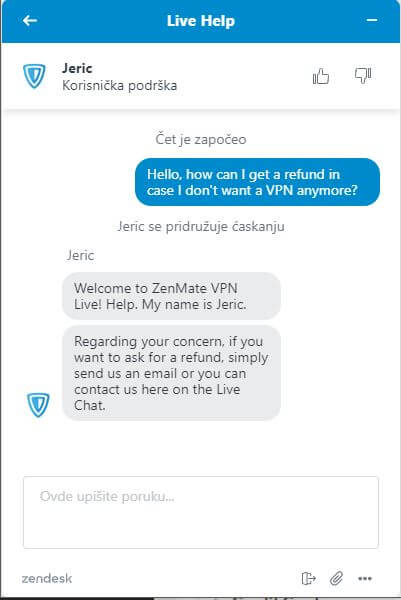 Beware that you get a 30-day refund period for all your purchases but only purchases made through the provider's website, and it doesn't matter if you had a coupon code or not. If you buy a subscription via a third-party (Apple Store), you won't get to refund it.
How Can I Contact ZenMate?
Aside from using the live chat feature from above, there's one more way of contacting the provider and that's submitting a request. Here's how that looks: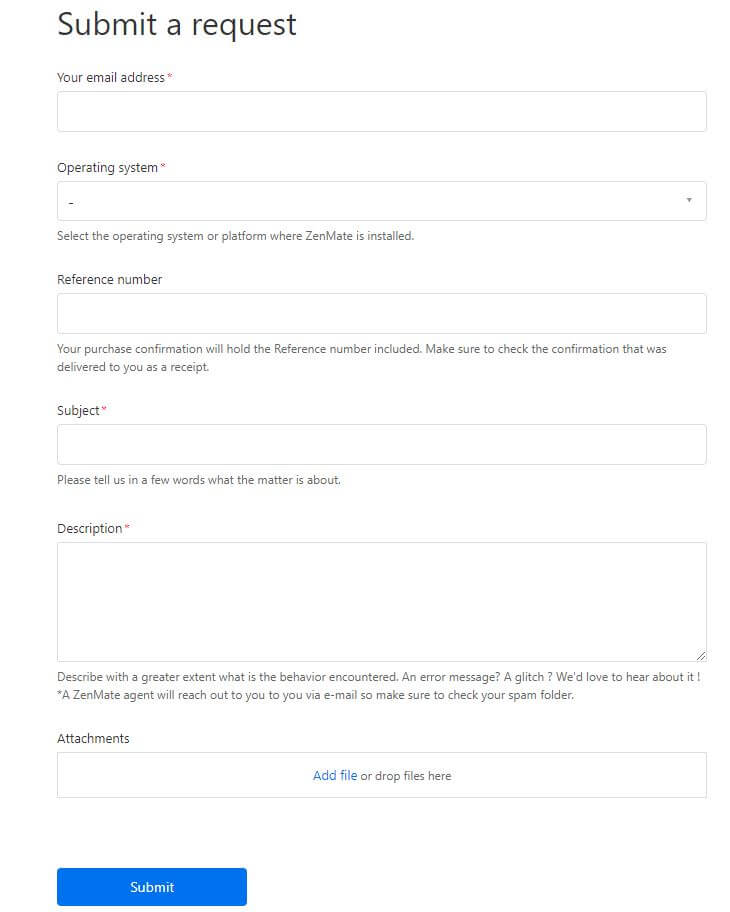 This is essentially a contact by email. But, instead of visiting your Gmail or Yahoo to send an email, you can do it directly from the website. You just need to fill in a couple of important credentials, describe your problem, and add the attachments if needed.
After you submit the request, you'll get your answer within 24 hours. Alternatively, there's an in-depth FAQ section:

It's not for contacting the company but in case you need some help, you can get it in the FAQ. So, to summarize, you get a live chat feature, a possibility to submit a request, and an FAQ section. Since there's a live chat, we can't complain. We don't like it when the provider doesn't have it and this one, luckily, has it.
The Special Functionalities
We know how good it feels to save some cash, yet receive top-of-the-line service. By this, we think about getting even some bonus features to aid your experience. But, unfortunately, you won't find feature-rich offerings when using ZenMate. Here are the review of all special functionalities that you can expect here:
Dedicated Servers
Dedicated servers are great if you want to tailor your experience to certain activities on the internet. Right now, they offer servers for streaming and torrenting. Streaming servers are usually optimized for a certain platform.
Because of that, you'll often find ones optimized for Netflix, Zattoo DE, Netflix FR, and even for BBC iPlayer, which is strange since we couldn't unblock it, even with a server like that.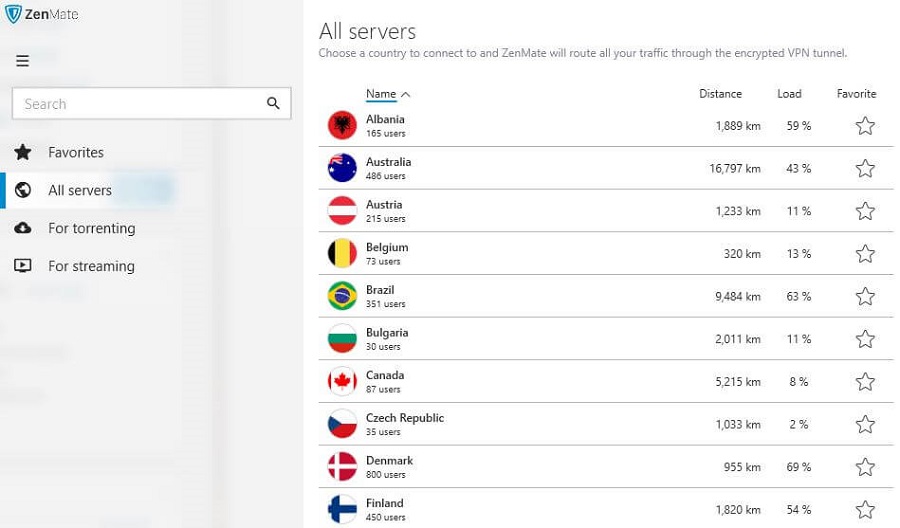 Torrenting servers are also scattered worldwide, so finding the one near your location shouldn't be a problem. Even servers in Hong Kong and Japan are here but interestingly, Chinese servers aren't on the list.
Ad-Blocker Extension for Chrome
This provider does NOT offer an ad-blocked within the app. So, if you're using a full-fledged app on your PC or smartphone, don't expect it to block ads. There's a Google Chrome extension, on the other hand, that you can find here.
Nevertheless, this is just an ad-blocker and can't be used as a full-on VPN. It's also free to use whether you have a subscription or not. One thing that bothers us here is the fact that the app was updated last time in May 2018.
Because of that, we don't think it's a good idea to use it. Instead, you can use CyberGhost or NordVPN. These providers have an ad-blocker functionality and they work flawlessly.
Other Things You Should Know
There are some things we didn't touch on during this ZenMate review, so let's do it now:
Number of Servers
ZenMate has a pretty high server count in 2021. We are talking about 2600 servers worldwide, which is dangerously close to what ExpressVPN has to offer.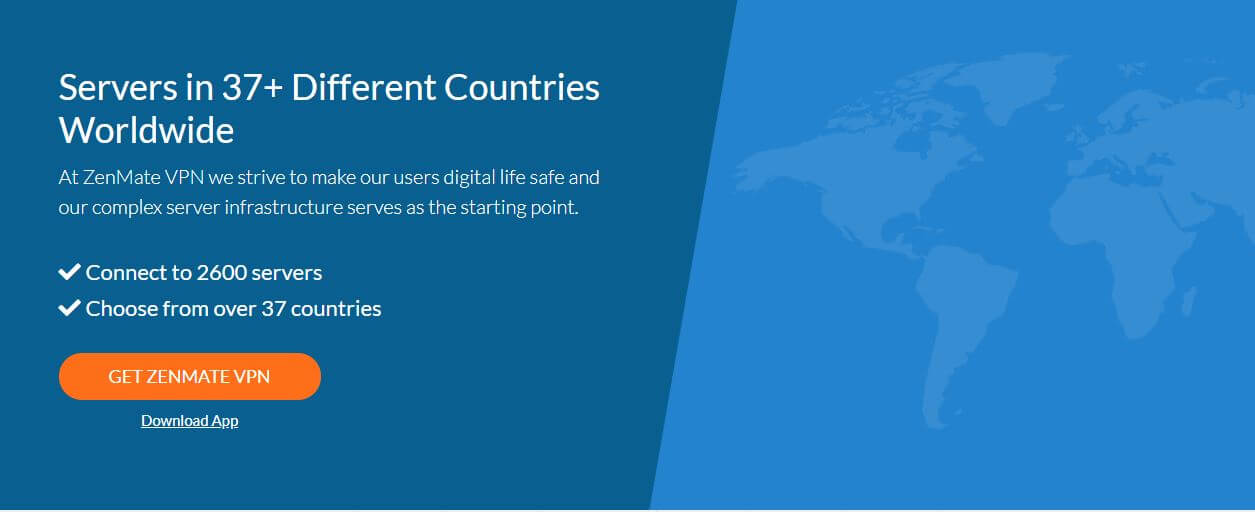 The most servers are located in the UK, the US, Germany, and Romania. They even have servers in Russia and although they don't support P2P, these are physical servers. We doubt they're very secure because Russia prohibited the use of VPNs in the country.
The only condition the providers need to fulfill is to sign up the document in which they allow the Russian government to use the users' data if needed. Chances are that the provider did exactly that, which is why they're still allowed to operate there.
We still can't confirm this fact but it's definitely something to think about. Also, the provider doesn't have servers in Turkey, which is important to mention since lots of Turks use VPNs.
Number of Countries
The servers we just mentioned are scattered throughout 37 countries, which isn't a very impressive number. But, if you're not a nit-picker and you just want to use the core functions, that shouldn't be bad for you.
Number of Simultaneous Connections
Last but not least, the provider offers 5 simultaneous connections if you're not using a service on your router.

This isn't, by any means, an impressive statistic. It's a little bit less in comparison to what NordVPN (6) and CyberGhost (7) are offering. Luckily, simple installation on your router will fix things up.
What do Other Users Say About ZenMate?
Before we conclude our comprehensive review of ZenMate, it's time to see what other users have to say. We'll start from Reddit:

This user didn't like the provider at all, and even says that they're "garbage." He then proceeds to say that he preferred it over the big cybersecurity companies for its speed and stability. Finally, he finishes by saying that he still didn't get a refund, even though he requested it a long time ago. Definitely an interesting review. Now, let's see what the users from the Apple Store had to say: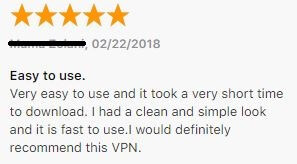 Although the review was written in 2018, we still find it relevant because it's not that far from today. Long story short, the user says that he enjoys it thoroughly and speaks about its clean interface and fast speeds. Now, let's see the review from the Google Play Store, an opposite platform:

The review form October 2019 isn't a good one. Allegedly, the user can't unblock Netflix from his Android device and says that he's getting an error. We, on the other hand, managed to unblock Netflix with an Android phone, so it must be a rare case.
Still, this user is all but satisfied with the service. In the end, we have a review from TrustPilot. Take a look:

This is a new review from February 2021 and it's a good one. The user says that the provider is reliable and has good customer service, which we can agree with. He finishes by saying that they're extending their capabilities regarding apps on platforms they support.
Conclusion: Should You Take It?
As always, we'll conclude this complete review and feedbacks by saying if ZenMate is worth buying or not. So, is it worth your hard-earned cash?
If you're ready for some compromises, it's an "okay" option.
It has a no-log policy, it can unblock quite a few streaming platforms, and is very cheap. On the other hand, it isn't very fast, it comes from Germany, and it can't work in China.
With all this in mind, we aren't very keen on recommending it right away, nor we think that it's a very bad provider. But, what we can certainly tell you is that there are a lot of better options on the market.