With more than hundreds of providers available on the market, people are often struggling to get the one they need. Some providers aren't fast, some aren't secure, and some just can't bypass geo-restrictions. Among all of these, there's IPVanish, a company that always had a "neutral" position in the VPN market. It was never among the best, yet it wasn't the worst company. If you ask us, it's interesting to see how a provider like this will perform. With that in mind, this IPVanish review will tell you if it is worth your time or not.
What is IPVanish?
IPVanish is an American Virtual Private Network provider that was found in 2012. With almost 8 years of its existence, the company underwent some serious changes in terms of server count and security features. They started with only 32 servers for the Windows operating system and now, they have more than thousands of them.
Throughout history, this was a fairly respectable company, up until June 2018, where its no-log policy was starting to be questionable (more about that later). Still, with thousands of users today, it is a well-known name in this industry.
This is our in-depth review of IPVanish that includes everything you need to know before you buy it. And if you decide to go for it, click on the button above. You'll get a huge discount (67%) via our website!
Compatible Devices and Ease of Use
Every provider has its own share of supported devices. Although Windows and Android, for instance, are popular platforms, it's necessary to cover all the major ones.
For that reason, the company is here to secure every piece of tech capable of connecting to the internet in your house. Check the image below: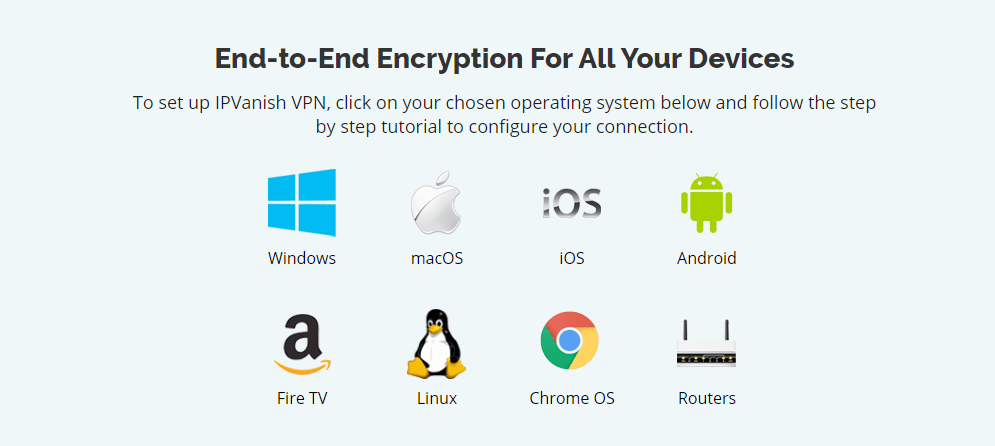 As you can see, this is overwhelming support for devices and platforms. We like the inclusion of the Chrome OS, Linux, Amazon Fire TV/Firestick, and routers. The last one is significant as it allows you to protect devices like Apple TV or any other device that connects to your router.
Computers
When we talk about computers, three platforms are supported – Windows, macOS, and Linux. Installing respectable apps is very easy, regardless of which platform you choose. To demonstrate, we are going to use Windows 10 updated to the latest version. Here's how the installation looks: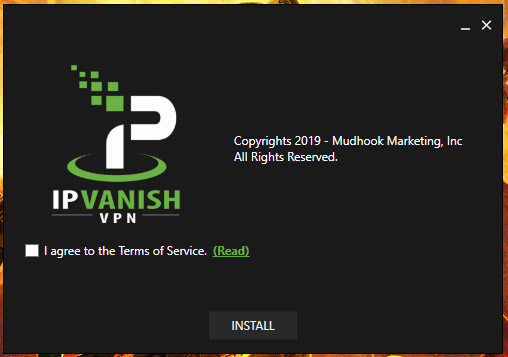 Before continuing with the installation, you'll need to agree to the terms of service. When you do that, the app will install in about half a minute, which is rather slow, to be honest.
Other providers usually install in less than 10 seconds from our experience. But, we aren't going to nit-pick from the get-go. The app is now installed and you get this screen (we did this on Windows 10):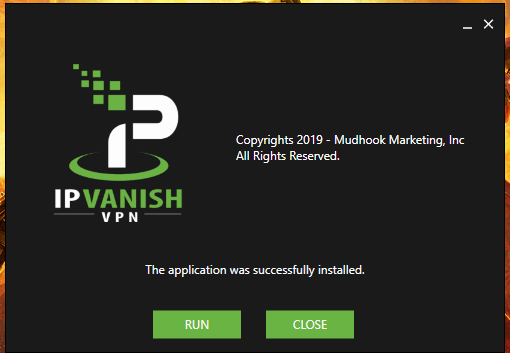 Click RUN if you want to run the app, and you'll be greeted with the login screen, as shown in the picture below: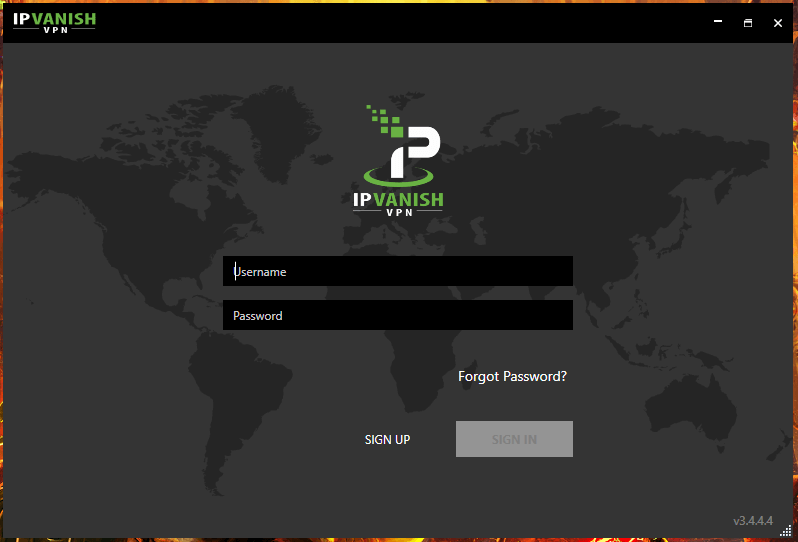 Type your username and password used in the account creation upon purchase. Click SIGN IN and wait a few seconds. After that, this is how the app looks.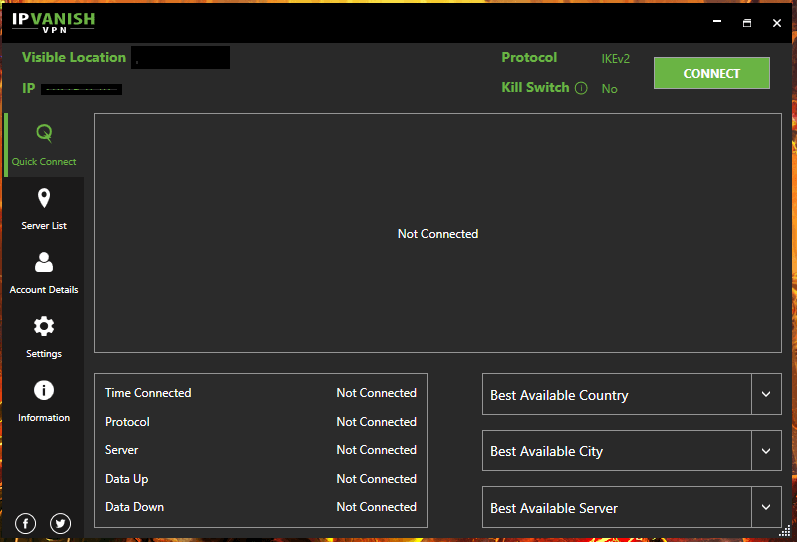 You can use the Quick Connect feature shown on the left side but we went to the Server List instead. The servers list looks like this: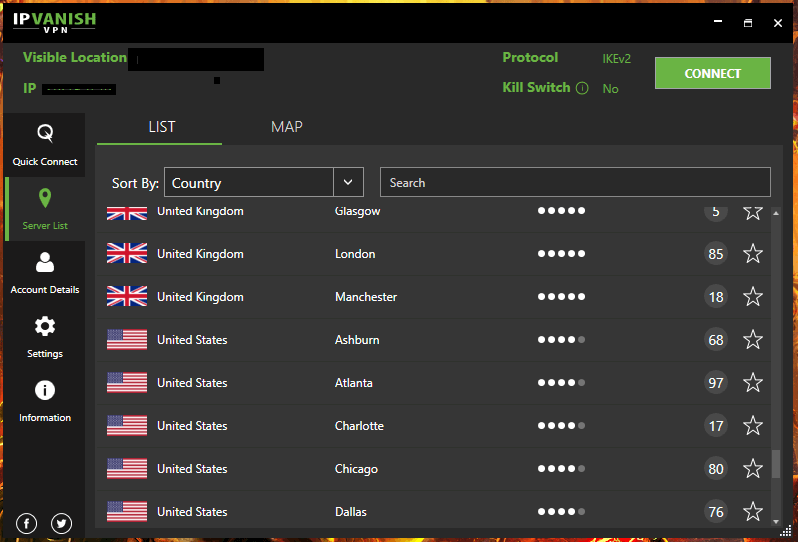 Here, we used the server from the United States in Ashburn. We clicked on it, then we clicked CONNECT. And finally, this is how the app looks when the connection is established.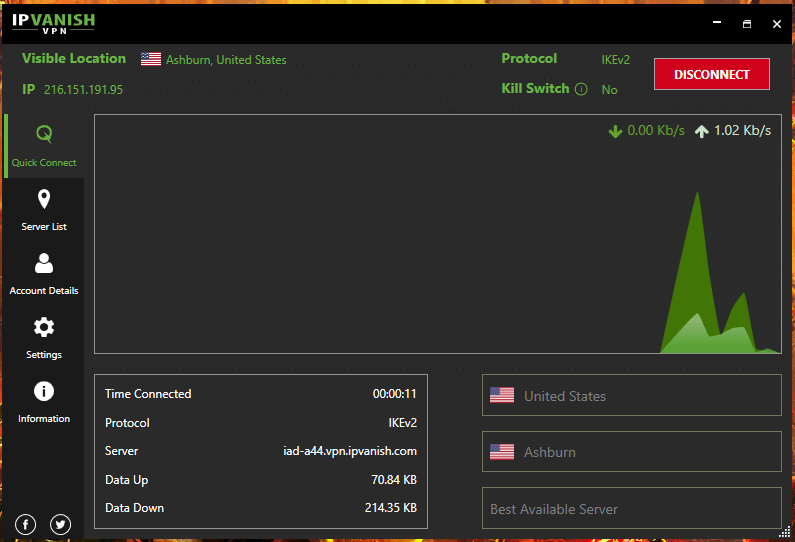 Remember the IP shown in the upper right corner because we used it for torrenting and IP leak tests later in the review. As you can see, the app is very simple to use, although the interface isn't one of the prettiest.
Smartphones and Tablets
Now, what about smartphones and tablets? If you scroll up, you'll see that IPVanish supports iOS and Android devices. Like always, we'll perform our test on the Android device with the app downloaded from the Google Play Store.
The first step, obviously, is to download the app using your Google Play app, as shown in picture 1.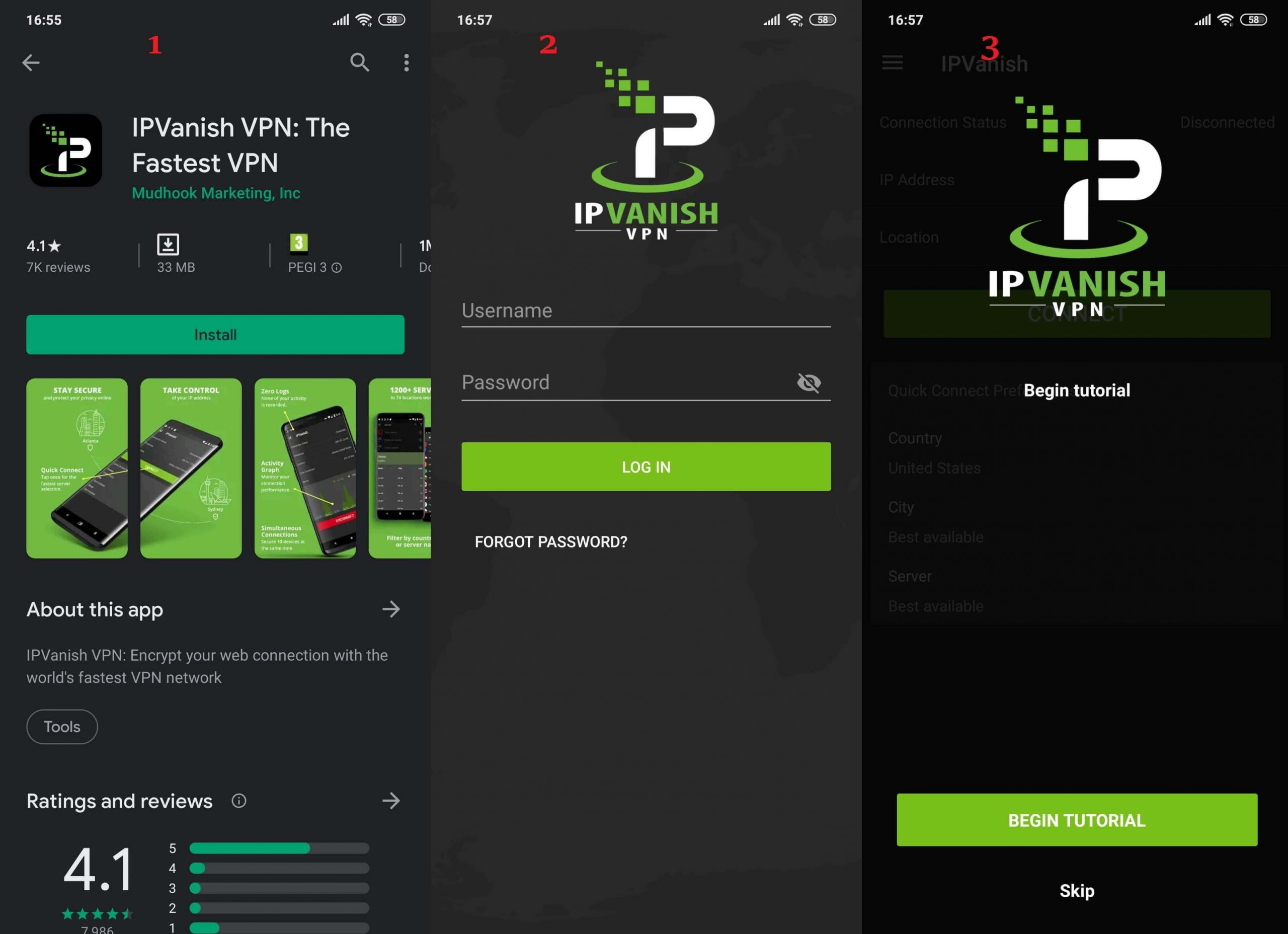 When the app is downloaded, you'll see the login screen in picture 2. Type in your credentials and click LOG IN. In picture 3, the provider offers you a tutorial for the starters. We clicked Skip since we already know how to use a VPN. The app's home screen is shown in picture 4 below.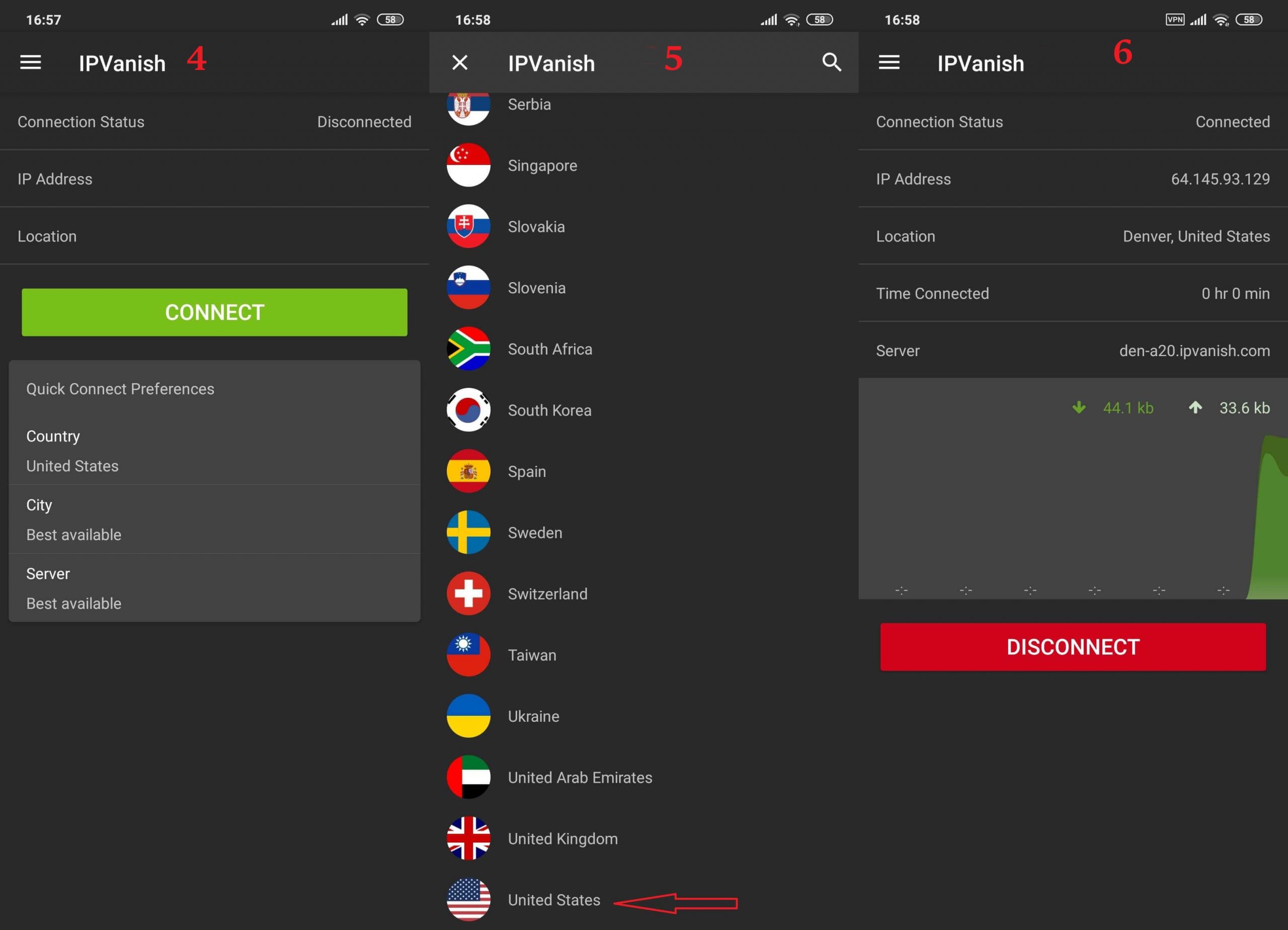 From there, you can open the server list, choose the one you want, and connect. The server list is shown in picture 5, where we chose the United States. Finally, in picture 6, you see that our connection is successfully established.
All in all, the Android app is very easy to use.
Other Devices
If you, once again, scroll up, you can see what other devices are supported. We find it very good that the provider supports routers. Routers are excellent because they allow you to connect up to 16 or 32 devices. Now, when the VPN works in conjunction with your router, you can protect all these devices, which is magnificent.
Needless to say, every platform will then be supported, even your smart TV, Apple TV, Roku, IPTV boxes, gaming consoles, and many more. IPVanish also offers an extension for Chrome that's called the same, as well as the extension for Firefox called FoxyProxy.
Plus, you will be able to install an app from the provider directly on your Firestick. To do so, just browse the Amazon store.
We don't have anything bad to say about device support. But, since this is only the beginning, we'll see if the provider will justify our expectations later in the review.
How Fast is IPVanish? We Checked Its Speed
The speed is where many providers fail to meet our expectations. We like being able to torrent or stream effortlessly, without having to wait a lot for the video to buffer. Before we talk more about its speed, it's important to say that all providers reduce your internet speed to some extent. So, if you have a VPN and you've noticed that it's a bit slower, don't go into panic mode.
Instead, accept this fact. Sure, some providers will reduce your speed by 10 or 20 percent and some of them will do that by 80 or more percent. Many factors play a role here – the level of encryption, server distance, etc, etc. Because of that, it's crucial to tell you how we did our tests.
We did 3 tests in the morning, 3 in the mid-day, and 3 in the evening, for 3 different locations – we also kept the best score. When it was possible we connected to the best location among the 3 locations we've tested.
Our physical location is in the USA (non-VPN test) and we used the following locations for our tests:
The United States
The United Kingdom
Australia
Now, without a VPN turned on, we got the following results:
Ping: 11ms
Download speed: 211.88Mb/s
Upload speed: 202.20Mb/s
And now, here are the results while using IPVanish regarding ping, download, and upload speeds respectively:
US server: 15ms / 171.24 Mbps / 178.17 Mbps

UK server: 78ms, 127.28 Mbps / 131.12 Mbps

Australia server: 259ms / 48.11 Mbps, 34.59 Mbps

IPVanish, as you can see, gave some decent results in this test. Of course, in the USA, our speed was the highest since we are located there. In the United Kingdom, on the other hand, they were a bit slower. However, this speed decrease isn't drastic, which is a bit of a surprise.
And finally, in Australia, we weren't impressed. With our ping being 259ms, our web pages loaded much slower, and due to a larger speed decrease, streaming wasn't as smooth as with the UK or the US servers.
How Good is IPVanish for Streaming?
Talking about streaming, is this provider worth your precious time and money? Let's first check Netflix. We used the server from above and when we connected to our account, the entire US catalog was available. Furthermore, we tested other US-based servers and managed to unblock it using every one of them.
The servers based in Canada, the UK, Australia, Greece, and India all managed to unblock it, so we're quite impressed.
But, some of you aren't only going to watch Netflix. There are tons of other streaming platforms, right? Well, IPVanish couldn't unblock ABC, regardless of the server we used. Take a look at this screenshot below:

Unfortunately, Hulu, HBO Go and BBC iPlayer also didn't work, as shown in the picture below: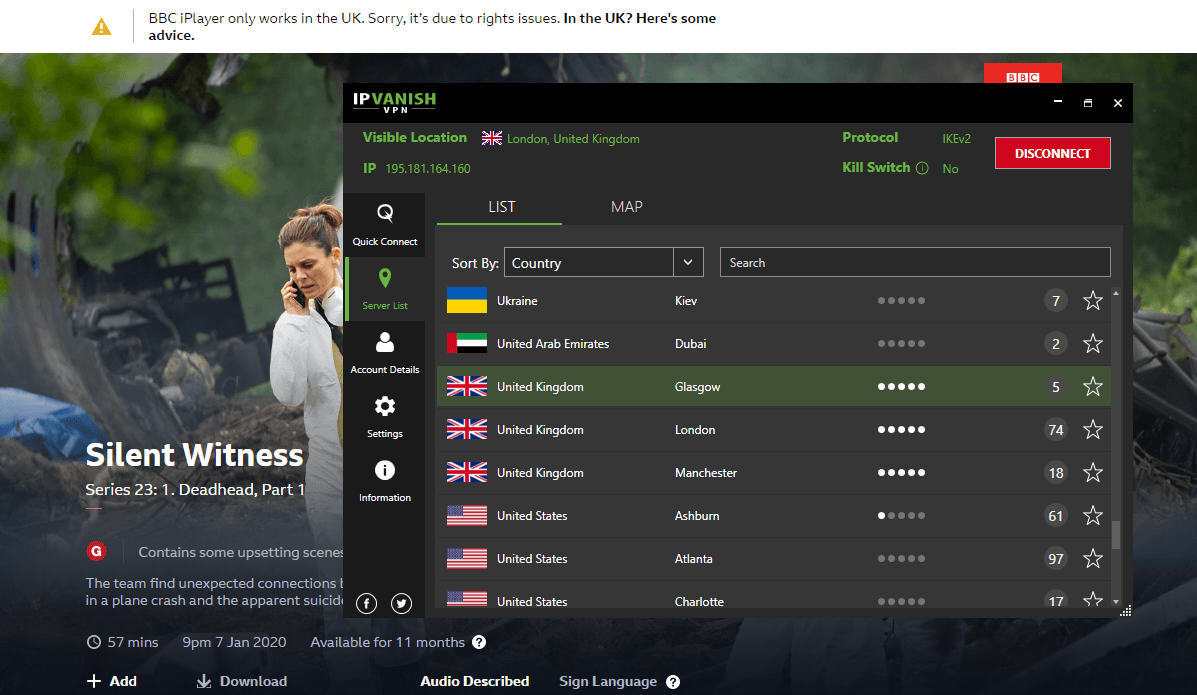 On the brighter side, DAZN, SlingTV, Hotstar India, and FOX US work great. So, to conclude, the provider isn't the greatest for streaming. If you're concerned about Netflix, however, then you can expect it to perform great.
Confidentiality, Security & Logs
Based in the US, one would think that the provider isn't very safe and secure – and rightfully so. The USA is a part of the 14 Eyes alliance, meaning that the government can force the provider to give out all the collected data about its customers.
And, as you might've guessed, a similar event happened in 2016. The article on the TorrentFreak blog, published in 2018, proved that IPVanish gave the customer's personal information to the HSI (The Department of Home Security) in 2016.
Allegedly, this man was accused of sharing child pornography online. Interestingly, the info that the provider handed over was very concise – it contained the email address, customer's name, the real IP address, VPN subscription details, and dates and times when the customer connected/disconnected from the network.
This is contradicting the provider's no-log policy where it claims that no logs are being kept. But, in 2017, StackPath acquired the company, with Lance Crosby being the CEO. At this time, he claimed that no logs were found upon acquiring IPVanish. Just for the reference, here's what the no-log policy says now:

In 2021, they don't collect any of the crucial information about you. This info includes traffic, internet activity, timestamps, etc. But, what they do collect is your email address, payment method for transactions, and the activity on their website. You can read the full policy here.
When it comes to safety, we need to do the IP leak test to determine if we're safe or not. It lasts only a few seconds and we breezed through it. Here are the results: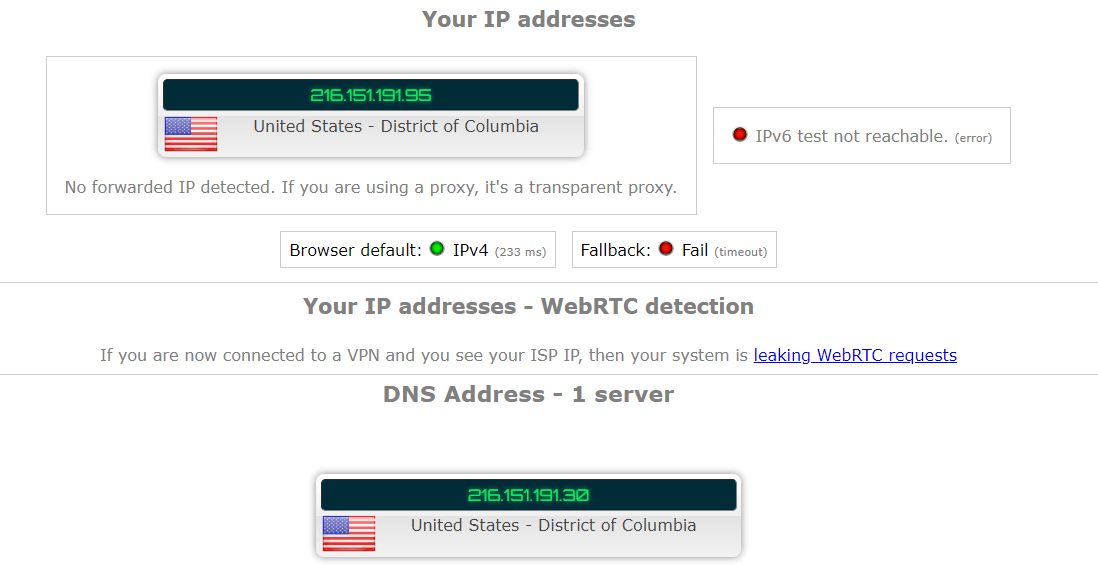 If you compare the upper IP with the one we already displayed above, you'll see that they're exactly the same. There's definitely no IP leaks here, meaning that we're safe. Plus, there's an automatic kill switch, 256-bit AES encryption, and DNS and IP leak protection.
Can I Do Torrenting Safely With IPVanish?
Torrenting and the USA don't go very well together. It's like putting a dog and a cat in the same room. With a Virtual Private Network, it should go buttery-smooth, at least – should it? Of course, not always. We tested if we're safe and secure while accessing the torrent sites and downloading some torrents with IPVanish protection on.
As you know, every torrent site shows your IP, just so you know that you're exposed and that the police will possibly knock on your door if you proceed. Here's what we got:

Take a look at the IP below – it's the same one. This means that we're anonymous while torrenting, so you can use even the US servers to do so. Albeit, we would recommend a faster provider for this purpose, such as ExpressVPN. Many people who do torrenting choose it, as it's one of the best.
Can I Use IPVanish to Bypass Censorship?
When talking about censorship, everyone's mad about the Great Firewall of China. This monstrosity can put every provider to sleep, simply because it's a tough pill to swallow. In 2021, many providers were "kicked out" of China, so only a handful of them work.
Is IPVanish capable of destroying the firewall once and for all? Unfortunately, we found out it isn't while doing this review and all the tests. Because of that, we don't recommend it for countries like Iraq, Turkmenistan, the UAE, Belarus, and Russia. Speaking of Russia, you've got to test your luck and see if it works, albeit in many cases, it won't work.
Recently, the provider removed all the servers from this country, so you won't be able to access Russian local content.
Even though it's not working in China, it's still a great VPN provider. But if you're traveling to China or any of the countries we mentioned above, we suggest using ExpressVPN or NordVPN – the top-tier providers.
Pricing and Plan Options
Many of you try to squeeze out every single penny or dollar you earn. And that's completely understandable. Even when shopping for a quality Virtual Private Network, people often tend to squeeze their money like a thief is going to take it. Luckily for you, IPVanish isn't a thief but a well-known provider. Here's what it'll cost you to get it: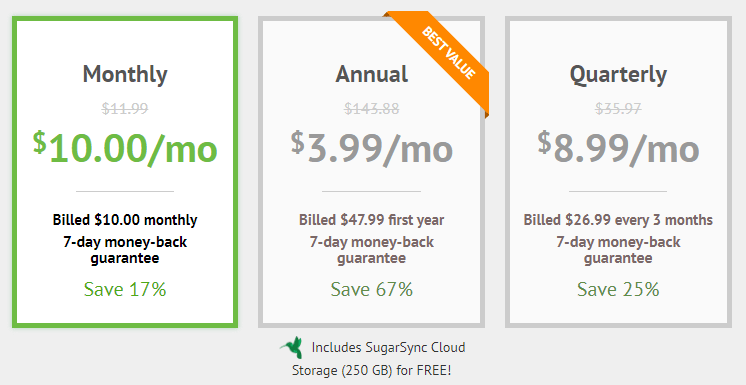 The best plan and deal, as seen in the picture, is the one in the middle. It's an annual plan at $3.99 a month, which translates to $47.99 a year (67% discount).
Having in mind that we're talking about the annual plan, it's not very expensive, especially with a coupon or promo code. NordVPN and ExpressVPN are both more expensive but they're also much better, so it's a trade-off you'll need to accept.
IPVanish also offers a quarterly plan, which isn't something we see often. It's $8.99 a month or $26.99 every 3 months. Finally, there's a monthly plan at $10.00, which is perhaps one of the cheapest monthly plans.
If you decide to buy it, we suggest going for the middle plan because you'll get 250GB free SugarSync Cloud space. No promo code or coupon is needed to benefit from this offer! Here's how you can pay for the services:

You might've noticed that the provider offers a 7-day money-back guarantee (but no free trial), which is quite modest. To get a refund, you just have to enter the live chat, ask for it, and the member of customer support will help you.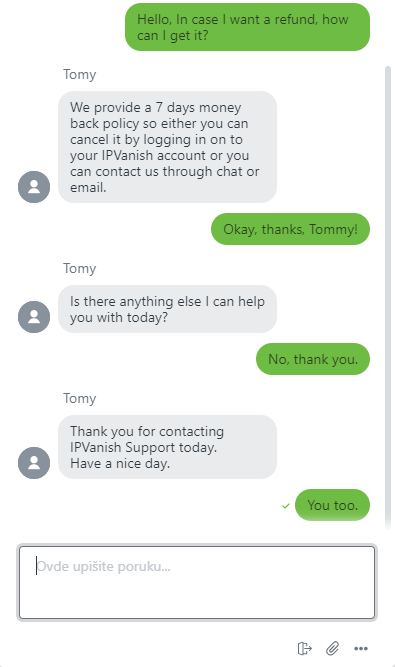 We got our answer in about 3o seconds. Above is the screenshot of the chat. Note that you can also cancel your subscription very easily be going directly into your Account on the website.
How Can I Contact IPVanish?
If you click on Help in the upper right corner of the website, you'll see this screen: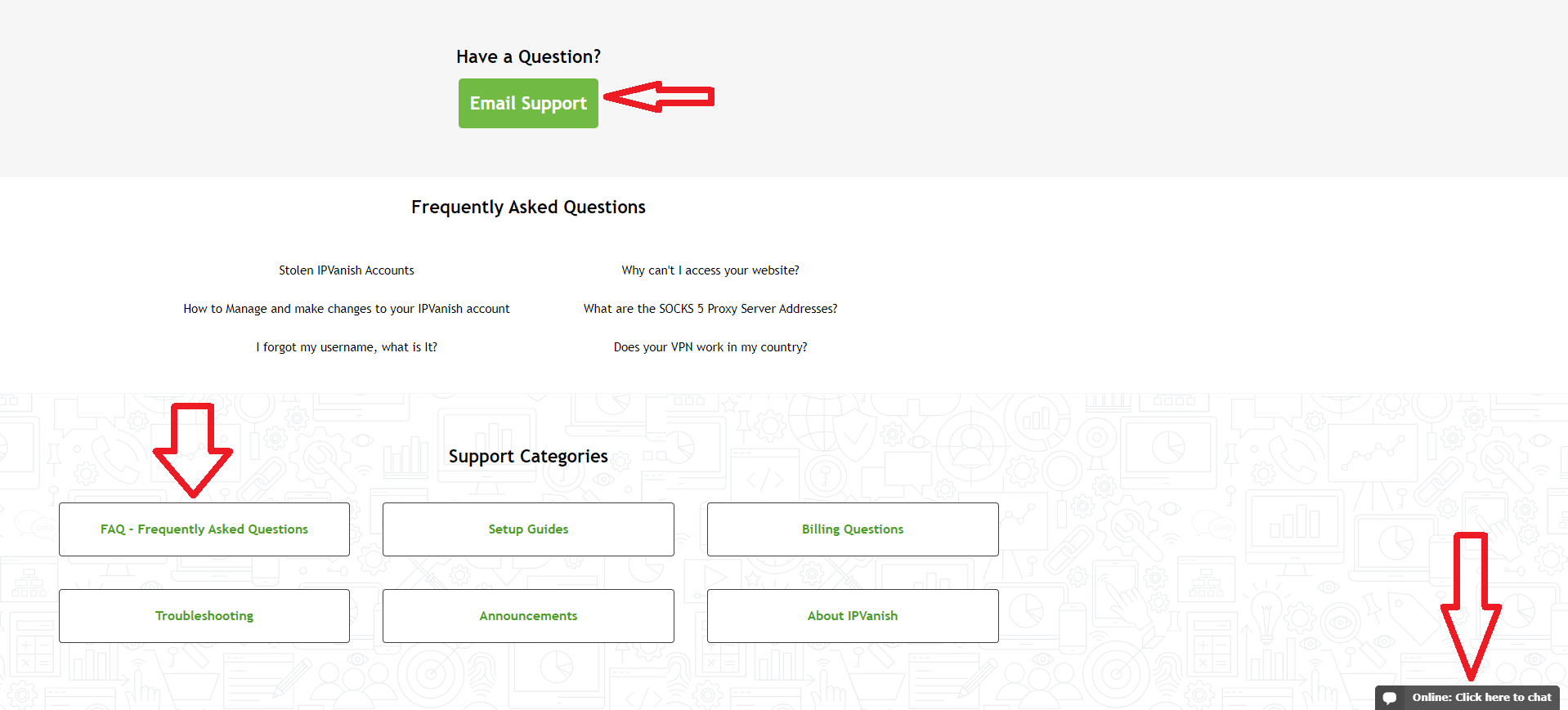 The first arrow above is Email support. By clicking on it, you can contact the client support by email. You just need to type your name, email, describe the problem or attach certain files if needed. Usually, they respond within a few hours.
In the lower right corner, the Live Chat feature is located – we displayed it above. Finally, the third arrow on the left shows a FAQ section. You can access it and read certain articles that will potentially help you solve the problems you have regarding this service.
Overall, the responses were satisfactory during the preparation of our review. However, we somewhat regret the slowness of the responses from the customer support.
The Special Functionalities
While every VPN provider has its share of special functionalities, IPVanish didn't exactly excite us in any way. However, there's one feature that you might find very useful if you're a fan of cloud-based services. Take a look: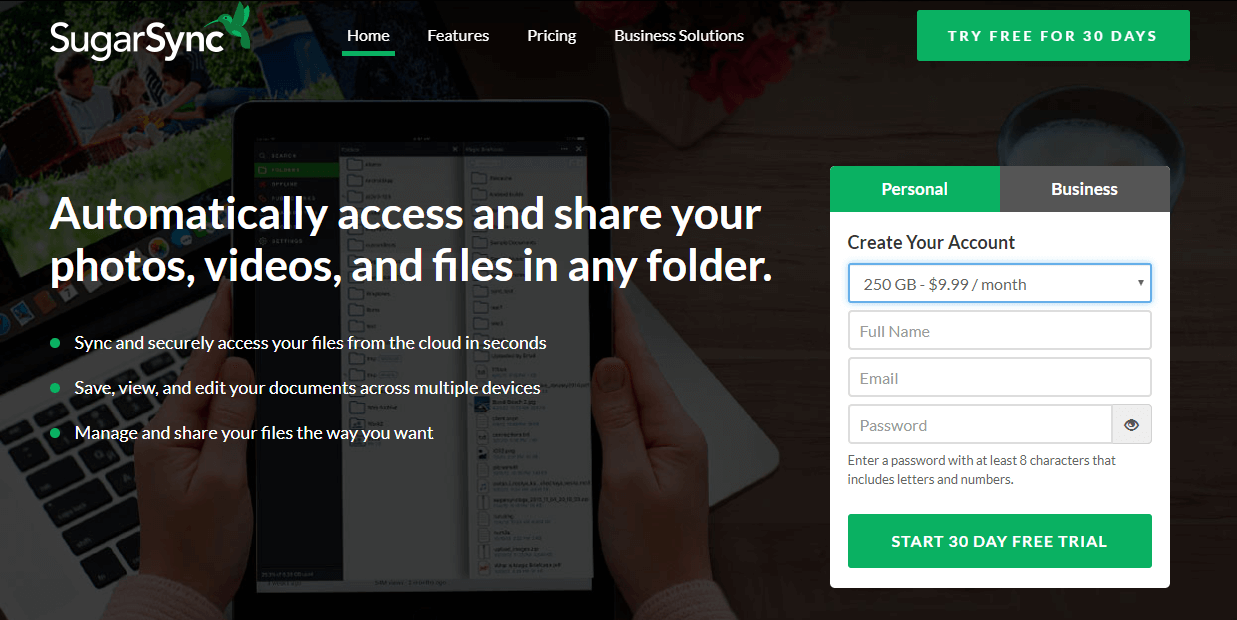 This is the SugarSync website. It's a cloud space that allows you to transfer your much-needed files to a remote cloud server and access it from a variety of devices. If you're a little bit into technology, you know how it works. You have Mega, OneDrive, and many other services like this.
Now, IPVanish offers you some free space there if you buy an annual subscription plan. To be precise, they give you 250GB for free, whereas you would need to pay $9.99 a month for this – just take a look above.
Although SugarSync isn't the best cloud-based service, it certainly isn't the worst. For instance, it lacks some security features but if you're using it in conjunction with a Virtual Private Network, you'll be good to go.
The provider doesn't give any other special features, even an Ad-Blocker isn't there, which is a small let-down. Also, you should know that there is no free offer or REAL free trial as stated previously.
Other Things You Should Know
As always, there's something we didn't mention in the review, so let's talk more about these features:
Number of Servers
IPvanish isn't the largest provider on the market in terms of server count. Here's a screenshot from its website that proves that: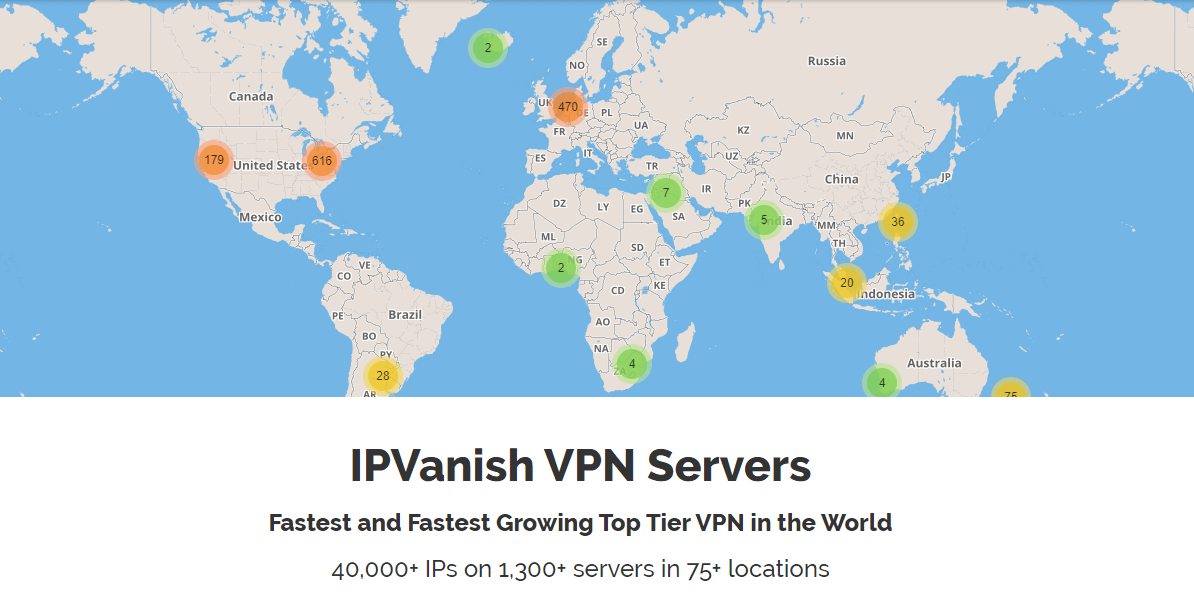 Still, we think that 1,300+ servers are more than enough for a non-demanding user. There's even a small world map above, so you can try to find your country. For now, IPVanish has the most servers in the USA, Canada, and Australia.
This should help you unblock a majority of websites, including bookmakers. By the way, check the article about blocked bookmakers on this link https://monkeyprivacy.com/bookmaker-blocked-betting-abroad/.
Number of Countries
The image above shows that the provider has servers in 75+ locations, which is impressive, given how many servers they have. Of course, the server density isn't the highest but at least, the provider covers a huge portion of the earth.
Number of Simultaneous Connections
If you don't want to install it on your router, the provider supports up to 10 simultaneous connections. Despite being enough for most people, you might want to extend it to 16 or 32, depending on your router.
This way, if you have a small company, you can protect all your workers' devices when they connect to your router. Definitely nothing to complain about here!
What do Other Users Say About IPVanish?
Every provider advertises itself as being the best or among the best. But, you'll get the most honest reviews from the people that have been using it for some time. Let's see what the users had to say about it websites such as Reddit, TrustPilot and stores…
The first review comes from Reddit. Here's what the user had to say:
His review of IPVanish is quite lukewarm. He praises the speed, simplicity, good selection of servers, and a kill switch. However, he complained about the lack of port forwarding, which other providers have. There's also one interesting review from the Google Play Store – take a look:

This user mentions incompatibility with Amazon Fire Stick. As you can see, he tried all kinds of solutions but with no avail. What does the Apple Store reviews say? Well, here's a screenshot of one: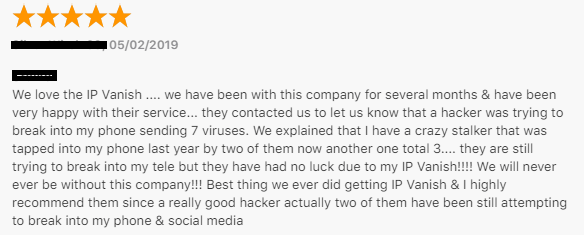 The user writes in plural because he's probably sharing his opinion with his buddies or co-workers in a company. Whatever the case, the user is extremely satisfied. He mentioned that IPVanish stopped hackers that have been trying to break into his phone and finished by recommending it to everyone.
Finally, there's a review from Trustpilot:

It's a short one. The user says that it works with Netflix but not with Hulu and HBO GO. We already talked about that in the article, so he just confirmed what we said.
Conclusion: Should You Take It?
Since you've read all the way to the end, we must take some time to thank you. Another way to thank you is to give you our honest opinions on the provider we review. So, is IPVanish worth your time and money?
We don't like this answer but we must use it now – it depends.
If you don't mind the average speeds and its inability to work in China, as well as a smaller server count, it may be a good option. The provider works with Netflix flawlessly but other streaming websites don't work on a regular basis. With its lack of special features and a simple feature like an Ad-Blocker, we can't recommend it to everyone.
Modest users will probably find this provider solid but if you're an experienced user, IPVanish won't give you the best experience.