Safari is perhaps one of the best internet browsers out there. If you haven't used any Apple product yet, you probably don't know about it. In short, it's a browser similar to your ordinary Chrome and Firefox that works flawlessly on its platforms. However, as much as Apple's eco-system is safe and secure, this all applies while you're offline. As soon as you get online, things aren't that safe anymore. Of course, without a VPN or an extension of some sort. But, since Safari doesn't support extensions, we'll talk about full-fledged VPNs for this browser.
Why You Should Use a VPN for Safari?
Many of you will say that macOS or iOS are relatively safe platforms. In truth, they are. That's why your iPhone never gets viruses and malware, even if you're visiting suspicious websites. But, a VPN will not only make you safer but also open new horizons online for you. Here are the reasons to use it:
Bypassing Geo-Restrictions
Using a Virtual Private Network means unblocking every part of the internet. This way, you will also have the opportunity to watch the Champions League via a foreign channel or stream Netflix, for instance. Geo-restrictions are a pain in the butt, to be honest. And unfortunately, many quality websites have them.
Some of them are DAZN, Disney+, Amazon Prime Video, Netflix, Hulu, HBO GO, etc. These websites are used for streaming sports, TV shows or movies and are very popular in the USA and the UK. However, if you're not from there, it looks like you can just sit in the corner of your room and cry.
Well, that doesn't have to be the case. A quality VPN will allow you to avoid these problems while using Safari or any other platforms.
You can just connect to a server in the USA, UK or Canada, for example, and start streaming. We know that many Mac and iPhone users love streaming, so using a plugin like this will be much-needed help.
Staying Anonymous Online
When using the internet without protection, you leave an enormous amount of data there. Just think about this – how do advertisers know which ads to display? Or perhaps, how do they know that you like listening to Iron Maiden and start spamming you with their songs on YouTube.
This happens because you're under surveillance. In countries from the 14 Eyes alliance, where surveillance is at its largest, this is especially the case. And then, if you have protection like this, you can change alter your IP address and avoid this altogether.
Remaining Safe When Using Public Wi-Fi Networks
Last but not least, staying safe when using public Wi-Fi networks is very important. If you're someone who travels a lot, you'll often find yourself sitting in some cafes, restaurants or even Starbucks and McDonalds. These places all have their Wi-Fi networks and they give you the password once you sit there.
The problem is, however, that these networks aren't safe. Hackers often lurk around these places, hacking, and collecting info about many people. Once again, if your IP is hidden, you won't be susceptible to this. Although a full-fledged VPN works the best, even a plugin is sometimes decent – ExpressVPN, for example.
How to Install a VPN on Mac/iOS?
Installing a Virtual Private Network on these two platforms is very simple. However, for all you newbies, it's important to go through each step carefully. We'll use ExpressVPN as an example since this is our favorite provider and at the moment, it's the best one.
Go to the provider's website, buy a subscription, and download the apps you need. In this case, it will be Mac and/or iOS. Because yes, there are no VPN extensions for Safari. The app will download in a few seconds and now, you have to install it, which also lasts less than half a minute.
Upon installation, log in with your credentials provided when downloading. Then, the app will look like this: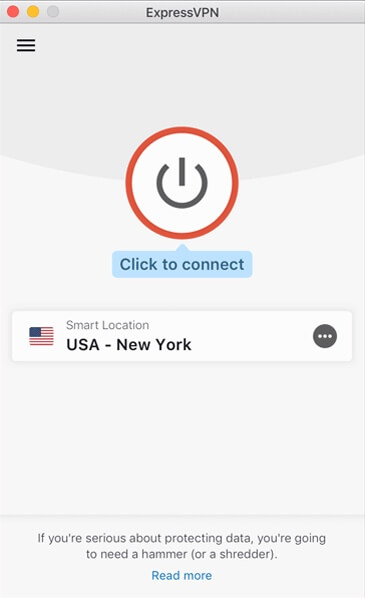 You can either use a smart location or click on the circular button with three horizontal dots. From there, you'll get a server list that looks like this: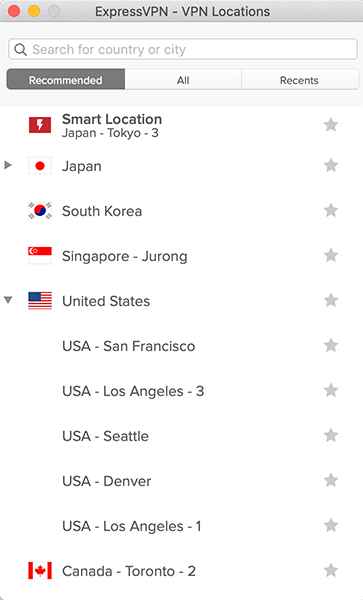 Choose the server you want, click on it, and you'll be connected in a few seconds. When the connection is established, your ExpressVPN app looks like this.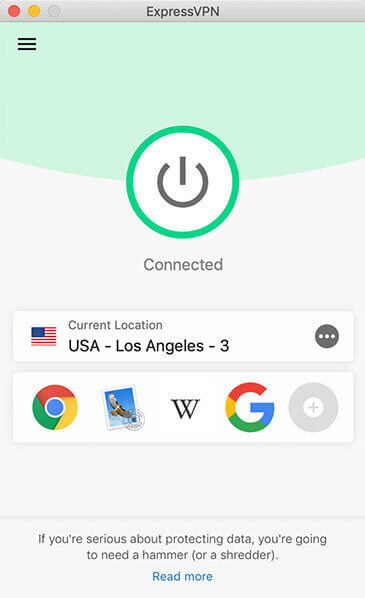 We're now connected to the server in Los Angeles, USA. From there, we can benefit from the VPN protection, use Safari freely and remain anonymous while doing so. Needless to say, it is usable on iPad, iPhone, and macOS computers.
Why Free Solutions aren't Great?
Free solutions have one crucial benefit – you save some cash. However, if a Virtual Private Network costs $3.5 per month on average, your savings aren't very big. People spend their hard-earned cash on the stuff that's either bad or they don't need it. Being protected online is another thing and we think you shouldn't save money on your security.
Here's why these solutions aren't great:
Lack of Security Features
As you might've guessed, free providers aren't very secure. One prime example of this is that many providers lack a no-log policy. This means that the can keep some of the crucial info about you, like IP addresses, browsing history, and timestamps.
The worst thing is that this info can be sold to third-party companies for a pretty big revenue. For free VPNs, this is just one way of making money. The other way is to implement annoying ads that hinder your browsing experience.
Either way, if you're concerned about your security online, don't use a free provider.
Slow Speeds
Slow internet speeds are very annoying if you aren't the most patient person. Having to wait a minute or two for your Netflix show to buffer is going to make you want to punch your monitor or laptop. Now, let us tell you something – it's not their fault.
If you're using a free provider and you're complaining about the speeds, consider getting a premium one. Free options are very slow, making even casual internet browsing bad.
Limited Bandwidth
Last but not least, there are bandwidth limitations from 500MB to 10GB (Windscribe). If you're okay with being limited every month, we completely understand it. From our perspective, we like being anonymous, safe, and browse the internet endlessly.
Top 3 Premium VPNs for Safari
Since free options aren't going to cut it, we've got to use the premium ones. Here are our top 3 VPN picks to use on Safari and Apple products:
1. ExpressVPN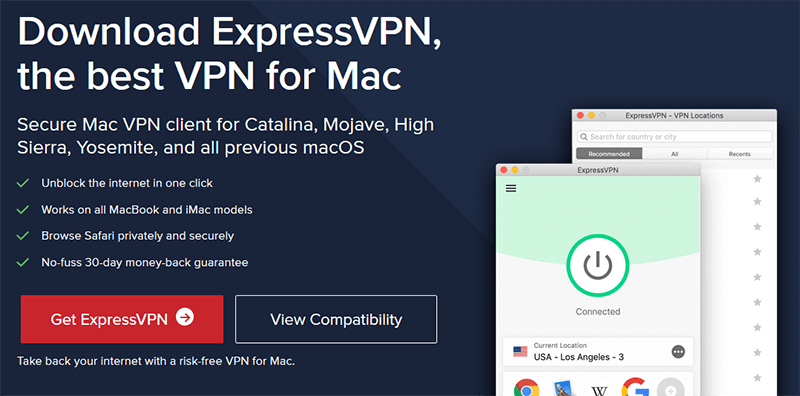 ExpressVPN is easily the best in the game. It's a provider from the British Virgin Islands that focuses on high speeds and rock-solid security. When we talk about the speed, this is the fastest one, allowing you to stream even 4K and 8K content on YouTube.
And security-wise, ExpressVPN offers tons of features. One of these is a zero-log policy, accompanied by 256-bit encryption, an automatic kill switch, and DNS and IP leak protection. Currently, the provider offers a huge 49% discount and 3 months free for a 12-month subscription plan.
In case you don't like this VPN for Safari, you can always get your money back with a 30-day money-back guarantee.
Make Safari more secure with ExpressVPN >
2. NordVPN

NordVPN is a provider that many of you know of. It's stationed in Panama, and from there, it governs 5,500+ servers in 61 countries around the globe. With this vast selection of servers, you are never going to run out of choices.
Now, performance-wise, this is one of the best providers on Mac/iOS. It's very fast, it can bypass geo-restrictions easily, and it's very secure. Needless to say, you get a no-log policy, as well as some of the bonus features like CyberSec, Double VPN, Onion Over VPN, and many more.
The best thing is that you don't have to pay a fortune for this. NordVPN is very cheap and has a huge discount at the moment.
Benefit from all the features offered by NordVPN >
3. CyberGhost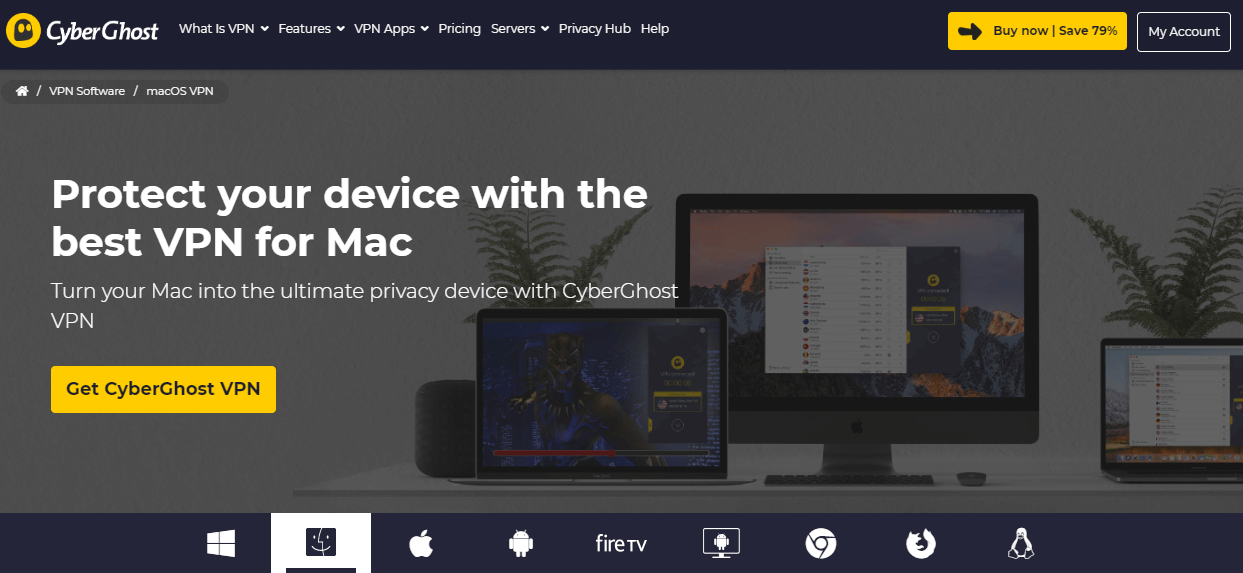 CyberGhost is a Romanian ghostie that hunts the corners of the internet and makes them more secure. With its 6,000 servers in 91 countries, this is the largest provider on the planet. Its dedicated servers are maybe the best feature of any VPN out there. It allows you to use the servers optimized for streaming or torrenting.
Aside from this unique feature, CyberGhost offers a no-log policy and some fast speeds, for all your torrenting and streaming purposes. Not to mention that it's very cheap and great for beginners. So, if you're a newbie in the world of cybersecurity, we suggest getting this one.
All in all, CyberGhost is a great VPN for all platforms, including Mac and iOS… and of course Safari!