Spring and summer are approaching and for die-hard soccer fans, it means one thing – watching tons of quality football matches. As many of you know, UEFA Champions League represents a pinnacle of European football. Here, all the best European teams gather, to see who can win the beautiful Champions League Trophy. However, if you live outside of this continent, you'll find it hard to stream these matches live. Because of that, you'll need two things – a channel that shows this content and a good VPN. If you stay with us, we promise you'll find what you need!
The UEFA Champions League – 2019/2021 Calendar
The last 2018/2019 season of this competition was fierce, intense, and jaw-dropping. As always, 32 teams battled their way to the top, with only one champion. Liverpool caught everyone by surprise, by winning against Tottenham Hotspur in a quite interesting match.
They scored 2 goals, of which one was scored by Mohamed Salah and one by Divock Origi in 87th minute. With that win, Liverpool once again had the feeling of holding the gigantic UEFA trophy. That was their 6th win in the European Cup, surpassing Bayern Munich and Barcelona with their 5 titles.
Of course, Real Madrid is still at the top, with their 13 titles and Milan is just behind them, with 7 titles. So, what are the expectations for the 2019/2021 season? In short, sky-high! Will Pep Guardiola's Manchester City manage to get to the finals? Or perhaps, Real Madrid and Barcelona will come for their redemptions this year.
We're also interested in Juventus, hoping that Gianluigi Buffon will win this trophy for the first time in his life. Also, we can't forget PSG, Bayern Munich, Ajax, and Borussia Dortmund. With all these teams into play, it's easy to see why many men spend their nights drinking beer with friends and watching some UEFA Champions League football live!
If you're one of those men, here's the UEFA calendar for you, to properly organize your time:
FEBRUARY
18/19/25/26 February: Round of 16, first leg
MARCH
10/11/17/18 March: Round of 16, second leg
20 March: Quarter-final and semi-final draws, Nyon
APRIL
7/8 April: Quarter-finals, first leg
14/15 April: Quarter-finals, second leg
28/29 April: Semi-finals, first leg
MAY
5/6 May: Semi-finals, second leg
30 May: Final – Atatürk Olimpiyat Stadı, Istanbul
With that out of the way, let's talk about the means of streaming all these matches in HD… and for free.
Best Channels to watch the UEFA Champions League  for FREE
As Arrigo Sacchi said – Football is the most important of the least important things in life. If you're not a woman, you'll most likely agree. Unfortunately for us, many streaming platforms know this too, hence why they're cranking up their prices for this kind of service.
With only a handful of channels broadcasting this competition for free, you'll have to rely on a few of the verified channels. Here are our recommendations:
RTS (Radio Télévision Suisse) – Our Recommended Option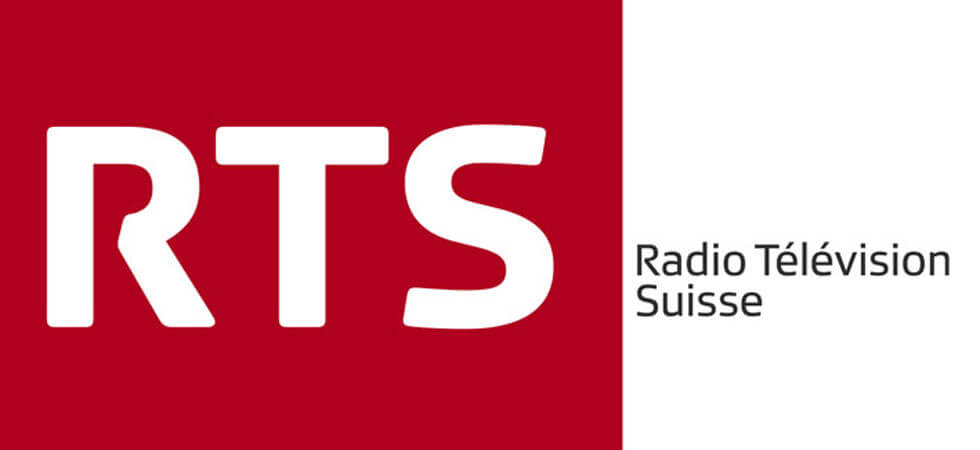 RTS is a Switzerland-based television with lots of content to offer. For the start, it's created in 2010 and is currently among the most popular televisions in its country. The company has a couple of TV stations, as well as some radio stations at the moment. TV stations include RTS 1, RTS 2, RTS Sport, RTS Info. For this purpose, we're interested only in the first two.
While RTS Info is mainly for listening to the news, the first three channels are great for broadcasting sports. The channel's website is, however, in Swiss. So, if you're from an English-speaking country, you'll have a hard time understanding it. You can use Google to translate it, though.
So, what does the channel offer in terms of sports? There's soccer, hockey, tennis, ski, athletics, cycling, motorbike, and other sports. RTS also broadcasts Formula 1, for those who love motorsports. Accessing live streams is very easy here. You choose the sport you want and from there, you choose the available live streams.
But, if you're not from Switzerland, you'll get this screen: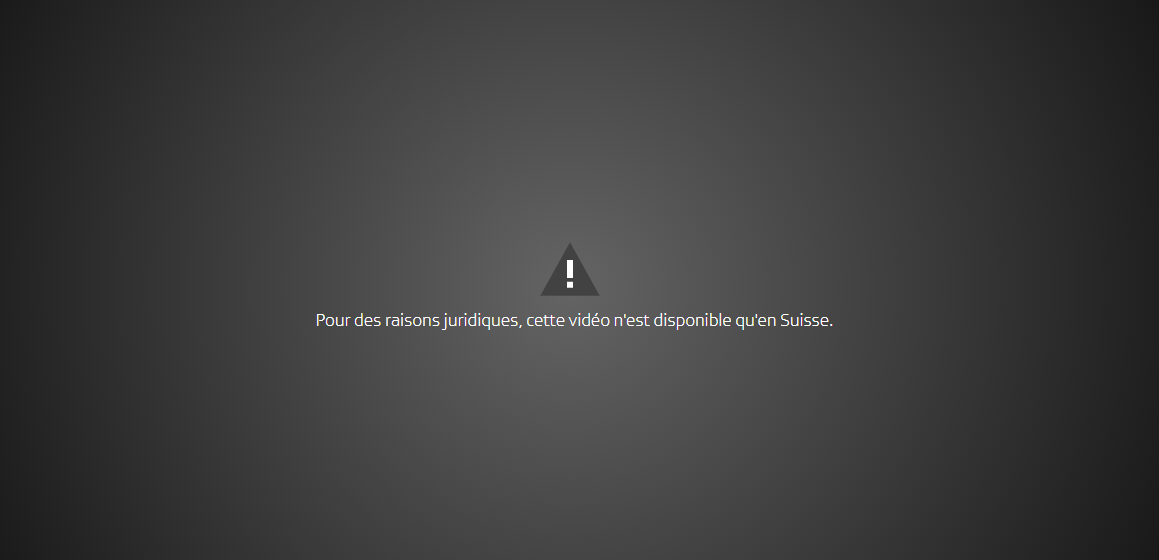 You don't need a translation for this. It means that content isn't available because you're not from Switzerland, as we mentioned above. We have a solution for this, so stay with us to find out how to unblock this site.
MatchTV – Russian TV Channel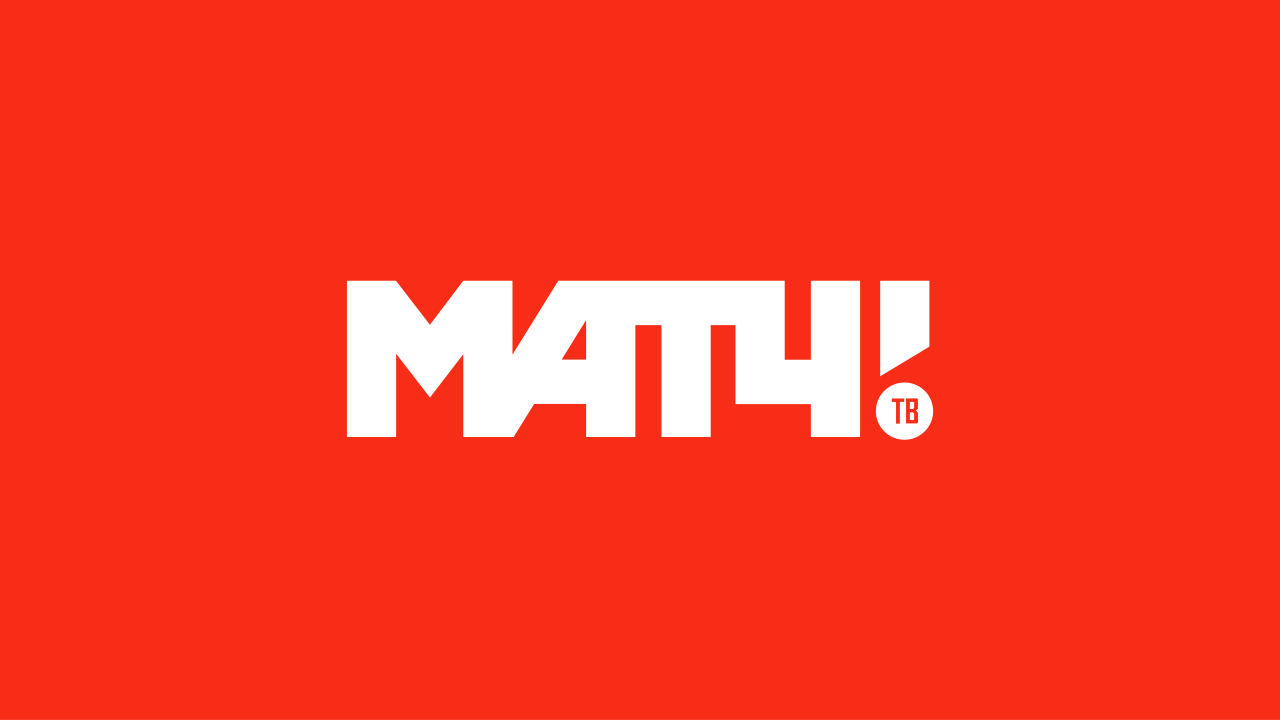 MatchTV is a pretty powerful TV channel in Russia. And as you might've guessed, it's all in Russian. Even people from Slavic countries will have a hard time understanding it, despite using Cyrillic letter. But, if you translate it, you'll get a pretty good representation of it.
The channel is jam-packed with sports. You can find football, biathlon, hockey, MMA/boxing, basketball, and even some winter sports. To access the stream, click on the sport you want, and then on Broadcasts (when translated from Russian).
If you're not from Russia, you know what will happen – you won't be able to watch the stream. Because of that, we recommend getting a good Virtual Private Network to unblock any blocked site. In this particular case, we recommend you use Surfshark as it is the only reliable provider offering servers in Russia.
Geo-Restrictions Explained
Geo-restriction is a term that is often mentioned in the world of cybersecurity. If you've ever tried accessing Disney+ or DAZN and you're not from the USA, you've probably seen a message that looks like this: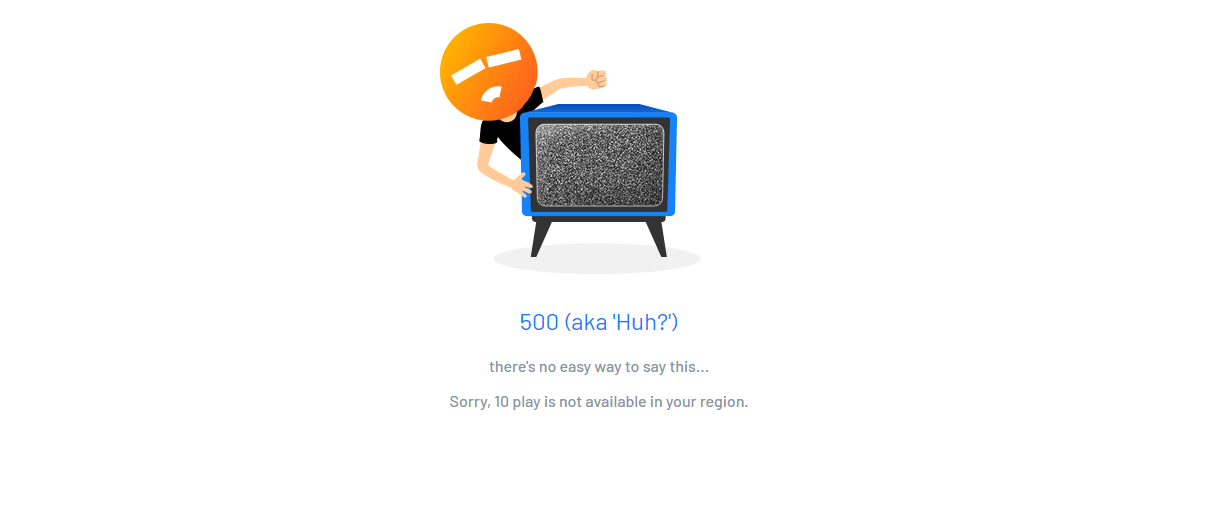 This is an example of TenPlay, a platform for streaming sports that's unavailable out of Australia. Of course, this is what a geo-restriction is. The question is – why does it happen? It happens because of the copyright. Let's use Netflix as an example.
Netflix buys a movie or TV show from a certain company. This company tells Netflix that they're not allowed to broadcast it outside of the USA, for example. Then, Netflix blocks this content and restricts it only to the United States.
However, if they broadcasted it outside, that would be a copyright infringement, and that company could sue them. The fines for doing something like this are enormous, even reaching millions of dollars. This is why streaming platforms restrict their content based on the geographical location.
So, before you get all salty and angry, read this section again and you'll understand why this happens. If you use a VPN, however, bypassing geo-restrictions will not be a problem in order to watch any matches of the UEFA Champions League. It lets you take an IP address from another country, thus become anonymous, and access the site you want.
Disney+ is, for instance, locked to the USA (and few other countries). You can connect to the American server and access the website as if you were an American citizen.
How to Unblock RTS From Anywhere in the World Using a VPN?
In this section, we'll see how using a Virtual Private Network can help you unblock RTS in order to stream matches live from Liverpool, Real Madrid and many more teams. Here are the steps:
Get a Subscription
The first thing to do is to get a subscription. Scroll down and glance over to our list of best providers for this purpose. Choose the one you want and get back to our steps.
In case you're wondering, we recommend ExpressVPN. It's an all-around provider with some high speeds and rock-solid security, excellent for watching UEFA Champions League.
Currently, it offers a 49% discount and 3 months free for a 12-month plan.
Download the Apps
Now that you've made your choice, download the apps for the desired platforms. Here, we used Windows as an example but you can do the same on your iOS, Android, Mac or Linux device. When the app is downloaded, install it, and open it.
On PC, you'll see the simplistic interface of ExpressVPN, which we used as an example here. The big power button lets you connect to the server you want and it's something you'll need now.
Connect to a Swiss Server
What you'll also need is a Swiss server. Use the server list to scroll down and find it. Click on the server and then, click on the big power button. Wait a few seconds and your connection will be established. Remember, RTS is from Switzerland, so no other server will allow you to access it.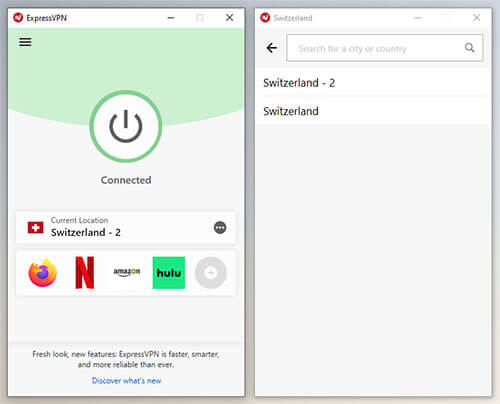 Before accessing RTS, however, be sure to disable Ad-Blocker if you have one. This will grant you access to the website.
Enjoy UEFA Champions League for FREE
Finally, you get to enjoy your dose of football for free. You can now explore RTS further and watch other sports if you're interested in them. Plus you don't even need to create an account on their website! You can just access the website and watch the live stream feed.
As you can see, it's all very simple and will take you less than 5 minutes from the moment you buy a VPN.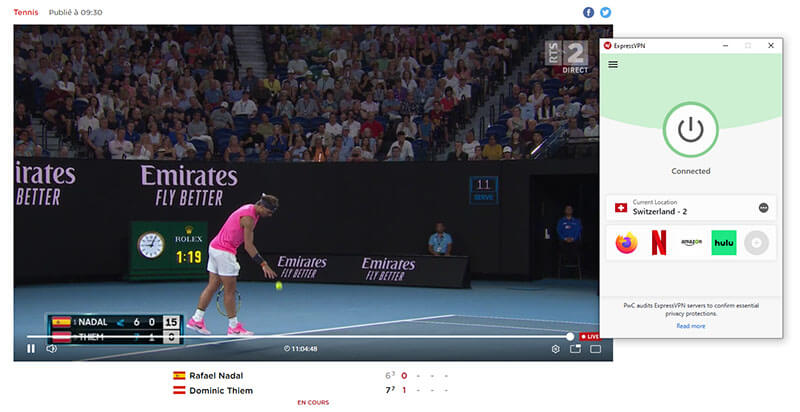 How to Watch UEFA Champions League Abroad?
We'll now take a look at a couple of options for watching the UEFA Champions League abroad. Note that these solutions are not free. We're listing them just to let you know that thanks to a VPN, you can still access them while abroad. Here are a few choices for the following countries:
The United Kingdom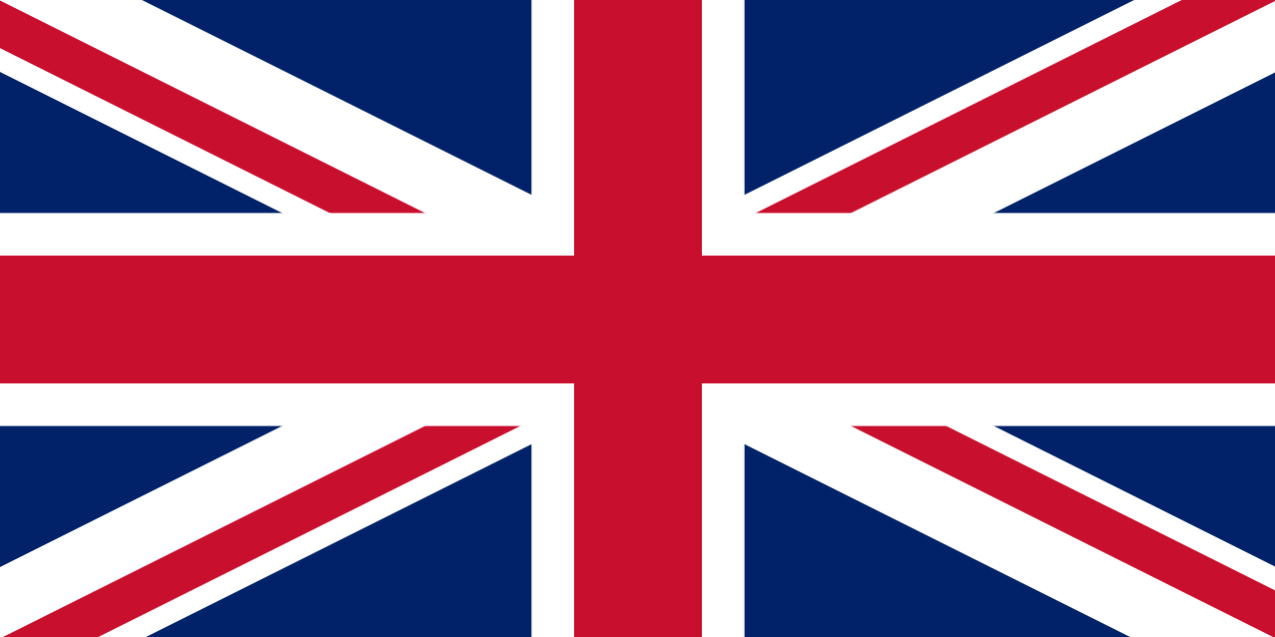 If you're in the UK, you won't have to miss a Tuesday-night live stream. The channel BT Sport broadcasts Champions League exclusively in the United Kingdom. Of course, the 2019/2021 season will be broadcasted in February of 2021, all the way to May, when the championship finishes.
The great thing about BT Sport is that it allows 4K streaming – for certain matches. If your TV or monitor supports it, you can watch it. BT Sport, however, isn't free, so you'll have to get a subscription. And wether you're from the UK or not, you can use a VPN to access it abroad (just connect to a server in the UK).
The US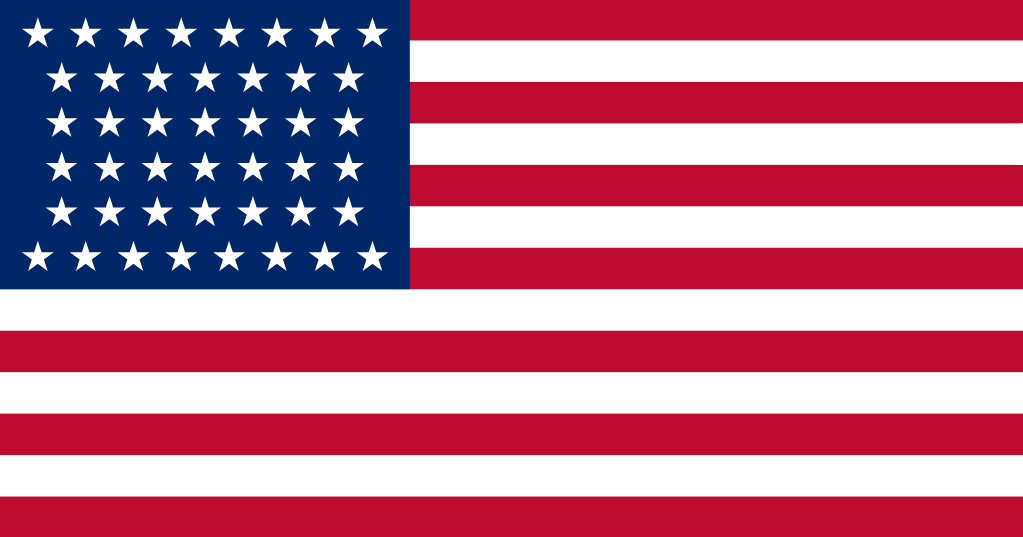 In the US, a popular channel by the name of B/R Live broadcasts the Champions League from start to finish. You can access the channel via Roku,  Apple TV, and Amazon Fire TV. The monthly subscription costs $9.99 a month or you can buy an annual plan for $79.99 a year.
Those who already use Univision or TNT channels can watch the matches from B/R Live. They're broadcasted at around 3 pm ET or 12 pm PT.
Australia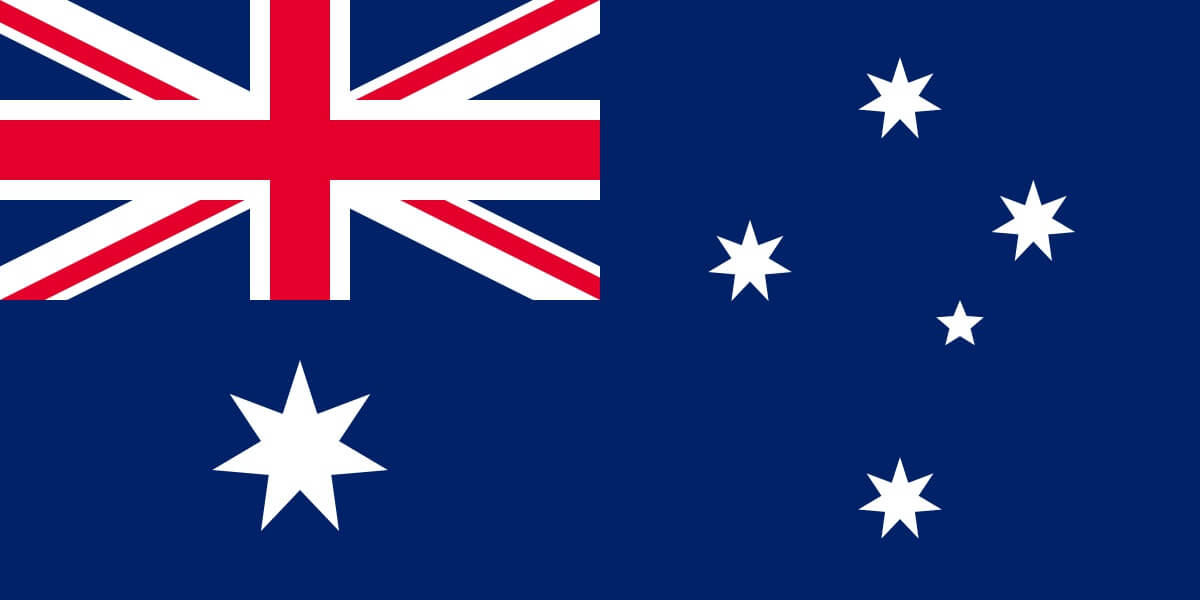 The TenPlay channel doesn't broadcast the Champions League this year. However, the Optus Sport channel does. This channel has an app that you can download on your tablet or smartphone, and easily access its content.
Furthermore, it also supports Apple TV, Fetch TV, and Chromecast. The commentary is in English, making it great even for the American and some European countries.
Canada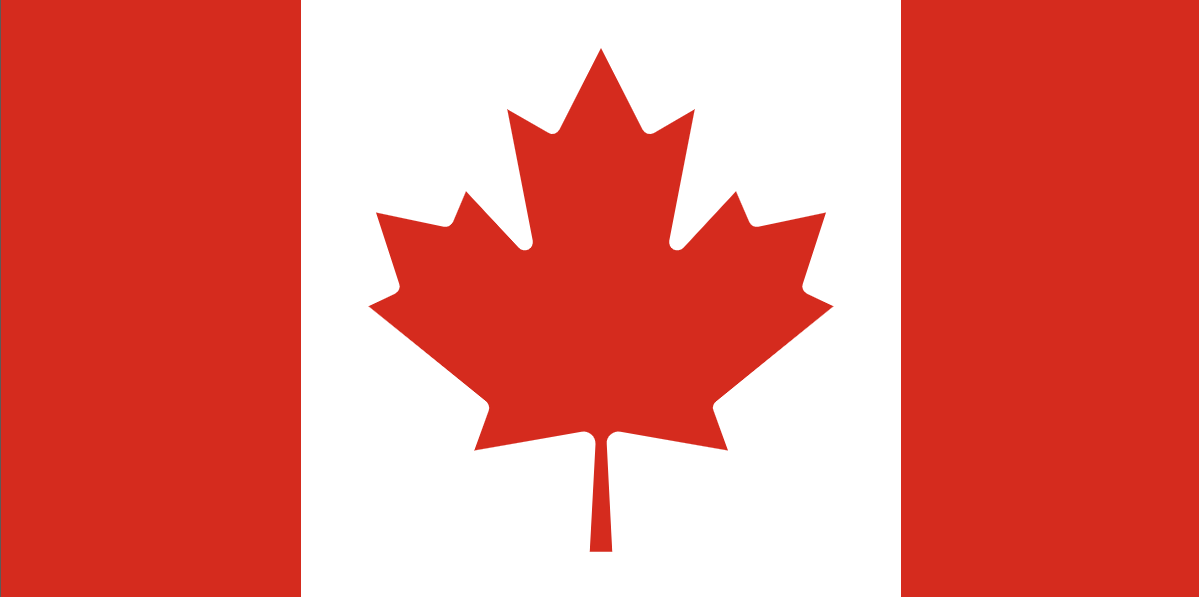 Canada has one of the most popular sports-streaming platform called DAZN. You've heard about it, right? DAZN will broadcast the 19/20 season this year, with every single match being shown live.
Although it costs $150 a year or $20 a month, for a monthly plan, you also get a one-month trial. We can say that it's sort of a free option, although only for 30 days. Of course, if you're located in some of the supported countries, using a VPN is a must.
India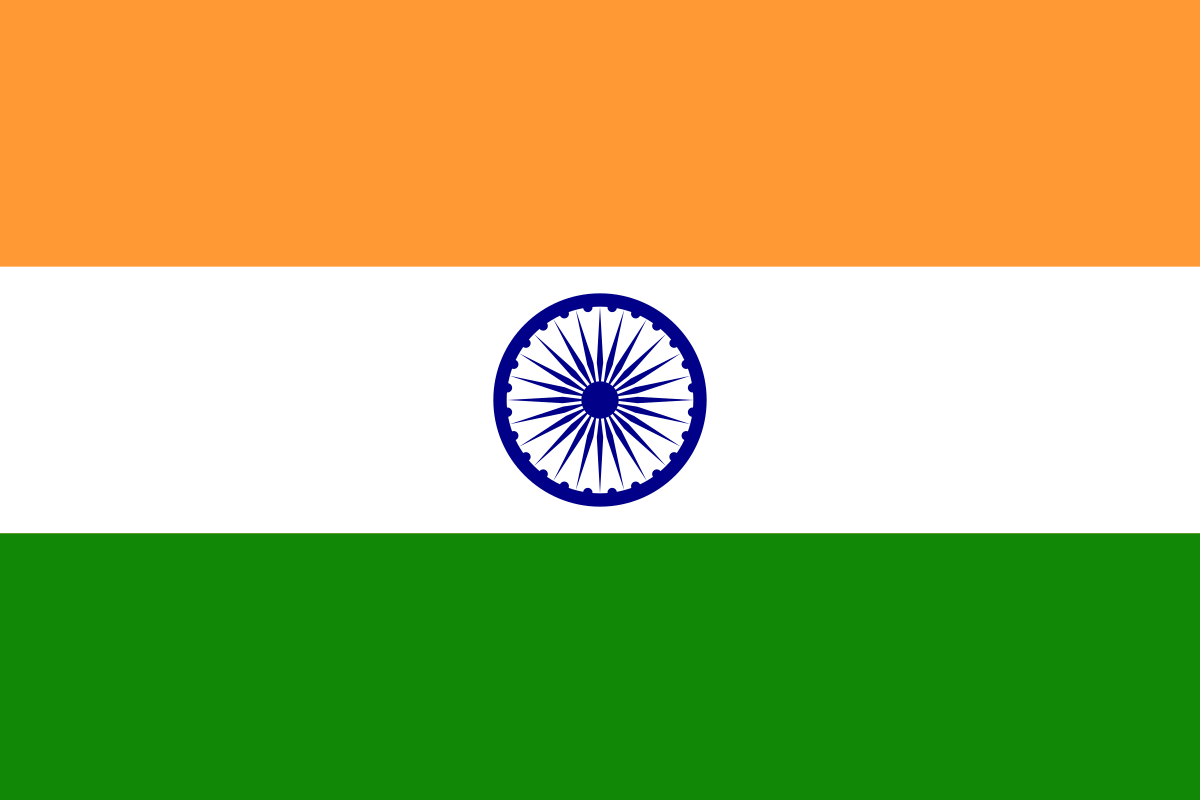 Indians also love watching football, and not just play cricket. If you're from this country, you can use SPN (Sony Pictures Network) to access the UEFA Champions League.
If you are currently abroad, you will just have to connect to a server based in India in order to bypass geo-restriction rules. All the providers that we will present you right after offer servers there.
New Zealand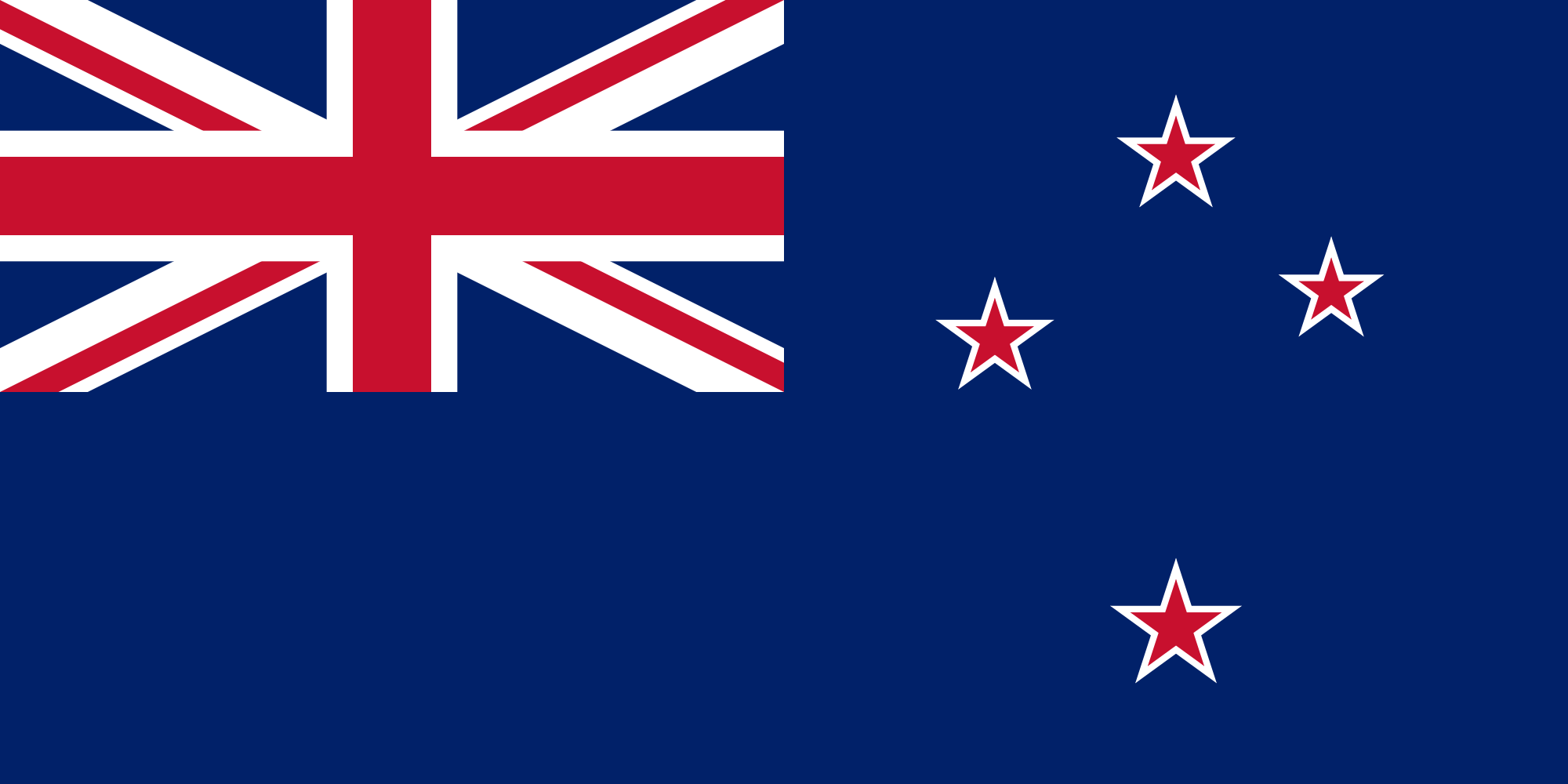 Finally, in New Zealand, you can use Sky Sports. This channel is known for its wide coverage of a variety of sports. For the 2019/2021 season of the Champions League, the channel will broadcast more than 100 live games live and on-demand. If you're using your mobile phone for streaming, just use the SKY GO app and you'll be able to watch the same content.
Best VPNs for Watching the UEFA Champions League
Not every provider can unblock the most popular streaming platforms. Here are our top 3 providers, so you don't have to miss football matches anymore:
1. ExpressVPN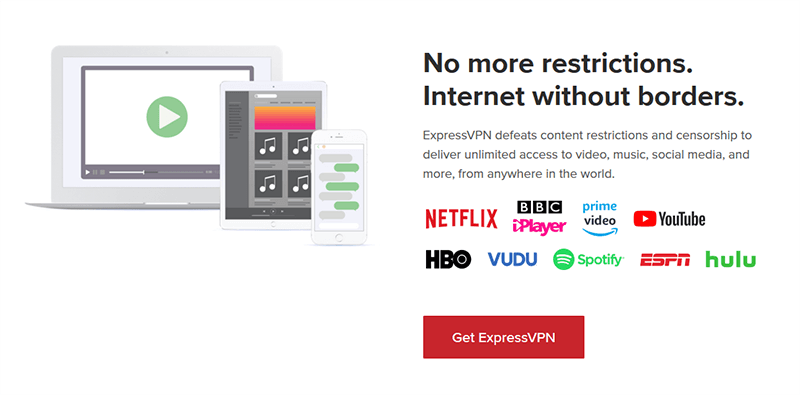 ExpressVPN is easily the fastest provider on the market. This plays a big role in whether the stream in HD will be enjoyable or stuttery. Another role is the ability to bypass geo-restrictions, and there, this provider dominates the industry.
That is why we have chosen to put it #1 in this article presenting you how to watch the Champions League on free TV channels.
Aside from that, ExpressVPN offers impenetrable security and military-grade encryption. Of course, since it's from the British Virgin Islands, you get a crystal-clear no-log policy, to keep you safe and secure online.
In terms of server number, you get 3,000+ of them in 94 countries worldwide. It's a very impressive number, given how well these servers work.
2. NordVPN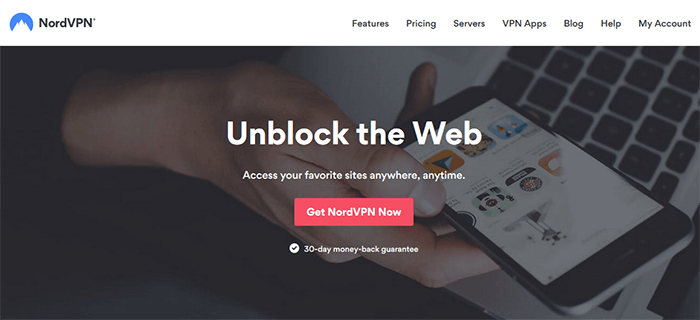 NordVPN is a Panama-based provider that has a lot to offer for an affordable price. Panama might not be the most developed country but it's far from the 14 Eyes, so there's a zero-log policy. When it comes to streaming, the provider has some fast speeds, accompanied by rock-solid security.
Furthermore, there's a CyberSec technology for blocking ads and SmartPlay feature for accessing all geo-blocked sites. If you want to save some cash, yet still get everything you need, NordVPN is an excellent choice.
3. CyberGhost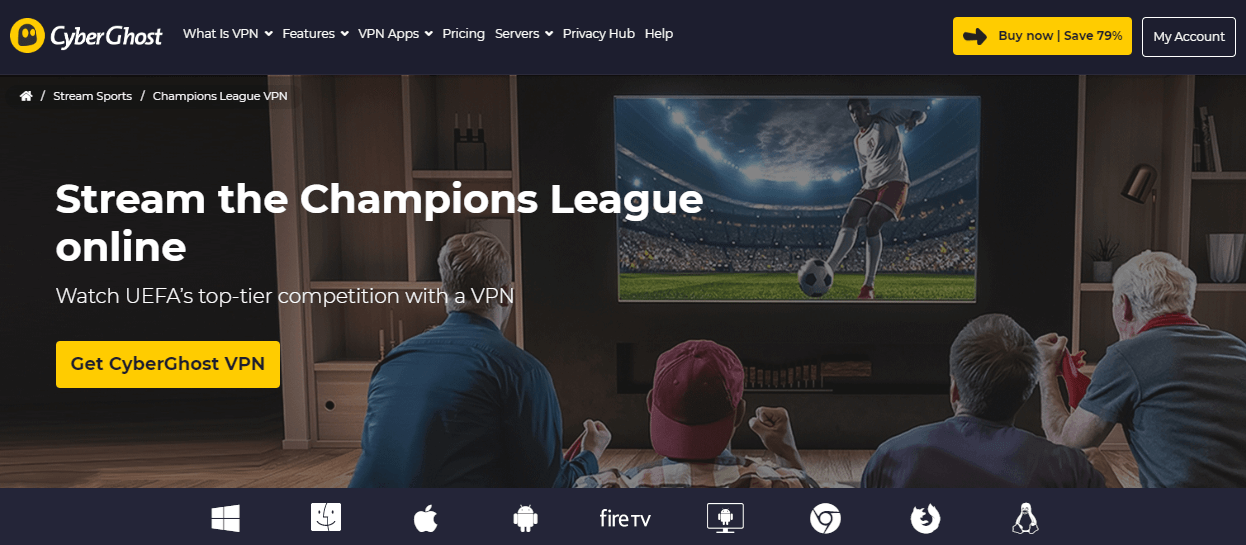 CyberGhost is the largest provider on the planet, with its whopping 6,000 servers worldwide. Size definitely matters as the company offers numerous servers in the USA, UK, Switzerland, Canada, and Australia.
Do you understand better why we recommend it in order to enjoy a streaming of the Champions League? 😉
On top of that, you get dedicated servers of which you can choose either streaming or torrenting. Speaking of torrenting, a VPN can also help you avoid DMCA sanctions. That way, your online activities will always be speedy, safe, and secure.
Like NordVPN, CyberGhost is very cheap, especially in its 3-year subscription plan, so don't be afraid to check it out below. In addition, you will be entitled to a 45-day money-back guarantee!