The motorsport lovers know how exciting it is to watch an intense F1 race. Although we're not talking about the most popular sport, it has its loyal fanbase. Since 2014, this championship was mostly about Mercedes-Benz, with its ruthless domination on the tracks. And if you're keen on watching this championship, we understand you. It's fun, especially when you pop some beers with your friends. But, the channels that broadcast this championship live are mostly paid ones. Let's see how to enjoy streaming Formula 1 for FREE… and from anywhere in the world.
Video tutorial to understand quickly how to watch F1 on a free TV channel :
Formula 1 Championship – The 2021 Calendar
Those who follow the Formula One for quite some time, they know how unforgiving it is. It takes only a single mistake to steer away from the podium and remain left in the dust. So, how good was the previous year? We would say exciting, despite the fact that we witnessed the same result from the last couple of years.
Lewis Hamilton won his 6th consecutive World Championship title in his loyal Mercedes-Benz Formula One. If he manages to win 7th title this year, he'll be the only driver to hold that many trophies. However, drivers from the Ferrari team are hell-bent on breaking this vicious win cycle of Lewis.
Ferrari also has its loyal fanbase and everyone is hyped before the beginning of the season. The driver that can take on Lewis is Charles Leclerc with his Ferrari. But, we know Lewis as being one of the best drivers of all time, so it'll be interesting to see how things will play out.
The 2021 season surely promises a lot. We're expecting the same amount of fun, excitement, and thrill as hardcore motorsport fans.
Let's take a look at a race calendar for this year:
21 March: Australian Grand Prix
28 March: Bahrain Grand Prix
11 April: Chinese Grand Prix
25 April: TBC Grand Prix
9 May: Spanish Grand Prix
23 May: Monaco Grand Prix
6 June: Azerbaijan Grand Prix
13 June: Canadian Grand Prix
27 June: France Grand Prix
4 July: Austrian Grand Prix
18 July: British Grand Prix
1 August: Hungarian Grand Prix
29 August: Belgian Grand Prix
5 September: Dutch Grand Prix
12 September: Italian Grand Prix
26 September: Russian Grand Prix
3 October: Singapore Grand Prix
10 October: Japanese Grand Prix
24 October: United State Grand Prix
31 October: Mexican Grand Prix
14 November: Brazilian Grand Prix
28 November: Saudi Arabian Grand Prix
5 December: Abu Dhabi Grand Prix
As you can see, the first event of 2021 is the Australian Grand Prix, which will transpire on March 21st at Albert Park Circuit.
The best thing is that you still have a lot of time to prepare for the upcoming season in order to watch the F1 in livestream and on FREE channels. By that, we mean getting a quality Virtual Private Network for bypassing geo-restrictions, which we'll talk about later.
Of course, you don't have to go broke, as some VPNs cost less than $2 a month, so don't be afraid.
Best FREE Channels for Streaming F1 Live
The goal of this guide is to gain access to your favorite motorsports events for free. Because of that, we took our time to find the best channels that will allow you to do it without subscribing or paying a little something. Unfortunately, not many channels will stream F1 for free in 2021.
In our article about watching MotoGP for free, we mentioned TenPlay. This Australian channel broadcasted F1 all until 2021, so this time, it's out of the game. But, if you don't mind European channels, here are our recommended choices:
RTS (Radio Télévision Suisse) – Switzerland (Recommended Option)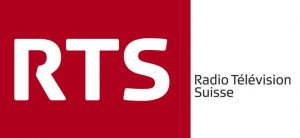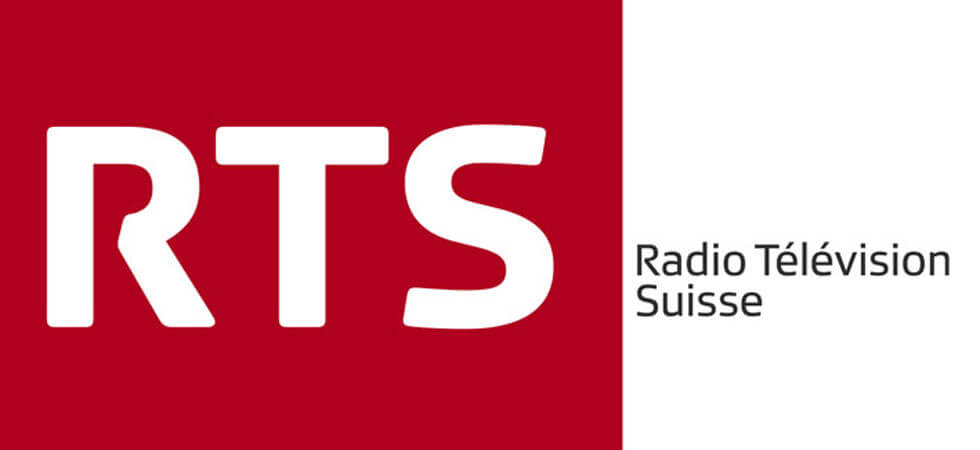 The first channel on the list is the one from Switzerland. This country has a fair share of high-quality streaming channels and this one is no exception. However, if you care about commentaries, you'll probably dislike that they're not in English.
Instead, you get French commentaries. If you don't know the language, you'll struggle to understand anything but on the other side, you'll have F1 Championship at your hand's reach. Needless to say, this channel is completely free, so all you need to do is to access its website.
So, what do we have there content-wise? For the start, this is an all-around channel. You get to read news of every type, enjoy radio, TV programs, as well as inform yourself about the weather and culture. RTS has a couple of TV channels under its belt – RTS 1, RTS 2, and RTS Info. The first two are for this type of content, while the Info edition for watching the news.
RTS offers a lot when it comes to sports. You can find soccer, hockey, tennis, ski, athletics, cycling, motorbike, F1, and other sports here. The great thing is that you can keep up with sports events through news AND live streams.
Of course, there's a caveat. RTS is available only in Switzerland. So, if you want to access it, you'll need to alter your IP address to the one in this country. Also, if you're a gambler, a VPN will enable you to access your favorite bookmakers everywhere in the world, as well as this site.
RTBF (Radio-Télévision Belge de la Communauté Française) – Belgium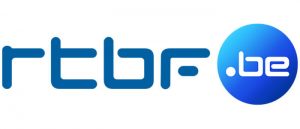 RTBF is one of the largest channels in Belgium and one of the best option to watch F1 stream for free. It has both radio and TV services catered towards the French-speaking community in this country – in Brussels and Wallonia. The channel has other two incarnations in for people who speak Dutch and German Language.
These two channels are called VRT and BRT respectively. RTBF is located in Brussels, and from there, it operates five television channels, as well as a couple more radio services. But, you're here because of the motorsport and Formule One, are you? Well, we're going to talk about that.
Content-wise, RTBF is very similar to RTS. The website offers everything from news, radio, and culture to sports events, and TV shows. In the Sports department, you get pretty rich offerings. There's soccer, cycling, tennis, MotoGP, Rally, and of course, Formula 1.
When it comes to motorsports, there are tons of them to enjoy. IndyCar, MotoGP, Moto 2, Moto 3, Moto Cross Mx1, Formula 1, Formula E, and many more. However, if you're not from Belgium, you'll have a hard time accessing it. Or better said – you won't be able to access it!
Since the channel is free, you'll only need a VPN to change your IP to the Belgian one. Also, if you want to watch MotoGP, you can do it from here but we recommend TenPlay, for which you'll need to be from Australia.
If you need a VPN for Australia, check our selection right here. These providers will allow you to access TenPlay, a popular Australian channel.
ABC (American Broadcasting Company) – the USA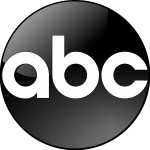 Finally, we have the ABC channel from the United States. This channel is well-known in this country. It has a nice, dark interface, with lots of movies and TV shows at your palm's reach. The Bachelor, Grey's Anatomy, 8 Simple Rules, and American Housewife are only some of the shows you can enjoy.
However, the channel offers some live streams. Of course, they broadcast Formula 1 live and in HD. To be precise, not the whole season. You get four races only – Monaco, Canada, Mexico, and the USA. These are streamed live, except for the Monaco race, which you can see afterward.
Because of that, we put ABC in the last place. It offers F1 streaming but partially, which isn't enough for hardcore fans.
How a VPN Can Help with Geo-Restrictions?
If you're often reading our website, you probably noticed that we talk about geo-restrictions a lot. This is a problem that plagues almost every quality streaming platform. Netflix, for example, is one of them. Many people who use a Virtual Private Network use it mainly for fixing this issue.
Let's explain what it is and how to fix it.
Geo-Restrictions Explained
Open your internet browser and type in Netflix.com. You'll see that the website is available in your country, even if you're not from the USA. Now, type Disney+ in your search bar and try to access it. You'll get a message that it's not available in your country if you're not from the USA or other supported countries.
Why does it happen? Simply put, because of the copyright. Let's use Netflix as an example. Netflix buys a particular movie from the company that sells it. This company, when selling the movie, says to Netflix that the copyright is only for particular countries. For example, they can show it in the USA, the UK, and New Zealand.
Now, if Netflix shows the movie somewhere else, the company will sue them, and take millions of dollars from it. Why? Because they violated the copyright that this company made crystal-clear to Netflix. This is why the geo-restrictions appear.
But, on the brighter side, they can be bypassed if you use the IP from one of the supported countries.
How to Access RTS Using a VPN?
In this section, we'll see how to access RTS using a Virtual Private Network. This is our recommended choice for Formula 1 and the steps we take here can be applied to other geo-blocked platforms. Also, you'll take the same steps even if you're using a different provider. Let's see how to do it:
Get a Subscription
Before getting a subscription, scroll down and take a look at our next section. There, we mentioned 3 best providers for streaming Formula 1 free. Take one of them, and get a subscription. We recommend ExpressVPN, as it's the fastest and best in terms of security.
Currently, it offers a 49% discount for a 12-month plan, plus 3 months free. Needless to say, steps from below are for ExpressVPN.
Download the Apps
When the payment is processed, ExpressVPN will let you choose which apps you want to install. Install the ones you want (your tablet for example if you want to watch a streaming of Formula One from it), sign in with your email and password, and you'll see the simplistic interface that looks like this: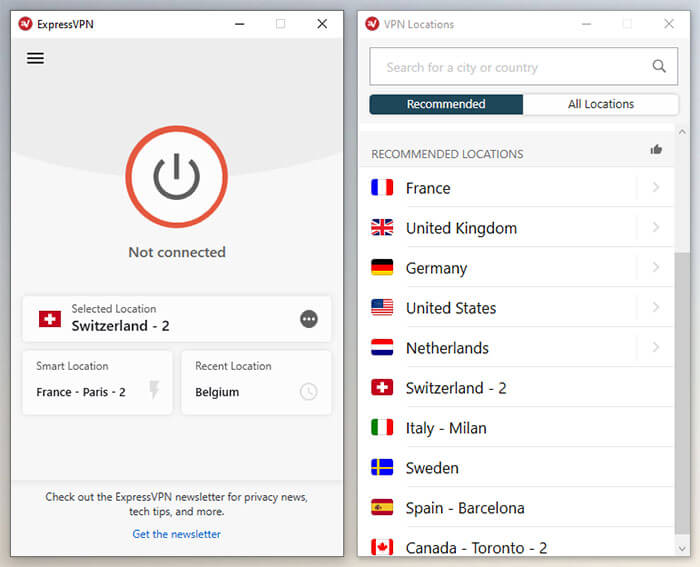 On the left side, the big circular button is used to connect to the server you've chosen. The only thing that's left is to choose the required server, which is in the next step.
Connect to a Swiss Server
ExpressVPN offers some high-speed-high-security servers in Switzerland that will allow you to access and watch a channel broadcasting the F1 Grand Prix.
Use the list on the right side, scroll down, and find the country (US server for ABC, Belgium server for RTBF…). Click on it, and then click on the big circular button on the left. Wait a few seconds and your connection will be established.
Enjoy Formula 1 Throughout the Whole 2021
From this moment, you'll be able to access RTS live streams and watch Formula 1, regardless of your geographical location (here is a example below that proves it is working with a VPN such as ExpressVPN).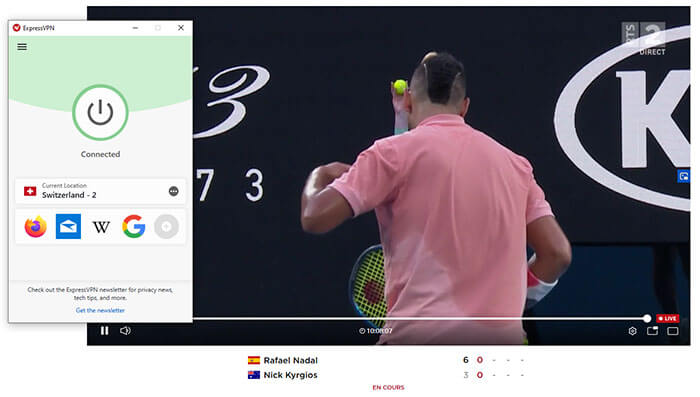 Best VPN Providers for Watching F1 Anywhere in the World
For the end, let's see what are the best providers for watching motorsport and F1 from anywhere. Here are our top 3 picks:
1. ExpressVPN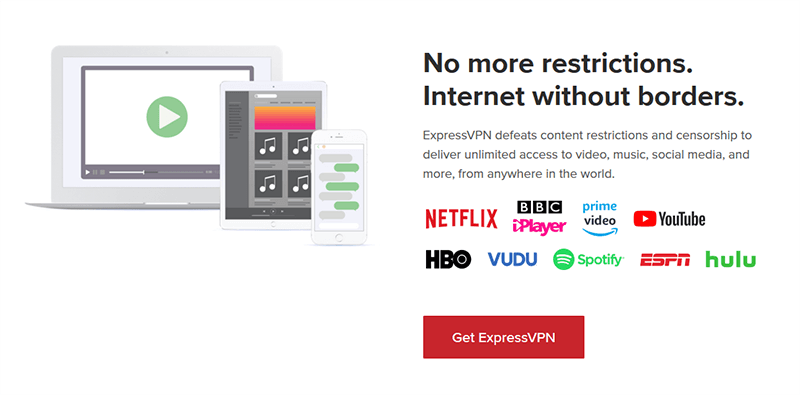 As you might've guessed, ExpressVPN takes the first spot in order to watch F1 Grand Prix stream on free TV channels. In terms of its pricing, this isn't the cheapest provider on the list. But, you get virtually everything you need for safe and secure internet access. We mentioned how fast it is numerous times and we'll do it again.
In our streaming and torrenting tests, ExpressVPN constantly outperformed every other provider. We also accessed RTS easily and managed to stream some basketball in the highest possible quality. Aside from that, you get a zero-log policy and military-grade encryption, making it highly-secure for all online purposes.
2. NordVPN

NordVPN is a provider from Panama that always manages to impress us. When it comes to popularity, this one is on the same level as ExpressVPN. However, speed-wise, it's a bit slower, which is still considered VERY fast. Now, you probably want to ask about our F1 experience using this provider.
The short answer is – impressive! NordVPN connected to Swiss servers in less than 5 seconds, allowing us to access RTS' rich offerings. The best thing is that the provider offers a no-log policy along with its rock-solid security features. If you want the best bang for your buck, this is among the best choices.
3. CyberGhost

Finally, we have CyberGhost, a provider that never disappointed us. With its 6,000+ servers worldwide, this is the largest provider in the world. It's from Romania, far away from the 5 Eyes Alliance, so you also get a no-log policy.
Thanks to its dedicated servers, torrenting, streaming or browsing are all blazing-fast. In Switzerland, CyberGhost offers 150 servers, making it perfect for accessing RTS, thereby, allowing you to watch Formula 1 live and in High Definition.
Summary
A Virtual Private Network is something we always recommend, regardless of what you're doing online. Staying safe during your internet voyage should be your top priority nowadays, with an increased rate of the cybercriminal.
But, if you just want to stream motorsports such as Rallyes, MotoGP or Formula 1 Championship, you'll also need a reliable provider. For this purpose, we recommend ExpressVPN. It's fast and it can unblock geo-blocked websites easily.
You can also check NordVPN and CyberGhost, as they both offer decent performance for streaming (and more affordable pricing!).