As an English-speaking country, many think that Australia is at the same level as the UK or the USA. However, that is not the case. People from this country, or should we say continent, often feel isolated from the rest of the world, and not just geographically. This is because of the country's strict internet laws that started to take a toll on the residents' privacy and security. Unfortunately, you'll need a rock-solid VPN when visiting Australia, which is why we came up with a special list of best providers, so stick with us!
Why You Should Use a VPN in Australia?
Although we like this country's beautiful landscapes, we can't say we often feel safe there. And no, it's not because the kangaroo wants to uppercut us but because we don't feel safe online. So, here's why we recommand to use a VPN in Australia, and why you should, too.
Torrenting Safely
Usually, when we talk about Virtual Private Networks, we don't often put torrenting in the first place. The truth be told, many countries around the world don't deem torrenting as illegal. But, in this beautiful, yet dangerous country, it's illegal.
The first step towards killing this activity in the country was the Three Strikes Rule, which the government tried to implement in 2016. The law implied that ISPs notify those who torrent on behalf of copyright holders. Although this was too expensive in the end, it didn't prevent the government from doing its business.
At the end of 2016, in December, the Australian federal court ordered every Internet Service Provider to block some of the most popular torrent websites. At the time, these were Torrentz, IsoHunt, SolarMovie, TorrentHound, and of course, the almighty PirateBay.
Just a year later, another step towards putting an end to torrenting was implemented. The Internet Service Providers added another 59 pirating websites to the blacklist, which was a total of 160 at the time. Finally, in 2018, the government decided to add all mirror and proxy websites to the list.
If you ever think about torrenting in this country, please think again. Getting caught will probably drain your wallet because of hefty fees that the government issues. It's better to pay a few dollars a month for the best VPN for Australia than hundreds of dollars because you didn't think on time.
Preserving Your Privacy
Torrenting is just one fish in the sea of problems. Just when you thought that you can do everything aside from torrenting, another problem smashes you at 120mph.
Australia has strict data-retention laws that allow the government to spy on you via your ISP. Although your ISP can see your internet activity in any country, here, it's the law that forces them to do so.
The government forces not only ISPs but also telecom companies to record and monitor your data, including emails, texts, locations, and phone calls. Furthermore, they request that this information is kept for two years. This means exactly what you think – the government knows what you did year or two before!
But, this isn't where the horror ends. The state agencies are also involved in this harassment, as they have free access to residents' private data. They can and will monitor your every move on the internet without you knowing it. Because of all of that, you'll need a good Virtual Private Network provider in this country.
Bypassing Geo-Restrictions
With just a handful of countries speaking English natively, you would think they can at least watch Netflix peacefully. Well, no – they can't! Australia is always at the bottom of the barrel among these countries and it's such a shame that they can't access all the websites that the USA or UK can.
If you love streaming TV shows, movies, and sports events, you can't do that without the means for bypassing geo-restrictions. Let's make something clear, though. Netflix or Amazon Prime Video are all accessible for Aussies. However, it's the catalog that's different (unless HBO and Hulu that are reserved to Americans).
Americans, for example, get the largest catalog of movies and TV shows on these platforms. Australians, on the other hand, not so much. This also applies to other popular streaming platforms, even sports-oriented ones, like ESPN and DAZN. These are both blocked in this country.
Also, if you're from Australia and you travel abroad, you'll need the best VPN possible to access your favorite local TV shows. Either way, we don't suggest either living or traveling to this country without a subscription from your favorite provider.
Best VPN Providers with Servers in Australia
Whether you're traveling abroad or you moved to another country and you miss your homeland, you'll need a VPN provider with servers in Australia. Here are our top picks:
ExpressVPN: the provider comes equipped with second-to-none features and cheetah-like speeds. With over 100 servers in this country, Aussies will enjoy their favorite local content from anywhere in the world.
CyberGhost: CyberGhost has 6,000 servers worldwide, making it the largest provider at the moment. In this country, they have 104 servers in Brisbane, Melbourne, and Sydney. Needless to say, they're fast and secure, so don't have your standards low.
NordVPN: It has 200+ high-speed, P2P-ready servers in Australia. With them, you'll be able to stream 4K Netflix shows and download torrents with the snap of a finger. It's also among the most affordable options at the moment.
Installing a VPN, regardless of your location, is quite easy. Just buy a subscription from your favorite provider, install the respective apps, and enjoy what it has to offer. You can even use it on your Amazon Fire TV and other streaming platforms.
Are Free VPNs Good for Privacy and Security in Australia?
What about free VPN for Australia? We believe you have some friends that use free providers and they aren't complaining. But, whenever something is free, we always take a step back and look from a different perspective. For example, F2P (Free to Play) games often have microtransactions, so the players buy items with real money.
In this case, the provider must make money somehow and of course, it's by collecting data about your online activity. Third-parties often buy data like this from free providers, which is one of the ways they still earn money. The other way is implementing ads. Those who use free VPNs know how annoying they can be.
From the technical aspect, free providers are never going to beat the premium ones. The speeds are much slower and there are bandwidth limitations, usually anywhere between 500MB and 2GB weekly or monthly. With all these privacy concerns and low speeds, it's hard for us to recommend any particular provider
Do not use free providers if you want to be safe online in this country!
The Best VPN Providers for Australia
Using a reliable provider while surfing the internet can give you peace of mind. In a country like this, it's extremely important to always preserve privacy while you're online. Our top 3 picks for the title of best VPN in Australia are:
ExpressVPN
CyberGhost
NordVPN
Let's review them and see what makes them great.
1. ExpressVPN

If you want almost zero compromises on speed and performance, look no further than ExpressVPN. This provider is, for many, the fastest one, meaning that it can take care of all your torrenting and streaming activities. We tested it with Netflix numerous times and it had zero problems buffering 4K movies and shows.
Netflix isn't the only platform it can unblock, however. There's Hulu, there's HBO, BBC iPlayer, DAZN, and many more that ExpressVPN can give you access to.
All of this is done while keeping you 100% safe and secure at any moment. Based in the British Virgin Islands, the best VPN in Australia at the moment offers a strict no-log policy, so they don't keep your online data in their database.
In terms of security features, there's 256-bit encryption, as well as DNS and IP leak protection. You can also use their split tunneling feature if you don't want all of your data to go through the provider's server. For example, you can use it for streaming, and you can use your local network for accessing your PayPal account.
To top it all up, ExpressVPN offers a 49% discount and 3 free months for an annual subscription plan. If you don't like it, you can get your money back within the first 30 days.
2. CyberGhost

CyberGhost is among the most popular providers in Australia. It comes with a plethora of features that many users can't get enough of. Its intuitive interface in any app is unbeatable by any provider on this list.
Given their affordable prices, it's also a great provider for the newcomers that want to connect to their favorite servers in a click of a mouse.
Speaking of servers, CyberGhost offers dedicated servers for streaming, torrenting, and so forth. So, if you're streaming, you'll be connected to the special server with blazing-fast speeds. The security is also very tight, which is essential if you're looking to use a VPN in Australia. An example of this is the Online Tracking Blocker feature.
It removes tracking elements from the code of the website you're visiting, so it can't spy on you. CyberGhost also offers a 7-day free trial for Android and iOS users, as well as a 45-day money-back guarantee. A more than decent deal, if you ask us.
3. NordVPN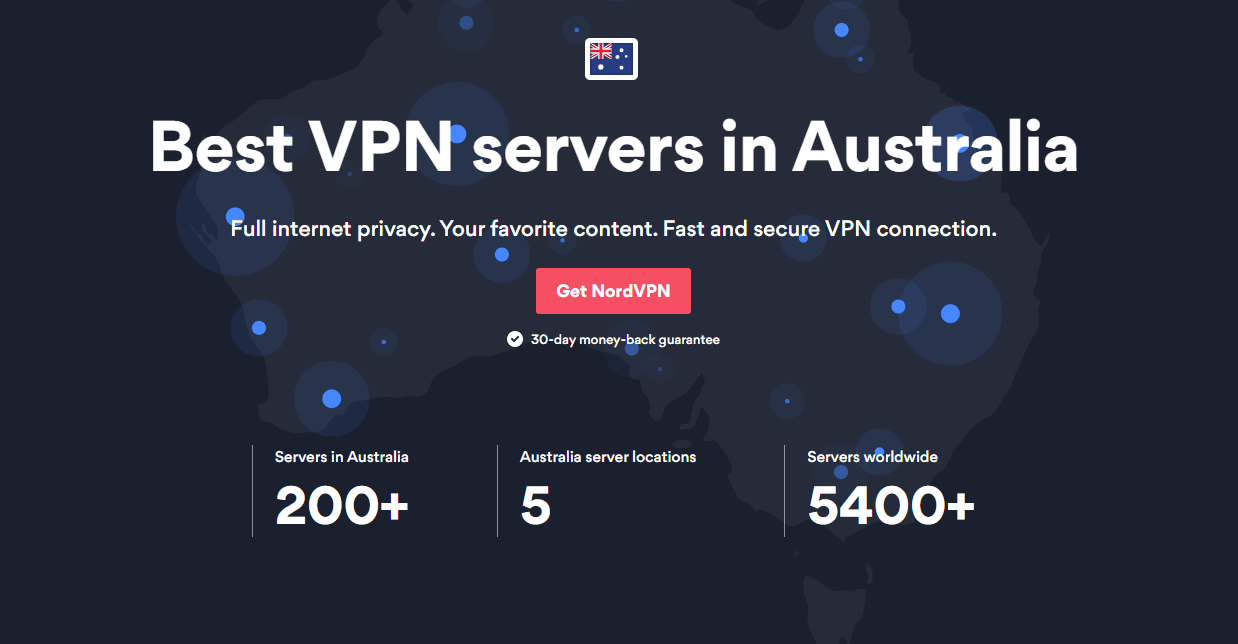 NordVPN has a large array of high-speed, high-security servers in Australia. Not only that you can watch local stuff when abroad but also the most popular streaming platforms while you're in your homeland.
Unblocking Netflix, HBO, DAZN, and other platforms is easy for the provider, due to its strong encryption that pierces through the toughest geo-blocks.
For protection, you have 2048-bit encryption, accompanied by the kill-switch, and DNS leak protection. Features like Double VPN and Onion Over VPN are also here. Both of these are security-oriented. The first one filters your internet traffic through 2 servers, while the other one works in conjunction with Tor Browser.
In terms of speed, NordVPN isn't the fastest but it's not very slow, either. Our tests showed persistent high performance in almost every country (60+).
The ones you're interested in are probably the USA and UK because they offer the largest streaming databases. Luckily, the provider is blazing-fast there, as well as in every other country they offer.
Plus you get a 30-day money-back guarantee for every new subscription (1month, 1 year, 2 years or 3 years plans).
Summary
Now that you've been with us all the way, it's time to bring this journey to an end. We learned that accessing the internet freely in Australia isn't possible without one of the best VPNs. If you don't want the government to trace your every step or getting arrested for downloading a movie from torrent, the choice is obvious.
ExpressVPN is the best provider for this country. With its P2P support, you'll be able to download torrents with ease. Plus, its strong encryption guards your back while you do even your mundane day-to-day internet activities.
If we take into consideration all of its amazing features, we have a clear winner. ExpressVPN is an undisputed king of this industry and will probably be for the years to come if you want to know our feeling!