NordVPN is among the most popular VPN providers that allow you to bypass geo-restrictions and enjoy private internet browsing. We assume you have many questions regarding this provider and we think that this review will answer them all. Is NordVPN safe? How to use it? And finally, how much does it cost? Well, if you stick with us, we promise you'll find out. Grab your cup of coffee and let's see what the provider has to offer.

What is NordVPN?
NordVPN is a respectable company in the world of Virtual Private Networks. Since it comes from Panama, it's far away from any country that's a part of 14 Eyes. This means that, if you get a subscription, you get a zero-log policy from the get-go.
The company is, since its inception in 2012, primarily focused on the users' security and privacy. To this day, this didn't change, making it one of the most secure providers that you can get.
With millions of users around the globe enjoying it, we decided to put it to the test. This is an in-depth review of NordVPN, so if you plan on using it, read this before you make your decision.
Compatible Devices and Ease of Use
Like many top-of-the-line VPN providers, NordVPN offers support for a plethora of devices. This is accompanied by the fact that you can connect several devices simultaneously. The apps are very simple to use and if you're a newbie, we still think you'll get used to them quickly.
Computers
Let's review the ease of use of NordVPN on a computer (Windows in our case but it's almost the same for Mac users).
Purchasing the subscription is very easy. Just click here and you'll see their subscription plans. When you choose one, enter your email address and your credentials, depending on your method of payment. Click Continue, and proceed to checkout.
When the checkout is finished, NordVPN will immediately download the setup for you. Open the .exe file and you should see the screen on picture 1.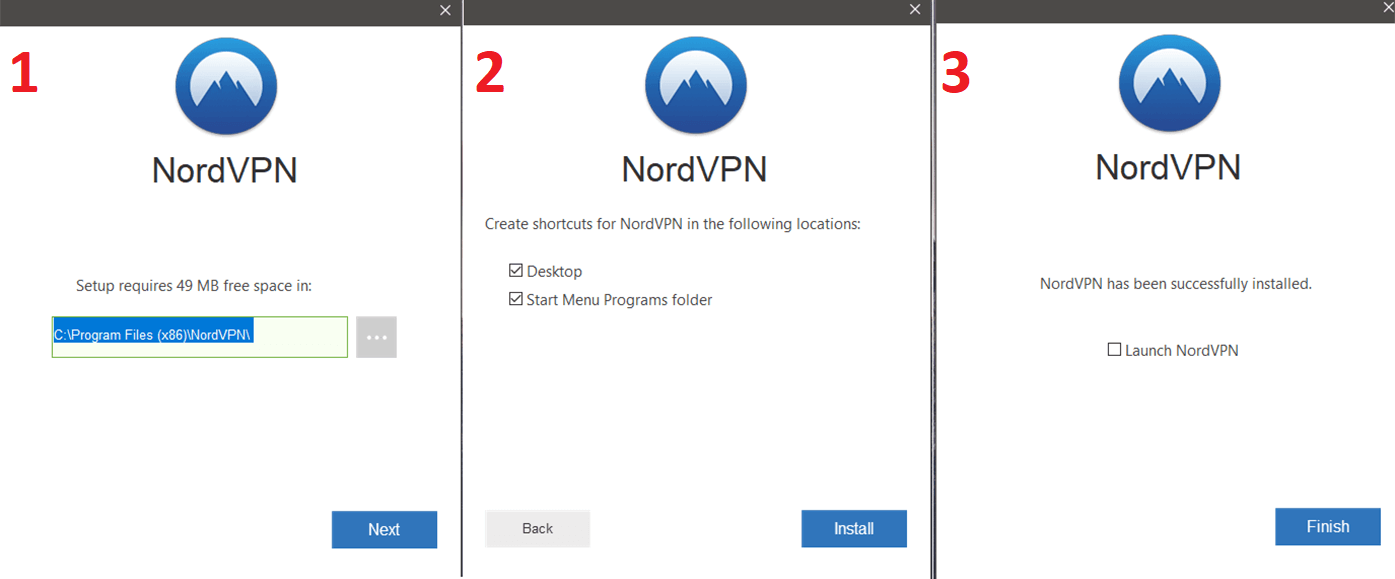 Choose where to install it, click Next and the screen on the picture 2 will appear. Click Install and wait for the setup to finish.  When it's over, you'll be prompted to launch the app immediately, as shown in picture 3.
And finally, when you launch the app you'll need to log in with the email and password you provided when buying the subscription. This is shown in the picture below.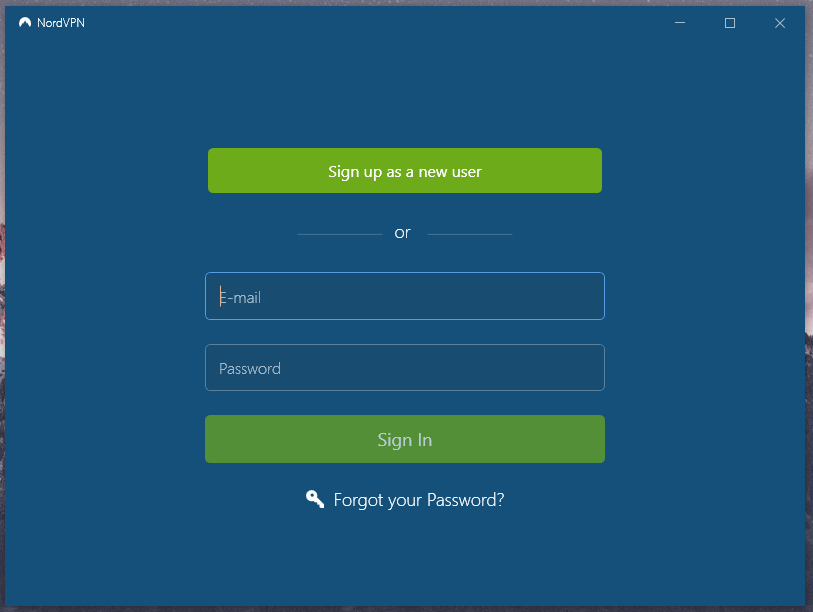 Now, when you're signed in, you can choose to enable CyberSec. This is a very useful feature, so we recommend enabling it. We'll talk more about it later but for now, just click on the green button shown on the picture.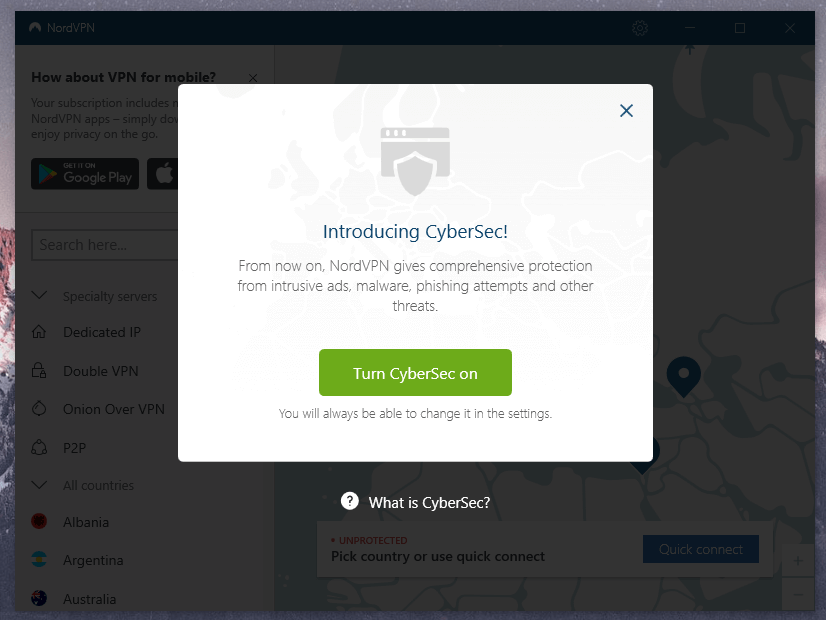 Click on the server you want or choose the country on the left side, and you'll be connected in a couple of seconds, as shown below. We connected to the server in the US, and as you can see, the connection was established.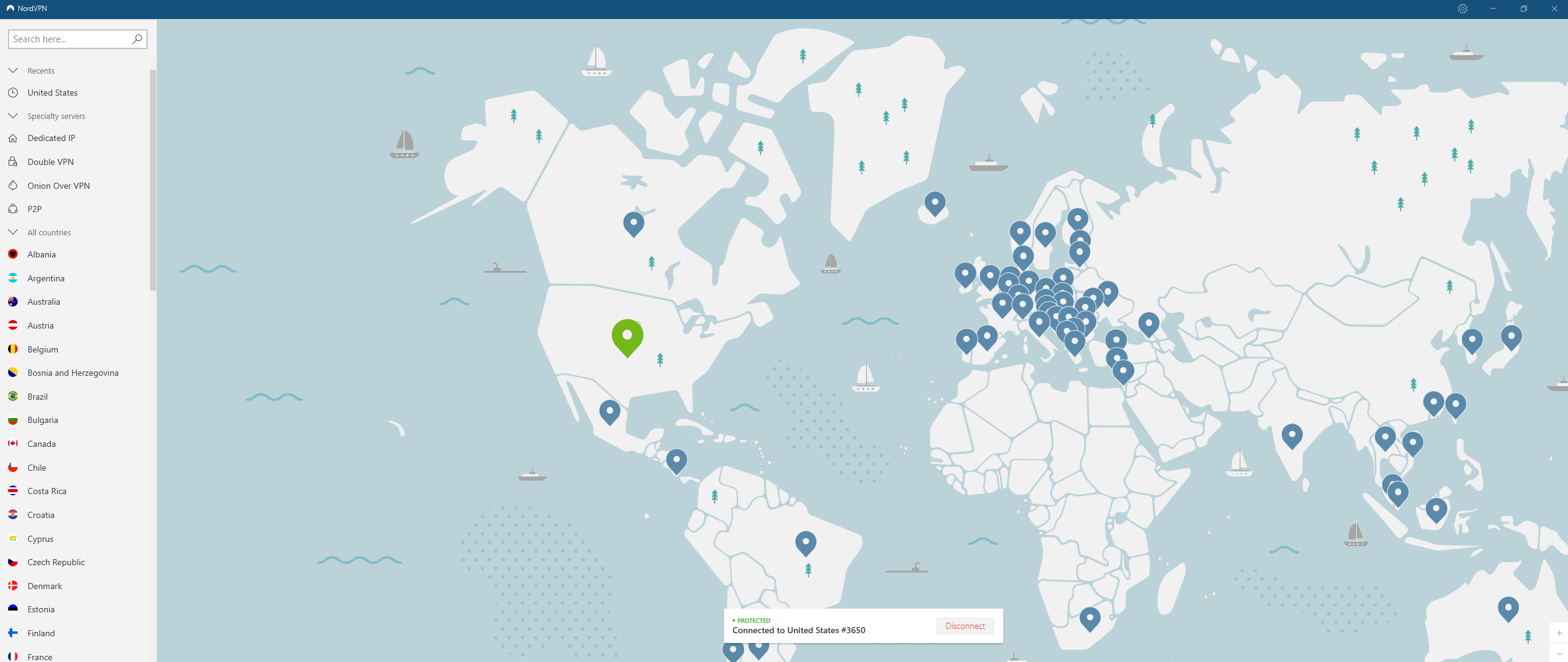 Now, you can access all the content that's been blocked in your country. Try it and you'll see it for yourself!
Subscribe and Install NordVPN App >
Smartphones and Tablets
On the smartphone and tablet, it's as easy to set it up as it's on your computer. We'll assume that you already have a subscription, so just search for the app in the Play Store or App Store, depending on your platform. We've used an Android device for installation, so here's how the app looks on the Play Store in picture 1.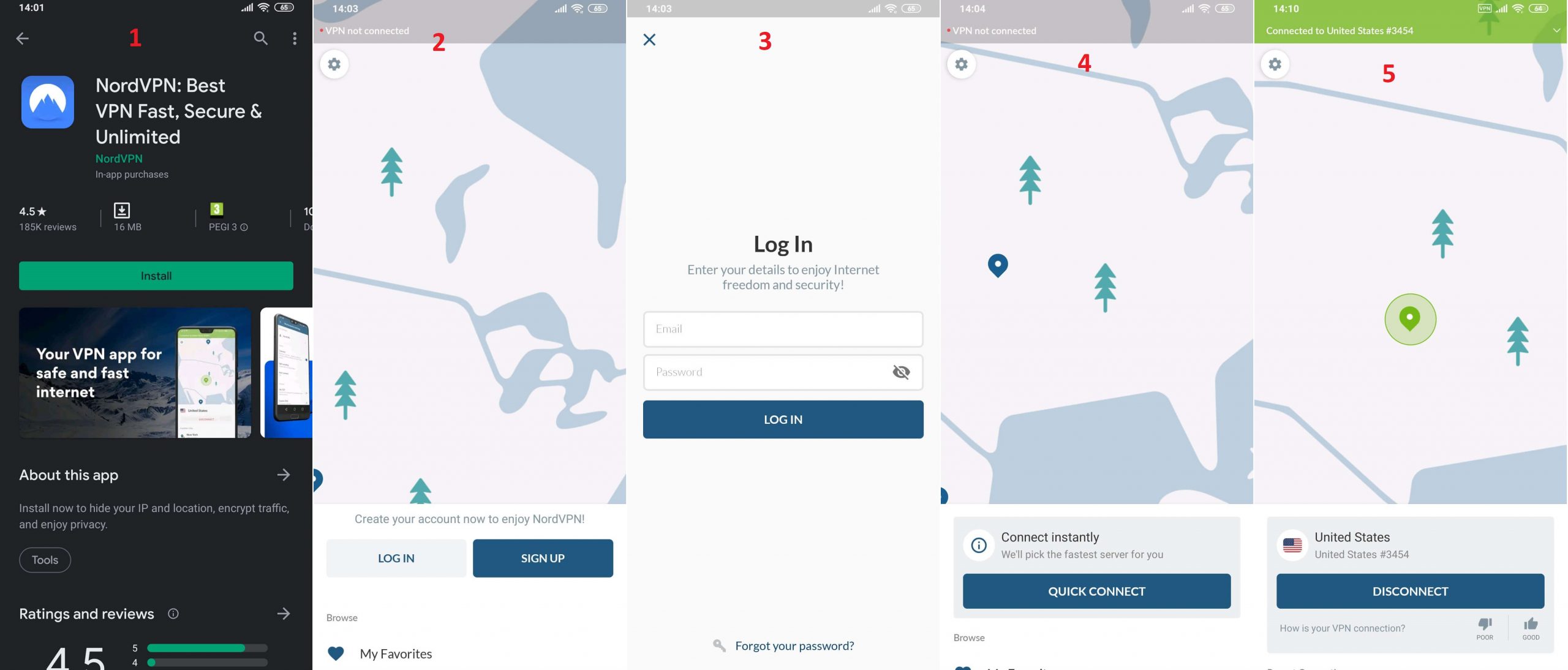 Tap on Install and wait for the installation to finish. Open the app and you should see the map, as shown in picture 2. Click on the 'Log in' button and the new Login screen will appear – picture 3. When you log in, the app will once again prompt you to enable CyberSec. Enable it and you'll see the map with the servers that the provider offers (picture 4).
You can either connect by clicking on the server from the map or open the server list. To open it, swipe from the bottom and choose the country you want. Tap on it, wait a few seconds to establish the connection, and you're good to go.
As seen in picture 5, we've connected to the server in the USA. When the connection is established, you'll see a small 'VPN' sign in the notification bar, next to the battery percentage.
Other Devices
The provider supports all devices that can connect to the internet. These include platforms like Linux, iOS, Windows, Android, Mac OS or Firestick (also known as Amazon Fire TV Stick). On top of that, you can install this service on your router, which will effectively cover every device connected to your home network.
To see how to install NordVPN on your router, click here. It's an official guide from the provider that works flawlessly with every supported router. When installed on your router, you can take advantage of it even on your gaming consoles like PS4 or Xbox One or IPTV boxes.
In terms of device support, it deserves its great position in our ranking, hence we give it 10 out of 10 for that. In addition to all of that, it has the advantage of offering an extension for Firefox and Google Chrome browsers!
Protect all your devices with NordVPN >
How Fast is NordVPN? We Checked its Speed!
Before we review the speed of this provider, we need to get something out of the way. All VPNs reduce your internet speed – either by a small margin or a big one. This is the key argument that premium providers use to advertise their service. If a Virtual Private Network is very slow, that's a huge red flag, regardless of its other features.
There are numerous factors that influence speed. For example, encryption level, security protocols, server load, the geographical location of the server, etc. If you're connected to the server distant from your country, the logical thing is that the speed will decrease slightly.
This can also happen if the server is crowded, too, and as we said, for many other reasons. Free providers are often branded as very slow and to be honest, 90% of them are. Speed-wise, NordVPN is one of the fastest.
Another really great provider is ExpressVPN, which we already tested. It's the fastest one. So, how did we do our test? We did 3 tests in the morning, 3 in the mid-day, and 3 in the evening, for 3 different locations. When the option was available, we connected to the "best location" of these 3 locations we've tested.
The best location is the United States, and the other two locations are the UK and Australia. Our location is the US for the non-VPN test.
With that in mind, here are our results without a VPN:
Ping: 11ms
Download speed: 211.88Mb/s
Upload speed: 202.20Mb/s
Ping, download, and upload speeds respectively, using this VPN, are below:
US server: 31 ms / 225.16 Mbps / 147.39 Mbps

UK server: 97 ms / 175.46 Mbps / 127.80 Mbps

Australia server: 287 ms / 94.15 Mbps / 52.89 Mbps

How Good is NordVPN for Streaming?
Many people use a Virtual Private Network for streaming. For those who didn't know, many popular streaming platforms are available only in the USA or the UK. For the USA, we have Netflix, Hulu, HBO+, and a couple more, while BBC iPlayer is available in the UK.
This means that if you aren't from America, you'll miss a lot of your favorite shows, especially if you're in a country like China. If you're looking for a VPN that works in China, don't look any further – NordVPN works perfectly.
Now, what about Netflix, for example? We've connected to the American server, as we mentioned, then typed the website address into the search bar. Once we signed in, the entire US catalog was available. Ultra HD movies are there, as well as the ability to watch movies and shows on 4 screens simultaneously.
For those who aren't interested in Netflix, the provider can also unblock the platforms we mentioned above. Hulu, HBO, DAZN, BBC iPlayer, Disney+, Amazon Prime Video, and dozens more. Beware that not every provider can unblock these platforms, so review your choices.
Luckily, this one does, making it great for streaming on all platforms, including smartphones, Apple TV, consoles, tablets, etc.
Confidentiality, Security & Logs
Many of you know the provider as being one of the most secure in the game. We decided to check their no-log policy to see if that's the case. The no-logs policy means that the provider doesn't store any of the crucial information that could compromise your security.
For example, downloaded files, used software, incoming, and outgoing IP addresses, visited websites, amount of data transferred, and so forth. These are NOT kept by the provider and they don't know anything about their users regarding the aforementioned info.
However, here's what the provider knows about you: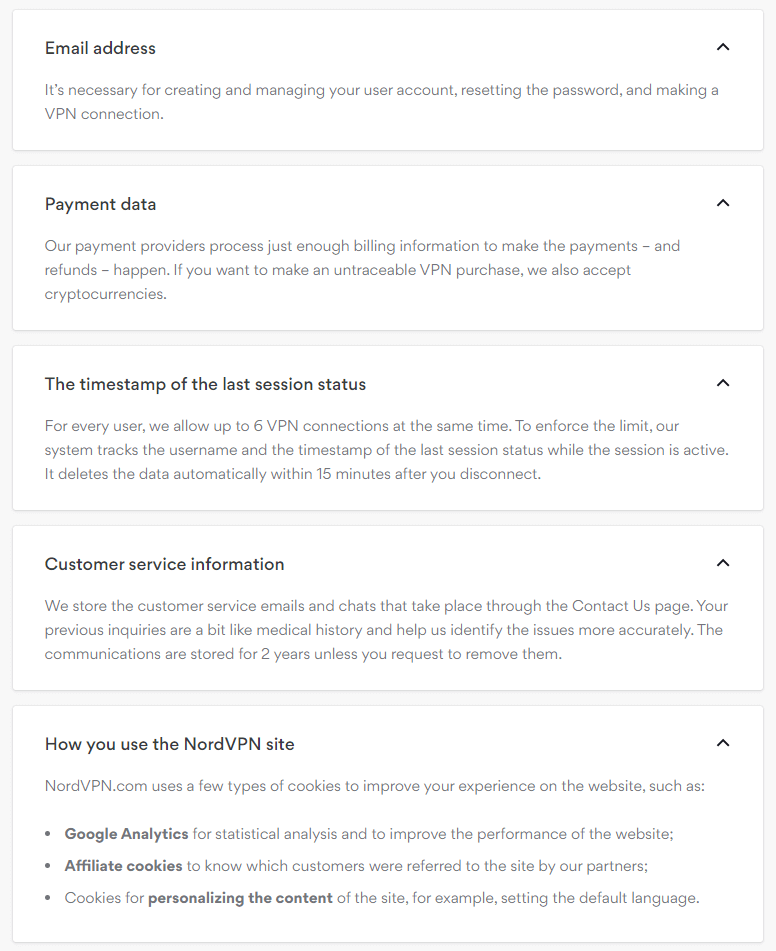 The first is the email address. This isn't bad. The provider must know your email address to establish a connection. However, the third thing on the list caught our attention – timestamps of your last session status. As you can see in the picture, this info is stored to enforce the limit of 6 simultaneous VPN connections.
Discover all the details from NordVPN Privacy Policy >
Luckily, the provider deletes this info after 15 minutes of you going offline. The other things on the list are justifiable and won't compromise your privacy in any way. To make sure we're secure, we also run the IP leak test and here are the results: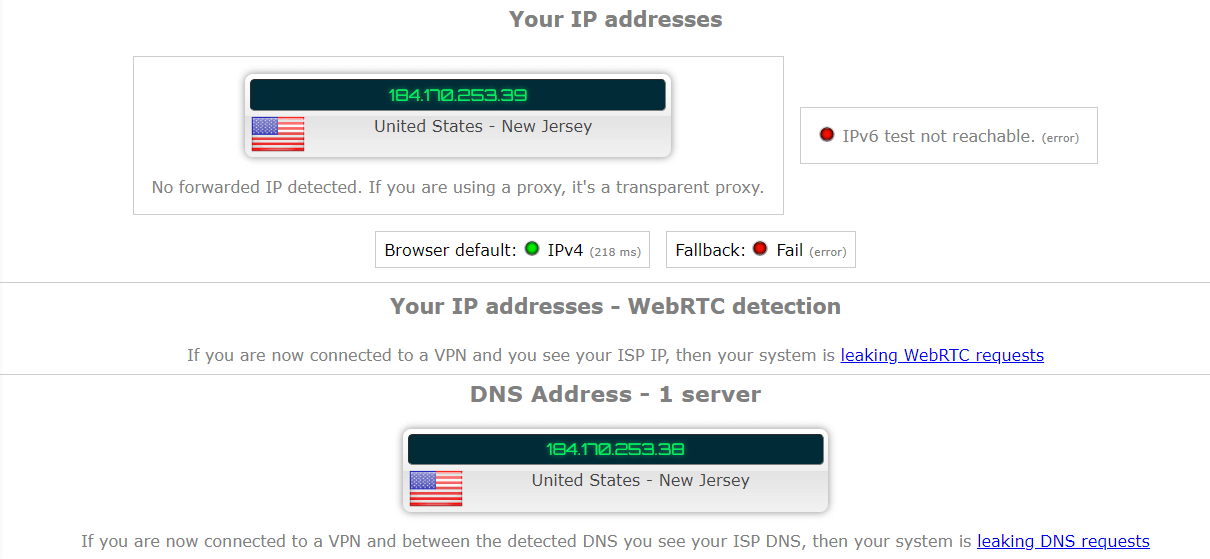 The test shows exactly what we expected. We connected to the server in the USA and that's what the test shows. Our conclusion is that the provider is among the greatest when it comes to safety and security.
Aside from the things we mentioned, you also get to pay with Cryptocurrencies like Bitcoin, Dash, and Litecoin, which further proves our point. Plus, you get a true no-log policy, given that the company is located in Panama.
Can I Do Torrenting Safely with NordVPN?
The provider supports P2P traffic, making it eligible for torrenting safely and anonymously. On top of that, there's a kill switch that will disconnect you if the server shuts down or malfunctions. We've also taken into account that some countries harshly punish those who download torrents.
Because of that, a strict zero-logs policy is required, which the provider luckily has. We decided to put it to the test and opened a page on the 1337x torrent website. Remember that this website shows your IP once you connect to it, so here's what we got:

With our IP concealed, we can download the torrent file anonymously, without being detected by the ISP or the government.
Can I Use NordVPN to Bypass Censorship?
Censorship is a serious thing these days. The government in some countries is keen on putting an end to free internet access, which results in blocking even the most popular websites. We'll use China as a prime example because the censorship in this country is the strongest.
In China, websites like Twitter, Facebook, Instagram, Wikipedia, WordPress, and Google are blocked. Yes, even Google is on the list! So, how do you access the internet in a country like this? The only solution is a VPN – a premium one!
Bypass Censorship easily with NordVPN >
Is NordVPN capable of bypassing censorship? Yes, it is. However, to make it work properly in this country, enable Obfuscated servers in the Settings, as shown in the picture below.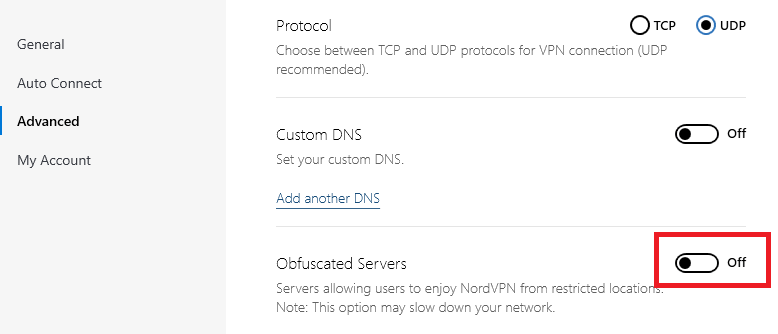 Obfuscated servers can bypass network firewalls and are recommended for countries with restricted access. The Great Firewall of China, as many know it, can be defeated with this option. China isn't the only country with harsh censorship, though.
Countries with harsh censorship, aside from China, include Turkey, UAE, Pakistan, Iran, and many more. Needless to say, you should use obfuscated servers in all of these.
Pricing and Plan Options
Now, let's take a look at the provider subscription plans, deals, coupons and review them.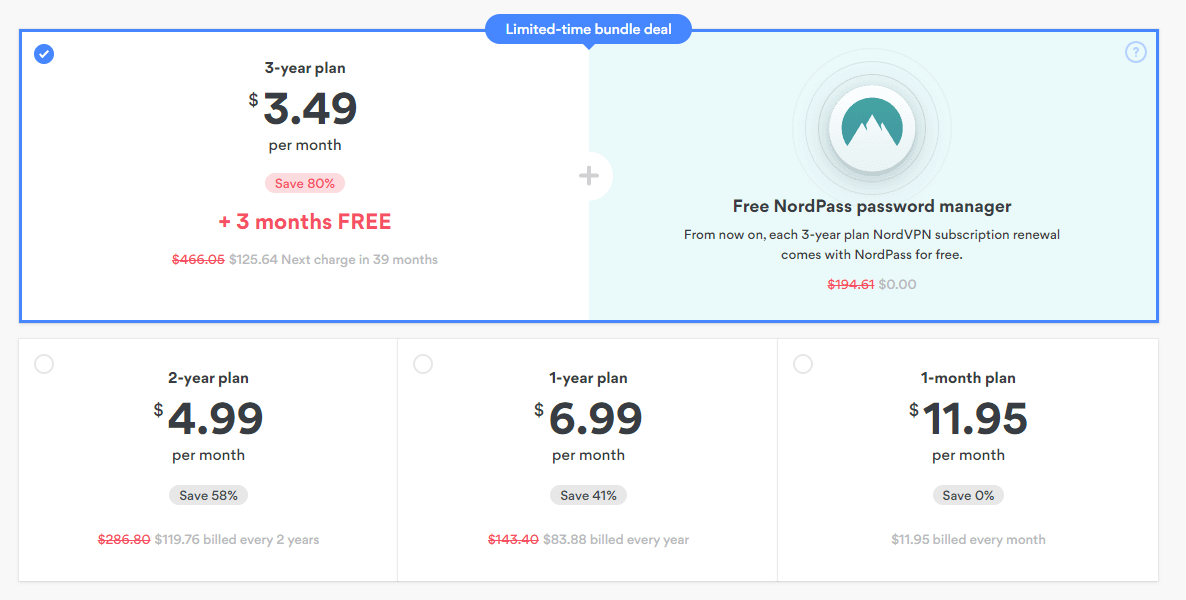 The recommended subscription plan is the one omitted by the blue line. It's $3.49 a month for a 3-year plan, plus 3 months and NordPass free. In our opinion, this is the best bang for your buck. You pay $125.64 initially and you get charged again in 39 months – enough to forget about your subscription.
Other plans displayed below are relatively cheap, too, aside from the monthly plan that almost no one buys. If the 3-year plan seems expensive to you, we would consider getting a 2-year plan instead. It costs $4.99 a month and you get billed $119.76 every 2 years.
Finally, you have an annual plan that costs $6.99 a month or $83.88 annually. If you're planning a long-term collaboration, we don't recommend getting this one.
With a 3-year plan, however, you get an 80% discount, making it the best value for the money. And you don't even need to do anything as the coupon code (and the discount) is automatically applied 😉
Take advantage of discounts of up to -70% >
In terms of payment options, you can either use your credit card or cryptocurrencies. PayPal, unfortunately, isn't supported.
In case you don't like it, you can take advantage of the 30-day money-back guarantee for each of these plans. 
And just a quick note – the provider DOES NOT offer a free trial, so you must pay for a subscription to test it.

To cancel NordVPN and get your money back, contact 24/7 live support and they'll guide you through the process. See the picture below.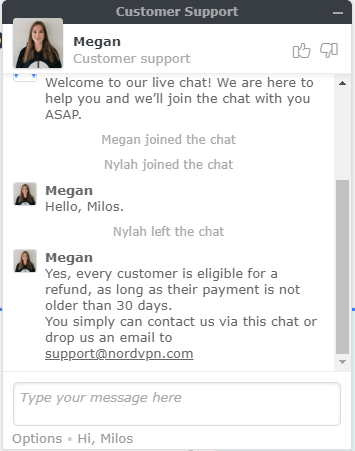 If your purchase is within 30 days, you can get your money back BUT not if you buy the subscription via iTunes or Play Store. Also, if you paid via prepaid card or gift card, you're not eligible for a refund, as well as if you bought the subscription from a reseller.
How Can I Contact NordVPN?
Contacting the provider is very easy and you have 3 methods of getting in touch with the customer support. When you click on the question mark in the bottom right corner, you'll have your options displayed like this: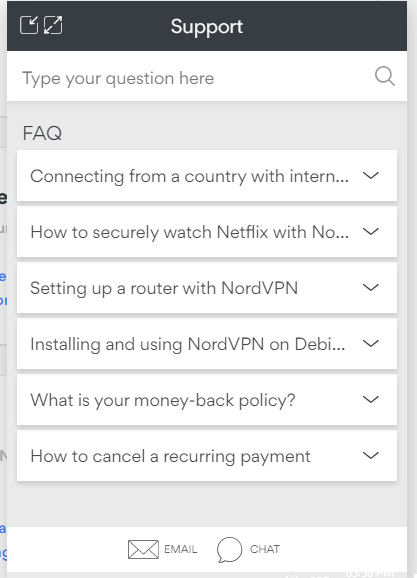 As you can see, you can solve your issues via the FAQ section, email or chat. If your issue can't be solved via the FAQ, you can go with the other two options. We tested the Chat option to see how fast the support will respond. Luckily, they respond within 10 to 60 seconds, as shown in the picture in the previous section.
The client support is patient and will always go straight to the point. In terms of speed and quality, we can't find anything negative to say for this NordVPN review and evaluation.
The Special Functionalities
Every provider has its set of special functionalities that differentiates it from the rest. NordVPN is no exception. Let's see what additional functions the provider offers:
SmartPlay
SmartPlay is perhaps one of our favorite features from this provider. It lets you access the geo-blocked content and is directly implemented into the app. This means that you don't have to set it up, install, update or activate it.
This feature combines all the best VPN features with Smart DNS technology. Using only Smart DNS is fairly complex, though. You need to set up the preferred DNS server, perform a manual setup on your router or other devices, and then, you'll achieve the same effect.
Here, with SmartPlay, you just need to pick the right server and you're ready to go.
More infos about the SmartPlay feature from NordVPN >
CyberSec
Remember when we said to turn on the CyberSec feature? Here's why. CyberSec represents the last word of technology for taking your privacy and security to a whole new level. It does that by automatically blocking suspicious websites, to prevent malware and viruses from attacking your device in order to keep you safe.
Plus, it removes all the pop-ups and flashy ads that might hinder your experience. If you didn't enable it the first time, you can go to Settings in your NordVPN app and do it now.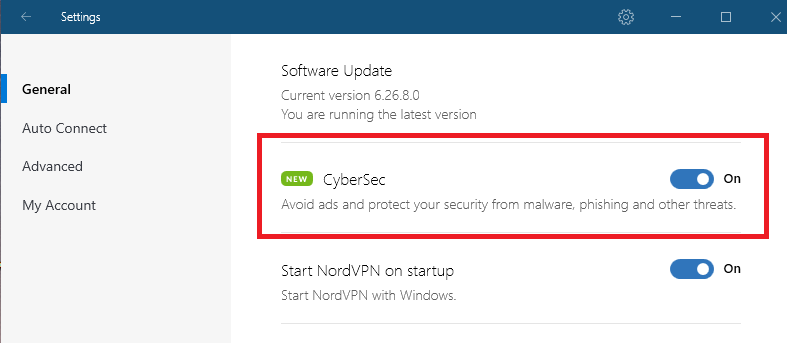 Just a quick disclaimer – CyberSec won't block any ads if you get your app from the Play Store, due to Google's policies. Instead, it will just protect you from malicious sites.
Other Things You Should Know
Other things you should know, that we haven't mentioned in our NordVPN review are:
Server Count
The provider is currently one of the largest in the world, based on its server count. At this specific moment, it has exactly 5477 servers around the globe. In the Asia Pacific, there are 686 servers, 2106 in the USA, 2578 in Europe, and 119 in Africa, India, and the Middle East.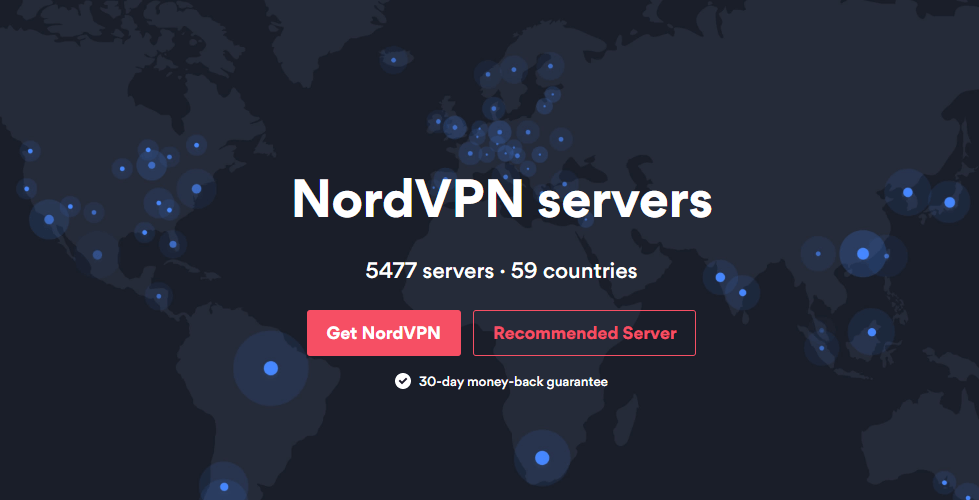 With this server count, we have zero doubt that the users will find the right one easily. Whether you're streaming, torrenting or watching Netflix, you can do it all.
Number of Countries
As seen from the previous picture, NordVPN offers servers in 59 countries, which isn't the largest number. For example, its main competitor, ExpressVPN offers 3,000 servers in 94 countries. Still, this provider has a larger server density at the cost of a smaller number of countries.
Number of Simultaneous Connections
Finally, the provider offers up to 6 simultaneous connections. If you install it on your router, you'll be able to increase this even more. How much? Well, a single-band router supports up to 32 devices, while the dual-band supports up to 64.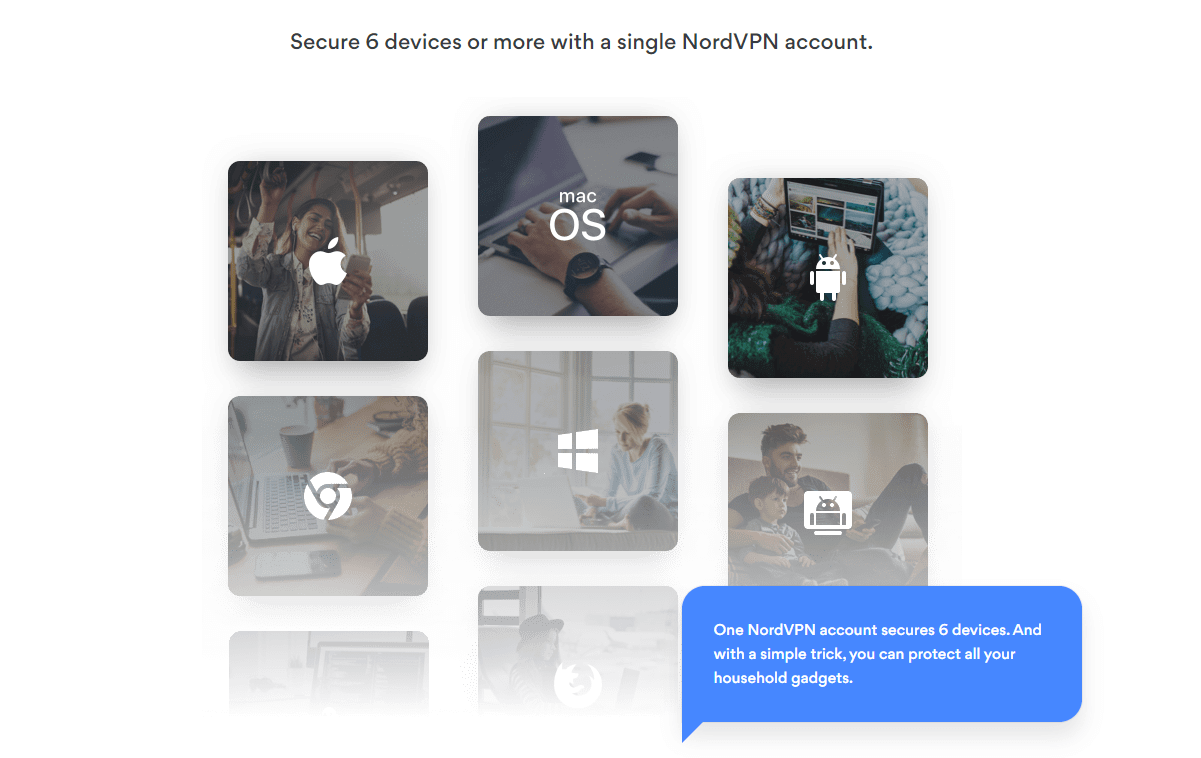 Depending on your type of router, you can have 32 to 64 protected devices.
What do Other Users Say About NordVPN?
People often say that reviews are subjective because they represent opinions. However, if hundreds or thousands of people think that the product is good, it's not without a reason. Therefore, we decided to check what people on Reddit, Google Play, and Apple Store have to say and post some of their feedbacks.
Here's an interesting comment from Reddit we found a few days ago.

He says that the provider is great for gaming and streaming, and he is recommending it to anyone. Another feedback comes from the Google Play Store and is published in 2021, so it's a new one. Here's what it says:

The person who left the comment just a couple of days ago also recommends the provider. He says that there are tons of servers to choose from, which is true. He also mentions obfuscated servers, which is something we recommended using for certain countries.
Another person left a review on Trustpilot. Let's see what he has to say.
As you can see, this user is using NordVPN mainly for Netflix and KODI. He also says that his privacy is protected 24/7, 365 days a year with no problem. This is just another thing we confirmed in your review – in multiple instances!
For the end, we have another satisfied iPhone user in the screenshot below: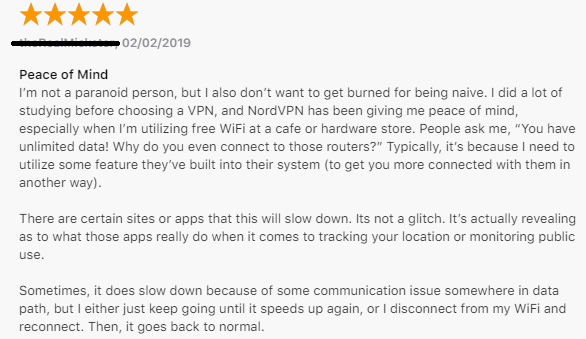 The user posted his comment a year ago, saying that he uses it for peace of mind when connecting to the public Wi-Fi networks. As said, this is a very secure provider, so we aren't surprised by it.
These are only some of the best reviews of this provider. If we could screenshot hundreds of them, it would take you days to read the article.
Conclusion: Should You Take It?
So, let's conclude our comprehensive review now. Should you buy a subscription from NordVPN in 2021?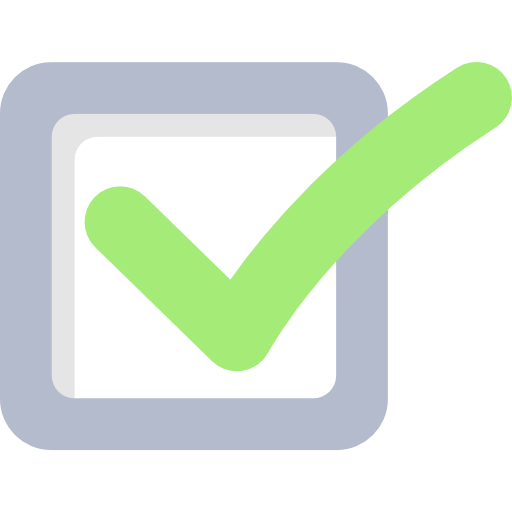 Yes, you should.
NordVPN is a provider that many providers look up to. It combines fast speeds with rock-solid security and many unique features. With features like CyberSec and SmartPlay, you'll be able to block annoying ads, all whilst enjoying either mundane internet browsing or streaming. Given its 5,500+ servers around the world, bypassing even the toughest geo-restrictions is possible.
All things considered, including its affordable price, we wholeheartedly recommend this provider, and we end this review happy and satisfied.