If you just Google-search the word 'VPN', you'll find dozens and dozens of them. However, in all due honesty, only a handful of them are worth your time. Now, if you're a Mac user, don't think your search will be any easier. Although macOS is a pretty secure platform, being under surveillance from the government or your ISP is inevitable. Because of that, we decided to put up a special list of 5 paid and 3 free VPN providers available on Mac and worth checking out. This is going to be a long, yet interesting read, so stay tuned.
What are the Benefits of Using a VPN on Mac?
Many of you know how this platform is safe and secure. But, this all applies to your offline data. The info that gets on the internet is already in danger of being intercepted, which is why you should consider using a Virtual Private Network.
Nevertheless, here are a few reasons for using it on a platform like this.
Being Able to Access Geo-Restricted Websites
Although macOS is developed by Apple itself, it doesn't mean you can access geo-restricted websites. The fact that this company comes from the USA isn't going to help you, either.
So, what's the catch? Well, people to tend to look at Apple as a god-like company, they think that anyone using an iPhone or Macintosh is above users who use Android or Windows platforms.
Still, bypassing geo-restrictions isn't possible without the best VPN for Mac. Why? Because geo-restrictions only have to do with your geographical location.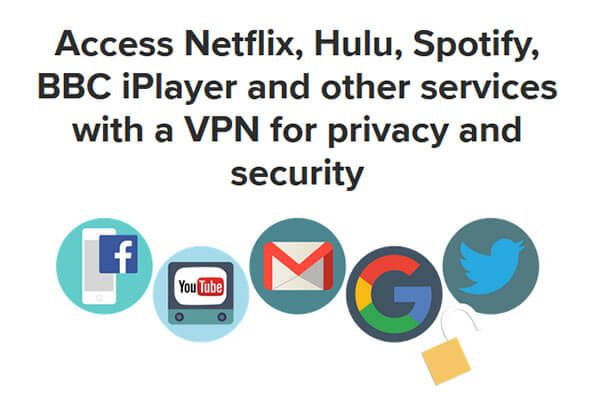 If you're from, let's say, Germany, how are you going to access Netflix or Hulu? The only way to do that is to connect to a remote server in the USA, and then enjoy the full US Netflix catalog. Unfortunately for many people in the world, streaming platforms are usually limited to only a couple of countries.
Netflix US, Hulu, and HBO GO, for example, are available strictly in the United States. BBC iPlayer, on the other hand, is a British streaming platform, hence Americans can't access it without a VPN on their Macbook or iMac.
We have no doubt you're watching movies and TV shows on your Macintosh computer or laptop 😉
Statistics say that this is the second most popular desktop platform after Windows. Surprisingly, it's almost on par with Windows in some countries. So, if you want to stream your favorite movies, shows or sports events, using a service like this is a must – regardless of the platform you're using!
Increased Privacy/Avoiding Government Surveillance
Whenever someone is snooping on your internet activity, you're all but anonymous. The most infuriating thing about being online is that you can get easily tracked by your ISP or the government. ExpressVPN, our favorite provider, has one amusing, yet true advertisement.
There, the guy's elderly mother opens a book of the guy's search history and reads it out loud. She finds that he searched for hot models, and who knows what. Although the people from your ISP probably don't laugh out loud on your search history, you get the point – they can see it.
Depending on where you live, this is either a minor or major problem. For example, the UAE is known for government surveillance, as well as countries from the 5 Eyes Alliance. These include the UK, US, New Zealand, and a couple more.
Although the UK and the US have free internet access, the government is always breathing on the residents' necks. And before you know it, you get punished for downloading copyrighter material just like that. How did that happen? Because someone (the government) knows your every step.
Luckily, a VPN can help you, especially if you are a Mac user. As we said, this device is excellent at protecting your data INSIDE your computer. But, as soon as it's passed over the internet, this isn't the case.
If you think you're safe when using this platform, we implore you to think again. Some things aren't as they seem!
Avoiding ISP Throttling
Our frequent visitors know what ISP throttling is. But, if you're new around here, don't forget to introduce yourself to our Monkey friend and ask him about it. For the start, ISP stands for Internet Service Provider. We all know who's that, right? It's the guys giving you the internet and cutting it if you don't pay on time.
These same guys also do something that's called throttling. Even if you always pay on time and not miss a single day, this can't help you. ISP throttling usually happens when you're using a lot of internet data, more than your provider is willing to give you.

You can already guess – it's streaming and torrenting in most cases. During this period, the provider will deliberately decrease your internet speed, to make you use less data. The reason they do it is simple. They see the competition in streaming platforms, so they throttle your internet speed while you're watching them.
Of course, Netflix is among these services. This is why some ISPs forces it to pay fees in some countries, so Netflix's user base can enjoy the stutter-free streaming experience. Nevertheless, don't think it can't happen to you. It can happen virtually everywhere in the world.
When your IP is concealed, however, your ISP can't do that. That's another crucial benefit of using the best paid VPN for Mac (but not free solutions as we're going to explain later on).
Staying Safe When Using Public Wi-Fi Networks
Do you often go to cafes and use public Wi-Fi networks? We know that many of you business people do this. Drinking a cup of coffee in your nearest cafe while answering some business emails relaxes you and gives you some time to breathe.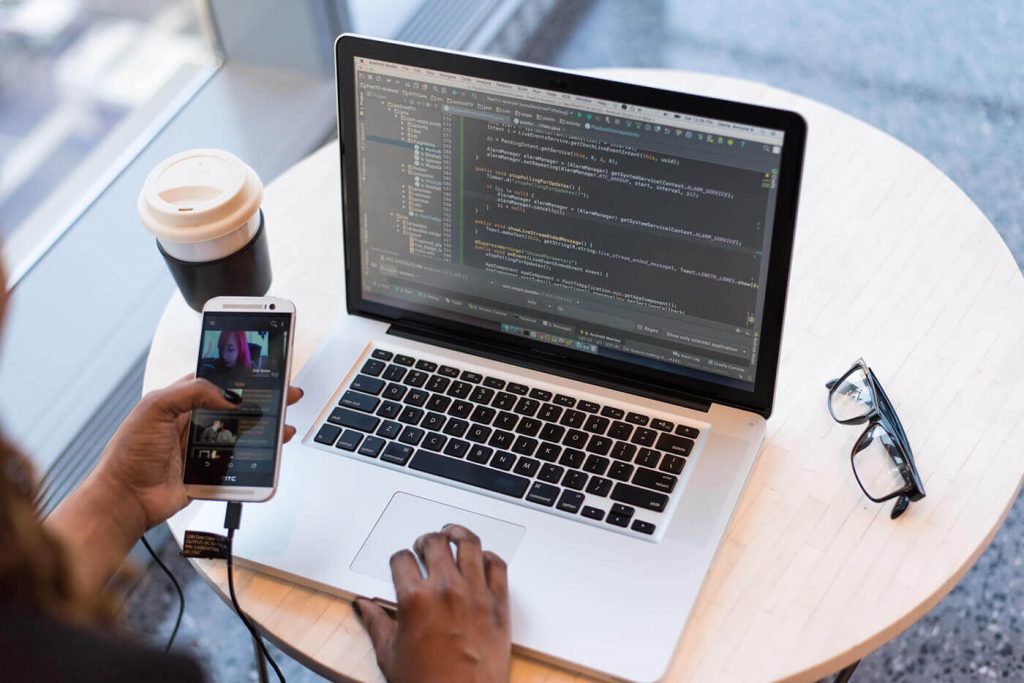 But, evil never sleeps and usually lurks just behind the corner. You know what we're talking about – hackers. Cyberattacks are a serious problem in some countries. For example, Argentina, where one American businessman had his data stolen while sitting in Starbucks in this country.
There are numerous examples that we can mention but there's no need for that, you get the point. If you're often visiting public places with Wi-Fi networks, you must secure yourself. You never know when the hackers will attack, sweep your data, and get away with it.
Needless to say, this is a must for users with Macbooks. If you have a desktop computer based on this platform, you aren't going to carry it with you.
Torrenting Safely
Last but not least, torrenting safely or better said, P2P applications and activity. Even if you're using a computer running on MacOS, you'll often find yourself torrenting. Just when looking at various torrent sites, we can see hundreds upon hundreds of torrents for this platform.
There are cracked apps, movies, music, and even some games optimized for the aforementioned operating system. If you live in a country that punishes torrenting harshly, you're in for a mistreat, not treat.
The United Kingdom and Germany are just some of the countries that can suck 1,000+ dollars out of your wallet for torrenting. In some countries, you can get a year or two in prison, which isn't something to joke about.
Despite being in their regards 'safe & secure', Mac users can benefit from a VPN on a grand scheme of things.
Top 5 Best Paid VPN Apps for Mac
Are these benefits good enough for you? If so, we assume you're still here, so let's see what are the best premium VPN providers for macOS in 2021:
1. ExpressVPN
ExpressVPN is also named in our article about the best VPNs to use on Windows. As you can see, this provider is also the best one to use on Mac. Let's get something out of the way. Our opinions aren't biased, so if a provider is bad, we'll tell you that in our review of the particular provider.

However, ExpresssVPN is the best provider we've ever used and even its apps are dead simple. In terms of speed, it's lightning-fast and never disappointed us. With 3,000+ servers worldwide, it's the third-largest provider at the moment. For those who think this isn't a lot, have in mind that these servers are scattered across 94 countries.
This means that you can bypass geo-restrictions and access Netflix, Hulu, HBO or any other streaming platform. Because of its enormous speed, watching 4K content will not be a problem, too. Security-wise, ExpressVPN didn't disappoint us, either.
It has 256-bit AES encryption, automatic kill switch, IP and DNS leak protection, and a zero-log policy. This time, it's a true zero-log policy since the provider is stationed in the British Virgin Islands, far away from the 14 Eyes.
ExpressVPN also offers a split tunneling feature. This allows you to use your default IP for accessing PayPal, for instance, and another IP for watching Netflix. As you can see, this is a versatile provider that should satisfy even the pickiest users.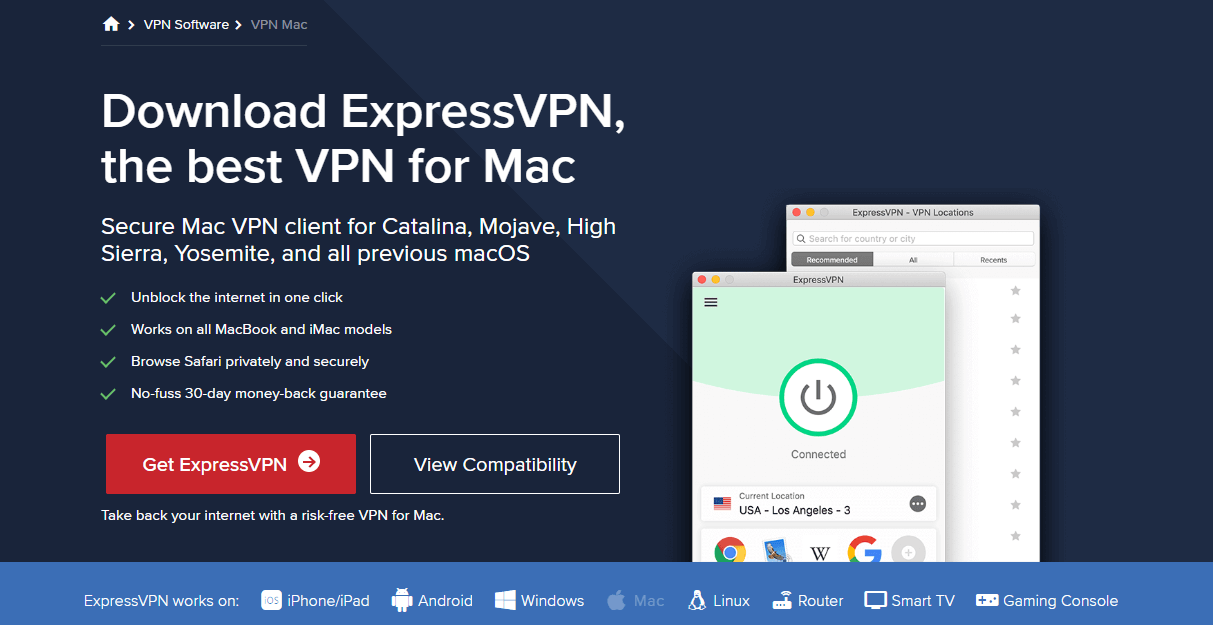 Not to forget to mention its 24/7 customer support, which is, by the way, one of the best in the game. For staying completely secure, you don't have to pay with your credit card. Instead, you can use your cryptocurrencies like Bitcoin, Litecoin, Ethereum, and many more.
Finally, ExpressVPN offers a 49% discount and 3 months free for a 12-month plan. If you don't like it, you can get your hard-earned money back within 30 days.
That's also what makes the best VPN for Mac 😉
2. NordVPN
NordVPN is our close second. It offers a plethora of features that many premium providers can't offer, especially for the money.
Speaking of that, this is one of the most affordable providers you can get if you're looking at a paid VPN subscription for your Mac. And still, they cut no corners when it comes to sheer power and a wide array of features.

For the start, NordVPN's app is very simple to use on this platform. It's the same as on Windows. You get a huge world map with the provider's servers scattered across the map. Here, you can click on the server you want and you'll be connected immediately.
You can expect a one-click connect – no exaggeration! However, there are two different clients for this operating system, and although they're the same in terms of interface, there's one difference. One client supports OpenVPN protocol, while the other one supports the IKEv2/IPsec protocol.
Both of these clients come with an automatic kill switch, IP and DNS leak protection, and 256-bit encryption. Bonus features include Double VPN and Onion Over VPN, for using it with the Tor browser. Double VPN, on the other hand, filters your traffic through 2 servers, making it untraceable.

Furthermore, the provider offers obfuscated servers for bypassing firewalls. Yes, China, we're looking at your Great Firewall! Based in Panama, the provider will offer you 5,500 servers in 60 countries, and of course, a zero-log policy.
Because of its strong encryption, NordVPN can unblock even the toughest geo-blocked platforms. It can, for example, unblock DAZN in just a few clicks. Thanks to its blazing-fast speed and excellent SmartPlay feature, the provider will automatically find the best server for you.
Simply put, this is one of the best VPN providers money can get you on MacOS.
3. CyberGhost
CyberGhost is our favorite in terms of the user interface. Its app is very easy to use, so even if this is your first click on the computer mouse, you'll get used to it quickly. When you open the app, you'll get a window in which the provider asks you what you want to do.

Now, you can choose whether you'll like to torrent, stream, browse the internet, and so forth. After that, it will find the best server for that purpose, setting you on your online journey. Interestingly, CyberGhost doesn't support the OpenVPN protocol on Mac, so you'll have to rely on IKEv2/IPsec.
But, aside from that, it's an excellent provider for this platform. It offers some fast speeds, as well as 6,000 servers worldwide, making it the largest provider at the moment. In terms of unblocking websites, you can expect everything except DAZN, which, unfortunately, can't work with CyberGhost… yet!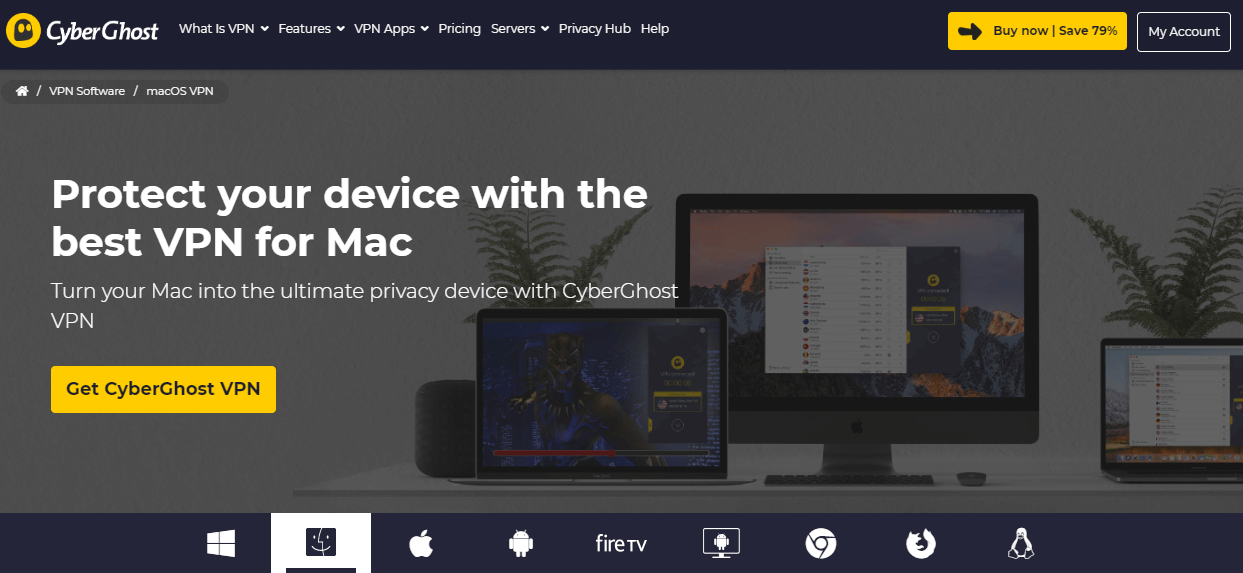 On the brighter side, this Romanian giant offers a no-log policy from the get-go. Plus, it's probably the cheapest provider on the list of the best VPN for Mac, alongside NordVPN. And as an icing on the cake, there's a huge 45-day money-back guarantee if you don't like it.
But, as with ExpressVPN, we doubt you won't like it except if you live in China. As of recently, the provider doesn't work in China anymore.
4. Surfshark
Surfshark is a fairly new provider in this business but it can stand head-to-head with the others. The macOS users will like the provider's app for its simplistic interface.

On the left side, you have a list of countries that you can use to connect to different servers. On the right side, there's a Surfshark logo and a button for initiating the connection.
If that's not what you want, you can use its MultiHop feature, which is, once again, on the left side. MultiHop is a trademark of this company and lets you route your traffic through multiple servers. In terms of security, this is the last word of technology!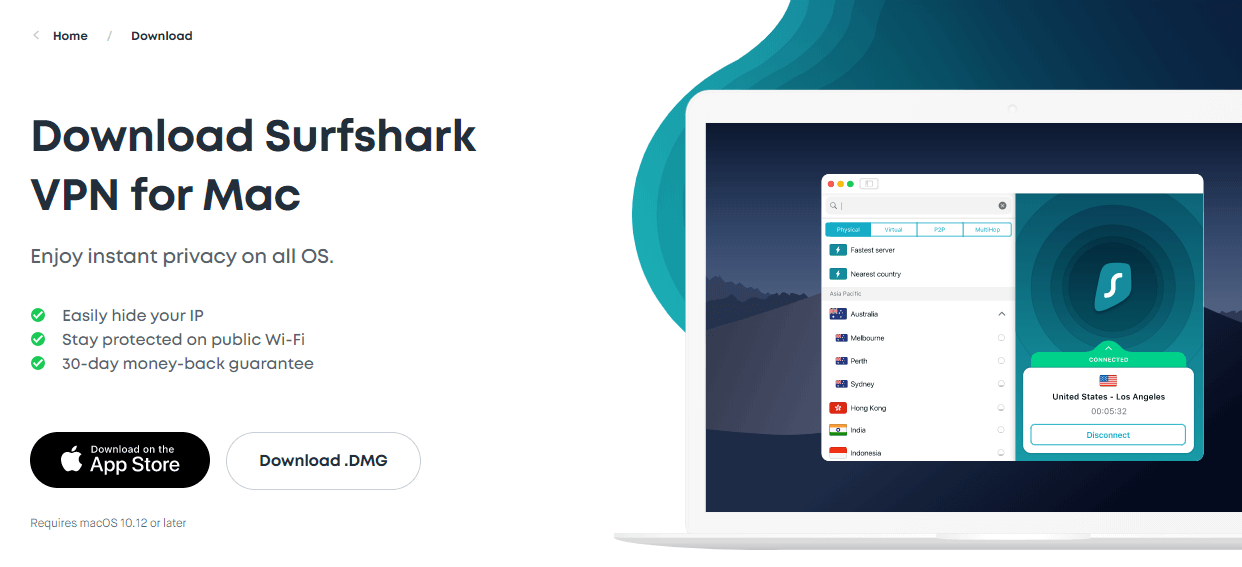 Standard features include P2P support, 256-bit encryption, IKEv2 protocol, DNS leak protection, and an automatic kill switch. As the first provider on our list of best VPNs for Mac (ExpressVPN), Surfshark is also from the British Virgin Islands, so the no-log policy is here.
To summarize, Surfshark is an excellent choice for this platform. It offers a bunch of security features coupled with solid speeds, for an unforgettable experience.
5. IPVanish
The last provider on our list is IPVanish. Although we're speaking about a solid provider, we don't like the fact that it's based in the USA. Being a part of the 14 Eyes, it's strange to see it offering a no-log policy. This, to some extent, make us feel better about it.

Another thing that makes us feel better is OpenVPN support. Plus, you get to use UDP, TCP, IPsec, IKEv2, and L2TP protocols. We must admit that the provider is pretty generous here. The app offered on MacOS is also very simple to use and functions similarly to NordVPN.
You open it, click on the server you want on the map, and you're connected. To do it differently, open the server list, click on the country, and you're good to go. In the Settings menu, you can also customize your VPN settings, which is rarely seen on Mac, Windows etc.

Speed-wise, IPVanish is a decent contender. It's not the fastest VPN we tested on Mac but it's enough for gaming or 4K streaming. Our complaint is that they only offer a 7-day money-back guarantee instead of a 30-day one, for example.
You'll have only one week to try it out and if that's not bothering you, you can visit its website below.
Few Reasons Why You Should Avoid Free Options
If you're thinking about free VPNs on Mac, we don't blame you. Having everything we just mentioned totally free seems like a very good idea. But, why would premium providers exist if you can get all of this free of charge? This is where things take a different turn.
Here are a few reasons why you should avoid free options at all cost:
Bandwidth Limitations and Slow Speeds
We think you've all seen this coming. Since the provider is offering you its services for free, some corners must be cut. Unfortunately, you get very limited bandwidth with almost all providers of this sort. Usually, it's between 500MB and 2GB, although some give you 10GB of data every month – Windscribe, for example.
But, with only a handful of exceptions, you're left with all those providers that aren't worth your attention. What about speeds, then? Well, as said above, they are very slow. Even if you'd want to stream, you'll find yourself banging your head off the wall because of stuttering and freezing.
Lack of Privacy-Oriented Features
Free VPN providers for Mac (and other platforms) often lack one or two privacy features that premium providers have. To be honest, this is just being generous. Many times, free providers don't have unique features that make them more secure. One feature that's often missing is the no-log policy.
You know how much we value it here. If a provider stores logs of your connections or your visited websites, that's a red flag. This information is very valuable to the third-party companies, so the provider can sell it and gain money.
This is just one way of earning for them. In some cases, they can implement annoying ads, which hinder your internet browsing experience. Not only that but these ads can sometimes contain malware and viruses!
Luckily, not many free providers are this dangerous but you should still keep your guard up.
Decreased Ability to Bypass Geo-Restrictions
Those who want to stream should stay away from most free providers. Before you ask, free VPN usable on Mac can't unblock Netflix. Some of them can but due to the limitations we mentioned above, it's pointless. How do you plan to watch your favorite TV show with only 2GB of data? We know, it's impossible.
Netflix is, as many of you know, a platform that intentionally blocks VPNs. This is why we understand the provider's inability to access it. You need complex and strong algorithms to bypass Netflix's rock-solid defenses.
Simply put, using these providers for streaming or just bypassing geo-restrictions isn't going to get you far.
Top 3 Best TOTALLY Free VPNs on Mac
All that we just said seems like free VPNs aren't worth your time. But, among all of them, there are 3 OK VPN available on MacOS that we would recommend if you're hell-bent on saving a few dollars a month. Here are our choices:
1. Windscribe
Windscribe is the best free VPN for Mac. It has a very simple app that needs less than 5 minutes to install and set up. Aside from that, it's very generous in terms of bandwidth limitations. You get 10GB of bandwidth a month, alongside servers in 10 countries.

Before you say you want unlimited stuff, remember that you get this for no payment. When not congested, these servers are pretty fast. But, as you would've guessed, since the server count isn't impressive, they're almost always congested, hence they're not very fast.
The provider doesn't unblock Netflix but you can watch HBO GO, YouTube, and BBC iPlayer. If you want access to Netflix, you'll need to pay for a premium subscription. However, we don't suggest doing that because our premium providers above are much better.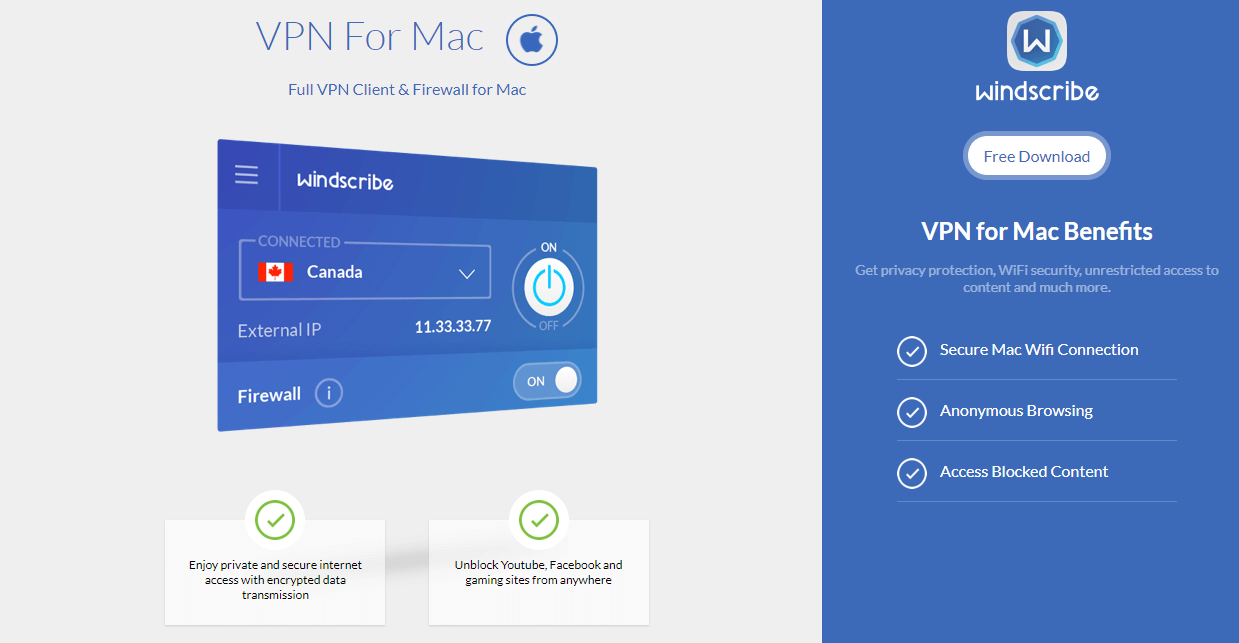 When it comes to security, we're looking at 256-bit encryption, DNS leak protection, automatic kill switch, and a no-log policy. For a free membership, you don't get kill switch, though.
Finally, this VPN for Mac has something that's called R.O.B.E.R.T., which is an ad-blocker that prevents you from getting malware online.
2. TunnelBear
As we always like to say, TunnelBear is an odd provider. It offers some very good and some very bad features. This time, let's start with the bad stuff – 500MB bandwidth limitation. When you think about it, even your monthly Vodafone subscription brings you gigabytes of data for your smartphone.

TunnelBear's 500MB is simply too little, although you can get one more gigabyte for tweeting about the provider. The server count isn't very impressive, so you get servers in 23 countries, which are almost always congested, thus not blazing-fast.
If you're planning to use it for streaming, you're about to be disappointed. TunnelBear doesn't support Netflix, BBC iPlayer, and Amazon Prime Video. But, the good news is that it supports Kodi, HBO GO, and YouTube.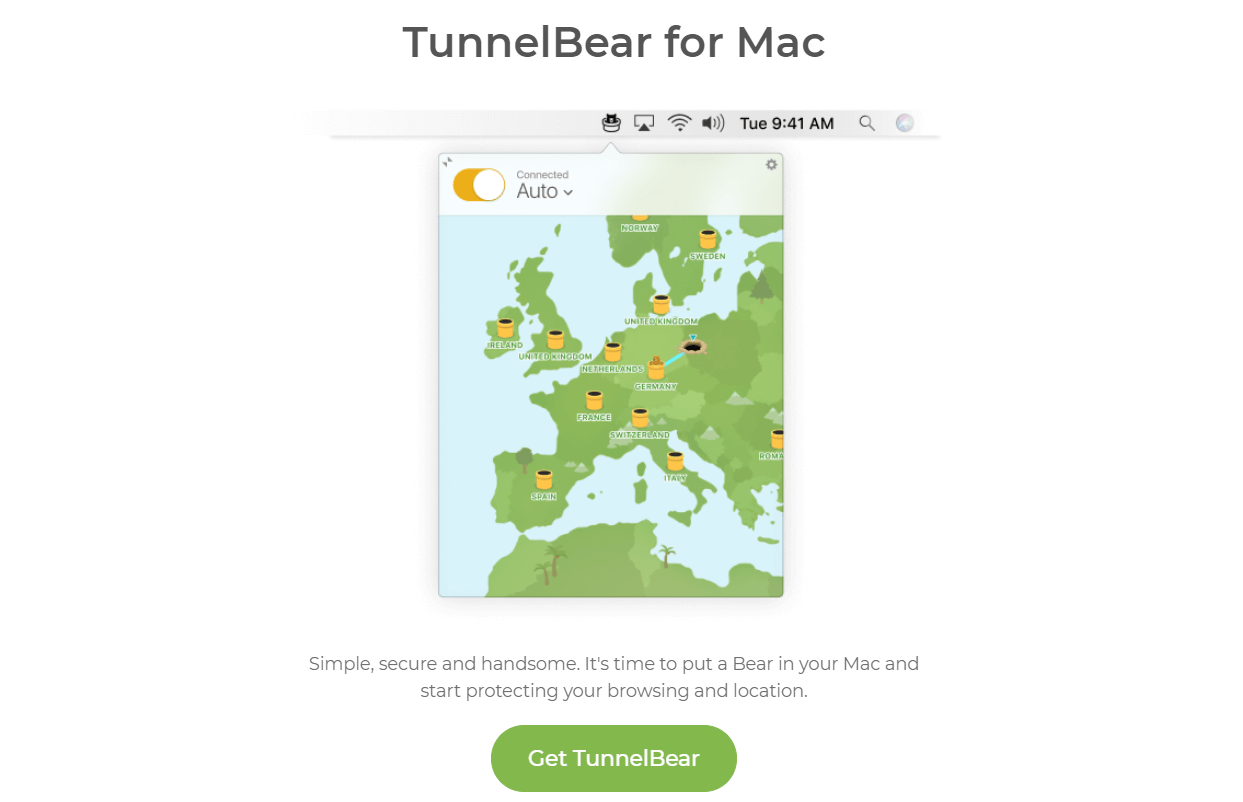 Another good thing is that you can use it in countries like China and Iran. This is because of its GhostBear mode for bypassing censorship that works flawlessly. With 256-bit encryption and zero-logs policy, TunnelBear is among the safest free VPNs you can get on MacOS in 2021.
3. ProtonVPN
ProtonVPN is a premium provider that comes with an excellent free subscription plan. Offering unlimited bandwidth, you'll be able to browse the internet left and right, without thinking about the amount of data you're using.

The catch is that this bandwidth can't be used for torrenting or unblocking geo-restricted streaming websites. Instead, you can use it only for casual internet browsing or watching YouTube.
Also, there are servers only in 3 countries – Japan, the Netherlands, and the USA. If it wasn't for the USA, this provider wouldn't find its place on our list of best free VPNs for Mac.
If you're expecting some high speeds in a free plan, your hopes will be crushed. Even though it allows watching YouTube videos, don't even think about going 1440p or even 1080p in some instances. It will stutter a lot, making the experience tarnished.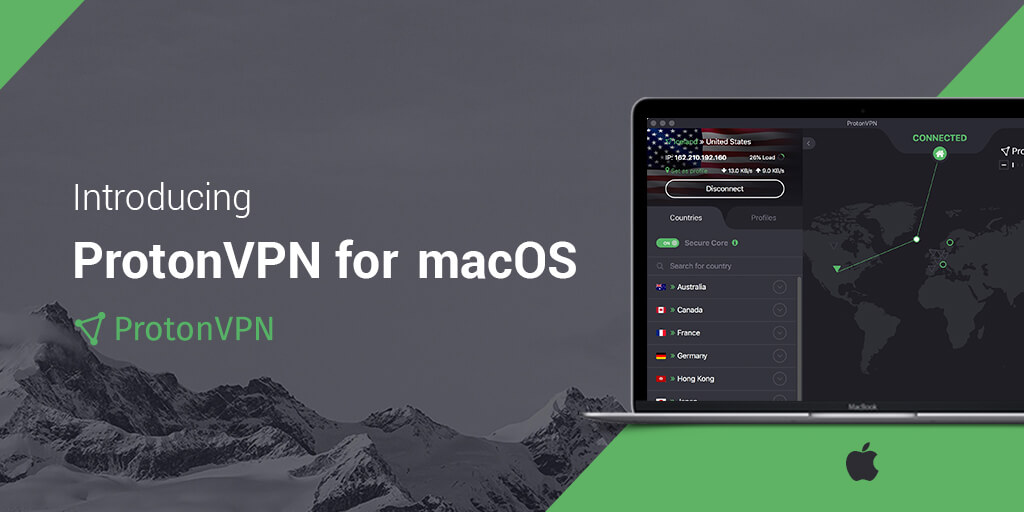 When we talk about security, ProtonVPN isn't all that bad. You get 256-bit encryption and a couple of VPN protocols to choose from. On top of that, there's an ad-blocked for the macOS app, removing those annoying pop-ups.
We recommend getting its paid subscription in case you have the money. Although it's a bit more expensive, it offers tons of features and unlimited bandwidth, for the true enthusiasts.
How do We Tested and Ranked All These VPNs for Mac?
Are you wondering how we tested and ranked the providers mentioned here? Here are a couple of crucial factors we're looking for:

Performance Offered
The performance we get is in a direct correlation with the speed. To perform well, the provider must be fast and reliable. If our connection is often interrupted or unstable, we don't see a particular provider as good.
If you're all about speed, we recommend ExpressVPN. It's the fastest provider we've ever used and will not disappoint you.

Security and Anonymity
Security and anonymity are the most important things in a VPN for Mac. To be completely safe, a provider should offer a couple of important features. The first one is zero-log policy. Other features include strong encryption, automatic kill switch, and different protocols.
In this regard, NordVPN is one of our favorite providers, although ExpressVPN is on the same level.

Ease of use
Ease of use means how easy is the app to use. Every app on our list is easy to use, have no doubt. But, if an app takes a certain time to get used to and its interface is clunky and unintuitive, we don't see it as being easy.

Ability to Unlock Streaming Platforms
The ability to unblock streaming platforms is very important for some users. Obviously, the best choice is ExpressVPN. We found that this provider unblocks even the toughest geo-blocks.
As for other apps on the list, you'll find that CyberGhost doesn't unblock DAZN, for example. Which is why it's below the first provider on the list.
Free providers aren't the best when it comes to unblocking websites, so whatever provider you choose, be ready for some compromises 😉