If you often find yourself browsing the internet on your Windows PC, you should think about using a VPN. The reason being is because the computer is the most versatile platform, which is both good and bad. Being able to visit all kinds of websites with a single click can lead you to some… well, dangerous places. You don't want to be unprotected, especially under government or ISP surveillance. For that reason, we've come up with a special list of best providers for this platform. Let's check out our vast selection of free AND paid providers.
What are the Benefits of Using a VPN on Windows?
We know that many of our readers aren't experts in this field. In fact, we approximate that a huge percentage of them are beginners. Because of that, we need to introduce them to some benefits of this kind of service for this platform. Here they are:
Avoiding Surveillance
Windows 10 is a great platform for all purposes. Without any doubt, it's a massive improvement over Windows 7 and 8. Just for the reference, experts in this field say that about 40% of all desktop and laptop computers use this platform, making it the most popular. But, it's not without its flaws.
The main flaw of this platform is its "personalization" features. These include integrated advertising, Microsoft server synchronization, and Cortana. We agree that these features make this platform all the more suitable for some users but the company crossed the line between privacy and personalization.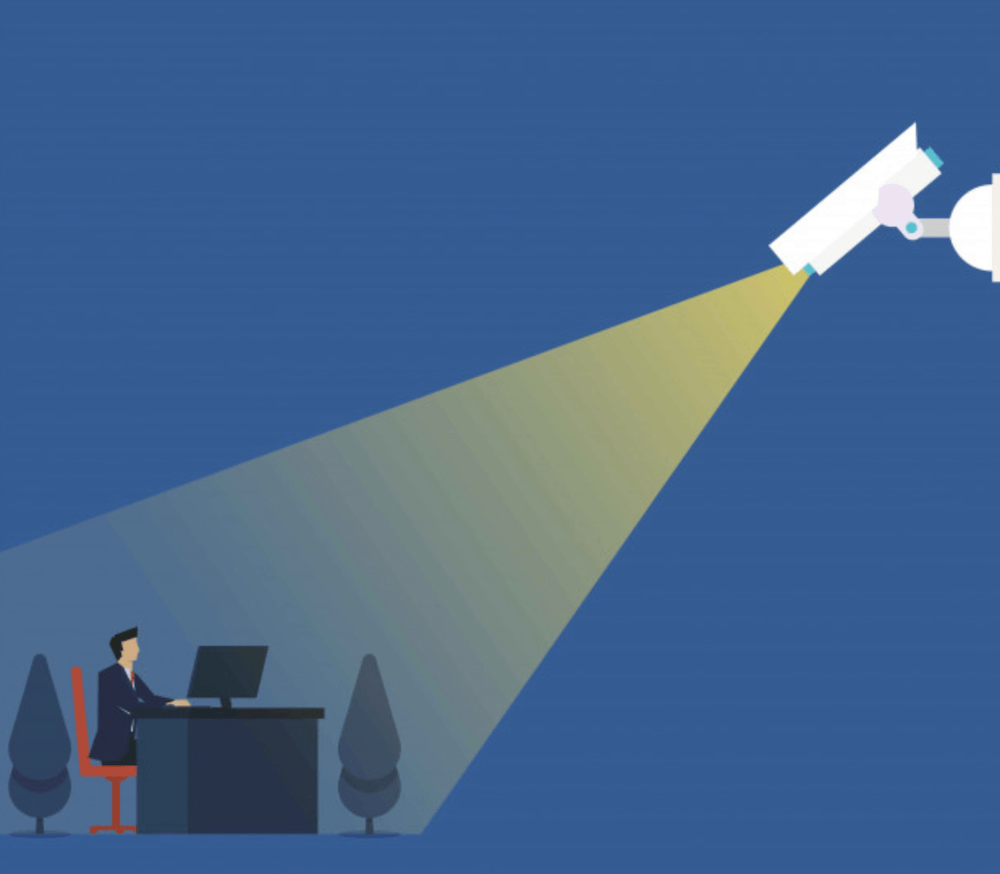 Here's what Microsoft said about it:
"We will access, disclose and preserve personal data, including your content (such as the content of your emails, other private communications or files in private folders) when we have a good faith belief that doing so is necessary to protect our customers or enforce the terms governing the use of the services."
And this, our friends, sums everything up. It means that the company has the right to access even your emails and private folders, and who knows what else. Now, before you get ashamed for sending nudes to your boyfriend or girlfriend, we'll tell you that a Virtual Private Network can fix things.
It will encrypt your internet activity, making you completely anonymous, which is all you need for staying safe and secure online. Not to forget to mention that this company isn't the only one spying on you. There's the government and your ISP. If you're from the USA, there's also CIA and NSA.
So, next time you think you're living free, think again – unless you're using a VPN. Then don't think about it – you'll be absolutely free!
Being Able to Torrent Safely
If someone who uses the internet often says that he/she never downloaded a single torrent, know that it's a lie. Torrenting is perhaps one of the most common activities on a platform like this. Windows, as an operating system, is very versatile and flexible. You can game on it, you can watch movies, listen to music, and so forth.
And as many of you know, torrent websites are jam-packed with music, game, video, and software torrents. With all the surveillance conducted upon us, you won't be able to download your copyrighted stuff from these websites.
There are some countries that will punish this vigorously, for example. Countries in Europe like Germany, France, and the United Kingdom strictly forbid torrenting. In the United States, for example, there are so-called copyright trolls that can ruin your life in one day!
They can report you for downloading torrents, take a couple of thousands of dollars from you, leaving your wallet empty like a desert! Regardless of your geographical location, this is a crucial benefit of a service like this.
We suggest getting a provider that supports P2P activities on almost all servers or the ones you need.
Accessing Geo-Restricted Websites
Despite being a very powerful operating system, this platform can't bypass geo-restrictions. If you don't live in the USA, you'll have to deal with this heart-breaking fact. When we talk about content like this, we often talk about movies and TV shows on streaming platforms.
Yes, Netflix, I'm looking at you! Netflix is a very popular streaming platform with thousands of movies and TV shows. Although it's mostly watched on TV, many people use a PC for this purpose. After all, it's better to watch a new Witcher series on a big screen, right?
So, how can a good provider help you fix this issue? Well, for the start, it can let you connect to a server in the USA, and voila – you're all set. To make things clearer, this doesn't apply only to Netflix. Platforms like Hulu, DAZN, HBO, Amazon Prime Video, and BBC iPlayer can all be unblocked.
Whether you're using Windows or any other platform, this is one of the most important benefits.
Avoiding ISP Throttling
When you're using a smartphone, you'll be the last one to feel ISP throttling. Smartphones consume less internet data compared to computers. On computers, though, you can feel it and feel it really good! This can happen to you, regardless of your country's internet infrastructure. This confronts the beliefs of many internet users.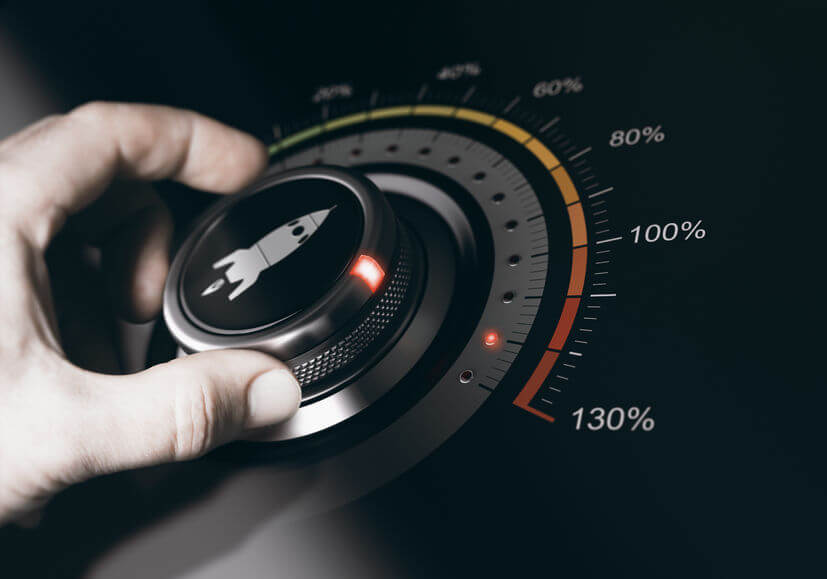 If your ISP says that it must be done to reduce congestion, don't believe that. The real reason is that you're either torrenting or streaming, which takes huge chunks of internet data. This is more than your provider is willing to give you, so they must slow it down.
When streaming, this is what very often occur, too. Because you're using some other streaming service, your ISP slows down your internet, making your video stuttery e.g. unwatchable. Some Internet Service Providers even made Netflix and other platforms pay them a fee for avoiding throttling.
With a Virtual Private Network, you can conceal your IP, making it impossible to be throttled.
Gaming on Remote Servers
Finally, we have gaming, an activity that many users of this platform like the most. Playing PUBG and getting killed after running miles upon miles, just because of high ping feels infuriating. Don't think we don't have experience with that!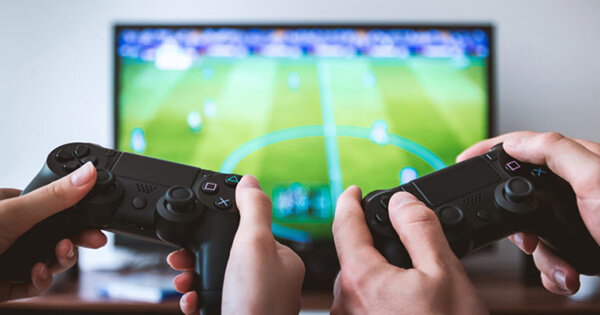 High ping is something that happens for various reasons. It could be because your internet connection is weak but it can also be if the server you're playing on is distant. For example, you're somewhere from Europe and you want to connect to a server in Asia.
You'll notice that European servers have a ping ranging from 15ms to 60ms approximately. Now, take a look at the Asian servers and you'll see pings over 150ms and even over 200ms in some cases. When you connect to a VPN server in Asia and then access the gaming server from there, things will be different.
So, even gamers have some benefits from this service. You can use NordVPN while gaming, for instance. We're going to talk more about this provider in a minute.
Top 5 Best Paid VPN Apps for Windows
We'll start with the paid apps first. Generally speaking, these providers are much better in terms of features, as well as privacy and security. After this section, we'll talk more about free options and see why they're inferior.
Are you wondering what is the best VPN right now for this platform? Here are our top 5 paid apps:
1. ExpressVPN
ExpressVPN has, hands down, the best app for Windows. Installing it is very easy and when you do, you get the simplest interface we've ever seen. With just a single button for connecting to the server, you can use the Smart Location feature to connect to the best one.
If you don't want it, you can click below to open a list of countries they offer. From there, clicking on the desired country will connect you to it in a few seconds. We like this minimalistic approach from ExpressVPN, which is as functional. Because of that, the provider deserves the first spot on our list.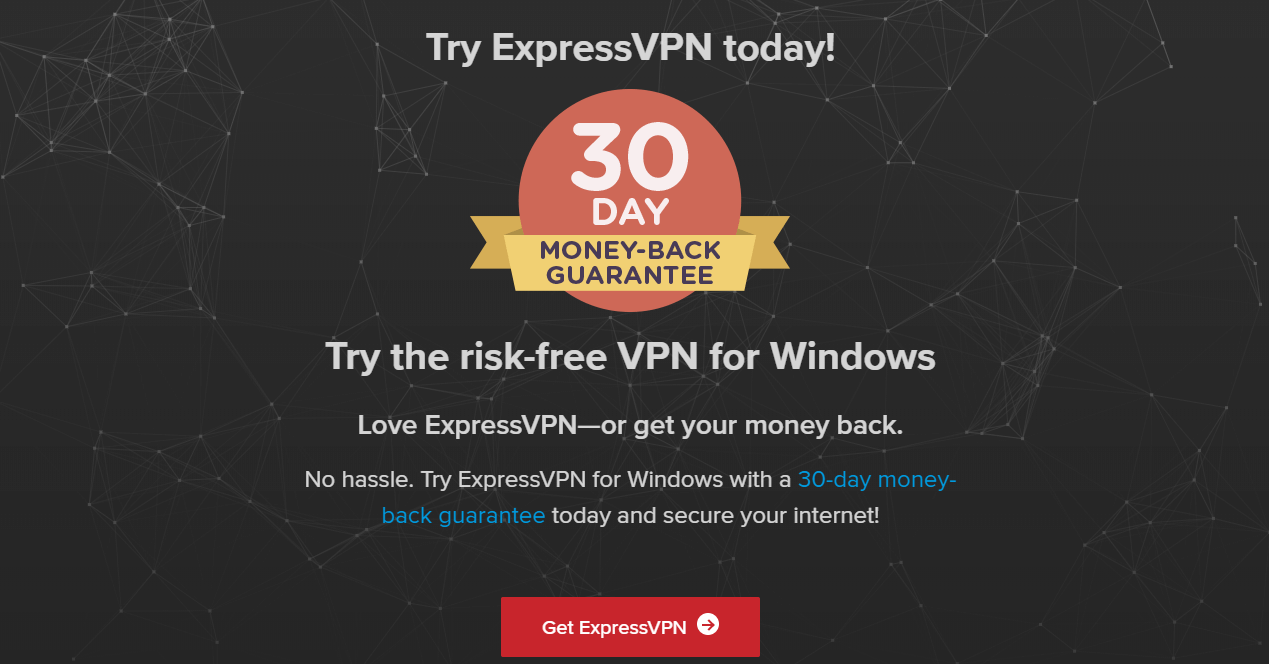 In terms of features, the provider easily beats other competitors. Based in the British Virgin Islands, the company offers a zero-log policy from the moment you buy a subscription. This means that they don't keep any logs of your previous internet activity.
Security-wise, you get 256-bit AES encryption, DNS and IP leak protection, and a kill switch. Due to its smartly implemented encryption, you can also unblock any geo-blocked website. Plus, all servers support P2P file sharing, making your torrenting a breeze.
If something's not clear, ExpressVPN's support team is active 24/7 and will resolve your issues. Arguably, the provider is just a tad more expensive than other providers on the list. However, with its 49% discount in place, and 3 months free for a 12-month plan, we can't say that's the case now.
You also get a 30-day money-back guarantee, so you basically a free trial when you get your money back.
2. NordVPN
NordVPN comes very close to ExpressVPN in terms of features. This provider comes from Panama, a country that's far away from the notorious 5 Eyes organization. If you don't know what that means, here's a shorter version – it means that the provider has a zero-log policy.
We often mention this policy but it's because it's VERY important. With this in place, no one will ever know your search history, not even the provider. Now, what's the app like on Windows? In one word – fantastic.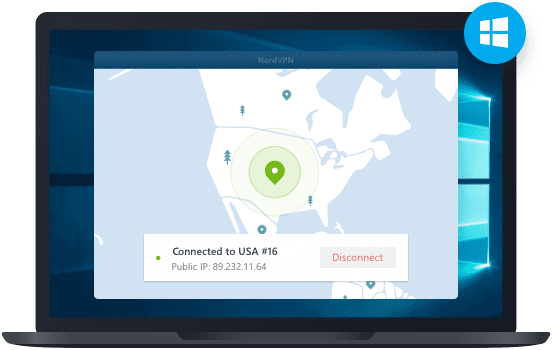 The installation process lasts less than a minute and the interface is intuitive. You get a whole map of servers to choose from, plus a list of supported servers. Don't forget that NordVPN has 5,500 servers worldwide, making it the second-largest provider in the world!
Security features are also at your palm's reach when using the app. For example, turning on CyberSec is easy, and this feature is key to your security. It's an ad-blocker that works flawlessly. Other security features include 256-bit encryption, Onion Over VPN, and Double VPN.
The latter one takes your internet traffic and filters it through two different servers, making it untraceable. Because of this Onion in the sentence above, you can use NordVPN with the Tor browser, giving you some super-duper security.
Furthermore, it's perfectly working in China, which is very important. With it, you can bypass censorship and geo-restrictions when streaming.
Simply put, we strongly recommend this provider, not just for Windows but for other platforms, too.
3. CyberGhost
When it comes to the ease of use, we always rank CyberGhost high. It is a beginner-friendly provider with some simple apps for satisfying all users. When you install it, you'll immediately notice one main feature that the provider offers – dedicated servers.
The app will ask you "What do you want to do today?" There are six options – surf anonymously, unblock streaming, protect Wi-FI, torrent anonymously, unblock basic websites, and choose my server. Depending on your choice, you'll be given the best serves for that particular purpose.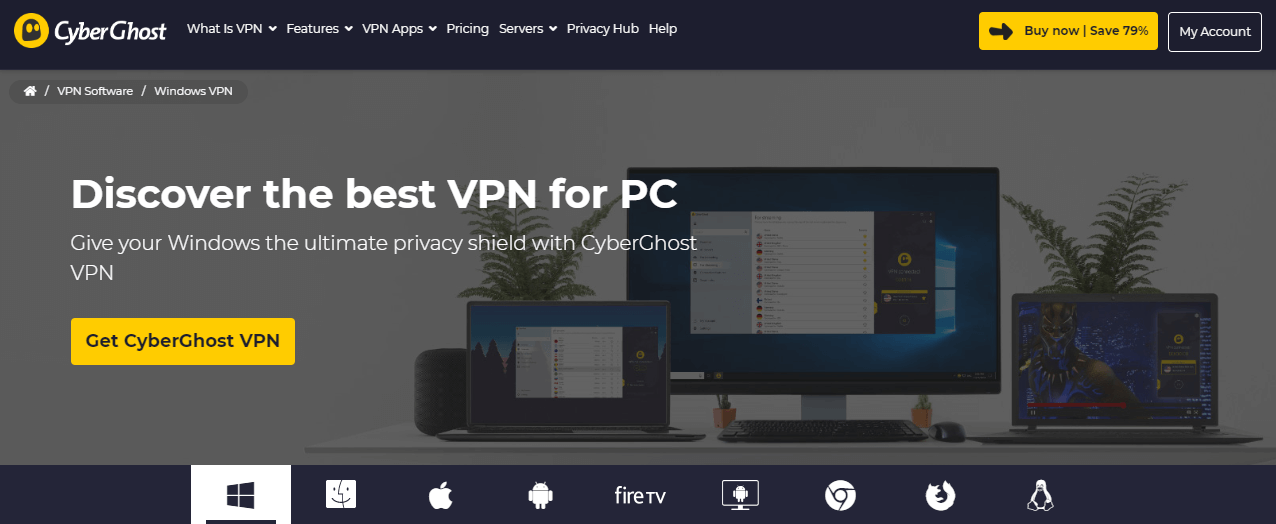 What about its features, then? CyberGhost is a Romanian provider that has about 6,000 servers worldwide. Yes, this is the largest one! Being from a country that isn't working with the 14 Eyes, the provider doesn't store logs about your internet activities, which is, as we said, a huge plus.
Speed-wise, CyberGhost is almost on par with the two previous providers. It's good enough for streaming 4K content, as well as gaming with a low ping. Since there's no limit for bandwidth, you don't have to worry about breaking any limits.
Other security features include DNS leak protection, 256-bit encryption, kill switch, and many more. If you don't want to pay a fortune for a good provider, this is a great choice for you.
4. Surfshark
Surfshark is a relatively new provider that is worth checking out. Because of that, we don't take the low server count as a downside. Sure, it has "only" 1,040+ servers worldwide but we're all about the quality of the servers, not necessarily the quantity. Let's first talk about the app.
As always, the installation is easy and is finished within one minute upon purchasing the subscription. The app itself is even easier! You get two buttons – Quick Connect and All Locations. You can use the first one to automatically connect to the best locations.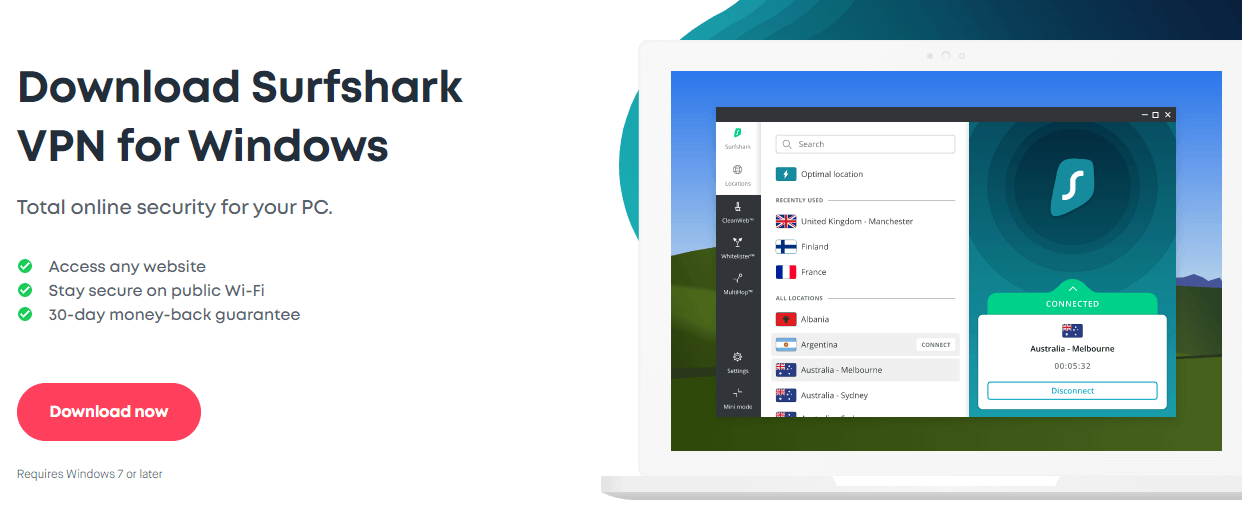 If not, choosing the second option will give you the list of all the servers, so you can choose the one you want. Changing the VPN protocols is also possible and if you open the Settings. Within this menu, you can see some of the unique features of Surfshark.
For example, Whitelister for apps and websites. With it, you can allow certain apps or websites to bypass a Virtual Private Network.
What about the speed and security features, though?
Being a new provider, Surfshark delivers a stunning performance that often surprises even us. The connections are stable and you get some fast speeds for streaming and gaming. Since the company is located at the same location as ExpressVPN, you also get a no-log policy.
Coupled with some affordable subscription plans, this is easily one of the best providers of today.
5. Hide.me
The last provider on our list is Hide.me. Don't think it's a bad one just because it's here. We can't put 5 providers all in the first place. The reason we like this provider a lot is that it offers a totally free option for those who don't want to pay.
If you decide on this, you get a 2GB bandwidth limit, only one connection, and 5 worldwide locations. Pretty limited, isn't it? Well, the paid option is much better but first, let's talk about the app. Upon installing it, you'll be greeted by a small, simple window app.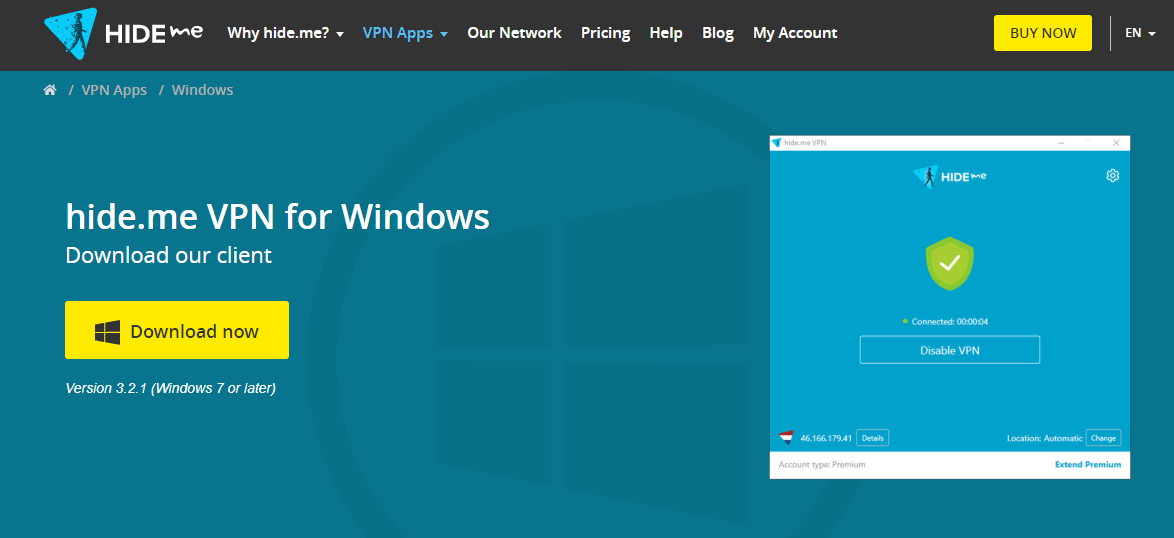 However, this window has plenty of options. You can choose to connect automatically or choose a server. Hide.me has 1560 servers worldwide, so it's not as small as you would think. That pretty much sums the app, including numerous settings that you can access with a single click on the gear icon.
The provider is located in Malaysia, giving you an instant no-log policy. It is also among the rare providers that properly support split tunneling. On top of that, you get IP leak protection, an automatic kill switch, and reliable 24/7 customer support.
It's hard to count down all of its features in a couple of paragraphs. To see the full picture, click on the button below. We think it's a pretty interesting company.
A Few Reasons Why You Should Avoid Free Options
"Hey, Monkey, why do you say we should avoid free options, yet you gave us 3 options below?"
Monkey is now sleeping, so we'll answer this question. If you've read the section about Hide.me and its free plan, you can pretty much anticipate what we're going to talk about. Here are the reasons you should avoid free options:
Lack of Zero-Logs Policy
This is a big thing. If a provider doesn't have a zero-logs policy, we almost always suggest you stay away from it. Of course, we're talking about countries with harsh censorship where you can end in jail just for visiting websites. These countries include China, the UAE, Iran, and many more.
Why do they miss this feature, you probably ask yourself. Well, because they must earn somehow. One way is by implementing annoying ads that hinder your browsing experience. Almost every free provider is guilty of this, so know what to expect if you decide to use them.
There's another option for earning cash – selling the users' data. This is a lucrative option for any free provider, which is why they don't offer a no-log policy. They store your browsing history on their servers, making it easy for them to sell it to some third-party companies.
Slow Speeds and Bandwidth Limitations
It's foolish to expect a free VPN to perform like the paid ones. Since you're using a service for free, you often get cut-down performance. But, that's what you paid for… or you didn't? Either way, you're going to need to come to terms with the fact that your internet speed will decrease drastically.
Whereas paid providers lose just 10 to 20 percent of the speed, the free providers often push this limit to 80 percent. If you have a 100Mbps internet, for example, your speed could be decreased to up to 20Mbps.
Bandwidth limitations are also common. Once again, we'll refer to Hide.me and its free plan. There, you have 2GB bandwidth per month. The moment you get to this limit – bye, bye! Fortunately, this provider is even generous, as many free providers limit you to 500MB.
If you're planning to use it, be ready for a limitation anywhere from 500MB to 2GB. Of course, you can forget about streaming on Netflix and other streaming platforms because of this…
Inability to Bypass Geo-Restrictions
… And because of this. As you've probably guessed, free providers can't access Netflix, Hulu, HBO, DAZN or any similar platform. Their encryption algorithms are too weak to break these restrictions, so you're left only with the basic stuff.
This basic stuff is, in many cases, pretty limited. For example, you can use it to access some local content in another country. Or perhaps to hide from your ISP, although you can't hide from the free provider. So, if free VPNs are your thing, just get over the fact that you can't access Netflix.
Top 3 Best TOTALLY Free VPN on Windows
After everything we just said, we don't blame you if you think that free providers are not worth it. To be honest, most of them aren't worth your time but there's a handful of them that you should consider. Here are our top 3 picks for Windows:
1. Windscribe
Windscribe is our favorite risk-free provider and you'll see why. First of all, you get 10GB of free data every month, which is VERY generous, considering you pay exactly 0 dollars. If you love streaming, this translates to slightly less than 15 hours a month. Of course, if you only use it for that purpose.
Since it can't unblock Netflix, you can use it for Kodi, Skype, and YouTube because it works flawlessly with these platforms. In terms of security, there's plenty to admire. It has 256-bit encryption, kill switch, and surprisingly, a no-log policy.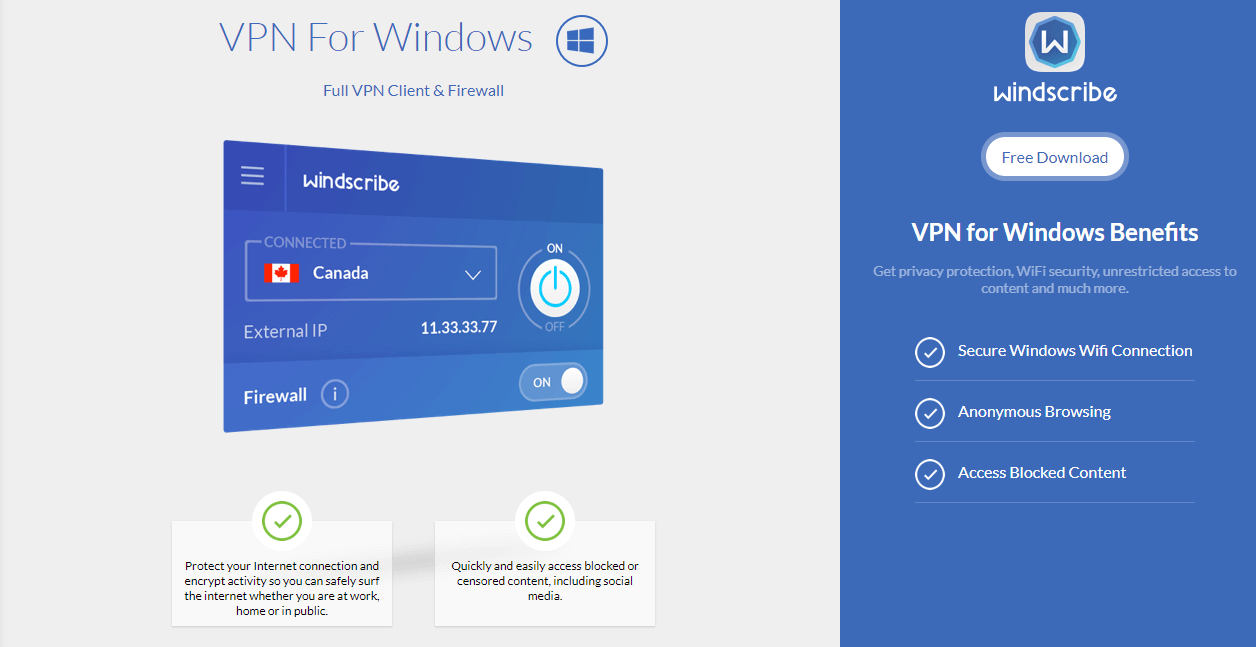 Perhaps the greatest thing about this provider is that it can bypass the Great Firewall of China – even a free version! If you enable Wstunnel or Stealth mode, that is entirely possible. Another thing that is possible is blocking ads and malware, which is a welcome feature in a VPN like this one.
In terms of speed, don't have your expectations sky-high. Windscribe isn't very fast in the free version and if you upgrade, you can expect a slight increase. Also, the upgrade lets you access streaming servers and 50 server locations that the provider offers.
2. TunnelBear
TunnelBear is a mixed bag of features that shines somewhere and somewhere… well, it's not that great. Let's start with the good stuff. The good thing is that its apps are very easy to use and are compatible with all major platforms. Furthermore, the provider works flawlessly with YouTube, Kodi, and even HBO GO.
The provider offers a GhostBear mode and thanks to that, it works in China. Although it's based in Canada, we're extremely glad that there's a zero-log policy. Canada is, after all, a part of the 14 Eyes alliance.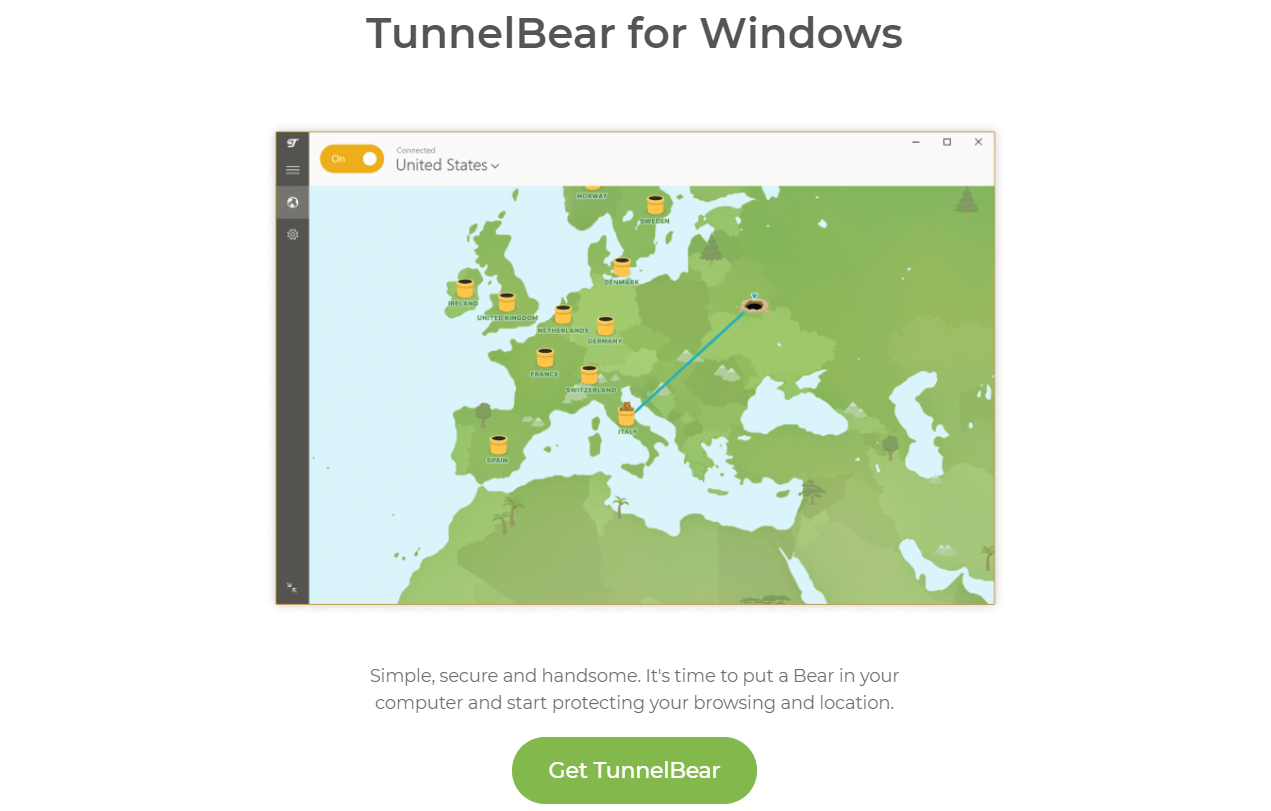 Now, the bad things. The first and the most glaring issue is the bandwidth limit of just 500MB. This equals about half an hour of HD streaming – barely enough for an episode of your favorite show. Although you can get a 1GB bonus by tweeting about the provider, this is still very little.
Another not-that-great thing is customer service. It's available only through email and they aren't particularly responsive. You get a response in approximately one day or 24 hours, however you like it.
Apart from that, Tunnel Bear is a decent provider for everything except streaming.
3. ProtonVPN
ProtonVPN offers a very good paid service but they also have a free one. What you'll immediately notice is that there isn't a bandwidth cap. There must be a trick, right? Of course, you get unlimited bandwidth but no torrenting or streaming, and this applies only to the Netherlands, US, and Japan.
When it comes to security protocols, you get IKEv2/IPsec and OpenVPN, accompanied by 256-bit encryption. Since the company is based in Switzerland, you're far away from the 14 Eyes or any similar alliance.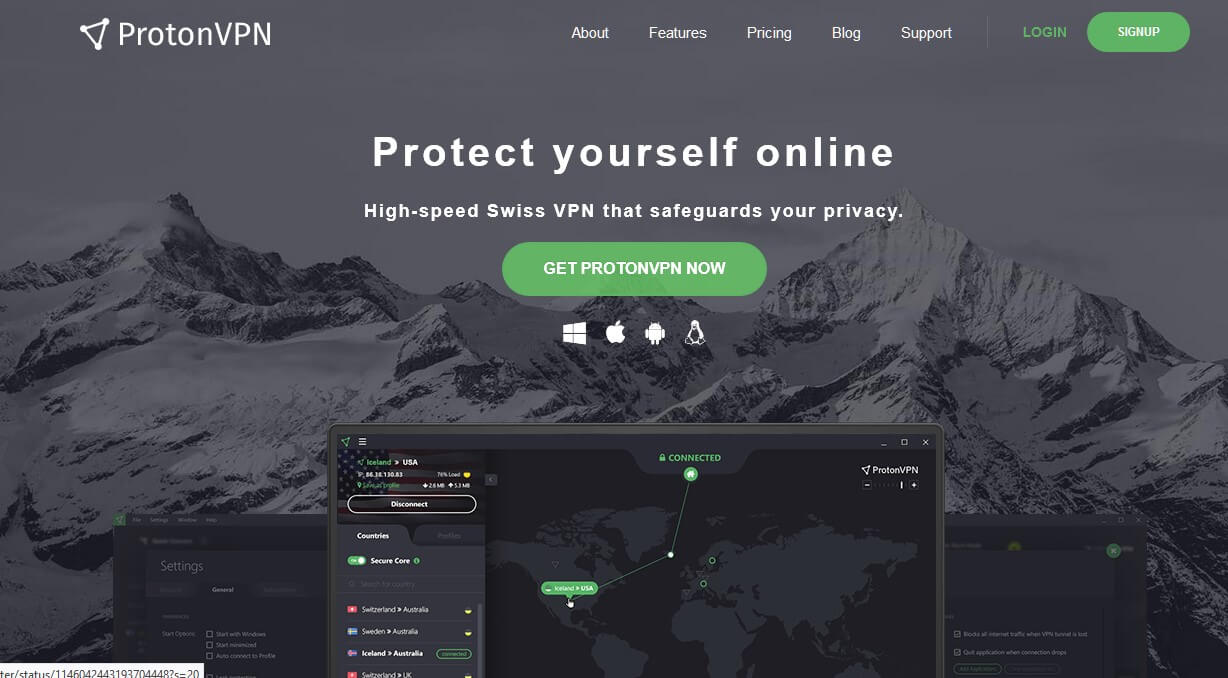 To make things more secure, ProtonVPN comes with a unique feature called Secure Core. It's here to add another, thick layer of security for protecting you against all kinds of internet attacks. This is done by routing your traffic through multiple servers, similarly to NordVPN's Double VPN feature.
In terms of unblocking geo-restrictions, you'll be happy to hear this – it unblocks Netflix, hooray! But, if you're using it for free, expect a lot of stuttering and buffering due to slow speeds. If you like it and decide to pay for a plan, you'll be able to stream and torrent endlessly, though.
And not to forget, there's a 30-day money-back guarantee, so take your time while testing it.
How do We Tested and Ranked All These VPNs for Windows?
Finally, let's see how we did our ranking for all these providers, including both free and paid.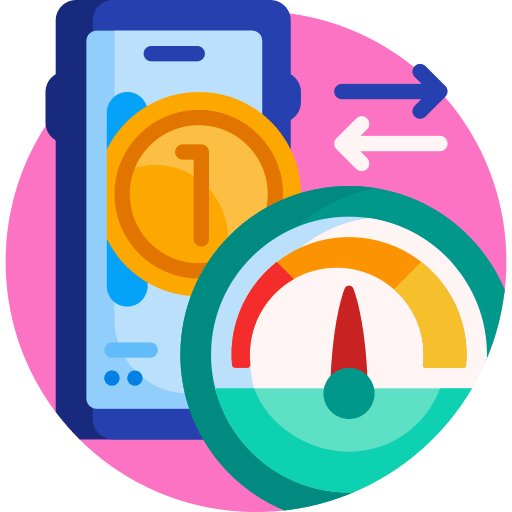 Performance Offered
When we talk about performance, we think about speed. Of course, free and paid providers are vastly different in this department, so we lowered our criteria for the free ones. For the paid providers, ExpressVPN is the fastest, and for the free providers, we have Windscribe at a winning spot.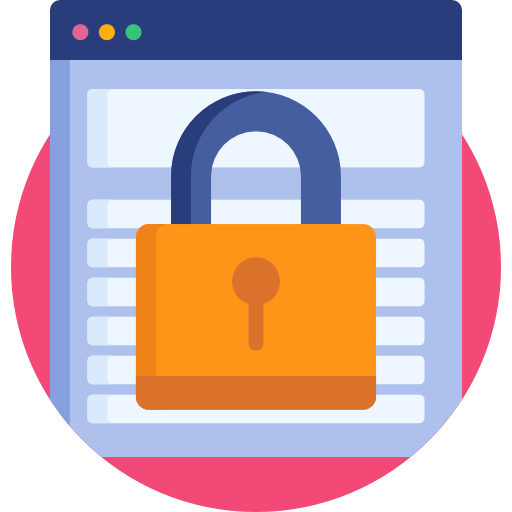 Security and Anonymity
Security and anonymity are two very important things for a VPN. We also tested and ranked these providers according to security features. We found that ExpressVPN is the most secure overall, as well as Windscribe for the free providers.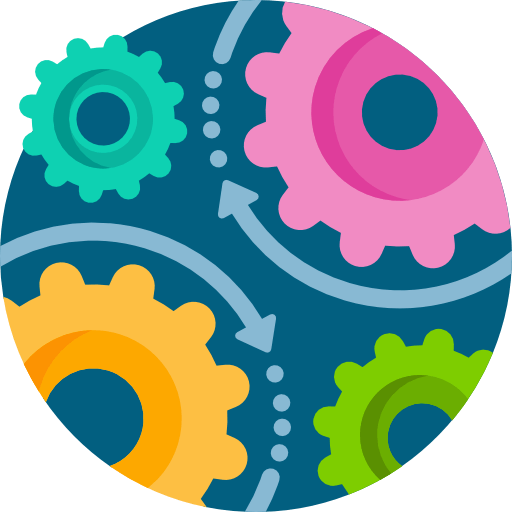 Ease of Use
Although all providers are easy to use, some very easy, and some slightly less. In terms of ease of use, it's hard to compare these providers. ExpressVPN and CyberGhost, for example, have a very intuitive interface.
For free providers, all 3 of them got rewarded for the ease of use.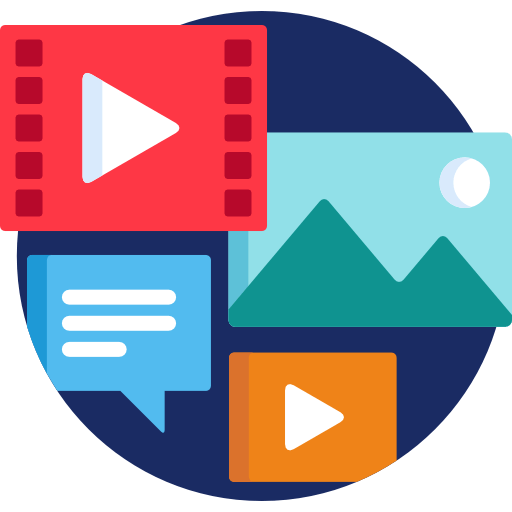 Ability to Unlock Streaming Platforms
Last but not least, the ability to unlock streaming platforms can either make it or break it. Logically, free providers on our list can unblock way fewer websites than the paid ones. Still, when it comes to unblocking websites, ExpressVPN is an undisputed champ.
In the other world, a world of free Virtual Private Networks, our favorite is ProtonVPN. It can unblock even Netflix, Hulu, and HBO, although at limited speeds for a free membership.