We always like it when we find a VPN that isn't overwhelmingly popular, yet offers some quality services. One of them is Hide.me, a provider with a beautiful, comprehensive website, that promises a lot. Today, our mission is to bring you an in-depth analysis of this provider and to see if it's worth your hard-earned cash. This is going to be a long read, so take a pee, drink a coffee or whatever, and let's go!
What is Hide.me?
Hide.me is probably one of the most complete providers on the market, offering even a free plan for you. The company was found in 2012 in Malaysia, and as we know, that was a great time for companies like these. Nowadays, when cybersecurity is very important, this provider is already well-developed and ready to take on new challenges.
But, is its neat, elegant presentation enough to attract potential buyers? Well, certainly. The only concern is if the features will make those buyers stay or run for the hills.
We've gathered here today to give you an answer to that question. Below is our carefully-crafted review of this provider and if you want to buy it immediately, don't hesitate to use a button below.
You'll get huge discounts via our website for Hide.me and many other providers we mention in this review or elsewhere.
Compatible Devices and Ease of Use
Every provider offers a fair share of apps for multiple devices. Since we are talking about a premium provider, we went with a lot of hope in this review. Thankfully, the provider made us satisfied in this regard. Here's what devices it supports:

As you can see, there's Windows, Android, iOS, macOS, Amazon Fire OS (Firestick), Router, Chrome, and Firefox. The last two are free extensions for Google Chrome and Mozilla Firefox and not full-fledged VPN apps. Also, you can see that there's a router on the list, which opens up additional possibilities. More on that later.
We found that the Chrome extension is very good. You can find it here and it's free to download. The extension is used by more than 61,000 people and is updated frequently, so if you need a quick proxy solution, you can use it.
Computers
If you wish to install the provider on your computer, know that you can do that on Windows and macOS systems. Linux isn't on the list, which is quite strange.
Nevertheless, we'll show you the installation process on our Windows 10 computer, to determine if it's simple to use or a nightmare. Upon buying a subscription and activating your account, you'll need to download the Windows app.
The installation is done in two clicks – literally. This is the initial screen you'll see: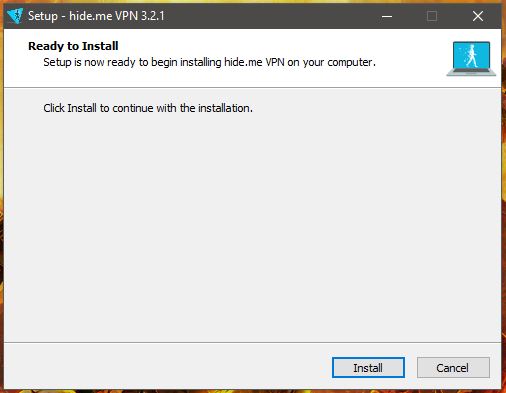 Just click on Install and boom – it's done. You'll then see this screen, so just click Finish.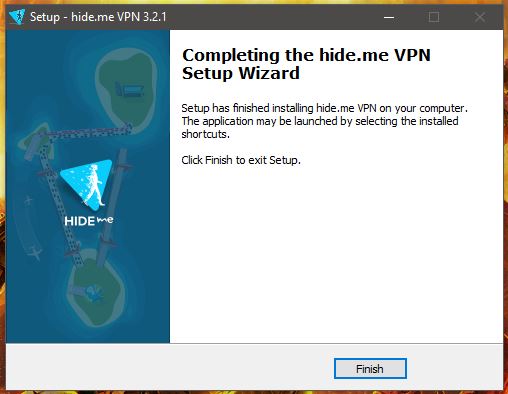 After this, the app will open immediately. Here's how it looks: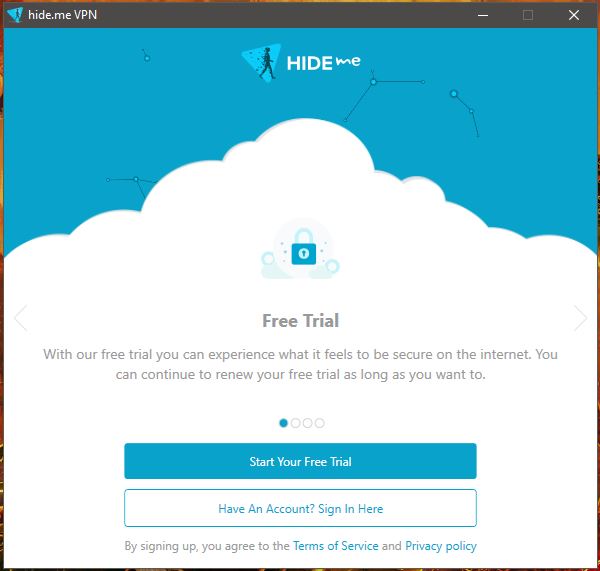 Given that you've already bought the app, you'll need to sign in. Alternatively, you can start your free trial that the provider offers but know that you'll still need to pay when that period expires. After choosing to sign in, enter your credentials and now, the home screen will appear: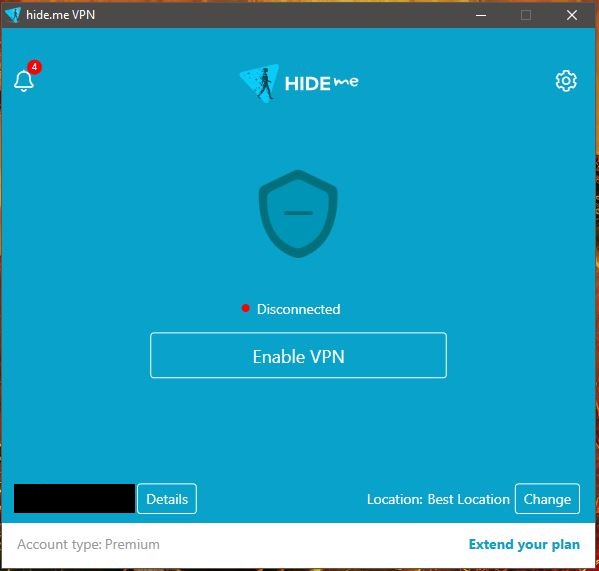 Since we're disconnected, it's time to establish a connection. Click on Change in the lower right corner and the server list will open: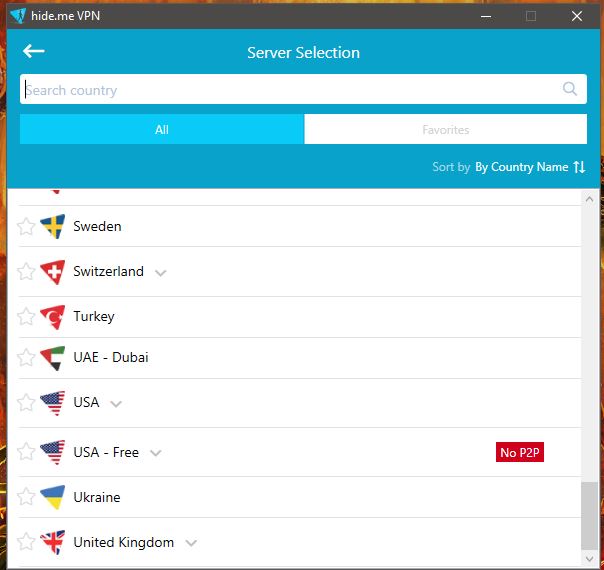 We scrolled down and chose the USA server. You see that there's a free server in the same country but with no support for P2P. This is because it's meant for free users, and as you know, going this route means having lots of limitations. Here's how the app looks like with the connection established: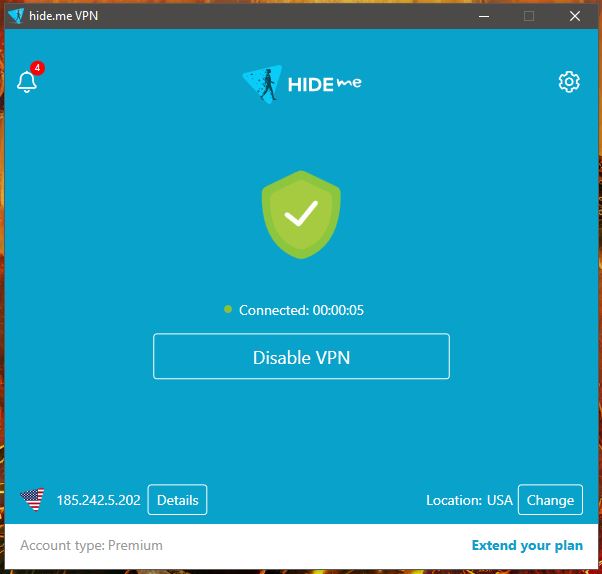 So, is it easy to install and use? Very easy. The Windows app is phenomenal in this regard, so you won't have any problems, even if this is your first time using a Virtual Private Network.
Get the Hide.me app on your Computer >
Smartphones and Tablets
Now, it's time to talk more about tablets and smartphones. These devices usually share the same operating systems, so we're talking about iOS and Android.
The installation process is the same on both platforms, and since we use Android devices, we'll use one as an example. In this case, you want to visit the Google Play Store or the provider's website.
We went with the second option, as shown in picture 1. When the app finished downloading, we opened it and we got a login screen shown in picture 2. After login, the app's home screen will greet you – picture 3.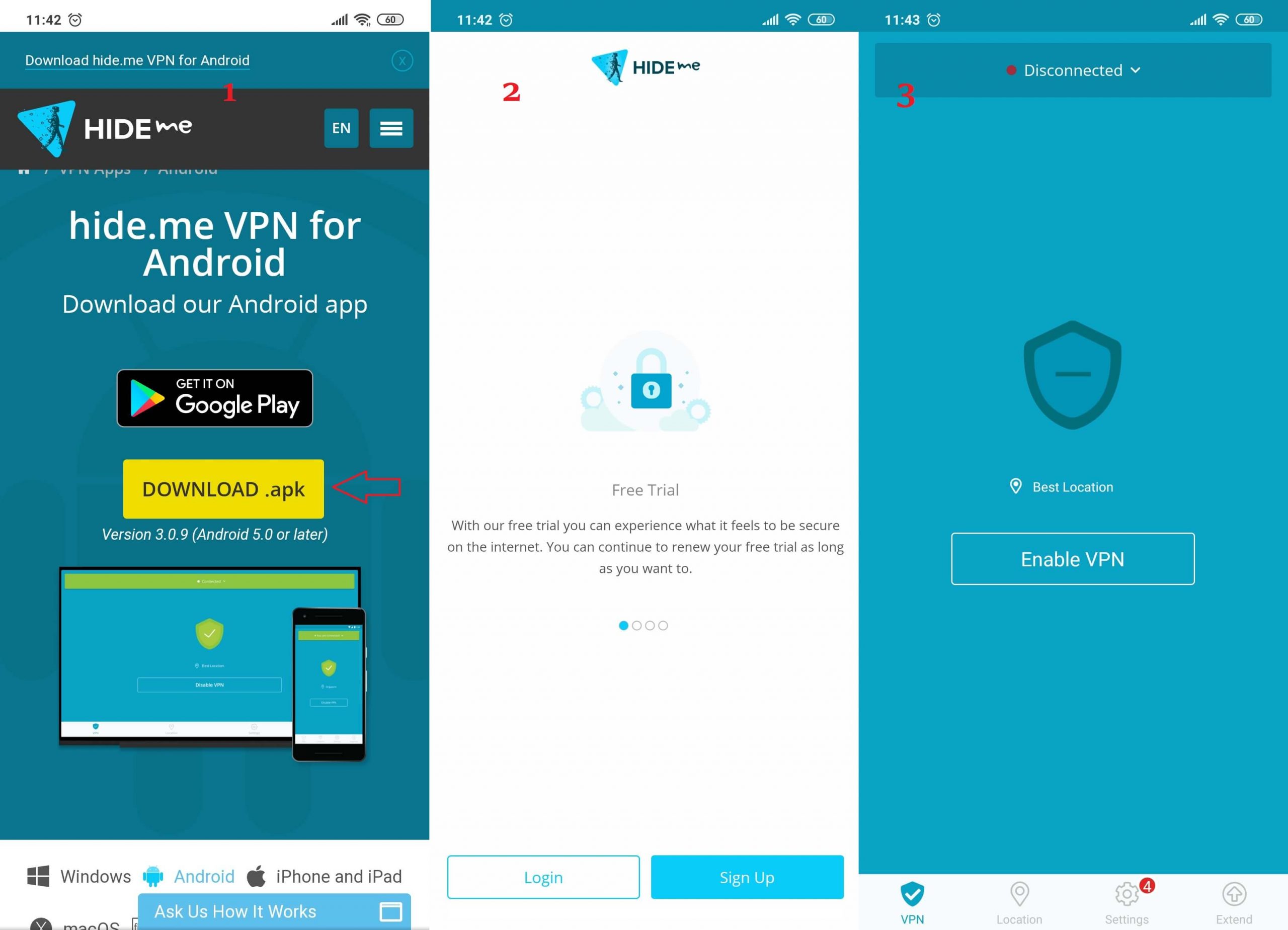 As always, we'll go for the USA server. To do that, click on Location, which is located at the bottom, and then, the server list will open, as shown in picture 4.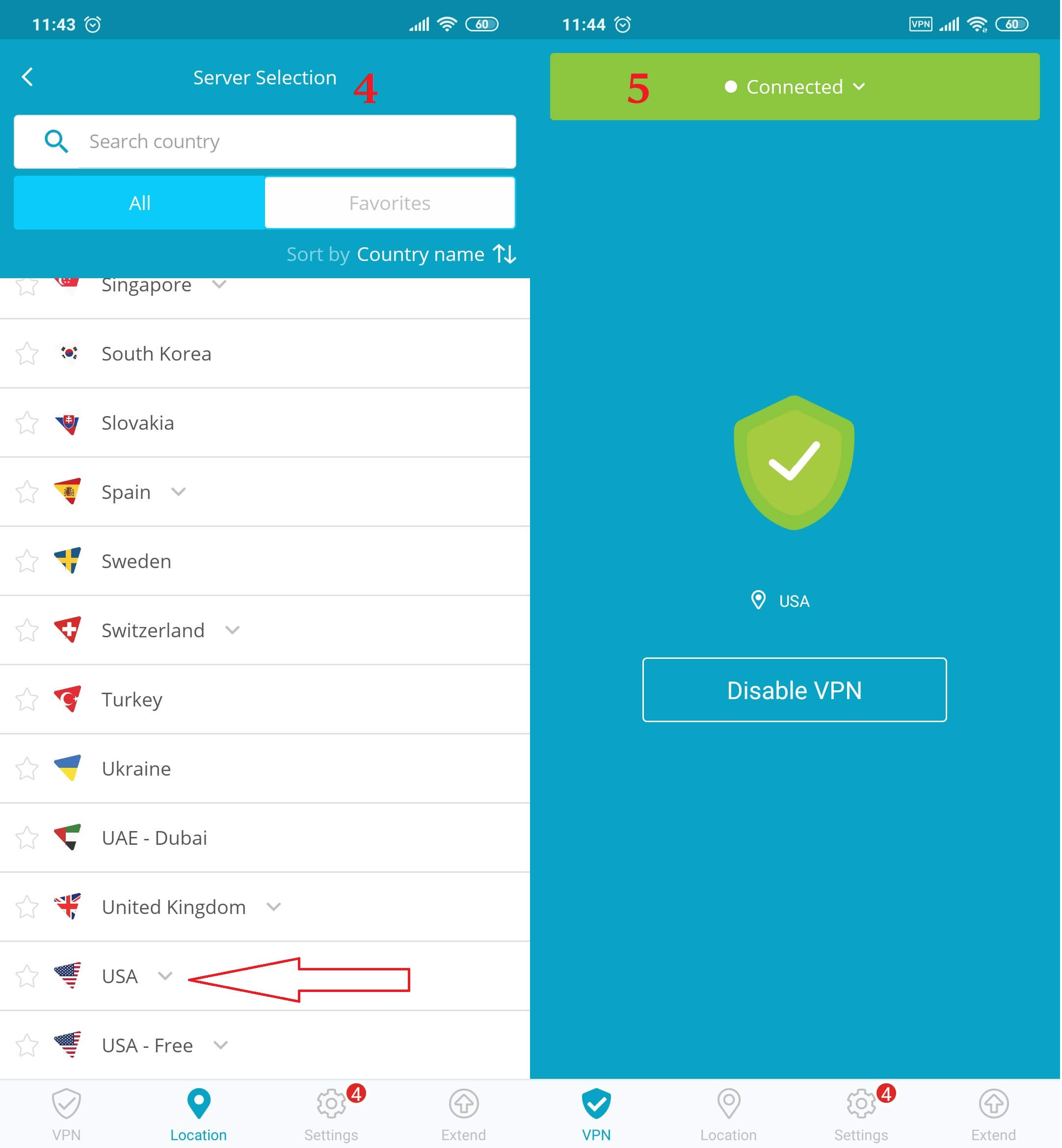 We chose the US server, connected to it, and that is now shown in the app's home screen in picture 5. When you establish a connection, you'll also get a small VPN sign in your notification bar above. That indicates that the connection is stable and ready to be used.
What we said for the Windows app also applies here. Very easy, very intuitive, and good-looking – approved!
Other Devices
Talking about other devices, we have routers and Amazon Fire OS. However, routers are much more important because they allow you to protect each device connected to them.
Since they support up to 16 or 32 connections, this is going to be a number of devices you can protect. Hide.me even offers you some VPN-compatible routers that you can buy from Amazon: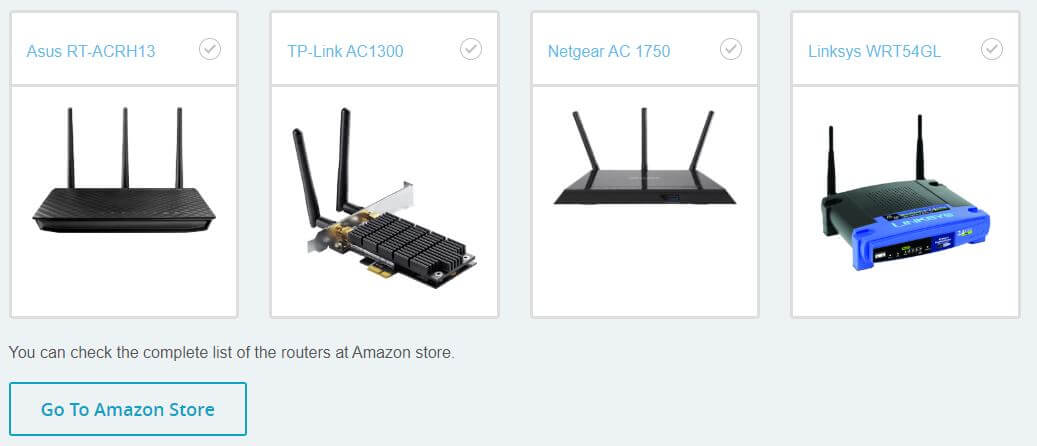 There are 4 of them here but the full list is available on Amazon. If you don't want to mess around with your router, you can get one and follow the provider's step-by-step guide for installation.
When you install it, know that every device in your house can get its treatment. Apple TV, Amazon Fire TV, Xbox One, PlayStation 4, and many other devices are compatible.
Which is a good point in the case of our complete review for Hide.me VPN.
Install Hide.me on all the devices you want >
How Fast is Hide.me? We Checked Its Speed!
You know that phrase that says "you can run but you can't hide." Well, Hide.me is here to hide you and we'll see how fast it can do it. But, before we do that, let's mention one important fact that you'll need to remember. All VPN providers will slow down your internet… to some extent. Don't be afraid to embrace this change because it's for your good or better said, it should be!
Some providers will reduce it by 10% and some will do it by 70 or 90% – there's a huge difference. Premium providers are much faster, hence the reduction won't be so dramatic. After all, there are numerous factors contributing to this. It can be encryption, server distance, and so forth. Because of that, it's crucial to talk more about our ways of testing.
We do 3 test in the morning, 3 in the mid-day, and 3 in the evening, for 3 different locations. Also, we keep the best score and use the best location when the option is available. Our geographical location is the USA (non-VPN test) and we used the 3 following locations:
The United States
The United Kingdom
Australia
Without using a Virtual Private Network, our network speeds are:
Ping: 11ms
Download speed: 211.88Mb/s
Upload speed: 202.20Mb/s
When using Hide.me, our ping, download, and upload speeds respectively for 3 locations are:
US server: 19 ms / 187.51 Mbps / 168.42 Mbps

UK server: 83 ms / 105.44 Mbps / 92.19Mbps

Australia server: 296 ms / 57.59Mbps / 61.08Mbps

The speeds in the United States were very good and surprisingly, we managed to keep our ping below 20ms, which is excellent. Even in the United Kingdom, speeds are, more or less, okay. The ping of 83ms is very high, though. But given the distance, it's fine.
As always our results from Australia weren't impressive. A huge ping of 296ms definitely hindered our online experience, hence we waited for the pages to load significantly longer. All in all, the speeds met our expectations but don't expect them to be on the ExpressVPN level.
How Good is Hide.me for Streaming?
With the solid speeds all-around, you probably have high expectations when it comes to streaming. Well, in this regard, you should. Streaming is very smooth and you can even watch 4K content. But, as gamers love to ask, "Can it run Crysis?" for certain GPUs, we like to ask "Can it unblock Netflix?"
And the answer is – no. Unfortunately, Hide.me doesn't work with Netflix, which is odd since it worked a few years ago. When we tried to access it, we got that famous "Whoops, something went wrong…" error. Long story short, the site detected that we're using a VPN, so it locked us out.
We tried to find out if this is the issue on our end. But, after hours of searching, we just visited its website and saw this image:

Do you see Netflix somewhere? You don't, which is proof that it doesn't work with it. However, you can unblock HBO GO, Sling TV, Spotify, Showtime, and other platforms. We tried BBC iPlayer, DAZN, and Disney+ and we could unblock only the last one. Here's the image of BBC iPlayer: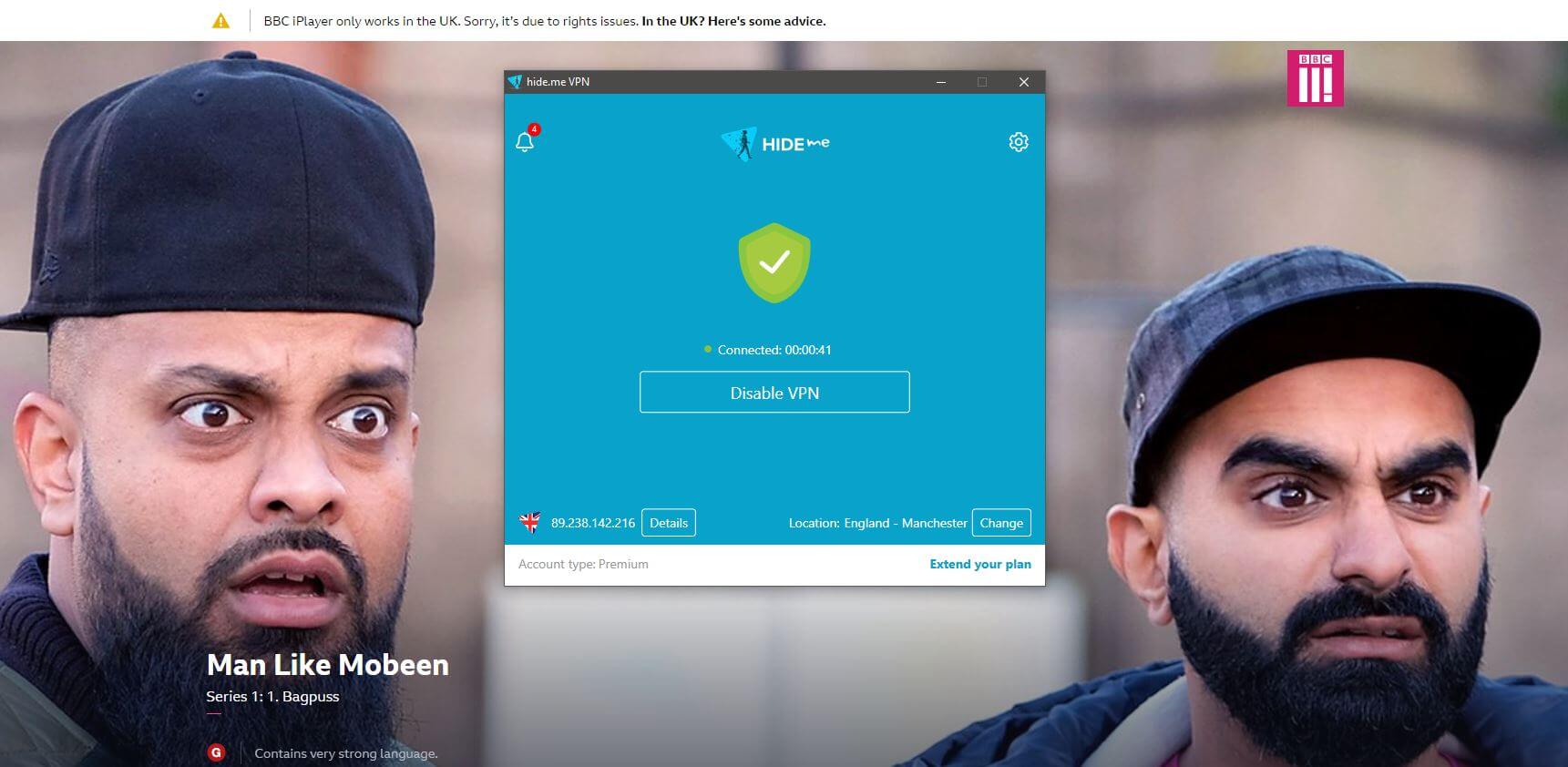 You see these two guys? Our faces looked exactly like theirs when we found out that BBC iPlayer doesn't work. Disney+ works but not from the home page. Instead, you have to type in "Disney+ Login" and get to the login page directly. DAZN, as we said, also doesn't work, see this: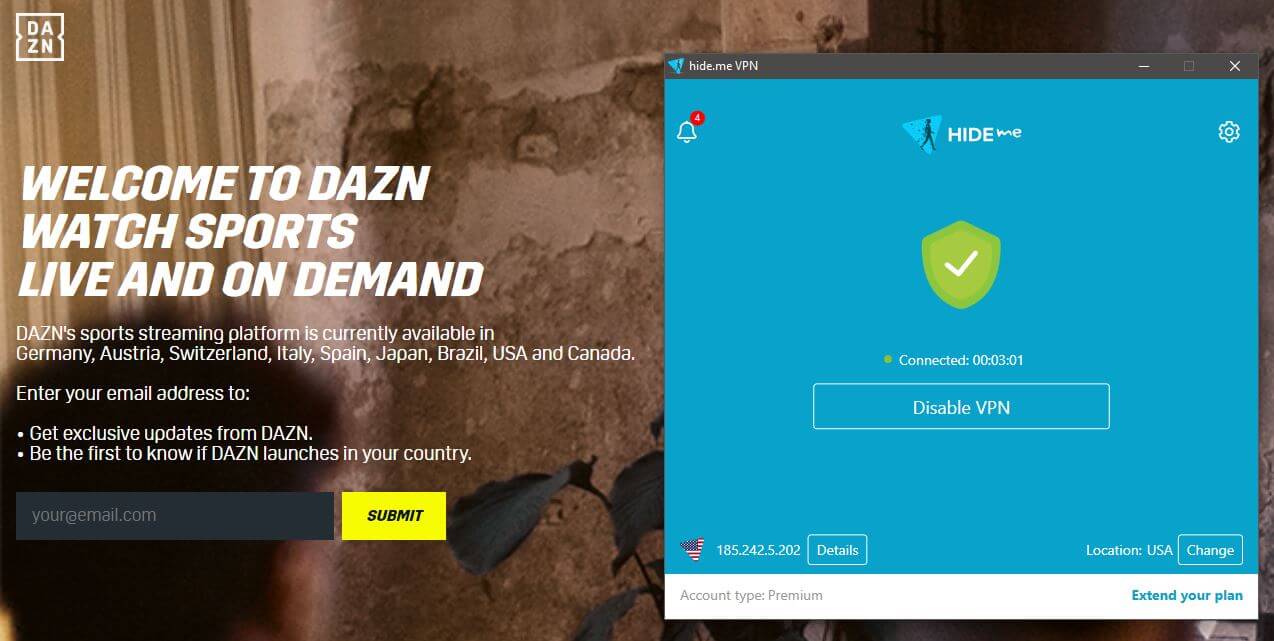 Hide.me is great for streaming if you don't care about Netflix and other sites we mentioned. If you spend your time on Amazon Prime Video and HBO GO, you'll enjoy it thoroughly. Objectively, the provider isn't very good for this purpose.
Enjoy your favorite Streaming Platforms with Hide.me >
Confidentiality, Security & Logs
On the brighter side, this provider is exceptional when it comes to security. We like how good their zero-log policy is. They have a whole page dedicated to it, with beautifully arranged text and lots of images for illustration. Needless to say, we are still impressed with it! Here's only a part of it that proves that they're not keeping any logs: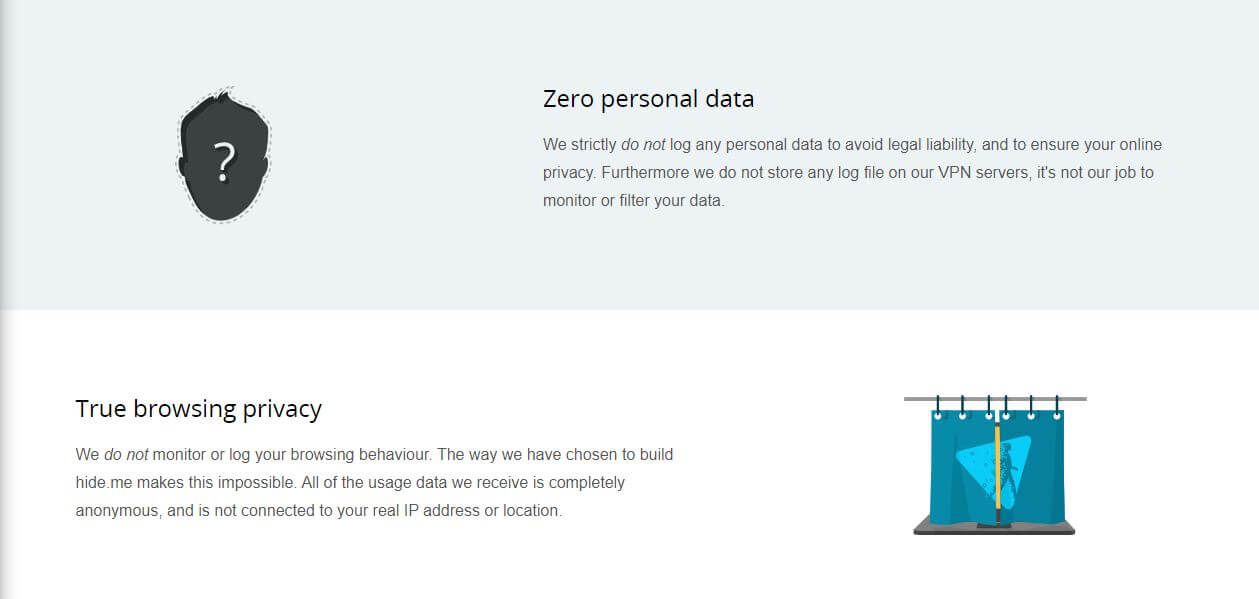 The best thing is that they don't store your browsing history, IP address, timestamps, and other similar things. You can read their full no-log policy here. Now, let's see if we'll encounter some IP or DNS leaks in the IP leak test. Here are the results: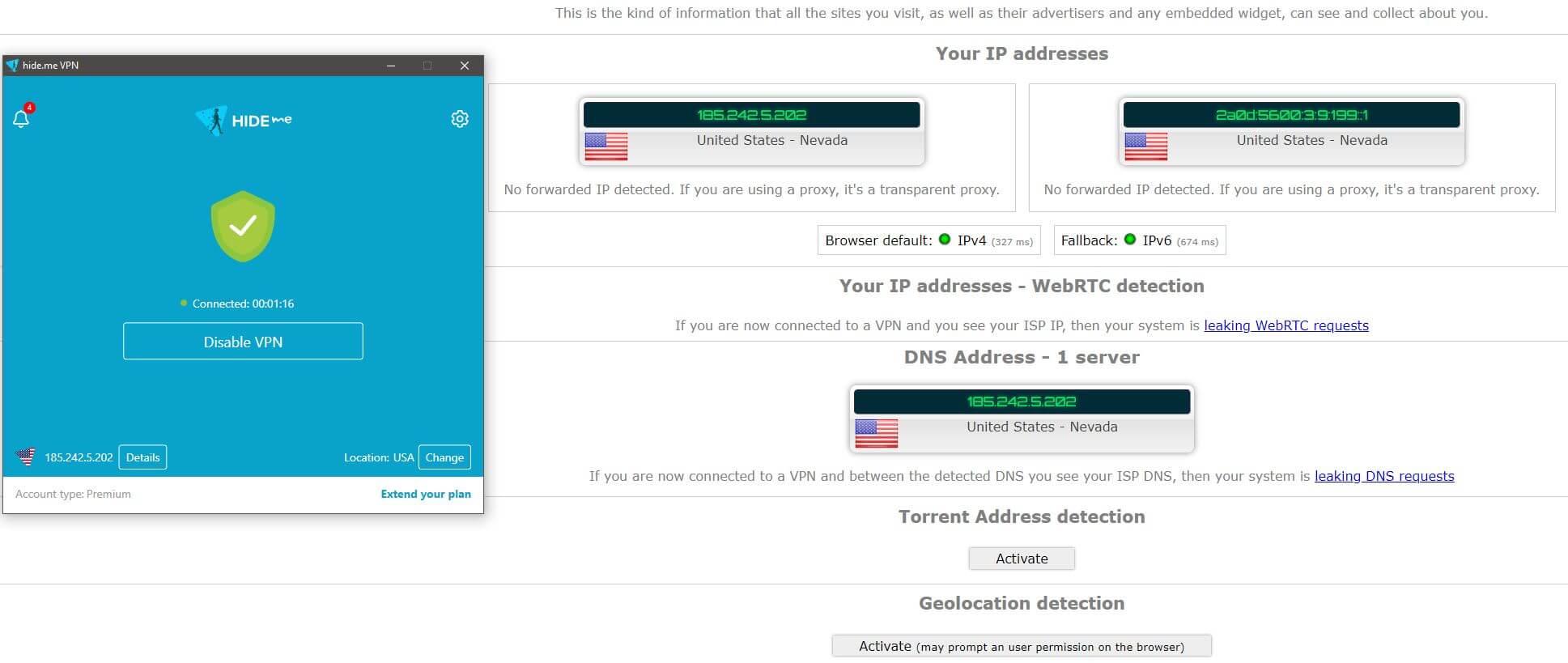 As you can see in this part of our Hide.me review and test, no IP and DNS leaks, which is excellent. On top of that, you get 256-bit encryption with 8192-bit keys, port forwarding,  WebRTC, IP, and DNS protection, and a plethora of security protocols like OpenVPN, SSTP, SoftEther, and IKEv2.
Is it safe and secure? Oh, yes – it definitely is!
Can I Do Torrenting Safely With Hide.me?
Enjoying P2P activities has become significantly harder in 2021. The USA, Germany, France, the UK, and Australia are just some of the countries cracking down on BitTorrent users. Some countries will empty your wallet like a female gold digger and in some cases, you can get a jail sentence for this.
Either way, a VPN should allow you to download torrents safely, which Hide.me does – to a certain extent. Some servers don't support P2P and these are:
Brazil
Mexico
South Korea
The USA – Free
Other servers all support, even ones in Dubai and the USA (paid version). We used the same IP address from above, entered 1337x.to, and got this:

Here, you can see our IP from above, indicating that we're completely anonymous while torrenting. Just be sure not to try this activity on the servers we mentioned above and you'll be more than okay.
Can I Use Hide.me to Bypass Censorship?
If you live in China, the UAE or Russia, bypassing censorship will be your top priority. However, since the Great Firewall of China defeats almost all Virtual Private Networks, we'll focus on it. China started banning a great number of providers a few years ago.
In 2021, only a handful of them works in this country. Is Hide.me one of them? Well, take a look at what the company has to say about it:

As you can see, even they can't guarantee that it will work in China. You'll have to play your luck and see it for yourself. They proceed by saying that some of their users managed to make it work there. Of course, with a few tricks and tweaks.
You can, for example, try to change the protocol used. But we aren't going to get too much into it in this review of Hide.me. Instead, here is a link to this topic and if you're from China, try some of these methods.
Ours is only to draw a conclusion now and we say that it isn't the greatest for bypassing censorship. That's even the company's opinion, as you can see from the image above.
Pricing and Plan Options
Hide.me is like a clingy girlfriend or a boyfriend that forces you into a long-term relationship. If you don't see what we're trying to say, take a look at its pricing: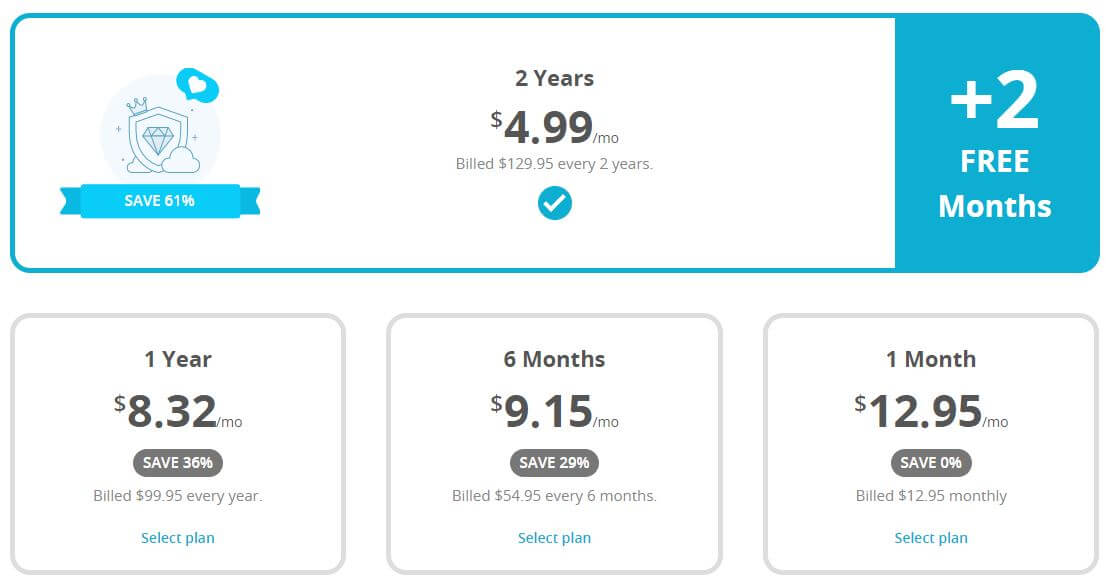 Let's start with some good stuff here. The first plan, one that takes the most space is a 2-year one. This 2-year plan costs $4.99 a month, translated to $129.5 every 2 years, plus 2 months free. What can we say about this plan except that it's the only plan we recommend. Other plans are, unfortunately, very expensive.
An annual plan is $8.32 a month of $99.95 a year. For instance, ExpressVPN gives you a yearly plan at $6.67 a month and you get 3 months free. Needless to say, ExpressVPN would wipe the floor with Hide.me.
More infos on the plans offered by Hide.me
A 6-month plan is also there, and it costs $9.15 a month ($54.95 every 6 months). Finally, we have a monthly plan, which is perhaps one of the most expensive plans we've ever seen. It costs $12.95 a month. It's easy to see why we made such an analogy in the beginning.
The provider obviously forces you to go with longer plans, even if you need a VPN temporary, for example. We suggest getting Hide.me only if you need a long-term plan and you're planning to stick to it all the way. Don't buy short-term plans. There's also a free plan but it's very limited.
You get only 2GB of data, slow speeds, and only a handful of servers. By the way, here are the payment methods: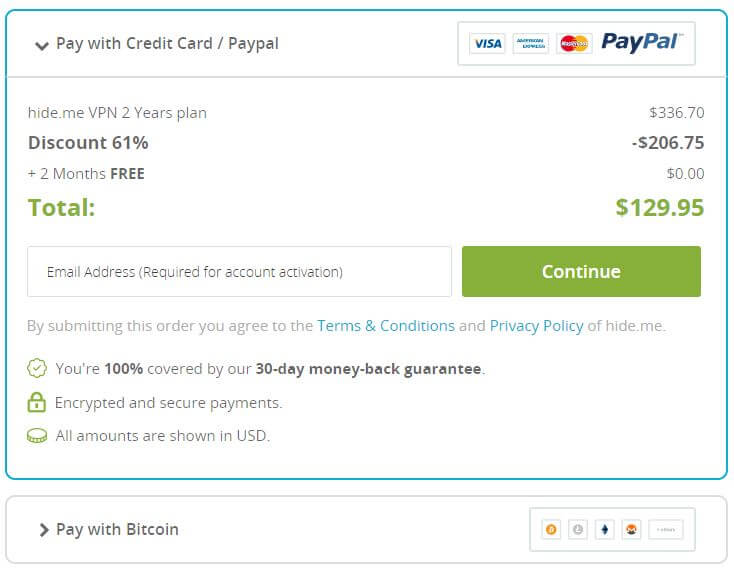 Every plan is eligible for a 30-day refund and in case you want it, you can contact the team via live chat. Take a look: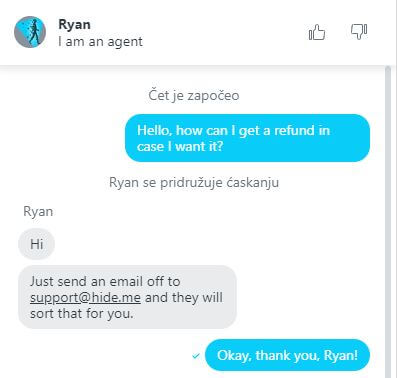 Ryan was a very nice guy, straight to the point. You see how you can get your refund – just write an email to [email protected] and you'll get it. You can also ask them to cancel your subscription if you want to.
How Can I Contact Hide.me?
If you take a look at the image below, you'll see all the ways to contact this company: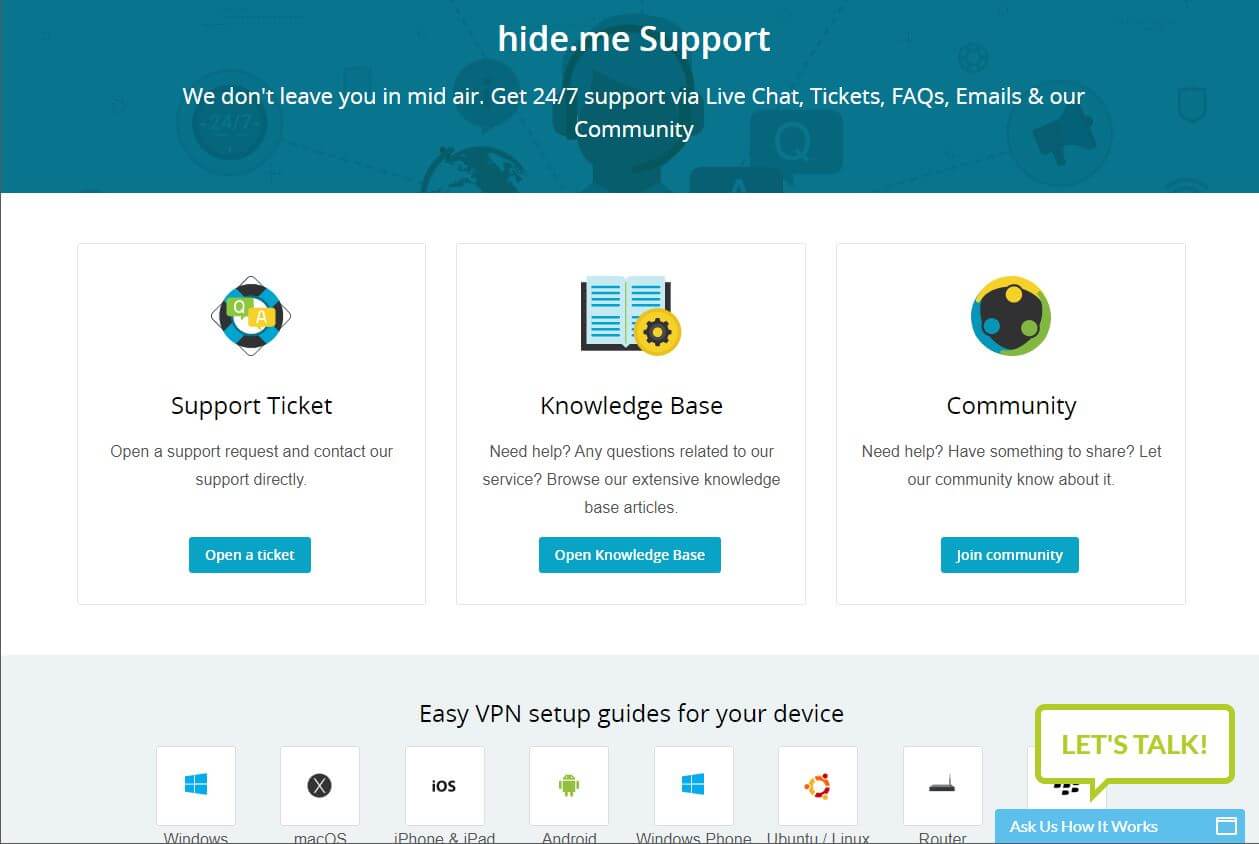 The first one is the one we already used – live chat. Aside from that, you can submit a ticket, access the knowledge base e.g. FAQ section, and use the Community feature. If you decide to submit a ticket, you'll need to wait for approximately 24 hours for a response, which is standard.
If you want to join the community, you'll get to Hide.me's forum where you can open a new topic or engage in other topics to fix your problems. They support English and German languages, which opens up possibilities for people from German-speaking countries to express their opinions.
We like this community feature, to be honest. Not many providers have it and it's a welcome feature that will make your life easier. As always, whenever we have the live chat accessible, we don't complain, so it's all great in this department.
The Special Functionalities
Aside from basic functions, we always expect some special functionalities. After all, Hide.me is a member of our top VPN ranking and it isn't there without a reason.
Learn more about Hide.me's additional features >
Here's what the provider has to offer:
Stealth Guard
Stealth guard is an awesome feature that increases your privacy and security while online. Basically, it's here to let you decide which connections should use a VPN or limit certain apps to only a VPN. For example, you want your BitTorrent to use it. So, in case you aren't connected to your provider, it won't work.
But, when the connection is established, your BitTorrent will start working again. This is a great way to prevent accidental DNS and IP leaks, which will keep you safe and secure. Here's how that looks in-app: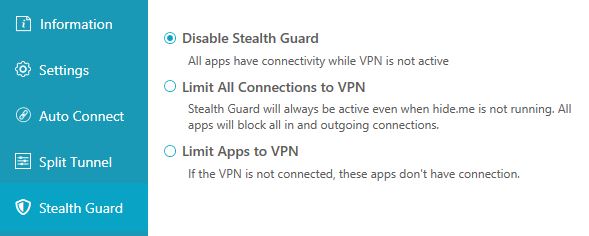 You can limit certain connections to a Virtual Private Network or limit all your connections, as you can see from the image above. Accessing this functionality is very easy. You just have to open Settings and you'll see it on the left side.
Split Tunneling
Split tunneling is similar to the previous feature we presented to you in our review of Hide.me. It lets you route your traffic through two different IP addresses – one is a fake IP and one is your native IP. Here's how this feature looks in the app:

We have selected the first option – that all apps use Hide.me. Alternatively, you can do the opposite, and don't allow the apps to use it. And finally, there's an option to allow only certain apps to use it. For example, your PayPal app doesn't have to use the fake IP, while your Amazon Prime account can use a Virtual Private Network.
Proxy
Hide.me offers one interesting feature – a proxy. That's right, a full-fledged proxy that's free of charge. Take a look below: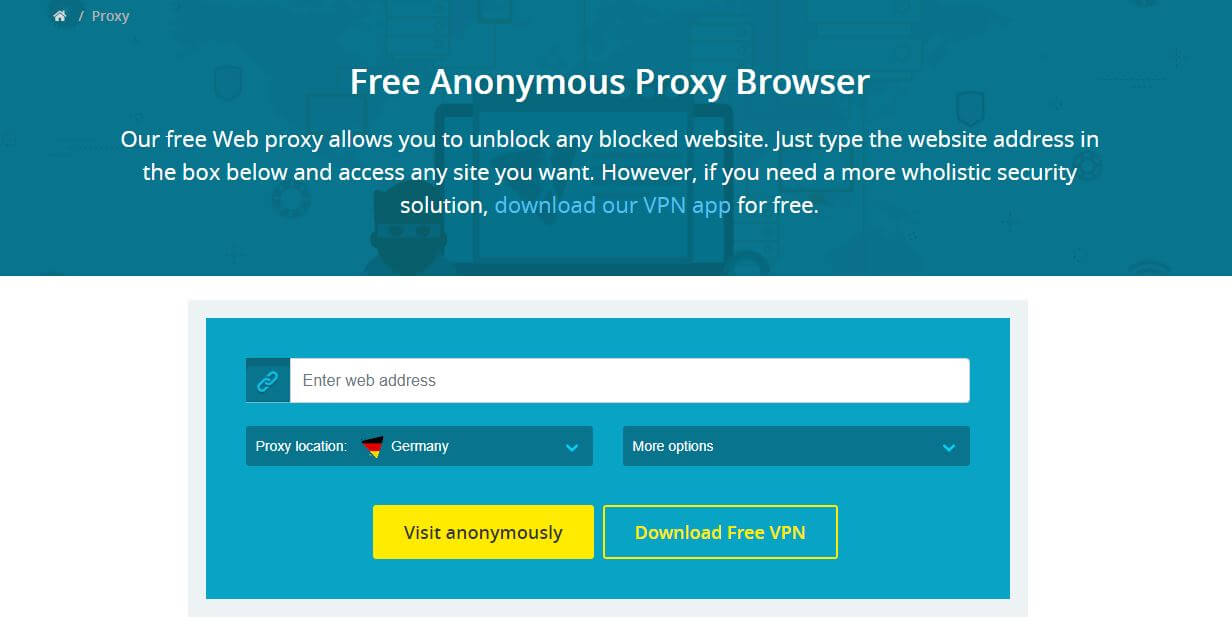 It's a basic offering, giving you the possibility to unblock a certain website with a proxy server. There are three proxy locations – Germany, the Netherlands, and the USA. You also get a couple of bonus options for encrypting URL, removing objects or scripts from the site, end encrypting the web page.
However, know that this isn't a VPN. It's just a cut-down version of what it can do, so don't use it extensively.
Other Things You Should Know
Here are a few more things you should know before closing this Hide.me review and test:
Number of Servers
Hide.me definitely isn't the largest provider in the world when it comes to server count. It offers exactly 1,560 servers in continents like Europe, Asia, and the Americas. But, since we have more than 1,500 servers and the provider doesn't exist for very long, we can't complain.

The provider also doesn't have servers in Russia, so you won't have to worry about your privacy. On the other hand, there are some servers in Dubai and Hong Kong.
Number of Countries
As seen from the image above, the provider is covering 60 countries around the globe. Having in mind their modest number of servers, this is very good, and in our opinion, enough for all non-demanding users.
Number of Simultaneous Connections
Last but not least, the provider offers up to 10 simultaneous connections.

If you connect it to your router, you'll get 16 to 32 simultaneous connections. At least, you have that possibility, which raises the VPN's value by a huge margin.
What Do Other Users Say About Hide.me?
Now, let's see what other users have to say about this provider. We'll start with Reddit first, so take a look at this short review:

This user says that this is one of the most secure providers on the market but adds that they're very pricey, which is true. He then proceeds to tell that even a free plan supports torrenting, which is a nice addition, although you get only 2GB of data. The next comment comes from the user on the Apple Store – take a look:

The comment was made in December 2019, so it's a new one. This user obviously uses an Apple ecosystem, so he has an iPad, iPhone, and PC. We also hope he has a mac because it even offers a completely free offer on Mac. Hide.me, in his words, manages to protect them all and provide some blazing-fast download speeds.
Now, let's see what the users from the Android world have to say:

This Android user says that the app is lightweight (invisible, in his words). Also, he mentioned that he never shuts it down, even when he travels. He finishes the review by saying he's not even noticing it, despite being turned off all the time, which is how a VPN should behave. Finally, we have a review coming from TrustPilot:

Despite being old for almost one year, this comment is still relevant. Strangely, there aren't many comments about the provider made in 2021 on Trustpilot. Nevertheless, this user praises the provider's free subscription plan.
He says that he doesn't experience any lags and mentions how good the customer support is. Finally, he recommends it to everyone, leaving 5 stars for this product.
Conclusion: Should You Take It?
And now, the big question, should you buy this Virtual Private Network? Yes, you should, but by taking a long-term plan!
If Netflix isn't your main platform, Hide.me is an extraordinary option. You get a no-log policy, some fast speeds, P2P support, quality customer support, and a couple of special functionalities.
However, if you only care about unblocking Netflix, DAZN, Disney+, and BBC iPlayer, there are much better options. Also, we don't recommend this provider for users in China since it probably won't work very well there.
Needless to say, if you're going to buy it, go for a 2-year plan!