Some countries from Asia are known to be technologically-insane. China and Japan, for instance, are two very tech-savvy countries, and so is South Korea. One would think that a country like this can enjoy all the sweet fruit of the internet. Yet, that's not the case. Unfortunately for Koreans, enjoying the internet freely has become a chore and it's safe to say that it's almost impossible… almost. However, as long as VPNs exist, you can bypass all these problems easily. Today, we are going to take a look at some of the best VPN providers for South Korea – stay tuned!
Why You Should Use a VPN in South Korea?
If you've read the introduction, you know that something's up. South Korea isn't so friendly country for internet access, so you'll always better off with the protection of some sort. Here are the reasons for using a VPN in South Korea:
Avoid Censorship and Surveillance
In this country, you can expect two major problems – censorship and surveillance. And while censorship isn't on the same level as in China, it's still pretty bad. The fact that more than 3 million Koreans use a Virtual Private Network speaks for itself – it's definitely not without a reason!
The main culprit for this situation is the Korean Communications Standards Commission which we'll call KCSC. This institution controls the internet, blocks websites, and censors what they deem is inappropriate. The worst thing is that you don't even have to post anything on any social media websites.
You can just use the internet and you'll feel the effects of these laws. When we speak about censorship, you have a galore of censored websites – from LGBT content and gambling sites to even some video games! Furthermore, with the rising tension between South and North Korea, you'll be punished for visiting some North Korean sites.

Because of that, you'll first need to notify the government and then, if they allow you, visit the website from North Korea. Day-to-day surveillance also means limiting your freedom to the fullest. There's one case that transpired in 2014, where a plastic surgeon received a bad review from the patient.
The patient immediately got fined 3 million KRW, which translates to $2,700 just for posting complaints. All in all, surveillance here is just insane. A Virtual Private Network will encrypt your connection, making it impossible for the ISPs and the government to track you.
Who knows what can happen – they might even track your VoIP calls, messages on Skype or WhatsApp, and so forth. If you're still without this service, consider either getting it or don't talk about politics with your friends online. Otherwise, you're just asking for trouble.
Unblocking Geo-Restricted Websites
Unblocking websites is a great way to increase your freedom. Just imagine living in a big city and being trapped in your apartment, without the possibility of leaving. Well, this is the same. The internet is a big place, yet you can only access 1% of it.
Geo-restricted websites are usually the streaming ones, such as Netflix, Hulu, HBO GO, Sling TV, DAZN, Disney+, BBC iPlayer, etc. Netflix, for instance, has the largest catalog in the USA, the UK, India, Greece, and Canada.
With a service like this, you can alter your IP to the country you want and access Netflix easily. This can help you watch the Champions League, too. Just be sure to choose a decent provider because not all of them can unblock sites.
If you make the correct choice, possibilities will be endless. And we're not talking only about streaming websites. Every geo-restricted site will be at your palm's reach, meaning that you aren't going to be influenced by the Korean government anymore.
Torrenting Safely
South Korea has a strict anti-torrenting law in place. Interestingly, they don't respect it too much as there are tons of people torrenting, even without protection. We learned that the Korean government has a pretty odd philosophy regarding this issue.
Some residents say that they don't protect copyrighted material from the western part of the globe. This means that you can download content from the USA, for instance, and they won't bat an eye. However, the government protects Korean content and if that copyright is violated, you're going to get punished.
Now, the laws are ever-changing, so don't hold us by your words. The least you can do is grab your protection and start torrenting safely. A VPN is perfectly legal in South Korea, so don't think you're breaking any laws by using it.
Best VPN Providers With Servers in South Korea
Traveling abroad as a South Korean means missing your shows on MBC TV or KNN. But, with the right tool, that doesn't have to be the case. Here are the best providers with servers in this country:
ExpressVPN: It is the fastest provider on the market. Luckily, it has multiple servers in this country, supporting all the security protocols, as well as P2P. Because of that, this is the best choice for South Koreans.
NordVPN: NordVPN has 5,500+ servers worldwide and is one of the largest providers. In this country, they have 10 high-speed servers for all purposes.
CyberGhost: Owning more than 6,000 servers around the globe, CyberGhost is the largest company in this industry. When it comes to servers in this country, we're looking at 12 high-speed emplacements in Seoul. The only downside is that they don't support P2P.
If you want to use one of the providers, all you have to do is click on its name. Buy the subscription, install the apps, connect to the servers in this country, and you're all set!
Best Providers for South Korea
So, what are the best options for the beautiful Korean soil? Well, our top choices are below, so scroll that wheel on your mouse and find out:
ExpressVPN
NordVPN
CyberGhost
Scroll a bit more now to see why they're so damn good:
1. ExpressVPN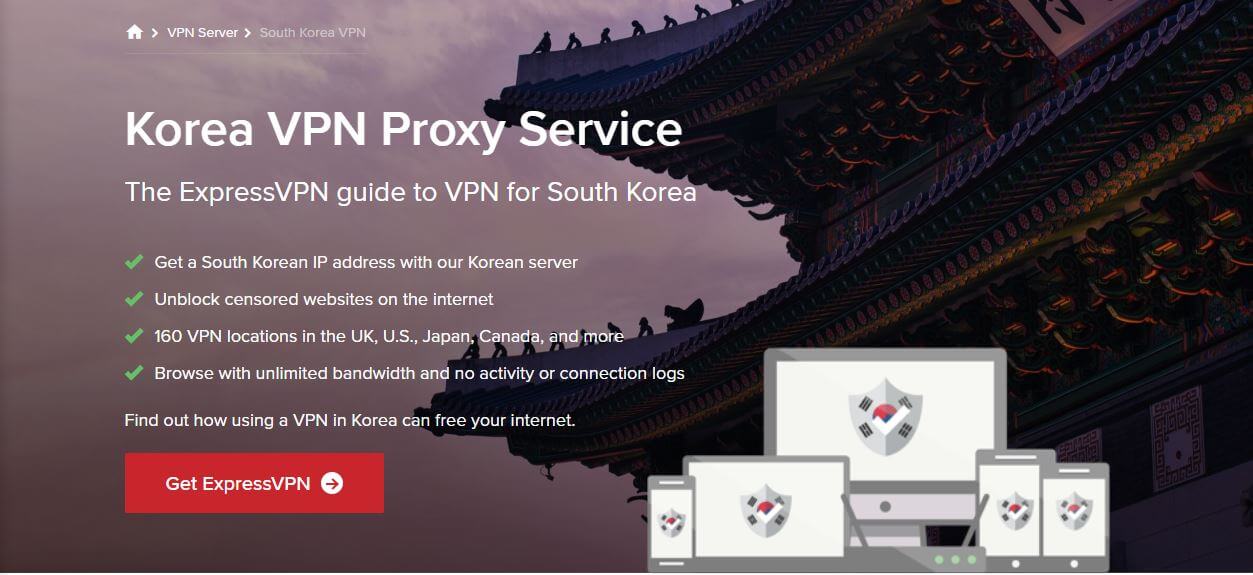 Why is ExpressVPN good? Do you want an essay on this topic? We won't waste your time, so here's a short version. As we said, this is the best provider on the market in every regard. Speed is godlike and the provider even has servers in India and other Asian countries.
Given that the company is stationed in the British Virgin Islands, you also get neat security features. One of them is a zero-log policy for keeping you protected all the time. Other security features include military-grade protection, an automatic kill switch, and DNS and IP leak protection.
For South Korea, the VPN provider has everything you need and can even bypass geo-restriction. Unblocking Netflix and other streaming sites is easy as a feather. You can also unblock porn, gambling, and even gaming sites that often get blacklisted by the Korean government.
If you think that ExpressVPN is expensive, review your thoughts. Right now, it offers a 49% discount and 3 months free for a 12-month subscription plan. Plus, there's a 30-day money-back guarantee, so don't be afraid to smash the button and see it for yourself.
Grab a 49% Discount on ExpressVPN >
2. NordVPN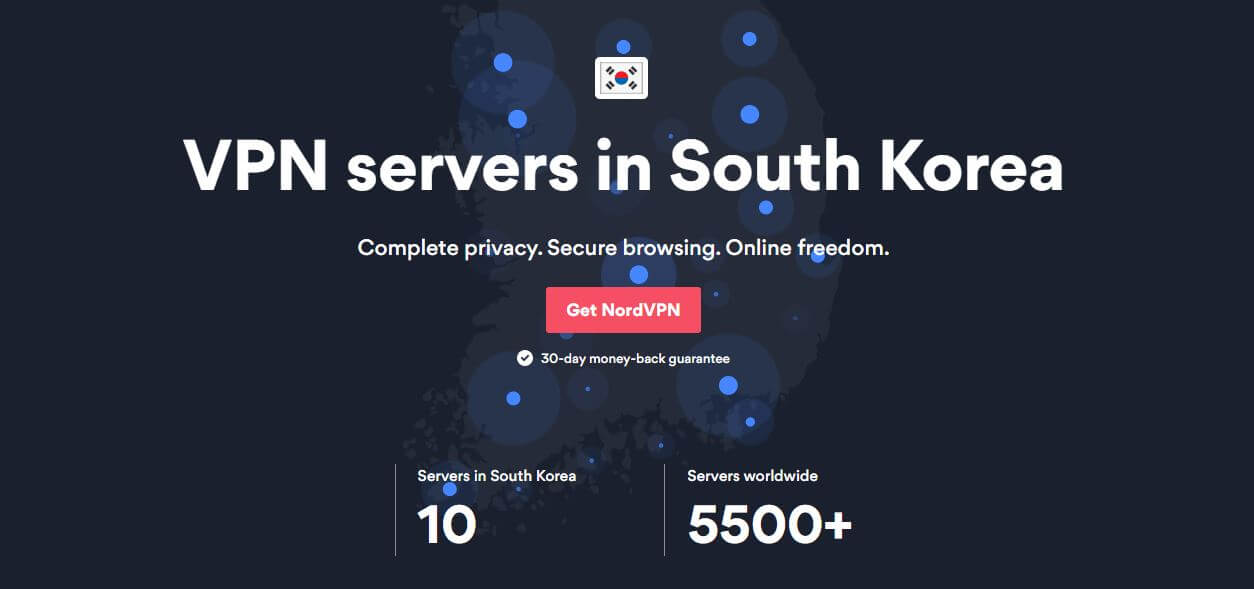 NordVPN is a provider that made us jump of excitement in our review. Consult our full test to see what we had to say about it and now, here's a short version. For the start, the company is located in Panama. This isn't a very rich country but we guess that NordVPN's employers still enjoy long, jaw-dropping beaches there.
Nevertheless, aside from enjoying the country, they constantly bring you some great security features, like a no-log policy. We also like how fast it is, giving you the possibility to watch 4K videos on Netflix or enjoy online gaming, which Koreans often do.
The addition of CyberSec, a feature for blocking ads and malware adds more to your safety online. We also have Tor Over VPN for using the Tor browser and this service in conjunction. With huge discounts that the provider offers and a high-level of service quality, we believe you'll gladly go for it.
In case you decide, well, the shortcut is below!
SeeNordVPN's Offerings for South Korea >
3. CyberGhost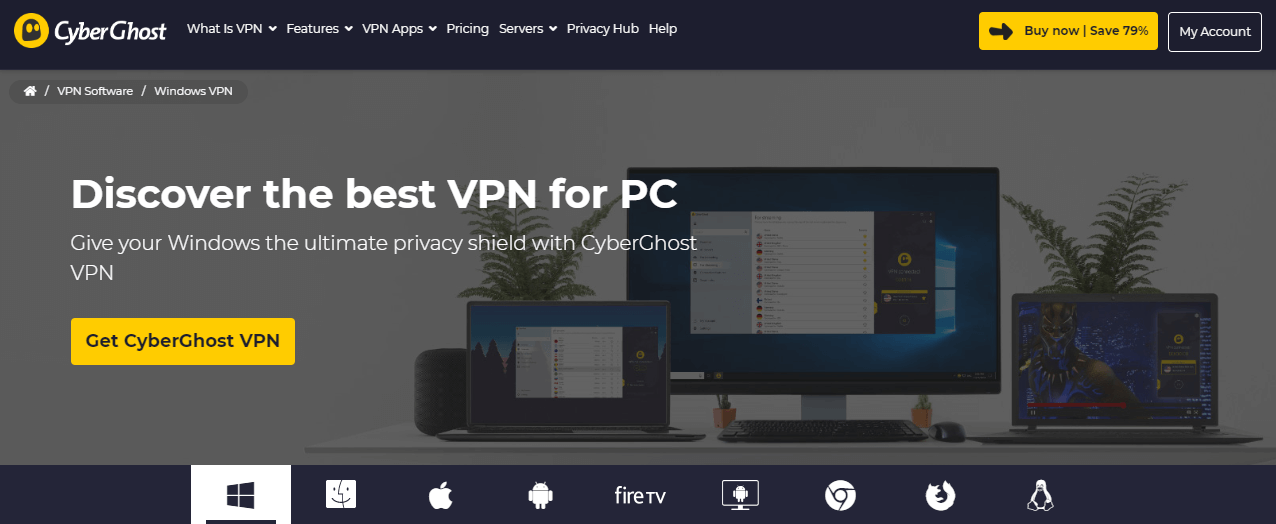 CyberGhost, despite taking the third spot, is nothing short of perfection. The 6,000 servers they offer pack a punch… a significant Tyson-like punch! Not only they're abundant but some of them are also dedicated to torrenting and/or streaming. That's right, you get dedicated servers!
They're easily the best feature of this provider as they allow you to tailor your experience to your needs. The speeds are also quite impressive and you'll be able to enjoy stutter-free streaming and internet browsing.
Being from Romania, CyberGhost is in one of the most VPN-friendly countries. Because of that, you're looking at tons of security features that are essential in South Korea. Starting from the no-log policy and military-grade encryption and ending with DNS and IP leak protection and an automatic kill switch.
Overall, this is one of the best options in 2021 if you're looking for a great VPN to use in South Korea. It's VERY cheap, yet very easy to use, even for beginners.
Enjoy CyberGhost in South Korea >
Why You Shouldn't Use Free Providers?
We want you to do one thing now. Compare free and paid software. What gave you the best experience? The premium one, right? Well, that's the case with Virtual Private Networks, too! Free providers come with certain limitations that make them bad for this country.
Not only are they slow as a snail but also lack a no-log policy, and as we know, this is a crucial feature. Furthermore, you get the bandwidth limitations that are straight-up annoying and hinder your browsing experience.
On average, you'll get 500 MB to 2 GB, which is the amount of data many of us use on a daily basis. For us, the biggest drawback of these options is the fact that they can sell your logged data, which happens a lot.
So, to preserve your privacy and anonymity, and enjoy the full-fledged experience, we suggest skipping free providers. Don't risk it. Playing with your security is always a bad thing.
Summary
Now, it's time to conclude our journey. South Korea is a beautiful Asian country with lots of stuff to see and do. But, without proper internet access, you'll bang your head against the wall for being so stupid and not buying a subscription on time.
To avoid making your head look like an eggplant from all this banging, we suggest getting ExpressVPN. This provider never disappointed us and we promise that you'll enjoy it, too. It can defeat every firewall on this planet and give you the freedom you've longed for.