Western Europe is home to some of the richest countries on that continent. While some would say that Germany is the unrelenting force in Europe, we can't dispute France. This country is a force to be reckoned with and definitely one of the best countries to live in. But, when it comes to internet freedom, the country has degraded significantly. This country used to be all about freedom of expression, which, unfortunately, isn't the case anymore. Luckily, you can restore your freedom with a high-quality VPN, so let's see what are the best options for French soil.
Why You Should Use a VPN in France?
Are you enjoying your time in this country? Good. Aside from crunching baguettes and sipping your coffee, consider doing something good for your privacy. For example, get a Virtual Private Network – here's why:
Avoiding Government Surveillance
When this country established itself firmly, at the end of the 19th century, the government made what it seemed like a perfect regime. French people loved this "liberté, égalité, fraternité" quote as it promoted liberty, equality, and fraternity.
The Third Republic surely knew what it did in the 19 century, only for the government to join the 9 Eyes Alliance recently. That was a sad day for France, as this allowed the government to snoop around residents and monitor their internet activities.
Since 2015, the French government sticks to the data-retention laws that they promote. The ISPs in this country have full rights to monitor your web activities and spot certain "suspicious" patterns. Luckily, there's no censorship, so at least, you can access your Facebook and Instagram profiles.
But, having someone breathing behind your neck isn't an orgasmic feeling. On the other side, opposing the government stands GDPR (General Data Protection Regulation). This EU initiative is here to restore privacy in this country but as many websites don't comply with the law, it's very hard to do so.
So, the only thing left to do is to get the required protection a VPN) and bypass these problems if you are in France.
Bypassing Geo-Restrictions
Geo-restrictions will plague you both in France and abroad. To unblock an inaccessible site, you only need a quality Virtual Private Network. Changing your IP to the other country is easy and by doing that, you'll have access to the geo-blocked website.
One of the prime examples is Netflix, a popular streaming platform. The largest Netflix incantations are in the US, the UK, Canada, Australia. Since this country isn't on the list, accessing them is possible only with this tool.
The same applies to people abroad. Watching French local TV from abroad is impossible without a great VPN. And if you're from this country, you know that the local TV is still very good content-wise.
Needless to say, you'll be able to unblock any site you want with a good provider. HBO GO, Sky TV, Disney+, ESPN, and others – they're all yours!
Torrenting Anonymously
Downloading torrents is risky in France. Countries like Germany and the UK, for example, will peel the skin off your back for doing this. You'll have to pay thousands of dollars just for downloading a single copyrighted song, game or a movie.
We support protecting copyrights but punishments like this are pretty harsh. France is in the same ballpark. Just think about government surveillance. They know your every step, even if you use BitTorrent. This makes it far easier for them to see you and punish you when needed.
If you're going to perform this activity, you MUST use the best VPN out there. It will allow you to alter your IP, thus become invisible to your ISP. This way, you'll be able to download torrents to your heart contempt.
Safely Use Public Wi-Fi Networks
Spending 8+ hours at your job means often visiting cafes and restaurants outside of your work. These places often give you their Wi-Fi password (if they have it!) and let you enjoy the internet. But, have you thought about the safety of this method?
If hundreds of people access it on a daily basis, can some of them be hackers? Of course, they can! That's why you're never safe on public Wi-Fi networks but you can still do something about it – for example, get protection.
With a Virtual Private Network in place, you'll obfuscate your IP, rendering yourself invisible to hackers and data miners, even in this scenario.
Best VPNs With Servers in France
Do you still want to access TF1, France 2, Canal+ Eurosport, Arte, TV5 Monde or France24 when abroad? Here are the best VPN providers with servers in France for that purpose:
ExpressVPN: ExpressVPN is the world's fastest provider with 3,000+ servers in 94 countries. This country also has a fair share of its servers, all supporting their rich security protocols and P2P file-sharing.
NordVPN: It is one of the best options in this country. It has 230+ servers here, offering dedicated IP, obfuscated servers, double VPN, and P2P. Definitely one of the top choices for French residents!
CyberGhost: CyberGhost is the largest provider on the planet, offering eye-watering 440 servers. There are 380 of them in Paris and 60 in Strasbourg, effectively covering the whole country and providing all the best features of the provider.
Getting a provider of your choice is dead simple. Click on the one you want, buy a subscription, install the apps, and enjoy your freedom with a single click on the Connect button.
Best VPNs for France
Wondering what are the best providers for this country overall? Don't wonder anymore, here are our best picks. Let's review them and see why they're great.
1. ExpressVPN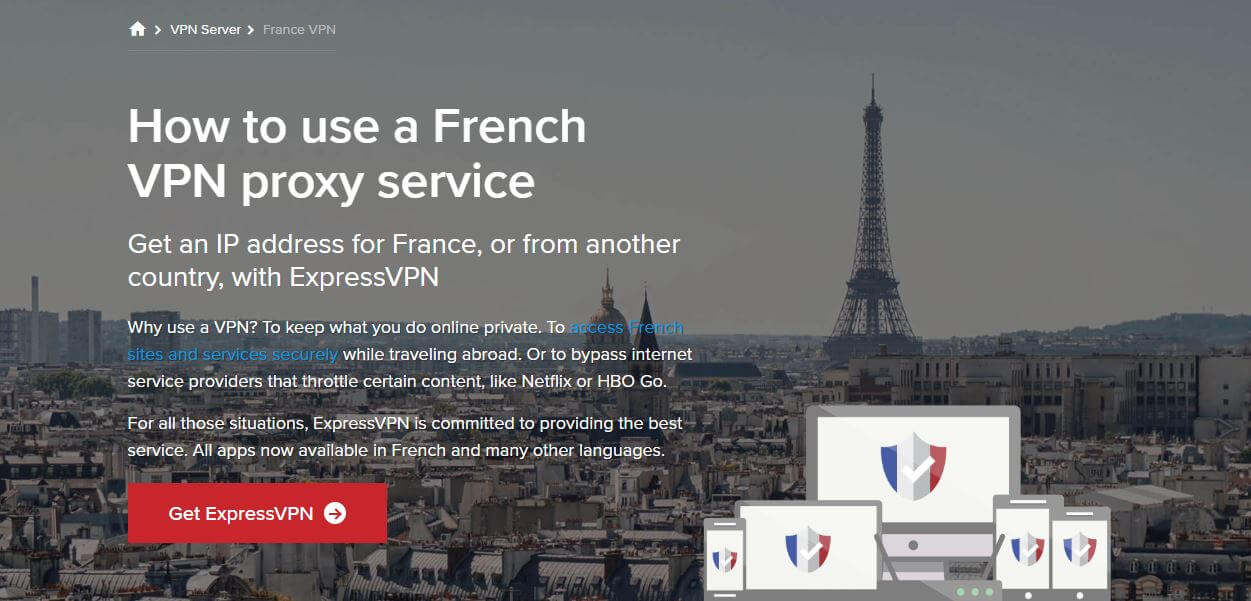 ExpressVPN comes straight from the British Virgin Islands, boasting some feature-rich offerings. Given how safe and secure this country is, our expectations are always sky-high. You get a no-log policy, which is one of the strongest in the cybersecurity industry.
Furthermore, the provider gives you 256-bit encryption, kill switch, and even DNS and IP leak protection. Thanks to the speeds offered, you won't even notice that you're using ExpressVPN. It allows you to enjoy 4K movies and TV shows, play exclusive games or just casually browse the internet.
Unblocking Netflix and other streaming platforms is possible, too. The provider even works in China and the UAE, so censorship won't be a problem, in case this country starts implementing that. With all the useful features you get here, you're prepared for the worst, without the possibility of compromising your internet freedom and security.
Last but not least, they give you a 49% discount and 3 months free for a 12-month plan. You can get your money back within the first 30 days of purchase if you don't like it.
Enjoy Fast Speeds With ExpressVPN >
2. NordVPN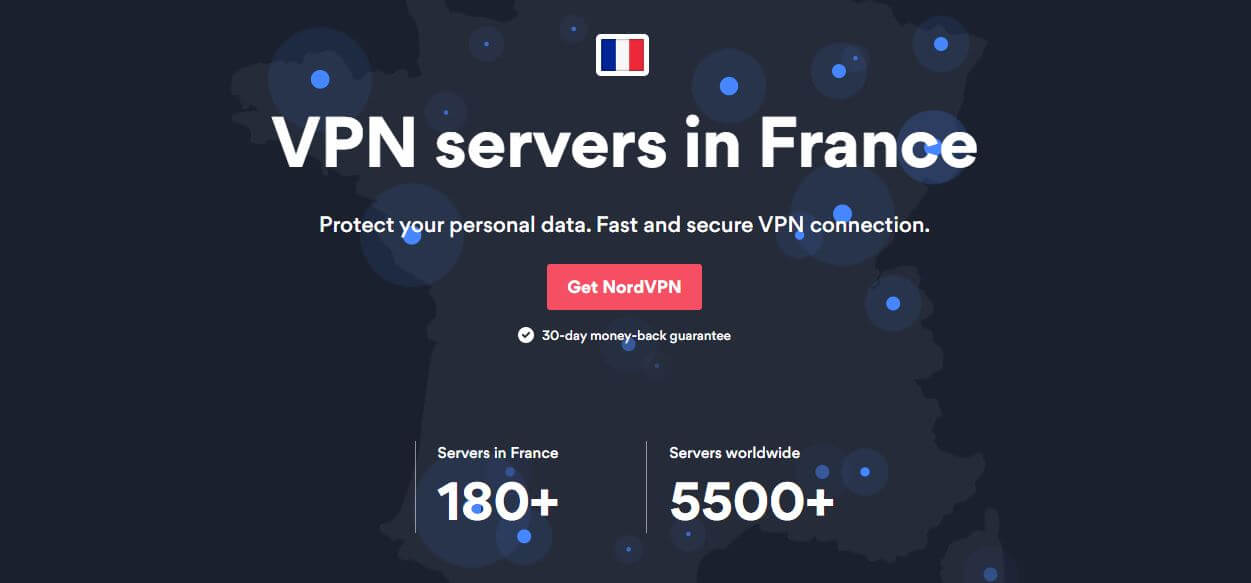 NordVPN is our buddy from Panama that always manages to impress us. It's a very affordable VPN that won't break the bank, yet will still give you an experience of your life when in France or elsewhere. Speed-wise, it's just a tad slower than ExpressVPN but believe us – that's still considered blazing-fast.
In terms of security, NordVPN does its best to keep your tucked in like a baby. Aside from military-grade encryption and DNS and IP leak protection, you get a zero-log policy. We also like the addition of the Double VPN feature for routing your traffic through two different IP addresses.
And if you want more security, you can use it with the Tor browser, since there's Tor Over VPN. All other possibilities are here. Unblocking Netflix, bypassing censorship with obfuscated servers, P2P, and so forth. For this price, it's hard to find a better option.
3. CyberGhost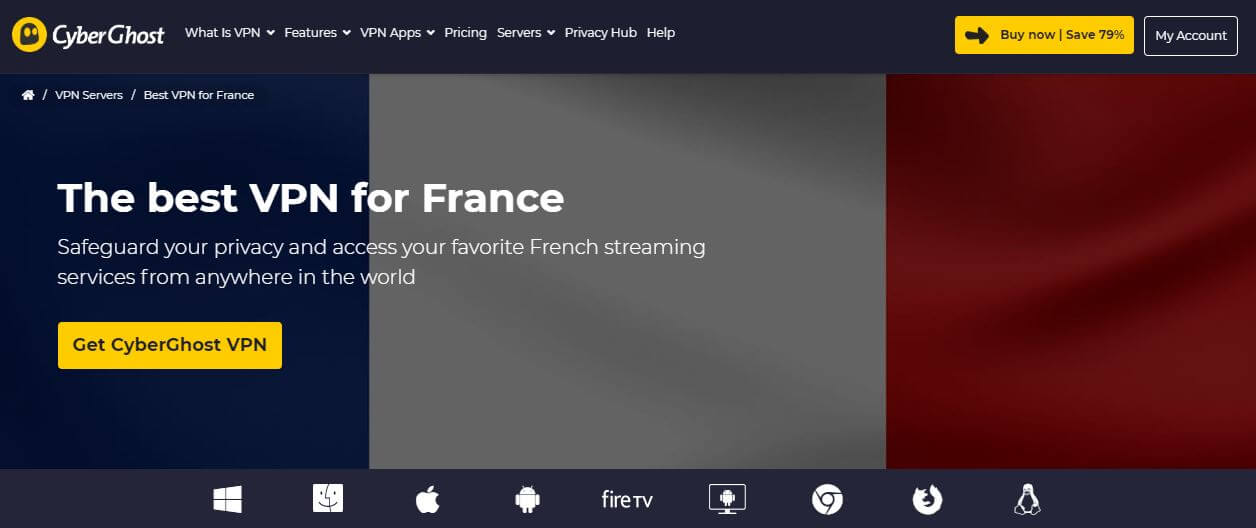 Buying cheap providers isn't always a good thing. But, in this case, we would say it's an ingenious idea! CyberGhost packs 6,200 servers in 91+ countries worldwide and offers dedicated servers. These servers are here to help you either torrenting or streaming. We like this addition since you can enjoy fast speeds and stable connection, regardless of your choice.
Being from Romania, the provider doesn't store any logs. And to make things better, it can unblock tons of websites online. Despite not working in China, we still think it's a great VPN to use in France. With its router support, you can protect every device in your house!
If we told you that this is even cheaper than NordVPN, you wouldn't believe us. So, take a look by clicking on the button below and see why millions of users enjoy CyberGhost.
Get CyberGhost for less than $3 a month >
Why You Should Avoid Free VPNs?
Free providers seemingly offer everything that paid ones do, so why waste your money? Well, unless you're living in a fairytale, that's not true. Paid providers are superior to free ones and here's why.
The main reason why we don't suggest to use free VPN providers while in France is that they have a lack of certain security features.
It can be weaker encryption or the lack of zero-logs policy – it's the second one, in most cases! This means that the provider stores logs, which can then be sold to third parties, thus compromising your privacy.
To make things worse, your possibilities are pretty limited. You get a limited number of servers, limited bandwidth, and limited speeds. All in all, this is just a cut-down experience that isn't on the same level as the premium one.
For France, you should avoid free VPNs at all costs, for reasons we explained above.
Summary
Let's summarize what we just said. France won't implement censorship or block sites, limiting your internet freedom. However, with the watchful eyes of the 9 Eyes Alliance, you're constantly under surveillance, jeopardizing your privacy and anonymity.
Avoiding surveillance allows you to regain your security, giving you tons of benefits along the way. To do that, we recommend going for ExpressVPN, our favorite provider.
It's speedy, secure, and offers everything you need for enjoying the internet to the fullest. French people won't have to include the government in their daily lives anymore – hooray!