A VPN, despite looking simple, is a very complex service for browsing the internet safely and securely. While some providers aren't as secure as the others, this is just one of the basic functions you can get. But, aside from that, you'll also need some fast speeds and the ability to unblock geo-restrictions. A provider like TunnelBear seems quite interesting in this regard, especially because it has one of the prettiest interfaces we've ever seen. So, we decided to get a subscription and test it out for you. 
What is TunnelBear?
If you don't use an ad-blocker, you've probably seen the advertisements for this provider online. TunnelBear is a company founded in 2011 and since then, its major concern is cybersecurity. The provider is from Canada, which isn't the most VPN-friendly territory.
As some of you know, Canada is a part of the 14 Eyes, an alliance that promotes surveillance in the countries that belong to it. In 2018, McAfee purchased this company and since then, there were some improvements in terms of speed and security.
With that in mind, only one question remains – is it good enough? Well, that's what we intend to find out in this in-depth review of TunnelBear. Oh, just one thing before we start.
If you want to get a discount on your purchase, you can do it by clicking on the button in this section. Monkey is here to help you save money, so don't be afraid to do it in case you want this provider.
Compatible Devices and Ease of Use
The first thing we always do is check which devices the provider supports. Every provider supports at least a few platforms and thankfully, TunnelBear isn't an exception. Here's a screenshot from its website:
As you can see, there's iOS, Android, Mac, and Windows platforms. Furthermore, there are a few extensions for browsers, including an extension for Chrome, Firefox, and Opera. These extensions, however, aren't full-fledged service but only serve as proxies, which is a short-term solution.
We also like the addition of the last option. It's an ad-blocker made for Chrome, so you can't use it on other browsers. But, for those using Chrome, this addition will be God-given. It works perfectly and takes only a few seconds to install.
Let's talk more about supported devices.
Computers
We'll start with computers. People mainly use Virtual Private Networks on this platform, so it's important that apps are well-built. Supported platforms here are Windows and Mac. On top of that, the provider offers a guide on how to install it on Linux. However, they say that their support for this platform is pretty limited.
It's safe to say that Linux isn't supported natively, so we aren't going to count it. As we always do, let's check the installation process and the app on the computer. We're using the Windows 10 platform but the installation is the same on Mac, too.
After buying a subscription, we downloaded the app and opened the setup: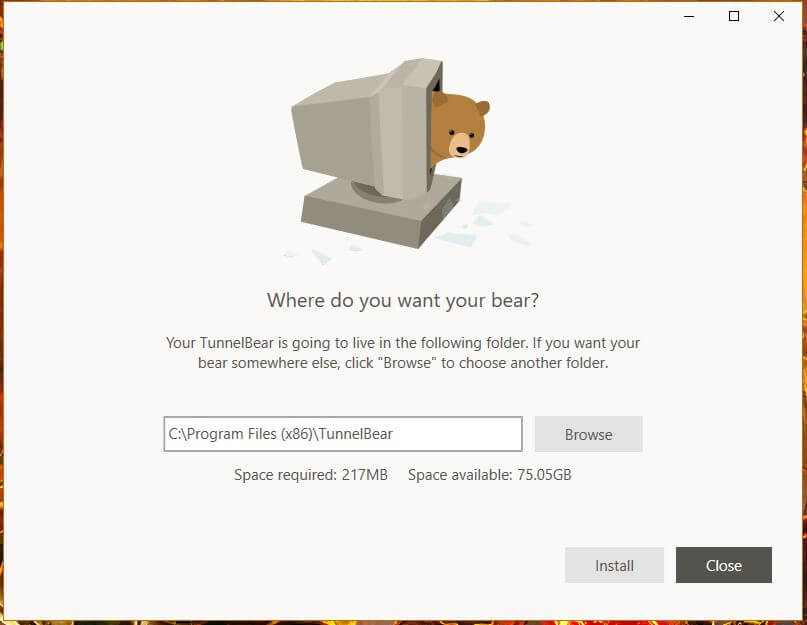 We chose to install the app on our SSD, just to make sure it runs smooth. Click Install and the setup will begin: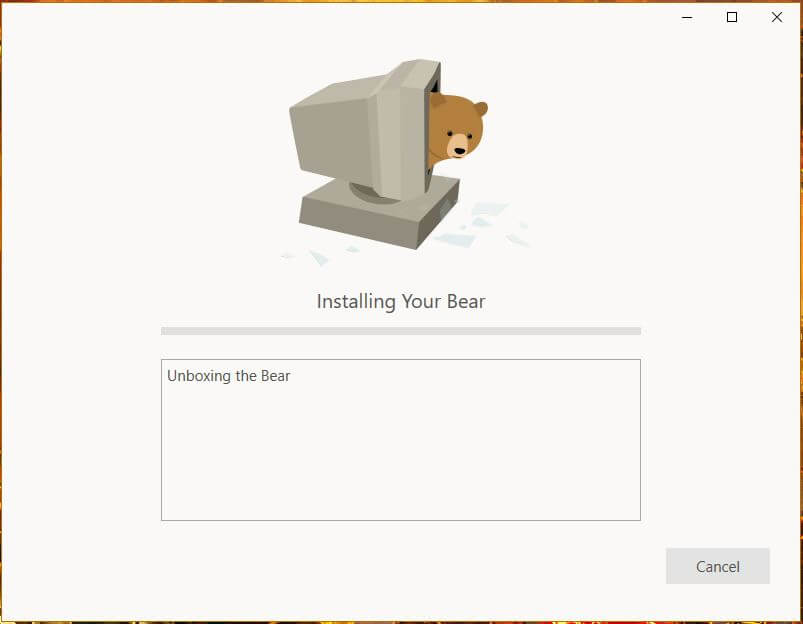 Even on an SSD, the installation lasts slightly more than we expected. Nevertheless, everyone has 30 seconds, so it's not anything alarming. When the app installs, you'll need to run it. Here's how the first screen looks like: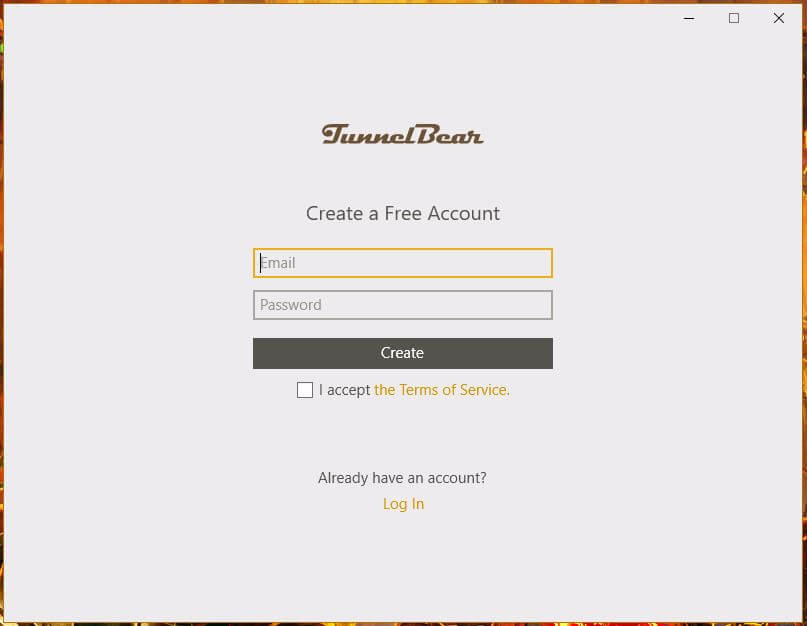 As seen in the picture, you get an option to create a free account. But, we've already bought a subscription, so we have a premium one. Because of that, we clicked Log In below, typed our credentials, and accessed the app's home screen that looks like this: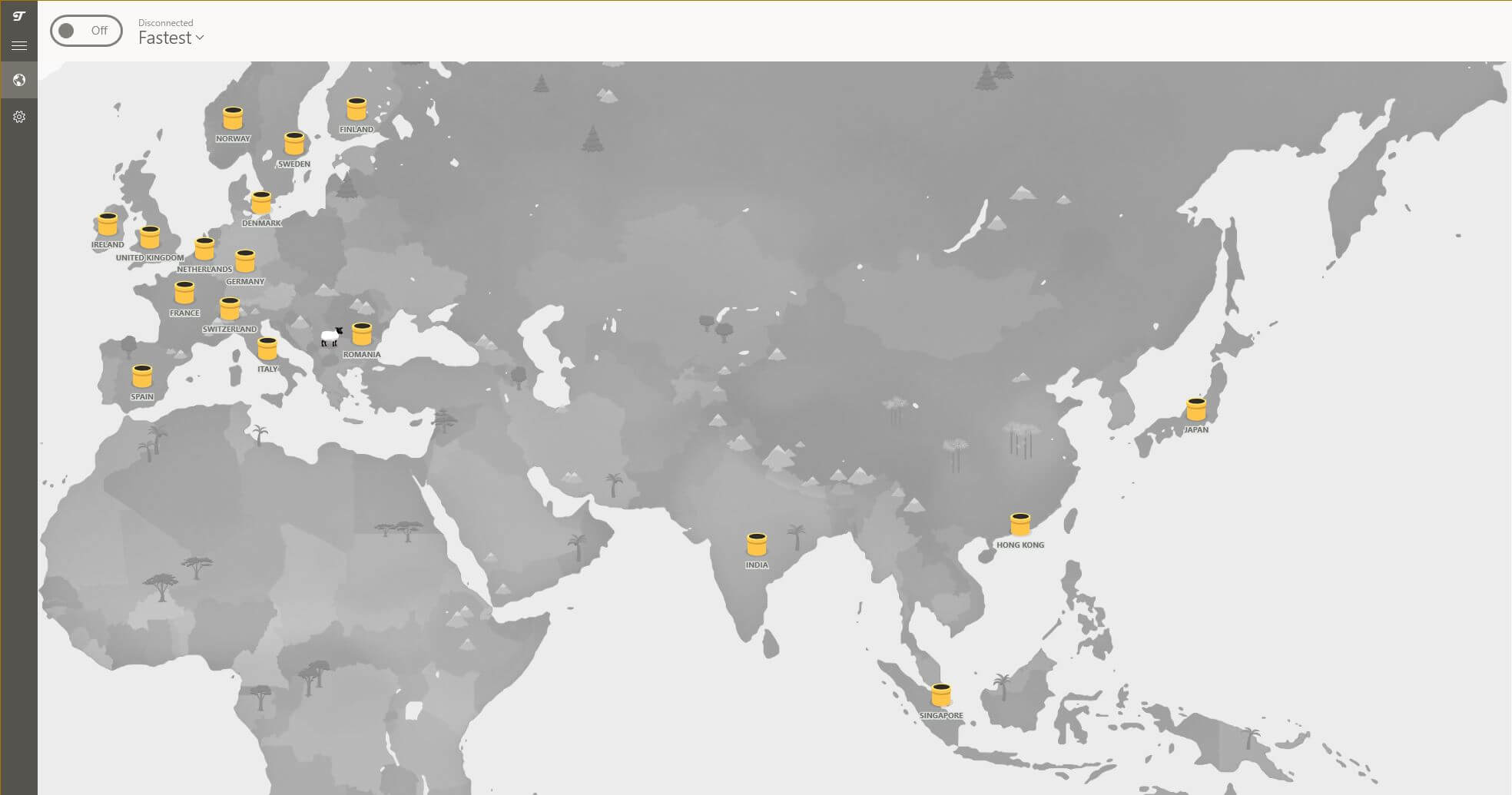 The screen is black and white unless you make a connection, so let's do that now. We scrolled to the left side, chose the United States, and our connection was established in less than 10 seconds. Here's how that looks: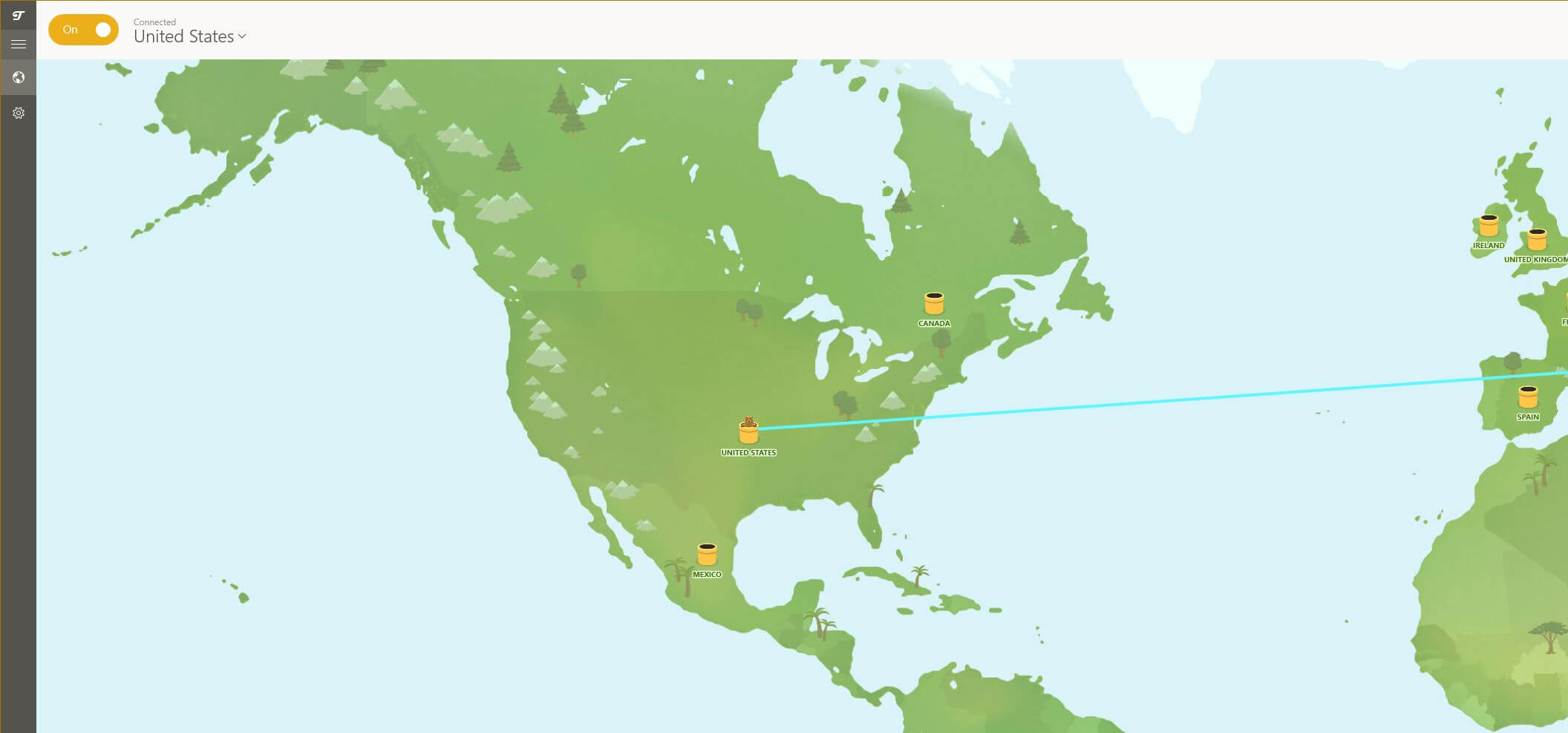 You can see that the map now regained color, which is an indicator that our connection is stable. The application is very easy to use, it looks beautiful, and the interface is very intuitive. We have nothing to complain about here.
Smartphones and Tablets
Smartphones and tablets are stronger than some computers nowadays. It's not strange that many people use their phones instead of a desktop PC. When it comes to mobile platforms, we're talking about Android and iOS – a standard set!
This time, we're going to use our Android phone to see the installation process. For the start, go to the Google Play Store, type in the provider's name, and click on the result. You see how the app looks in picture 1.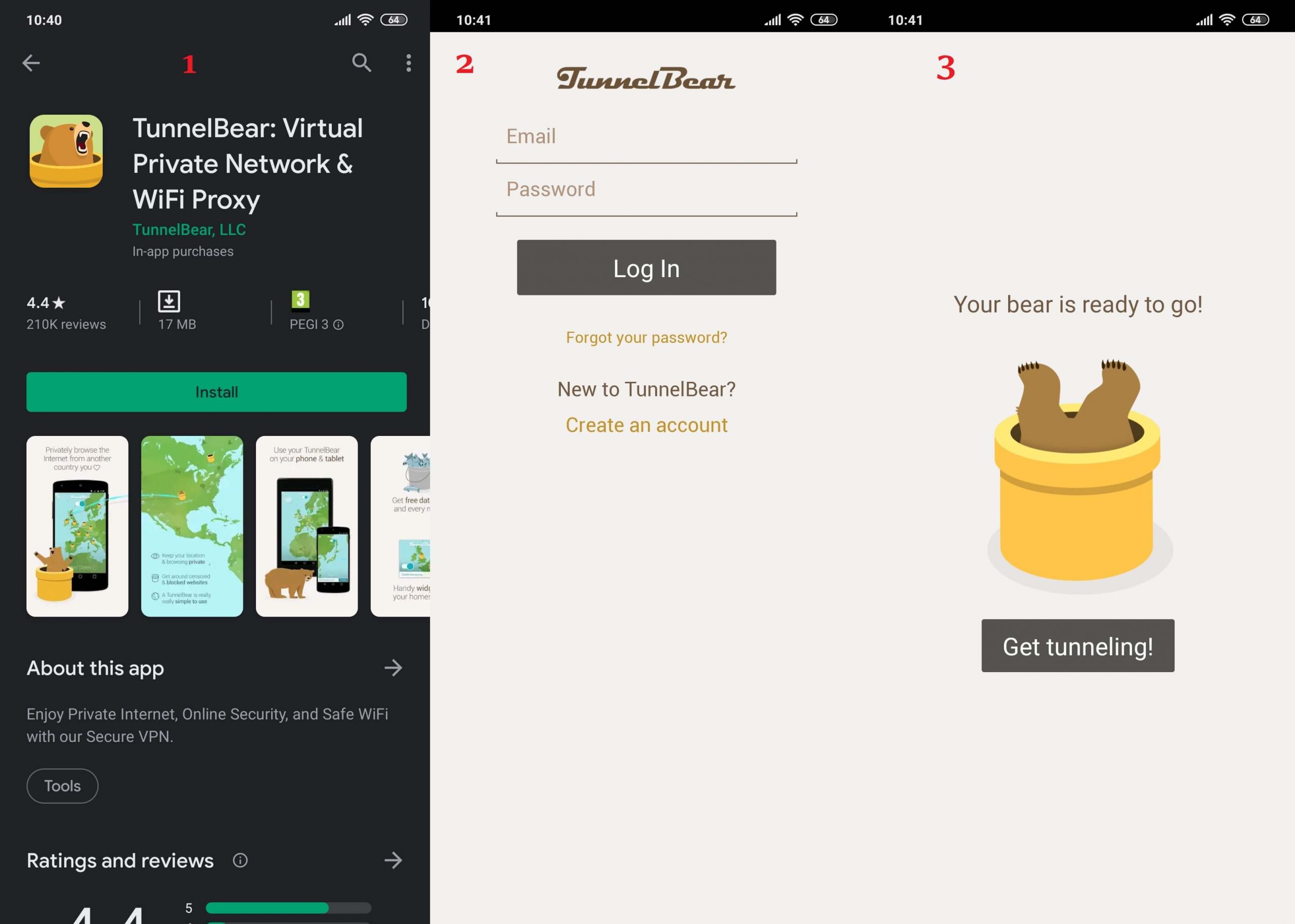 Download the app and open it. You'll see the login screen, as shown in picture 2. Type in your credentials and log in. You'll get this cute notification in picture 3. It says that your bear is ready to go. So, if it is, why not connect to a server?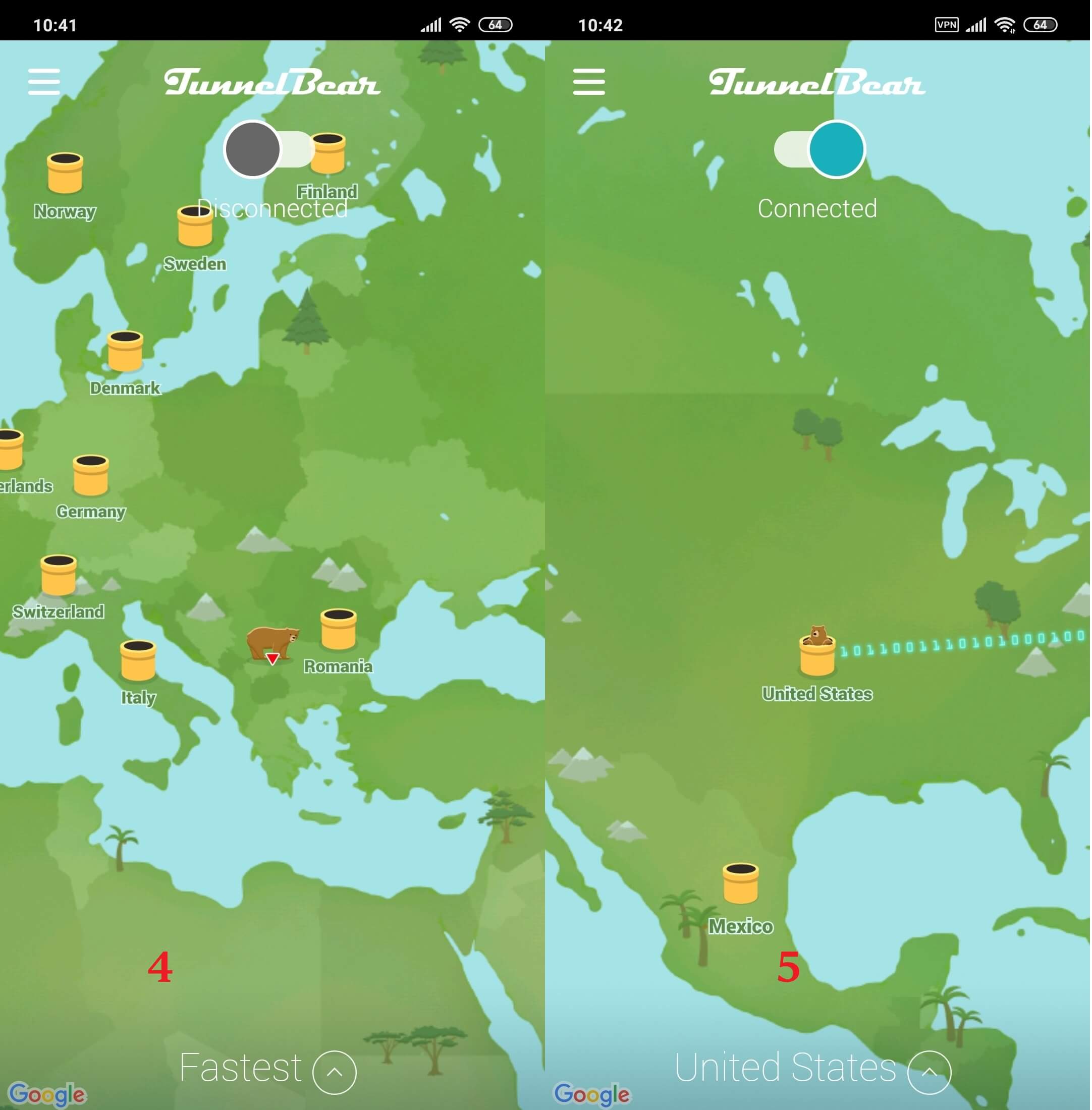 In picture 4, you see that the app looks exactly the same as one on the Windows platform. We'll use the American server once again, so we need to scroll left to find it. When you find it, just tap on the United States icon, wait for about 5 seconds and you'll see that the connection is established, which is shown in picture 5.
As you can see, installing and using TunnelBear is very simple. Both Android and Windows apps managed to impress us with their ease of use and simplicity.
Other Devices
When talking about the other devices, you know what we think about – a router. The provider, unfortunately, doesn't support routers. Here's proof from the website:

Just take a look at the second paragraph. Interestingly, they don't support Apple TV, Android TV, and gaming systems. But, that's logical, given that they don't support routers either. In our opinion, this is a huge red flag and definitely not the best start of the review for TunnelBear.
We've yet to see if it's going to make it without our Monkey tearing it to pieces!
How Fast is TunnelBear? We Checked Its Speed!
A fast provider is almost always a good one. Just take a look at ExpressVPN. This provider is like a cheetah and because of that, it packs millions of users worldwide. To make something clear, we don't expect TunnelBear to be on the same level. However, there are some standards that must be met.
When it comes to speed, know that all providers will reduce it. Some will do it by 10%, while some will do it by a whopping 70%. This happens because of encryption and the distance of the server you're trying to use.
To determine if the provider is fast enough, we conducted a couple of tests. We did 3 tests in the morning, 3 tests in the mid-day, and 3 tests in the evening, for 3 different locations. Of course, we kept the best score and used the best location when that option was available.
Our physical location is in the USA (non-VPN test) and we used the following locations for testing:
The United States
The United Kingdom
Australia
Without using a VPN, these are our internet speeds:
Ping: 11ms
Download speed: 211.88Mb/s
Upload speed: 202.20Mb/s
With TunnelBear turned on, our ping, download, and upload speeds respectively, for the 3 test locations, are:
US server: 61 ms / 158.97 Mbps / 93.25 Mbps

UK server: 116ms / 78.39 Mbps / 54.67 Mbps

Australia server: 352 ms / 27.88 Mbps / 34.20Mbps

Even though we're physically located in the USA, speeds with this provider were drastically reduced. Ping of 61ms definitely isn't something we expected. Download and upload speeds also saw a significant reduction, although it's still not critical.
But, as soon as we switched to Australia, things started to take a turn for the worse. For instance, we got a ping of 352ms, which is the largest one we've ever seen in our tests (as for now). Our upload and download speeds were almost 10 times reduced, making it very hard to enjoy streaming and torrenting.
Speed-wise, TunnelBear is one of the slowest providers we've used so far.
How Good is TunnelBear for Streaming?
Those who love binging series for the 10th time now will be worried if they can use TunnelBear with Netflix. Since Netflix is the largest platform in the game, hence we decided to start with that. Much to our (negative) surprise, we got this message: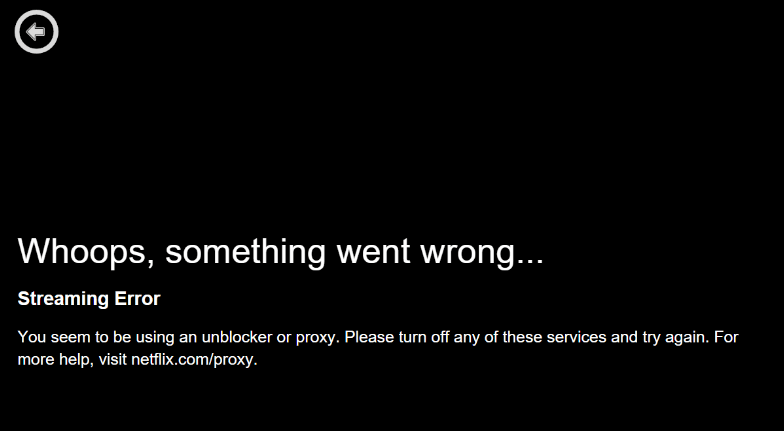 Oh-oh, it looks like Netflix doesn't work. That is quite disappointing since Windscribe unblocks it easily. It's still one of the best free VPNs, so it can't compare to TunnelBear in any way, which is a shame. Let's try to unblock DAZN now. We used the server from above and got this: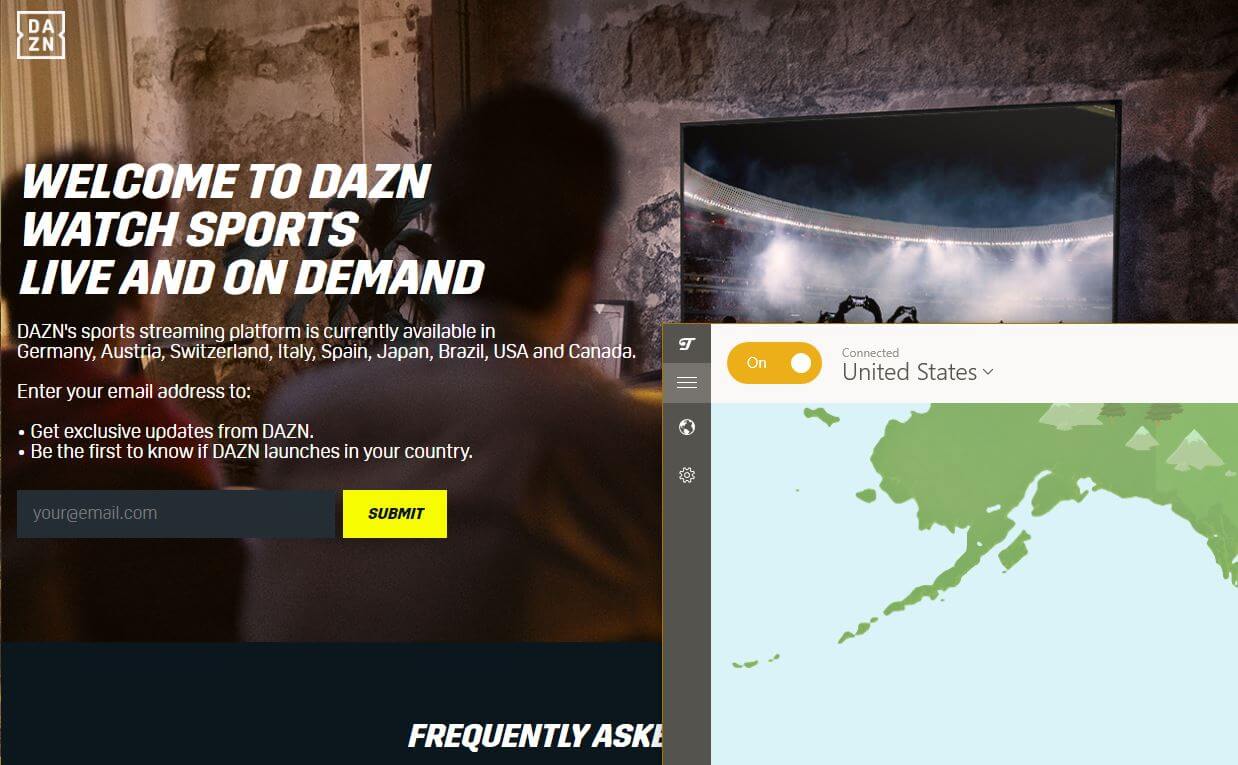 As you can see, DAZN doesn't work, even though we use the US IP address. What happens if we switch to the UK, then? Can we unblock BBC iPlayer? Well…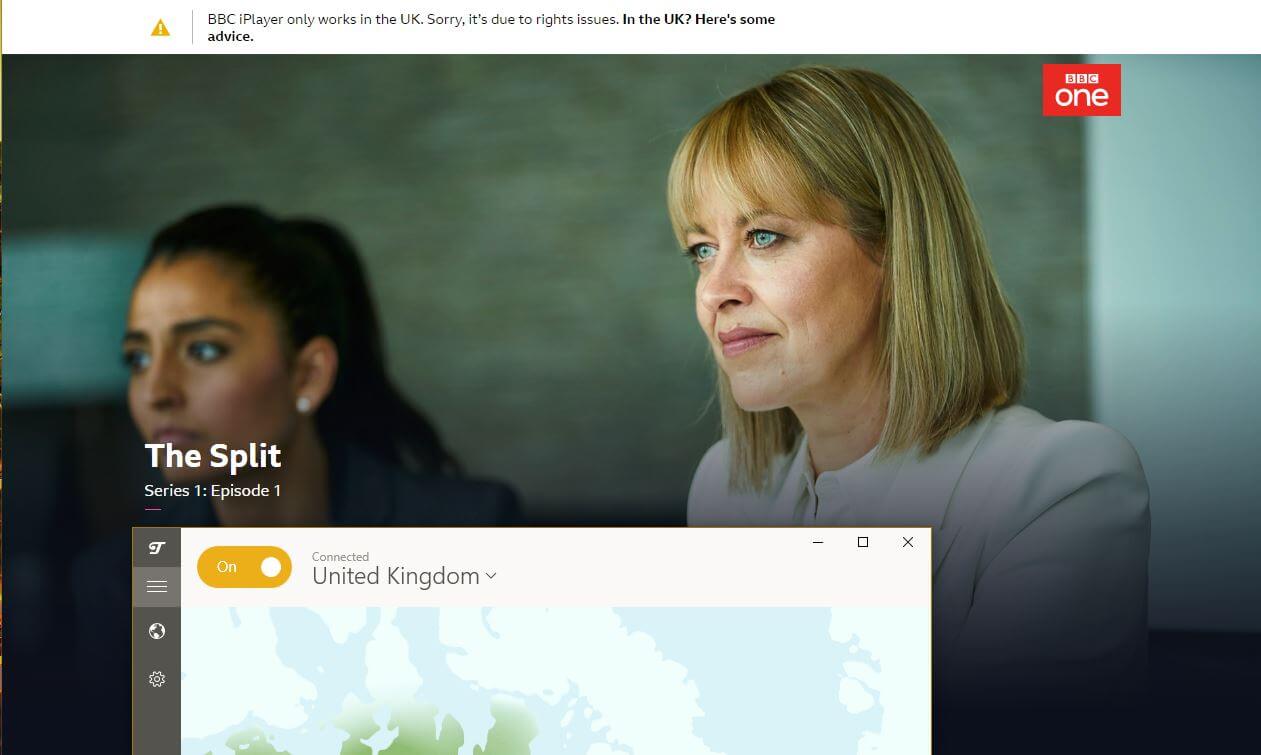 … not exactly. We tried watching The Split but in the end, we got split from the service because we "aren't located in the United Kingdom", yet we used the server from this country. Just when we thought that there's no hope for TunnelBear, we managed to unblock HBO GO – hooray!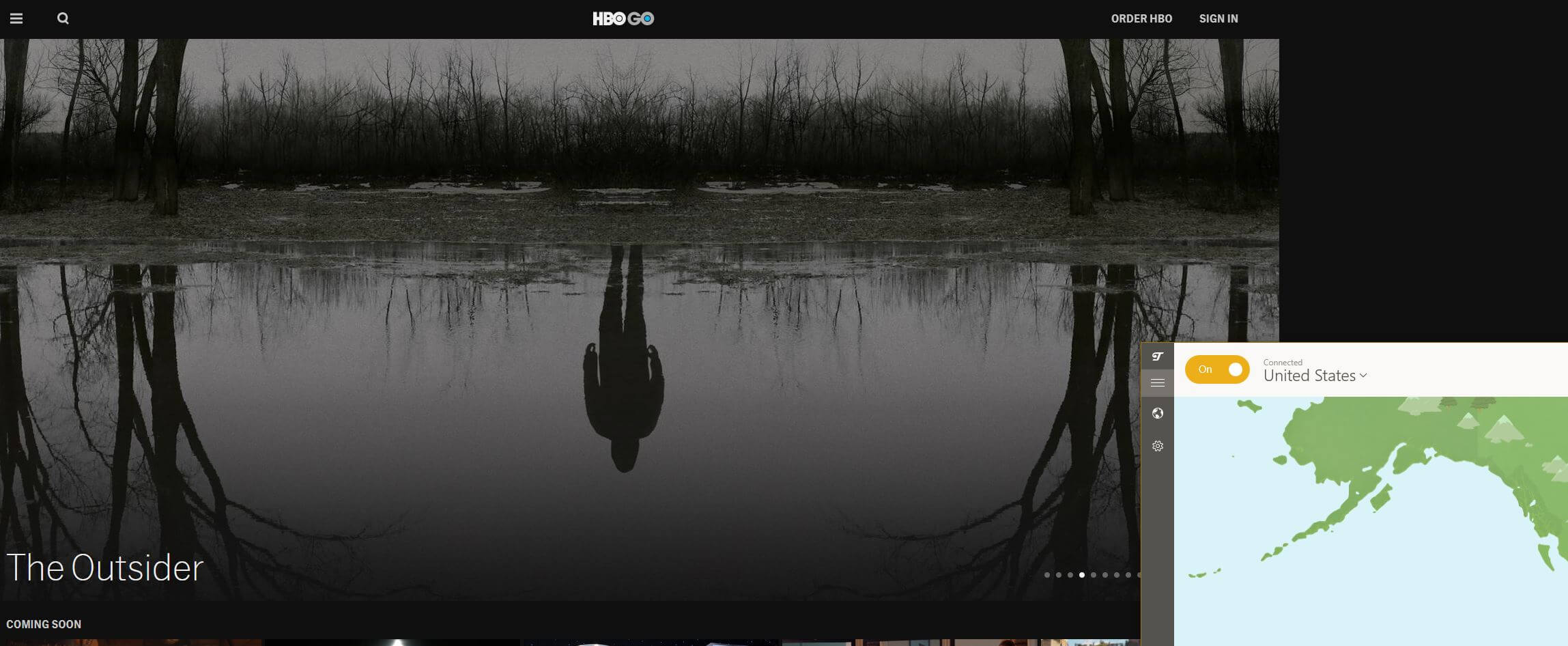 As you can see, HBO GO works perfectly. We managed to watch a bit of The Outsider with no problems. All in all, we can't hide the fact that TunnelBear is bad for streaming.
With its inability to unblock anything except HBO GO, your possibilities will be pretty limited.
Confidentiality, Security & Logs
There's a reason why this service is called Virtual Private Network. It needs to be private and secure. As you might've guessed, this is a very important aspect of every provider. You know that we dislike the providers with the lack of a no-log policy, so let's see if this provider stores logs. Take a look:

As you can see from the image, the provider doesn't store your crucial info. In their privacy policy that you can read here, we found that they only collect a fraction of your information. This includes your email address, expiry date, OS version, cardholder last name, etc.
The only thing left to check now is the IP leak test. If a VPN leaks your IP, we immediately disqualify it from being safe and secure. Let's see the results from our test: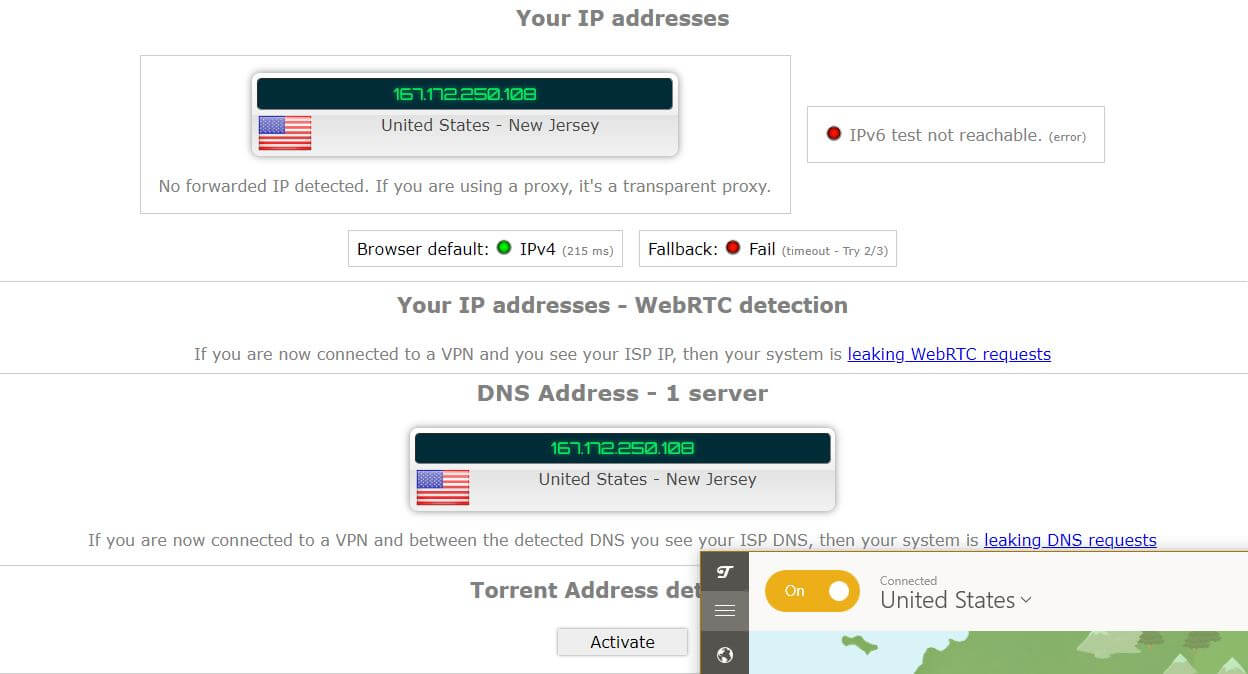 Getting a positive pregnancy test probably feels bad, especially when you didn't want this to happen. But this time, we felt relieved to know that the provider is safe and secure, as our IP leak test turned negative. We didn't encounter any IP leaks on any server we tested.
Security-wise, the provider also offers 256-bit encryption, kill switch, and DNS and IP leak protection. For a provider of this caliber, the security department is okay.
Can I Do Torrenting Safely with TunnelBear?
If we can't enjoy streaming to the fullest, can we at least download torrents? Fortunately, yes, as the provider supports P2P file-sharing.
There are two conditions that are very important for this purpose. The presence of a no-log policy and the aforementioned P2P support. Since both are there, we decided to visit 1337x.to and see if our real IP is exposed:

If you compare this IP to the one in the IP leak test, you'll see that they're the same. This means that we're completely anonymous, so we can download this 46GB game if we want to.
Can I Use TunnelBear to Bypass Censorship?
Bypassing censorship has become almost impossible these days. China has already blocked dozens of providers, so only a handful of them work there. The Great Firewall of China still remains undefeated for many providers, so it's interesting to see if this one will work.
Surprisingly, it does. The provider offers one feature called GhostBear that you should turn on if you live in China. Here's what the company says about it:

This feature isn't available on iOS but you can use it on your Android device, macOS or Windows. Here's how to turn it on: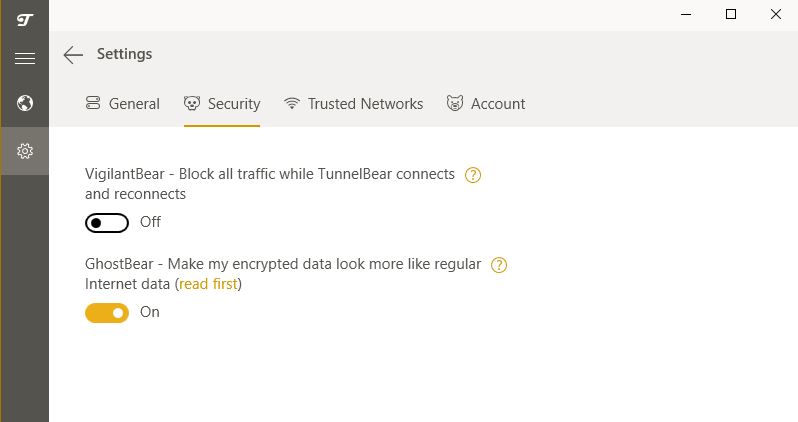 You just open settings, choose the Security tab above and turn it on. It's very simple and allows you to bypass censorship in China, Russia, the UAE, and other countries. We're not going to lie – TunnelBear surprised us with this addition, given how mediocre the initial impression was.
Pricing and Plan Options
Despite not being very expensive, people still want to save some cash on a VPN. That's completely understandable. We don't ridicule anyone and we know how hard it is to earn some money today. Let's see how much will this provider cost you: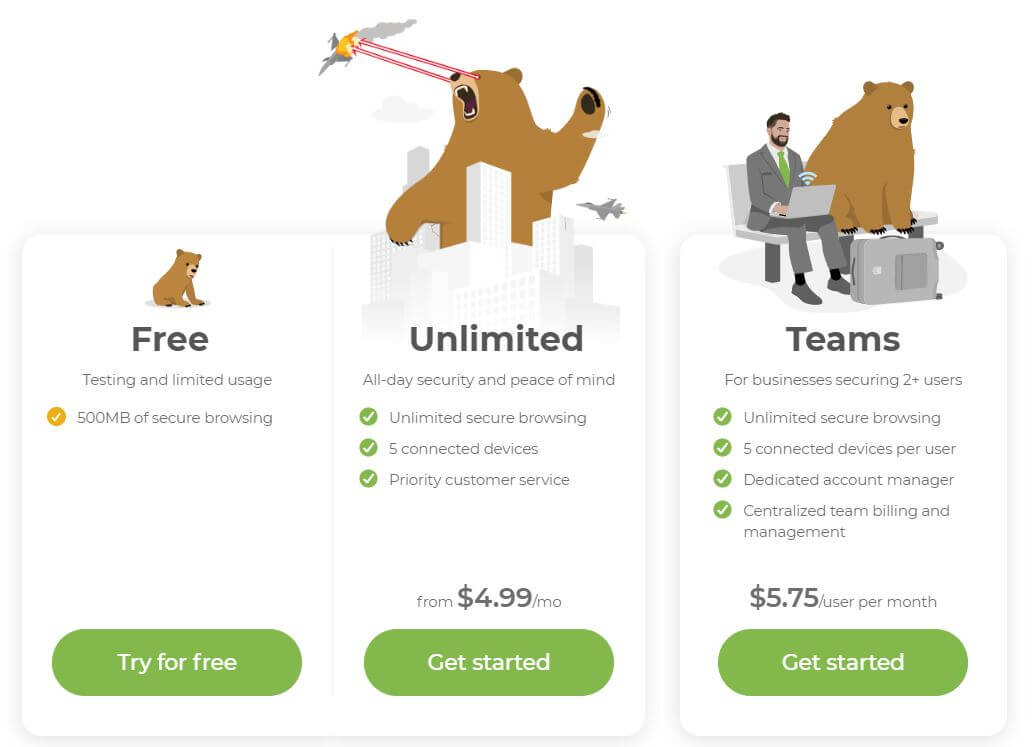 The first plan with the baby bear on the left is a free plan. You get 500 MB for streaming, torrenting and browsing. If you have even an ounce of the brain, you know that this isn't enough for casual browsing, let alone streaming or torrenting. Still, it's nice of them to offer such a plan.
We're interested in premium plans, so let's start with the first one. As seen in the picture above, it's called Unlimited because you get everything unlimited, logically. This plan won't limit your bandwidth and you'll get the highest speeds that the provider offers. If you're interested in it, here's how much it will cost you: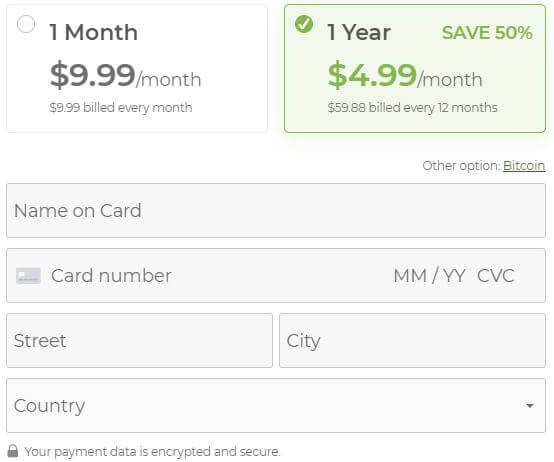 It's $4.99 a month ($59.88 a year) for an annual plan or $9.99 a month for a monthly plan. How does the annual plan stack up against the competition? Well, it's pretty cheap. NordVPN, ExpressVPN, and CyberGhost all have slightly more expensive annual plans. However, they're also far better in every aspect.
There's also a plan for the teams which costs $5.75 per user on a monthly basis. If you're an entrepreneur, you may be interested in this one.
We also need to talk about refunds or better said, the lack of refunds. Here's what the provider has to say:

TunnelBear says that the refunds are subject to review, which makes it shadier than we care to admit. Every provider has a strict refund policy in which it explains what are the conditions for getting a refund. Here, that's not the case.
Instead, your refund request goes under the review and you don't know if they'll allow you to get your money back. To make things worse, many Reddit users remain unconvinced and don't recommend messing with this provider at all because of this.
For us, this makes it even harder to recommend this provider.
How Can I Contact TunnelBear?
If you've expected the live chat feature here, we implore you to lower your expectations significantly. First of all, you'll need to access the Help section of the website. You can do it by clicking on Help, which is located above. Then, you get these options: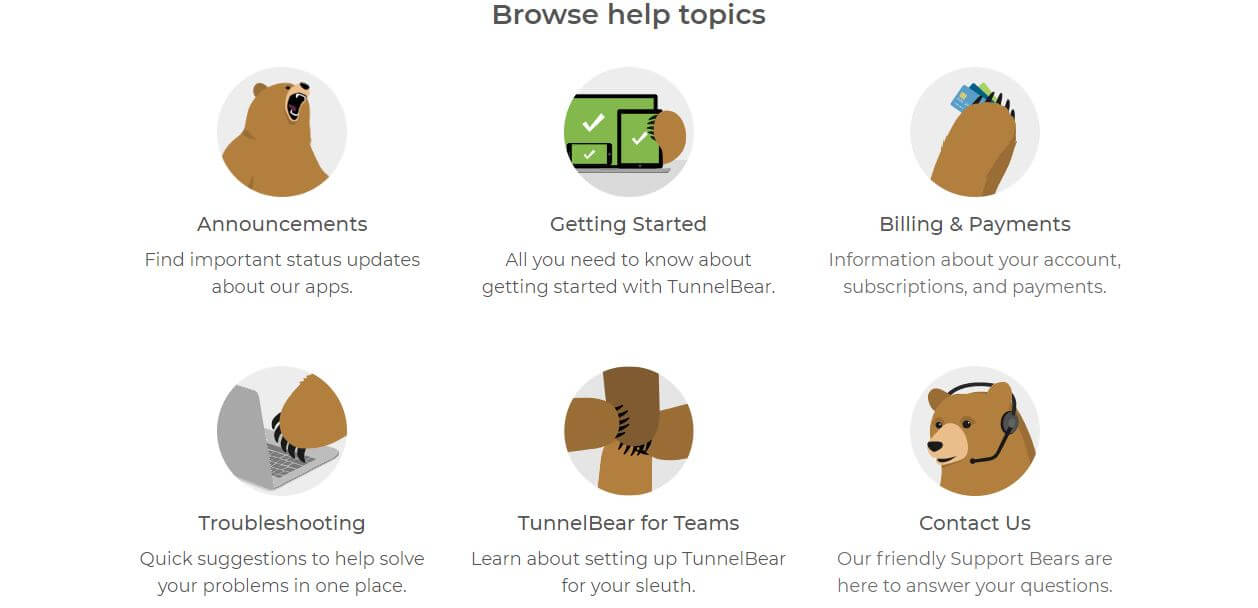 Basically, this is an FAQ section for getting help regarding different problems with the provider. On the lower right side, you see the "Contact Us" option. When you click on it, you'll get a chance to contact the provider via email, like this:

Here, you need to choose the topic in which your problem/question belongs, and proceed to send a ticket. The support team replies in about 24 hours, so it's not that bad. But, you know how we do it. If there's no live chat, we aren't impressed.
Unfortunately, you'll need to rely on TunnelBear's ticketing system, so don't expect to have your problems fixed right away.
The Special Functionalities
Every provider can offer you the basic functionalities that are mandatory for a service like this. However, the special functionalities can drastically improve your experience with a particular provider. Here's what this one has to offer:
GhostBear
GhostBear is a special functionality that we already mentioned before. It's here to let you bypass censorship in China, Russia, the UAE or any similar country. Despite working well, the provider doesn't recommend turning it on if you don't need it because it will slow down your internet or will not work at all.
If you live in some of the countries we mentioned, turning it on might be a great thing to do. Otherwise, don't do it.
VigilantBear
If you take a look at the photo above, you'll see another special functionality called VigilantBear. This is a very interesting feature that protects you when the app is reconnecting.
For example, you're using an American server and you want to switch to the Australian one. During the period of reconnection, you won't just end up in 'limbo' but also be protected.
The feature is available macOS, Android, and Windows. Once again, the iOS app doesn't have it, making it a lot more inferior to apps on other platforms.
Other Things You Should Know
Before buying a certain VPN, you must know every little thing about it. Here are the things we didn't talk about in our TunnelBear review:
Number of Servers
TunnelBear, despite being a budget offering, isn't one of the smallest providers. Although they don't have any data about their server count on the website, we managed to find out that it's somewhere around 1,800. 
This is a pretty robust offering and even if you're not a modest user, it should be enough.
Number of Countries
The number of countries is pretty modest, as you only get 20+ of them.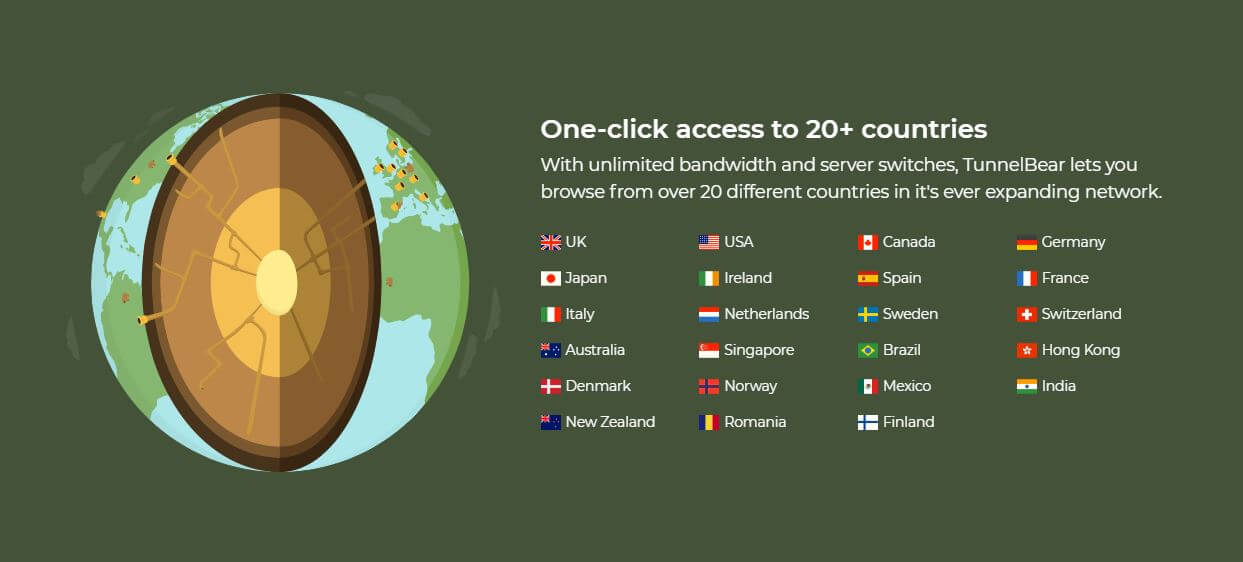 Luckily, all the "important" countries are covered. There's Australia, Germany, the USA. the UK, Canada, Norway, Romania, etc. But we were still a bit disappointed bit that number.
Number of Simultaneous Connections
If you buy an unlimited subscription, you'll get up to 5 simultaneous connections.

Since the routers aren't supported, this can't be expanded, so you'll have to be satisfied with what you get in your subscription.
What Do Other Users Say About TunnelBear?
Let's see what the other users have to say about this provider. We'll start off with Reddit, take a look: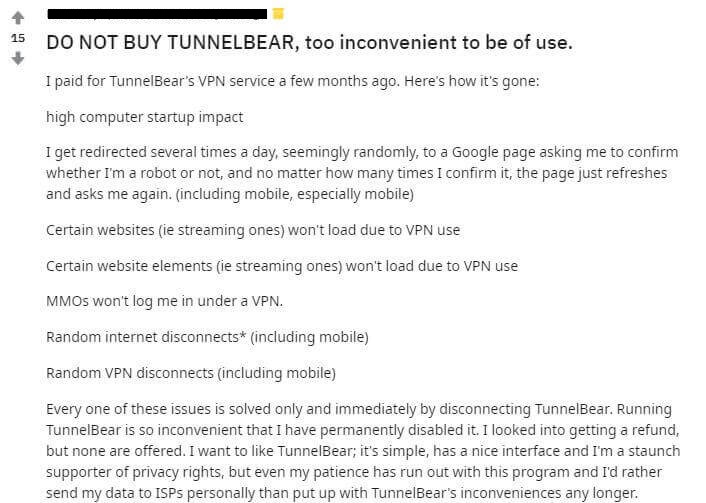 This user on Reddit seems quite infuriated. He encountered too many problems that prevented him from using the service as intended. The review begins by saying that he encountered several redirections during the day and is continued by mentioning how bad of an experience he had overall.
He ends the review by saying that he uninstalled the app and that he doesn't recommend it to anyone. Let's see what the Apple Store user had to say about the provider:

As you can see, this is quite a strange review. The unusual experiences had the user uninstall the app. Plus, as he says, the kill switch didn't work and his location didn't display properly. To make things more interesting, he says that he had problems with the app itself, which we also encountered on the Android phone.
When we tried to turn off the VPN, it just cycled, as this user also experienced. We solved the problem by reinstalling it but still… that shouldn't happen! Moving on, we have a user from the Android world:
We see that this user doesn't speak English very well but dissatisfaction is always visible, regardless of the language you speak. The user says that the service is terrible and he confirms what we said earlier about the refunds. In short, his refund request was disapproved and they didn't give him the money back.
He ends by saying that he uses NordVPN and so far, it works great for him. We'll end this section with a review from Trustpilot. Here it is:

This is a review from 2021, so it's a new one. Yet another dissatisfied customer that mentions small server count and lackluster customer support. Although he says that P2P isn't allowed, that's not true. He must've misinterpreted something. Still, giving just one star isn't something people do without a reason.
Conclusion: Should You Take It?
TunnelBear is a provider with a beautiful user interface and presentation. The bears on its website are so beautiful that we'd pet them if we could. But, when we talk purely from a technical standpoint, that's where things start to disintegrate. So, is the provider worth your hard-earned cash?
No, it's not!
The speeds are very slow and to make matters worse, you can't unblock a vast majority of streaming platforms. To us, one of the worst things about the company is that it doesn't have a proper refund policy.
Of good things, we would only mention its security, a free plan, the ability to bypass censorship, and support for P2P file-sharing. For this price, though, there are tons of better options on the market.
If you're willing to pay a fraction more, you can get ExpressVPN, which is miles ahead of this provider and also the best provider in 2021.