When the summer comes, Norway probably isn't going to be the country you're going to visit first. Its sub-zero temperatures and cold climate might deter many people from going there. However, if you've ever been here, you know how robust their democracy is. When it comes to living in Europe, this is perhaps one of the best places and you'll see why in just a minute. In case you want to secure yourself with a reliable VPN even in Norway, we suggest you don't move an inch.
Why You Should Use a VPN in Norway?
Without wasting a second more of your time, let's see why using this service in this country can be beneficial:
Torrenting Anonymously
Norway is the freest country in the world, boasting a 100/100 ranking on the Freedom House. This speaks a lot about the country and if you take a look at the reasons we mentioned below, you'll see that something is missing. That "something" is government surveillance that isn't prominent in Norway.
For that reason, we said that this is a great country to reside in. However, if you want to engage in P2P file-sharing activities, that's where you're going to fall flat on your face. Torrenting remains a huge problem here and can be punished pretty badly, as we're now going to see.
In 2016, one man got fined for $25,000 for torrenting. That man is the owner of Norskifilm.net. This is a movie-streaming site and apparently, the owner broadcasted movies downloaded from The Pirate Bay. The lawsuit against him sparked interest in Sony, Paramount, and Fox, hence they all wanted a much higher fine for this infringement.
Luckily for the owner, everything went well after paying a fine and we hope that he learned his lesson. Don't think that this is a coincidence. Someone must've warned Paramount, Fox, and Sony that their copyrights were infringed and that someone is probably the government.
Norway, in fact, has strict anti-torrenting laws, so don't try to do that without the best VPN.
Accessing Geo-Blocked Websites
Missing your favorite shows on Netflix and BBC iPlayer will make you feel miserable. Especially if you're one of those 'bingers' that watch an entire season of a TV show in one night. Don't do that – it's not healthy, though!
What's healthy is keeping your nerves intact. And how not to get nervous when you can't access geo-blocked sites like this one? Well, one way is by getting a VPN before leaving for Norway. It allows you to alter your IP, rendering you invisible to your ISP and the government and allowing you to access blocked sites.
This way, you'll be able to unblock every geo-restricted website. You can access US Netflix, Hulu, HBO GO, 10Play or any other site unavailable in your country. This service will also allow you to take advantage of the content available on the Darkweb, in case you want that.
The same applies to the opposite situation when you're abroad and want to access Norwegian local content.
Best Providers With Servers in Norway
Speaking of local content, do you want to access NRK channels from abroad? No problem, here are the best VPN with servers located in Norway:
ExpressVPN: ExpressVPN offers some of its best servers in this country. They support all the security protocols and even P2P file-sharing if you want to engage in torrenting. This is, by far, your best option for this country.
NordVPN: NordVPN has 5,500+ servers worldwide, of which 70 of them are in Norway. Luckily, they also support P2P and will allow you to enjoy streaming on Netflix and other popular sites.
CyberGhost: This Romania-based provider is very generous when it comes to server count. In 2021, you'll get 30 high-speed servers in Oslo, for torrenting, streaming or casually browsing the internet.
If you're ready to make your choice, click on the provider you want. From there, you'll only need to buy a subscription, download the respective app, and forget about limitations when it comes to internet access.
Top 3 Best VPN for Norway
The best providers for a certain country don't have to always have servers there. But, as this is your lucky day, these VPN providers have servers in Norway. Here are our top picks for this snow-laden soil.
1. ExpressVPN

If you're a speed junkie, don't look only for speedy cars and bikes – there are speedy providers, too! ExpressVPN is one of them. It offers tremendous speeds, so you won't even notice that it's turned on. This allows you to enjoy 4K video streaming or gaming on foreign gaming servers.
The good thing is that the provider values privacy probably more than you. They've thought of everything! Therefore, you get all the options you can get – no-logs policy included. Military-grade encryption is here to protect your online presence and a kill switch will disconnect you from the internet if the connection drops.
People from this country will simply love it for what it has to offer, including its 3,000+ servers. They'll also love a huge 49% discount and 3 months free for a 12-month plan that ExpressVPN offers. And a 30-day money-back guarantee? Oh, they'll love that too!
Enjoy ExpressVPN's Fast Speeds >
2. NordVPN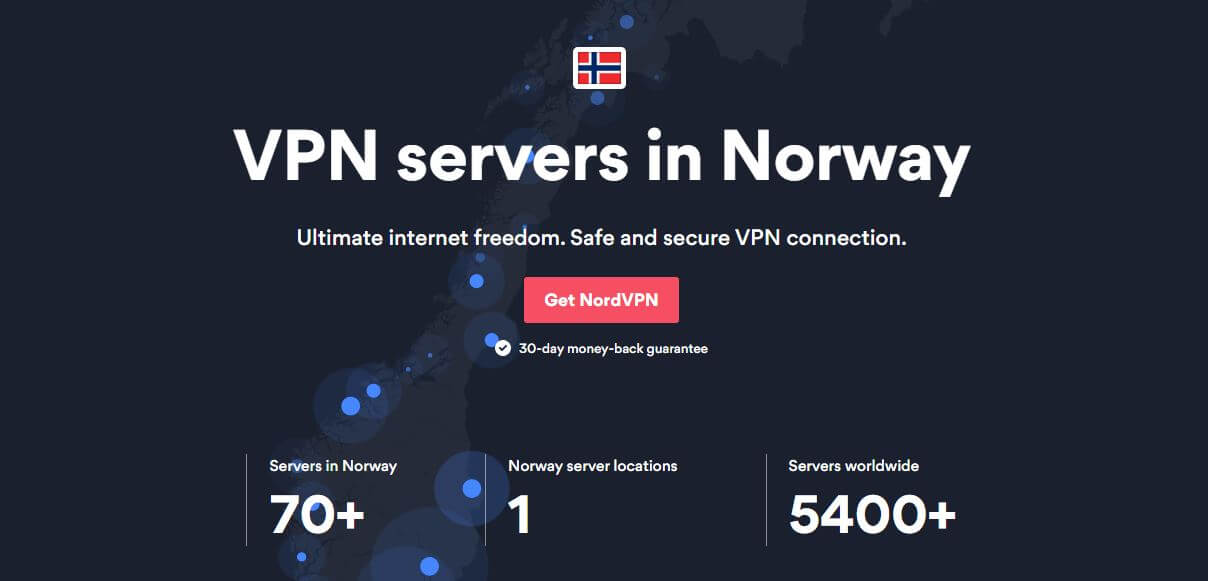 You don't see NordVPN's ads on the internet for no reason. This company reigns over the internet and is one of the strongest names in the cyber security industry. The provider comes from Panama and offers its services for all major platforms, even Apple-based ones.
Speaking of Apple, download its application form the Apple Store for your iPhone or iPad. Feature-wise, we could write an essay about NordVPN. For the start, you get a no-log policy, kill switch, and 256-bit encryption. These basic security features are accompanied by Double VPN and Onion Over VPN.
The latter allows you to use Tor with the provider, resulting in impenetrable security. Simply put, NordVPN offers you everything you ever wanted from a provider. Fair pricing, all the features, and rock-solid security.
Get NordVPN for a Discounted Price >
3. CyberGhost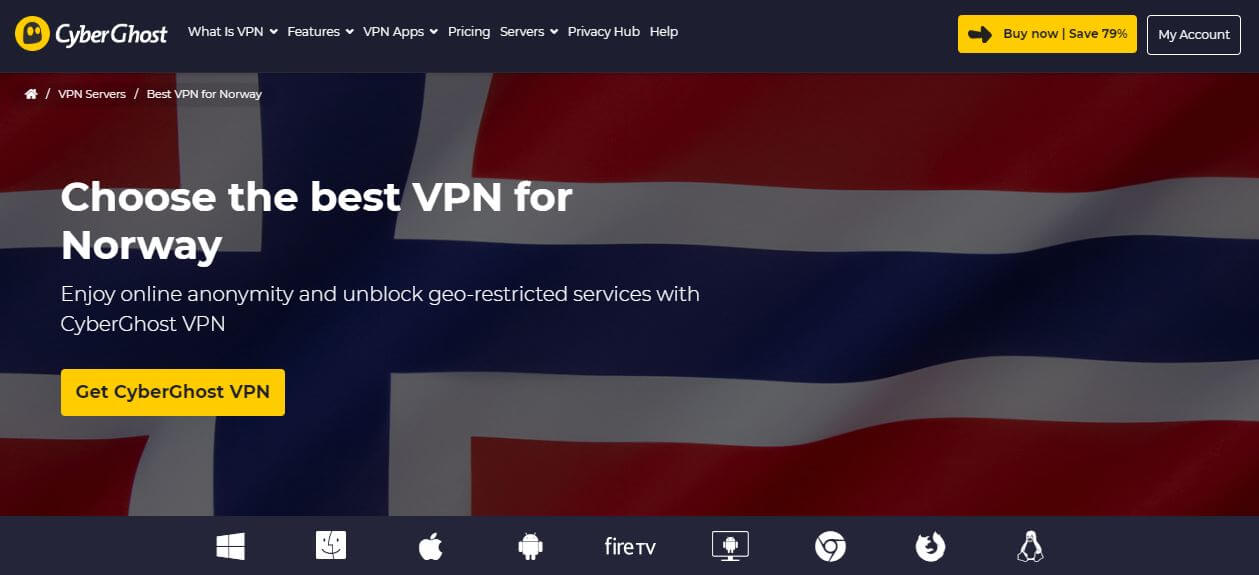 CyberGhost comes from the land of Lord Dracula. If you don't know which country it is, we're talking about Romania. Although Dracula wasn't friendly, the Romanian government is, thereby allowing this company to flourish on its soil.
The company offers 6,200+ servers in 91+ countries around the globe. It's the largest provider with a respectable user base that counts millions. CyberGhost is known for its dedicated servers that make our lives easier each day.
With them, you can enjoy streaming and torrenting easily, with high speeds, and a high level of security. Since the provider doesn't store logs, you don't have to worry about leaving trails online. And if you worry about its price, know that it's cheaper than a pack of cigarettes.
Enjoy Your Stay in Norway with CyberGhost >
Why You Should Avoid Free Providers?
What else can be cheaper than CyberGhost? Free providers? You could say so. But, are they any better? No. The reason being is because they offer a cut-down version of a Virtual Private Network. Sure, you get encryption, your IP is concealed, and you're safe and secure. So, what's the catch?
The catch is that it's not all honey & milk there. For instance, many of them lack a no-log policy, so they're allowed to store logs. These logs are very expensive, thus they can be sold to third parties for a solid revenue. It happens a lot, so don't think we're just blabbering.
On top of that, you're looking at some eliminatory limitations. Limited bandwidth, slow speeds, a lack of support for P2P, and the inability to unblock Netflix. All in all, avoid free VPN providers in Norway at all cost. Go for the premium ones instead.
Summary
Our journey ends here. Did you already make a choice? If you didn't, we recommend ExpressVPN. It's an ideal provider for Norway and in our opinion, it won't ever let you down. With blazing-fast speeds, rock-solid security, and military-grade encryption, this is the best option for 2021.
If you want a cost-saving option, CyberGhost and NordVPN are the best providers. But, if you take a look at our top VPN ranking, you'll see that ExpressVPN is still the best one.