Cyber-security has become one of the key factors when it comes to internet access. With all those VPNs on the market, it's hard to choose the one that fits your needs. However, this is a very lucrative industry and new providers flourish like mushrooms after the rain. A few years ago, a new provider called Surfshark emerged. Needless to say, it immediately attracted us due to its feature-rich offerings and unique features. We decided to put it to the test and see if it's as good as they say. This is an in-depth review of Surfshark, so stay tuned to see if it's worth the money.
What is Surfshark?
Whereas many providers advertise themselves as being great for certain purposes, Surfshark takes a different turn. It advertises itself as being an all-around VPN. That being said, in theory, you should be able to enjoy all your internet activities with this provider.
Not only it enables you to hide your IP but also stream, torrent, and browse the internet casually. If you're unfamiliar with what a service like this offers, check out our guide to know everything about how to install a VPN and how to use it.
This provider is based in the British Virgin Islands, although people who work there are mostly from Europe. The location where it's based is great for multiple purposes we're going to talk later. Just for comparison, ExpressVPN is also located there, and as you know, it's the best provider at the moment.
Now, what about its historical performance? Well, Surfshark was great since its inception. They had some issues with security here and there in the beginning but know, it's all ironed out. All in all, this provider has a promising premise. And will it deliver on its promises… well, you'll find out soon thanks to our Surfshark review!
Compatible Devices and Ease of Use
The great thing about this provider is that it supports a plethora of devices. Just look at the picture below. There are tons of platforms, including gaming consoles, Apple TV, Fire TV (Firestick), and internet browsers.

We like that the apps are very easy to use and navigate through, regardless of your platform. So, we'll see what the installation process and app look like.
Computers
Installing a Windows app takes only a minute or two. In fact, we don't want to lie – it's like three seconds or so! The only thing you need to do is to download the app for Windows or Mac, click on the setup, and the installation is done. The app opens automatically and you get the login screen: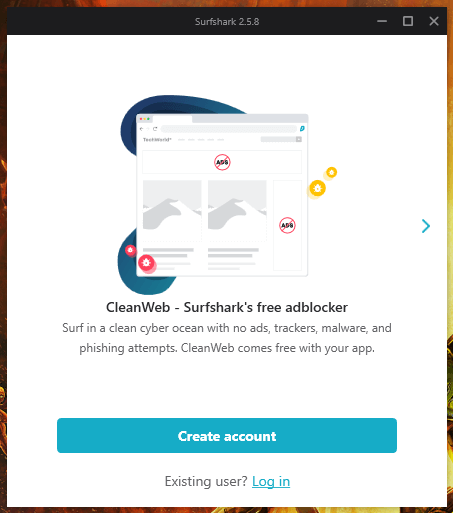 Given that you already bought it, you already have an account. So, you click on 'Log in', type your email and password, and you get to the app.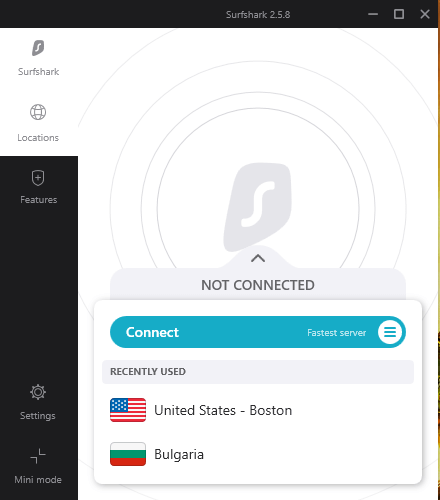 Now, everything you need is right there. You can use the blue button that says 'Connect' to connect to the fastest server. There's another option if you click on the white button with three horizontal lines, and there, you can choose the nearest location.
Alternatively, if you want to choose a custom server, you can do it by clicking on Location on the upper right side of the screen. Here's what it looks like: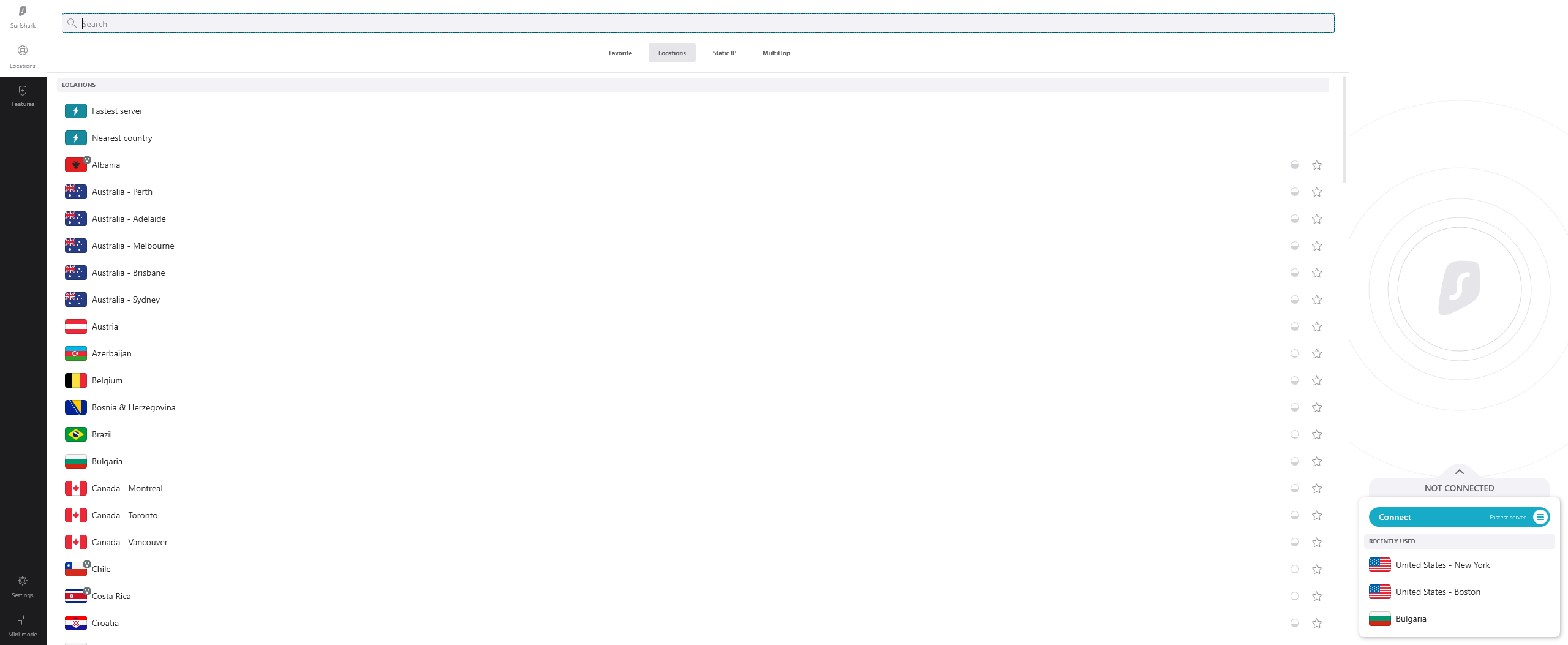 When clicking on the server you want, you automatically get connected. On the lower right side of the picture, you see that we already tried Bulgaria and two servers in the USA. We'll try the United Kingdom now, for example. We clicked on the server in London and here's what we got: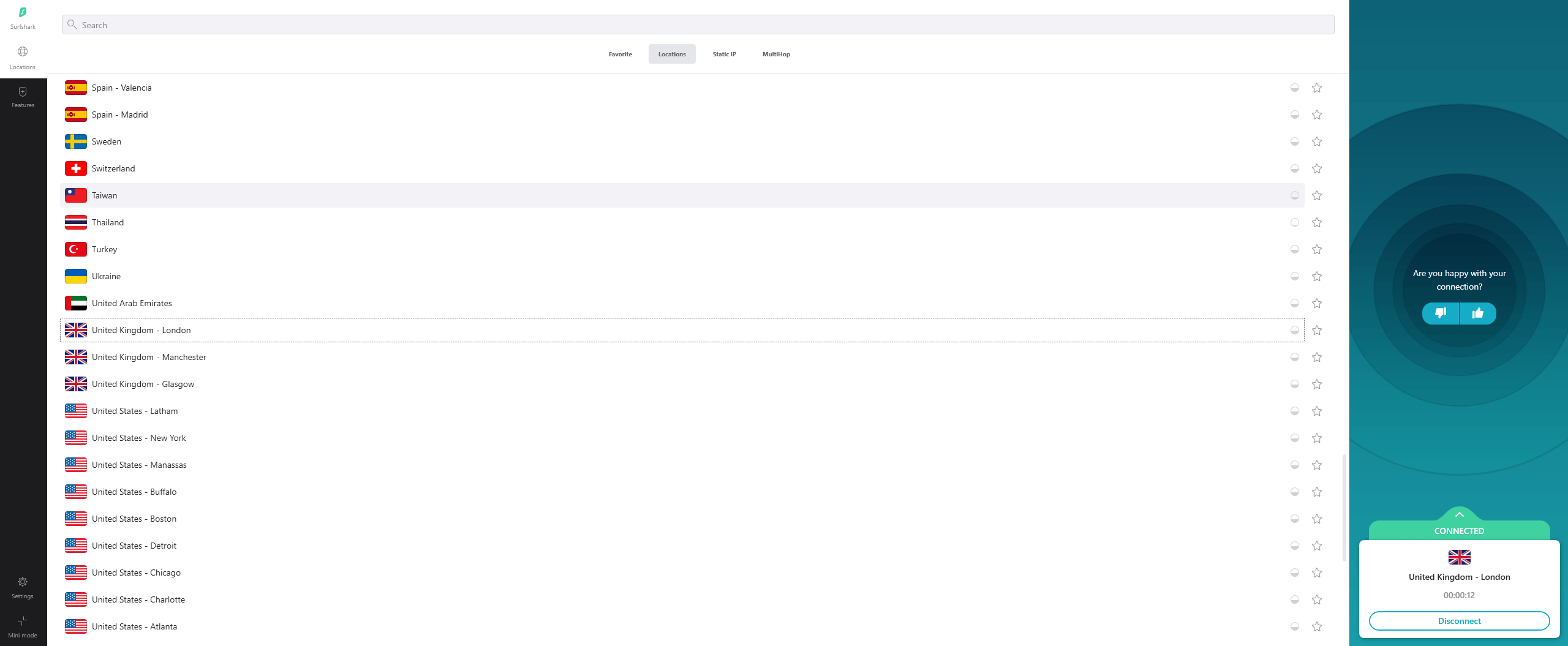 Our connection is now established and you can see the difference on the right side. The screen turned blue and if you look down to the right, you'll see that our online location is now the UK, London.
Smartphones and Tablets
Now in this Surfshark review and test, let's see how the mobile app functions. We'll use an Android device for this example. Go to Google Play Store, type the provider's name, and install the app as shown in picture 1. When you install it, you'll get the screen shown in picture 2. There's a 7-day free trial for Android and iOS, as you can see.
Install Surfshark on your Smartphone and/or Tablet >
However, if you own the subscription already, go to the option beneath e.g. log in. In picture 3, you see how the login screen looks, so type in your email and password, and tap LOG IN in the upper right corner. Then, you'll get a similar interface as on the PC, which can be seen in picture 4.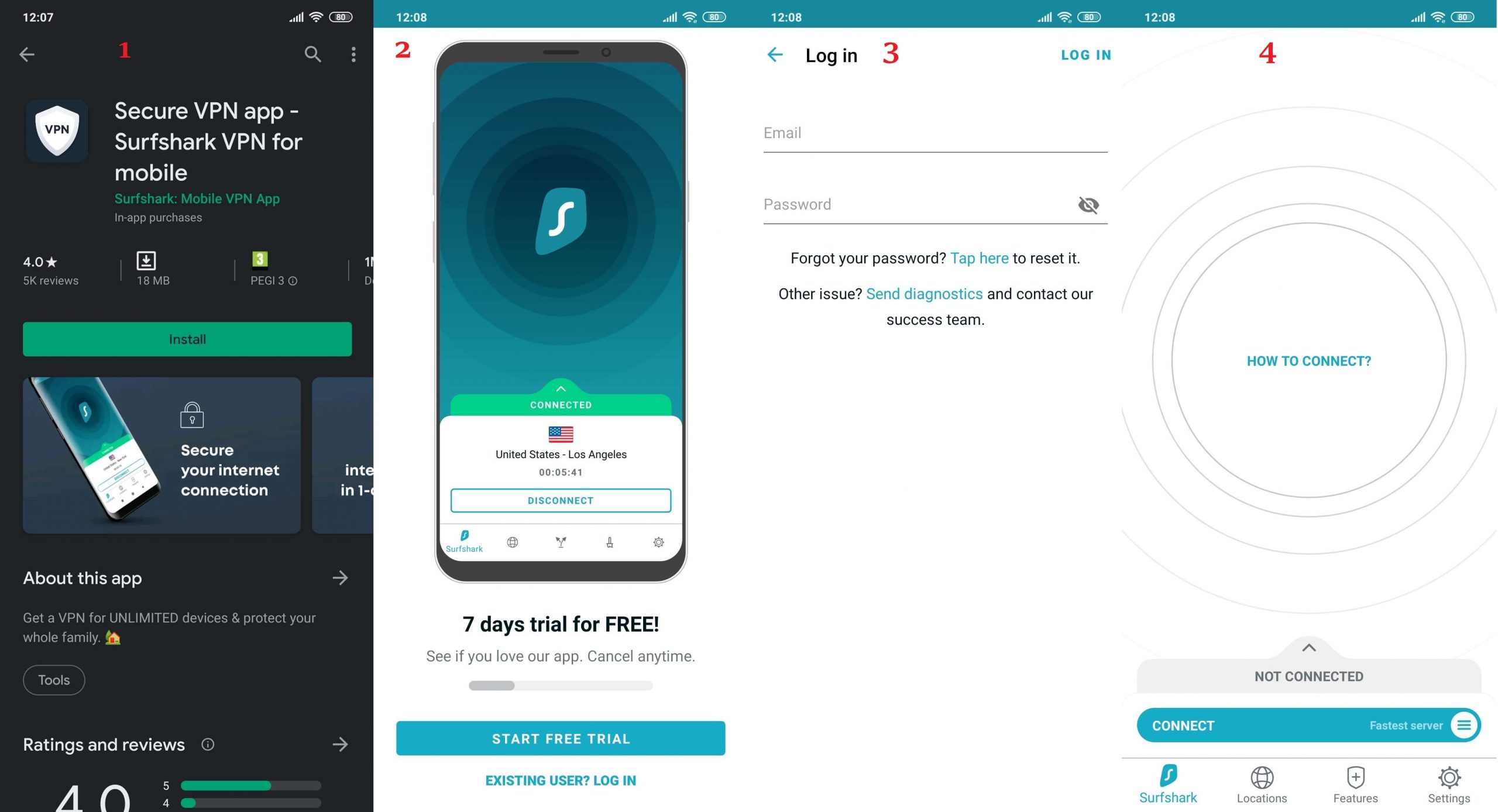 Now, all that's left is to connect to the server you want. As on the computer, you can click the blue button to connect to the fastest server. Or perhaps, you can access the server list, as shown in picture 5. We once again tried to connect to the server from the UK, London. As you can see in picture 6, it was successful.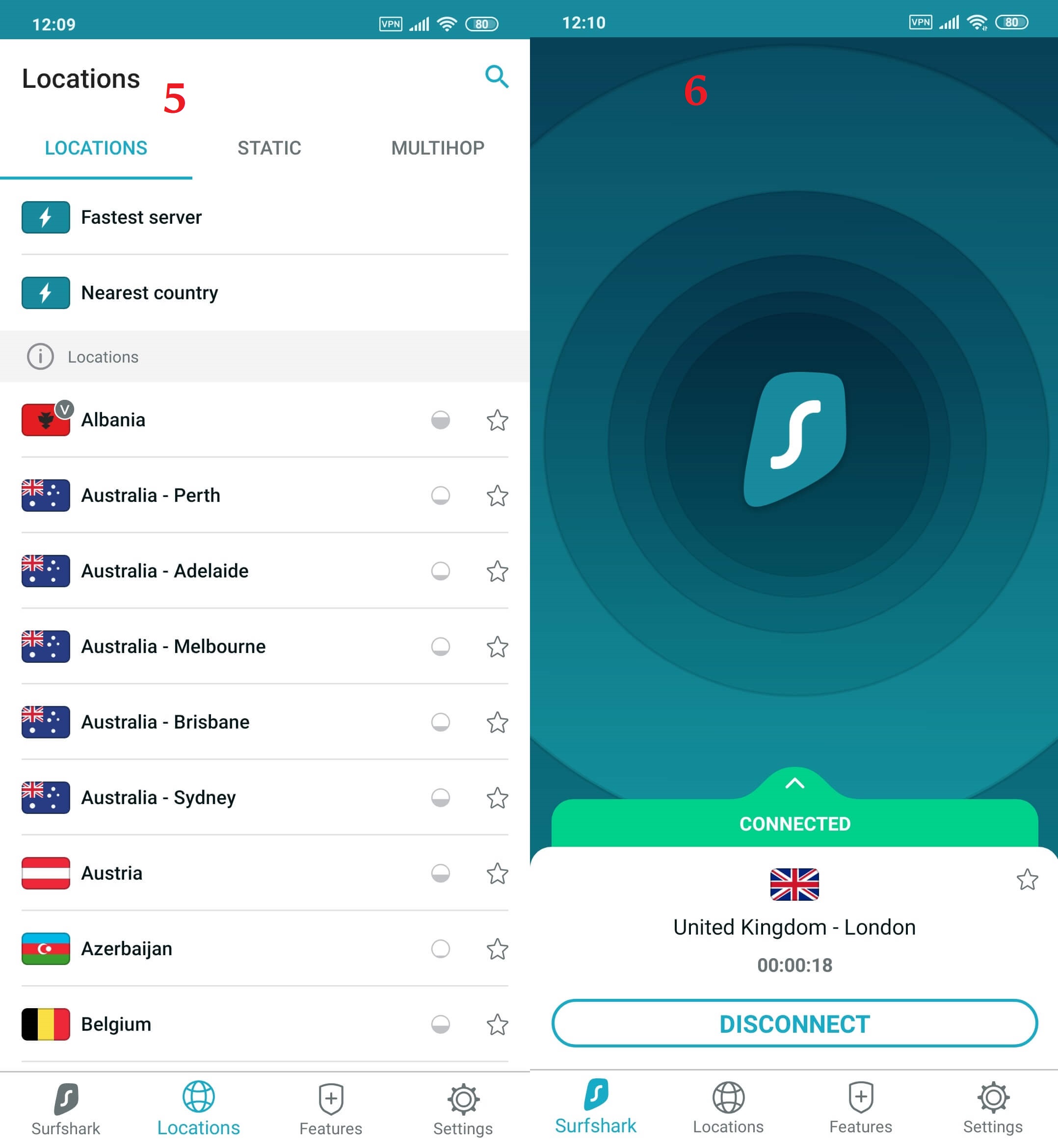 When you connect, you'll see a small 'VPN' sign in your notification bar above.
Other Devices
Other supported devices are shown in the picture we put above in our review of Surfshark. There are gaming consoles like Xbox One, PlayStation 4, Smart TVs, and internet browsers such as Chrome, Firefox, and Trust DNS. To be honest, that's impressive, given how little time the provider spent on the market.
How Fast is Surfshark? We checked its speed!
After all, it mostly comes to speed. If a provider is very secure and it's very slow, would you use it? Probably not. First of all, all VPNs will reduce your internet speed to some extent. Some will do it more, some will do it less. Free providers, for example, do it the most, hence they're very slow and you shouldn't consider them.
But, premium providers are different. With them, you won't lose much speed, making them great for anonymous online browsing. Of course, there are numerous factors that have an impact on speed, such as level of encryption, server location, etc. Because of that, it's necessary to see how we tested Surfshark.
Benefit from the good speeds offered by Surfshark >
We did 3 tests in the morning, mid-day, and evening, for 3 different locations, and then, we kept the best score. Among 3 tested locations, we connected to the 'best location' when it was possible. We are based in the United States (non-VPN test) and we used these locations for the test:
US (Best location)
UK
Australia
Now, here's our internet speed without a VPN in play:
Ping: 11ms
Download speed: 211.88Mb/s
Upload Speed : 202.20Mb/s
And now, let's see the ping, download speed, and upload speed respectively with a VPN:
US server: 47 ms / 218.94 Mbps / 107.65 Mbps


UK server: 115 ms / 143.97 Mbps / 129.46 Mbps

Australia server: 314 ms / 75.14 Mbps / 42.30 Mbps


As you can see, the slowest speeds were in Australia, where our ping was significantly higher (which is normal due to distances). The United Kingdom is slightly better, while the United States, our best location, showed very slight decreases.
How Good is Surfshark for Streaming?
If you want to access Netflix, would you be able to do that with Surfshark? And the answer is – yes, easily! The provider offers a plethora of servers in the USA, which is essential for accessing Netflix's huge movie and TV shows catalog.
So, we went out of our way and tried every USA location that the provider offers. We managed to unblock Netflix within seconds and the whole catalog was there. Movies in Ultra HD resolution, all the popular TV shows, including Witcher and GOT, and many more.
The other streaming sites are also available. Disney+, for example, can be accessed easily from any of the servers in the United States. Here's the proof:
During our review and tests, we saw that Surfshark also managed to unblock DAZN, Amazon Prime Video, HBO GO, Sky TV, Hulu, TenPlay, ESPN, and many others. Overall, we're very impressed with the provider's ability to unblock these websites. But, how enjoyable is the streaming?
In one word – very. We tried some Ultra HD movies on Netflix and it worked flawlessly. So, is Surfshark good for streaming? Yes, it is.
Confidentiality, Security & Logs
Security and privacy are two VERY important factors for a Virtual Private Network. There, we think, particularly about a zero-log policy. This means that the provider doesn't keep any information that could compromise your privacy.
For example, your browsing history, your IP address, location, timestamps in some instances, and so forth. Thankfully, Surfshark has a very clear, and to be honest, very long privacy policy that will take you some time to read it. This isn't, by all means bad. It's actually excellent!
Stay Safe on Internet with Surfshark >
We've cropped a small part of it that should give you the complete picture. So, here's what the company has to say: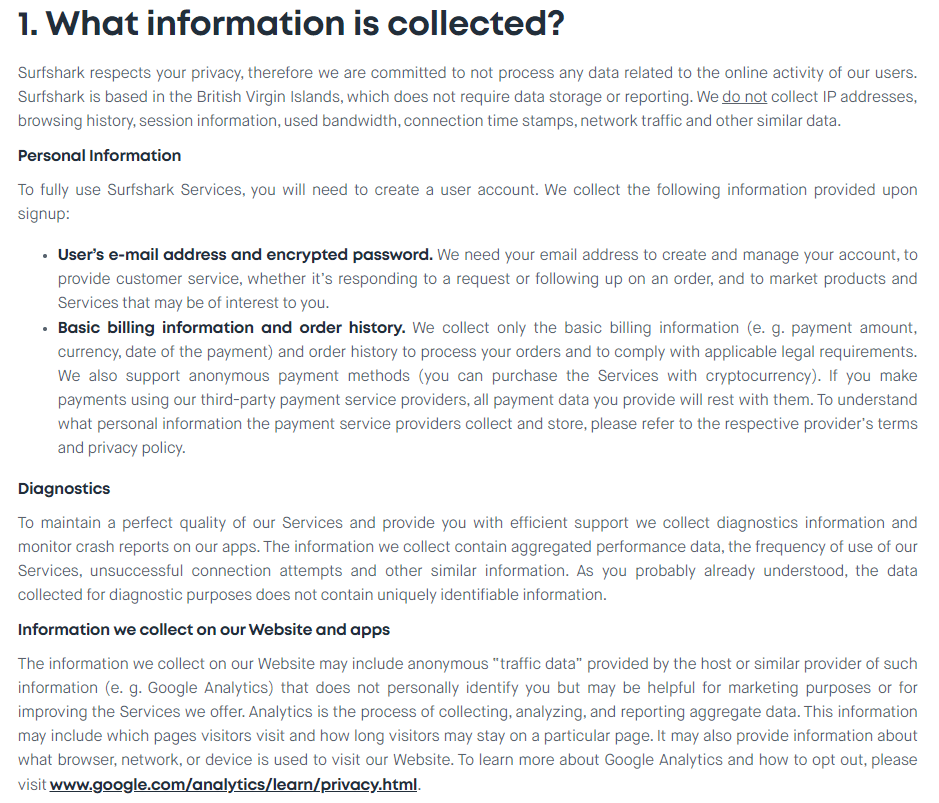 As you can see, they don't collect IP addresses, browsing history, session information, timestamps, used bandwidth, network traffic, and similar data. Upon purchase, they keep your email address and ENCRYPTED password, which is a must and is not bad.
Furthermore, they keep some billing information and order history but only the basic info. Interestingly, the last paragraph says that they collect anonymous "traffic data." Although it sounds compromising, it's not because it's anonymous and they can't see who accessed which site.
With that in mind, Surfshark offers a 100% zero-log policy, which is a relief.
The only thing left to test is the security offered. We booted up the IP leak test that you can find here and these are the results:

On the left is the provider's app that shows that we're connected to Chicago. On the right, the IP leak test shows exactly that – Chicago, Illinois. This means that our IP isn't leaking and that we're completely anonymous.
Can I Do Torrenting Safely With Surfshark?
Torrenting is an activity that requires support for P2P file sharing. Surfshark supports P2P on every server, making it, in theory, eligible for torrenting. Another important thing is also a no-log policy. Because, if your VPN tracks your activity, it can sell it to third parties and you can get into trouble if this activity is illegal in your country.
Given that this provider has everything we mentioned, torrenting will be a breeze. Like in our NordVPN review, we visited 1337x.to, a very popular torrent site, and tried to download a game. As you probably know, torrent websites show your IP, so that you can see that it's visible without a VPN.
Here's what we got:

Now, glance over to the previous section and see what was our IP. Was it 74.119.146.132? Of course. So, we can now download our game anonymously, meaning that Sufrshark is great for torrenting.
Can I Use Surfshark to Bypass Censorship?
Countries like China, the UAE, Iran, and Turkey are working hard on censoring stuff on the internet. For example, many providers don't work in the UAE anymore because their telecom companies block them. You've probably heard of Etisalat and Du – these are the culprits.
The good thing is that Surfshark can bypass censorship in any of the countries, including China. The Great Firewall of China can now be easily defeated by the provider's NoBorders feature. In short, it allows you to bypass all kinds of internet restrictions and firewalls, including the one in China. Take a look: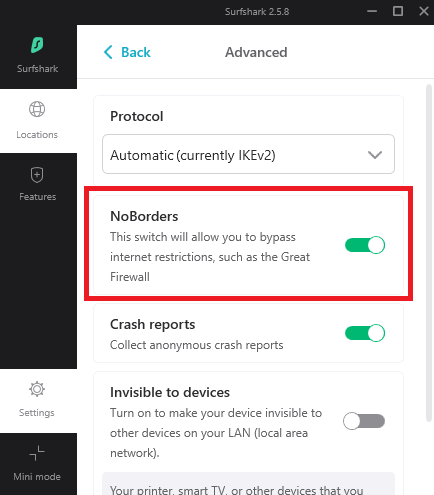 When you open the app, go to Settings/Advanced, and you'll see this feature up top. Enable it, and you'll be able to bypass censorship.
In conclusion, yes, Surfshark can bypass censorship.
Pricing and Plan Options
For many people, price plays a huge role in the decision-making process. If the provider is very expensive, many people won't bother buying it. Let's see right now in this Surfshark review what the provider's subscription plans and their costs: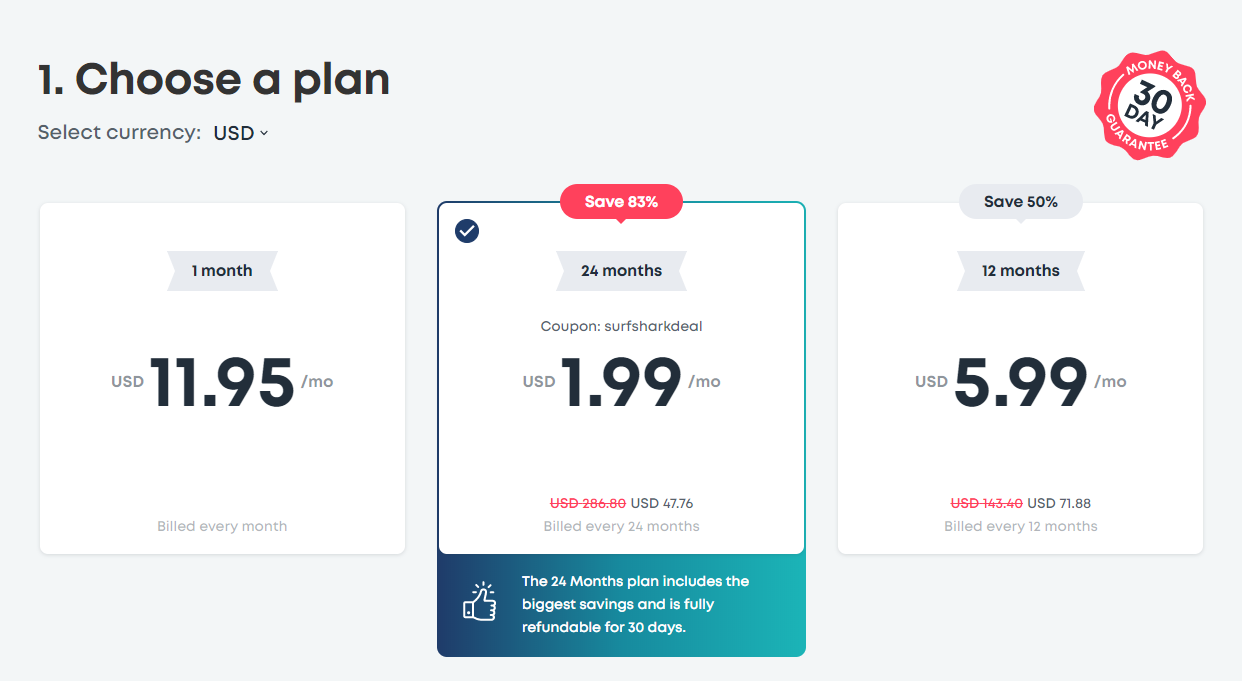 The subscription plan highlighted in the middle is the best offer (note that the coupon code is applied automatically). As you can see, it's $1.99 a month for a two-year plan, which is $47.76 per two years  (huge discount/promotion of 240$). It's an insanely good deal that lets you save 83% on your purchase. We must admit that this is among the cheapest providers we've ever used.
It's even cheaper than NordVPN and CyberGhost, and these two are already very cheap for what they offer. Now, a 12-month plan is priced at $5.99 a month or $71.88 annually. The annual subscription plan isn't anything exceptional. This is a standard price for this type of subscription.
Benefit from a Huge Discount on Surfshark.com >
And finally, there's a monthly plan that we don't recommend. $11.95 per month is just ludicrous and is only good if you want to test it for some time and get a refund afterward. When it comes to the payment options, Surfshark is pretty generous. Here's what they offer: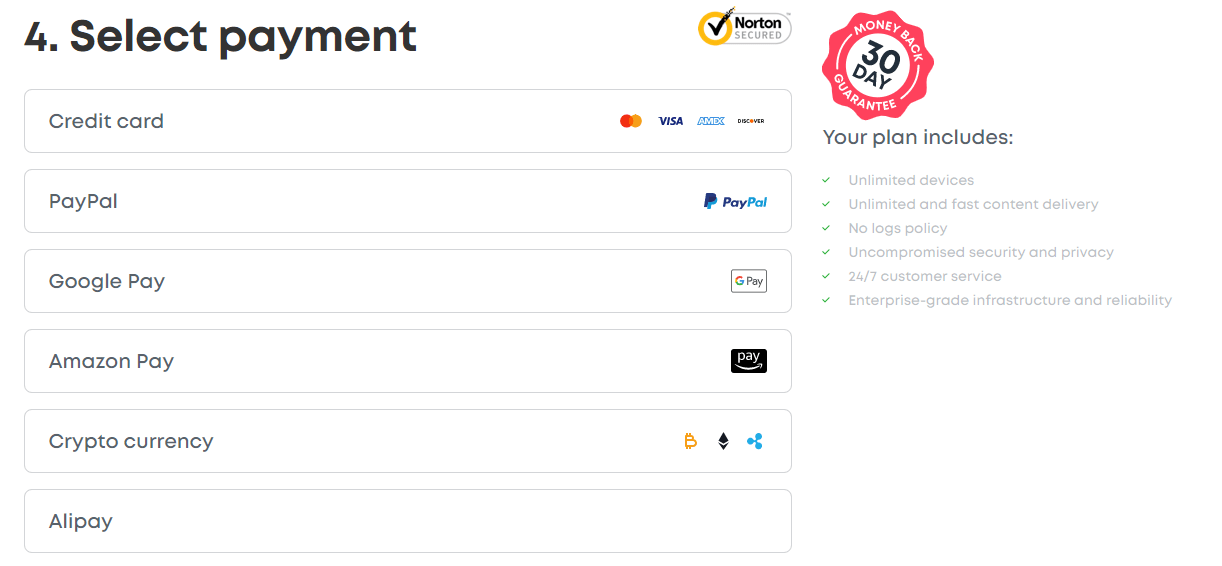 On top of that, every plan is eligible for a 30-day money-back return, 24/7 customer, support, and so forth. Speaking of the money-back period, you can get a refund by using the Live Chat feature. Take a look: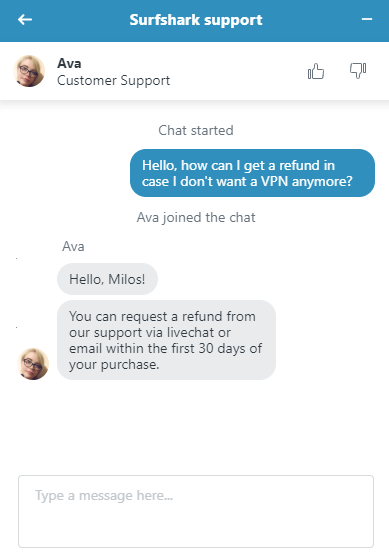 Also, not every account is eligible for a refund. For example, if you buy the subscription on the AppStore/iTunes, you won't be able to get your money back. Furthermore, prepaid or gift cards are also not refundable, even in the first 30 days. Here's a small part of the company's refund policy that proves what we said:

How Can I Contact Surfshark?
Contacting Surfshark is very easy and there are two options – live chat and email. We suggest using the first feature as the support is very quick to respond, approximately 30 to 60 seconds on average to get a feedback. The support can be reached if you click on a widget in the bottom right corner that looks like this: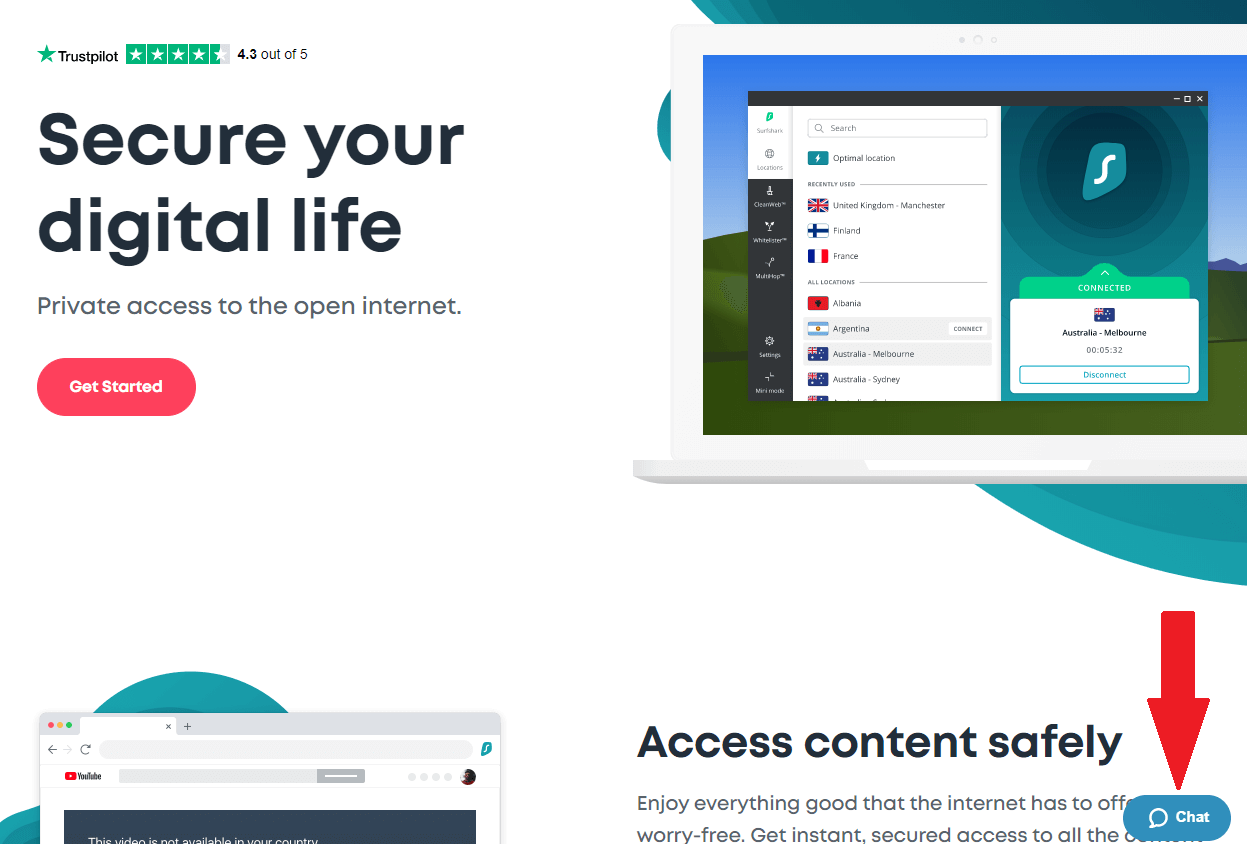 When you open the chat, type in your question, your name, email, and category in which the question belongs, and you'll get the support team member to respond to you, as shown in the previous section. If you want to submit a request, you can also do that. Here's how it looks: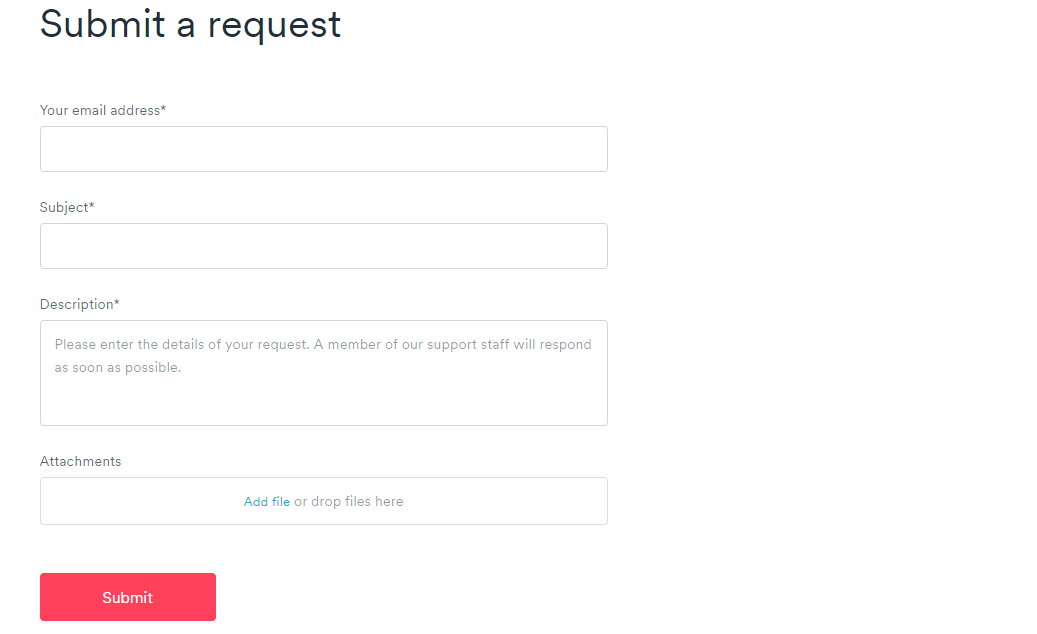 Enter your email, subject, description, and attachments, if you want. Click Submit, and you'll get your response in 24 to 48 hours.
The Special Functionalities?
Like every provider, Surfrhask also has a set of special functionalities. Here they are:
CleanWeb
CleanWeb is a fantastic feature that works as an ad-blocker. If you turn it on, it will actively protect you not only from ads but also from malware that you can catch with annoying pop-ups and links. The good thing is that it also works on your smartphone.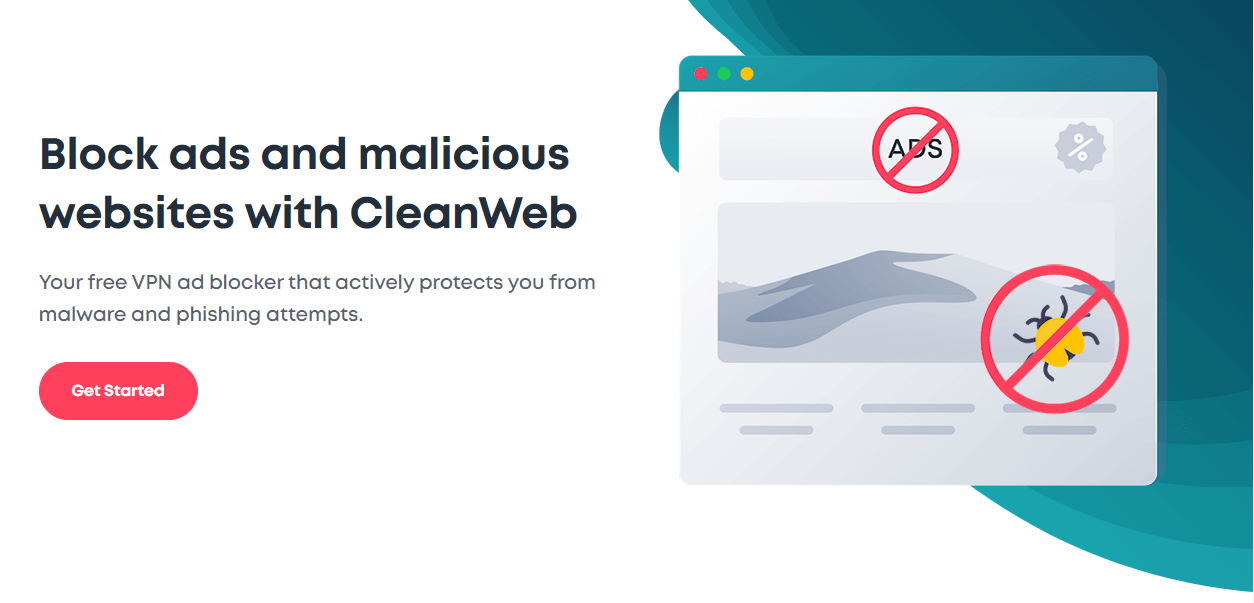 That way, it can save your internet data by disabling ads that usually waste your megabytes. We think this is a great addition to Sufrshark's ecosystem, which is already safe and secure.
Block ads thanks to Surfshark CleanWeb >
Whitelister
Whitelister is another unique feature from Surfshark that we found out about when doing this review. It works as a split tunneling feature from ExpressVPN. It allows you to choose which websites can be accessed via your native IP address, and which websites are going strictly through a VPN.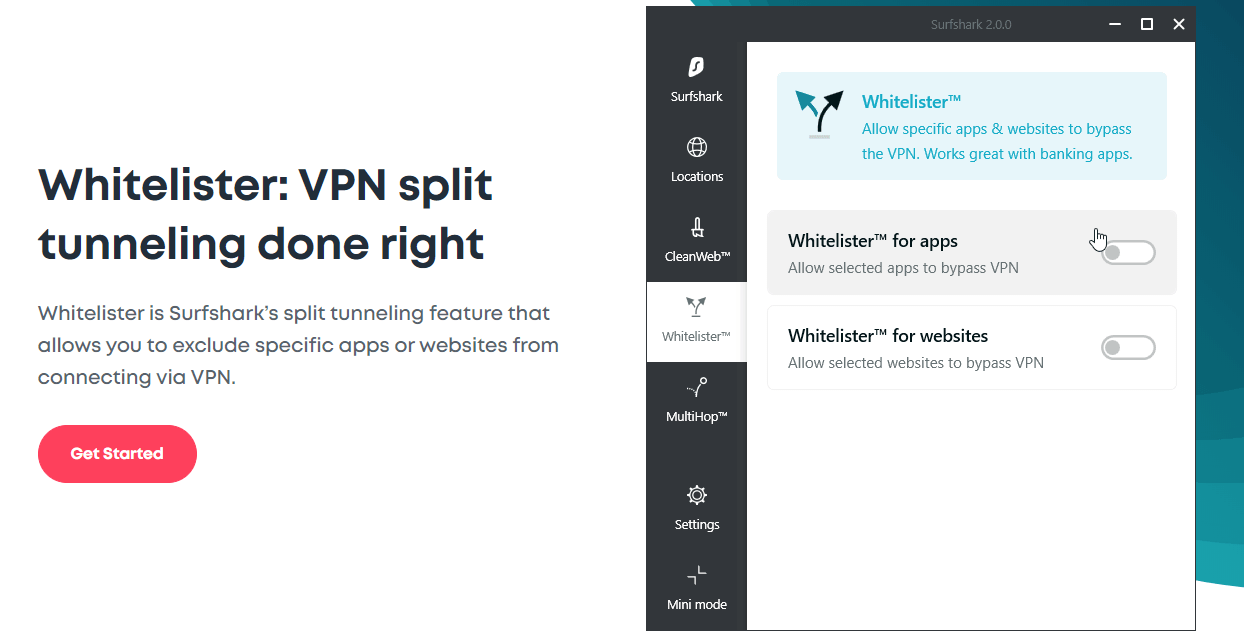 We found this feature useful for online banking, in particular. You don't need to access PayPal or your bank account with another IP. Instead, you can use your real IP to do that, while watching Netflix using this provider, for instance.
Or, if a YouTube video is blocked and not available in your location, you can simply switch on your VPN, and access your bank account without it.
MultiHop
Last but not least, MultiHop. This feature is similar to a Double VPN feature of NordVPN. Whereas NordVPN routes your traffic through two servers, Surfshark does it through multiple servers, adding a thick layer of security.
Important to mention is that it will slow down your internet speed a little. But, on the flip side, you'll be more secure, which is a trade-off that you can accept or simply don't use it.
Other Things You Should Know
There are a few more things we haven't mentioned in this review of Surfshark yet, so let's talk more about it now.
Server Count
In terms of server count, Surfshark isn't the largest provider. Quite frankly, it's much smaller than some of the top providers, thus offers "only" 1,700+ servers worldwide. Arguably, this isn't a very small number. However, CyberGhost has 6,000+ servers, for instance, making this provider look like a baby.

But, as we said earlier, this provider gives a great performance and has useful features, making its smaller server count less noticeable. Plus, every server supports all security features and P2P file sharing, so it isn't something to worry about.
Number of Countries
What about the number of countries? Surfshark claims to support 63+ of them, which is an impressive fact. Most servers are located in Europe, as the provider supports more than 35 countries from this continent.
The Asia Pacific counts 14 countries, and in the Middle East and Africa, as well as the Americas, they support 12 countries in total. If we do the math, that's 63 countries.
Number of Simultaneous Connections
This is where the provider flexes its muscles. Surfshark offers an unlimited number of simultaneous connections, which is far better than what other providers offer. There are some really great providers that you can easily use on a router. However, you don't have to do it with Surfshark.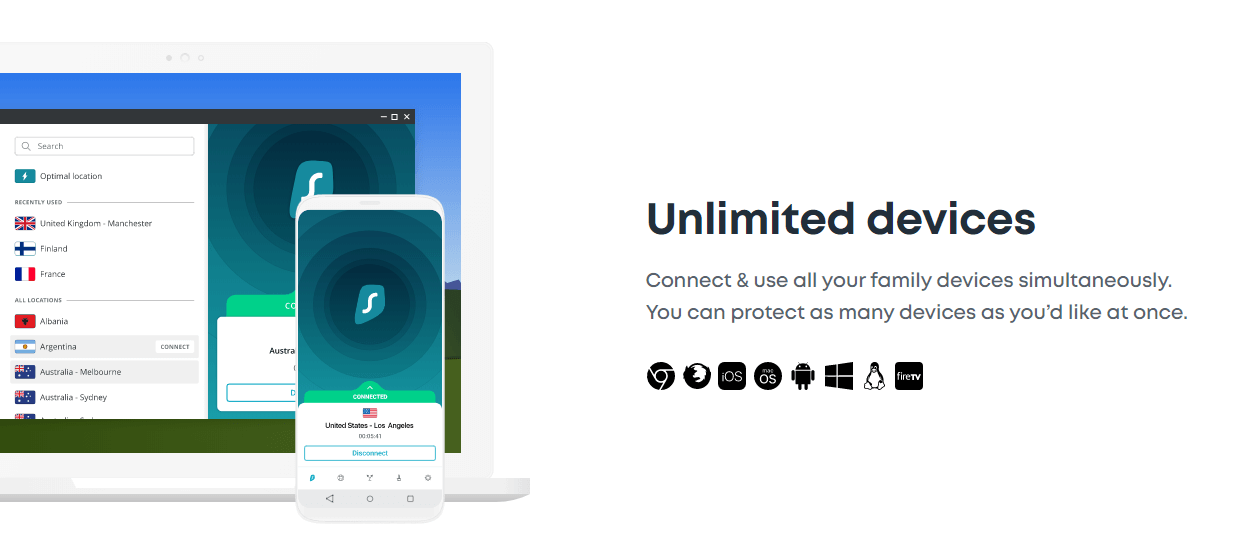 All your devices in the house can now be protected with a single account, for $1.99 a month, if you get a 2-year plan!
What Do Other Users Say About Surfshark?
You should never spend your hard-earned money on a Virtual Private Network frivolously. After reading our comprehensive review, you also need to search for some opinions online. As always, we did our job the best we can and managed to dig out some reviews about this provider on different websites.
The first comment comes from Reddit and it's a very positive review. Take a look: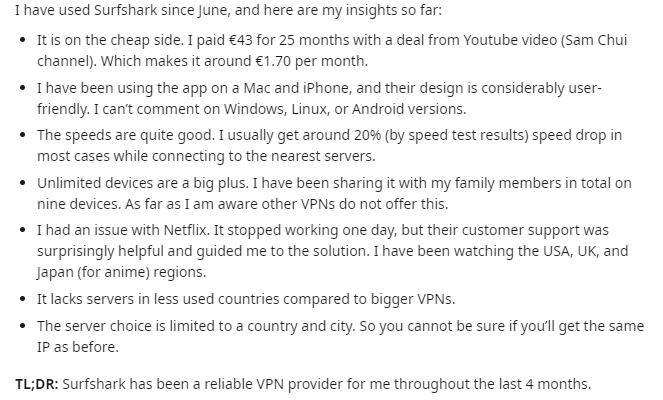 Aside from the small server count, which we also mentioned, this user said all positive stuff about the provider. He praised fast speeds, unlimited devices, and its affordable prices. The next opinion comes from the Apple Store. As we can see, even the Mac/iOS version of the app works fine:

The user even says that Surfshark can go head-to-head with NordVPN and ExpressVPN, and these two represent the best offerings at the moment. He also praises its speed, unlimited devices, and value for the price. Now, what about Google Play reviews? Well, the provider won the heart of yet another Android user:

He says that the app is easy to install, easy to use, and very fast. As seen from the picture, this is a recent review, meaning that Sufrshark brings a ton even in 2021. Finally, we have a review from Trustpilot, a website that plays a crucial role when it comes to credibility. Here's what the user had to say:

He basically praised it for unblocking geo-restricted websites such as Netflix and Disney+, which we confirmed in our review. The last sentence shows that the Android app worked great on his Galaxy Note 10+ behemoth.
Conclusion: Should You Take It?
Surfshark is an excellent provider that gives a lot for the price as you've seen in our review. It has rock-solid security, fast speeds, no-log policy, and can bypass geo-restrictions easily. For a price of just two bucks a month for a 24-month plan, this provider represents one of the best values for the money.
Should you take it? Absolutely YES!
Not many providers manage to make it to the mainstream this easily. Surfshark, on the other hand, took the whole market by storm and now stands toes-to-toes with some of the biggest providers. We're excited about its future and expect lots of improvements, even though it's already second to none.