Google Chrome is one of the most popular web browsers at the moment. With its extensive support for add-ons, you can equip it with tons of extensions to make it even more versatile. The great thing is that even your VPN provider often offers some of its plugins for Google Chrome, making your internet browsing more secure. Beware that not all providers offer this feature, so we've cherry-picked those who do, and who do it well. If you're interested in making Chrome well-armed with protection, don't go anywhere just yet!
What are the Benefits of Using a VPN Extension for Chrome?
We all know this browser as being very simple to use. Its customization options outperform every other browser and its interface is intuitive. Because of that, many users ditched Mozilla Firefox and Internet Explorer in favor of Google's giant.
Needless to say, this application goes hand-to-hand with a good, reliable Virtual Private Network. Let's see the benefits of this combination:
Preserving Privacy and Anonymity
When we think about Google, we always think about the lack of security and privacy. Does this company really value these factors? Well… not exactly. The company has been known for snooping around users' data and even accessing Gmail accounts! Just imagine someone reading your email – sounds creepy, does it?
Although this is a fantastic browser, that's one thing we can complain about. But, not a single thing on this planet is perfect. However, you can make it come close to perfection with a layer of protection. How does this tool help you achieve it? There are numerous ways in which you can achieve this effect.
For the start, a service like this hides your IP address, making you invisible to your ISP (Internet Service Provider). This is essential if you're living in a country with harsh internet laws. In some countries, you'll be punished for visiting a certain website or watching porn. And if you're doing it without protection, you're just asking for a trouble.
There are numerous features that make a Virtual Private Network a great tool for privacy. Aside from the one we mentioned, there's usually military-grade encryption, an automatic kill switch, IP leak protection, etc.
But what does a VPN mean? You can find some answers here. We know that many of you didn't have the chance to use this service. Therefore, our website is here to help you realize how important it is in today's day and age.
Avoiding ISP Throttling
ISP throttling is a problem that no one seems to talk about, except our community. People who don't know about these applications usually don't know what ISP throttling is. Simply put, it's when your Internet Service Provider intentionally slows down your internet. Yes, it's intentional, just as we said, despite the fact that you're paying for it on time.
This begs a new question – why does it happen? It happens because you're using a huge amount of data. An amount that they aren't willing to give you. When you're streaming or torrenting, you'll usually encounter this problem, if it's something that happens.
Your videos start stuttering, buffering, and freezing. Your torrent download speed starts decreasing and you're wondering why does it happen. It happens because of ISP throttling. If you search online for it, you'll find that Netflix and other streaming platforms are forced to pay a fee to some ISPs to avoid this problem.
Luckily, when your IP address isn't visible to others, your internet provider can't do this to you. Even a VPN Chrome extension can help you achieve this effect.
Bypassing Geo-Restrictions
Accessing Netflix, Hulu, HBO or Amazon Prime Video is a big thing for some people. Whether you like Witcher, Breaking Bad or Game of Thrones, these shows are all located mostly there. These platforms work by charging you a monthly fee and giving you access to their "rich" platforms.
The truth is, they're not so rich if you aren't from the USA. In this case, you'll have to change your IP to this location to access full platforms. Netflix, for example, is accessible worldwide but if you compare the worldwide catalog to the US one, you'll cringe – literally!
With a VPN installed on Google Chrome, you can change your online location to the United States and enjoy these platforms from wherever you are.
Top 3 Best Premium VPN Extensions for Chrome
If these benefits sound good to you, you're probably still here. So, let's see our top 3 premium VPN picks for Chrome browser and later, we'll also give you 3 free providers. Here are the best options:
1. ExpressVPN
ExpressVPN is, without a doubt, the best provider at the moment. We always say how they don't cut corners anywhere and this time, it's no exception. Their Chrome extension is very user-friendly and simple to use. However, this plugin is NOT free, so you'll have to sign up with the provider before being able to install it.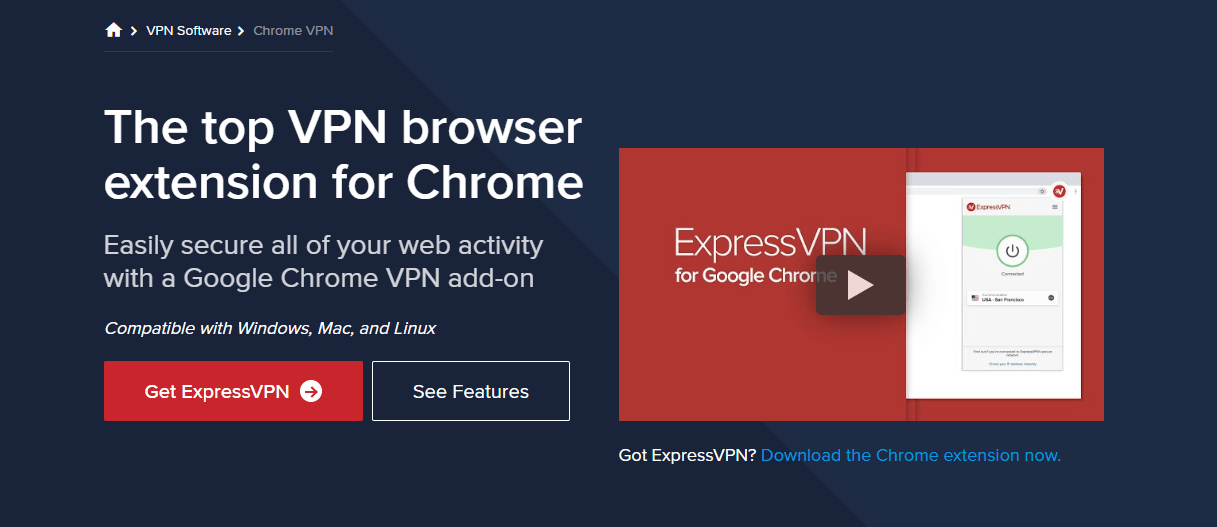 The company doesn't offer anything for free and we understand them. In terms of features, this VPN extension for Google Chrome is almost on the same level as the app. For the start, it encrypts all traffic traveling over the network, unlike many extensions that don't do it.
ExpressVPN also has a location spoofing feature. This is useful for accessing websites that require your location to access them. You can then allow the websites to see your location, which will be fake either way since you've taken another IP.
Security is also second to none and speeds, as always, are on the top level. ExpressVPN has 3,000+ servers in 94+ countries globally, and all of them are accessible through this plugin. We suggest visiting the provider's website using the button below and see it for yourself.
2. NordVPN
NordVPN is a provider that won't steal money from you and give you lackluster service. With its 8 years of existence, the company is well-acquainted with the security standards required today. As such, you get a combination of privacy and freedom and all of that in this lightweight app.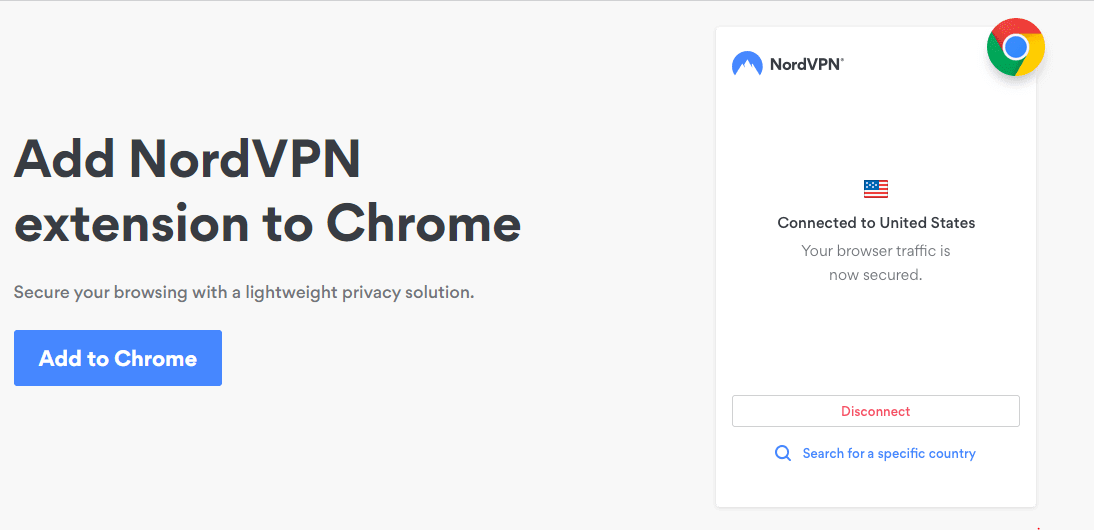 We tested this extension multiple times and saw excellent results in terms of speed, given how strong the encryption is. NordVPN offers 256-bit encryption and a no-log policy, making it one of the most secure platforms of today.
You'll also like the CyberSec feature included in this plugin. It allows you to block ads and unwanted software, thus accessing even malware-laden websites easily. We also suggest that you disable WebRTC, which runs by default on Chrome and can compromise your security. NordVPN allows you to do that, thus preventing it from leaking your IP accidentally.
As we speak, the provider offers 5,500+ servers in 59 countries, making it the second-largest provider. Accompanied by top-notch privacy features, blazing-fast speeds, and a zero-log policy, NordVPN is one of the most complete companies in the online security business.
3. CyberGhost
CyberGhost is a juggernaut with its 6,000+ servers in 91 countries. This is the largest provider now but is it the best when looking for a VPN extension on Google Chrome?
To be honest, not at all. However, it's one of the best in the game. The company offers an extension, or better said, proxy, that works flawlessly with Chrome and is free.

This proxy is easy to use, having only two options – On/Off button and four locations to choose from. In terms of locations, you don't get hundreds of them. Since this is a proxy, you get Romania, Germany, the Netherlands, and the USA.
Depending on your location, some speed fluctuations are bound to happen. But, we can't complain since we managed to stream Netflix easily using the combination of this provider and browser. Despite being free, you still get 256-bit AES encryption but on the flip side, you're not protected from WebRTC leaks.
If you want full protection, you'll need to buy a monthly subscription, which isn't very expensive. CyberGhost is cheap, easy to use, and works great. What more to ask for?
Why You Should Avoid Free VPN Extensions on Chrome?
Trying to save some cash leads to some desperate measures. One of them is seeking a free provider. You can find some free services but they are rarely doing well. When it comes to Chrome extensions, the situation is the same. Here's why:
Limited Server Locations
If you're all about the server count, you're in for a disappointment. We saw how ExpressVPN and NordVPN offer tons of servers in their Google Chrome extension. And on the other side, we saw that CyberGhost's free extension offers only four countries.
This should already tell you how different free and paid providers are, regardless of the platform. You can either choose a free or a paid VPN for Windows or Mac but it's all the same.
Now, we can apply this rule not only to extensions but to apps. Whereas premium providers offer hundreds of servers, free providers offer a handful of them. In most cases, under 100 or 50.
Inability to Bypass Geo-Restrictions
Bypassing geo-restrictions is almost impossible with free providers. Netflix, Amazon Prime Video, DAZN, and Disney+ can't be accessed with them. There are some exceptions here and there but these are rare and are often accompanied by another problem – bandwidth limitations, which we're going to talk about later.
Lack of Security Features
You'll see many of these providers promising rock-solid security. As much as it sounds like a fairytale, it's nothing more than that. Free providers don't offer a no-log policy in most cases, which is a deal-breaker for us. Furthermore, their encryption is outdated, so your data can still be tracked if the service is compromised.
Slow Speeds and Limited Bandwidth
This issue needs no further explanation. Free Virtual Private Networks are often painfully slow. Streaming, torrenting, and even casually browsing the internet can become tedious and mundane. Furthermore, you also get bandwidth limitations.
These limitations go from 500MB to 2GB. Windscribe gives you 10GB and ProtonVPN gives you unlimited bandwidth but it doesn't allow torrenting or streaming. All in all, if you want a limitless experience, don't use free extensions or providers in general.
Top 3 TOTALLY Free VPN Extensions for Chrome
If you're still keen on saving some cash, you need to know that there are some free extensions that are worth your time. Here are our 3 best choices:
1. Windscribe
Windscribe is our favorite free provider just for the fact that it gives you 10GB of data a month. If you tweet the company, you can get 5GB more, which is 15GB a month. This is quite a generous offer given that it's free to use.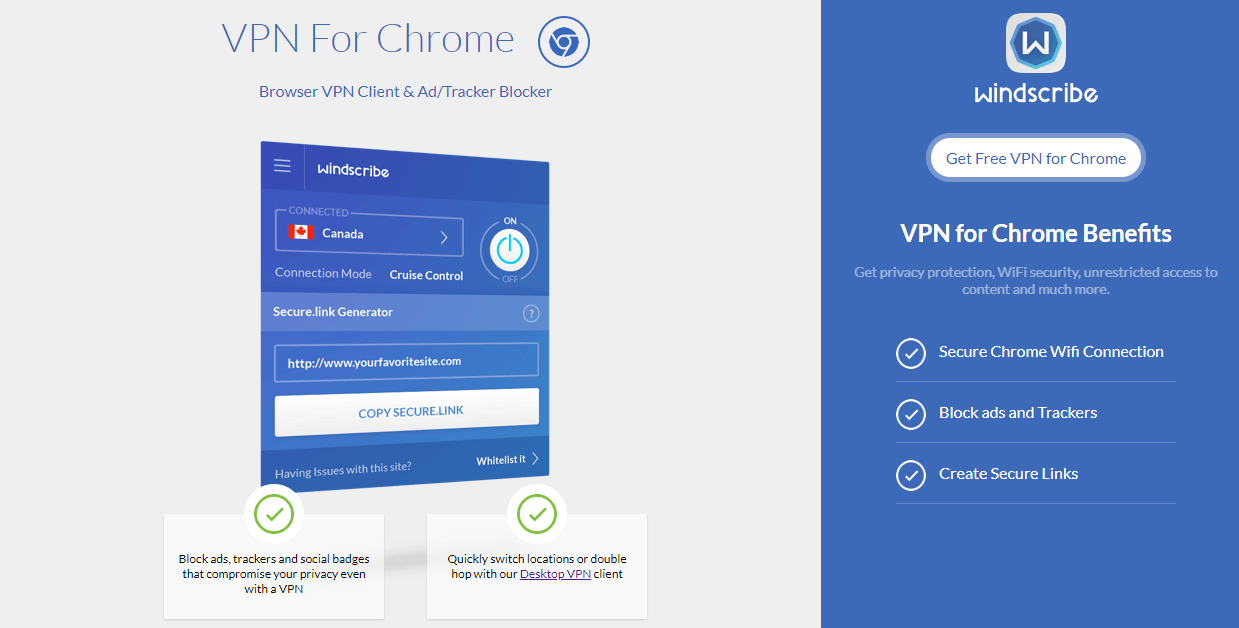 A free account also allows you to install a Windscribe extension for your browser, which works great. You get ten countries to choose from – Norway, Romania, Switzerland, France, Canada, Hong Kong, Germany, the US, the UK, and the Netherlands.
Although it can't unblock Netflix, we managed to access HBO GO but we weren't impressed with its speeds. Torrenting also works but with a data cap, don't expect much. Finally, Windscribe offers a no-log policy, so you'll be completely safe online.
2. Hide.me
Hide.me is a premium provider that offers a free plan. Of course, there's also a free extension in the form of a proxy. This proxy server works rather well in terms of connectivity and reliability. Speed-wise, it's not the fastest but it can unblock HBO GO and Sky Go.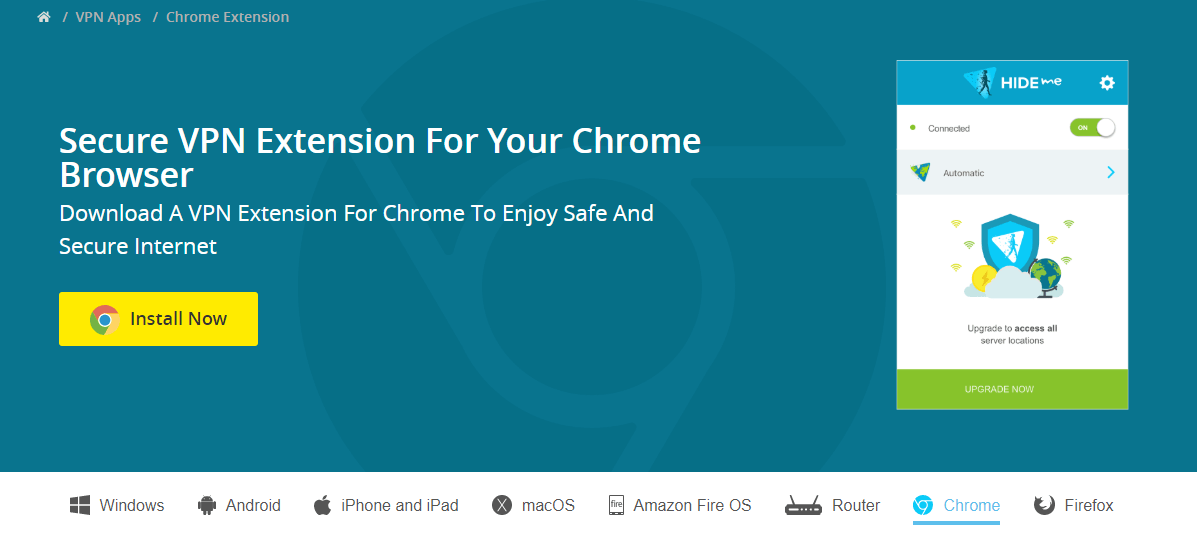 But, as you would expect, there's a bandwidth cap of 2GB a month, which is quite modest. It will be enough for one or two episodes of your favorite shows, though. The extension is very easy to use and installation lasts 5 seconds.
In terms of server location, you get 5 countries – Singapore, Canada, the Netherlands, East Coast, and West Coast in the US. Since the company is from Malaysia, you also get a zero-log policy, so you can do whatever you want with your 2 gigabytes online.
3. TunnelBear
TunnelBear is a free provider made for less demanding users. The reason for this is that it's quite limited. You get 500MB of data unless you're subscribed to a monthly or annual plan. In that case, the unlimited bandwidth is yours.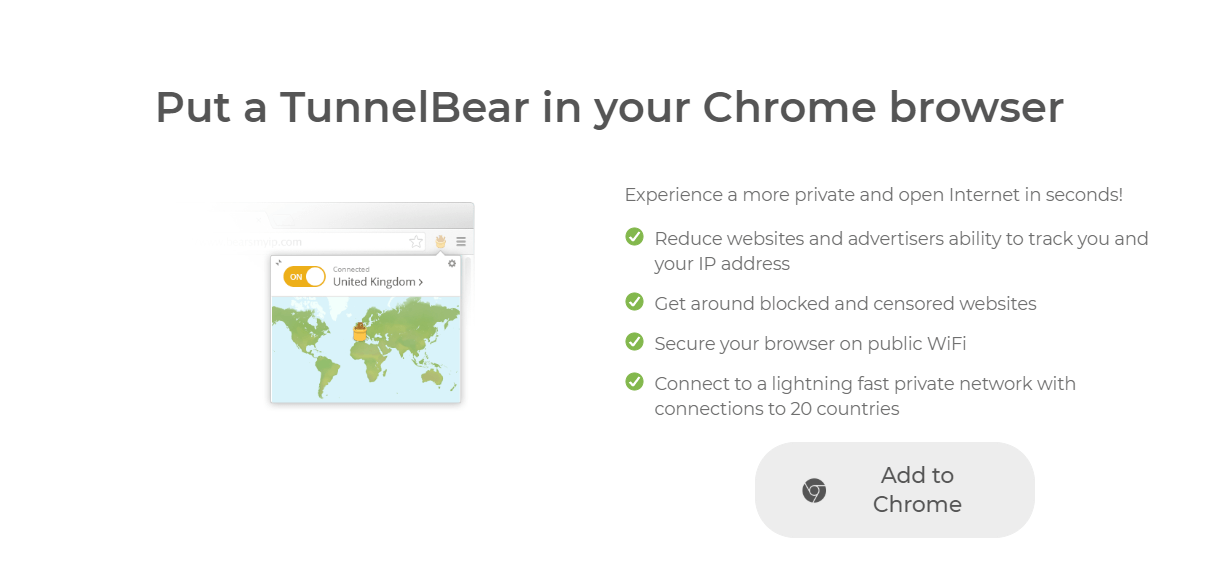 But, since we talk about free VPN extensions on Google Chrome, you can only enjoy the first option. Also, the extension isn't a VPN but a proxy, like Hide.me. This proxy can't unblock Hulu, BBC iPlayer, and Netflix. However, if a YouTube video is blocked in your country, you can unblock it.
The security side of this provider is, luckily, excellent. You get a kill switch, ad blocker, no-log policy, and much more. Needless to say, the speeds aren't impressive, so don't have your hopes sky-high.
How to Install a VPN Extension on Google Chrome?
Installing a VPN extension on Chrome is as simple as it can be. We'll use ExpressVPN as an example but these steps apply to other providers, too. First, buy a subscription here.
Now that you've got your subscription, it's time to visit Google Chrome store and search for ExpressVPN. To make things easier for you, here is the link to the extension. Click on the "Add to Chrome" button, as shown in the picture below.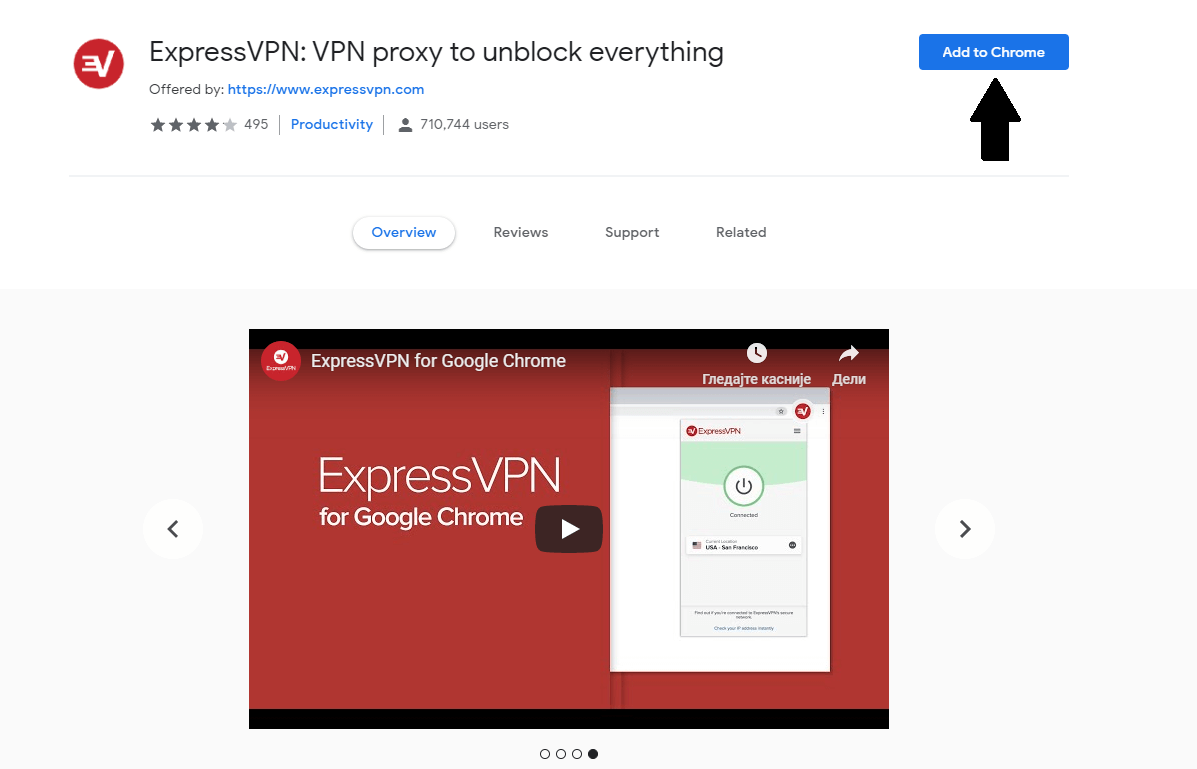 You'll now be asked if you really want to install the plugin. Click on Add extension.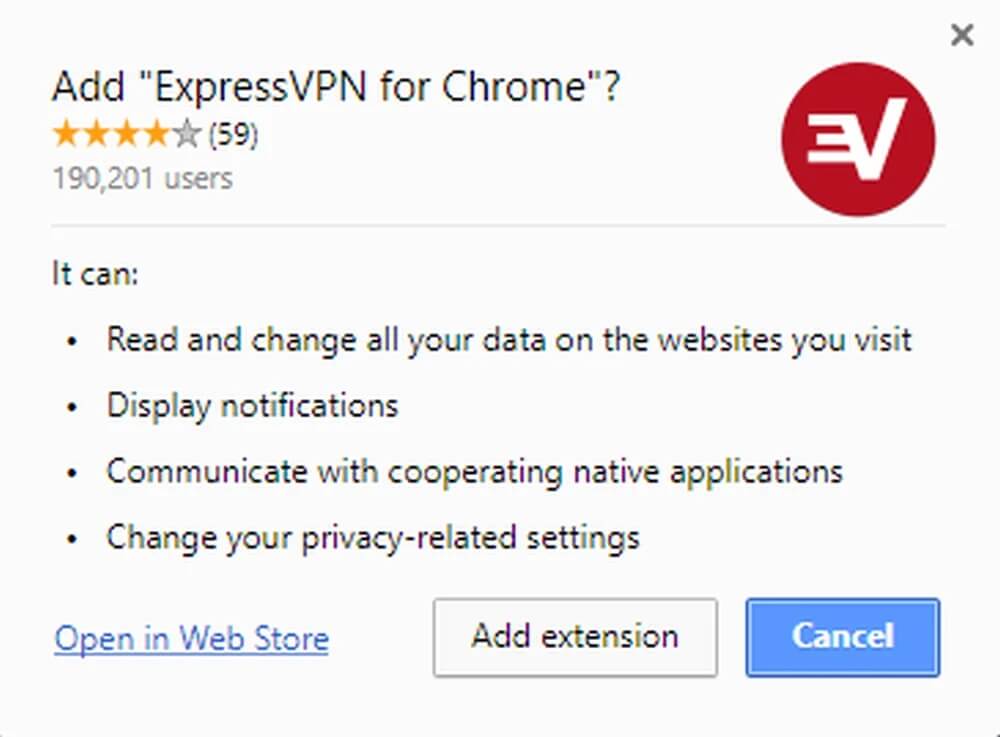 Wait a few seconds and you'll get the message below, meaning that the installation is complete.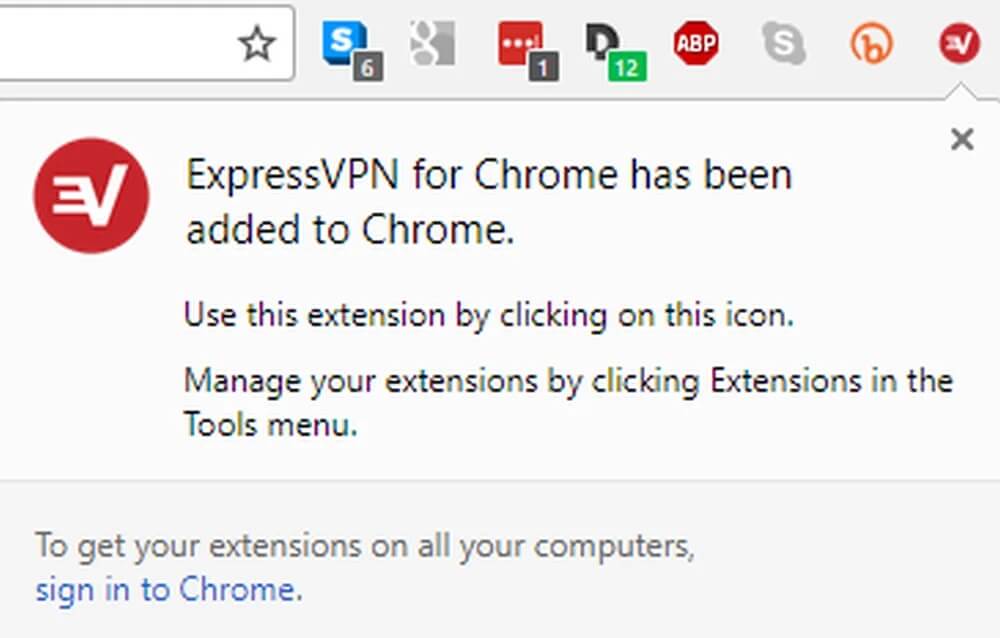 The extension can now be found in the upper right corner of your window, and when you click on it, here's what you get.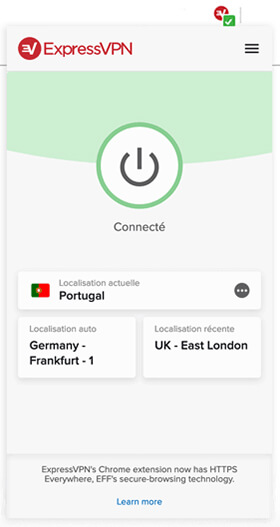 From there, you have the option to connect to any of its 94+ locations worldwide. You can also tweak some settings by clicking on the three horizontal lines in the upper left corner of the app window.