A service like a Virtual Private Network is aimed towards preserving privacy and security online. Today, there are dozens, if not hundreds of them, and all of these providers promise the exact same thing – privacy and security. But, we feel like these words are somewhat abused, which also applies to a zero-log policy. What does a no-log policy mean? Are all providers required to have it? These are only some of the questions we're going to answer in the article that will guide you to the best no-logs VPN. For now, let's just say that it's a very important feature whose absence can compromise your safety online.
What are the Logs?
Before we move on to the list of the best VPN that does not keep logs, we need to define what are logs. What are they? Well, let's put it like this – this is info information about your online activity.
When you're using the internet without this service, your online activity is visible to your ISP. Your ISP can then access it and if it spots something suspicious, inform the government.
You don't necessarily need to do something illegal to get into trouble. In Muslim countries, for example, you can get punished simply for liking an anti-religion Facebook post or watching porn. Now, how does a no-log VPN help here? The answer is simple – it doesn't keep logs and traces of your online activity.
So, whatever you browse, watch or stream disappears like a vapor. Of course, your provider doesn't keep your internet history, so even if gets compromised, the government can't extract the info from it. The trick is that some shady providers keep logs, although they claim to have a no-log policy on their websites.
In this case, if the provider gets hacked, hackers can access all of this data, thereby, compromising your privacy. As you can see, having this policy is crucial for internet safety and security. That's why it's very important to talk with the selected provider about it before giving away your hard-earned money.
Why It's Very Important that Your Provider Doesn't Store them?
We began talking about this in the previous section but let's elaborate. A Virtual Private Network has numerous benefits. For example, you can access blocked sites, stream, and enjoy all the benefits of Kodi. But, some of the activities that this service provides are deemed illegal by some countries.
Let's take torrenting as an example. Countries like the UK, the US, France, and Germany harshly punish this activity. In Germany, for instance, you can get fined with more than 1,000 Euros just for downloading a copyrighted movie or game.
And now, let's say you're using a VPN provider that keeps logs. In a few years, the provider gets compromised and the government gets their hand on your internet data. What happens? Well, they can see that you've accessed The Pirate Bay, or whatever website it was, and they can punish you for torrenting.
The same goes for porn in some countries. Countries that often forbid this activity are the Muslim ones – the UAE, Iran, Iraq, Afghanistan, etc. In this case, the same thing will happen and it could be even worse. There were cases in some of these countries of people getting jail sentences for watching porn or accessing anti-religion websites.
Finally, a VPN provider that keeps logs can sell it to third-party companies and get you into serious trouble (or can get you targeted by spam e-mail, ads…). We'll talk more about that when talking about free providers.
Best No-Log VPN Providers in 2021
Now that you got the required knowledge, there's only one thing left to do – buy a subscription from a no-log provider. With some providers, you can even install the VPN on your router and cover the entire galore of devices in your house.
Let's see our top picks for 2021 that don't store logs:
1. ExpressVPN
ExpressVPN is the first on the list of the best VPN that doesn't keep any logs.
We said about it numerous times that it's an all-rounder and our favorite provider. In 2021, nothing has changed. Aside from its rich palette of features, the provider offers a crystal-clear no-log policy.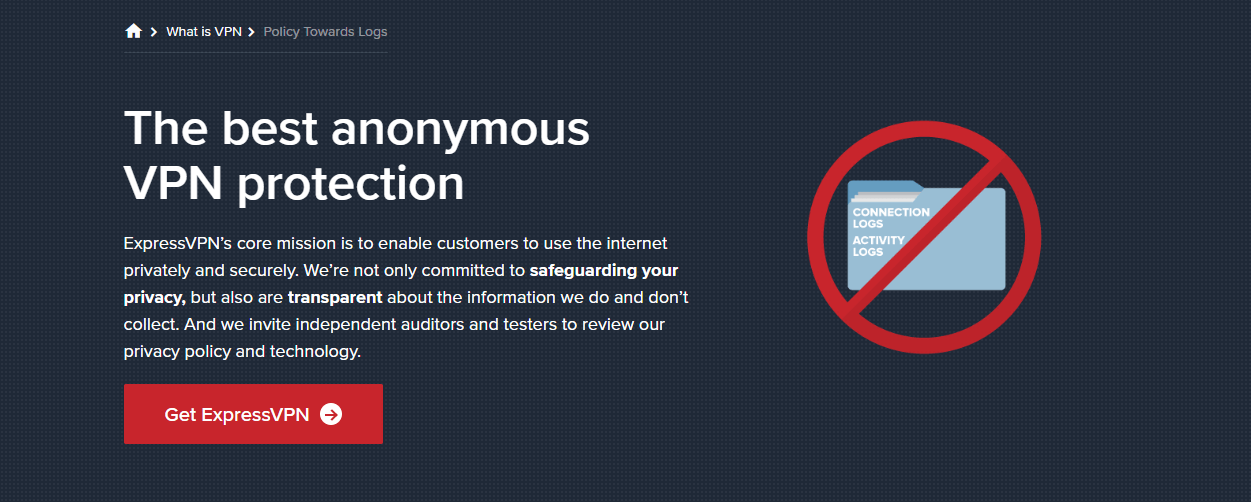 For the start, the provider is located in the British Virgin Islands. This means that it's far away from the 5,9 or 14 Eyes Alliance. Now, if we glance over to its zero-log policy, we can see how little the company stores. They don't store your IP address, browsing history, traffic destination or metadata, and DNS queries.
On the flip side, ExpressVPN collects the following:
Successfully activated apps
Dates of connection to the VPN service
Choice of server location
Amount of MB transferred per day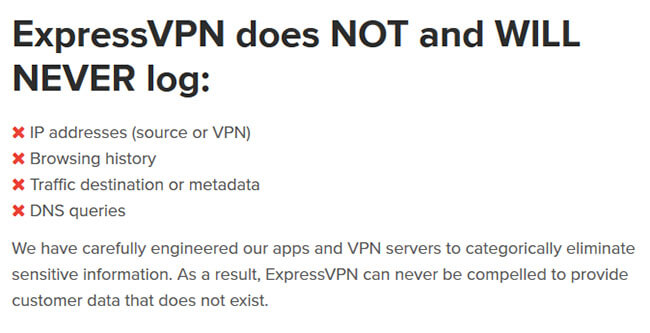 None of this data will allow the company to compromise your security. The most important thing is that your browsing history isn't stored and that condition is fulfilled. Now, what about other features? Well, you probably know about its Flash-like speed, especially when using the US servers.
This allows you to enjoy streaming, torrenting or casual internet browsing with ease. Other security features include 256-bit encryption, DNS and IPv6 leak protection, an automatic kill switch, and split tunneling.
ExpressVPN offers a 49% discount and 3 months free for an annual subscription plan. If you don't like it, there's a 30-day money-back guarantee, so you basically get to play with it for free.
2. NordVPN
NordVPN is a Panama-based provider that doesn't store logs. They don't store your browsing history, IP address, data transferred, and VPN servers used.
However, here's what they know about you:
Email address
Payment data
Timestamps of the last session status
Customer service information
The way you use the NordVPN website
Some users are worried about the timestamps that the company stores. But, as stated in their policy, the data is erased after 15 minutes of you going offline. So, it's safe to say that NordVPN doesn't store data about your internet activity.

Which is a good news in the case of this article talking about VPNs that are not storing logs.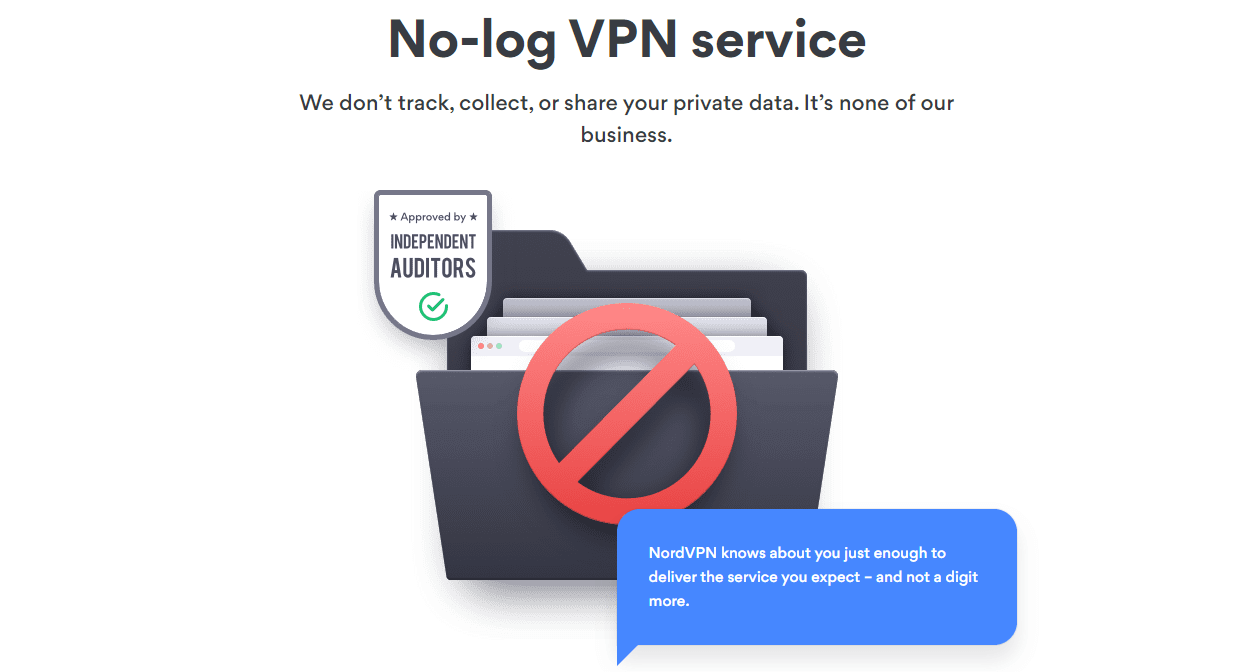 How good is this provider performance-wise? Shortly, excellent. It offers lightning-fast speeds and numerous security-oriented features. These include military-grade encryption, DNS leak protection, kill switch, Double VPN, and Onion Over VPN.
There's even a bonus feature called CyberSec, for blocking ads and malware online. All in all, NordVPN is one of the best providers you can get in 2021.
3. CyberGhost
CyberGhost is a cheap, affordable solution for newcomers and experienced users. The provider is known for having a great price-to-performance ratio and intuitive interface. But, how does it fare in this regard? Very well. They're stationed in Romania, meaning that they're out of the 14 Eyes Alliance, hence it is a VPN that don't keep logs.
Here's what CyberGhost keeps:
Your email address
The IP address for anti-fraud purposes (anonymized format)
Your country
Billing information
Items purchased and the paid price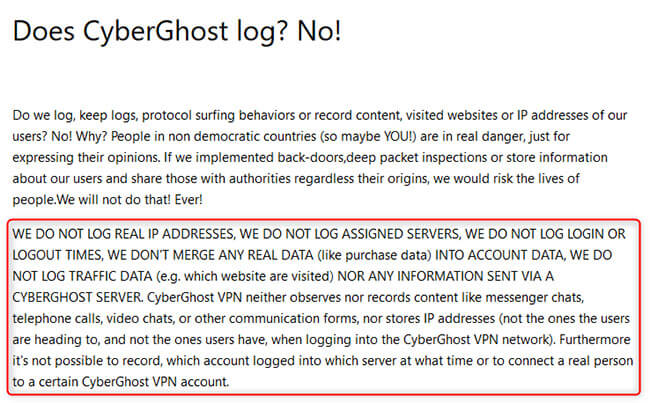 The important thing to mention is that the IP address is stored in a so-called anonymized format. This is necessary for avoiding fraud and is not dangerous. Luckily, CyberGhost doesn't store your browsing history, session information, etc.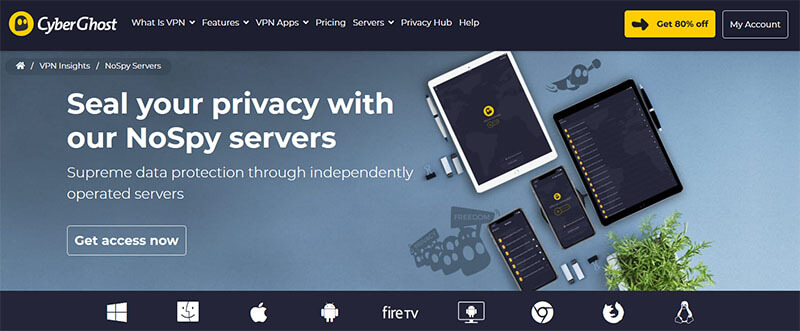 Other than that, CyberGhost is one of our favorite providers. It has dedicated servers that make the connection much easier, whether you're streaming, browsing, gaming or torrenting. If you want to save cash on a quality provider, this is among the cheapest options on the list.
4. Surfshark
Surfshark is based in the British Virgin Islands, much like ExpressVPN. Since it's a relatively new company in the game, people often have low expectations of it. Well, that's where they're wrong. This provider quickly gained traction among the giants and is now among the greatest in the business.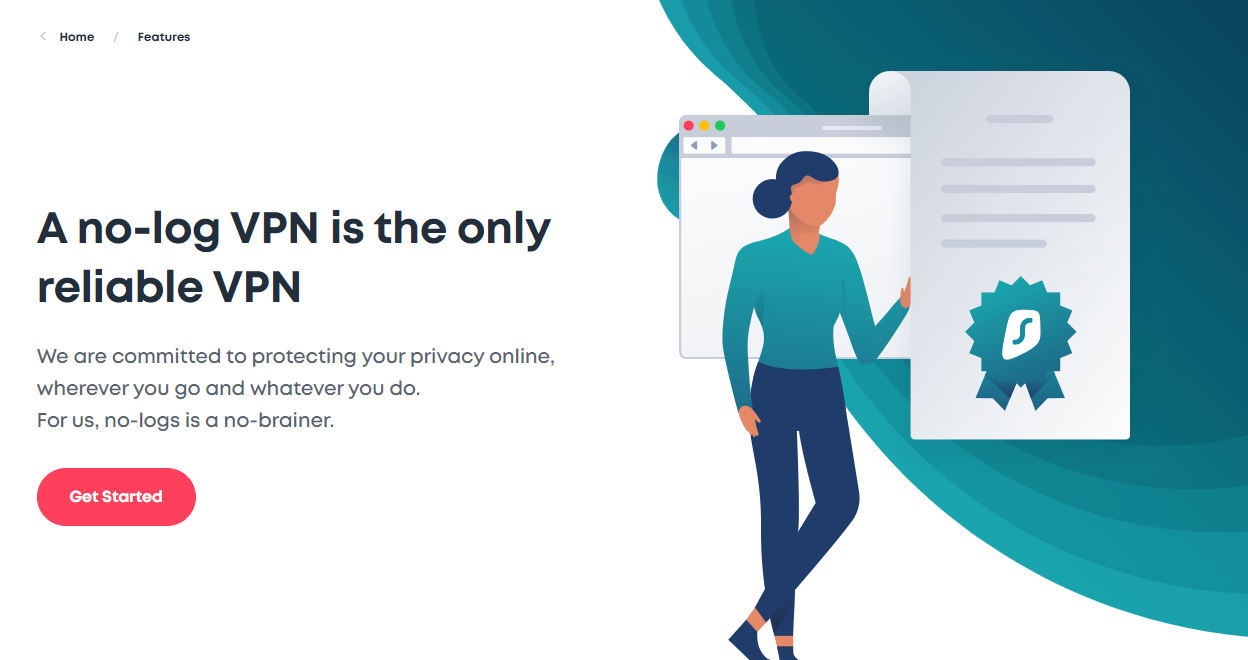 Their no-log policy is as clear as a girl's tear. Here's what they collect:
Email address and encrypted password
Billing information and order history
Crash reports on apps
Unsuccessful connection attempts
Performance data and frequency of use
Although this seems like a lot, it's not. The information they receive is completely anonymous and it can't be traced to a particular account. Plus, they have zero-knowledge DNS servers for protecting your privacy additionally.
Needless to say, they don't collect browsing data, IP addresses, and so forth. Otherwise Surfshark would clearly not appear in this list of the best VPNs which do not keep logs.

Performance-wise, you'll like Surfshark for its speed and the ability to connect an unlimited number of devices simultaneously. They have "only" 1,000+ servers but luckily, they work flawlessly in every scenario.
5. ProtonVPN
ProtonVPN comes from Switzerland, which has always been a neutral country. This time, it's the same, thus it's not a part of the 14 Eyes Alliance. Although we don't often recommend this provider, we must praise for its zero-log policy and focus on security and privacy.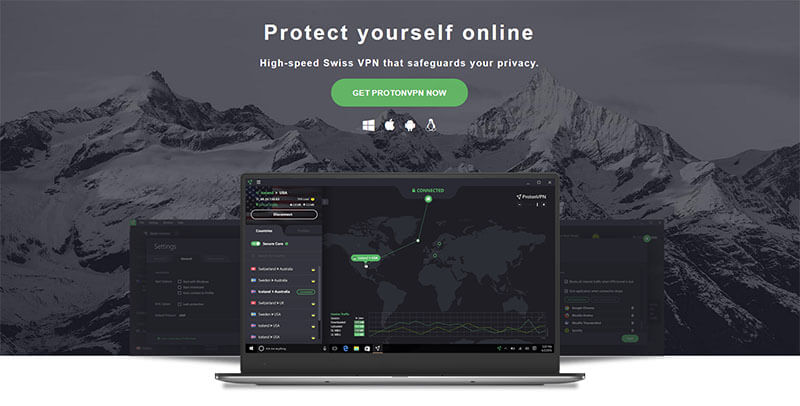 So, what does ProtonVPN store? Virtually anything. Take a look:
Timestamps of the last successful login attempt
This is not a joke! These timestamps only contain the time and date of your login and that's it. No IP addresses, no locations, and no browsing history. Isn't this an excellent VPN policy of not keeping logs?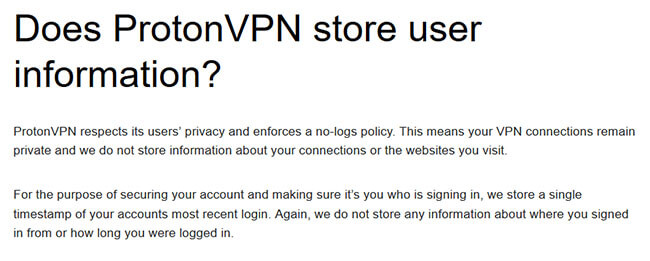 To further strengthen security, there's a technology called Secure Core. It's the same as Double VPN that NordVPN offers.
ProtonVPN's subscription plans are on the more expensive side, though. But, if you're all about anonymity online, this is perhaps one of the best options to go for. Speed-wise, it's not the best but it allows torrenting and streaming, which is more than correct for a service like this.
Providers that DO Keep Logs
If you don't know how how to install a Virtual Private Network, there's nothing complicated but you can still check our installation guide here. Speaking of installation, there are some providers that you shouldn't install. For example, VPN who keep logs.
Some of these providers claimed to be no-log but have later proven not to be after an in-depth analysis on our side. Here are some of them:
HideMyAss
PureVPN
HolaVPN
Betternet
VPNHub
Astrill
Speedify
ZenMate
DotVPN
TigerVPN
VPN Unlimited
Buffered
This is not all, though. We believe there are at least 15 more. For that reason, we'll say it again – always ask the VPN provider if it keeps logs or not BEFORE you buy a subscription.
Free VPNs – Yes or No ?
What about free providers? TunnelBear or perhaps Windscribe? These two are decent but a majority of them aren't worth your time. Here's why:
Lack of Security Features (Zero-Log Policy)
Right from the get-go, we see why free providers aren't worth it. The lack of this policy means that these companies store your online data, which can compromise your privacy. Don't believe everything you see on the internet. Many of these companies present themselves as no-log, while actively storing logs.
By logs, we mean your browsing history, different timestamps, IP addresses, and every crucial info about you. The worst thing is that some of them openly sell this information to third parties, which is how they earn money and you lose anonymity.
Limited Bandwidth
Limited bandwidth is what plagues almost every provider. ProtonVPN, for example, offers a free plan with unlimited bandwidth but torrenting and streaming aren't allowed. On the flip side, other providers might allow these activities, yet give you 2GB of data, making it pointless.
Windscribe gives 10GB a month, while TunnelBear gives you 500MB. But, in general, you can get anywhere from 500MB to 2GB per month, which is, once again, minuscule.
Inability to Unblock Most Popular Streaming Platforms
Do you often enjoy Netflix, Hulu or Amazon Prime Video? Well, feel free to forget about it when using free providers. They mostly can't unblock these platforms, and if they could, what would you do with limited bandwidth?
Premium providers are much more superior in this regard. ExpressVPN can unblock every streaming platform, and so can NordVPN and CyberGhost. In fact, if you ever compare free providers with premium ones, you'll see how superior they are in every sense of that word.
Now, to answer the question from above. Free providers – NO!
Summary
Our team from Monkeyprivacy believes that you should never compromise your privacy just to save a few dollars a month. Many people find it hard to buy a Virtual Private Network for a cheap price, yet they give away their money for bad habits.
If you want to be completely anonymous online, using a VPN service that is not storing datas and logs is a necessity. Out of all amazing providers out there, our recommendation is ExpressVPN. This provider has everything you need for enjoying your spare time on the internet as it's intended.
Not only is it fast but also secure and reliable. Still, if you don't like this provider, you can go for NordVPN or CyberGhost – they represent great and affordable options.