If you are reading this, there is a good chance your choice of an online bookmaker is Ladbrokes and you have found it is blocked in the country you are currently located. While access to the betting website is available in numerous countries, in others it is blocked or restricted as monkey found out on a recent vacation. So, is there anything you can do about it and if so what? YES!

Is it legal to use a VPN?
It may be possible for you to use a VPN, aka Virtual Private Network to unblock the bookmaker.
However, you do have to consider why Ladbrokes is blocked in many countries. Whether it is possible to visit the website is going to depend on the country in which you are located.
Bear in mind that the bookmaker may be blocked in some countries due to gambling being illegal in that country. While in other countries, blocks are placed, as the bookmaker is not licensed to offer gambling services in those countries.
Just a few of the many countries where Ladbrokes is blocked include:
Algeria;
Bangladesh;
Canada;
Denmark;
Egypt;
France;
Hong Kong;
Italy;
Japan;
Qatar;
South Korea;
UAE;
The USA.
In some countries, you may be able to access the site but with restrictions in place, that stops you from gaining full access.
For instance, the site is available in Holland but only for betting on horses, greyhound racing, casino, poker and slots. You cannot bet on sporting events. In Germany, you cannot bet on greyhound or horseracing.
Even in countries where gambling is legal the site may be blocked. In this case, you might run into issues with the bookmaker itself and have your account suspended if you unblock it and use it abroad.
Using a VPN is legal, providing you are not using it to do anything that is illegal. And as you may know, there are many uses of a VPN.
How to unblock Ladbrokes in your country?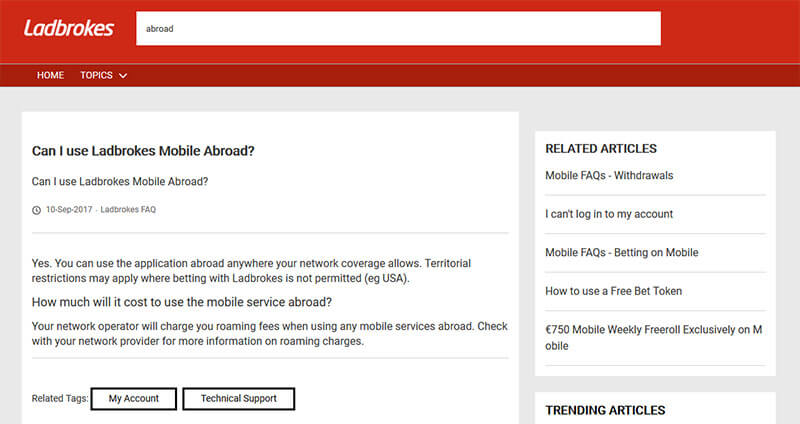 With a Virtual Private Network, you can mask your own IP address and take one from the server of your provider. The IP address in the country you are located stops you from accessing the website. If you hide it and take on another from a country where the site is available, such as the UK, you bypass the restrictions.
Change your IP address with ExpressVPN now >
Along with this, when behind a VPN you also have encryption, so your ISP or other websites cannot read any information you send online and this includes the name of the website.
To unblock Ladbrokes in your country just follow the simple steps below.
Choose a VPN provider
Pay for a plan
Download apps to your devices and install them
Launch the app and choose a UK server
Visit Ladbrokes and place a bet

as if you were in the UK (when you are actually abroad)

.
1. Choosing a provider for bypassing restrictions
Some providers are better than others are at overcoming restrictions. Many ISPs can block the servers of Virtual Private Networks so you need to choose one with superb security measures.
ExpressVPN, NordVPN and CyberGhost are all good choices, offering military-grade encryption with the OpenVPN protocol, Kill Switch and a choice of UK servers.
2. Save money on long-term plans
Providers offer a variety of plans, including paying monthly and yearly. A long-term plan is one of the best ways to save money.
Take the ExpressVPN yearly plan for instance. The provider throws in three free months so you get 15-months in total and you can save 49%.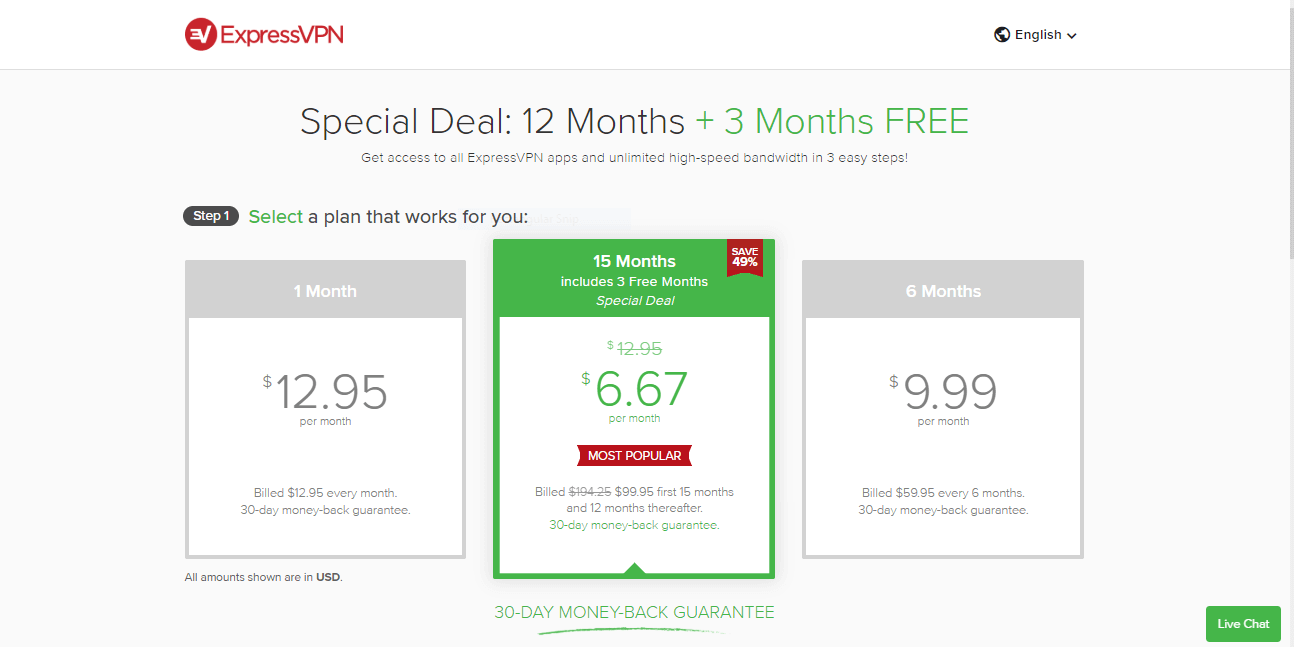 3. Download and install the app (on as many devices as you want)
Apps are available for a wide range of devices. This includes Android and iOS, which are perfect for using when abroad.
Other devices may include Windows PC, macOS, and Linux and router installation.
4. Connect to a server
The providers we recommend all offer thousands of servers spread out around the globe. This means there is sure to be one located in a country where Ladbrokes is legal and usable. ExpressVPN for instance has thousands of servers in 94 countries worldwide.
If Ladbrokes is blocked in your country, choose a UK server or one from any country supported, from the list and connect to the server.
5. Visit your favourite bookmaker
Once connected to a server, Ladbrokes (and your ISP if it's a censorship concern) will believe you are located in that country and as you are behind an encrypted tunnel they will have no idea where you really are… and so they cannot place a block.
In summary
If you have visited a country and found Ladbrokes is blocked when abroad, it may be possible to unblock the site using a VPN.
However, like monkey you should also be wise and respect the laws of a specific country and bear in mind that in some countries it is illegal to place bets online, we do not advocate that you break the law.
Unblock Ladbrokes using ExpressVPN >
If you do choose to use a VPN for unblocking the bookmaker, you should know that three of the best providers are ExpressVPN, NordVPN and CyberGhost. All three have superb security measures in place to ensure you remain anonymous online.