Sky Bet is a very popular online bookmaker but it only operates within the United Kingdom and Ireland. Even if you sign up for an account in one of the two countries if you venture abroad and try to visit the site you are going to find Sky Bet blocked.There may be a way to get around the restrictions using a VPN but bear in mind that if you try to use your account in a country where access is banned due to license restrictions your account is at risk of suspension. However, this is something that is usually easy to remedy when you return home.
How a VPN helps you to use Sky Bet abroad?
When you visit the bookmaker's website abroad, they know the IP address you are using is not in the UK or Ireland. This is because each country has a specific range of addresses. In other words, they know exactly where you are located.
Any IP addresses that fall outside of the United Kingdom or Ireland are blocked when trying to visit the bookmaker.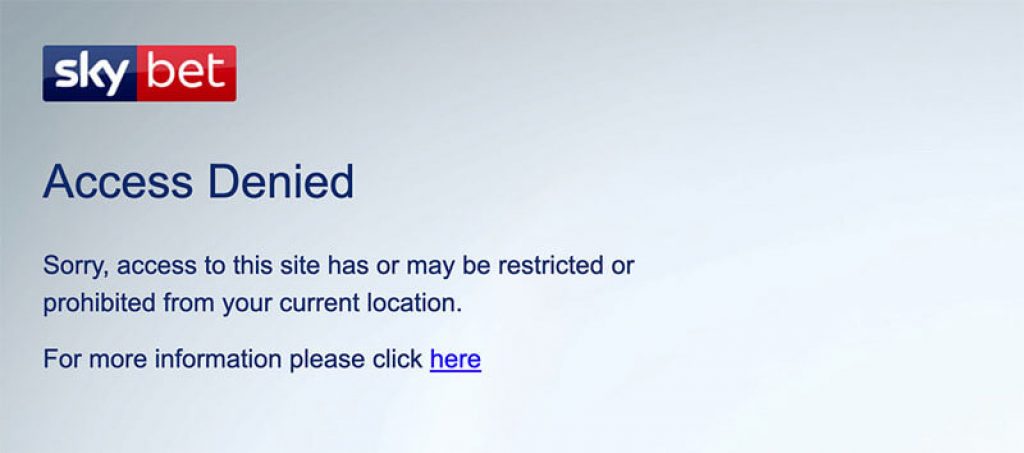 A VPN helps you to change your IP address. It masks your true address and gives you one from the country to which you make a connection.
In this instance, you would choose a server located in the UK or Ireland to fool the bookmaker into believing that is where you are located.
Along with this, a virtual encrypted tunnel is put between you and the internet encrypting all information that you send online. This includes web addresses you want to visit.
With the web address encrypted, the website cannot read it so it cannot block your request.
Choosing a VPN to unblock online bookmakers
When considering a Virtual Private Network to get around the fact that your online bookmaker is blocked you have to choose carefully.
You need a VPN that offers excellent security measures to ensure that you remain anonymous online. Choosing a provider who offers 256-bit military-grade encryption is a good idea as is one who offers the OpenVPN protocol.
You also need a provider offering a large range of servers, with servers located in the United Kingdom.
To protect you in the event the connection to the server drops a Kill Switch and DNS leak protection should be included.
ExpressVPN, CyberGhost and NordVPN are three top providers who offer all of the above criteria and more. All three are also excellent choices for beating restrictions online.
How to unblock Sky Bet abroad?
If you have found Sky Bet is blocked in your country you might want to consider unblocking the site by following the steps below.
1. Pick a provider and sign up
Step one is to decide on your choice of provider then go ahead and sign up for a plan with that provider.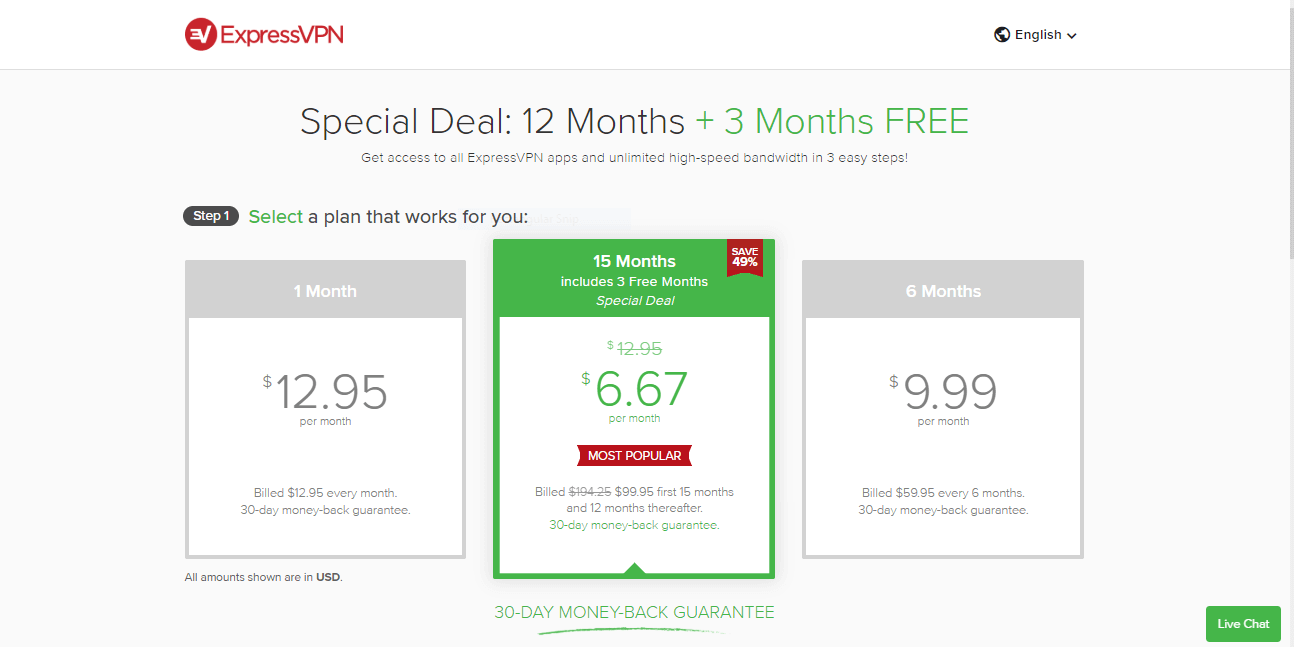 We mentioned three good reliable providers above. ExpressVPN is one of the leading providers for overcoming restrictions and it offers 49% savings on a one-year plan.
2. Choose and install apps
To be able to choose a server from the UK or Ireland, you are going to need to download and install a small app onto the device you want to use to gamble and bet on Sky Bet when abroad.
Providers cover a range of devices. The most common ones, computers and smartphones on Windows, macOS, Android and iOS have easy to use apps.
3. Launch the app
After installation, the app should be launched and you can sign in with your credentials and authorisation code.
You might want to choose to have the app run at start-up. You can also choose to connect to a server at start-up so you are protected straight away.
4. Choose a UK server
From the dashboard of the app, you can see a list of servers. In the case of ExpressVPN, click on the three dots to the right of the server name.
To be able to unblock your bookmaker in any country simply choose a server located in the United Kingdom and connect.
When the connection is established your true IP address is hidden. This keeps it away from prying eyes as it is replaced by one from the server of the provider. This makes it look as though you are located in the UK and any information you send onto the internet is encrypted.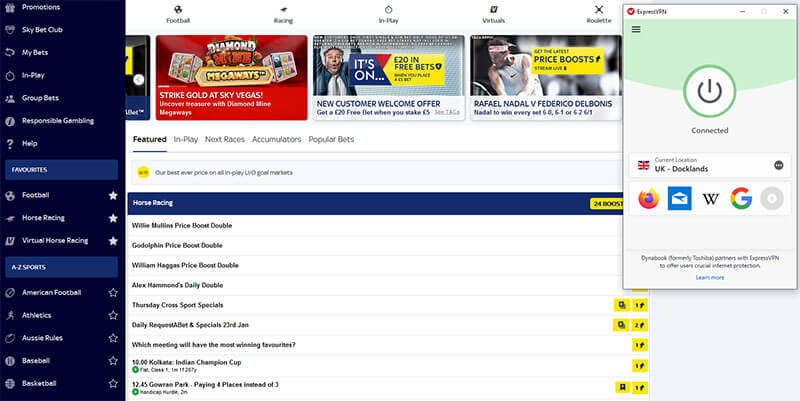 5. Visit your online bookmaker
All that is left for you to do is open up your web browser and visit your online bookmaker.
As the bookmaker believes you are located in the United Kingdom, due to your change of IP address, and they cannot read any data you send, a block cannot be placed.
Get a UK IP address with ExpressVPN >
In summary
If Sky Bet is blocked in your country, you may want to consider using a Virtual Private Network to bypass the restriction. Of course, we do not recommend you do this in a country where gambling is illegal.  However, in the end, it is your decision 😉
Along with unblocking bookmakers abroad, a VPN can be used to unblock and stream Netflix and many other streaming services.
It also proves valuable when browsing the internet, specifically using WiFi hotspots, keeping your personal information safe. A Virtual Private Network also ensures you remain anonymous. This is essential if you want to torrent without the ISP finding out.