Canada is a country where using a VPN is completely legal. Some companies, like Windscribe, for example, found their homeland exactly there. This is a Canada-based Virtual Private Network founded in March 2016 in Ontario. In the sea of strictly-premium providers, this one separates itself by offering a quality free subscription plan. Still, as with every provider, a free version is often very limited. For that reason, we will review the paid version (Windscribe Pro) and see if it's worth a buy. If you're in a dire need of a service like this, read our review – this might be the right one for you!
What is Windscribe?
As we said, Windscribe comes straight from Canada, and with its rich offerings, it promises a lot. The company is well-known for its free plan that thousands of users use.
Furthermore, this provider packs some special security features, which makes it far better than any free provider on the market. And in case you want to go premium, you can always do it.
At first glance, it seems like a very respectable provider. Its website is beautiful and they even offer a Live Chat feature (sort of). Needless to say, all of this is enough to leave a great impression. But, is the first impression as good as the second or third? We've yet to see that in our Windscribe review, so stay tuned.
Compatible Devices and Ease of Use
Being very cheap, you would think that its device support isn't as good. Well, you'd be dead wrong! Here's which devices this provider supports: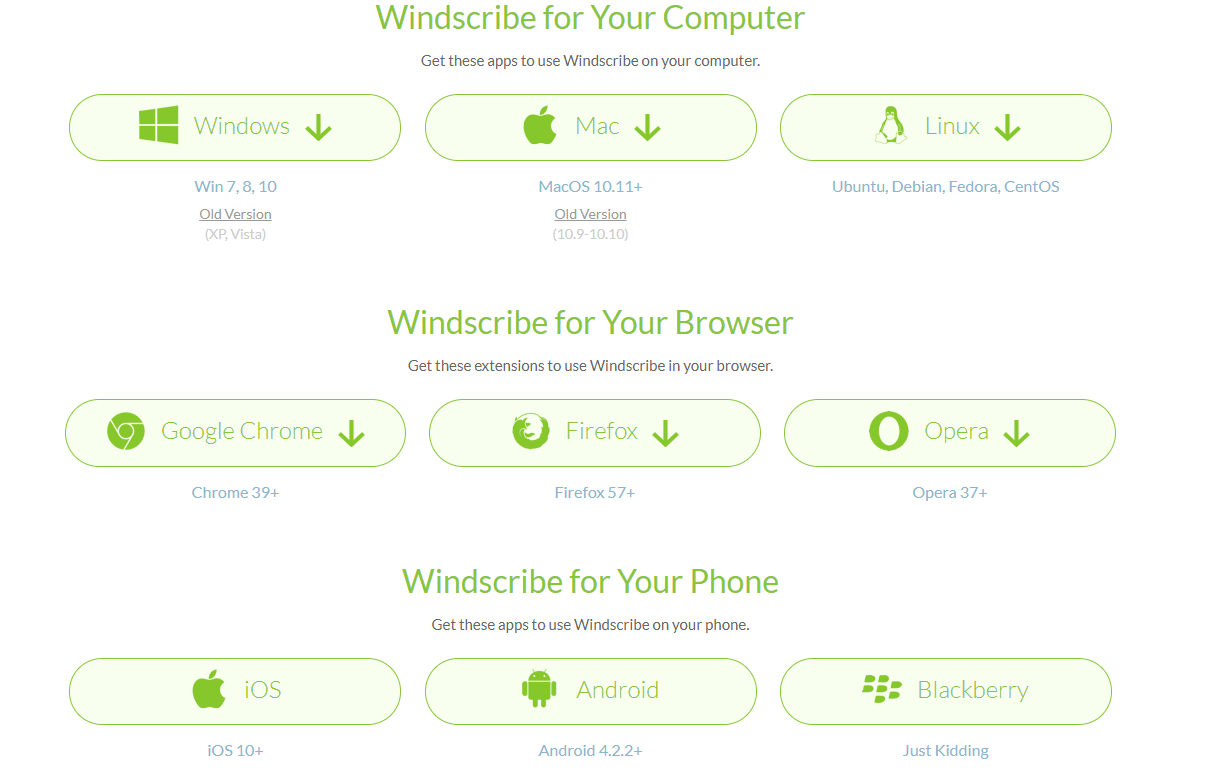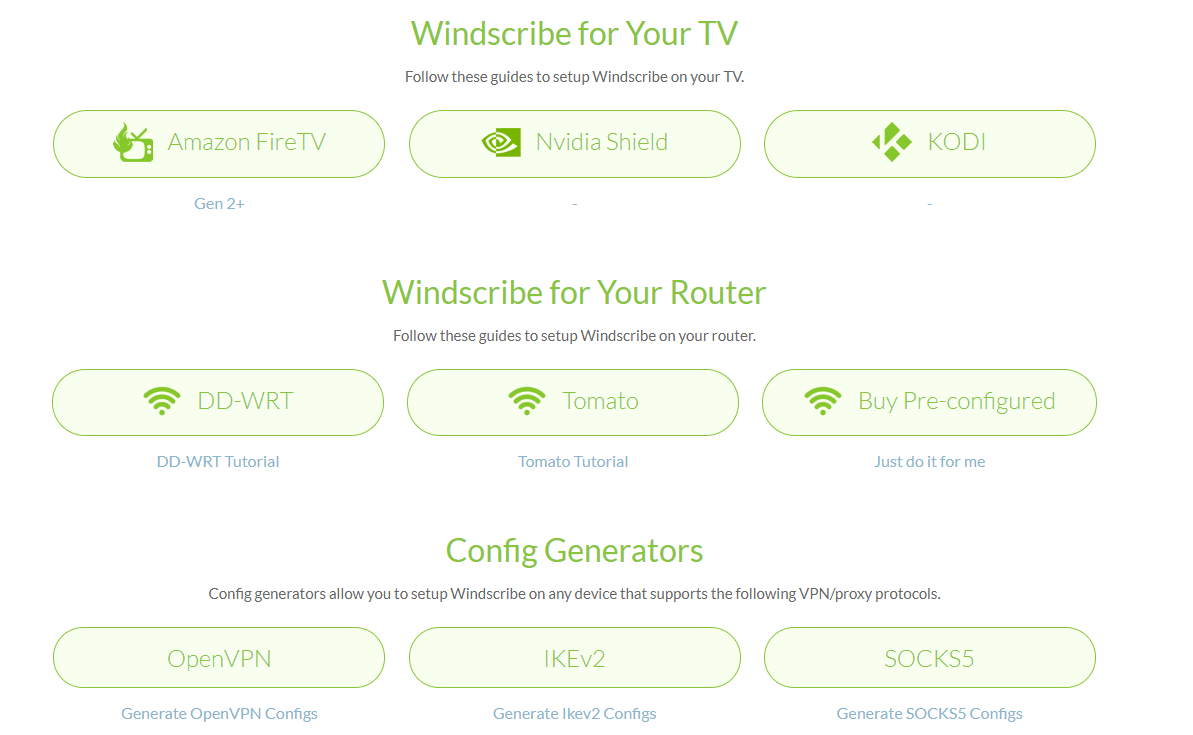 In the first row, we see the supported computers. The second row is reserved for the browsers and here, we have Chrome , Firefox, and Opera VPN extensions. The third row is interesting since Windscribe's personnel decided to throw in a silly joke.
Blackberry is on the list with a small disclaimer below – Just kidding! You see the picture, so you get the point. You can also set up the provider for your TV (Firestick / Fire TV, KODI) or even your router, effectively covering the entire house e.g. 16 to 32 devices.
The device support is pretty impressive – so far, so good!
Computers
Let's see how to install Windscribe on a computer. It supports Windows, Mac, and Linux. We used the Windows platform for the installation, so the screenshots you're going to see below are from there. First, we visited the provider's website, bought a subscription, and downloaded the Windows app. Upon installation, you'll get this screen: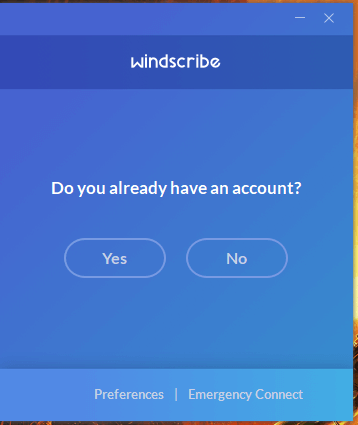 The provider asks you if you have an account. You can use this VPN without an account, so if you don't have one, click No. Of course, as we bought it, we made an account, hence we clicked Yes. Now, the login screen will appear, as shown in the image below: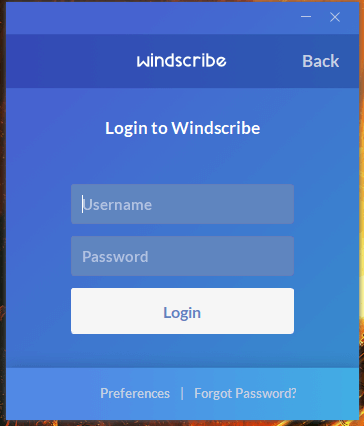 When you log in, you get this simplistic interface. On the left, in picture 1, our connection still isn't established. You also see the default server here, Atlanta – Mountain. Now, you can connect to it by clicking the power button on the right.

Alternatively, you can use the arrow pointing downwards, next to the server name. From here, you can open a drop-down list of countries and connect to the server you want. We used the server from pictures above and when we connected, our interface became blue, indicating that the VPN working, as shown in picture 2.
As you can see, it's very simple and takes less than a minute to connect,
Smartphones and Tablets
Now, what about our beloved mobile devices? In terms of mobile support, Windscribe supports every major platform – iOS and Android. Here, we used an Android device as an example. Logically, the screenshots below involve the Google Play and not the Apple store.
First, visit the Google Play Store, type in the provider's name and download the app – picture 1. Next, open the app and you'll see the screen shown in picture 2. If you have an account, click Log In and type in your credentials – picture 3.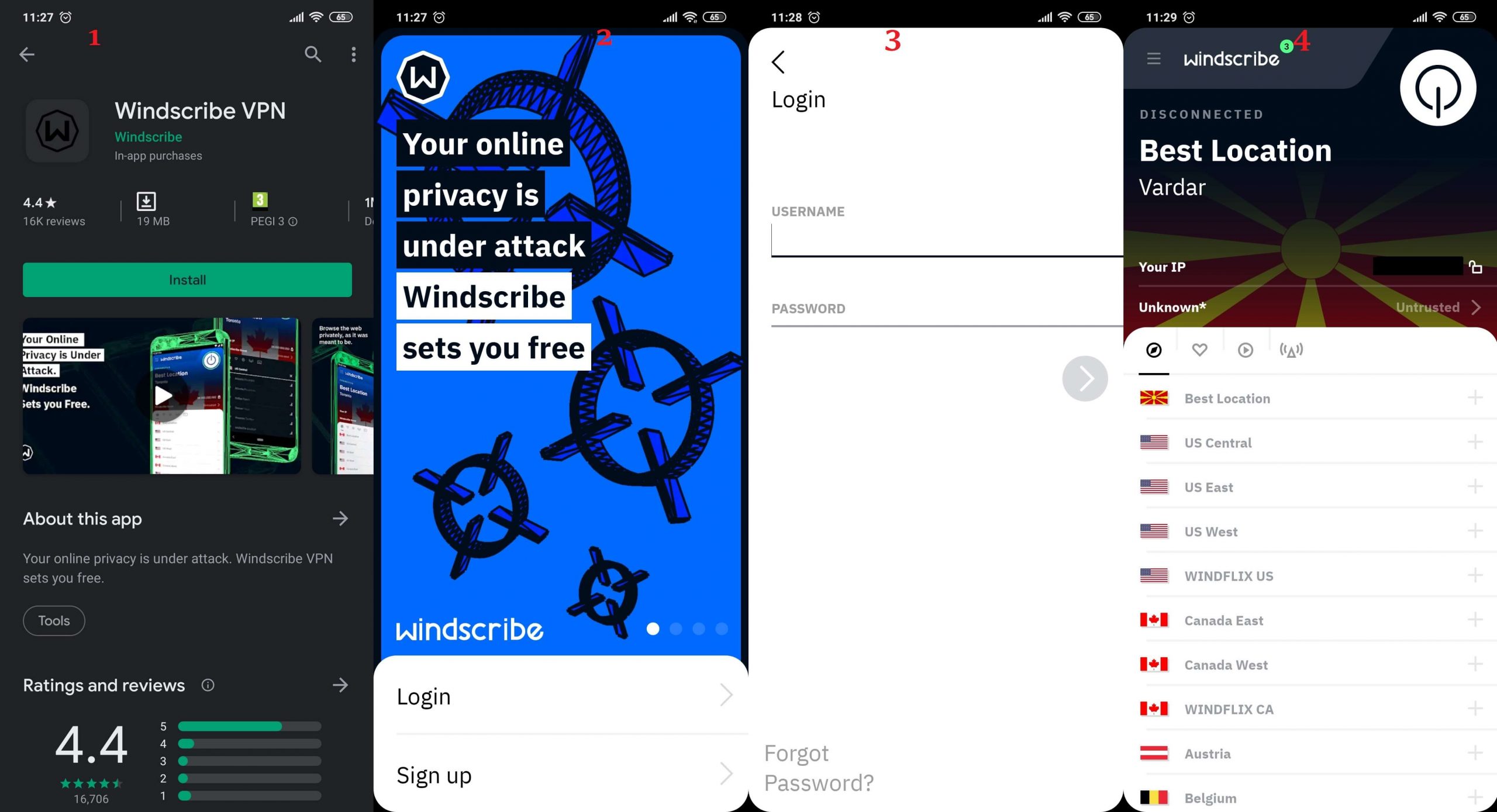 Now, the app's interface is shown in picture 4. It shows our IP as well as the best location. We're not going to use that location, though. In picture 5, we've chosen the server from a minute ago, Atlanta – Mountain.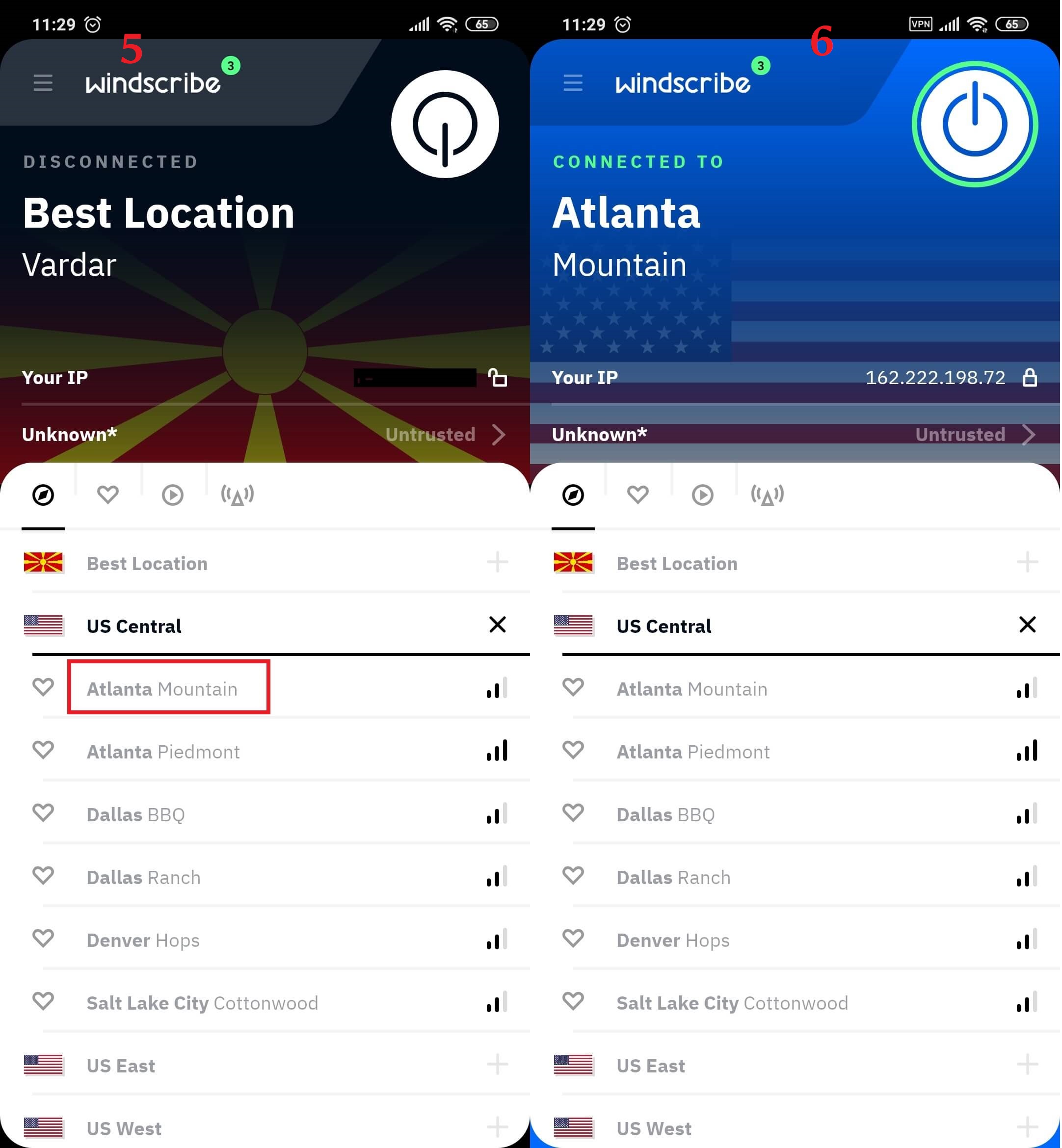 Finally, in picture 6, you see that we successfully established a connection. Our new IP address is also shown and of course, it's different from our native IP.
Other Devices
Windscribe supports a plethora of devices aside from the ones we mentioned. If you scroll back, you'll see them. There's Amazon Fire TV, Nvidia Shield, KODI, and routers. For routers, you have 3 supported firmware – Tomato, DD-WRT, and an option to buy a pre-configured router.
As for computers and phones, the apps are great. Its iPhone application has a dark mode, for example, which is great if you want to save your eyes at night. Unfortunately, the provider doesn't support Apple TV.
All in all, we like its extensive device support that goes head-to-head with the top providers.
How Fast is Windscribe? We Checked Its Speed!
Some like fast motorcycles, some like fast cars, and we – we like some fast VPNs. Now, let's make something clear. All Virtual Private Networks reduce your internet speed to some extent. However, there's a BIG difference in 10% and 80% speed reduction.
For instance, the top providers reduce your speed by 10-20%, depending on the server location. If we're talking about very distant servers, it can go even more. On the flip side, free providers will reduce your speed up to 80%, which is frustrating.
Since many factors play a role speed-wise, here's how we did our tests. We did 3 tests in the morning, 3 tests in the mid-day, and 3 tests in the evening, for 3 different locations. Also, we kept the best score. Furthermore, we connected to the best location of these 3, when that option was available.
Our geographical location is the USA (non-VPN test) and the 3 locations we used are:
The United States
The United Kingdom
Australia
First, here's our internet speed without a VPN:
Ping: 11ms
Download speed: 211.88Mb/s
Upload speed: 202.20Mb/s
Here's our ping, download, and upload speed respectively, when using a VPN (Windscribe):
US server: 49 ms / 193.27 Mbps / 84.65 Mbps

UK server: 135 Mbps / 78.94 Mbps / 86.58 Mbps

Australia server: 306 ms / 65.46 Mbps / 43.54 Mbps

Even in our native country, the speeds weren't that impressive. Our ping was almost 5 times higher, download speed was reduced by approximately 10%, and upload speed was reduced by roughly 60%. Australia showed the worst results. We had almost 30 times higher ping, and download/upload speeds were significantly reduced.
To be honest, we're not surprised. Windscribe is far below providers like ExpressVPN and NordVPN, for example. But, with its cheap price and huge device support, we can't complain too much.
How Good is Windscribe for Streaming?
If you're planning on using a free subscription plan for streaming, forget about it. Not only it is limited in terms of speed but it also has limited bandwidth and only a handful of servers. Our paid version has unlimited bandwidth, so we could stream endlessly. Or could we?
Well, let's start with Netflix. We used the server from before, located in Atalanta, Georgia. So, we accessed Netflix by logging into our account, connecting to the server… and voila – it worked!
Windscribe successfully unblocked Netflix and since we have unlimited bandwidth, we could test it out a bit. Because of its speed, we couldn't watch 4K content as with faster providers.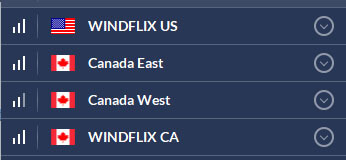 Sure, it worked but there was some buffering here and there. On the other side, HD content works just fine. Interestingly, our UK server didn't work with Netflix and we couldn't access the UK catalog. Because of that, we tried the BBC iPlayer, for instance. Here are the results: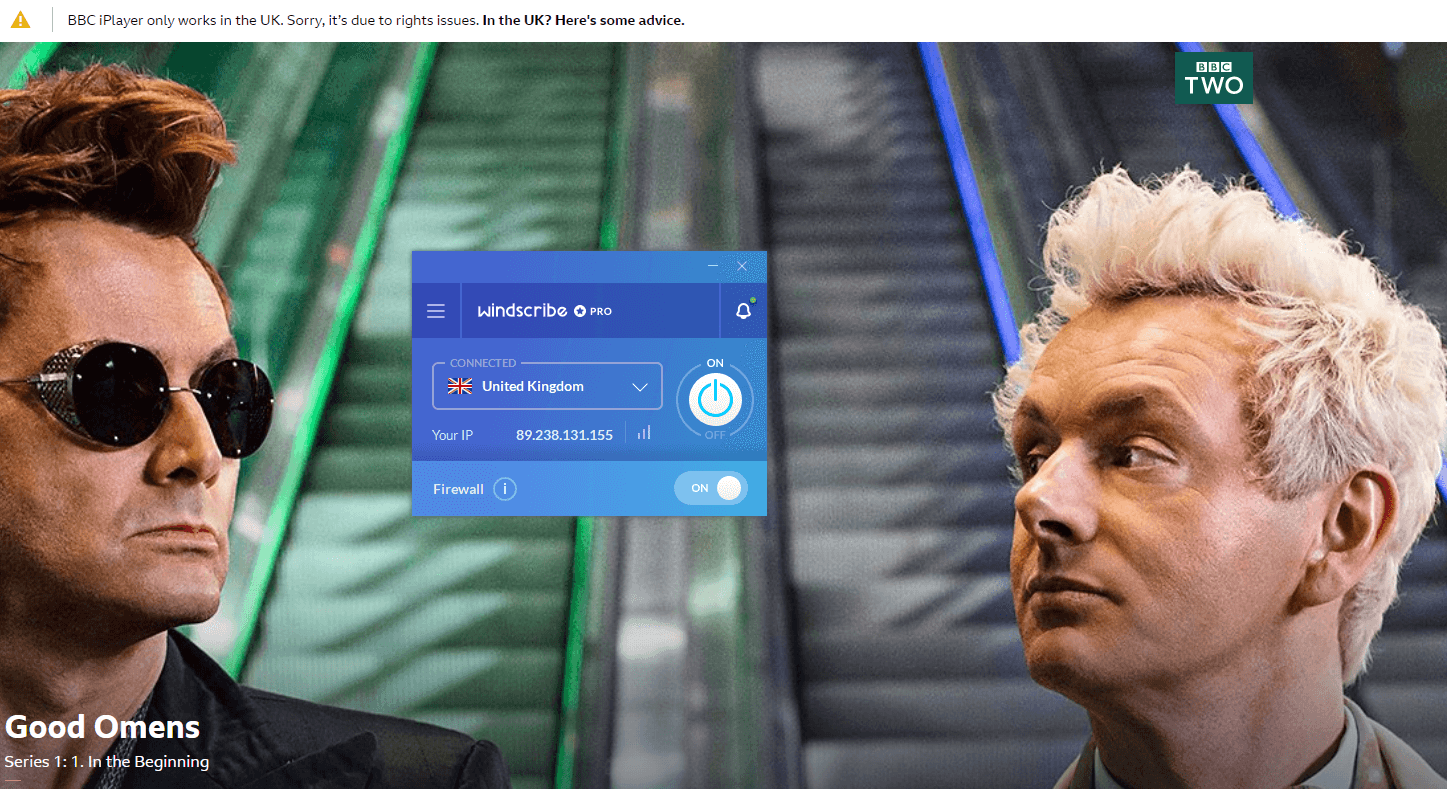 Although we're connected to the UK server, BBC iPlayer says that we're not. So, Windscribe can't unblock BBC iPlayer, as well as a couple of other platforms we tried, including Amazon Prime Video and Disney+. If Netflix is your thing, know that the US / UK and CA catalog works fine on every server and this one is the biggest, so it's not bad.
Plus, it has servers specifically for unblocking Netflix (as stated before, they're named WINDFLIX + initial of the country in question). Other streaming websites are, in most cases, unblockable.
Confidentiality, Security & Logs
Free providers are known for their lack of a zero-log policy. Some of them even use this information for malicious purposes. For example, to sell it to third parties and earn some good money. Windscribe, surprisingly, isn't one of them, despite residing in Canada, a member of the 14-Eyes alliance. A zero-log policy is there and here's a screenshot of its shorter version:

In short, Windscribe doesn't keep any connection logs, session logs, IP, timestamps, and your activity in general. What they store, however, is the time of your last Windscribe use, as well as your bandwidth usage in a 30-day period. As the provider says, it's for keeping limitations in place, thus preventing abuse.
Here's their full zero-log policy, so take a look for yourself. It's very understandable and clearly indicates that this is, in fact, a no-log provider. Which is a very good news in the case of this review and test of Windscribe.
There's one thing left to check – the IP leak test. Here are the results from it: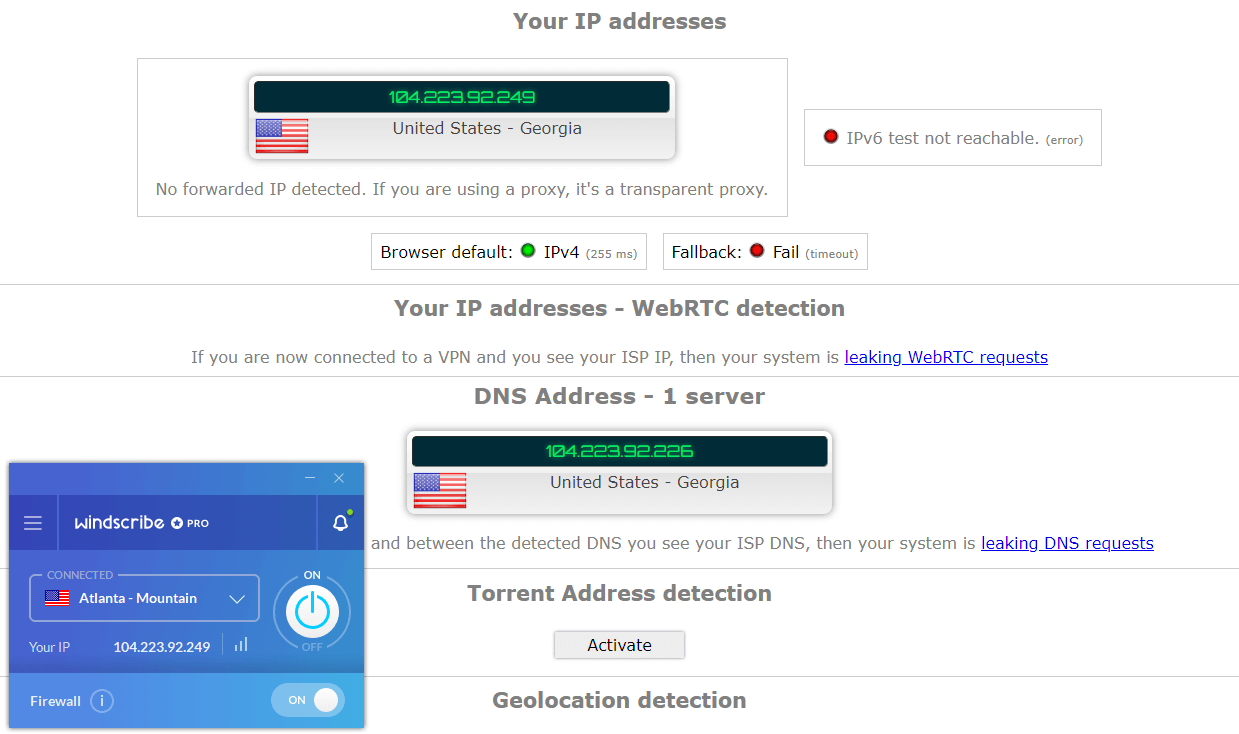 As you can see, our IP didn't leak. In the lower-left corner, our app window shows the same IP as the test on the right. So, our online location in the United States, Georgia, is genuine. And with that, our conclusion is that Windscribe is safe, secure, and doesn't keep logs.
Can I Do Torrenting Safely With Windscribe?
The vast majority of the provider's servers support P2P file sharing. This is, as many of you know, essential for torrenting. However, servers in some countries don't support it. Here are the countries that DO NOT support P2P:
Lithuania
India
Russia
South Africa
So, if you're using some of these servers for uTorrent, forget about torrenting. Now, let's talk about other countries. For this activity, we always stress how important it is to have a no-log policy. This way, your ISP can't detect that you're torrenting, hence it can't report you to the government, in case your country has harsh laws regarding copyright infringement.
Since Windscribe has both a no-log policy and P2P support, we entered 1337x.to and tried to download a game. Every torrent website displays your IP to tell you that you can be detected by your ISP. Here's what we got:

Compare this IP address with the one we used above. It's the same. This means that the provider allows you to torrent safely and anonymously.
Can I Use Windscribe to Bypass Censorship?
In the past couple of years, China has been voracious when it comes to stopping the VPN use in this country. Unfortunately, many providers don't work in China anymore because of this. The Great Firewall of China represents a fierce challenger for almost every provider, hence many of them can't bypass it.
Strangely, a provider like this one can. However, with a few tweaks. Windscribe offers you a few security protocols. These are:
IKEv2
UDP
TCP
Stealth
WStunnel
The last two are of the utmost importance for bypassing censorship. You can find them if you open the Preferences in the app. Here's how it looks like: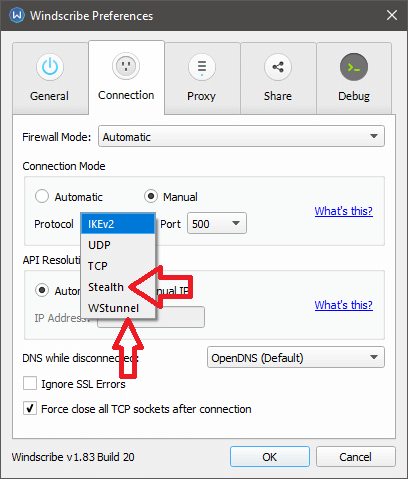 The Stealth mode hides your OpenVPN traffic in a secure TLS tunnel. Windscribe recommends this one for users in China. Alternatively, if it doesn't work, the WStunnel mode is here. It hides your OpenVPN traffic in a WebSocket.
And if you still can't bypass their firewall, the company encourages you to contact support and get help. Needless to say, this applies to every country with censorship – the UAE, Iran, Iraq, Turkmenistan, and so on.
Let's answer the question now – the provider CAN bypass censorship!
Pricing and Plan Options
Pricing plays a huge role in every provider. If it's too expensive, most people won't bother looking at it. But, if it comes with some cheap prices, that's where things start to change. As always, let's take a look at the company's pricing and plan options first: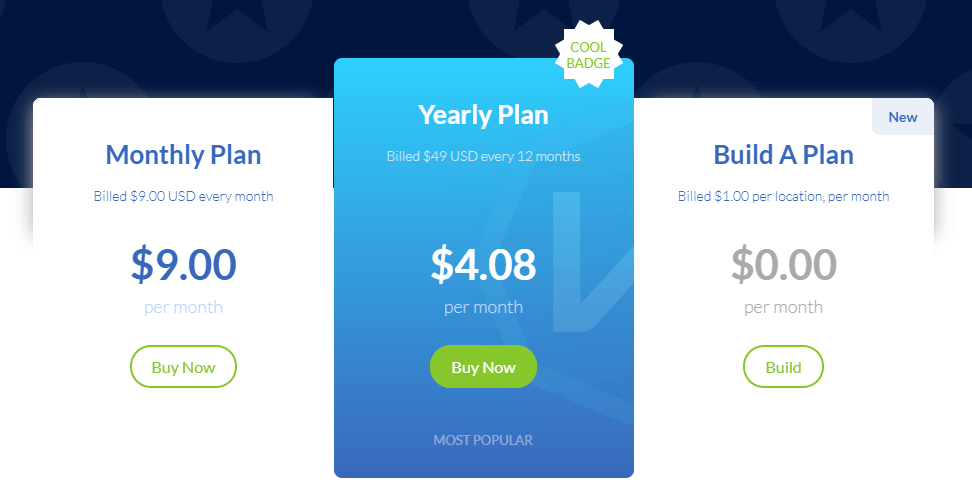 The subscription plan highlighted in blue is the cheapest price you can get. It's a 12-month plan for $4.08 a month, which translates to $49 every year. This is, arguably, a very cheap deal, especially when compared to other providers' annual plans.
On the other side, ExpressVPN costs slightly more and is far better. It costs $6.67 a month in its annual plan – plus, you get 3 months free. That, in itself, makes Windscribe kinda obsolete. Nevertheless, the company offers a monthly plan at $9.00 a month and this plan is cheaper than most providers' monthly plans.
Finally, there's an option to build a plan for $1.00 per location a month. If you're going to buy the subscription, go for the annual plan. That's our recommendation. Here's what you get in terms of payment methods:

Even Bitcoin is here, which is great for privacy and security. In case you want a refund, you can do it by yourself. Go to your account and look for this blue button:

Below the "Claim Voucher" button, you can see 'Cancel Subscription'. Click on it and you'll get your money back. The company offers a 3-day money-back guarantee and not 30 days as better providers do.
How Can I Contact Windscribe?
The provider has sort of a live chat, which we mentioned before. However, you don't get to talk with a human. Instead, Garry, the company's bot answers your questions. While he's very good at it, there's no substitute for humans. Unless, of course, robots start thinking on their own, like in Terminator movies.
Garry will offer you to talk with a human. Alas, it won't be live chat but a ticket system, and you get a response within 24 to 48 hours. Here is how it looks: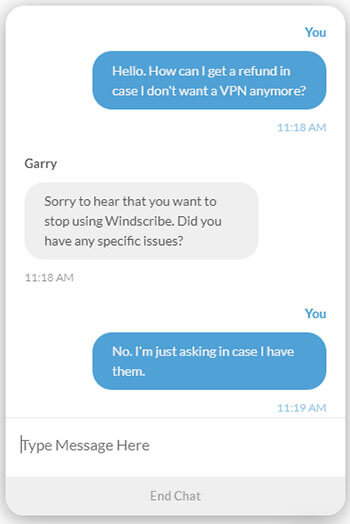 Aside from that, you have a decent FAQ section and Windscribe's email for getting in touch. In the picture below, the provider summed up all the methods for contact: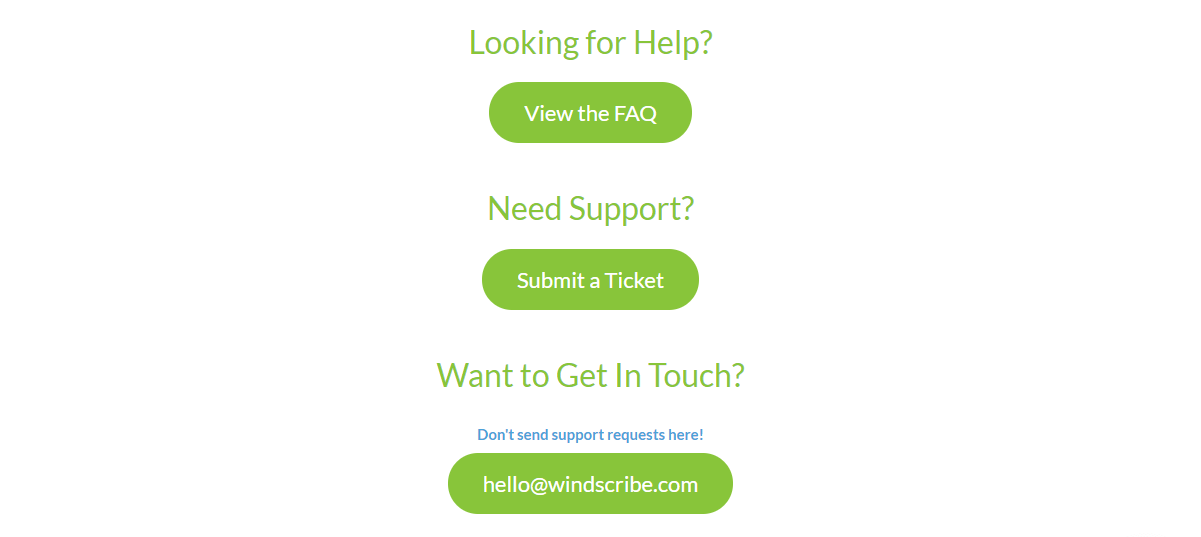 While Garry is a nice guy (or a robot?), we prefer talking to humans via live chat. That's definitely a bigger letdown of this provider.
The Special Functionalities
Like every provider, this one has some special functionalities that should enhance its capabilities. Here's what the company offers:
R.O.B.E.R.T.
R.O.B.E.R.T. is a fancy-looking feature used for blocking ads. Introverts will think that it's a new, robot-like chat buddy and they'd be scared. But, no reason to be scared here. On the contrary – this feature is great and embellishes our review of Windscribe!

It lets you block ads and trackers that many websites implement. This way, your PC can't get stuffed with malware that will slow him down. To make things better, the websites will load 50% faster than with ads and tons of stuff there. Because ads are usually graphic and they require some time to be loaded.
The feature also allows you to block or allow certain domains or IPs. For instance, you can block PornHub or other adult websites if you're sharing your computer with your kids. Simply put, this is probably one of the best provider's features.
ScribeForce
ScribeForce is here to help you manage your working force. Seriously, though. This feature lets you create a team account for your organization, so every member of it can have his VPN account. All your company members will be under the same bill, meaning that you don't have to pay dozens of subscriptions separately.

These accounts are 3 times cheaper than regular accounts, which is important to mention. Therefore, even your organization can browse the internet anonymously. Or perhaps, you want to watch MotoGP season for free with your colleagues? No problem, ScribeForce is here.
Split Tunneling
Finally, we have split tunneling, which isn't a unique feature but it's sort of special. This feature allows you to route part of your traffic through the fake IP and the other part through your native IP. For example, you can watch Netflix using your US IP address, while visiting your PayPal account via your native IP.

We tested it and it works really well.
Other Things You Should Know
There are still some things we haven't talked about in the article. Let's talk about them now:
Number of Servers
The provider offers 500+ servers in 2021. While this number isn't impressive, we have to think about how small the company is. If you're a modest user, it will be enough for you.

And quite frankly, the provider is meant for modest users, given its lack of certain features.
Number of Countries
These 500+ servers are scattered across 60 countries and 110 cities worldwide. In terms of countries, Windscribe is on par with some of the top providers. Yet, it has 12 times less servers than CyberGhost and about 11 times less than NordVPN.
Number of Simultaneous Connections
With this provider, you have an unlimited number of simultaneous connections. This is great to know and will probably improve your impression of the provider greatly. Although it can be installed on a router, you don't need to since you can still connect an unlimited number of devices.
What do Other Users Say About Windscribe
We're often taught not to stress too much about other people's opinions. But, if we want to buy anything, other people's opinions matter. Let's see what people on the internet (Reddit, TrustPilot, stores) have to say about this provider.
We'll start with the comment from Reddit first. Here's what the user has to say:

This user praised the provider for having an unlimited number of simultaneous connections. In short, he recently bought a lifetime voucher and as he says, he never regretted it. Next, there's a short review on Google Play. Let's take a look:

Having written the review on January 19 of this year, this is a new one. The user explained that he's very happy with the provider, especially during the cable break, which affected his ISP. However, on the Apple Store, there's one pretty unusual review and a strange comment from the developer. Here's a screenshot:
Basically, this user says that customer support isn't that good and trustworthy. Before buying it, he noticed how rude the developer is regarding the negative reviews. Although he mentioned that the provider works fine, he has a problem with its customer service.
Surprisingly, the developer replied in the same fashion to this review – very rude. You can see the answer highlighted in red. In our opinion, this shouldn't be allowed to happen, even if it's just sarcasm, which obviously isn't.
Finally, there's a review from Trustpilot, shown below:

This user gave it a 4-star review. He says that Windscribe does its job, albeit it's very slow. From 200 Mbps without a VPN, his internet speed dropped to 4 Mbps. We're not sure if this is a mistake because it's a very big decrease.
However, the moral of the story is that Windscribe isn't the fastest provider, which we already concluded a few minutes ago.
Conclusion: Should You Take It?
So, is Windscribe worth your hard-earned dime? Well, we aren't so sure. It has some very good features that set it apart from the other providers. These include R.O.B.E.R.T., an unlimited number of simultaneous connections, and a zero-log policy, given that it's present even in the free plans.
On the flip side, it can't unblock BBC iPlayer (as seen in this Windscribe review), it isn't very fast, and there isn't a real live chat that unables you to talk to a human. Not to forget to mention its pricing, which is a tad below premium providers like ExpressVPN and NordVPN. Yet, these two are much better.
Our advice is to pay a dollar or two more for a better premium VPN. You'll get faster speeds and more servers for a slightly higher price.