With all these amazing TV shows and movies in recent years, streaming has become a huge thing on the internet. Some people still love going to the cinema but many of us just want to relax and enjoy our time at home. Whatever the case, you can't dispute the credibility of Netflix. This company has a huge impact on the industry they work in and many of its rivals try to mimic them. But, if you're not from the USA, you'll have a hard time accessing the full catalog. That's why we present to you our top VPN choices for unblocking Netflix catalogs from anywhere in the world.
What is Netflix?
If you just stumbled here and don't have an idea of what this platform is, let us introduce you. This is an American company that exists since 1997. When the company started working, it was focused on DVD sales and rental. However, in 2010, this business model was quickly replaced by what the company does today – streaming.
The platform has more than 154 million paid subscriptions, of which 60 million are in the United States. Although the platform is available almost worldwide, the full catalog is available only in the US. Because of that, millions of people have trouble enjoying their favorite shows, even with a paid subscription.
But, the good thing is that all your favorite movies and TV shows from Netflix can be unblocked with the right tool. Of course, we're talking about a VPN (Virtual Private Network). It allows you to connect to an American server, take a new IP address, and watch US Netflix with your subscription – simple as that.
You can also use it to get access to the Japanese/UK/Canadian Netflix etc.
What are Netflix's Biggest Catalogs?
Here is the list of the biggest catalogs of movies and TV shows on this platform, as of April 2019:
United States (5,932 titles)
The United Kingdom (5,702 titles)
Canada (5,692 titles)
Greece (5,649 titles)
India (5,522 titles)
Australia (5,329 titles)
Ireland (5,246 titles)
Pakistan (5,129 titles)
Nepal (5,123 titles)
Malta (5,070 titles)
We can see that the three biggest catalogs are in the US, the UK, and Canada. Interestingly, Pakistan and Nepal are also on this list, as well as Greece, which is impressive for the country from Eastern Europe.
The "Proxy Detected" Error Message – Explained
What does this message have to do with this platform? Well, this is a message you'll see when using a VPN that can't unblock Netflix. Let's say you buy a subscription blindly, without even looking at reviews online.
You install it, connect to a particular server, and try to access the site and boom – you see this message. This happens because the website has some rock-solid protection against this type of service. The moment it detects that you're using it, the whole website becomes blocked.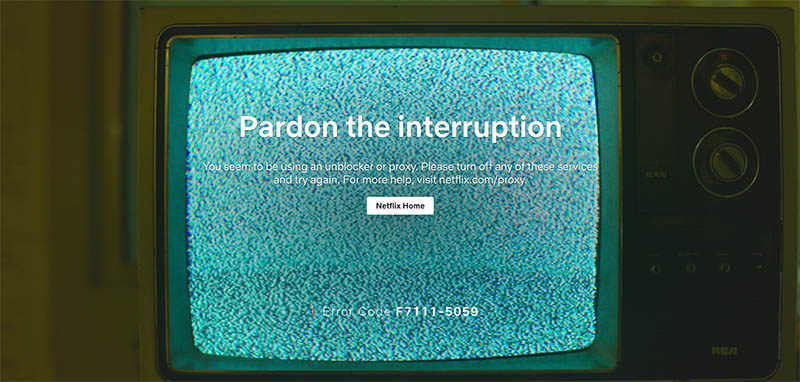 We're talking even about content that is available in your country without a VPN! You might not be using it to unblock the site, for example. Apart from this, you can use it to hide your IP on a public Wi-Fi network or to avoid ISP throttling.
Still, this doesn't matter. You'll see the 'Proxy Detected' message if you're detected. That is why it's very important to choose a VPN usable on Netflix and with strong encryption that will always keep you safe and anonymous. In the next section, we'll see how to find that.
How to Choose the Right VPN for Unblocking Netflix?
Let's be honest – there are dozens of providers online. Every provider promises something, yet not a lot of them deliver on these promises. For you, who just wants to enjoy The Office or The Walking Dead after a long day at work, this can be confusing as hell.
Which one to choose? Why this one and not that one? You probably have a lot of questions but we're here to answer them. Here's what to look for in a provider for unblocking this platform:
The Ability to Bypass Netflix's Blocks
Netflix is one tough nut to crack. It's not strange that many providers stopped working on it. This is the first thing to look for, and logically, the most important one. If it doesn't work, you wasted your money and you'll need to ask for a refund.
The platform has some serious protection that prevents many providers from working. Even if we talk about premium providers, many of them fail in this regard. For example, PureVPN. This is a paid provider, yet it doesn't work with this service.
Needless to say, the providers we will mention below all work perfectly and are definitely the best VPNs to unblock and watch US, CA, UK Netflix.
A plethora of Servers in the US (Or any Other Country)
If you're going to stream on this platform, we suggest you use an American IP. Of course, you can use whatever you want, as long as the platform is available in that country. For instance, a Chinese IP will not allow you to access the website. But, if you use an English one, you can do it. Albeit, you won't see the same catalog.
Whatever your choice may be, make sure that the provider has a lot of servers in a particular country. This will allow you to access Netflix from many different addresses, in case one server crashes or stops working.
High Speeds
Do we need to talk more about this? Just think about watching YouTube and encountering endless buffering. It's annoying, boring, and makes you want to smash your PC into pieces, even if it's not its fault.
Nevertheless, you should look for a provider that offers fast connections and high speeds. One of our recommended options is ExpressVPN, which we'll talk about later. ExpressVPN is really recommended for Roku users who also want to stream.
Unlimited Bandwidth
Having limited bandwidth means being able to stream just a few episodes of a series a month. However, if the bandwidth is unlimited, you can stream to your heart's contempt. Thankfully, every paid provider fulfills this condition.
On the other hand, free providers don't. We'll talk more about them later and determine if they're worth your time. Spoiler alert: they aren't!
High Number of Simultaneous Connections
Given that you're probably not living alone, some of your family members will also love watching movies and TV shows. Because of that, you'll need a provider that allows 5, 6 or more simultaneous connections. If you're living alone, this won't matter to you much but it is always a welcome addition.
Also, you can use a provider that can be installed on a router. That way, your whole house will be covered, which translates to 16 or 32 devices max, depending on your router.
24/7 Customer Support
Finally, having 24/7 customer support is always welcome. In case you have some connection problems, you can contact it anytime and they'll fix your issues.
The Best VPNs for Unblocking Netflix in 2021
With all that out of the way, let's talk about your best options for accessing this service from anywhere in the world. These are our top picks that still work in 2021:
1. ExpressVPN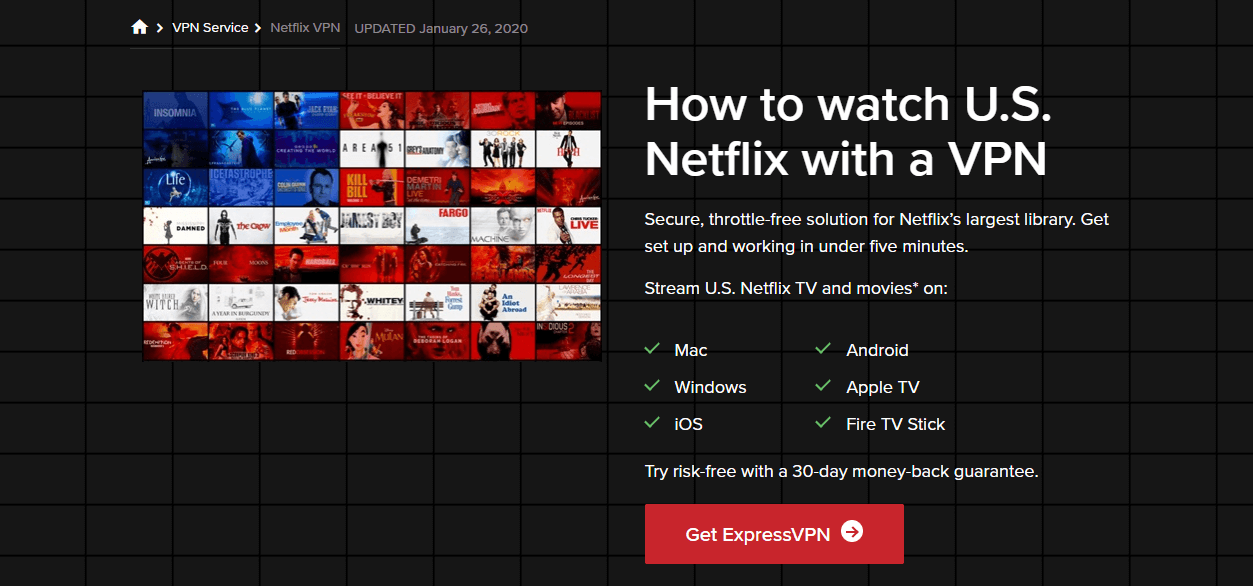 ExpressVPN is our favorite VPN and we wholeheartedly recommend it for unblocking and watching any catalogs of Netflix. The reason being is because it fulfills all the conditions we mentioned above. For the start, it's blazing-fast, so you can watch even Ultra HD content on this website. This content is available mainly in the US catalog.
So, we tested this provider using the US server and voila – it worked flawlessly! The great thing is that you can access the site from any country on our list above, so every major catalog will be at your hand's reach. Now, many of you are concerned about security when using a VPN – and rightfully so.
The provider is stationed in the British Virgin Islands, which is a great location for providing security. You get a no-log policy, so even if you're torrenting or watching porn, you can get away with it. Furthermore, there's military-grade encryption, DNS and IP leak protection, an automatic kill switch, and so forth.
In terms of server count, ExpressVPN offers 3,000+ servers around the globe, in 94+ countries. This is quite a big number, which is excellent for enjoying every online activity anonymously. Last but not least, the provider isn't as expensive as many of you think.
In 2021, ExpressVPN offers a 49% discount and 3 months free for a 12-month subscription plan. The addition of a 30-day money-back guarantee is also welcome if you don't like its services. However, that's not going to happen – believe us.
2. NordVPN

NordVPN is a consistent, quality, and reliable VPN that we often recommend for Netflix. The provider is located in Panama, a country with not so developed internet infrastructure. But, this doesn't hinder the provider's quality servers around the world. In fact, you get a no-log policy, which is a substantial boost!
The best of all is that you can access this platform regardless of the country you choose. We tried the USA, the UK, Greece, Ireland, and many more. Had zero problems, as expected. You'll also like the huge server count here, to be exact, 5,500+ servers in 60+ countries. Of these, more than 1,000 servers are in the US and slightly less in the United Kingdom.
NordVPN comes with a SmartPlay technology, which is made especially for this purpose. It allows you to stream endlessly and anonymously, whether you like Netflix, Hulu or any other platform. There's also a CyberSec feature for blocking ads which can sometimes be annoying.
Speed-wise, the provider is a tad slower than ExpressVPN, which is why it's on the second place. Its ability to bypass geo-blocks is second to none. Click the button below and see it for yourself.
3. CyberGhost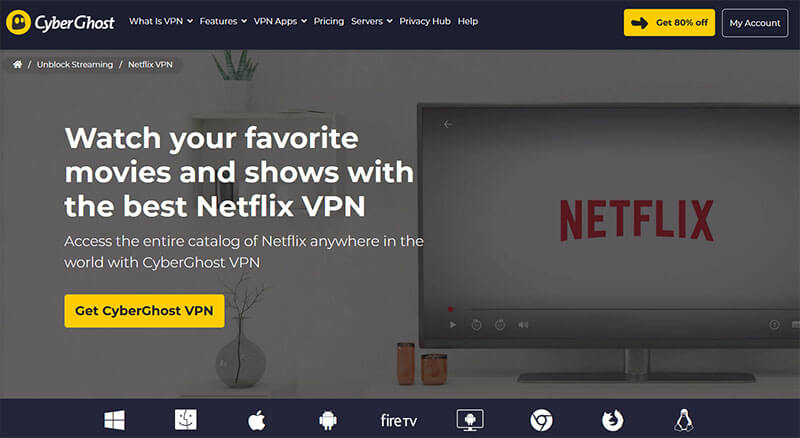 CyberGhost is perhaps the easiest provider to use. It has dedicated servers that make accessing this platform a piece of cake. You boot up the app, choose the activity you're going to do online, which is, in this case, streaming. The app then connects you to the best server for that purpose and you're ready to go.
Alternatively, you can use one of the servers from the countries mentioned above. CyberGhost is the largest provider, offering 6,000+ servers worldwide. When it comes to speed, it's very fast, hence we streamed 4K content easily. Coming from Romania, the provider also offers a no-log policy, so you can use it for more than just streaming.
There's even military-grade encryption, up to 7 simultaneous connections, and support for routers. If you don't like the provider and you bought it, you can get your money back in the first 45 days, which is as generous as it can be.
Just to mention, CyberGhost couldn't access the platform in Japan and Brazil. However, all other countries work fine.
4. Surfshark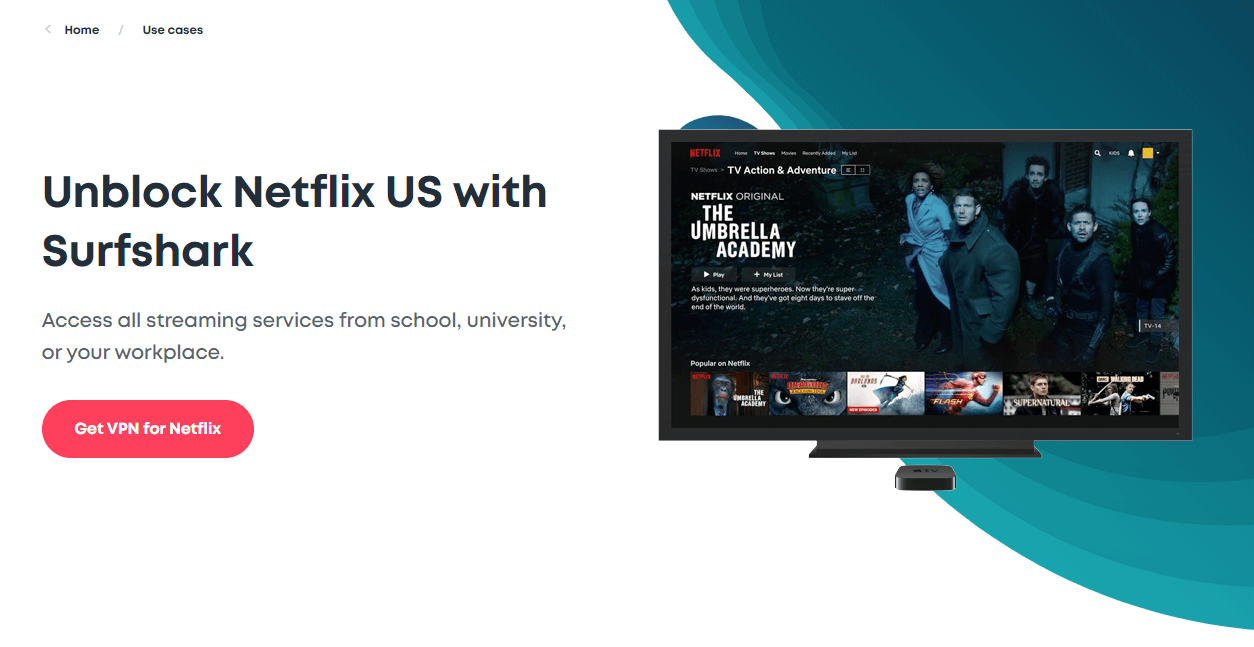 We recently reviewed Surfshark in our in-depth analysis of the provider. To make things shorter – it rocks! This is the cheapest option for unblocking this platform and works damn well, might we add. One thing that will make you question it is the server count. Sure, 1,041+ servers in 61+ countries sound… well, somewhat little.
But, these servers are all blazing-fast and reliable. We tested the VPN in every country of the list above and managed to unblock Netflix easily.
Furthermore, Surfshark gives you some bonus features for bypassing censorship if you're from China. For example, a NoBorder mode, which lets you unblock every site regardless of your geographical location.
Security features are top-notch and will keep you anonymous online all the time. They'll even block ads and malware, so you don't fill your computer with unwanted software. Lastly, Surfshark offers unlimited simultaneous connections with a single subscription.
We can bet this sounds good to you! Right?
5. IPVanish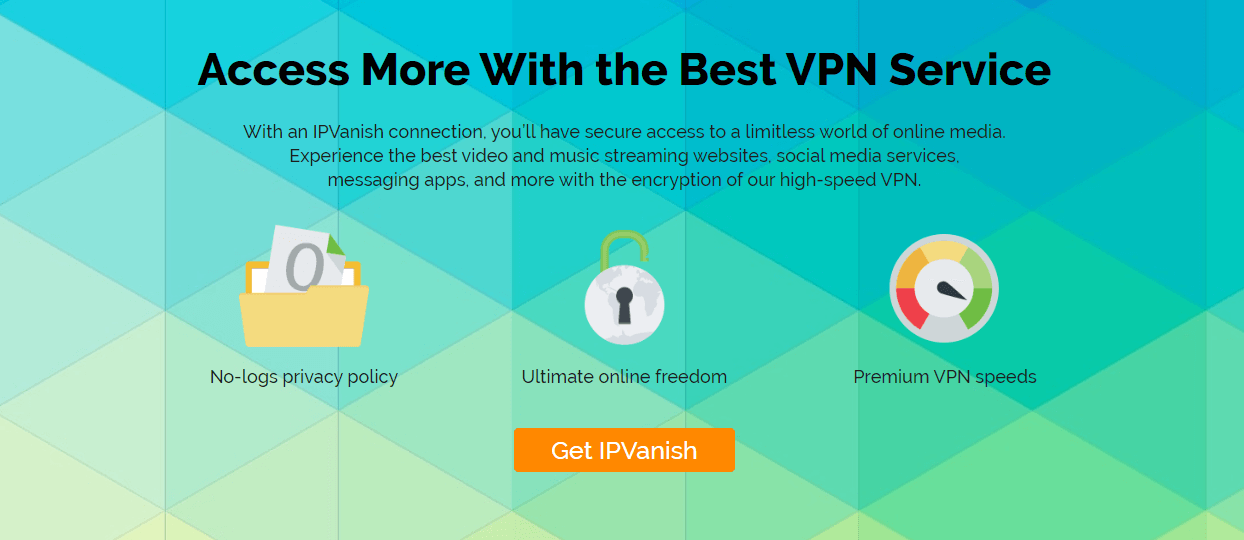 IPVanish isn't our favorite provider, yet works well for this purpose. It's an American company that easily unblocks Netflix in several countries around the world. The company has 1,300+ servers worldwide, in 75+ locations. 
The highest number of servers is in the United States, Australia, Canada, and the United Kingdom. Luckily, this streaming platform has the biggest catalogs in these countries. We tested it using some of the IP addresses from there and it works exceptionally.
One thing that worries many people is if IPVanish offers a no-log policy. Fortunately, it does, despite being a part of the 14 Eyes alliance. Aside from that, this is a fast provider that offers 10 simultaneous connections, and even a live chat feature, which is a pleasant surprise.
Why Free Providers Don't Work?
We often mention free providers around here but if you're our avid reader, you know that we don't recommend free VPN for unblocking Netflix catalogs. Here's why:
Inability to Bypass Geo-Restrictions
Free providers have one red flag that immediately eliminates them from the equation. Of course, we are talking about the inability to bypass geo-blocks. If you don't believe us, go ahead and try it. You'll see the message we talked about above.
Now, not every provider is like that. Some can unblock Hulu, HBO GO, Sky TV, and even Amazon Prime Video. However, Netflix is on a whole another level when compared to these streaming platforms. It has strong protection against Virtual Private Networks and proxies, making it hard for free providers to pierce through it.
Slow Speeds & Limited Bandwidth
"Surfing" the internet at a snail-like pace feels like a chore. In fact, it IS a chore. When streaming, this problem is further exacerbated, especially if you want some 4K or even full HD content. Unfortunately, every free provider has this issue. Not some of them but EVERY. And you know what's worse?
You get limited bandwidth. Windscribe gives you 10GB but many others will give you 500MB to 2GB on average, which is painfully small.
Lack of Certain Security Features
One of the most important factors in a VPN is its security features. Free providers often miss one crucial feature – a no-log policy. This means that they keep logs of your browsing history, your IP address, location, and so forth.
Information like this is pretty valuable, so they can sell it to third parties, which some of them do. This is just another way of earning cash for them.
How to Unblock Netflix With a VPN?
You weren't thinking we're going to leave you high & dry, without a guide, were you? The first thing to do is to see which provider to go for. Glance back at our list above and if you want our recommendation: choose ExpressVPN.
Enter the website, pay for a 12-month subscription, and when the payment is realized, download the apps you want. This provider supports every platform, so feel free to choose. After that, install the app, and open it. You'll see this screen on a computer version: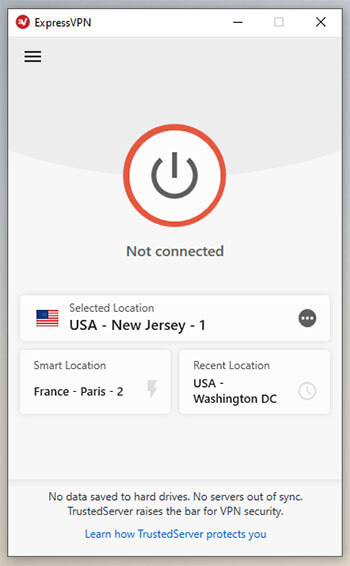 This big, circular power button is used for connecting to the server you want. Below is a drop-down menu where you can choose the locations. Click here, choose the server location you want, and then connect (for this example, we're going to get a US IP to unblock the biggest catalog).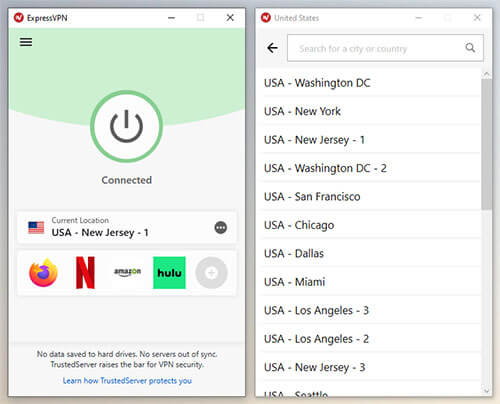 Now, you can try and visit Netflix US (if you choose a server in Canada, you will have access to the Canadian version and so on). Type in the address in your browser, sign in or sign up, and you should be able to see the catalog catered to your country. As you can see, it's very easy and takes half a minute to establish a connection.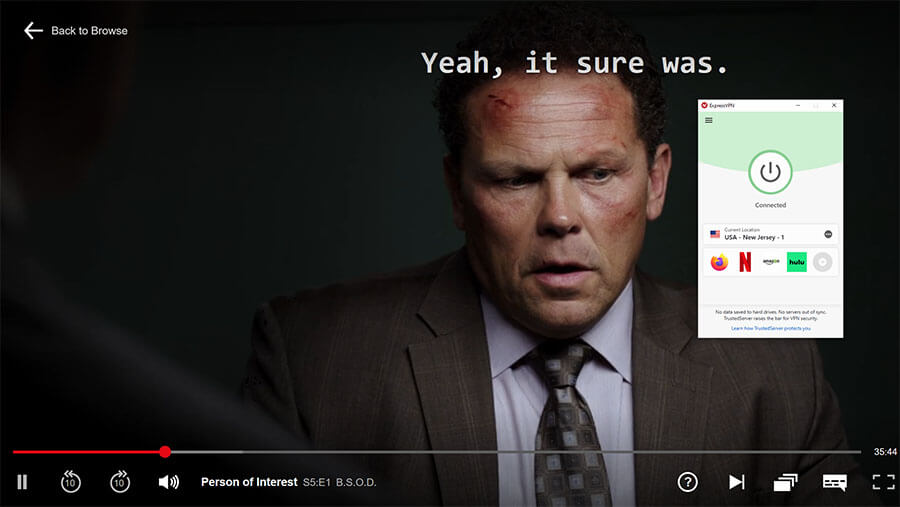 In case you decide for another VPN, know that the steps are the same in order to access and watch Netflix from abroad (or just get access to another catalog).
However, be sure to choose one from our list because we verified them. Just check our comprehensive ranking here: https://monkeyprivacy.com and see other great providers.