Streaming devices are getting more and more popular with each instance. While Amazon Fire TV Stick is slowly taking the market by storm, there's Roku, another seemingly similar device. Since its inception in 2008, it quickly became the most popular streaming box on the market. It offered and still offers thousands of channels but with one major caveat – limitations out of the USA. Users outside of the US will have problems accessing hundreds of channels but with a Virtual Private Network, this problem can be solved. Let's see what is the best VPN to use on Roku in 2021.

Why You Should Use a VPN with Roku?
Virtual Private Networks are so powerful, that you can even use them on routers (not all VPNs support that) and of course, Roku. Check out our complete definition of a VPN here and when you do that, come back and see why you should use it with this device.
To Bypass Geo-Restrictions
When we talk about streaming, there's always that annoying problem that shows up – geo-restrictions. Geo-restrictions plague numerous streaming platforms around the globe and have become so annoying, that they turn away many potential users.
For example, Netflix. This streaming service has a wide array of TV shows and movies but only for the USA. Sure, users can access it when abroad but the catalog is much smaller.
Another example is BBC iPlayer, which is available only in the UK. Since you're probably outside of these countries, you can scratch your forehead indefinitely to figure out how to fix the problem. Luckily for you, a Virtual Private Network can solve this in a matter of minutes.
Those who use Roku outside of the USA, but without a VPN, won't get much out of it. Instead of thousands of channels, they'll get access to only a fraction of that. A Virtual Private Network allows you to connect to the server in the USA, UK or any other country, which grants you access to the aforementioned websites.
The providers we mentioned below can also help you access other popular streaming websites – Hulu and HBO+, for example.
Avoiding ISP Throttling
When streaming your favorite movie or TV show, the last thing you want is to encounter stuttering. This ruins your streaming experience by a wide margin and makes the movie or show impossible to watch. If you pay for the fast internet and you encounter this, chances are that your ISP is throttling your internet.
Many of you will ask – why would they do it? Well, because they can. ISPs can detect when you're streaming and if you're not using their platform, they will deliberately slow down your internet. In fact, your Internet Service Provider knows every step you take on the internet if you don't have a VPN, especially when using Roku!
But, how a Virtual Private Network can help you solve this? Simply put, by masking your IP address, making you invisible even to your ISP. Roku offers a plethora of high-quality content. Are you going to watch it at the lowest possible quality? We don't think so if you opt for ExpressVPN, CyberGhost or NordVPN.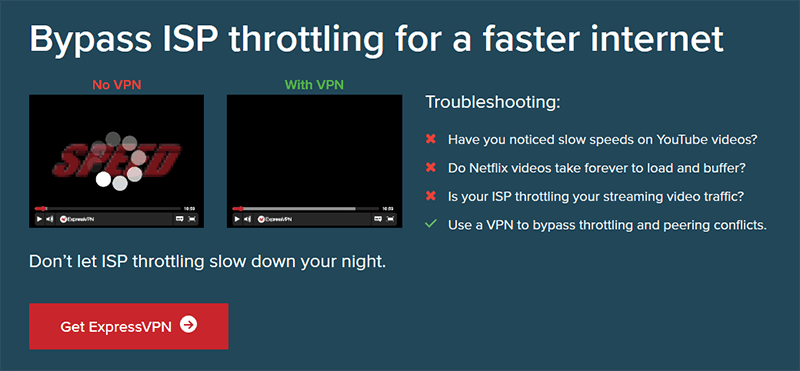 Avoiding Censorship
Censorship is an ever-growing issue with the internet nowadays. Countries like China, Iran, and Kuwait are only some of the 'enemies of the internet'. Here, if you even access censored websites, you can get a hefty fine or in some cases, land in jail. China is a prime example of this, as they don't allow you to visit even your social media account.
You can forget about Instagram, Twitter, Facebook or Snapchat in these countries. And with a streaming platform like Roku, it's the same case, unless you have the best VPN. It will help you reroute your traffic to a server in another country, so you can swiftly avoid censorship.
Preserving Privacy and Security
Last but not least, you should always be concerned about your privacy and security online. As we said, your ISP can ALWAYS track your steps on the internet. And whenever they're involved, there's also the government that can request your ISP to give all of its users info to them.
Who knows what happens then. Your info could be sold to someone (not in the case infos are in the hands of the government of course) or you can get penalties for downloading torrents, for example. With numerous security features, a VPN will save you all the headache and keep you safe and secure online while watching whatever platforms on Roku (Netflix, Amazon Prime, Twitch…).
How to Install a VPN on Roku?
Let's get something out of the way. These devices don't come with a Smart DNS and VPN functionality. This means that the only way to use a Virtual Private Network with them is to install it on your router. As much as it sounds complicated, believe us when we say that it isn't. It will take you 10 or 15 minutes and will have multiple benefits.
By installing it on your router, you can protect every device that connects to it – tablets, smartphones or tablets. So, let's see how to install a VPN on your router in order to benefit from it on Roku.
Installing and configuring the service on your Router
Log in to your account on your selected VPN provider's website.
Find and download manual OpenVPN configuration files for the location you want to connect to. In this case, it will be the USA to avoid almost all the geo-restrictions. When you do that, you'll get a new username and password. Write them down, as you'll need them later.
Now, open your router's control panel. There, you'll find the address 192.168.1.1, which is commonly found.
Copy this address and paste it into the search bar of your internet browser.
Log in with your credentials. Usually, your username and password are both "admin" if you haven't changed them.
Go to Advanced Settings and select VPN.
Select VPN Client option and click Add Profile.
Click on the OpenVPN tab and fill the information given below:
Username and Password: Use the ones that you got from the provider (2nd step)
Description: Give your connection a name you want. For example, it can be the name of your provider.
Insert .ovpn file: Find your OpenVPN file that you've downloaded in the 2nd step and click Upload.
Click on OK and select Activate for activating your Virtual Private Network connection.
You've now successfully installed a VPN on your router. Now, it's time to create a US Roku account to access US Netflix or any other eligible content. Beware that you can do it for any country you want. The process is exactly the same!
Creating a US Roku Account
Connect to one of the US servers from your provider.
Open your internet browser and type in owner.roku.com to open the configuration section.
Create your account and when you get to the country selection, chose the US.
Fill in the American zip code which should consist of 5 digits. You can find the list of US zip codes here : https://phaster.com/zip_code.html
Reset your device by holding the Reset button on the back for 15 seconds.
When it restarts, log in with the account you just made.
Now, let's connect the Roku box to your router.
Connecting Roku and Your VPN-Enabled Router
In the main menu, open Settings and select Network.
Here, select Wireless (Wi-Fi).
The Choose Your Network section will now open and you need to select your router. It should be named the same way you named it before.
Enter the password you set up for your VPN connection and select Connect.
Now that you've done it, you can access the entire library with the US content.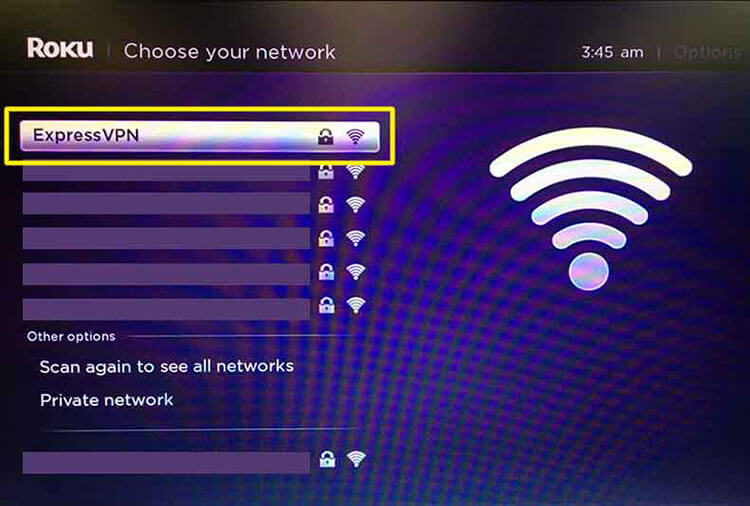 Are Free VPNs Any Good?
Free VPNs are around every corner and it's hard not to get tempted to use them. But, if you want to use it with Roku, know that none of them will help you. In most cases, free providers have their own apps, so they can't be installed on your Wi-Fi router, which is mandatory for using it with a device like this.
Even though you can search for free servers, these servers are almost never fast and reliable for streaming videos. Many free providers also offer certain security protocols. But, since they offer their services free of charge, they must earn money somehow, which is often done by compromising your privacy.
They record your browsing data, which they can sell to some third-parties if needed. Some of them also use so-called tracking cookies for littering your browser with ads or malware. Even a few "verified" free VPNs restrict your bandwidth, so you'll spend minutes waiting for your videos to buffer on Roku.
With that being said, free solutions don't work with a device like this!
The Best VPNs for Roku in 2021
If you are using Roku and don't have a VPN, don't get rid of it just yet. Here are our top 3 providers for watching premium content outside of the US (or elsewhere):
ExpressVPN
NordVPN
CyberGhost
Now, let's review them and see why they're so good in this particular case.
1. ExpressVPN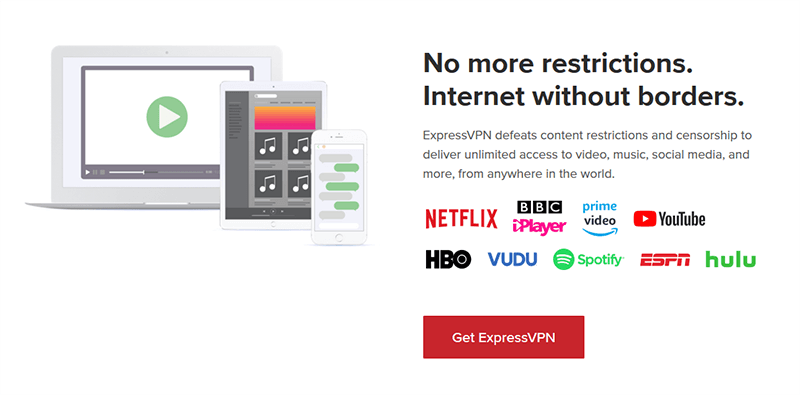 ExpressVPN is also (for us) the best provider to use on a Fire TV Stick. It's hard to hate a provider like this, especially when it brings everything it has to the table. Starting from its enormous speed, you'll be able to stream 4K content on your lazy Sunday nights, even on Netflix and HBO, given its ability to bypass geo-restrictions.
The provider is also great for gaming, as it won't slow down your internet when you connect to the remote server. In terms of a number of servers, ExpressVPN won't disappoint you. With over 3,000 servers in 94+ countries, you'll be able to choose from a plethora of high-speed servers.
Not all of them are physical servers, though. This is because it's dangerous to put a physical server in some countries, as users' info could get compromised. But, with the server infrastructure like this, there's a 0% chance of experiencing that due to military-grade protection.
You get 256-bit AES encryption, kill-switch, split tunneling, as well as DNS and IP leak protection. Needless to say, there's a no-log policy given that the provider is based in the British Virgin Islands. On top of all that, there's a 49% discount and 3 months free for a 12-month subscription plan.
And if you don't like it, you can always use a 30-day money-back guarantee – no questions asked. This is also why it is for us the best VPN solution to use with Roku.
2. NordVPN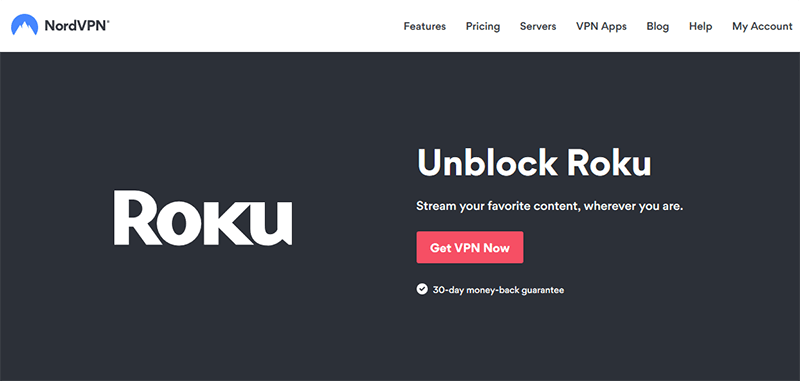 NordVPN is known by many for its impenetrable security and all-roundness. The truth be told, we share the same opinion, as the provider exceeds at every front. When we talk about speeds, streaming 4K content has never been easier. You won't need to sit through minutes and minutes of buffering anymore.
The provider is based in Panama, from where it controls 5,400+ high-speed servers. This is ideal for those concerned about privacy because Panama isn't a part of the 14 Eyes or any similar conglomerate. As for the geo-restrictions, NordVPN can unblock every streaming website. Netflix, Hulu, HBO+, BBC iPlayer, and others are all there.
For security, the provider has 2048-bit encryption, Double VPN, and use OpenVPN protocol (and others). These all add a thick, juicy layer of security. All of this coupled with a no-log policy, kill-switch, and DNS leak protection result in a nearly-perfect provider for this purpose.
3. CyberGhost

CyberGhost is perhaps the fastest-growing VPN provider at the moment, and this is confirmed in this article about Roku. Just a few months ago, it had 5,000 servers and now, it has 6,000+ servers in 90+ countries. All of these servers support fast speeds, much needed for video streaming.
With CyberGhost, you'll have no problem accessing US Netflix, Hulu, HBO or BBC iPlayer with this provider. With its no-logs policy and strong security features, the provider let you explore the internet world seamlessly and effortlessly.
There's an automatic kill-switch, DNS leak protection, and 256-bit encryption for covering all the security needs. With its affordable prices, intuitive interface, and support for all major platforms, this provider is one of the best for streaming purposes.
Summary
With the increased popularity of streaming TV boxes, ISPs are in turmoil. Because of that, they do everything they can to prevent you from watching your favorite content free of charge. But, if you use a VPN with Roku, this doesn't have to be the case.
This is another amazing streaming platform, a little gadget that packs a lot of firepower. However, using it without a Virtual Private Network means missing out on all of its amazing features. The best VPN for Roku is ExpressVPN, which is also our recommendation.
It has some mind-boggling speeds, rock-solid security, and can bypass geo-restrictions easily. So, stop blaming your streaming platform for its inability to access hundreds of channels. Use a VPN and fix it today!