Whether you're from the USA or Europe, you know about the increasing trend of streaming sports events. In the USA, you're probably watching football and in Europe, you're enjoying soccer or basketball. DAZN, a subscription-based sports-streaming service is one of the best popular  platforms in certain countries. Unfortunately, the platform is accessible only in specific countries, so you'll need to use a VPN to access DAZN abroad. To make matters worse, only a handful of providers work with the platform, similarly to Netflix. But, we'll take care of that issue if you stay with us.
What is DAZN?
As said, this is a video-streaming service for streaming sports. And when we say sports, we think about a huge array of them. This is why this platform's subscription can be expensive for some people. But, if you're a real sports fanatic, you wouldn't have anything against paying a bit more.
However, this service isn't available in every country (only in Germany, Austria, Switzerland, Italy, USA, Canada and Japan at the moment), which is another issue we'll talk about later. For now, here's what you can watch here:
Soccer/Football: UEFA Champions League, UEFA Nations League, Premier League, UEFA Europa League, English Football League, La Liga, FA Cup, Scottish Professional Football League, Serie A, Serie B, Ligue 1, Bundesliga.
American Football: NCAA, NFL
Baseball: MLB
Basketball: NCAA, NBA
Ice Hockey: KHL, NHL
Tennis: Fed Cup, WTA, Davis Cup, ATP 250
Motorsport: MotoGP, Formula One
Fighting Sports: Matchroom Boxing, Bellator MMA, UFC, Golden Boy
Rugby: European Rugby Challenge Cup, Six Nations, European Rugby Champions Cup, Premiership Rugby
Wrestling: WWE
Darts: PDC Televised Darts Events
Cue Sports: Snooker
Cricket: ICC Champions Trophy
If you're interested in this platform, based on the program they offer, you'll need to take advantage of a small number of VPNs that support it. Otherwise, check out our selection of 10 VPNs that offer really great performance for all-around use.
Why You Should Use a VPN for DAZN?
By this point, it's already clear that you should use a Virtual Private Network for the DAZN block workaround. Let's see what benefits does it bring to the table.
Unblocking the Platform Abroad
The most annoying thing about this platform is that it isn't available for the majority of the world. Although it's estimated to be worth £3 billion, we're still baffled that this is the case.
We aren't bashing the platform for its content. As a matter of fact, it's one of the best streaming platforms out there. Instead, we're bashing it for being accessible to only a single-digit number of countries.
Here are some of the error messages you may encounter when trying to watch DAZN abroad (in an unsupported country):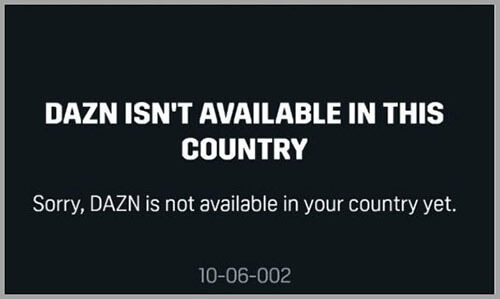 However, even if you use a VPN, it's not guaranteed to work! This is because the platform blocks VPN, similarly to Netflix or Disney+. As you know, to access Netflix, you also need THE best providers. Many providers can't access Netflix and even more of them can't access DAZN in countries such as Australia, United Kingdom, France, Mexico…

For example, you're using a provider that can't unblock the platform. Let's say it's StrongVPN. StrongVPN has servers in the supported countries, so even if you connect to them, you still won't be able to access your content. This is because of encryption methods that aren't up to par with the top providers in the game.
But, on the other hand, a provider like ExpressVPN is surely going to bypass this geo-restriction (as you're going to see later on in this article).
Access More Content
While you can watch all the aforementioned content from above, know that DAZN displays content based on your location. Each region has specific content. For example, the German F1 Grand Prix can't be watched from Canada.
In this regard, a VPN can increase your content, making it easier to follow all your favorite sports events.
There are some providers that used to unblock this platform but they can't do it anymore (such as VyprVPN, IPVanish etc). Beware of that when buying a subscription.
Avoid ISP Throttling
Finally, there's ISP throttling, an issue that doesn't care what you're doing on the internet. If you didn't know, your Internet Service Provider often throttles your internet speed, seemingly for no reason. But, everything happens for a reason and in this case, it's to "free up" their internet infrastructure in the peak hours.
Furthermore, they can also do this when they detect you're streaming from another platform that isn't theirs. By using a VPN with DAZN, this can't happen because it conceals your IP address, making you undetectable.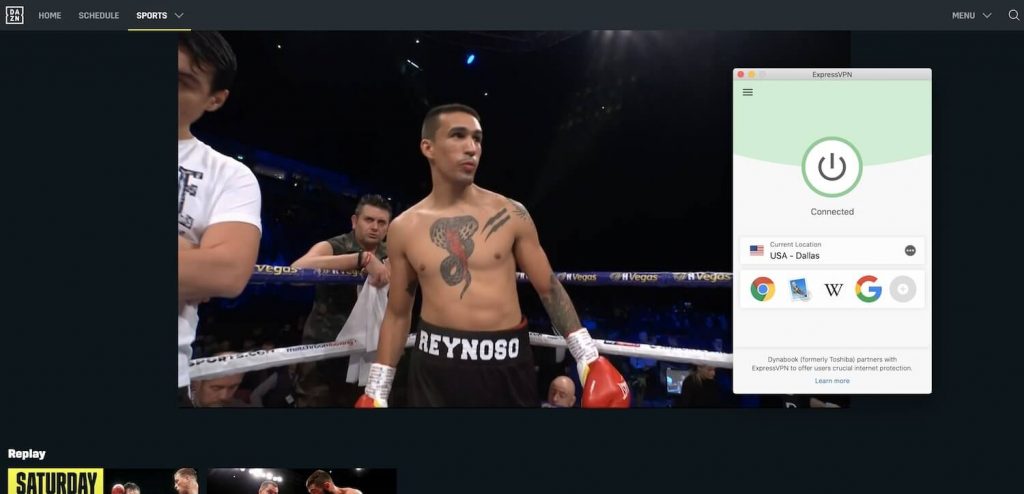 Tutorial on how to watch DAZN from everywhere in the world
If you don't really know how to use a Virtual Private Network to unlock the streaming platform, don't panic!
In the following lines, we will give you a guideline to follow in order to get there in 5 steps.
Subscribe to the offer of one of the providers we recommend at the end of the article (in our case, we picked ExpressVPN)
Install the application on the device(s) of your choice.
Select a server in the country you are interested in (if you want to access the US version of DAZN, you will have to choose a server based in the United States).
Connect to it in order to activate your protection and thus change your IP address
Once the connection is established, you will only have to connect to the streaming platform's website. That's it! You can now watch your favorite competitions as if nothing had happened 🙂
As you can see, no particular computer knowledge is necessary to achieve your goals. But if you have any questions about the process, feel free to leave us a comment.
And to prove to you the truth of what we are saying, we offer you this screenshot from Reddit users confirming that many ExpressVPN servers are working properly in order to unlock and watch DAZN programs.

In Which Countries is It Available?
DAZN is a company based in London which interestingly, isn't available in the United Kingdom. When it initially launched, it was available for Germany, Austria, Switzerland, and Japan, back in August 2016. In 2017, the platform was launched in Canada, as well as in the US and Italy in 2018, and Brazil and Spain in 2021.
To put it simply, the service is available for: Austria, Switzerland, Germany, Japan, Canada, Italy, United States, Brazil, and Spain. Needless to say, these countries' content may vary, depending on the location, as we mentioned before.
People using DAZN Germany can't watch the same programs as people in Japan, for example. The content we gave above includes everything that the provider offers but it doesn't mean you can watch all of it in every country.
For more specific info, we really advise you to go check out the streaming platform website.
Can You Subscribe to DAZN Using a VPN?
If you already have a subscription on this platform, you don't need to read this section. However, if you're planning to subscribe, take a good note of this. Using a VPN to buy a subscription on this website isn't going to work. This is because you need a credit card (or any other payment method) that is from one of the countries above.
So, you can use a Virtual Private Network just for unblocking and watching the content you've already subscribed to. If you're from, let's say Japan, you can subscribe to DAZN. Now, let's say you're traveling abroad. In this case, you can use a VPN from our list to access the content you've paid for.
But, if you want to subscribe to it, you can't do it out of Japan or any other eligible country. This is why it's very hard to get a subscription. Also, because of that, we already assumed that you've already subscribed to the service.
The Best VPNs for Unblocking and Accessing DAZN
Now that we got the most important stuff out of the way, let's see what are our choices for accessing and watching DAZN from anywhere in the world:
ExpressVPN
NordVPN
Surfshark
Let's review these providers and see why they're good for this and any other purpose.
1. ExpressVPN

ExpressVPN is our recommendation for accessing and unblocking DAZN. Much like any other provider that can unblock it, you can watch it abroad using servers from Canada, mainly in Vancouver, Toronto, and Montreal. In terms of speed, you know that this is the fastest provider, so you'll have zero problems streaming (no buffering AT ALL!).
Even the video content in 4K or higher resolution is always buttery-smooth. Their server count, although not the biggest, is still impressive as it gets. With over 3,000 servers in 94+ countries, you'll never experience a shortage of servers.
These servers are located in all the supported countries, so you can watch sports from any of them. Switching them is also easy, as the provider's apps are intuitive and easy to use. If you're using Chrome or Firefox, there's a browser extension for added convenience.
Security-wise, ExpressVPN doesn't falter. With 256-bit AES encryption, kill-switch, and DNS leak protection, the level of security is at its highest. Given their location in the British Virgin Islands, there's a zero-log policy, so no one can pierce through your privacy, meaning that even your privacy will remain a virgin.
All jokes aside, ExpressVPN offers second-to-none performance at a relatively affordable price. It's also the best VPN for Firestick. They offer a 49% discount and 3 months free for an annual subscription plan. And there's a 30-day money-back period if you don't like it, no questions asked.
2. NordVPN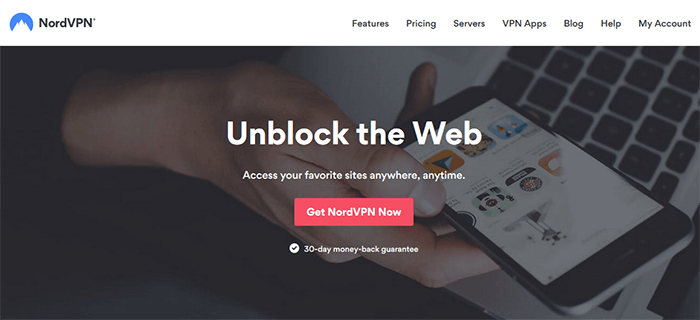 NordVPN is a provider you go for if you want zero compromises. It comes jam-packed with security features, of which some of them are simply amazing. One of these is Double VPN, a feature that filters your internet traffic through 2 servers, making it invisible to anyone trying to track you.
But, is it good for unblocking DAZN when outside the US? Of course, it is – otherwise, it wouldn't be on our list! With NordVPN, you can watch this service from Japan, Canada, and the USA. Aside from that, you get 5,400 servers worldwide in 60+ countries.
The provider offers very fast speeds, so if you're worried about your streaming experience, don't be. And if you want to watch Netflix, Hulu or HBO between your sports sessions, you can do that too.
NordVPN is available on every major platform, making accessing your favorite website a breeze on every device.
3. Surfshark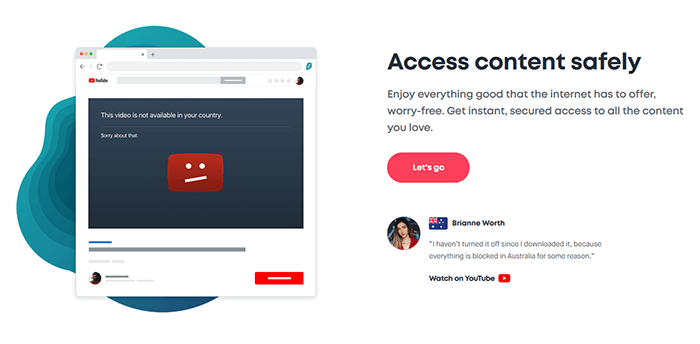 Surfshark is among the best providers in the world and it's not without a reason. The speed and reliability of this provider are unmatched by the vast majority of its competition. Offering 1,040+ servers in 61+ countries, you'll have zero problems accessing DAZN in some of the supported countries.
The provider offers a unique feature called Multi-hop. It allows you to connect to two servers simultaneously, which effectively doubles your security and protection. Furthermore, this provider stands out for its unlimited simultaneous connections, that not many providers offer.
Finally, there's 256-bit AES encryption and top-notch security protocols like P2P, OpenVPN, IKEv2, and many more. You get a full package for a minuscule monthly fee. What more to ask for?
Summary
With the increasing security measures of many streaming platforms around the world, it's easy to see why premium VPNs are the best. For accessing and watching DAZN anywhere when abroad, the best VPN provider is in our eyes ExpressVPN, hence we recommend it wholeheartedly.
ExpressVPN offers unlimited bandwidth and high speeds that no other provider can match. On top of that, it offers a huge discount, so it's more than affordable.
With its ability to bypass even the toughest geo-blocks, it's a perfect choice for a platform like this.