Imagine this. You wake up, find a video on YouTube of your favorite content creator, you click on it, and boom – Video unavailable: The uploader has not made this video available in your country. Why does that happen? Well, it happens for obvious reasons often called geo-restrictions. Geo-restrictions often plague numerous streaming sites and this platform isn't an exception. You may have already experienced it and didn't know how to solve it. But, in this article, we're going to mention a couple of methods to solve this issue in order to unblock, access and watch YouTube videos.

Why Does This Happen?
Many reasons stand behind this issue and the question on "how to unblock YouTube?". For example, if you're in your school or university, the whole website could be blocked.
Then, it doesn't matter what video you're trying to see – all of them will be unavailable for you or you wouldn't be able to access it at all. This is done to prevent distractions and improve the productivity of students, workers, etc.
In many cases, though, the reason why it's blocked is censorship. We all know about this issue that's the most prominent in China, Iran, and Malaysia, for example. In South Korea, for example, the website is accessible, although only some videos.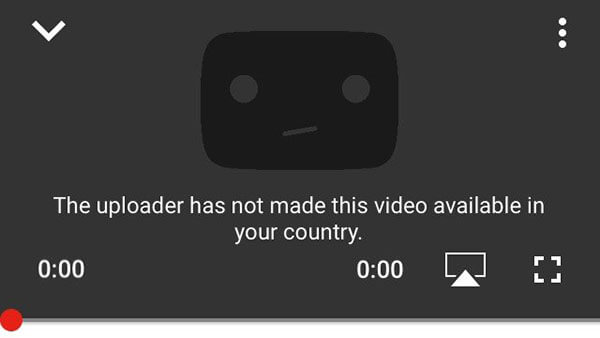 Now, what about YouTube restrictions on some of the videos? One video may be available for users in France and inaccessible for users in Germany, for instance. This can happen because of the copyright violation by the content creator in a particular video.
Because of that, YouTube blocks this video from being displayed in a particular region. The prime example of this is a television network that has a license for broadcasting only in the US. This platform will then prevent any user from abroad accessing it.
How to Unblock YouTube Videos?
As the problem appears for multiple reasons, there are also multiple solutions for unblocking and watching YouTube videos. Let's see our methods for unblocking videos on this platform.
And some are way better than others (as you're going to see right after!).
Use a VPN
You've probably seen this one coming. Virtual Private Networks are great for bypassing geo-restrictions and the best ones often come with some bonus features. This is done by connecting to a server in a country in which the particular video isn't blocked.
Since VPNs offer numerous security features, your ISP can't track you, meaning that you're accessing the website anonymously. It's easy to trick YouTube's firewall this way, as it will see thought you're accessing it from a different location.
There are some free VPNs that are good for this purpose, although we recommend only the premium ones (paid solutions). In case you consider using this method (our top recommendation), here are our 3 best picks:
ExpressVPN
CyberGhost
NordVPN
And here's why these 3 are great in the particular case of unblocking YouTube videos.
1. ExpressVPN

ExpressVPN is our top choice because of its jaw-dropping speeds and special features. Being able to bypass even the toughest geo-blocks, it's great if you want to watch DAZN anywhere in the world. And as many of you know, this streaming platform has some of the toughest algorithms for detecting a VPN, similarly to Netflix.
Speaking of Netflix, you can also unlock it with ExpressVPN. It offers 3,000+ servers in 94+ countries, making unblocking and watchin YouTube videos easy. On top of that, you can enjoy 256-bit encryption, DNS leak protection, and strict no-logs policy.
With a 49% discount and 3 free months for an annual plan, you can't go wrong with ExpressVPN. If you don't like it, there's a 30-day money-back period, so everything is covered.
2. CyberGhost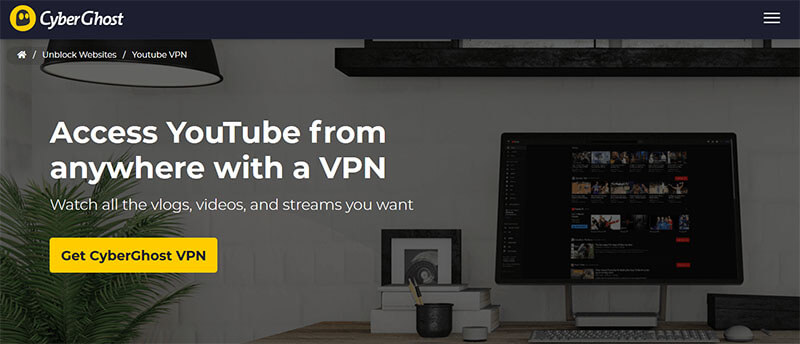 CyberGhost is a Romanian provider with 6,000+ servers worldwide. We like its intuitive interface, as well as affordable prices. Since you can protect up to 7 devices simultaneously, you'll be able to enjoy streaming videos on every platform at your disposal. This also means that you can unblock YouTube videos on each of them.
In terms of security, CyberGhost doesn't lag behind the competition, despite its affordable price. We still have 256-bit encryption, kill-switch, and DNS and IP leak protection. Also, the provider offers servers that can be used for different purposes.
For example, a server for streaming, browsing the internet… and unblocking YouTube (and YouTube TV) of course! This gives an enormous advantage over the majority of the competition. Now, you can use a server made especially for the purpose you need, so you'll enjoy your lag-free internet browsing experience.
3. NordVPN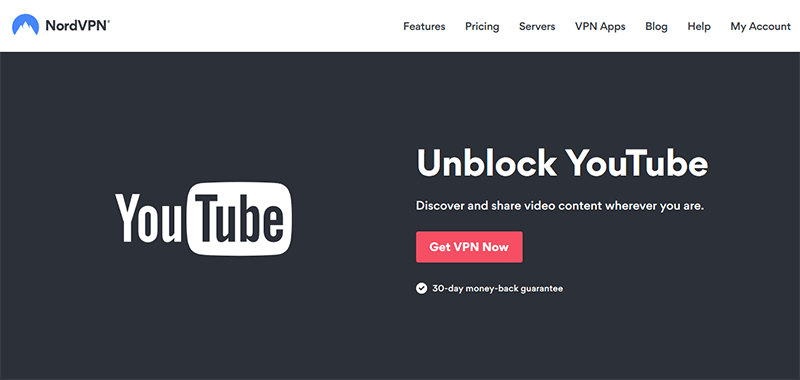 NordVPN is yet another affordable provide we always gladly recommend. This is because it's security-oriented, which is great for bypassing geo-restrictions and browsing the internet anonymously. Features like Double VPN and Onion Over VPN are great additions, adding an additional layer of security.
When it comes to speed, it's not the fastest provider, which doesn't mean it's bad for streaming. To be honest, 4K streaming is a piece of cake for NordVPN, as well as low-ping online gaming. Since it's located in Panama, you also get a no-log policy, so your browsing history will not be visible to your ISP.
All in all, this is an affordable provider that we often recommend to newbies. It's easy to use, has 24/7 customer support, and allows you to connect to multiple devices in your home.
Access YouTube via Proxy Server
If you don't want to pay for a VPN for some reason, you can always use a proxy server. However, be aware that this method is inferior to the one we mentioned above. Although it works similarly to VPN, you aren't going to get high-quality security features.
It works by filtering your traffic through the server, making it seem like you're in a different country. This allows you to pass geo-restrictions and firewalls but it doesn't encrypt your data. Of course, the government and your ISP can see the websites you visit and you're exposed to malware attacks.
Connecting to the proxy server is dead simple, which is why many people use it. You just type "proxy server" into your search bar, click on the first one you see, type in the address you want to visit, and you're good to go.

The annoying thing, though, is the need to refresh your proxy when you visit a new page. Not only is it time-consuming but it can also become very frustrating. To remedy this, you can set up your own proxy, which requires a fair bit of knowledge.
This way, you can access geo-restricted content without needing to reload the page every time. You can also do it easier if you install a browser add-on – ProxTube or Ultrasurf, for example.
Unblock YouTube Videos with Tor
Tor is an good solution for bypassing geo-restrictions. Many of you know Tor for its ability to access Onion websites, those found on the deep web. But, although it's possible to do it, it's not Tor's primary ability. Its primary ability is to access online content anonymously.
It's free for download – you just to run it as administrator on the device you want to install it. So, how does it work, then? Very simple. When you connect to the internet, your data is filtered through Tor's servers where it "bounces" through numerous relays before reaching the website you want.
This feature prevents ISPs and hackers from tracking your internet habits, similarly to VPN. However, your data, once again, isn't encrypted, so it will be visible when you leave the network. Furthermore, this browser is made for accessing websites anonymously, not for streaming.
Because of that, the speeds are very slow and if you're watching 4K or 2K content, don't expect it to buffer immediately. We suggest using Tor in conjunction with some of the VPNs from our list. This will maximize your privacy and security.
Modifying YouTube's URL
This method applies not only to YouTube but also to other websites. Many times, network administrators block use the URL to block a particular website, e.g. to add it to a blacklist. If the administrator typed "Http://youtube.com" when he added it to the blacklist, you can type "Https" instead of "Http" to unblock the video you want to watch.
Beware that this method works rarely and when it does, it's only for the local networks. Videos that are blocked by geo-restrictions can't be accessed this way.
Download Videos Using Online Downloaders
If you want to watch videos even offline, you can consider using some of the YouTube downloaders on the internet. Typing this into your internet browser shows dozens of them. However, not all of them work flawlessly, so you'll need to do a bit of research and see what works for you.
Given that you'll need only the video's URL, it's not a problem. Type the name of the video in your internet browser and you'll see it among the first results. Copy just the URL and paste it into your downloader. Press Enter and download it in the desired quality (480p, 720p or more).
Although the method isn't the fastest, you can still download and store videos on your device, to watch them later. You aren't going to unblock the website with this method but it works fine if you don't have any other options.
Summary
YouTube is a great platform for watching videos, listening to music, and even some live streams. But, it's not without its flaws. Even this website has numerous geo-restrictions and firewalls, preventing its users from accessing and watching some videos from their favorite content creators.
For our team, the easiest way to bypass these restrictions is to use a VPN. It will make your connections secure and private, meaning that your ISPs can't track it. On top of that, since it allows you to connect to servers located worldwide, you can bypass even the toughest restrictions.
But, not every provider can do that. And because of that, our favorite provider is ExpressVPN. ExpressVPN is perhaps the most powerful VPN in this regard. It can unblock the most popular geo-restricted platforms, even including Netflix and DAZN… and of course YouTube!

To us, the choice is more than obvious, except if you don't want to use it. Other options are only short-term solutions, so we're less likely to recommend them.