ExpressVPN is a leading Virtual Private Network provider in the field, offering a range of plans suitable for everyone. It is one of the most popular out there for numerous reasons. We are undertaking an in-depth review of ExpressVPN, looking into all aspects of the provider and what it offers. We are leaving no stone unturned, including looking into the devices supported, the pricing and plans, the unconditional money-back guarantee and some of the many features offered. So, without any futher ado lets move on with our comprehensive ExpressVPN review.

What is ExpressVPN?
ExpressVPN International Ltd is a company registered in the British Virgin Islands. The provider started offering Virtual Private Network services in 2009 and has gone from strength to strength.
Being located in the BVI the company is out of the watchful eyes of the intelligence sharing agencies. The provider has undergone independent audits looking into the security policies and no-log policy, with the most recent being undertaken by one of the leading independent auditors.
Today it is the choice of millions who take online security seriously. The premium provider offers one of the most secure Virtual Private Networks consisting of state of the art encryption, leak protection, Kill Switch and thousands of optmised servers.
Plus, it has one of the best 30-day unconditional money-back gurantees of any provider, which can be considered it a long trial So you have nothing to loose as you will see later on in our review.
Compatible devices and ease of use
ExpressVPN supports a comprehensive range of devices from the standard offerings for Windows PC, macOS, Linux, Android, iOS, Apple TV, Firestick to routers for devices not supported by native apps.
Computers (Mac and Windows)
Subscribing is easy as all that is needed is your email address and your choice of payment. These include credit card, PayPal, Bitcoin and several other options as you can see from the screenshot below.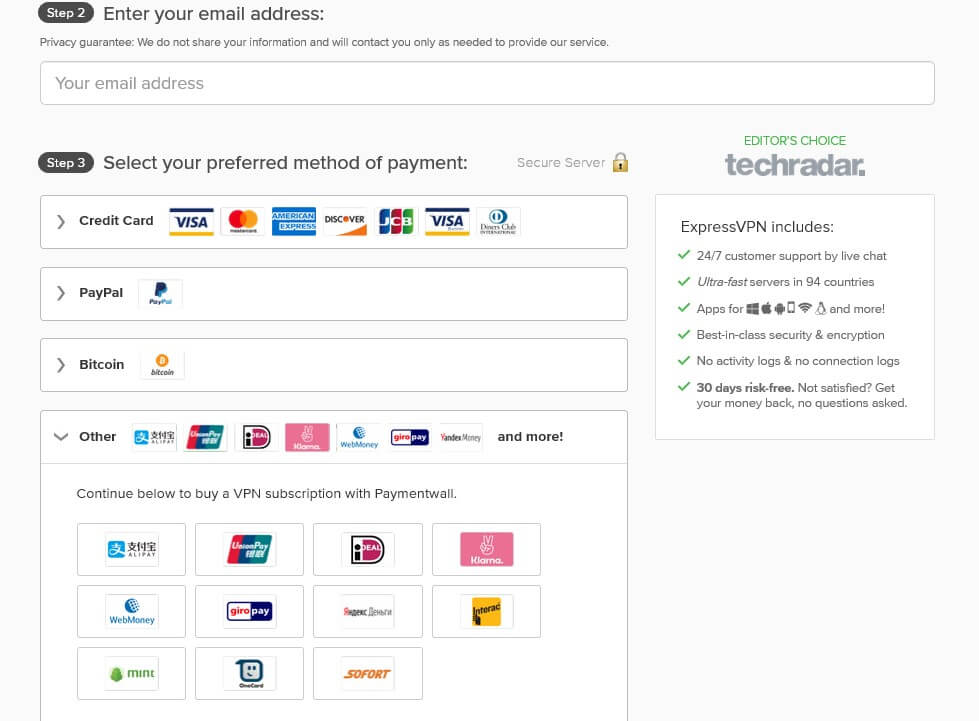 When starting the installation, ExpressVPN asks to set up a password, to use with the apps and on the website.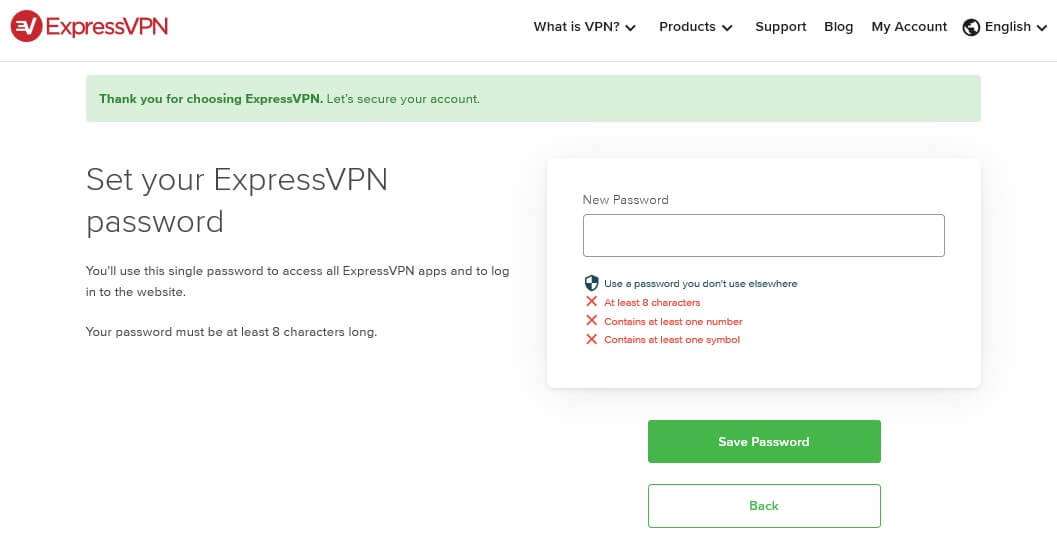 Following this, we were taken to a page offering the chance to download apps for numerous devices. It is important to copy the activation code given and paste it when prompted. On launching the downloaded app, the installation process begins.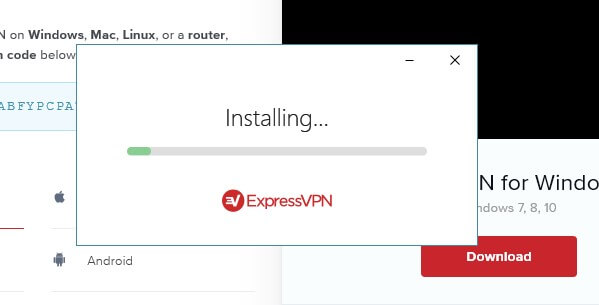 Once the app installed it asked for the activation code, which we copied and pasted at the time of sign up. This can also be found in your dashboard on the website.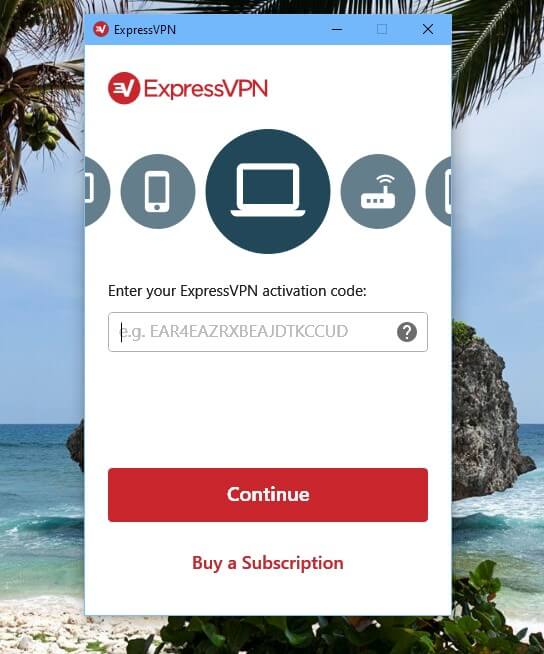 The app asked if we wanted to run the VPN at startup and take part in improving, so we made our choice and clicked continue.
On the next screen, the dashboard offered a choice of servers. We clicked on the "…" icon to the right of the server name to choose from a wide range.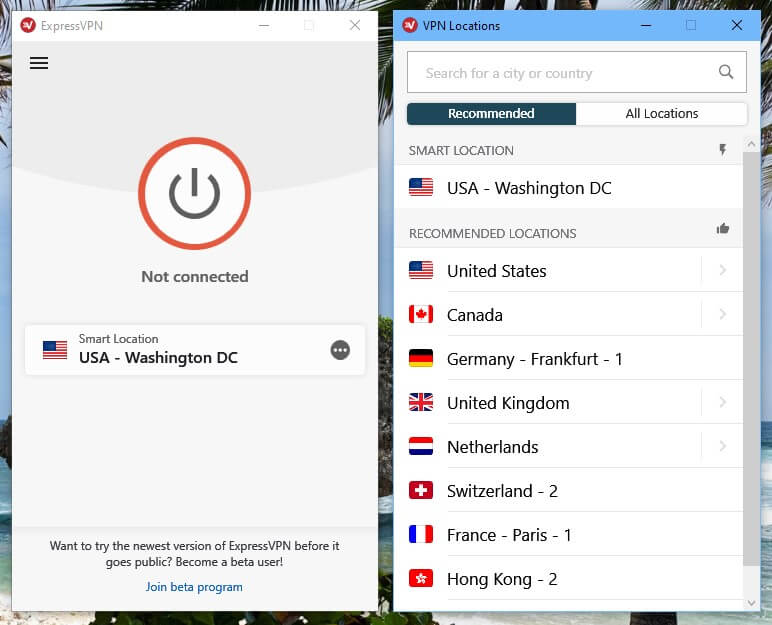 Finally, a click on the red button turned it green after connecting and the app showed we were connected to the server.
The whole process from downloading to installing and connecting to a server took just minutes.
Smartphones and Tablets (iOS and Android)
For this ExpressVPN review, we also decided to install the app on an Android device. A simple search on Google Play found the app with no problem.
Get ExpressVPN on your Smartphone >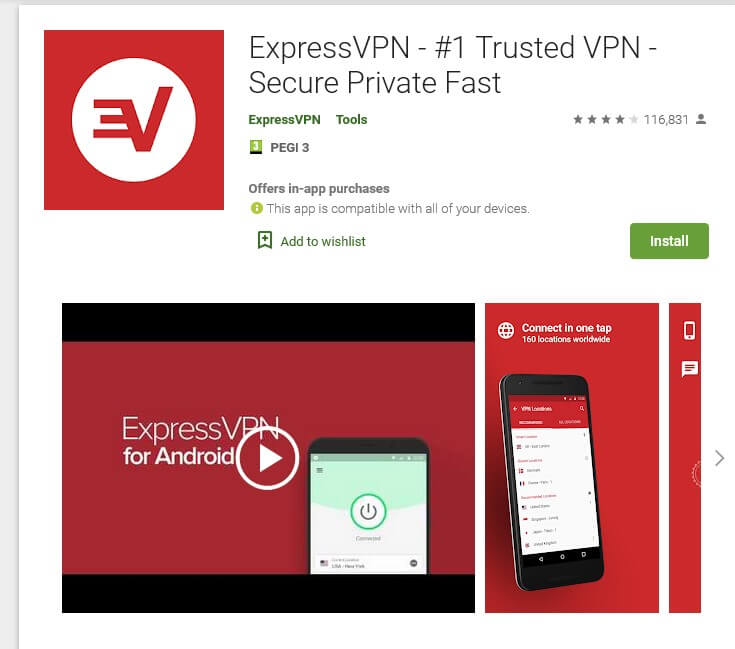 It was equally as easy to set up the app on Android as Windows. After installation, a window pops up asking you to complete the configuration. Just click on the OK button to continue.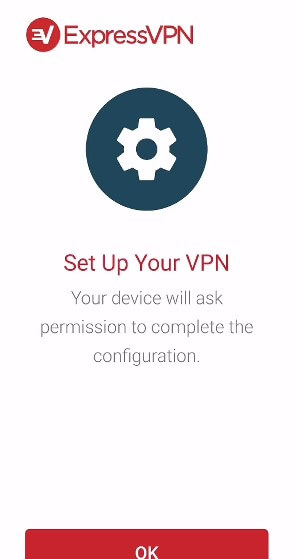 Next, the dashboard opened with a choice of servers and all that is needed is to choose one and connect using the button.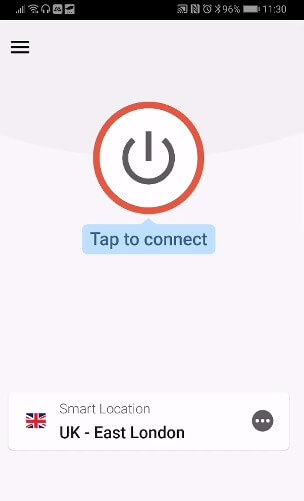 Other devices
We were pleased to find that ExpressVPN supports a huge range of devices including browser extensions (for Firefox AND Google Chrome), Fire TV, Kindle, Xbox, Apple TV and router.
If there isnt a native app for your device you can install the VPN on a compatible router. Note that there is a detailed guide showing you how to do so if needed!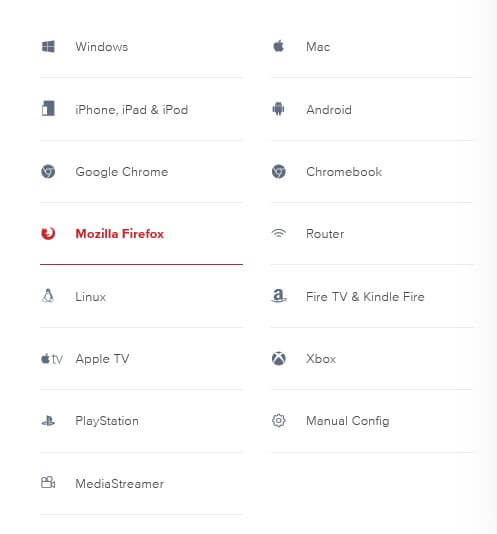 Our analysis of the devices and setup part of this review is that ExpressVPN have made it is as easy as possible to setup the VPN on devices. Or at least on the ones we tried.
How fast is ExpressVPN? We checked its speed!
When connecting to a VPN server you are going to see some drop in speed. This is to be expected.
Bear in mind that providers encrypt your data before sending it over the internet and this is bound to have a slight effect on speed.
Other things that can affect speed are your device and the distance you are away from the server. Generally, the best speeds are obtained by choosing a server closest to your location.
The drop in speed can vary between providers by as much as 10% to 80%. ExpressVPN takes pride in offering blazing-fast servers, with only a slight drop. During this in-depth assessment, we found this to be very true!
Enjoy blazing-fast speed with ExpressVPN now >
In this complete ExpressVPN 2021 review, we ran three tests in the morning, mid-day and evening using three different locations. Tests were made using the OpenVPN protocol for additonal security. This included using the "best location" offered by the provider and for the none-VPN test, which is our typical speed in the US, with a download speed of 250 Mbps on average.
The three locations in the screenshots below show the speeds in the US (best location), Germany and Australia.
You can find out speed feedback below in the screenshots.
US (New Jersey) server : 17 ms / 247 Mbps / 139 Mbps


Europe (Germany) server : 81 ms / 193 Mbps / 130 Mbps


Australia (Melbourne) server : 246 ms / 105 Mbps / 49 Mbps


How good is ExpressVPN for Streaming?
One of the main reasons people use a VPN is to bypass geo-restrictions and censorship when abroad and stream favourite shows. However, not all providers have what it takes to bypass the strict blocks of Netflix, one of the most popular streaming platforms.
Netflix uses high-security measures to determine whether you are using a proxy or VPN and if so blocks access.
With this in mind in this part of this ExpressVPN in-depth review for 2021, we connected to a US-based server in New Jersey and headed over to Netflix.
As you can see from the screenshot below we had no issues in signing in to our account and could access the full catalogue of content. You can even get access to the Japanese catalog of Netflix thanks to ExpressVPN!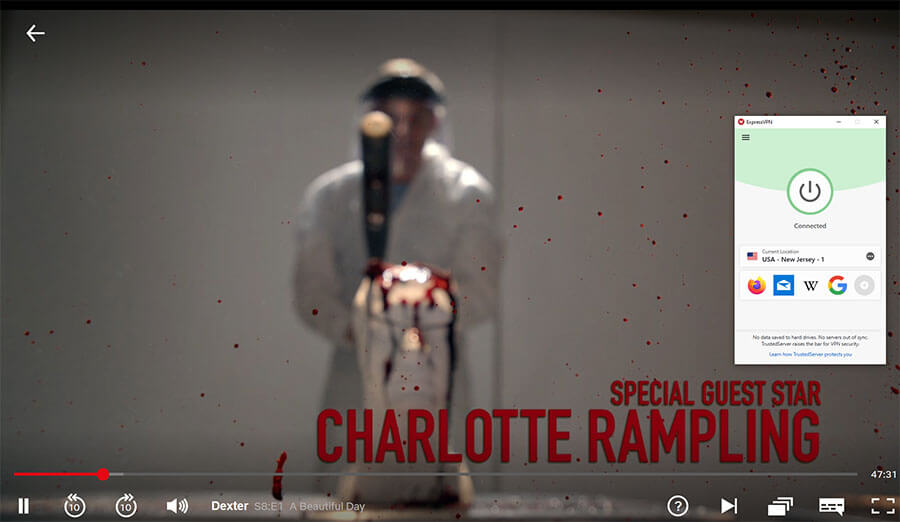 Our next test was streaming from BBC iPlayer using a server in East London (UK).
Unlock all Netflix catalogs with ExpressVPN >
Again, there were no issue. We were able to stream from the site without any issues, no lags or buffering.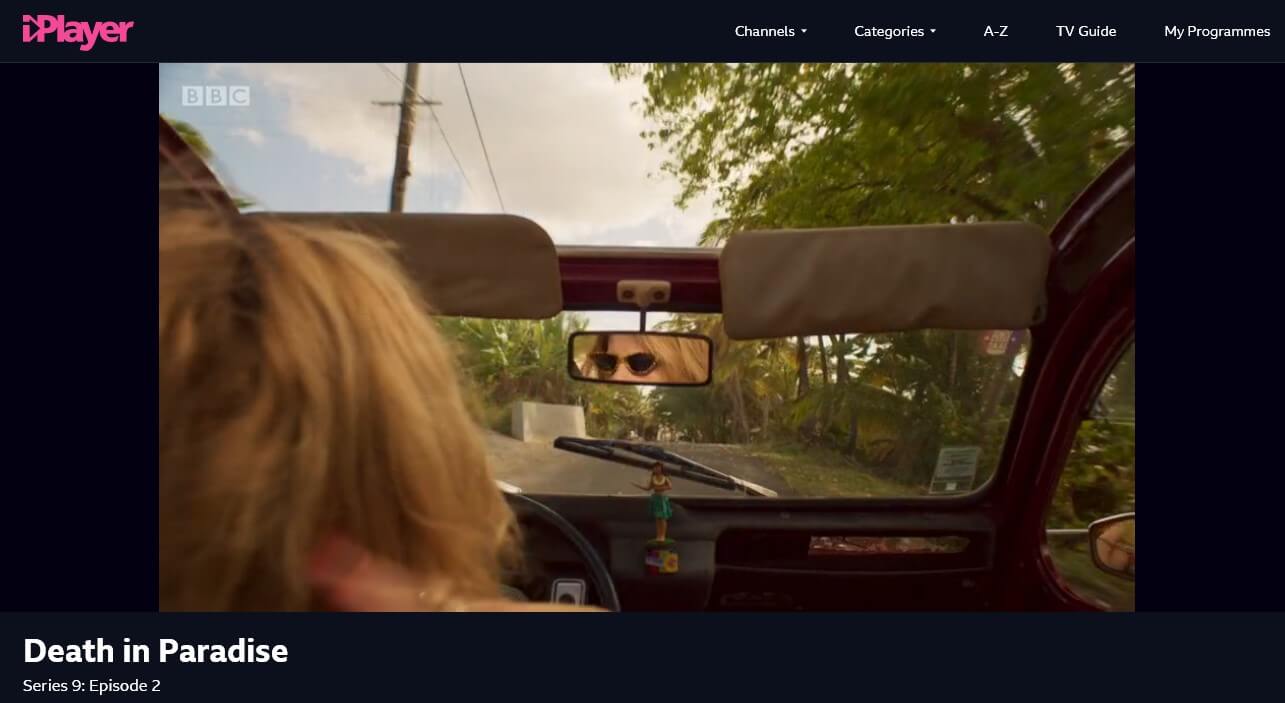 In fact, you can unblock and stream just about any streaming service using ExpressVPN. This includes such as Amazon Prime Video, Disney+, Roku, HBO, DAZN, Hulu and many others.
The provider passed our extensive streaming tests and we are pleased to say that it comes out on top regarding this aspect. Of course, the blazing-fast servers do go a long way towards enjoying streaming content in HD without buffering or lags.
Confidentiality, security & logs
In this part of our in-depth ExpressVPN review, we wanted to check out the security aspect offered by the provider. So, here we will delve into the privacy policy, check for leaks and take a look at other security matters.
Does it hide your true IP address?
For this part of our comprehensive assessment, we connected to the USA, which is halfway around the world from our actual location. We then tested to find out if our true IP address was masked and indeed, it was.

DNS leaks
The next evaluation was to test if there were any DNS leaks. Note that there is a tool on the ExpressVPN website that allows you to do so easily.
As you can see from the screenshot below it showed that we were connected to a server in Washington DC USA and all requests went through the encrypted servers with no DNS leaks detected.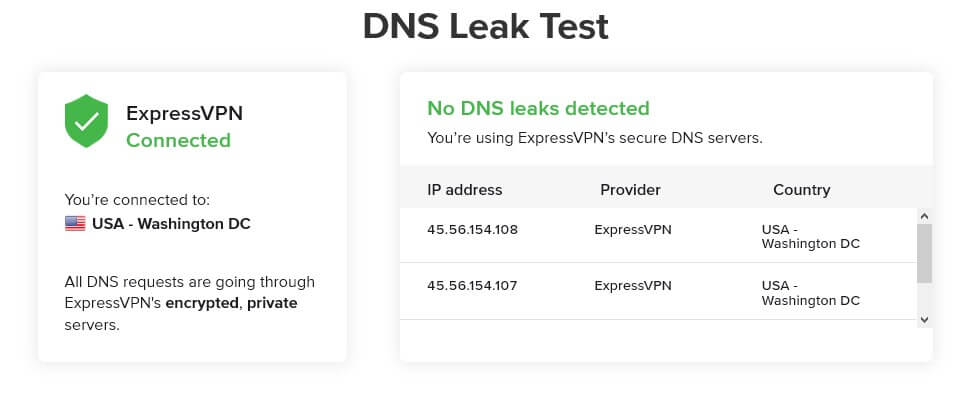 This meant that no information was leaking outside of the encrypted tunnel. This shows that ExpressVPNs military grade encryption using the OpenVPN protol works superbly to keep you safe online.
No-log policy
A VPN provides anonymity, so how good is the privacy policy of ExpressVPN? Is it safe to use?
ExpressVPN states in the privacy policy that they do not collect or log. And to confirm it, the no-log policy have been independently audited by one of the leading auditors.
Benefit from the no-log policy of ExpressVPN >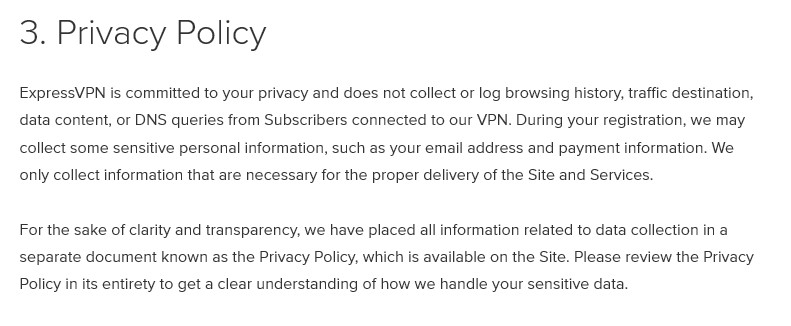 The provider does not collect browsing history of users, destination, the content of data or DNS queries. It also does not log connection logs, IP addresses, connection timestamps or how long users use the service.
ExpressVPN is also transparent has it has made the full privacy policy available to users on the website and it is very detailed.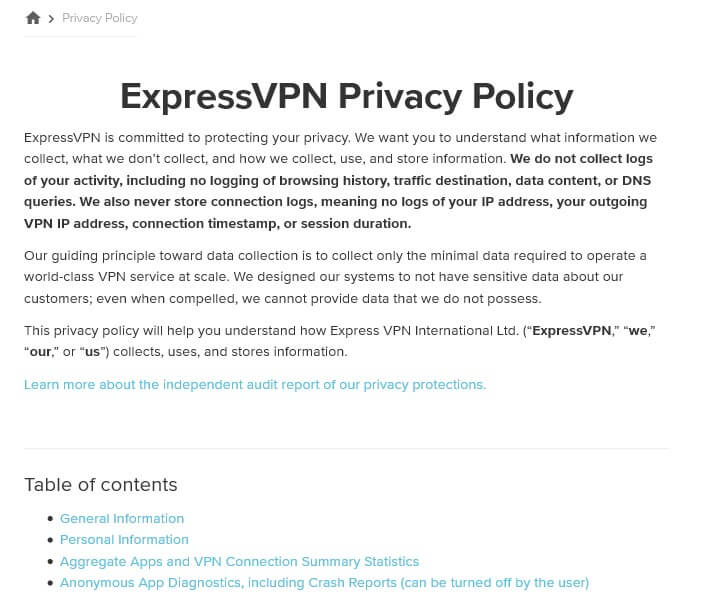 The provider does collect email addresses and payment information solely for opening an account to collect payment. However, you are given the option of using Bitcoin.

All-in-all, ExpressVPN offers a secure and confidential service with total transparency. Which is always a good news when reviewing a provider!
Can I do torrenting safely with ExpressVPN?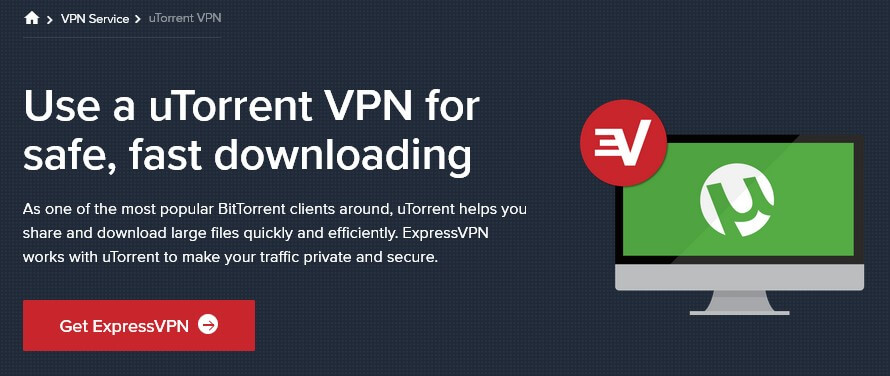 One use of a VPN is to hide the fact that you like to download torrent files on your computer. This is possible by hiding your true IP address and putting an encrypted tunnel between you and the internet so the ISP cannot find out what you download.
Torrent securely using ExpressVPN >
With the experience that we have had during the realization of this review and test, we can say that ExpressVPN is a good choice of provider as it offers numerous security measures to stop ISPs spying.
As you can see from our screenshot below we had no trouble in downloading a torrent file using one of the popular torrent clients.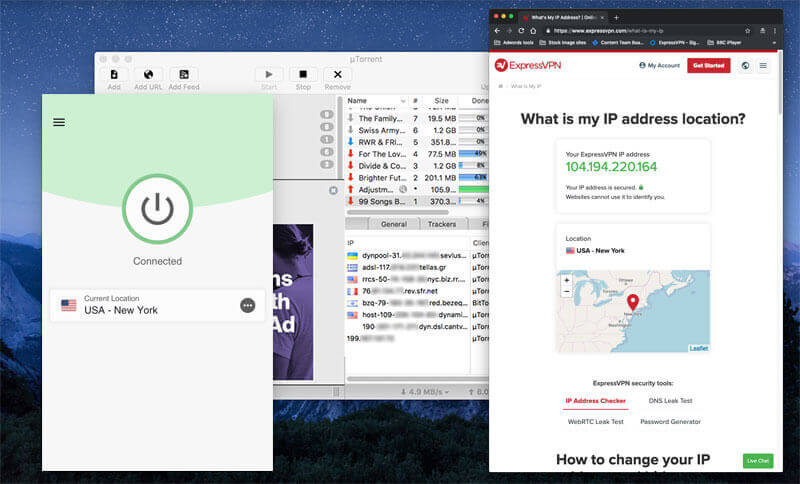 We were also safe in the knowledge that the provider was masking out true IP address so the location could not be exposed to other users.
To ensure there was no risk of the ISP finding out we used the Internet Kill Switch offered by the provider. This made sure that in the event we lost the connection with the server all traffic stopped.
Another security measure for those who do like to torrent is the fact that the provider does not log how you use the service.
ExpressVPN also offers detailed and in-depth help pages for using the VPN alongside uTorrent, a popular choice of torrent client. Finally, you should know that in our eyes, it is the best VPN usable on Popcorn Time.
Can I use ExpressVPN to bypass censorship?
While the internet is not restricted in many countries around the world, some countries have a strict approach to what you can and cannot see and do online.
China, for instance, is one of the most repressive countries with high censorship.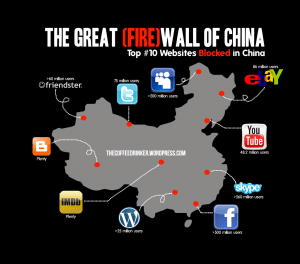 Numerous websites and apps are restricted in the country, including Google Maps, Mail, Calendar and more. Facebook and other social media websites are banned along with YouTube and hundreds of more sites and apps.
The government in China even came up with the Great Firewall of China. The firewall uses legislative actions along with the latest technology to ban anything the government does not want people to see.
Thankfully, ExpressVPN is one provider that works in China and it can bypass the Great Firewall giving you safe access to blocked sites and apps.
China is by no means the only high censorship country. The UAE, Turkey and Russia are among the countries that place restrictions on what websites and apps you can visit. Again, this VPN helps you to overcome those restrictions.
However, if you are visiting a strict censorship country it is wise to sign up, download and install the app before leaving your own country as even VPN sites are blocked.
Plan prices and options
Pricing and plan options are the next category in our complete review of ExpressVPN. How much does it cost?
Three different pricing options on plans, all of which come with the same superb features, plus, the standard money saving offer which means you do not have to search for coupons, discount codes or promos.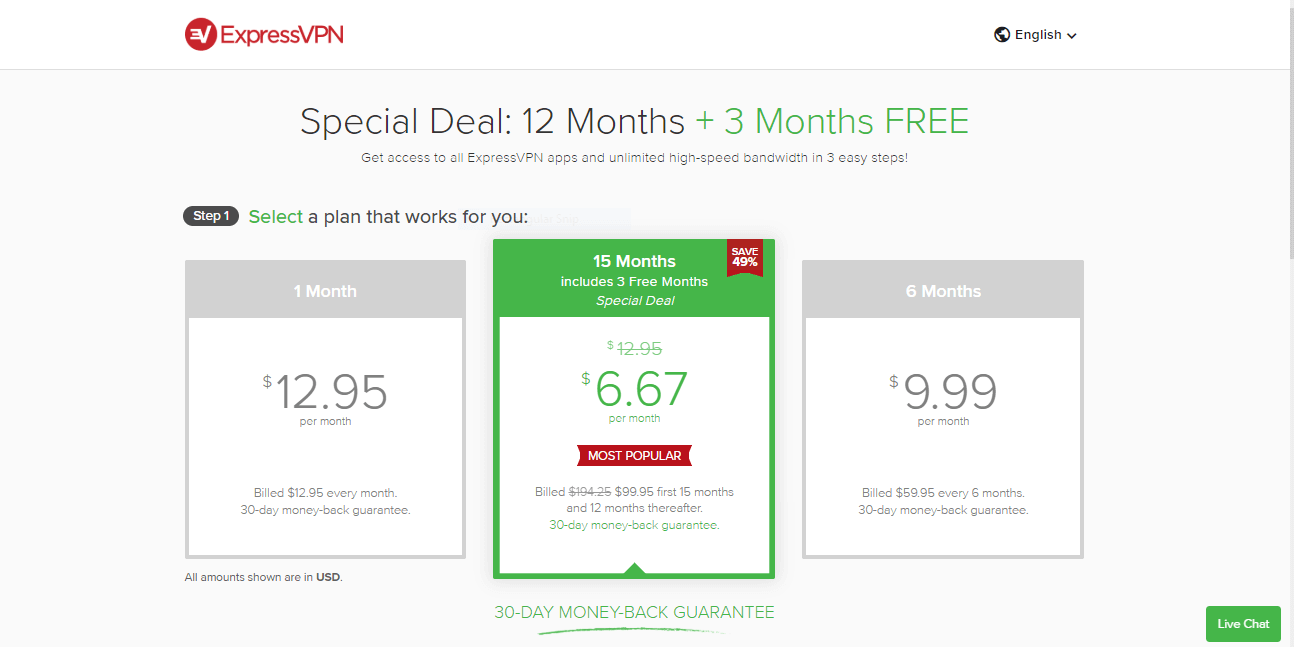 The biggest savings are offered by taking the 12-month plan, which also gives you three-months free making it a total of 15-months.
You can make savings of 49% this way, which is a big discount, as the plan is the equivalent of $6.67 per month. This is billed every year at $99.95.
Save 49% with the 1-Year Plan from ExpressVPN >
If you do not want to commit to a yearly plan there is a 6-month plan available for the equivalent of $9.99 per month, billed $59.95 every six months. Alternatively, you can pay month-by-month for $12.95 per month.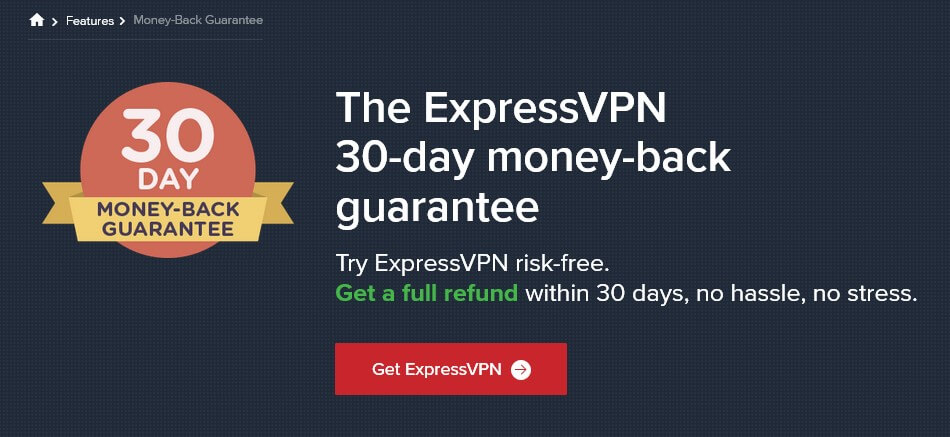 Obtaining a refund
All plans are offered with an unconditional 30-day money-back guarantee, with no questions asked so it is easy to cancel the plan. You could look at this as a type of trial, try it out for up to 30-days then request your money back. So how does this work?
The guarantee lasts for is an exact 30 days. For instance, if you purchased a plan on January 1st you can claim your money back at any time within the next 30 days, so up to the 30 January.
You can contact customer support via the live chat option at the bottom of the website to start the process of requesting a refund and cancel your account.
It took just seconds to ask how to get a refund and the customer service put in that request for us.
Customer service told us that our refund through PayPal would occur within 5-7 business days. However, it took just two days to receive the full refund. Which is very impressive!
At the same time, We cancelled automatic renewal through the dashboard settings page so it did not try to renew after the 30 days.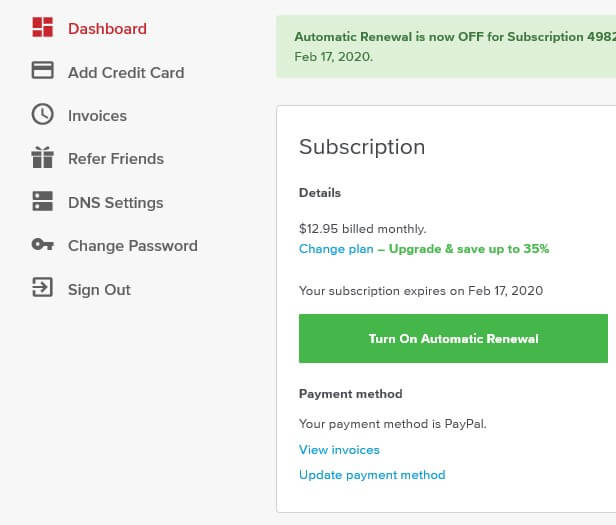 How can I contact ExpressVPN?
ExpressVPN offers plenty of support options including troubleshooting guides, email, and popular support topics, installation guides and live chat. There is also the option of submitting a support ticket.
Without any doubt, the live chat is the quickest way of obtaining help and advice. There is a button at the lower right side of the website, which takes you directly to customer support.

As mentioned above in the refund part of this comprehensive ExpressVPN review, it took just seconds for someone to respond. In fact, We had only just typed the question and sent it when someone replied.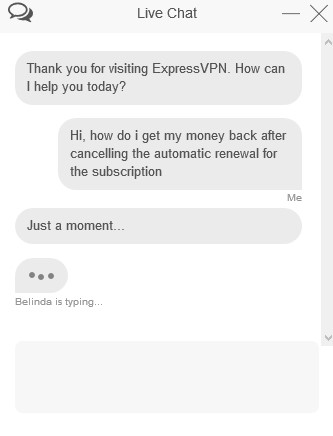 The assistant was courteous and knowledgeable and within seconds had everything worked out.
Equally impressive was the large range of in-depth video tutorials available on the website. These covered everything from setting up the app on Windows to changing the proxy settings in Chrome and many more. There are also plenty of detailed written installation guides.
We had no reason to check out the email, ticket or any other options for support thanks to the extremely fast reply using live chat.
The special functionalities
ExpressVPN offers two superb functions; these are split tunnelling and a speed test.
Split tunnelling
Split tunnelling is a useful feature if you do not want certain apps using the VPN.
To use this feature, you can enable it from the dashboard by clicking on the three lines at the top left of the app. Click on options and then tick "Split tunnelling" under its heading.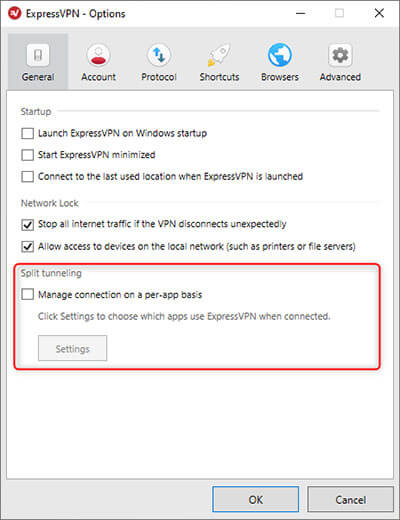 You can choose to allow all apps to use the VPN connection, restrict apps from using the VPN or only allow apps you choose to use the VPN.
Speed test
The speed test tool is accessed by clicking on the three lines at the top left-hand side of the app and choosing "Speed test".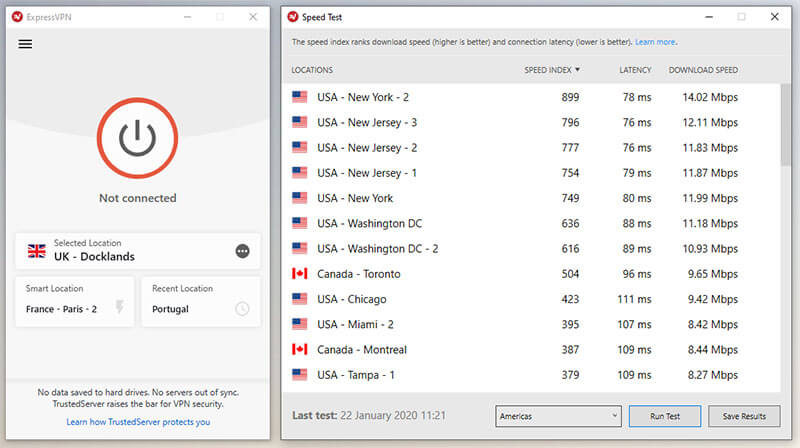 This tool gives you an insight into the download speed of a server along with latency and speed index. Of course, the higher the download speed the better and the lower the latency the better for downloading and streaming.
You can run the test based on recommended locations, Asia Pacific, Europe, Americas, Middle East and Africa or all.
Other things you should know
In this section of our ExpressVPN review, we are looking at everything else you need to know. This includes the number of servers offered, the countries supported and how many simultaneous connections you can have.
Number of servers
If you want access to a huge number of servers, you are not going to be disappointed.
ExpressVPN offers access to many thousands of servers spread out in numerous countries around the globe in 160 locations.
Access thousands of servers with ExpressVPN >
Using the app servers can be chosen based on recommended or you can browse all locations. Simply click on the three dots to the right of the server name to search or choose a server.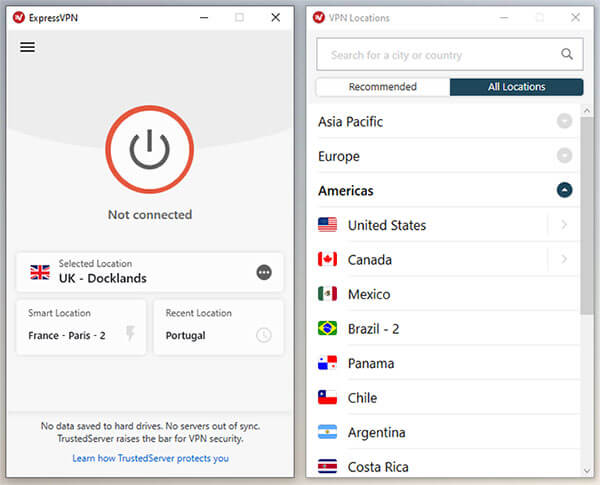 Clicking on the arrow at the side of the name takes you to another list offering regions. To connect to a server just double click on the server name.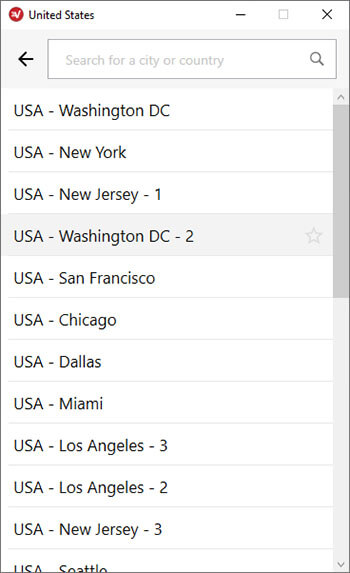 The app will connect you to your chosen server.
Number of countries
ExpressVPN offers servers spread out in virtually every part of the world. In total, more than 94 countries are covered.
In the Americas, the Bahamas, Brazil, Columbia, Mexico and the US are just a few of the countries covered. Over in Europe, servers are located in Austria, Belgium, Denmark, Greece, Italy, Spain and the UK, along with hundreds more.
The Asia Pacific is covered with servers including Australia, Hong Kong, India, Malaysia, South Korea, Vietnam and many more.
The Middle East offers servers in South Africa, Egypt, Israel and more.
Number of simultaneous connections
A single plan can be used on up to five devices simultaneously. This means that all of the family can use the same plan (at the same time 😉 ).
What do other users say about ExpressVPN?
You do not have to take what we say in our ExpressVPN review as being gospel. Many other people out there agree the provider is among the best. Over the years it has gathered many superb reviews from websites including Reddit, TrustPilot, Google Play Store and more.
One user rated the provider five stars on Trust Pilot talking about the superb no-log policy and stability. This is something that we happen to agree with, as ExpressVPN is one of the most transparent providers out there. In the past it has been independently audited by the best.

One Android user commented on how easy the VPN was to set up. Along with use on multiple devices while offering fast connections speeds. Again, something we found to be true during our ExpressVPN 2021 review.

Conclusion: should you take it?
If you have managed to stay with us to this point of this comprehensive and full review of ExpressVPN we applaud you.
In our experience, the provider is simply the best on the market, despite it not having the cheapest prices. It offers a huge choice of servers and locations, blazing-fast speeds and has great feedback wherever you look online.
While it may not be the cheapest provider the service and features offered are well worth the outlay. Not to mention the reliability and great customer support.