Millions of people in Ireland and the UK choose Paddy Power, including Monkey, as it is one of the most popular bookmakers both on the high street and online. If you are reading this, it is probably your choice of an online bookmaker and you have found that you cannot access the site. In this case, you will be wondering why Paddy Power is blocked in your country? You may also be wondering if there is anything you can do about it in order to unblock and access the website to bet online when abroad. Well, let's take a look.
Why you cannot bet in some countries?
Depending on the country you are located in will depend on whether or not you can use the bookmakers to place online bets.
You might have signed up for an account in your home country of the UK or Ireland but this does not mean you can use your betting account on Paddy Power when you travel outside of these countries. You might find you are able to access the site but with restrictions or it might be blocked completely. On the other hand, you might have heard about the online bookmaker and want to try it out in your home country outside the UK or Ireland and cannot access the site.
Restrictions are generally placed due to legal issues. These include the laws of each country and the legal policy of the bookmaker.

Just because betting, in general, is legal in a country, it does not necessarily mean that you can use your favourite bookmaker. For instance, when Monkey travelled to the US, a country where betting is generally allowed, the bookmaker cannot be accessed.
The United States is not the only country restricted; other countries include Turkey, Germany, Spain, Portugal, Italy and Bulgaria, to name a few.
Of course, if you are reading this you will have found Paddy Power blocked in your country, but how are blocks enforced?
Your IP address determines restrictions
When you visit a website, the IP address of your device is noted. This tells the ISP the country in which you are located.

If the IP address is matched up against a country where the bookmaker cannot legally operate, it is blocked.
Is there anything I can do about it?
If you have found Paddy Power blocked in your country you might be wondering if you can get around the restrictions and use it abroad.
Unblock Paddy Power abroad with ExpressVPN >
While there is no guarantee you can unblock access, and it may go against the rules of the bookmaker and country, you might want to look into using a VPN.
How a VPN may help to unblock Paddy Power?
There is no law against using a VPN and there are many uses of a Virtual Private Network, with unblocking restricted sites being just of them.
In this instance, the VPN may be able to help you unblock the restricted site in two ways.
First, when you connect to a server it masks your own IP address and gives you one from that server. For instance, you can choose to connect to a server in the UK and you will take on an IP address from that part of the world. The ISP now believes you are located in the United Kingdom.

Second, you are behind a virtual encrypted tunnel. This means any information you send out onto the internet is encrypted and cannot be read. If the ISP cannot read what website you want to visit, they cannot block it.
How to bypass restrictions?
If you choose to go down this route to bypass the blocks, you can follow the steps below. It is wise to sign up and install the VPN app before travelling outside of your own country.
1. Choose a VPN
Not all VPNs are equal when it comes to bypassing geo-restrictions and censorship so you do have to choose a provider carefully.
ExpressVPN, NordVPN and CyberGhost are three good choices of provider you should consider.
2. Sign up for a plan
Providers offer various plans with different pricing structures. For instance, if you choose ExpressVPN you can get a great deal on a plan by going for the 12-month plan. In total, you get 15-months as the provider offers three free months. You also save 49% on the cost of the plan.
3. Choose apps to install
Providers support a range of devices, with Windows, macOS, Android and iOS all being covered.
You can install as many apps on different devices as you want to take full advantage of the VPN.
4. Launch the app and choose a provider
When you have installed the app, you can launch it and sign in to your account.
Choose a server located in one of the countries where it is legal to bet using Paddy Power. Regarding this, you can find a list on the bookmaker's website.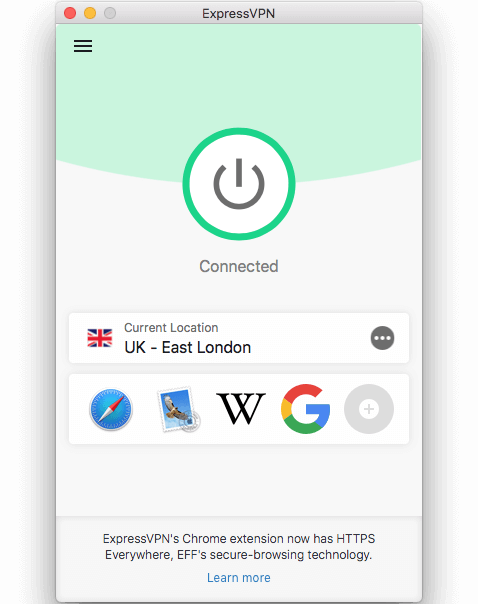 Connect to the server (we've chosen one in the UK in this case) in order to mask your IP address while enjoying anonymity behind an encrypted tunnel.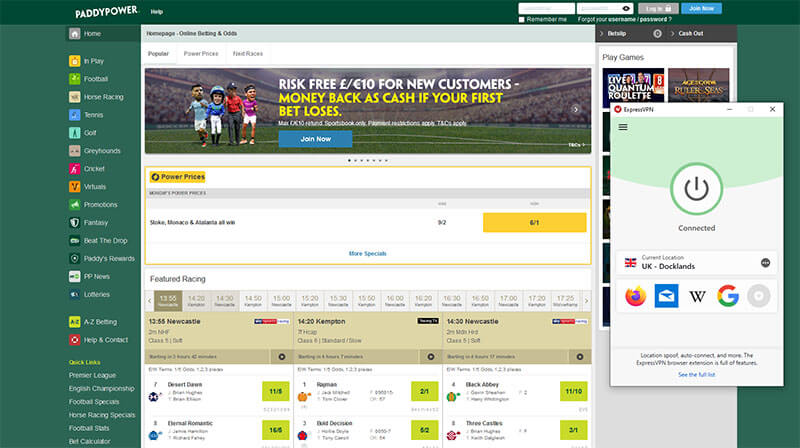 To summarise
So, you now know why Paddy Power is blocked in some countries, along with a solution that may lead to being able to overcome the restrictions and still bet online!
Using a VPN, you may be able to unblock the bookmaker abroad and use it to place bets. Of course, you can also use the Virtual Private Network in a whole host of different ways.
Unblock betting site while outside of your country >
You can use it to unblock streaming websites such as Netflix and Amazon Prime Video. It can be used to secure your personal data, torrent in safety and save money when using comparison websites.