The United States seems like a perfect country for free internet access. You get Netflix, Disney+, HBO GO, DAZN, and lots of popular streaming platforms. However, when it comes to torrenting, things are much different. Those who've never used a torrent client before probably don't know what we're talking about. But, we are here to talk about the DMCA or better said, to clear all the doubts about it. Before engaging in P2P activities in the US, we strongly suggest that you read this article to the end in order to do torrenting safely and anonymously.

What is DMCA?
Before talking about the solutions for avoiding it, we need to see what does this abbreviation means. It stands for Digital Millenium Copyright Act, and it's a law implemented in 1998. Essentially, its main function is to protect the copyrighted material from being distributed online, in any way, shape or form.
This means that everyone who streams, uploads or downloads copyrighted material is oppressing this law. The legislation is so strong, that it can issue a takedown notice to even powerful companies. For example, Google can receive this notice if the material they use violates Fair Use policies.
Of course, if you're caught doing the same, you can also be in this ballpark. And what's torrenting if not downloading copyrighted material? Some will say that it's not always the case, however, this law doesn't care and will, in most cases, punish you for torrenting regardless. That is why you need a way to "avoid" DMCA efficiently.

Interestingly, Internet Service Providers (ISP) are allowed to "cheat" on this law a bit, under the Safe Harbor Act. This act says that the ISP is never responsible for something its clients can do on the internet – download, upload or stream copyrighted material.
How Does it Work?
When you violate copyright, your ISP gets a complaint from the individual or corporation about this. Then, your ISP is obligated to send you a notification to your address. They aren't responsible for this, as we said, so their only choice is to contact the person who violated the Fair Use policy. As mentioned, you can receive this when downloading, streaming or uploading.
The worst thing is that many streaming websites fetch their material from illegal sources. So, if that website is legal and its source isn't, you can still get punished.
Funny how that works, right?
After that, nothing happens. You don't receive any warrants or police visits. Instead, you get a notice that includes the following:
The material you've used illegally
Name of the individual or company that owns the material
Time and date of the violation
Your IP address at the time of violating copyright
The section of the DMCA that you've violated
In most cases, this will be the Copyright, Act, Title 17, United States Code Section 106(3). This segment is called the Exclusive Rights of Copyright Works and applies to all audio and video copyright violations.
How to Handle DMCA Notice?
What to do when you receive a notice from the Digital Millenium Copyright Act? We can't give the exact answer to this question. After all, depends on your ISP and the company that issued a notification about copyright infringement.
Some companies will fine you for what you did. In this case, it's VERY important to check if the notification is real. Some people will fake the whole situation to profit because fines are usually very high, depending on the severity of the situation.
To make sure that you aren't a victim of any dirty schemes, check the name of the company online. Furthermore, check its website and do quick research, to avoid giving your money away for nothing. The best solution, however, is to give your ISP a call and ask them.
This will clear any doubts in a minute or two. Also, it's important to mention that not all Internet Service Providers will punish you immediately. Some of them allow you a certain number of infringements before introducing sanction e.g. blocking your internet access.
Many know this rule as the "six strikes." It means that you can violate the DMCA six times before you get fined. Still, it doesn't have to be six. Some ISPs allow more, some allow less, and some will punish you right away. And in any case, know that there is a simple and effective way to avoid DMCA. We explain this to you in the following paragraph 😉
How to Avoid DMCA Notice?
If you've ever been in legal issues with the government, you know how exhausting it is. Not only will you receive a hefty fine but also the risk of getting a jail sentence. The government is the most powerful entity in the country, so avoiding any conflict with it should be your top priority.
Now, this begs another question – how to avoid this kind of problem? We say that you should use a VPN on your PC or any other platform. However, we accentuate PC because you're doing the most torrenting there.
Torrenting is the easiest way to get a DMCA notice. You download a game, song, album or movie, and boom – you're in for a treat. Or better said – mistreat. Whatever it is, the U.S. doesn't laugh too much about that, so you'll need proper protection.
With a Virtual Private Network, you can hide your IP, thus become anonymous. It's only the first step towards avoiding these issues. Your selected provider should properly support P2P file sharing and have military-grade encryption to enhance your security.
How to Use a VPN to Stay Anonymous and Hide Your IP?
Let's see how to use a VPN for avoiding copyright issues… and DMCA. Before we start, we need to mention that these steps apply to every provider. So, regardless of your choice, you can follow these simple steps below:
Step 1 – Get a Subscription
The first thing you need to do is get a subscription from your favorite provider. If you're in doubt which provider to choose, glance over to the next section, where we gave 3 best choices for this purpose. We'll use ExpressVPN as an example because it's our favorite.
Its subscription might not be the cheapest but you get tons of features for the price. Right now, ExpressVPN offers a 49% discount and 3 months free for a 12-month plan. In total, you get 15 months heavily discounted.
Step 2 – Download and Install Apps
When the payment is processed, you're immediately prompted to download apps. In the Download section, choose which apps you want to download and download them for the platform you're using BitTorrent on.
Since ExpressVPN supports every major platform, there's no limit when it comes to installation. But, because BitTorrent is mainly used on Windows and Android, these are the platforms you'll need the most.
Install the apps and proceed to the next step.
Step 3 – Launch the App and Connect to the Server
Finally, you can launch the app. Here, you have a button for connecting to the server and below that, you can open the drop-down list of servers. This is shown in the picture below.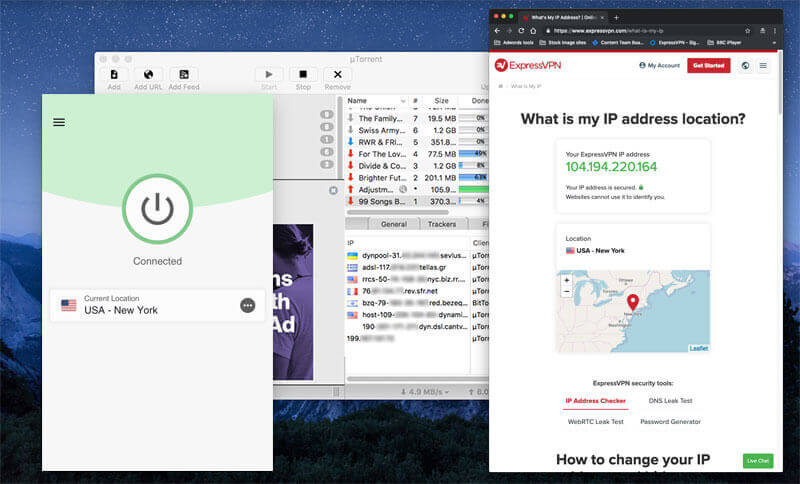 Choose the location and click on a big circular button to connect. Wait a few seconds and you're ready to go. Now, with your IP hidden, you can start downloading torrents immediately. Needless to say, you can also start streaming Netflix or any other popular platform.
All the benefits of a VPN are now at your palm's reach!
The Best VPNs for Avoiding DMCA Notice
There are a couple of very important factors to think about when choosing a provider for torrenting. First of all, it MUST support P2P sharing. Second, it must have a no-log policy. Keeping logs about your online activity is a devil's business and can get you into trouble if the provider decides to sell them to third-party companies.
Or if the latter is obliged to share the logs of your activities with the authorities within the framework of the DMCA. Let's take a look at our top picks for this purpose:
1. ExpressVPN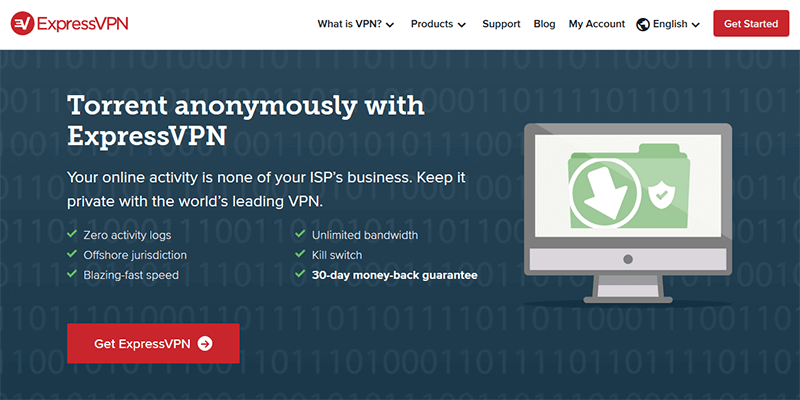 We mentioned that ExpressVPN is our favorite provider before. However, we didn't mention why. For the start, the provider offers 3,000+ servers in 94+ countries worldwide. With a server count this high, you won't have problems hiding from the watchful eyes of your ISP.
If you're from the USA, for example, you can use Asian or European IP addresses to hide. Countries from Eastern Europe usually don't forbid torrenting, so you can take their IP, just in case. For torrenting, you also need some speed. ExpressVPN is here to give it to you wholeheartedly.
This is the fastest provider we've ever used. Not only it is fast but it also gives unlimited bandwidth. This is crucial for taking advantage of every bit of speed you can get. The faster the server you're connected to, the faster your download/upload speed is.
Now, some of you might not be interested in torrenting. Instead, you may like streaming on Netflix. ExpressVPN also takes care of that by being able to bypass geo-restrictions easily. Even if you stream on websites that take material from illegal sources, you'll still be safe and able to avoid DMCA, as your IP is hidden.
Since the company is from the British Virgin Islands, you also get a no-log policy, which is crucial. Other features include split tunneling, military-grade encryption, DNS and IPv6 leak protection, and an automatic kill switch.
2. NordVPN

NordVPN is our second choice or should we say – second to none choice? Either way, this provider is great for avoiding DMCA notices when working with copyrighted materials. You can stream, download, and upload tons of it without flinching!
The speeds are blazing-fast, allowing you to download huge torrent files or stream 4K content. We've tested it multiple times and it breezed through Netflix, Hulu, DAZN, and Amazon Prime Video. In terms of security, it's equipped as a SWAT team member.
You get Double VPN feature, and if you want another layer of security, Onion Over VPN addition. This allows you to use Tor with NordVPN, resulting in impenetrable protection against many online dangers. Offering a crystal-clear zero-log policy, you're kept safe and secure all the time.
3. CyberGhost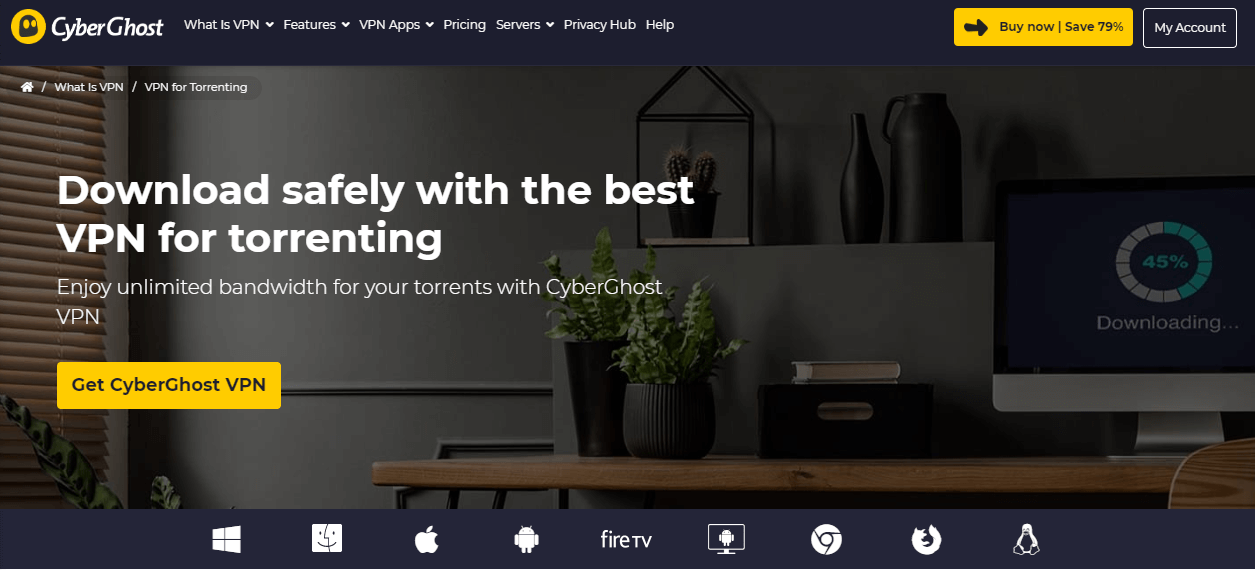 CyberGhost is the biggest provider in Europe and in the world, with its 6,000+ servers. Since it's located in Romania, the provider isn't forced to store logs about your sessions. This means that you get a zero-log policy, which one of the most important prerequisites for avoiding DMCA notice.
The provider also offers dedicated servers, which we find simply amazing. When you open the app, you get to choose what internet activity you're going to perform. It can be streaming, torrenting, browsing, etc. For torrenting, CyberGhost offers P2P support on all servers, and for streaming, bypassing geo-blocks is a piece of cake.
It can unblock Netflix, Hulu, HBO, and dozens of other platforms. When it comes to security, there's 256-bit encryption, DNS leak protection, and an automatic kill switch. Thankfully, these security features are applied to dedicated torrenting servers, for maximum security.
Summary
In conclusion, we shall say that using a VPN is, by far, the best method for avoiding copyright issues and DMCA. Other methods like a proxy or Tor won't work here because they're browser-based. Although a proxy server can be configured on a device, it takes a lot of time and is very expensive.
If you're going to spend money, we suggest you go for ExpressVPN. This provider never disappointed us and we're 100% sure it will be the same for you.
Take the necessary precautions and don't get into trouble with the government. The least you can do is get a subscription and start enjoying numerous benefits that this service offers.