Just when you thought that we already have dozens of streaming platforms, a new platform like Disney+ appears. If you're often streaming Netflix, you probably saw that Disney, Marvel, Star Wars, and Pixar movies have all disappeared. The reason for this is that they are now moved to this platform. Now that you already have your Netflix subscription, you'll need another one to access these movies. But, to make things even worse, the platform is available in only a handful of countries. If you have a VPN, however, you'll be able to access Disney+ from anywhere in the world, including outside of the US!

What is Disney+?
This platform seems like a dream come true for true fans. And for those who want to occasionally watch shows from this platform, this seems like a nightmare. As we mentioned in the introduction, many movies are deleted from Hulu and Netflix because they're transferred to this platform.
If you already have a subscription on other platforms, why would you want to pay another, just to watch one or two movies? Well, Disney+ is made for true, hardcore fans that like spending the majority of their evenings in front of a TV, watching their movies.
Those who pay a subscription will be able to enjoy an ad-free experience that promises a lot. You get fast speeds, thousands of movies and series, and unlimited downloads, for a price of a single subscription. Furthermore, all platforms are supported, including gaming consoles, smart TVs, tablets, smartphones, etc.
Since its inception on November 12, the platform gained huge traction from the get-go. In just 3 months of its existence, it managed to stand shoulder-to-shoulder with the largest streaming platforms, including Amazon Prime Video and Netflix.
But, there's always a catch with these platforms and you know what we think about. We think about geo-availability. Being available only in six countries, it's inaccessible to the majority of the world. The supported countries are the US, Netherlands, Canada, Puerto Rico, New Zealand, and Australia.
With that in mind, it's pretty clear that using a VPN with Disney+ is necessary for anyone out of these countries.
Why do You Need a VPN for Disney+?
If you've carefully read the previous section, things are pretty obvious for you. However, since you came here for an interesting read that we always provide, let's get into details. Here's why you need a VPN for this streaming service:
Bypass Geo-Restrictions
Bypassing geo-restrictions is a must if you want to access the best streaming platforms abroad. We always use Netflix as an example and we'll use it here, as well. This platform is available in the USA, where it offers the most complete catalog of movies and shows.
If you want to access it from anywhere in the world, you can do it. But, the catalog will be much smaller and you won't have access to 4K content sometimes. Because of that, many internet users use a VPN to bypass this geo-restriction.
Is Disney+ similar to this? Not exactly. This platform is very strict when it comes to geo-blocking. Try accessing it if you're not from any of the country mentioned above, and you'll get this screen (in our example, we were outside of the US, aka in France).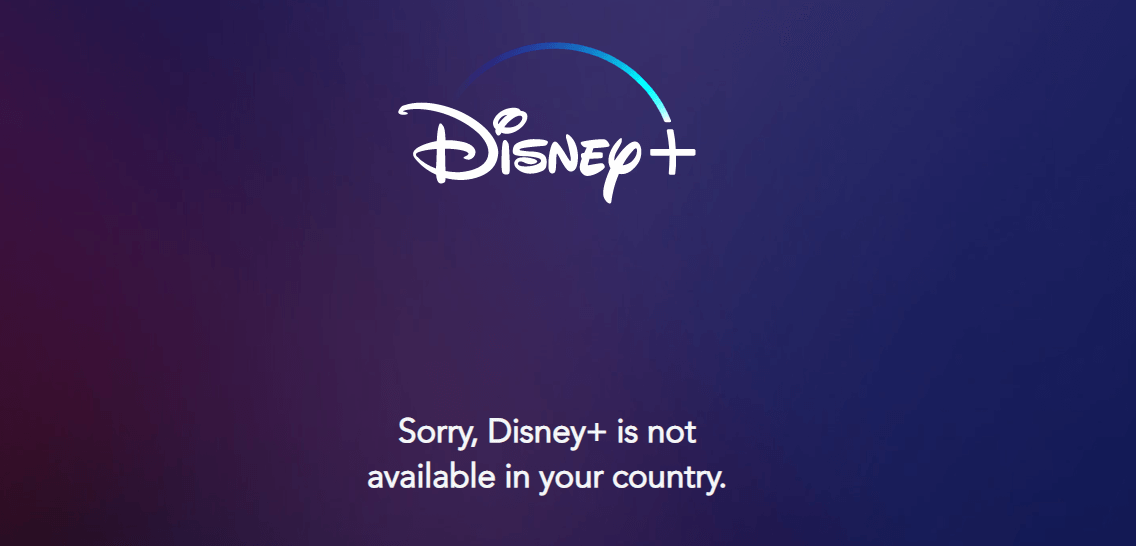 This means that your country isn't supported and you have no way of accessing it. With a VPN, you'll be able to connect to a server in a supported country, so you won't get the screen from above. That is if your provider has servers in any of these countries. If not, you still won't be able to access it.
It's very important that your provider has enough "firepower" to access this or any other similar platform. Not all providers can unblock them, which is why you need to choose carefully. The providers we will mention below can do that and we'll talk about them in just a minute.
After subscribing to their service, you will have no problem unblocking, accessing and watching Disney+ outside of the US or any other countries.
Avoiding ISP Throttling
On the contrary to bypassing geo-restrictions, this problem can be fixed with (almost) any provider. What is throttling, then? Does it have to do with cars? Well, sort of… but not here. Here, we're talking about throttling your internet speed, which is what many Internet Service Providers do.
You'll find out that they do it to reduce congestion on their networks during peak hours. If you live in a country with a well-developed internet infrastructure, you aren't going to believe that, are you? There's another reason for ISP throttling that they won't tell you.
The Internet Service Providers usually throttle your internet speed when you're using another platform for streaming. Netflix is under this umbrella, and so are HBO and Hulu. Disney+ is still a fairly new platform but we have no doubts they'll also become a target.
Because of that, ISPs forces these services to pay a fee to avoid throttling in some countries. On the other side, we understand them. Cable and digital television are almost at its extinction due to the existence of these services and ISPs must earn for a living.
Still, if your trafic isn't visible, they can't do that. Find out how to hide yourself and your IP very simply here.
Complete how-to guide for watch Disney+ from anywhere in the world
We are not going to go through four different paths and will get straight to the heart of the matter. To do this, find the few steps that you will need to follow in order to take advantage of the streaming platform anywhere in the world:
Subscribe to one of the top VPN services listed at the end of our article (our favorite is ExpressVPN)
Launch the app and select a server based in a country where Disney+ is available
Connect to it in order to activate your protection and change your IP address
After a few seconds, you will be able to watch your favorite show!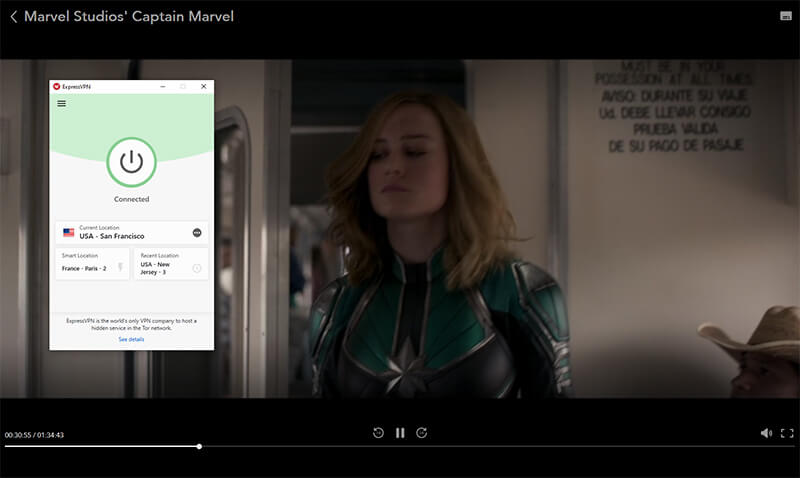 In all and for all the operation will take you only a few seconds. And no special IT skills will be required. So what are you waiting for? 🙂

Can Free VPNs Unblock Disney+?
This is a question we often get and we hate bringing bad news but here's how things stand. Services like Disney+ often have very strong anti-VPN algorithms. This means that Virtual Private Network providers would then need to have stronger algorithms and encryption to pierce through that wall.
At this moment, only the top providers can do that and none of the free providers are in the shortlist. The reason being is because they bring just a fraction of what premium companies do. For example, security isn't as strong. You get 256-bit encryption and DNS leak but you often don't get a no-logs policy.
This means that the provider keeps your search history in its database. And who guarantees that this information wouldn't be sold to third-party companies? After all, they must earn something somehow! This isn't where it ends.
Free providers come with heavy bandwidth restrictions, ranging from 500 MB to 2-5 GB. So, even if they're capable of unblocking the platform outside of the US (for example), you would get to watch one or two movies before it drains out.
Needless to say, the speeds are very slow. You can lose more than 50% of the speed and that's even generous!
Before trying to use Windscribe, TunnelBear or any other free provider, know that they can't unblock Disney+ if you're outside of the US… or elsewhere!

Best VPNs for Disney+
With the stuff out of the way, let's talk about the best VPNs for unblocking and watching Disney+ everywhere in the world. For unblocking and accessing this ever-growing platform, our top picks are:
ExpressVPN
CyberGhost
NordVPN
Surfshark
IPVanish
Don't go anywhere – we'll review them and see why they're so good in our eyes!
1. ExpressVPN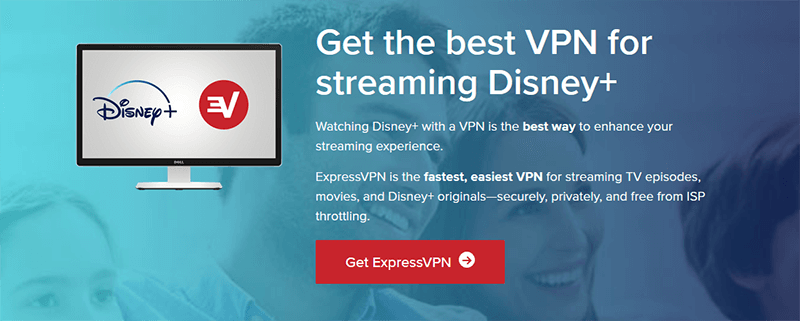 As always, ExpressVPN is our top choice for accessing any geo-restricted website, including Disney+ outside the US and abroad more globally. Those obsessed with streaming will love this provider for its speed.
We know how the speed is important and we also know you don't like choppy and stuttery experience when watching your favorite movies. Heck, even the provider knows that, which is why you won't experience this when using it.
ExpressVPN has more than 3,000 servers in more than 94 countries and 160+ locations in the world. Of course, the provider covers almost all the supported countries. In the US, there are 28 locations, in Australia 6, in Canada and Netherlands 5, and 1 in New Zealand. Puerto Rico isn't on the provider's list but with all of these servers, you won't need it.
If you're interested in unblocking other streaming services, you can also do it. We've tested it literally hundreds of times and it works flawlessly. Now, let's talk about security – or should we say military-grade security? Either way, it's impenetrable.
For the start, there's 256-bit encryption, coupled with DNS and IP leak protection. In case the servers stop working, which never happens, there's even a kill-switch. Every time the servers power off, ExpressVPN uses TrustedServer technology to wipe them off.
And on top of all that, you get a zero-log policy since the company is stationed in the British Virgin Islands. With a 49% discount and 3 months free for a 12-month plan, you won't go wrong with it. Plus, there's a 30-day money-back guarantee.
2. CyberGhost
CyberGhost could've easily taken the first spot just for its large number of servers. To be exact, the provider has 6,000 of them around the world – that's double than the number of ExpressVPN' servers! Plus, it easily unblocks Disney+ if you're planning on going outside the US. So, it's a win-win situation, isn't it?
Of course, CyberGhost is also working on Amazon Prime Video! Even if you're a dummy, you'll have zero problems getting used to its intuitive interface. On top of that, there are streaming-optimized servers just for watching movies, shows, sports or anything you want.
In the USA, CyberGhost has 1,000+ servers, which is already more than enough for watching your favorite Walt Disney movies. As if that wasn't good enough, so the provider added 70 more servers in the Netherlands, 200 in Canada, 10 in New Zealand, and 100 in Australia. Once again, Puerto Rico isn't on the list.
The speeds are excellent, so streaming will be buttery-smooth. Security-wise, we get 256-bit encryption, DNS leak protection, and no-logs policy. There's even malware and ad-blocking software to prevent annoying ads from displaying.
If that sounds good to you, smash the button below and you'll get a 45-day money-back guarantee if you buy it (unless you go for a 1-month subscription).
3. NordVPN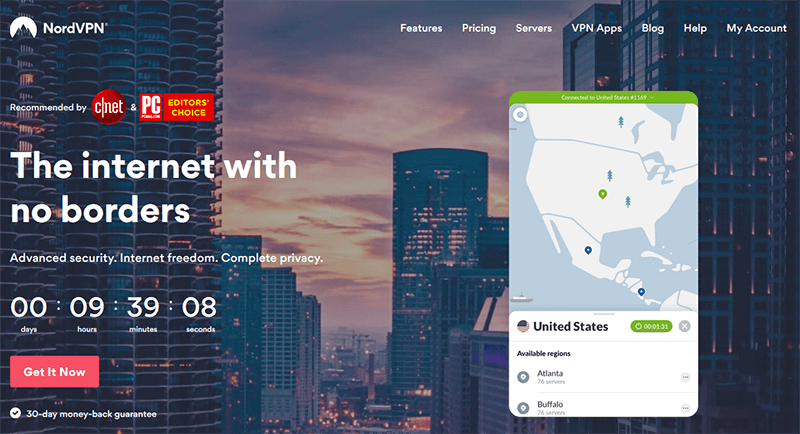 NordVPN smashes geo-blocks like a bulldozer or better said, like a Tiger Tank. This provider owns more than 5,400 servers in 60+ countries, which makes it easy to access and watch Disney+ from the supported countries. Speaking of these countries, you'll get 2,000+ accessible servers in total.
There are 1,500 servers in the USA, 270 in the Netherlands, 360 in Canada, 250 in Australia, and 40 in New Zealand. If you do the math, you'll see that it's almost 2,500. The provider also has a SmartPlay DNS feature for unblocking every other streaming platforms like Netflix, HBO GO, Hulu, BBC iPlayer, etc.
With a top-notch server infrastructure, NordVPN manages to achieve some blazing-fast speeds. They can, without a problem, conquer all the 4K content with little buffering and no stuttering. With the obfuscated servers they offer, your ISP also won't be able to throttle your speed, either.
Security features like 256-bit AES encryption with 2048-bit DH key, DNS leak protection, and kill-switch will make sure you're safe online. There's also a zero-log policy, as an icing on the cake. The company is from Panama, which makes this possible.
With its affordable plans and easy-to-use-apps, we can't help but recommend it.
4. Surfshark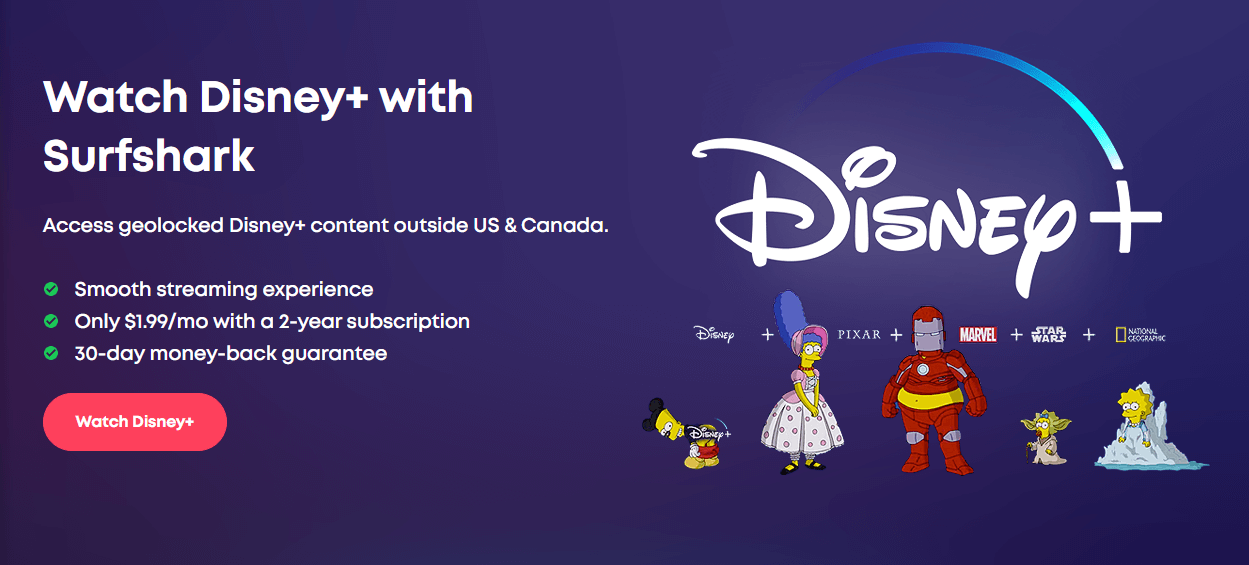 Surfshark might not be as popular as NordVPN or CyberGhost but that doesn't speak anything. This is because it's a new provider in the game. We predict it will be among the top in a few years, considering how good it is at unblocking websites and streaming platforms.
Even Disney+ can be accessed outside the US or Canada with Surfshark. And before you ask – yes, Netflix, Hulu, and other platforms are included. Although it has a smaller server count, these 1,000 servers will be more than enough for many users.
For example, there are 24 servers in the USA and a couple more in other supported countries. In terms of security, you can expect all the features we mentioned above, including a no-log policy, as well as an unlimited number of simultaneous connections.
When it comes to speed, you shouldn't be worried either. Surfshark doesn't have a weak point except for its server count. But, we don't doubt it will grow in the near future.
5. IPVanish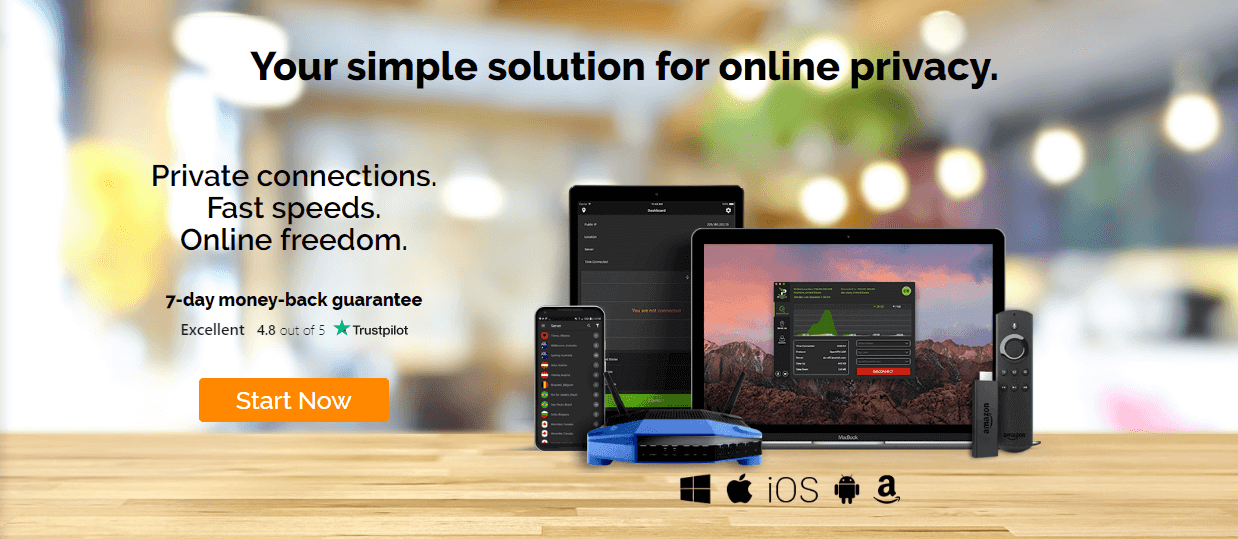 IPVanish has more than 1,300 servers worldwide and is known as a decent provider. In our test, it didn't exceed at anything but given the fact that it unblocks Disney+ very easily, we can't say we aren't impressed. It also comes with fast speed and unlimited bandwidth, making it ideal for streaming even 4k video content.
The geo-restrictions aren't a problem for this provider, as it can unblock the most popular ones. The security department gives us 256-bit encryption, kill-switch, and IPV6 and DNS leak protection. Plus, there's LAN traffic blocking and OpenVPN traffic scrambler, useful for accessing sites that block VPNs.
Thankfully, you also get a zero-log policy here and 10 simultaneous connections but you don't get Bitcoin payments. If that's not a big thing for you, you can get this decent provider for a relatively affordable price.
Summary
With all of our recommended VPN providers for unblocking and watching Disney+, it's time to summarize what we just said. This platform is a new creation of the homonymous company for streaming movies and shows. Because it behaves like other similar platforms, it employs geo-restrictions for a vast majority of the countries.
But, if you have a provider like ones from the list, this doesn't have to be the case. For unblocking and accessing this platform, our recommendation is ExpressVPN.
It offers blazing-fast speeds, rock-solid security, and the ability to bypass geo-restrictions especially if you're outside the US or any other countries where Disney+ is available.
Having in mind its features and features of other providers on the list, ExpressVPN takes the win easily.