Amazon is a company that took the world by storm when it appeared. Aside from its well-known shopping website, this company released its tentacles into different areas of the industry. One of these is the streaming industry, with its Prime Video platform. As with many platforms of this type, this one offers the largest movie and TV show database mainly for the US and UK. Unfortunately, if you aren't living there, you don't have the luxury of accessing them. But, with the best VPNs listed in our article, you can forget about annoying geo-restrictions regarding the usage of Amazon Prime Video.
Why Do You Need a VPN for Amazon Prime Video?
Just thinking about having a huge database of video material for watching is already arousing. You pay a couple of dollars a month and you're allowed to watch movies and TV shows as soon as they're released. Well, we have zero doubts you love fairytales but this is where we need to stop.
If you live in the US and can properly access all the content, we still don't suggest leaving. Because, if you travel abroad, you'll not be able to access Amazon Prime Video US catalog. With that in mind, let's see why do you need a VPN for this platform.
Bypass Geo-Restrictions
Whenever we say 'streaming', you know what's the first thing to mention – geo-restrictions. If you're already acquainted with our Monkey friend, you know he gets mad when that happens.
Websites like Netflix, Hulu, and HBO, for example, are available worldwide, and so is Amazon Prime Video. The trick is, however, that not every country has access to the same type of content. Usually, countries like America or the UK has access to all the latest and greatest movies and shows.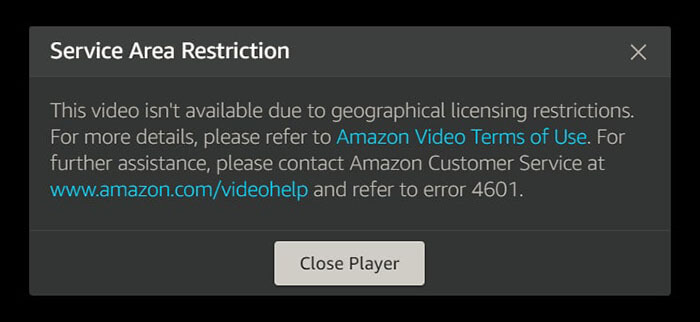 Countries from Europe, Asia, Africa, and Australia often get the leftovers. It's being late to a party and getting a stone-cold pizza and hot beer. Nevertheless, this problem plagues all the aforementioned platforms and there are two things you can do about it.
The first one is to move to the US, which will cost you hundreds of dollars, if not thousands, depending on where you live. The second, and the last thing, is to pay a couple of dollars a month for a top-of-the-line VPN provider.
Beware that not every provider can unblock this platform, so be careful when spending your hard-earned money. More about that later 😉
Use Your Subscription When Abroad
The stupidest thing you can do when abroad is not to be prepared adequately. Living in the US or UK means getting a subscription on Netflix, Hulu, HBO, BBC iPlayer, and this platform easily. You just connect to the website, pay using PayPal or your credit card, and you start enjoying it right away.
But, people who often travel should never leave their country without a VPN. Being in a business that requires lots of traveling is exhausting and if you're using your streaming platform account to watch movies and shows, it often means missing on them.
However, with proper software like this, you don't have to suffer through it anymore. You will be able to unblock and watch Amazon Prime Video from abroad at any time given!
Avoid ISP Throttling
Many of you have heard about ISP throttling and many of you didn't. If you aren't familiar with the topics we cover on a daily basis, you probably don't know what we're talking about. First of all, ISP stands for Internet Service Provider and throttling is a synonym to smothering.
Your ISP often "smothers" or throttles your internet speed based on what you're doing on the internet. In most cases, it happens when you're watching some fresh content on Amazon Prime Video.
What a coincidence, isn't it? Well, it's not. Your Internet Service Provider knows every step you take on the internet if you don't add a layer of security (you know what we mean).
So, every YouTube or, God forgive, RedTube video you watch, is visible to your provider. But, we're talking about streaming services there – the most popular ones.
Netflix, HBO Go, and of course, Amazon Prime Video can all make your ISP throttle your internet speed. And although they claim they do it to reduce congestion on the network, it is not always the case.

Some low-level providers don't have the ability to handle all this extra data but many of them do, yet they still throttle the internet speed. This is because they see that you're using another platform for watching movies, shows or sports, and not their platform.
A couple of times, these platforms were are also forced to pay a fee to certain ISPs to avoid throttling. To put it simply, this is a problem you're going to face while using Amazon Prime Video in the US or elsewhere, which VPN can solve.
Why is Amazon Prime Video Blocking VPNs?
Although a Virtual Private Network seems like it's Omni-potent, its potency is sometimes limited. With dozens of providers on the market, just a handful of them can unblock Amazon Prime Video. This is because they use a rock-solid block, that prevents even some of the best providers from breaking it.
As the company says, it's done to prevent users from accessing the content that isn't meant for their countries. So, those who think they do it out of spite, they don't. Although we're pretty sure they have some bad days here and there.
Platforms like these can face serious charges if they show the movie or a show in a country it isn't allowed. This is because they sign the contract with the company they're buying that movie from, and in this contract, there's the allowance to stream that movie in specific regions and countries.
Now, if HBO, for example, allows you to use a VPN, they can be sued. This is because they showed that movie in the region it's not allowed to be shown. If that happens, the industry lawyers enter the game and all hell breaks loose for the company.
No one likes to mess with these dudes, hence the companies stick to the contracts whatever the cost. And that's why it's hard to find the right VPN to unblock, access and watch Amazon Prime Video.
How to unblock and watch Amazon Prime Video with a VPN – tutorial
Now that you know you'll need a VPN at all costs to take full advantage of Amazon Prime Video, it's time to move on to our detailed tutorial.
As usual, we'll try to describe as simply as possible the steps you need to take to get the most out of Amazon Prime Video. And within this framework, you won't be disappointed. Indeed, the manipulation is within anyone's reach. No particular knowledge will indeed be necessary 😉
To prove it to you, let's see all this in the slightest detail:
The first thing you'll have to do is to subscribe to one of the 5 VPN providers we present at the end of this article (our favorite is ExpressVPN)
Download, install and start the application on the device(s) of your choice.
Choose and connect to a server based in the country where you want to be viewed (if you want to watch Amazon Prime Video USA, you will need to choose a server based in the United States)
Wait a few seconds for the protection to activate and for your IP to change.
Once it's done, all you have to do is return to the streaming platform to enjoy your favorite movies and series!
The approach is of course adaptable according to your desires.
If you want to take advantage of a VPN to watch Amazon Prime Video's UK catalog, all you have to do is choose a server in the UK. And this applies for any other country 😉
Are Free VPNs Any Good?
We think you already know the answer to this question but let's continue for those who don't know. Using a free provider seems logical. You create an account, pay 0 dollars, and enjoy the internet freely. That's, not how it works, pal. Whenever something is free, you should scratch your forehead before getting it.
Free providers are notorious for their bandwidth caps that often range from 500MB to 5GB. This is, without a doubt, very small. Watching a show even in 1080p will drain that out as soon as it finishes. One 120-minute movie on Amazon Prime Video will probably cost you more than 1GB if it's in higher quality.
Furthermore, these providers often keep your internet activity in their database. This data can then be sold to third-parties, which is how providers like this make money. Not to mention that speeds are turtle-like, so you'll be forced to watch your movie in 240p, just like 20 years ago.
So, if you choose one of the best VPN for streaming, you'll get the best performance. With free providers, though, don't have your expectations sky-high. After all, if you don't know what VPN means, just read this article.
To resume after few tests on our side, unblocking and watching Amazon Prime Video outside of the US (or elsewhere) doesn't work with free VPNs! And it applies for Windscribe, TunnelBear, Hide.me and Hotspot Shield as well…

Best VPNs to use on Amazon Prime Video
Since you can't use free providers, the only thing left for you is to pay for a premium provider.
We wholeheartedly recommend this option and if you keep reading, you'll see why. Let's first see what are our top VPN picks to use on Amazon Prime Video in 2021:
ExpressVPN
CyberGhost
NordVPN
Surfshark
ProtonVPN
Without further ado, let's review these and see why they're so good for this particular case.
1. ExpressVPN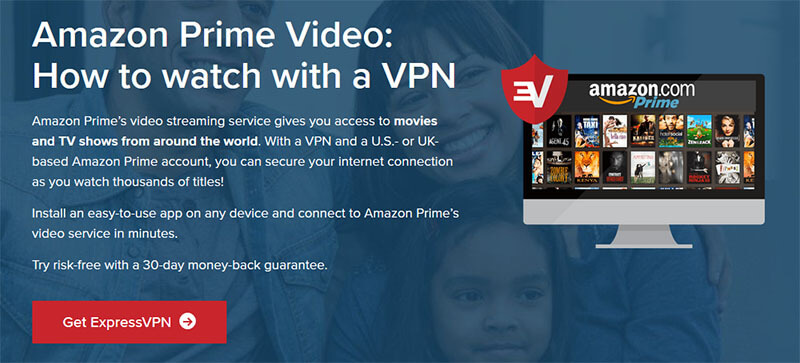 The first on our list is ExpressVPN. You've noticed that this provider is often the first on the list. That's not without a reason. Whenever we're talking about geo-restrictions and unblocking streaming platforms, this is the provider that does it the best. In our numerous tests, it managed to unblock even Amazon Prime Videos (US, UK and more).
We don't need to mention Netflix, Hulu, and other similar platforms – you know it can unblock them, too! Another great thing about the provider is the speed. Without a shadow of a doubt, this is the fastest one, meaning that your streaming experience will be premium-grade, even in 4K.
Speaking of premium-grade experiences, you also get it in regards to security. 256-bit encryption, a no-logs policy, DNS and IP leak protection, and kill-switch are just some of the security features. You can even pay for a subscription with your Bitcoin balance, so your privacy is 100% preserved.
ExpressVPN also offers a 49% discount and 3 months free if you decide for a 12-month subscription plan. With a 30-day money-back guarantee, you won't lose a single penny if you don't like it. That's not going to happen, though, trust us!
2. CyberGhost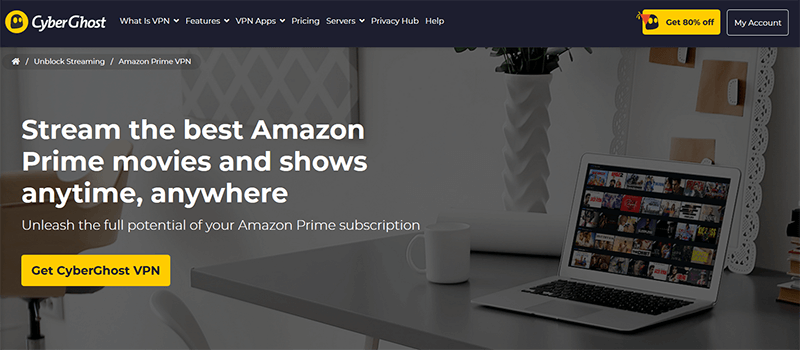 CyberGhost comes jam-packed with servers, owning 6,000 of them. You can easily access and watch your favorite streaming platforms outside of the US since it has hundreds of servers there. This also means that Amazon Prime Video can be unblocked, which is great, given its low price.
Because of that, CyberGhost is a choice of many newbies who just want to test the ground with the provider. Aside from that, their apps are intuitive and easy to use, so you'll have zero troubles getting into them. In terms of security, all the standard features are there – rock-solid encryption, kill-switch, DNS leak protection, and a zero-logs policy.
The provider also offers servers specialized for streaming, further increasing the speed. Speaking of speed, it's just a tad slower than ExpressVPN, meaning it's still pretty darn fast!
Although it offers up to 7 simultaneous connections, you can simply install your VPN on a router, and cover your entire house.
3. NordVPN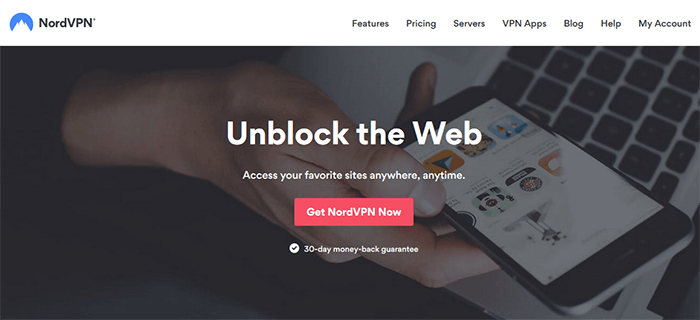 NordVPN sits comfortably in the middle of our list of the best VPNs for Amazon Prime Video. If we could put the first three providers all in the first place, we would most likely do it. So don't think we don't like this provider. In fact, this is one of our favorite ones, especially because it's very cheap (3.17$/month approximately) and has native app support.
Aside from unblocking popular streaming platforms while being abroad (including Amazon Prime Video), the provider has in-depth articles about how to unblock and use them. If this is your first time doing this, you'll have zero troubles connecting to your favorite websites.
In terms of server count, NordVPN has 5,400+ of them worldwide. More than 1,800 of them are in the USA, which is perfect for watching the latest and greatest TV shows and movies from there. Speed-wise, you'll not miss out on 4K content. It will play effortlessly and buttery-smooth.
Since the company is based in Panama, you get a no-log policy and a plethora of other security features. 2048-bit encryption, DNS leak protection, kill-switch, etc. The button below will lead you to the provider's website, so feel free to press it.
4. Surfshark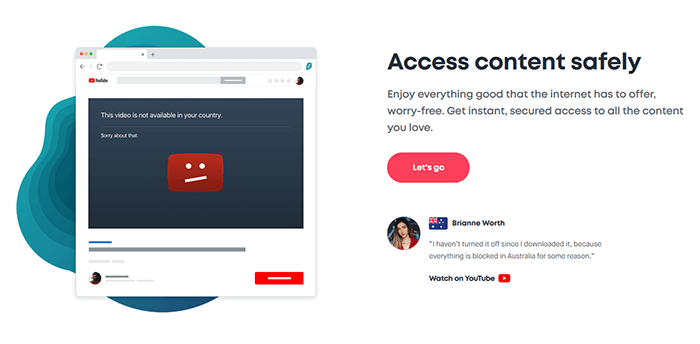 Surfshark comes with a rich palette of features, and although it's much smaller than the aforementioned providers, it's equally as good. For the start, they offer 1,040+ servers around the globe, including servers in the USA and UK. The best thing is that it successfully unblocks Amazon Prime Video, which is why it's on the list.
The word 'shark' isn't in its name just for the decoration. This implies that the provider offers blazing-fast speeds, able to conquer even the 4K shows on Netflix or Amazon Prime Video. Security-wise, you also get no-logs policy, accompanied by an ad-blocking feature, to avoid these annoying pop-ups.
Finally, there's support for unlimited simultaneous connections, so every device in your home can get its share of protection.
This way, you will be able to share your subscription with your family or friends.
5. ProtonVPN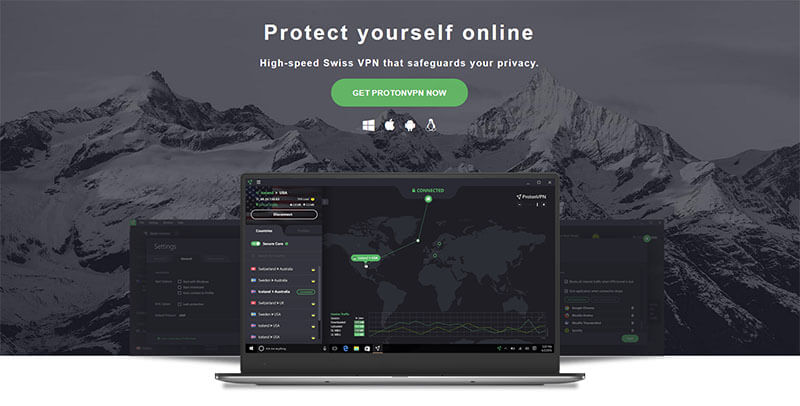 Many people don't like ProtonVPN because of its levels of subscription. There's the Basic plan, Plus plan, and Visionary plan. It's a bit different than other providers but the features are more or less the same. We recommend going for either the Plus or the Visionary plan to get the most out of this VPN service.
These plans can unblock geo-restricted websites and platforms, including Amazon Prime Video… of course! With the Secure Core feature, you're being kept 100% anonymous, flying low under your ISP's radar. If you want to potect up to 10 devices simultaneously, you'll need a Visionary plan. If not, we suggest getting a Plus plan that offers 5 simultaneous connections.
Despite being a bit more expensive, ProtonVPN is very easy to use. This is why it has thousands of satisfied customers. You also get a 30-day money-back guarantee, so you can get your money back if you don't like it.
Summary
Depending on your geographical location, you'll almost always need a VPN for streaming.
Every service of this kind must use geo-restrictions, even those that broadcast sports. But, regardless of the platform you're using, we recommend ExpressVPN, which is also our favorite provider to use on Amazon Prime Video.
This provider has everything you need for this purpose – lightning-fast speeds, all advanced security protocols, and the ability to bypass geo-restrictions.