We all know about using a VPN for browsing the internet anonymously and securely. But, many VPN users don't know that they can use it on their routers. The providers often give you a possibility to connect multiple devices simultaneously but what if you want to cover your entire home? Well, you should install it on your device! In this article, we'll tell you how to do it, what are the best providers and the best VPN-compatible routers. We suggest you grab your cup of coffee and stay with us.
Why You Should Use a VPN With a Router?
If our Monkey says you should install a Virtual Private Network on every device in your home, you should do it. Here's why:
Covering All Devices Connected to Your Wi-Fi Network
Installing a VPN on your home network is a smart thing to do. Depending on your router, you can cover up to 32 devices at the same time! A typical one in your home may allow up to 16 connections, which is still a thing because not many VPN providers allow that many simultaneous connections.
For example, CyberGhost offers up to 7 connections, which is still much lower than 16. Beware that not all of them have this functionality so you can't always take advantage of your VPN. Still, if you have a supported one, you can use this functionality easily.
In just a couple of minutes, we'll deliver on our promises from the introduction, so don't go anywhere.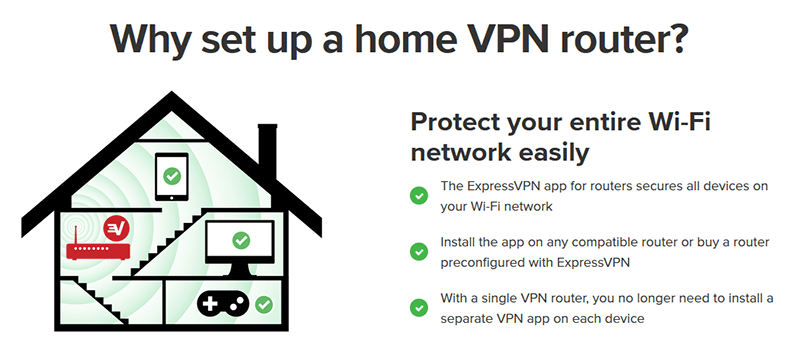 Bypassing Geo-Restrictions on Every Device in Your House
One of the main things a good provider can give you is the ability to bypass geo-restrictions. If you have a huge family, this will benefit you greatly. You know that US Netflix, Hulu, and HBO+ are not accessible outside of the USA, right? Well, with a VPN, you can access it by connecting to the server in that country.
The same applies to BBC iPlayer, accessible only in the UK. When the whole household has access to this kind of content, it's much easier to enjoy it. If you still live with your parents, for example, it's annoying having them come to your room just to watch some Netflix.
With a VPN installed on your, this doesn't have to be the case.
Avoid ISP Throttling
There's one nasty habit that follows every ISP around the world. For those who didn't know, ISP stands for Internet Service Provider. These guys give you the internet at a relatively affordable price but with one caveat – throttling.
We've all experienced it when watching some 4K content. Stuttering, buffering, freezing, these are all signs of bandwidth throttling. As ISPs claim, this is done to improve the internet bandwidth for all users, especially in peak hours, to avoid overloading the network.
But, we know that this, in many cases, isn't the reason. Instead, if you don't have a VPN, your ISP can see that you're streaming or watching porn, for example. And if you don't use their own streaming platform, they intentionally slow down your internet to back you off from the platform you're using.
By installing a VPN on your router, you can fix this issue entirely. A Virtual Private Network masks your IP, preventing the ISP to see your activity, thus preventing them to throttle your internet speed.
How to Install a VPN on Your Router?
Before installing a VPN on this device, check if it's compatible. This is crucial and will determine if you can use it or not. If it's not compatible, you may need to flash the firmware by installing DD-WRT firmware or Tomato firmware. Those that are compatible, however, have already installed one of these.
We'll assume that you already have a VPN-compatible router, so we'll just proceed to the installation, which is very simple. Also, the installation process is more or less similar for every provider you choose. In this case, we used ExpressVPN.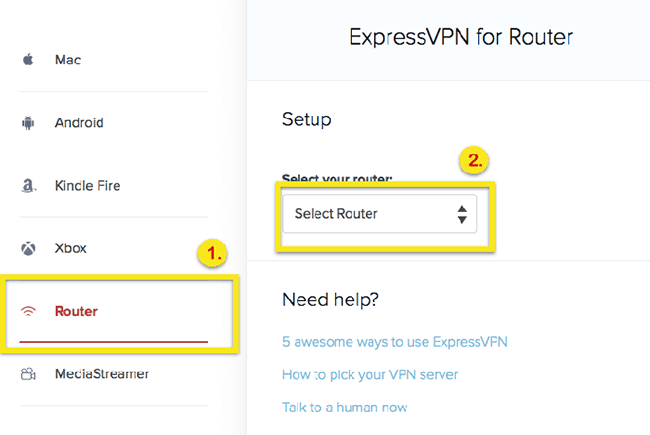 Now that we got that out of the way, let's see how to install a Virtual Private Network on your IGP device:
Open your provider's website and log in with your credentials. Depending on the website, you should find a "Set Up on More Devices" option. Select that option.
Now, you should see the platforms your VPN provider supports. For example, Kindle Fire, Xbox, Mac, Android, and Router. Click on the last option and select your model from the drop-down menu.
Click on Download Firmware and take note of your activation code, which is needed for the setup later.
Type in 192.168.1.1, which is usually the address for accessing your device's admin panel, and press Enter.
Sign in using the default username, which is 'admin' and your password, which is the same. This is if you didn't change it.
Find the Connectivity option and click on it.
There, you should see the Router Firmware Update option. There's Automatic and Manual. Select Choose File under the Manual tab.
Upload your provider's firmware that you downloaded in Step 4.
Click Start and follow the instructions to successfully perform the update. When the process finishes, connect your device to your Wi-Fi network either wirelessly or by a cable.
Some VPN providers have a special page for routers. Go there and click on Get Started. Paste the activation code that we mentioned before and connect to the server you want.
Once again, this process is very similar for every provider. If you use ExpressVPN, these are the exact steps you need to take.
Are Free VPNs Any Good?
The same way many routers don't support VPNs, many providers also don't support these devices. Free providers are often those who don't support it, although even some premium providers don't, either. We strongly suggest that you evade these providers at all costs if you're planning to install a VPN on your router.
Whenever something's offered for free, it comes with some crucial downsides. For example, bandwidth limit, which plagues the most free-of-charge providers. These limits can go anywhere from 500MB to 2,000MB, which is very modest, given the fact that you'll connect multiple bandwidth-hungry devices.
If you're looking to stream movies and TV shows, you can forget about using a free provider. Furthermore, these providers often employ speed caps that make even mundane internet activities a problem.
So, let's answer this question. Are free VPNs compatible good for this purpose? No, no, and no!
The Best VPNs for Routers
We've come up with 5 best Virtual Private Networks that fully support routers. If you've up for securing your home network, you're in for a treat! Here are our best picks:
ExpressVPN
NordVPN
IPVanish
CyberGhost
Hide.me
Let's review them and see what makes them special.
1. ExpressVPN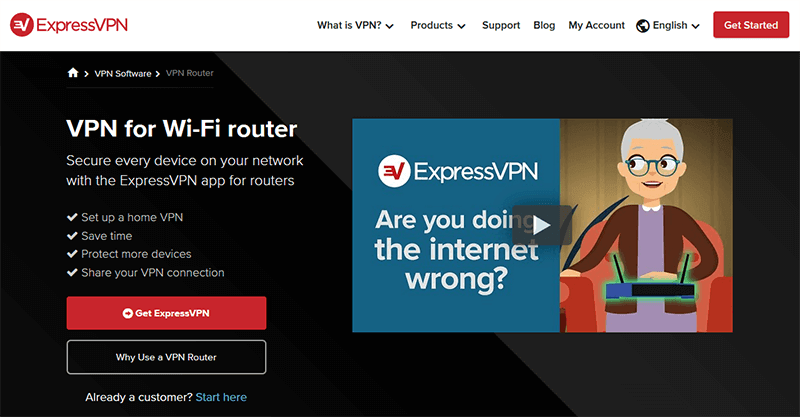 ExpressVPN is an outstanding provider in every sense of that word. This is the fastest provider you'll get, being able to buffer 4K Netflix shows before you even blink! And what's better than finishing your hard day at work drinking beer and enjoying your favorite movies? Before you ask, ExpressVPN can unblock every popular streaming website.
These include the aforementioned Netflix, HBO+, Hulu, BBC iPlayer, ESPN, and many more. For those who want to torrent indefinitely, the provider supports P2P, letting you anonymously download torrents. When it comes to installing ExpressVPN on your router, you'll be surprised how easy it is.
They have all the supported models on their website and you can download firmware for any of them. If you follow the instructions we gave above, you'll install it in less than 10 minutes! But, you're not only limited to their helpful articles. Instead, the provider has one of the best 24/7 customer supports we've ever seen.
Aside from all that, we need to mention 256-bit encryption, zero-log policy, and DNS and IP leak protection. Furthermore, there's a 49% discount and 3 free months for an annual subscription plan. With a 30-day money-back guarantee, you can get your money back if you don't like it.
If it sounds good to you, press the button below, don't be afraid!
2. NordVPN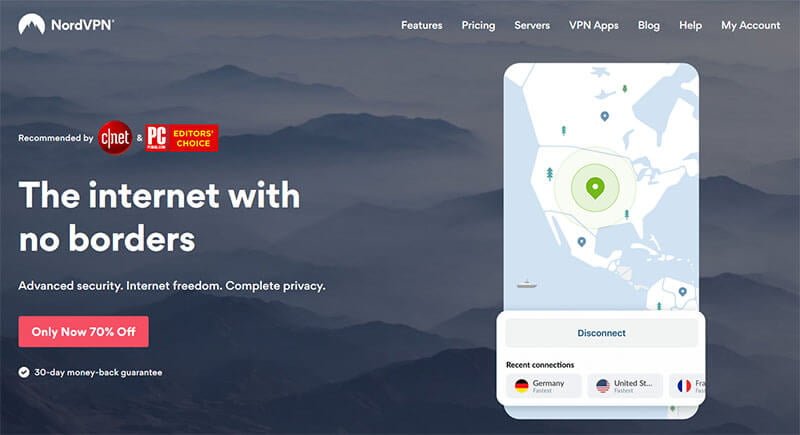 NordVPN is a cheap provider that manages to cram all the features into its affordable subscription plans. With more than 5,400 servers worldwide, this is also one of the biggest providers out there. And don't listen to anyone saying that size doesn't matter – it does!
Given their enormous size, all these servers must be protected somehow. Thankfully, there are Double VPN and Tor Over VPN features, accompanied by 2048-bit encryption, and no-log policy. Even by looking at its rich features, you can see that the company is all about privacy.
Installing NordVPN on every device in your home is also dead simple. Both pre-flashed and non-flashed devices are supported. There are numerous DIY guides on the website that will help you do it quickly. Although not the fastest provider in the past couple of years, NordVPN upped its game recently.
Nowadays, it's among the fastest, alongside ExpressVPN and CyberGhost. NordVPN is also a good solution if you use Roku, so be sure to check that article.
3. IPVanish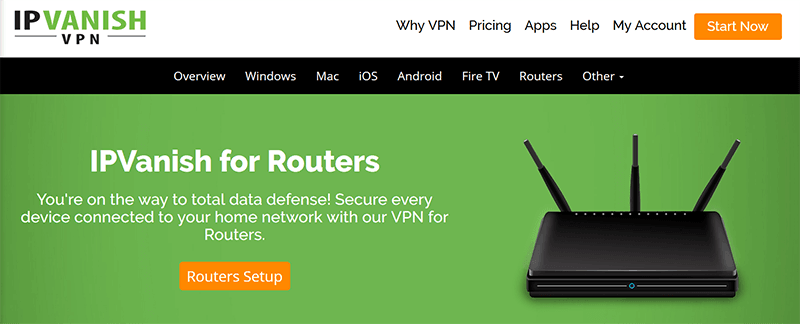 IPVanish, although not the biggest provider, still offers more than sublime performance overall. It has 1,000+ servers in more than 60 countries and all of these support all security features that the provider offers. For example, P2P which is great for torrenting, as well as the ability to bypass geo-restrictions, as we mentioned in our article about Kodi.
When it comes to the router support, it doesn't have a custom app. However, there are pre-configured VPN routers and is compatible with many of them with DD-WRT firmware. If you don't know how to configure it, you can find multiple in-depth guides on IPVanish's website.
Aside from unlimited bandwidth, you also get 256-bit AES encryption, as well as no-log policy. This is great for securing every device connected to your Wi-Fi network. The only downside is that it offers a 7-day money-back guarantee, which isn't enough for many users.
4. CyberGhost
Unlike IPVanish, CyberGhost comes with a 45-day money-back guarantee, placing just a fraction above in terms of generosity. However, we're sure you won't use this period because we're talking about an exceptional provider. Based in Romania, you immediately get a zero-log policy since the country isn't a member of the 14 Eyes or 5 Eyes.
The server count is the largest among all providers – 6,000+ servers, all at your hand's reach! If you connect to the USA-based servers, you can even unblock Netflix and other popular streaming platforms. Of course, every device in your house can get his treatment, as well.
But, beware that CyberGhost doesn't offer specific apps and pre-flashed devices. Despite that, it works flawlessly on compatible routers and setting it up is a breeze. If you still need some help, you can contact its 24/7 customer support that will resolve all your issues quickly.
If you don't want to spend a fortune on a good provider, CyberGhost is a great option.
5. Hide.me
Hide.me claims that it's the world's fastest VPN. As much as we agree it's blazing-fast, we don't agree with this statement entirely. After all, there's ExpressVPN, a provider that has the fastest speeds. Back to Hide.me, this provider has 1400 servers in 57 locations worldwide, making it great for bypassing geo-restrictions.
They don't restrict your bandwidth, so you can enjoy your lazy Sunday Netflix & Chill sessions. The company also offers a VPN solution in the form of a VPN router. It's a Vilfo router that comes with the proprietary Vilfo OS, supporting a Virtual Private Network out of the box.
Although it's a tad more expensive, we're still glad that the provider came up with this solution. Not to forget, there's 256-bit encryption, IP leak protection, and no-log policy – everything you need for fast and secure internet browsing.
The Best Routers Compatible with VPNs
Now that you've secured yourself with a compatible VPN provider, it's time to find the corresponding one for your needs. Here are our top picks:
1. Linksys WRT 3200 ACM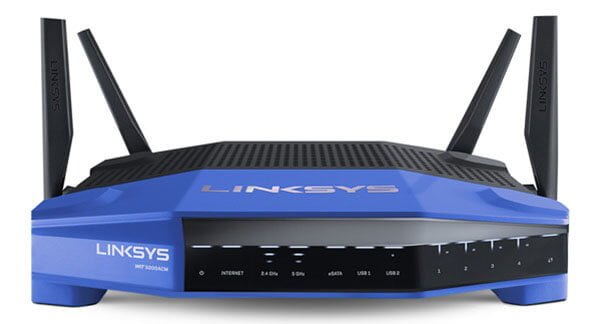 The best VPN router, in our opinion, is Linksys WRT 3200 ACM. ExpressVPN, our favorite provider, also fully supports the best Linksys devices, including this one. In terms of performance, this is one blazing-fast piece of hardware with impressive design. It supports open-source firmware, so you can easily slap DD-WRT firmware on top of it.
To make things better, there are 4 antennas and 3 bands for fast internet speeds and thorough coverage. Specs-wise, it comes with 512MB RAM, 1.8GHz dual-core CPU, and 256MB flash memory. All in all, this is a great deal, even for the pickiest users, with its 4 gigabit Ethernet ports.
Needless to say, ExpressVPN is the recommended choice for this one.
2. Asus RT-AC5300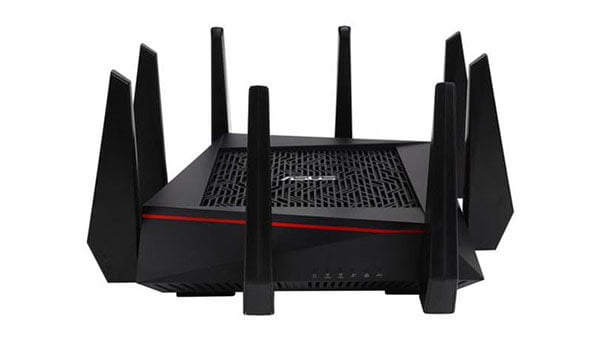 Asus is one of our favorite gaming brands. The company produces rock-solid graphics cards and gaming monitors that millions of gamers use. This is one of Asus' magnum opus works, with its incredible and memorable design. We get 8 antennas, each of them filling the sides of the box, making this router look like a spider.
These antennas, as you've guessed it, provide great Wi-Fi coverage. Even if you're living in a big house, you don't have to worry about it. In the spirit of gaming, you also get lag-free gaming sessions, as this is branded as a "gaming" device.
To top it all up, there are 4 Gigabit Ethernet ports, accompanied by MU-MIMO support, and traffic analyzer. If you don't mind its gigantic size, you'll get amazing performance for a cheap price.
3. Asus RT-AC86U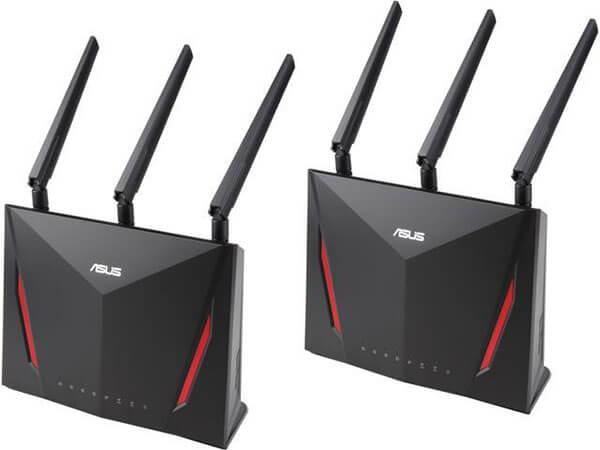 Once again, Asus managed to win our hearts due to its unique design and top-of-the-line performance. Those who used this company's gaming product know what they're dealing with. Astounding build quality and lightning-fast performance. There are 5 Gigabit LAN ports, USB 2.0, and USB 3.0 ports regarding connectivity.
Whatever connection you choose, Asus RT-AC86U will deliver great performance, so you won't see your internet speeds decreasing. Although it has its own firmware, you can install a third-party one, due to its extensive support.
As an icing on the cake, the device is surprisingly cheap, given the level of quality this company brings.
4. Netgear Nighthawk X4S VDSL/ADSL Modem Router D7800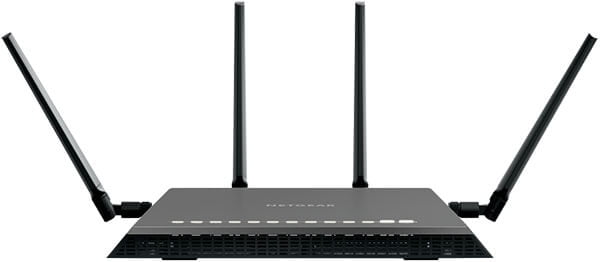 Netgear is a beautiful VPN modem that's as functional. It comes with 4 antennas coupled with two USB 3.0 ports and an eSATA connector. Since it has 5 Gigabit Ethernet ports, you can connect 5 devices with an ethernet cable simultaneously.
The highlight of this device is its VDSL2 modem, which is just a part of it. This means that you don't have to buy a modem separately, so you'll save a couple of dimes on that. It's not the best VPN router because it lacks 1024-QAM but overall, it's a great choice, given its modest price.
Summary
If you want to use a Virtual Private Network with your router, make sure that the support is dual-sided. Your provider should support them and vice versa. Luckily, all the providers mentioned above fall into this ballpark, so you just need to visit their websites.
Our recommended choice, as always, is ExpressVPN. With the provider's speed, rich features, and overwhelming support for VPNs, we can't help but recommend it again. It may not be the cheapest one but you get more than you paid for. That's a fair deal if you ask us!