Many beginners think that they have to spend a fortune on a good and reliable VPN. Well, in this world, price says nothing. You can find very good providers that will cost you less than a few bucks and on the contrary – you can find the bad ones for an expensive price. Our mission in this article is to see what are the cheapest, yet quality VPNs that you can get in 2021. 
Before we proceed, it's important to get something out of the way. First of all, we didn't rank the VPN providers from the cheapest to the most expensive. Instead, we took into consideration what all of these providers offer, so the cheapest one isn't going to necessarily be the first one as we've taken performances and overall quality also.
With that in mind, let's see our selection of top cheapest VPN in 2021.
10 Best Cheap VPN Providers in 2021
Dozens of providers are competing in the ever-growing cyber-security industry. However, not many come on top because they're often overshadowed by top-of-the-line companies. Our selection is based on the price-to-performance ratio, meaning that with these providers, you get what you pay for.
But, how much to you have to pay? Check our list below to find out:
1. Surfshark (Starting at $1.99 per month)
Surfshark is one of our favorite providers at the moment and THE best cheap VPN in our eyes.
Despite being with us for only a few years, we're impressed with what this company managed to achieve. If you decide to give it a try, you can get its 2-year subscription for $1.99 per month in 2021. This is VERY cheap, considering what the provider has to offer.
Let's start with one unique feature that we find amazing – MultiHop. This feature is Surfshark's magnum opus in terms of security and privacy. Similarly to Double VPN that we have on NordVPN, this feature routes your traffic through multiple servers, making it untraceable by anyone, including the government and your ISP.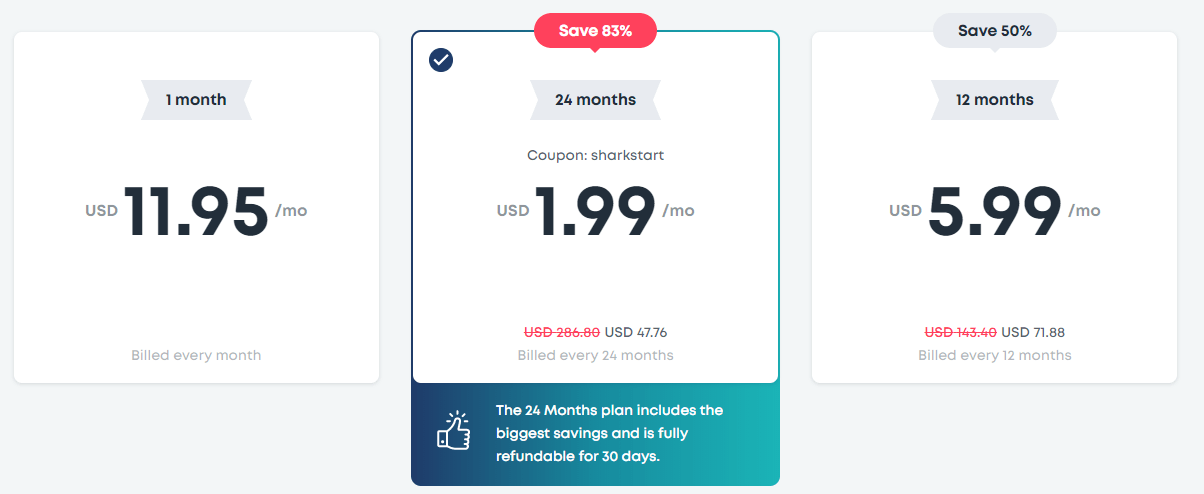 Furthermore, the provider is excellent at unblocking geo-restricted websites. It can easily unblock Netflix, Hulu, HBO Go, Amazon Prime Video, and even DAZN.
There is even an iPad application if you want to expand the service to other devices in your house. Speaking of other devices, Surfshark supports every major platform.
Given that you can connect an unlimited number of devices on a single account, you get even more than you pay for. Do you want to talk more about security? If so, you might want to know if the provider gives you a no-log policy. And yes – it does. Surfshark is located in the British Virgin Islands, far away from the 5 Eyes.
Other features include DNS leak protection, 256-bit AES encryption, and an automatic kill switch. If you live in China or Russia, you can use a NoBorders or Camouflage mode that the provider offers. These modes will let you bypass censorship and obfuscate your IP to bypass the firewalls.
If something's not clear, the company also offers 24/7 customer support to wrap it all up. They're responsive, very pleasant, and always helpful.
Take advantage now of 83% discount at Surfshark >
2. NordVPN (Starting at $3.49 per month)
Located in Panama, NordVPN represents one of the safest services on our list of the cheapest VPNs. Sure, Panama isn't the most developed country in terms of internet infrastructure but it has one huge benefit – rock-solid privacy. By that, we mean that the provider doesn't store any logs of your internet habits. This is just the start, though.
Before we proceed, let's mention the price of $3.49 a month for a 3-year plan. Given that this is one of the most popular providers in 2021, this is a very cheap price. As some of you know, NordVPN has always been about security. This time, it's no different.

You get 256-bit encryption, DNS and IP leak protection, as well as CyberSec and SmartPlay – two unique features. CyberSec is here to block annoying ads and pop-ups, while SmartPlay lets you stream Netflix and other websites effortlessly.
Then, the provider gives you obfuscated servers that work great in China, UAE, Iran, or Russia. This option is easy to enable and will allow you to use the service in every country on the earth. Because we mentioned streaming, you're probably interested in how good the provider is?
Let's just say it's phenomenal. It's great if you want to access many Amazon Prime Video catalogs or just stream on Hulu, Netflix, DAZN, ESPN, Disney+, and many more. Thanks to the fast speeds it can achieve, this will be effortless – and that's just an understatement.
We tested NordVPN in numerous instances and managed to stream 4K content easily. With 5,500 servers at your disposal, this is one of the largest providers in 2021. You'll never run out of options, even if you only use the USA servers – there's hundreds of them!
Take advantage now of 70% discount at NordVPN >
3. CyberGhost (Starting at $2.75 per month)
Do you want a cheap and simple VPN for an affordable price? Stop what you're doing and read this. CyberGhost is a Romanian provider that has 6,000+ servers worldwide. Thanks to its 15+ years of existence, this company is one of the most respectable in the Virtual Private Network community.
Coming from the country located in Eastern Europe, CyberGhost is away from all the espionage agencies. Because of that, you get a no-log policy for every subscription plan you buy. We mentioned a price of $2.75 per month, which is dead-cheap, especially since it's a 3-year plan with 2 months bonus.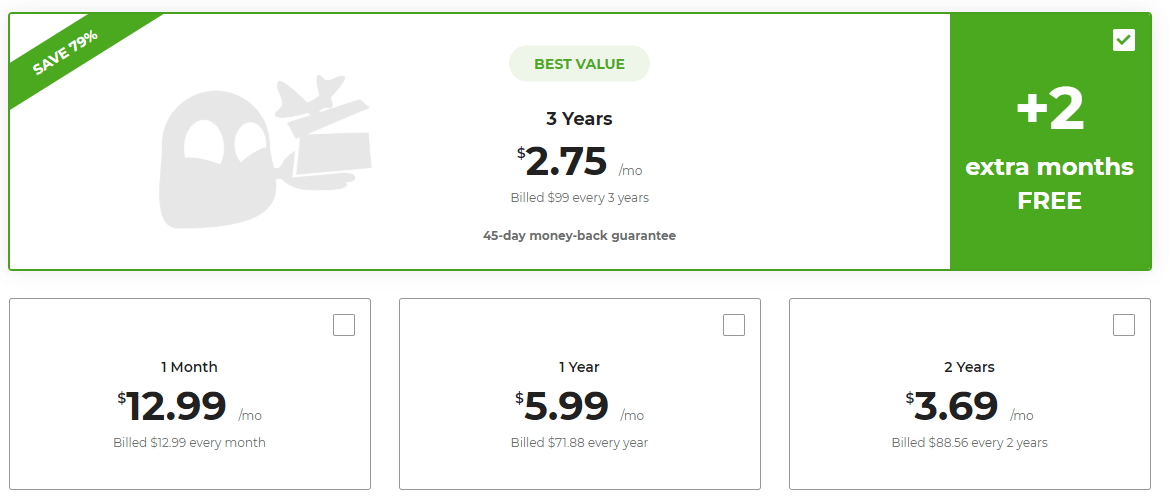 If we convert it into months, you get 38 months for less than $3 a month – don't say it doesn't sound good, please! Now, what does the provider offer for the price? From the get-go, you get a simplistic interface that shows one crucial feature – dedicated servers.
This means that some of them are used for streaming, torrenting, browsing, etc. Furthermore, this also means that you get the best of what the provider has to offer in terms of speed. CyberGhost is lightning-fast and allows you to stream 4K content effortlessly.
All the major streaming platforms are unlockable, too, except for DAZN. For torrenting, the provider allows P2P sharing, so you can torrent even in Germany or the UK. Security features include 256-bit encryption, DNS leak protection, an automatic kill switch.
The only downside, for now, is that CyberGhost doesn't work in China anymore. We hope to see this fixed in the future because this is is a really good provider overall.
Take advantage now of 79% discount at CyberGhost >
4. Trust.Zone (Starting at $2.88 per month)
Trust.Zone might not be the most popular provider. But, we think it's not that bad considering its low price. We're talking about $2.88 a month for a 2-year plan.
This plan includes 163 server locations, unlimited bandwidth, and 5 simultaneous connections. There's another thing we like about this premium provider – the free trial period.
The provider lets you test its features for free. However, the plan is pretty limited. You get 133 server locations, only 1GB of data, and 3 days of use. We can't complain anymore because most premium providers don't give a free trial.

We didn't talk about more important features, so let's do that now. Trust.Zone is located in Seychelles, a beautiful island that completely conceals the provider from government surveillance. This allows them to keep your privacy intact by not storing your logs or personal info.
Aside from that, the company offers military-grade encryption, allows P2P sharing, and is a decent choice even for the newbies. The downside is that there aren't so many servers around the world. To be exact, you get 163 servers, with most of them located in Europe and the United States.
You also can't use the Live Chat feature. Instead, the support can be contacted by using a ticket system. But, for this price, it's pointless to complain that much.
Take advantage now of 69% discount at Trust.Zone >
5. ZenMate (Starting at $1.64 per month)
Hey, mate, are you interested in ZenMate? Because… well, you should be. ZenMate is a decent provider that has a lot of great features for the price. Price-wise, it costs $1.64 per month for a 3-year plan. If we do the math, it's $59 every 3 years, which is cheap as a box of matches.
One thing that might bother the potential users is the provider's location. It's from Germany, which isn't a great location for being safe and secure online. However, ZenMate claims that they don't store any logs. That's somewhat great unless the government there starts changing laws – which we hope won't happen.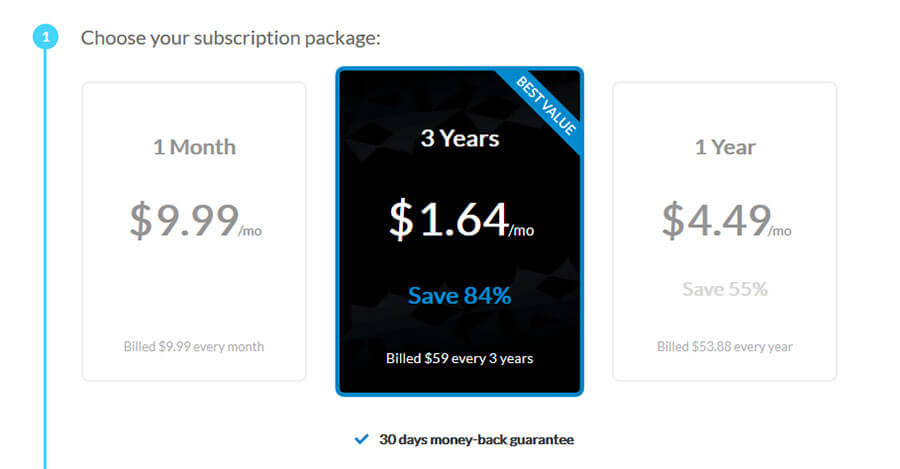 On the brighter side, the provider unblocks Netflix, allowing you to stream movies and TV shows. A couple more streaming services are unblockable, with the exception of DAZN. When it comes to security, ZenMate is equipped with the government-grade (256-bit) encryption, an automatic kill switch, and DNS leak protection.
For this price, it's even more impressive that almost all the main platforms are supported, including iOS, Android, Mac and Windows. Linux, unfortunately, is not supported. Also, have in mind that you can't pay with your crypto balance.
ZenMate offers a PayPal option and using your Credit Card, and these aren't the safest options. But this is more than enough for us in order to put it on our ranking of the cheapest VPN for 2021.
Take advantage now of 84% discount at ZenMate >
6. Ivacy VPN (Starting at $0.99 per month)
Welcome to the cheapest VPN on our list – Ivacy. This provider will cost you only $0.99 a month for a 5-year subscription plan. That's $60 every 5 years – awesome, isn't it? Well, it is, if you're ready for some compromises.
For the start, Ivacy is a provider from Singapore. This is, unfortunately, a very bad location for starting your internet security business.
Because of the 5 Eyes jurisdiction (Singapore is a third party contributor), you don't get a no-log policy… at least not 100%. The provider says that they don't log your browsing activity, which a bit of a relief.

However, they store your bandwidth usage and failed login attempts. On the flip side, other security features are decent. Of course, 256-bit encryption, automatic kill switch, and IPv6 leak protection are just some of the features. There are also 3 protocols to choose from – TCP, L2TP, and IKEv2.
Although P2P sharing is allowed, you can't access Netflix because the provider can't unblock it. So, if you're not a huge fan of streaming, Ivacy will probably be a Virtual Private Network of your choice. Those who torrent often will also like the speed of the provider, which is on the fast side, given the price.
The server location is quite modest – only ~500 servers are available. But, once again, we must review the price. A dollar a month for a service of this kind is really cheap. If you ask us, it can't get cheaper than this, except for free providers.
Still, free providers aren't even close to Ivacy in terms of performance and features. Which is why you should consider it if you're looking for a really cheap VPN.
Take advantage now of 90% discount at Ivacy VPN >
7. PrivateVPN (Starting at $2.88 a month)
PrivateVPN isn't a provider we often mention around here. When it comes to the cheaper side of the market, we're talking about a great provider for the price. Opening the provider's website leads you to one powerful statement – The fastest-growing VPN worldwide.
But, is it true? To be honest, it's not, which doesn't mean it's bad. On the contrary, for just $2.88 a month for a 12-month plan, you get exactly what you paid for. Plus, the company slaps a bonus of 3 months on top of that, resulting in $43.20 for 15 months.

While the company isn't the fastest-growing, the same can't be said for the speeds. We had no problems watching Netflix shows in 4K or downloading multiple-gigabytes files using the BitTorrent client. Only in rare cases did we encounter some inconsistent speeds, which isn't something to whine about, given that this isn't the top provider.
With only 150+ servers in 60 locations, PrivateVPN is perhaps one of the smallest providers on our list. Yet, it's amazing to see 256-bit AES encryption with 2,048-bit DHE keys implemented here. This will make you safe and secure as you browse through multiple websites and streaming platforms like BBC iPlayer or Hulu.
PrivateVPN is available on Windows, Android, iOS, Linux, and Mac and allows up to 6 connections simultaneously. If we could summarize the provider in one word, that word would be – fair.
Take advantage now of 73% discount at PrivateVPN >
8. Private Internet Access (Starting at $3.33 per month)
Private Internet Access, better known as PIA, is a decade-old company. From its inception, back in 2010, the company focuses on providing the means for safety and security online. This fact is backed up with a plethora of VPN protocols to choose from – PPTP, L2TP/IPsec, OpenVPN, and SOCKS5.
The concerning factor for some users might be that the company is held by London Media Trust Inc. However, PIA promises not to keep logs of your online activities, which can be seen in its no-log policy on the website.

So, what's the pricing? PIA starts at $3.33 per month for an annual subscription plan. In terms of server count, this provider is even bigger than ExpressVPN, packing 3,300+ servers around the globe. These are fast-speed servers, allowing you to enjoy streaming on several popular streaming services.
Beware that the provider doesn't work with Netflix in 99% of the cases. We managed to find only one server that works well but other than that, don't count on watching Netflix with this subscription. On the brighter side, you get 10 simultaneous connections, which is more than enough to cover every device in your house.
Take advantage now of 67% discount at Private Internet Access >
9. VeePN (Starting at $1.67 per month)
VeePN is among the cheapest VPN providers here. It starts at $1.67 a month for a 5-year plan. When we, once again, do the math, it equals $99.99 for 5 years which is very affordable. The provider allows you to pay with your credit card, PayPall, PaymentWall, and Cryptocurrencies. We recommend using the last option for security reasons.
Okay, enough about payments. How good is VeePN actually? We could say it's very good. It has 2,500+ servers worldwide, in 50+ locations. This server count is still considered impressive, despite CyberGhost and NordVPN having 5,000+ of them.

VeePN is also fast and in our tests, the speeds were consistent, enough for streaming and torrenting. Speaking of streaming, VeePN can't access Netflix, BBC iPlayer or Hulu. HBO GO, on the other hand, is accessible, which still isn't a bad deal for the price.
Security-wise, VeePN is from Panama, meaning that you get a no-log policy. It's probably drinking some cold beer there with NordVPN now since they're located in the same country. The provider offers apps for all the major platforms and all of these apps have a full array of features, offered in the Windows app.
Our only complaint is that the support sometimes takes minutes to answer. This is considered slow, especially when some of the providers respond in 10 to 15 seconds.
Take advantage now of 85% discount at VeePN >
10. PureVPN (Starting at $2.91 per month)
For the end of our ranking of the most affordable VPNs, we have PureVPN, a provider that isn't among our favorites. But, those of you looking for a cheap solution might find this one useful. The best subscription plan is a 2-year one, starting at $2.91 a month, coupled with a 31-day money-back guarantee.
It sounds budget-friendly and it is. But, don't have your hopes sky-high. PureVPN has some features that might deter you from getting its subscriptions. One of them is a partial no-log policy. The provider keeps some logs, and as far as we know, they've given some of the log files to the FBI.

This might be a red flag for those who love watching porn, for example. Plus, the provider doesn't work with Netflix, which is something to consider if you love streaming. But, on the brighter side, you can torrent thanks to P2P support and the OpenVPN protocol used.
All in all, we recommend PureVPN as a means to an end. With no clearly defined zero-log policy and inability to work with Netflix, this provider isn't for everyone.
Take advantage now of 73% discount at PureVPN >
How a VPN Can Benefit You?
Even the cheapest VPN boasts numerous security features that will benefit anyone who spends a lot of time on the internet. With your subscription paid, you can take full advantage of what your provider has to offer.
Let's take a look at some of the most common benefits that this service can bring you.
Preserving Anonymity Online
Staying anonymous online should be one of your top priorities today. If you aren't anonymous, your ISP can spy on you and find out what you're doing online. Furthermore, if you live in a country where some of the most popular websites are banned, you can get into serious trouble.
Your Internet Service Provider can then send this info to the government, and you can land in jail, simply for visiting a website. Because of that, it's very important that you're anonymous, and with it, safe and secure online.
When shopping for a subscription, make sure that your provider has a no-log policy, automatic kill switch, and military-grade encryption.
Bypassing Geo-Restrictions
It's well-known by now that only the premium providers can bypass geo-blocks. For some people, this is what either makes it or breaks it. If you love watching movies and TV shows, you'll be glad to hear that this tool can unblock popular streaming platforms.
Usually, users get a VPN for unblocking Netflix, Hulu, HBO GO, Sky TV, DAZN, Amazon Prime Video, Disney+, and dozens more of them. This service allows you to alter your IP address, so you can take the American one, for example.
From there, you can access streaming websites and enjoy your lazy Sunday 'Netflix & Chill' sessions.
Downloading Torrents Safely
Torrenting is a very dangerous activity that can be punished aggressively in some countries. We encounter this problem usually in some European countries. The United Kingdom, Germany, and France are only some of these countries.
Downloading copyrighted material can result in two scenarios – you either pay a hefty fine or sit in jail for some time. That's why a tool that can conceal your IP can help. A Virtual Private Network, in most cases, supports P2P sharing and coupled with strong encryption, you're completely safe when torrenting.
Saving Money on Games and Flying Tickets
If you travel a lot or play a lot of games, this can come in handy. The prices of flying tickets are displayed depending on your IP address. For example, one price can be shown in Norway and another in Japan. You can change your IP to pinpoint the cheapest price and buy your flying ticket from there.
As for games, the situation is similar. If you're from Europe, the newest triple-A game will usually cost 60 Euros, whereas, for the users from the USA, it will be 60 American Dollars. 60 Euros equal 66 American Dollars, so you save approximately 10%, and in some cases, even more 😉
Summary
In this article, you've had the chance to see our list of the best cheapest VPN providers for 2021. All of these providers offer you decent performance and features, without breaking the bank. With them, you can have any of the benefits we've just mentioned.
If you want to remain safe and anonymous online, and access geo-restricted websites easily, why wait? Buying a subscription now grants you all the benefits offered by a VPN for the years to come!