When you visit a website on the internet, you usually see ads that are, more or less, tailored to your needs. This is just one sign that you're not completely anonymous on the internet. Google and many other websites can track your location via your IP, hence they know everything about your internet habits. Then, there's the government and your Internet Service Provider – these institutions know even more about you. This begs one question – can you become anonymous somehow? Oh yeah, you can, especially if you stay with us and learn a thing or two.
Using a VPN to Stay Anonymous Online
If you want a completely honest answer from our Monkey, here you go – the best way to stay anonymous (and safe) on the Internet is to use a VPN. You've probably heard about this service, even if you aren't very informed about cybersecurity. But, like many of our readers, you know little to nothing about it – are we right?
This term is an abbreviation for Virtual Private Network and it helps you change your location to stay secure and safe online. Of course, we think about online location, and not the physical one. Changing a physical location requires a car or an airplane… or perhaps your feet.
To make things better, a service like this brings a few more benefits that come as a bonus. One of them is bypassing geo-restrictions, for example. You can then access Netflix and other streaming websites. Plus, if you're torrenting a lot, this will save you from the government that might be snooping around you.
Since we mentioned streaming, when using Kodi, it is also a good idea to stay anonymous, too. Now, let's see how will it help you stay safe and secure.
How Will a VPN Help You Stay Safe and Anonymous?
Virtual Private Networks have one crucial feature that makes them better than any other method. This feature is called tunneling. Essentially, the provider sets up a virtual tunnel between the website you're trying to access and your computer. To be precise, the tunnel is between the World Wide Web (www) and you.
Now, let's say you type the name of our website and click Enter. The information that leaves your computer will travel directly through that tunnel to our website, plus, it's encrypted with military-grade encryption.

What does it mean? Well, it means that no one can access your data since it's isolated in this tunnel. So, the government, hackers, ISPs or any other people that come across your data, won't be able to read it because of the encryption. Better said, they won't be able to even see it in the first place, because of this tunnel.
Let's imagine the scene without this tunnel. What happens? The first thing that happens is that your data is visible to everyone who wants to take it. There's no tunnel, no encryption, no security measures or anything to protect it.
Just take a look online and see how many people get hacked on a daily basis. Only then will you realize how important a VPN is if you want to stay anonymous while browsing the Internet.
How to Set Up A VPN?
Do you have to be a rocket scientist to set it up? No, you don't. You just need a computer, monitor, mouse, and keyboard. Oh, and a credit card, too, to pay for a subscription. Signing up with the VPN provider of your choice is very easy.
Visit its website after you read the next section about our recommended providers, first. Then, click on the button that lets you subscribe, pay with your credit card, PayPal, Crypto (if you can, it's THE best way to stay completely anonymous) or any other method, and download the apps.
We don't recommend monthly subscriptions but a one-year, two-year or longer subscriptions instead. The only thing that's left is to install the apps on your devices, connect to a server you want, and you're ready to go.
Here's what to look for in a provider used mainly for security:
Military-grade encryption
Automatic kill switch
Strict zero-log policy
DNS and IPv6 leak protection
Let's move to the next section where we'll talk about our 3 favorite providers for this purpose.
3 Best VPN Providers for Browsing Freely Online
When you read our articles, we want you to have everything at your palm's reach. This time, we've prepared a small list of 3 best providers for staying safe online, so you can immediately buy a subscription if you like some of them.
Here are our best picks:
1. ExpressVPN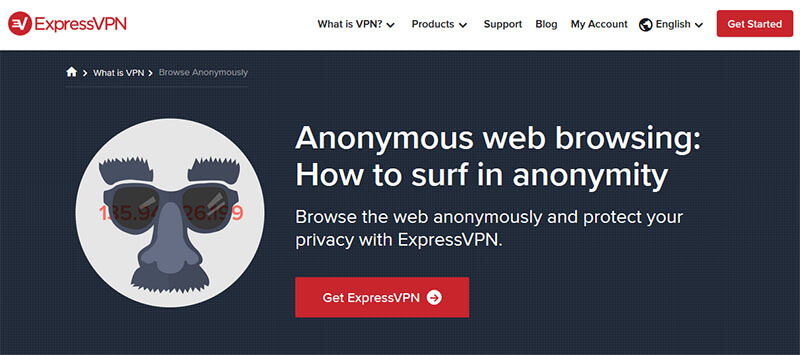 Our favorite provider is ExpressVPN. This company ticks all the boxes in terms of performance and security, making it a jaw-dropping all-arounder. The provider comes from the British Virgin Islands, which is far away from the 5 Eyes alliance. Because of that, they grant you a zero-log policy – a strict one, found on the website. So this is perfect if you want to stay anonymous at all time!
Another reason why ExpressVPN is the best lies in its security features. It has 256-bit encryption, DNS and IP leak protection, automatic kill switch, and even split tunneling. Split tunneling is great for accessing two different websites simultaneously – one via the tunnel, one via your native IP.
For example, you can watch Netflix with a fake IP and use your PayPal with your local IP address. ExpressVPN also offers 3,000 servers in 94+ countries, so you can choose from thousands of servers at any given time.
In terms of setup, it's also very simple. You can connect with just one button, within 10 seconds. Furthermore, if you use an American IP, you can unblock every popular streaming website available only in the US (Hulu, HBO…).
ExpressVPN now offers a 49% discount and 3 months free for a 12-month plan, plus a 30-day money-back guarantee.
2. NordVPN

NordVPN is the safest provider alongside the previously mentioned one. If you search for this name online, you'll find thousands of satisfied users in 2021 and many years backward. Let's mention its security features first.
There's one unique feature called CyberSec. This feature allows you to block ads and malware while browsing anonymously online, for a buttery-smooth experience. NordVPN uses 256-bit encryption, DNS and IP leak protection, and an automatic kill switch.
On top of that, you get Double VPN and Onion Over VPN features. These two will add an additional layer of security, as will the zero-log policy. The first feature routes your internet traffic through two servers, while the second one lets you use it with the Tor browser that we're going to talk about in just a minute.
The apps are very simple to use, the subscription is cheap, and the performance is second to none. Thankfully, you can visit it here and get a big discount.
3. CyberGhost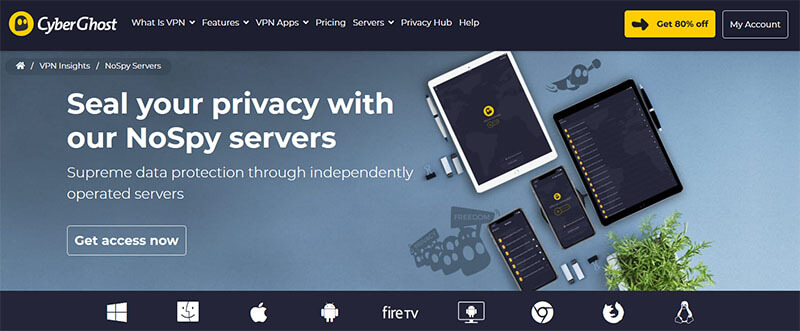 CyberGhost is a Romanian giant that owns 6,000+ servers worldwide. This provider has been with us for quite some time, and as such, it passed hundreds of our security and speed tests. In terms of security, the provider offers standard features that work flawlessly.
A zero-log policy, 256-bit encryption, DNS leak protection, automatic kill switch, and so forth. Aside from that, CyberGhost is yet another all-arounder. It lets you stream Netflix in 4K, download torrents or just casually browse the internet while staying secure and anonymous. Of course!
With its fast speeds, none of this should be slow and sluggish. The provider also has dedicated servers, so you can use the ones dedicated to some of the things we mentioned, for faster speeds. Overall, CyberGhost is among the top providers in 2021.
Thanks to its affordable price and easy-to-use apps, it's great for both beginners and experienced users.
Alternative Solutions to Remain Safe Online
If all of this wasn't enough to convince you that Virtual Private Network is the best solution, it's not the end of the world. There are still other solutions that you might want to consider in order to hide yourself on the Internet. But, have in mind that these alternatives aren't as safe and are NOT better than using a VPN.
Now that we got that out of the way, here are more options.
Tor Browser
The Tor browser is a great tool for enhancing your privacy. It's also an abbreviation for The Onion Router because it allows you to access websites with the 'onion' domain. If you haven't heard about them, it's because you haven't heard about the deep web – have you?
Websites from the deep web don't end with '.com' but with 'onion'. This is the only browser that allows you to access these websites securely but it's not the only benefit. It adds different layers of encryption to your internet connection, thereby, letting you access the internet anonymously.

For the start, there are three layers of protection. When your data leaves your computer, it starts to 'bounce' three times. Each time it 'bounces', one layer of encryption is taken off. Once it arrives at the website you want, the encryption is 'put back on' and 'bounces' back to your computer or any other device you're using.
To improve its security, we suggest using a compatible VPN with it – such as ExpressVPN, with its Tor Over VPN feature. If you're not using it, however, know that Tor isn't very safe. Your ISP can see when you're using it, and so can some websites that won't allow you to get in if you're using this browser.
Furthermore, hackers have recently busted it, so you aren't safe from hacking , either. Plus, it's very slow because of all of the encryptions it managed to squeeze in. Although it's free to download, there are more than a few compromises.
Proxy Server
Proxy servers are a great solution for accessing the internet anonymously… or are they? Well, they're surely not as secure as using a decent premium VPN provider. But, since you don't always need to pay anything, it can be used as a short-term solution.
At first glance, it works similarly to a Virtual Private Network. When you access the website from it, the website will see the proxy address, instead of your IP. So, your IP is concealed but that's not where the story ends.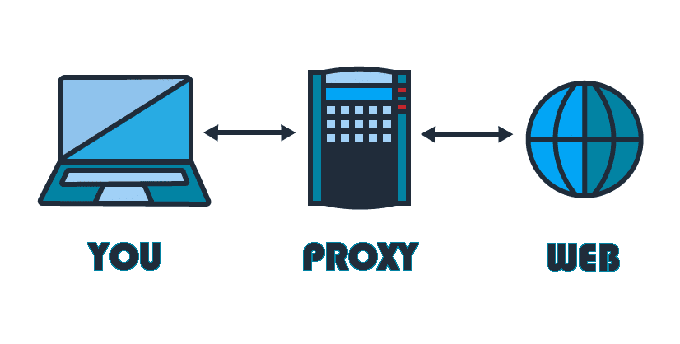 Unfortunately, proxy servers aren't secure as they don't offer encryption. This means that, although you're anonymously using the internet, your ISP can still track you. In fact, anyone who wants to track you can still detect you, which puts safety in the second or third plan.
Using it as a long-term solution is quite pointless if you're thinking of that. This is because they're very hard to set up. There are device-based and web-based proxies. For some web-based proxies, you'll need to pay a subscription, and we suggest doing that only if you're crazy.
But, if you're not that crazy, this money could be spent better. On ExpressVPN, for example – or even CyberGhost and NordVPN. Still, if you want to use it one or two times for unblocking Facebook, YouTube or whatever, it can be used successfully.
Incognito Mode
Many of you use the incognito mode on your browser, being it Chrome or Firefox. However, this mode is pretty limited in terms of security. And contrary to what many people think, it won't make you anonymous online
These are the things that will not be saved by your browser:
Your browsing history
Website data and cookies
Information you've entered in forms
The incognito mode doesn't save you from being visible by your ISP, your employer, school or even websites you visit. This means that you're only anonymous in your house and nowhere else.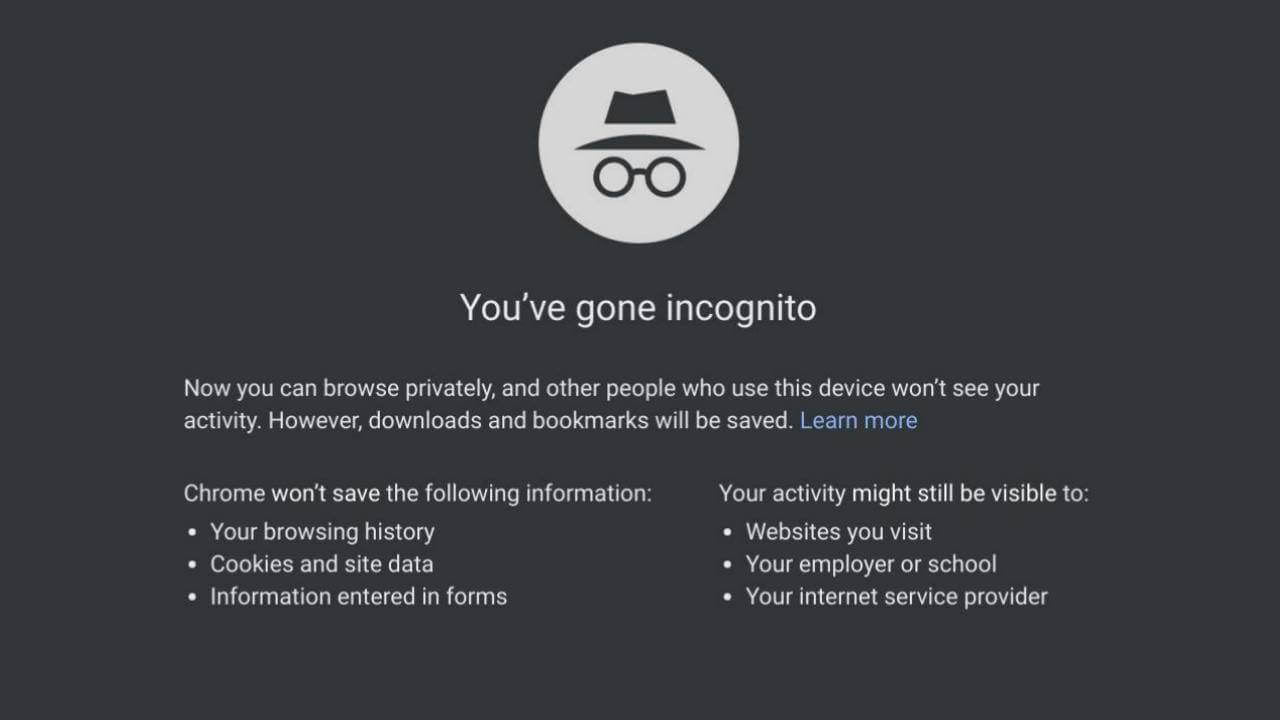 For example, if you're watching something you shouldn't be (porn or other explicit content), you can use it, so the people you're sharing your computer with, won't be able to see it.
Beware that your Internet Service Provider sees everything you're doing online, even when using the incognito mode.
This makes it obsolete when compared to what many VPN providers can offer you.
Summary
We've presented to you four methods of staying safe online. However, the best, and the recommended method is using a VPN. Of all the providers we've mentioned, we suggest that you go for ExpressVPN.
Not only it is the fastest one but it's also jam-packed with useful security features. The premium providers like this one will offer you thousands of servers worldwide, the ability to bypass geo-restrictions, and many more features.
You get everything you need for only a few dollars a month. And if you don't want it, every provider listed offer a minimum of 30-days money-back guarantee, so you can get your money back in no time in case of disappointment.