Apple is a company well-known for their contributions to the world of technology. Although its iPhone series is the most popular, you also have the iPad. This device is essentially a tablet with flagship-grade specs, excellent for day-to-day use. If you've ever used an iPhone, you know what we're talking about. Despite being branded as safe and secure, Apple's security has its limits. As soon as you go online, this protection becomes useless. This is where the best VPN for iPad (and iOS) comes into play, so we'll take a look at some of the best choices for this platform in 2021.
What are the Benefits of Using a VPN on an iPad?
If you're using a versatile device like this, you've probably acquainted with all of its functions. Despite looking like a million bucks, this device lets you enjoy your movies, TV shows, and social media websites, simply because of its size.
But, to do all of these activities, you'll need internet connection. And this is where you can get into trouble. Here are the reasons for using a VPN on your iPad wherever you are.
Avoiding Government Surveillance
Regardless of the platform you're using, the government can access your private data. The reason for this is that they control everything in the country you're living in. To be precise, it's your ISP that allows them to do that. So, you'll now ask why they do it and to be honest, there are numerous reasons.
Countries that are under constant surveillance usually suffer this for the sake of safety. For example, when the government can see what websites you're accessing, they can react if you're doing something "unsafe." Or if you're in a country like the UAE or Iran, this is done to protect the country's values.
In these countries, watching porn is forbidden, as well as talking something bad about religion.  Either way, when you're under constant surveillance, you simply don't feel safe. Just imagine someone knowing everything you watch on the internet.
Heck, even typing something in Google search can be embarrassing to see. Well, iOS, similarly to many operating systems, has its set of downsides in this regard. It isn't protecting you from government surveillance and what's worse is that it also tracks your activities.
Microsoft also does it on its Windows 10 platform, which is why many users use a VPN for that. You never know where your data can finish, and if hackers manage to steal it, you can get in serious trouble. Speaking of hackers, let's talk more about it in the next section.
Safely Accessing the Public Wi-Fi Networks
If you think that iOS doesn't get hacked, you're dead wrong. Since its inception, this system boasted some of the toughest security measures. Nowadays, cyberattacks happen a lot, especially in 2019, when it transpired on several occasions.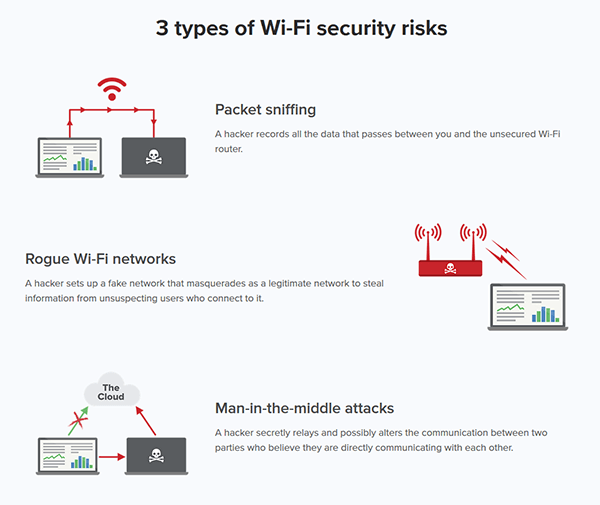 The worst thing you can do to remedy that is to stay unprotected on public Wi-Fi networks. Restaurants, cafes or just public places, represent a great terrain for hackers to snoop in. When dozens of people are connected to the same network, it's easy to sweep all the data from the people.
How does a VPN for iPad help? Well, for the start, it conceals your IP address, making it invisible for anyone who tries to see it. Given that your selected provider has rock-solid security, you'll be 100% safe and secure when using it.
Do you know what is a Virtual Private Network, after all? We suggest taking a look at our article that explains it thoroughly, before continuing to read this article.
Bypassing Geo-Restrictions
Smartphones nowadays are often huge in comparison with the older generations of phones. For instance, one of the largest phones is Samsung Galaxy Note 10+, and with its 6.7″ inches in size, it's great for watching videos.
When we talk about tablets, they are much bigger, hence they're better for streaming. The newest Apple iPad 2019 comes with a whopping 10.5-inch screen, which represents streaming galore. Now, if you're not from the USA, you'll not be able to access the most popular streaming websites.
You know what service first comes to our minds – Netflix. Netflix is available worldwide but the catalog is much smaller. For comparison, the worldwide content is approximately 3 times smaller than the one for the US. Furthermore, you don't get to watch your movies in the highest possible quality.
The same principle applies to Hulu, HBO Go, and Sky Net. Some platforms, on the contrary, aren't accessible at all if you aren't from the supported country. These include DAZN and Disney+. Either way, you can access them if you're connected to some of the servers in the countries that the platform supports.
We've tested dozens of providers for this purpose and we know which providers can access certain platforms. Luckily, the paid ones on our list below can unblock a vast majority of the platforms we just mentioned.
Avoiding ISP Throttling
Even when paying your internet bills regularly, you still aren't sure if you get what you pay for. Your Internet Service Provider has the right to do everything it wants with your internet connection. In many cases, we refer to ISP throttling, a term that's very familiar in this industry.
If you talk to your provider about this issue, he will tell you a reason that might not always be true. That reason is the network congestion during peak hours, which needs to be resolved by throttling your bandwidth.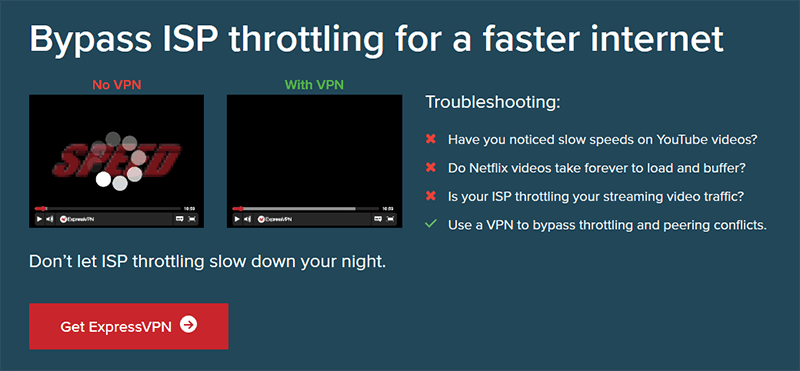 Unless you live in Iran, Malaysia or Nicaragua, don't believe that. The countries we just mentioned have a poor internet infrastructure, so it is possible that your ISP throttles the internet speed. However, highly-developed countries have exceptional infrastructures, so this reason doesn't drink water.
The real reason for throttling are streaming services. Watching Netflix is going to get you there, as well as Hulu, HBO or any other. This is done intentionally, to tamper with your experience because you use another streaming service and not your provider.
We know that Netflix was forced to pay fees to the strongest Internet Service Providers in some countries to avoid throttling. With your IP hidden, the ISP won't be able to throttle your internet speed. This is one of the most important benefits of using a VPN on iPad or any other platforms.
Top 5 Best Paid VPN Apps for iPad
If you want to be safe, secure, and anonymous at any time when online, we suggest premium providers (and not free ones!). For just a few bucks a month, you can be secured for years to come. Here's our selection of 5 best VPN providers for iPad and iOS:
1. ExpressVPN
ExpressVPN is, in our opinion, the best provider that you can currently get. The provider is known as one of the best services in Canada, the USA, as well as the rest of the world. So, how's the app on this device? We would say awesome but that's not descriptive enough, isn't it?

When you buy a subscription, you install it in less than a minute, and then, you just sign in with your credentials. From there, you can connect with a single tap on the 'power' button and the provider will choose the best possible server.
If you don't want to use this Smart Location feature, you can choose the country by yourself. ExpressVPN offers 3,000+ servers in 94+ countries, making it the third-biggest provider at this moment. The server quality is exceptional, as always.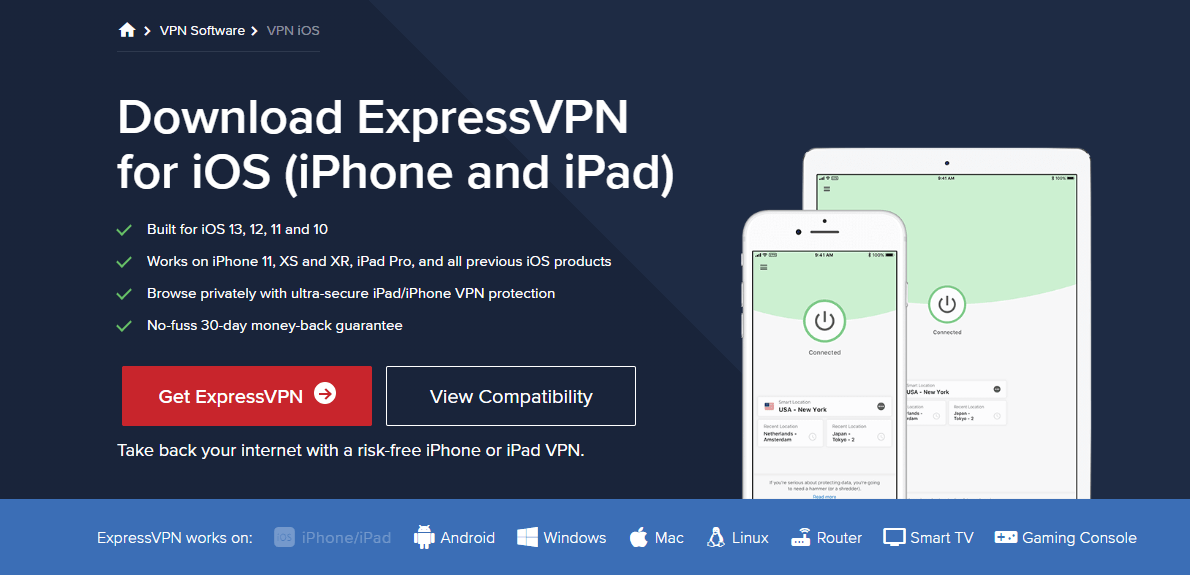 You can expect some blazing-fast speeds on almost all servers. This is great for streaming 4K movies on Netflix or playing PUBG on your iPad. In terms of unblocking geo-restrictions, ExpressVPN is second to none. Aside from Netflix, you can even enjoy DAZN, Amazon Prime Video, Hulu, and many more.
Security is, as we like to call it, rock-solid. You get 256-bit encryption, DNS and IP leak protection, split tunneling, and a zero-log policy. The company is stationed in the British Virgin Islands, so privacy isn't an issue. Regarding protocols, you get  OpenVPN, PPTP, and L2TP/IPsec, which is more than enough.
Despite being an excellent provider overall, we find it strange that there's not a kill switch for the iOS app. If that doesn't bother you, you can get its subscription at a 49% discount for a 12-month plan. On top of that, you get 3 months free and a 30-day money-back guarantee.
2. NordVPN
NordVPN offers servers in more than 60 countries. To be precise, the provider has 5,500+ servers at your disposal, making it among the largest at the moment. We know that it's not all about the size and the provider isn't giving you only that.

From the get-go, you get a zero-log policy, for example. The company doesn't store data logs about your internet activities, which is a huge plus. Also, it's from Panama, which is far away from the 5 Eyes, so compromising your data is impossible with this VPN usable on iPad.
Thousands of users use NordVPN on a variety of platforms. We think that there are 2 reasons for that – simplicity and low price. Upon installation, you'll be greeted with a huge world map of servers. From there, you can click on the server you want and connect in less than 30 seconds.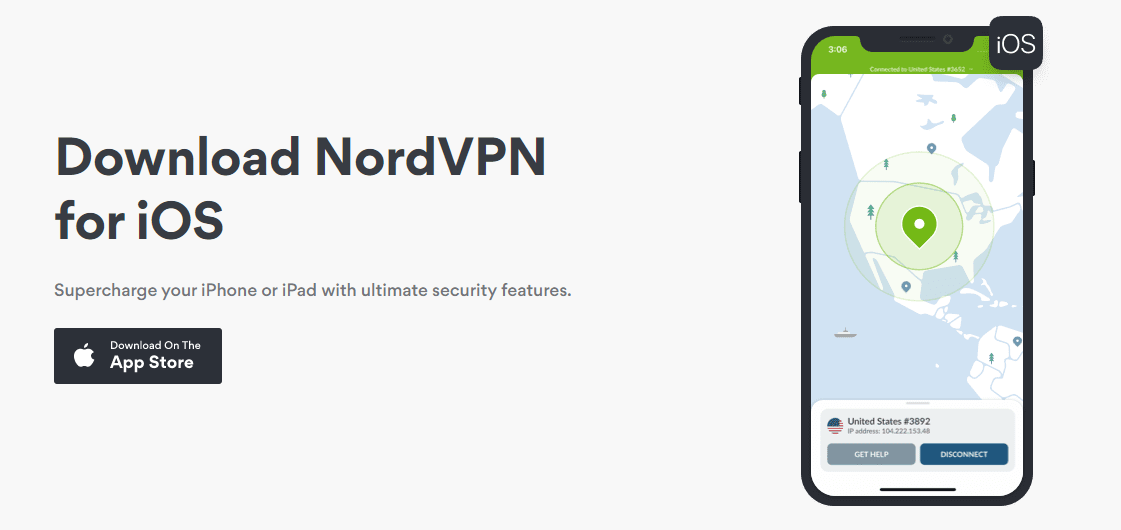 If not, you can always open the country list and connect from there. Before any connection, make sure that your CyberSec feature is active, the one that blocks ads and malware while online. This isn't the only unique feature of NordVPN, though.
You also get SmartPlay, a great tool for unblocking geo-blocked websites. Speaking of that, NordVPN is on par with the previously mentioned provider. Netflix, Hulu, HBO or DAZN are all unblockable. With some fast speeds that the provider gives, streaming will be a breeze.
Security-wise, nothing is lacking. The provider still goes guns-blazing with its 256-bit encryption, automatic kill switch, and DNS leak protection. We also like that you can pay with cryptocurrencies for added security, although you can't use PayPal – once again, for security reasons.
3. CyberGhost
CyberGhost is, in many regards, similar to NordVPN but still not better, which is why it's below in our ranking 2021 for best VPN iPad. They're similar in terms of pricing and ease of use. This provider is dead cheap and is very simple to use, making it an ideal choice for beginners.

The iOS app is very simple, too. When you install it, you get to choose what internet activity you're going to perform. For example, there's streaming, internet browsing, torrenting, and a few more. Now, you select the desired activity and you automatically connect to the best server.
Of course, you can always choose the server you want and achieve, more or less, the same result. In terms of features, CyberGhost is more than sublime. Since the company is located in Romania, we get a no-log policy, accompanied by 256-bit encryption.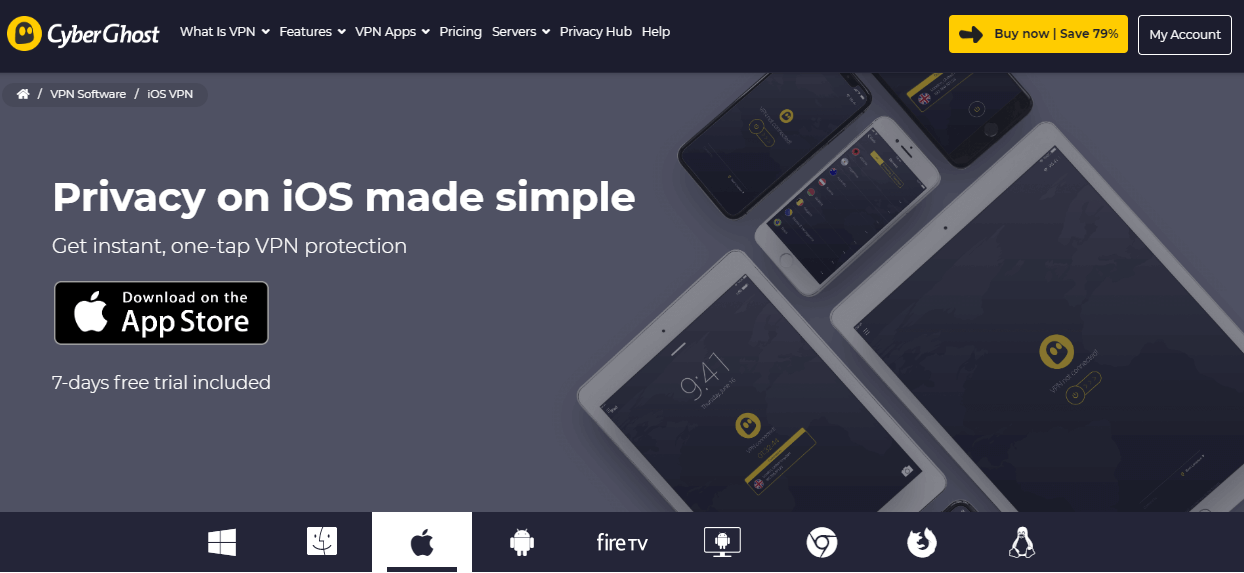 Furthermore, CyberGhost offers an automatic kill switch, even for this version of the app. Since every server supports P2P sharing, you'll also have zero problems torrenting. But, if you're using it only on your iPad, you won't need it.
If server count is your thing, know that you can choose from 6,000+ of them. This is the largest provider with the biggest server base at the moment. However, before making a decision, we must warn you it doesn't work in China, as of recently.
And if you love streaming sports, it also doesn't work with DAZN, so keep that in mind.
4. Surfshark
Surfshark is a provider that's relatively new to the market. It doesn't even have a full decade of existence, yet it always manages to impress us with its features.

Since the apps are the center point of this article, let's get it out of the way first. The provider made a beautiful, simple app for the iPad users that lets you connect in just a single tap.
You can either use a Smart Location feature or choose from 60+ countries and 1,040+ servers that the provider offers. From there, you can start enjoying your free internet access, thanks to Surfshark's feature-rich offerings.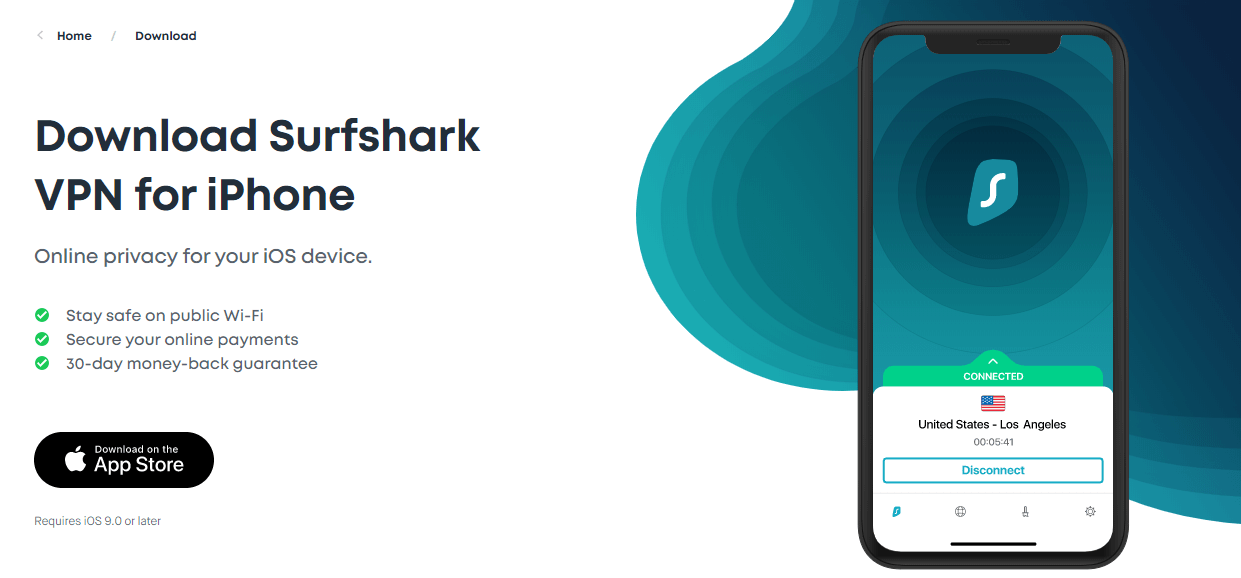 Located in the British Virgin Islands, the company doesn't store any of your online logs. They arent' forced to do that because they aren't in any way connected to the 5 Eyes. Standard security stuff includes 256-bit encryption, automatic kill switch, and DNS leak protection.
Surfshark also has a unique feature called MultiHop. It routes your traffic through several different servers, for additional security. Unblocking geo-restricted websites is also easy. You can access Disney+, Netflix, DAZN, HBO Go, Hulu, Amazon Prime Video, and many more.
For a provider this young, Surfshark managed to take the VPN industry by storm with its quality offerings. We're excited about the future of this company in this and the years to come.
5. IPVanish
IPVanish is, for many, the shady provider. When you hear that it's stationed in the United States, you'll probably think the same. But, before you spit on it, let's just say that it has a no-log policy, despite everything. This means that the CIA, NSA or the government won't be able to snoop around you.

The app's interface is simple, although not as simple as we would want. Sure, it lets you connect in one tap but there are some bugs here and there. The smart location works well and if you don't want it, you can always connect to the server you want. Speaking of servers, the provider offers 1,300+ of them in 60+ countries.
Let's make something clear – IPVanish isn't the fastest option from our list of best VPNs on iPad. However, its performance is decent. For example, it allows for P2P activities, which you can use on your other devices. Streaming is also possible, as the provider unblocks Netflix and a few other services.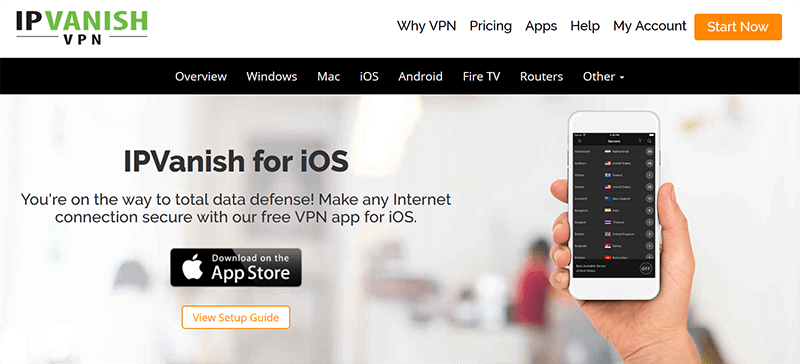 All in all, you can expect IPVanish to be a decent performer. But, don't have your hopes sky-high. After all, this isn't the top provider akin to ExpressVPN or CyberGhost.
Few Reasons Why You Should Avoid Free Options
We know we're talking a lot about premium providers and we always give less attention to the free ones. Why? The reason is simple – free VPN providers for iPad (and other devices) are far inferior. With that in mind, here are a few reasons why you should avoid them at all cost:
Lack of Certain Security Features
If you're using a Virtual Private Network, make sure it's safe and secure. This is the main point of this service – to stay anonymous while browsing the web. Sure, many of you are using it only for bypassing geo-restrictions but that's just a bonus feature.
In our opinion, you can't be 100% secure if the provider doesn't have a no-log policy. Many of them claim to have it and when you read the policy, you find out holes. For example, they store logs of how many times you've spent on the internet. Or perhaps the last time you've been using the internet. In some cases, we're even talking about storing your visited websites!
The reason free providers do this is obvious – to earn cash. But, how can they earn cash if they store your data? Simply put, they can earn cash by selling this data to third parties. Not every free provider does this but just have in mind that this is a risk.
Other security features include certain VPN protocols that many providers are missing. Plus, some of them have outdated encryption that isn't as effective.
Limited Bandwidth
Limited bandwidth is something you'll often encounter when using free providers. In most cases, you can expect it to be anywhere between 500MB and 2GB, with some exceptions here and there. Whatever the case, by limiting your bandwidth, the provider makes your internet browsing experience far worse.
This doesn't allow you to stream, download torrents or even just casually browse the internet as it's intended. Some free providers offer unlimited bandwidth but then, you get slow speeds, which is a compromise, however you choose to look at it.
Slow Speeds
Speaking of slow speeds, this is another common issue with free VPN for iPad. First, let's say that all providers decrease your internet speed. Premium providers decrease it by approximately 10%, while free providers extend it to a maximum of 80%. Huge difference, isn't it?
Well, that's one of the compromises you've gotta swallow. Slow speeds often won't allow you to do anything on the internet fast. Do you want to stream? Forget it. What about torrenting? Well, forget that, too.
Even YouTube videos can buffer for minutes with a low-quality free provider. If you're not so good with your nerves, you'll find this frustrating.
Inability to Bypass Most Geo-Restrictions
You've seen this coming from a mile away, right? Free providers, in almost every case, can't unblock the most popular streaming platforms. Some can unblock Netflix but can't unblock Hulu, for example. On the other side, some will unblock HBO GO but will not unblock Netflix, and so on.
Even if these platforms were unblocked, how would you watch movies? Remember the slow speeds and bandwidth limitations we talked about. They make watching anything on the internet almost impossible… except if you're always composed and ready to wait for the movie to buffer.
Top 3 Best TOTALLY Free VPN on iPad
Are there really free providers that don't suffer from these issues? Well… yes and no. We've made a list of 3 best free providers for iPad, although these come with some compromises, so be ready for that.
Without further ado, here are our 3 best free VPN picks for your Apple tablet:
1. Windscribe
Windscribe is our favorite free provider for a couple of reasons. First, it gives you a whopping 10GB of free data monthly. If you're willing to tweet the company, you'll also get 5GB as a bonus, resulting in a 15GB monthly cap. That's not too bad, isn't it?

Despite being from Canada, the company offers a crystal-clear zero-log policy, which is something to admire. Windscribe has servers in 10 countries, for a free plan, and luckily, there are servers in the UK and the US under this umbrella.
The app itself is very easy to use on your tablet. It allows you to connect in just one tap or use the server list below the button for connecting. Interestingly, we were able to access HBO GO and BBC iPlayer with Windscribe. Unfortunately, Netflix isn't available, so take that into account before getting it.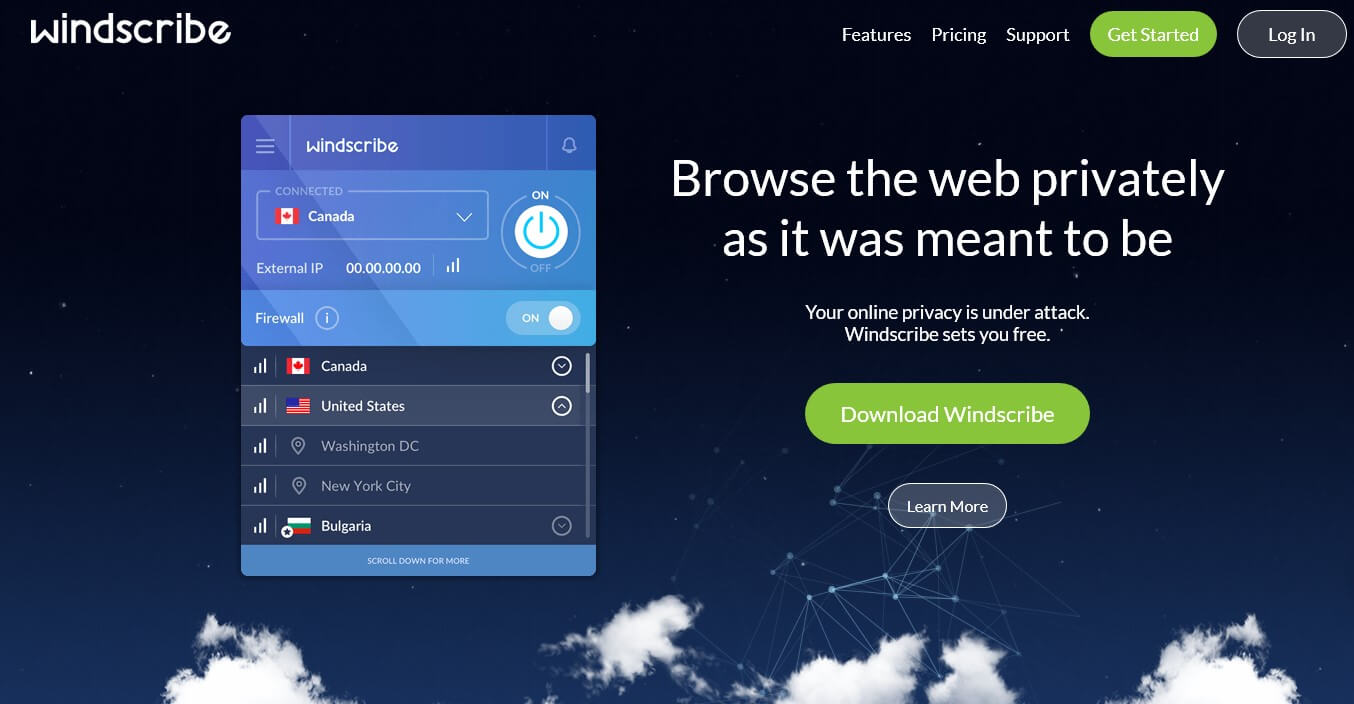 In terms of speed, this provider isn't as great as paid providers. Still, despite experiencing lagging and buffering, we'd say it's great (for a free provider!). Other features include 256-bit encryption, automatic kill switch, DNS leak protection, an ad-blocker.
For a provider that offers its services free of charge, this is a pretty nice lineup of features.
2. Hide.me
Hide.me is one of the most generous providers on this list of the best VPN for iPad in 2021. Its paid subscription offers a plethora of features that you can take advantage of. However, the free plan isn't up to par – as expected. The limitations begin from the start – you get 2GB of free internet data every month.

Furthermore, there are servers in 5 countries – Canada, Singapore, US West, US East, and the Netherlands. These servers are more than enough if you're interested in bypassing geo-restrictions. We managed to access Netflix Canada, Amazon Prime Video, and HBO GO. Other websites we mentioned aren't unblocked.
Security-wise, you can expect almost all the features found in a paid subscription. These include military-grade (256-bit) encryption, IP leak protection, ad-blocker, and a couple of security protocols to choose from.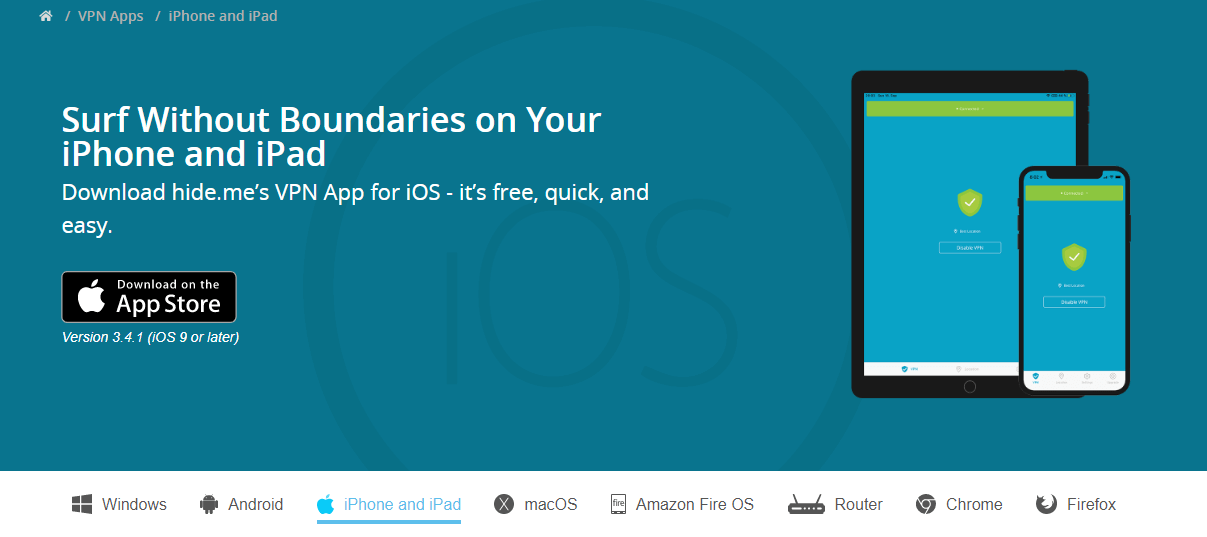 Since the company is from Malaysia, it doesn't store your logs, making it perfectly safe. There's even 24/7 customer support that you can use on your free account, which is more than we asked for.
3. ProtonVPN
ProtonVPN is yet another premium provider with a free VPN subscription plan available on iPad and iOS in general. We don't recommend buying the premium plan because it's very expensive – at least the best plan they offer. However, this free plan seems quite interesting as you get unlimited bandwidth.

To balance that, the speeds aren't exactly fast and you get servers in only 3 countries that include the Netherlands, Japan, and the US. The app, on the other side, is easy to use and requires no payment to download.
By connecting with just one tap, you'll be able to use it at the same moment. The limited bandwidth also carries some negative stuff with it. For instance, you can't torrent or stream, so if you're expecting to watch Netflix and BBC iPlayer, forget about it.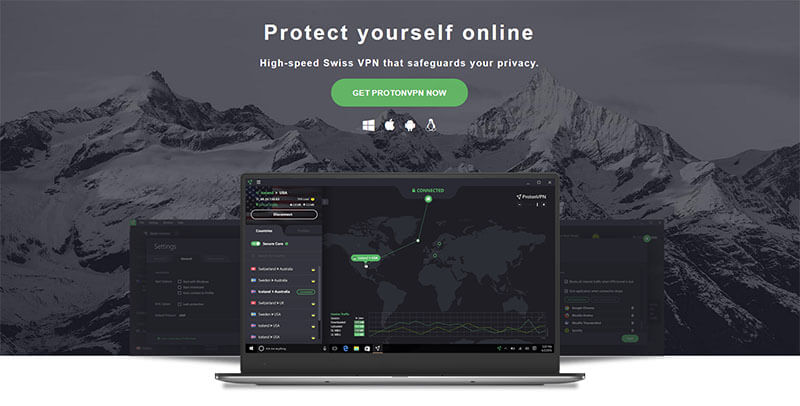 But, if you're living in China, ProtonVPN works there just fine. You get a no-log policy coupled with a built-in ad-blocker and military-grade encryption. All in all, this Switzerland-based provider isn't so bad when giving free offerings.
How do We Tested and Ranked All These VPNs for iPad?
For the end, let's see how we tested and ranked the providers on our list:
Performances Offered
Users who like streaming and torrenting will want their VPN to be very fast. We've carefully tested every provider on the list, to determine which one is the fastest. Of course, that's ExpressVPN, closely followed by NordVPN.
We tested them in different parts of the day, using different servers. As for the free providers, the difference is almost negligible. You get much slower speeds compared to the likes of the premium ones.
Security and Anonymity
Security and anonymity is something we take seriously. This website is all about internet security, so this is among the most important factors. To make sure that we're giving you only truth, we talked to each provider and asked them about their security features.
Every feature mentioned here is confirmed by the providers themselves. And if there's something we failed to mention, you can always contact the support teams and ask them about it – or leave a question below, it's your choice.
Ease of Use
The ease of use is how easy the app is to navigate. All of the providers on our ranking for the best VPN iPad are extremely easy, except for IPVanish that isn't up to par with the other providers. NordVPN, CyberGhost, and ExpressVPN still lead the pack when it comes to this factor.
Ability to Unblock Streaming Platforms
The ability or inability to unblock streaming is quite important for a provider. If the provider can unblock almost every major websites, we deem it as very good. For example, ExpressVPN can do that, while CyberGhost can't unblock DAZN, which may be important to someone.
We tried multiple streaming websites with every provider on the list, not to accidentally discredit a particular provider. Those interested in this characteristic should always pick ExpressVPN. We found that it's the best in terms of unblocking streaming platforms.