Who doesn't love some popcorns? Sprinkled with some salt and pepper, with some Coca-Cola, they represent a feast to be admired. But, today, we aren't talking about food. Our focus is on the Popcorn Time platform for streaming movies and TV shows. You'll agree that this platform is smooth and works really well. However, it's based on the BitTorrent client, which can be really dangerous in some countries. To protect yourself, it's best that you use one of the VPNs from our list below.
Is Popcorn Time Legal?
Popcorn Time is basically a BitTorrent client with an integrated media player. It allows you to stream popular movies and TV shows for free, which is why it became popular so quickly. Given its few-year existence, the company went into lots of trouble already.
It had problems with MPAA, which eventually made them shut down the entire company in 2014. The original developers attempted to resurrect it a few times and now, in 2021, it still operates. Now, the question is – why did all of this happen?
In short, because the platform streams pirated TV shows and movies. When you initiate a stream, it's the same as downloading a torrent file, which is very dangerous to do without a Virtual Private Network. We'll explain why in the following section.
Why Do You Need a VPN for Popcorn Time?
Some of you are probably using BitTorrent without any kind of protection and you have no troubles. Well, good for you, might we add. But, if you're from a country that belongs to the EU or from the US/UK, you won't be able to do that.
Countries from the EU have harsh penalties for violating copyright, while in the USA, you'll have problems with DMCA. Believe us – you want to avoid these legal issues AT ALL COSTS. They'll charge you thousands of dollars, leaving you empty-handed and broke as a joke.
While Popcorn Time looks sleek and is very useful, you need to understand that it streams copyrighted content for free. Needless to say, that's a copyright infringement. It uses several torrent sites to search for the show or the movie you want to watch. From there, it uses trackers to fetch you the video, so you can enjoy buttery-smooth streaming.
We can compare it to downloading a movie from the Pirate Bay, for instance. It's exactly the same, with the difference being that you'll watch it on your computer and here, you'll stream it. A VPN will help you to mask your IP address, rendering you invisible to your ISP.
That way, they can't see what you're doing online, so you can watch Popcorn Time without any disturbance.
How to Use a VPN for Streaming on Popcorn Time Anonymously?
Before we proceed to our top five choices, it's important to see how to use a VPN for this purpose. We'll use ExpressVPN as an example but the steps below apply to all providers. Here's our step-by-step guide:
1. Subscribe to a VPN Provider
Obviously, you'll need to subscribe to a decent provider for this purpose. Your top priority here is security and because of that, we recommend ExpressVPN. It's very interesting if you have a subscription on Amazon Prime Video or Netflix since it will also let you access your account from abroad.
Currently, the provider offers a 49% discount and 3 months free for a 12-month subscription plan, making it a great choice.
2. Download and Install the App
Upon buying a subscription, you'll need to download the apps. Since you'll use this platform on a computer, download the Windows app. Install it, log in with your credentials, and you'll access the home screen.
3. Connect to the Server You Want
ExpressVPN has a very simple interface. Click on the country under the button for connection. Choose the server you want, and then, click on the button to connect.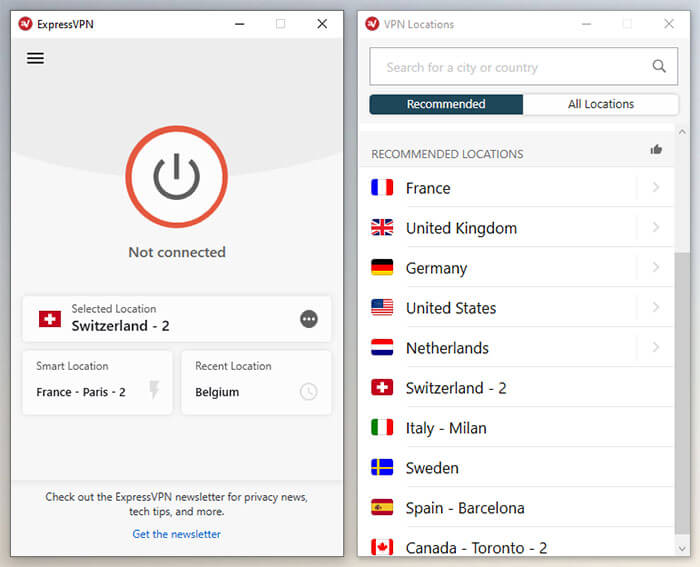 When the connection is established, you're ready to access the internet anonymously. Don't forget to check that the Kill Switch feature is ON. Normally, it is by default 😉
4. Enjoy Popcorn Time Anonymously
Here, the only thing left to do is to connect to Popcorn Time and enjoy your favorite shows and movies.
Top 5 VPNs for Popcorn Time in 2021
For accessing Popcorn Time safely, we've chosen the fastest and the most secure VPN providers for you. Here are our best picks:
1. ExpressVPN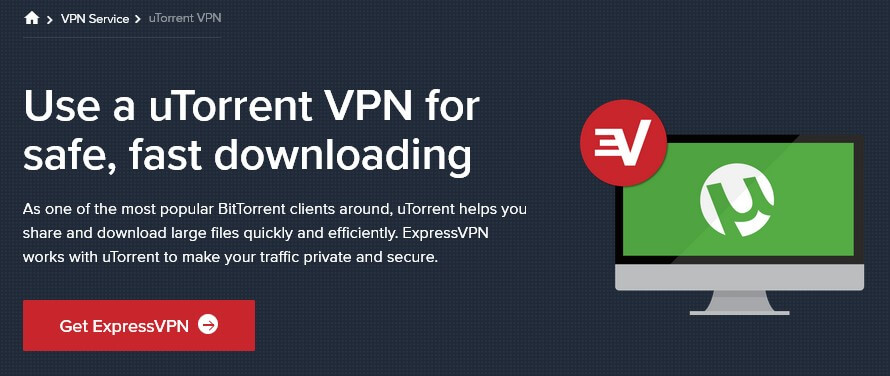 ExpressVPN is the best Virtual Private Network that your money can get. The company is located in the British Virgin Islands and from there, it operates 3,000+ servers in 94 countries worldwide. This location is particularly great because it ensures total privacy and anonymity.
For that reason, the provider offers a transparent zero-log policy, which is one of the main conditions for enjoying torrenting – as this is the same. Now, what about speeds? We proudly announce to you that this is the fastest one you can get. If you don't believe us, you might as well check our ExpressVPN review.
When you connect to it, the provider protects your connection with military-grade encryption. Furthermore, there's IP and DNS leak protection, so that your IP doesn't accidentally get exposed to your ISP. The provider explicitly supports P2P activities, so it's impossible to violate copyright while using it.
The support for routers is here and with it, you can protect up to 16 or 32 devices in your household. With split tunneling and 24/7 live chat support, ExpressVPN is an all-around provider for everyone. If you want zero compromises, this is the one to go for.
Enjoy Buffer-Free Streaming With ExpressVPN >
2. NordVPN

NordVPN is great when it comes to unblocking sites and bypassing geo-restrictions. For Popcorn Time, that's not very important. However, that's an indication that we're talking about a high-quality provider.
The company is from Panama, which is a very VPN-friendly country. It has 5,600+ servers in 61 countries, resulting in a huge server network. These servers are high-speed, offering you possibilities for streaming, torrenting, gaming, and even gambling.
Aside from this platform, you'll be able to enjoy Netflix, HBO GO, Hulu, and DAZN. Amazon Prime Video is also here, of course, if you use the US IP address. You can even see F1 races if you unblock RTS or RTBF.
For streaming, there's a special SmartPlay feature and to make things more secure, there's Double VPN, Onion Over VPN, and a zero-log policy. Since torrent sites and clients are known for ads, the CyberSec feature is here to remove them, further improving your speeds.
We like that it has 24/7 customer support through the live chat. Also, it offers other safety-oriented software like NordPass and NordLocker, for instance. All in all, NordVPN is still a force to be reckoned with if you're looking for the best VPN to use on Popcorn Time.
Get NordVPN with a 70% Discount >
3. CyberGhost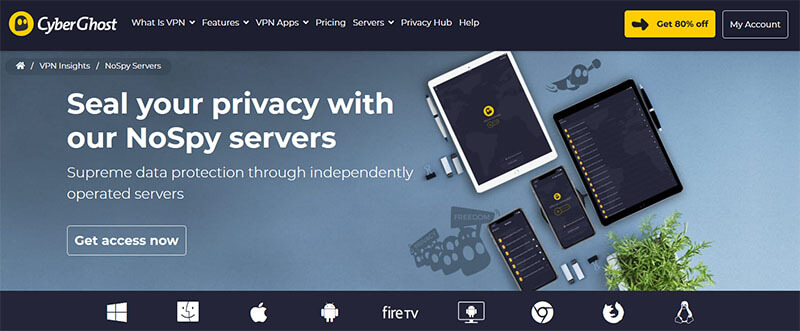 CyberGhost is known for its huge server network. To be concise, it offers 6,200+ servers in 91 countries. We often tell that it's a great VPN for beginners and now, we'll tell you the same. With its simplistic UI and cheap prices, you'll love every second of using it.
Speaking of prices, its 3-year plan is dead cheap, so you might wanna check it out. Now, back to performance, you can expect dedicated servers as a highlight. They're dedicated to streaming and torrenting, enhancing your already great experience.
Furthermore, you can access Netflix, Sling TV, and even Hulu with it easily. Regarding Popcorn Time, CyberGhost VPN offers a lot of P2P servers since you're going to use BitTorrent. You can choose one of the dedicated servers, connect to it and voila – enjoy streaming to your heart's contempt!
Being from Romania, CyberGhost doesn't store any logs. On top of that, it encrypts your connection with 256-bit encryption and offers NoSpy servers. They will allow you to evade the prying eyes of your ISP and the government.
Watch Popcorn Time With CyberGhost >
4. Surfshark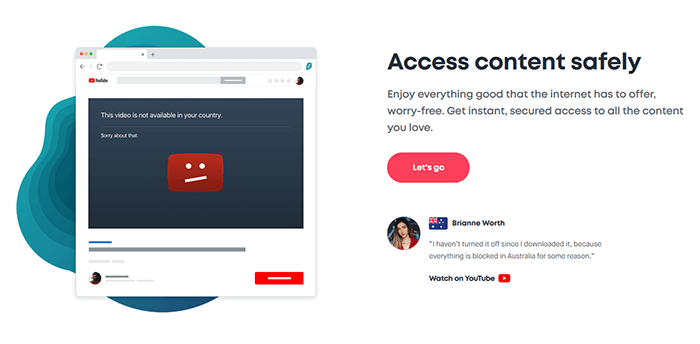 If we had to choose the UI design of the year, Surfshark would probably be at the very top. This provider has apps that look sleek, modern, and elegant, yet the functionality remains intact. The provider is hell-bent on bringing you an unforgettable experience, which it does effortlessly.
Now, in terms of performance, Surfshark is a pretty good provider. You get fast speeds and tons of bonus features. There's a NoBorders mode for bypassing censorship, CleanWeb to block ads, and even Whitelister, for whitelisting websites.
Surfshark unblocks Netflix but also keeps you anonymous when downloading torrents with its 256-bit encryption. The provider is, by many, considered unique because it offers unlimited simultaneous connections. You can now protect every device you have with a single subscription.
It even supports routers, if you want to be sure that every device in your house is protected. Given that all servers support P2P activities, Surfshark is one of the best VPN options for Popcorn Time in 2021. It's also very cheap and affordable, so it's worth checking out.
Stay Anonymous With Surfshark >
5. Hide.me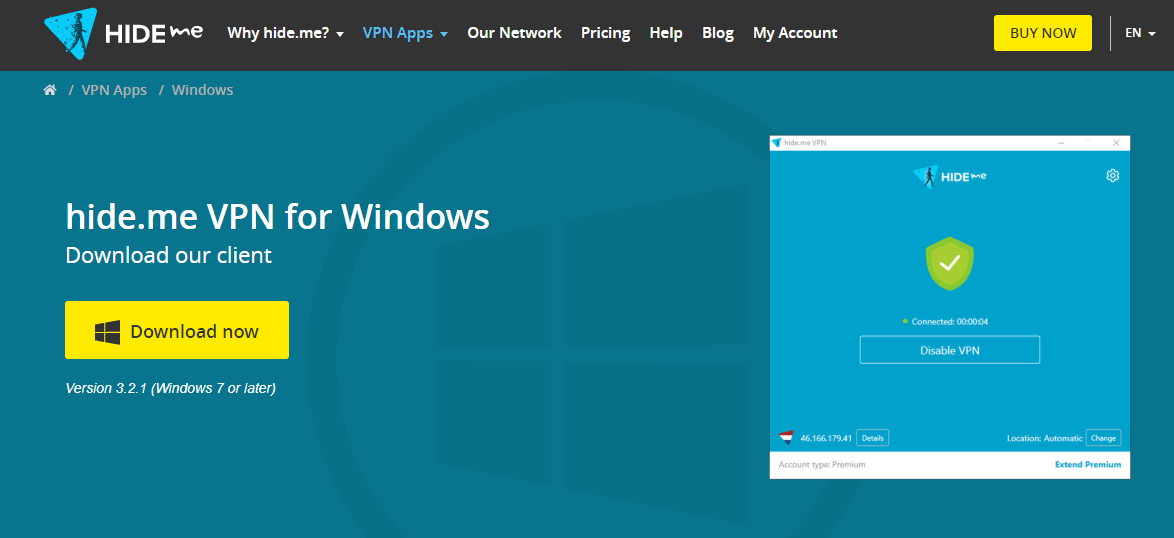 Finally, we have Hide.me, a provider from Malaysia that focuses primarily on security. That is what we want, right? Its speeds are solid but the main focus here is your privacy. The provider offers a short but sweet zero-log policy, explaining that it doesn't store any of your personal info.
Furthermore, it has its own DNS servers, meaning that your ISP doesn't have any chances of detecting you. And speaking of that, there's IP and DNS leak protection accompanied by strong encryption. Hide.me is great for torrenting and although it's not our #1 choice for streaming, you can enjoy this platform effortlessly.
The server count is solid and you get 1,000+ servers in 60+ locations worldwide. While it's not a jaw-dropping number, enjoying Popcorn Time is guaranteed. You can also use Hide.me free proxy service and password generator, in case you want a strong, secure password.
FAQ
To digress, let's answer some of the most commonly asked questions we get regarding VPN and Popcorn Time.
Can Free VPNs be Used for Popcorn Time?
No, we don't recommend using them for this platform. Since you want to ensure maximum privacy, security, and speeds, you want to use only the premium VPNs. Free options lack rock-solid security, have slow speeds, and offer limited bandwidth.
Some of them even collect and sell your data to third parties, such as PureVPN and Hola VPN. As for limited bandwidth, you can expect from 500 MB to 10 GB, which is simply too low for this or any other purpose.
Long story short, you should NOT use free providers for P2P activities.
Can Popcorn Time Infest My PC With Malware and Viruses?
No, it can't but only if you download the app from its official site. Just for the reference, this app is completely FREE. If you, in some cases, find the app that forces you to pay, run for the hills! It's fraudulent and will only take your money and potentially infest your PC with tracking software.
However, the free app doesn't pose any threat to your devices. Use the link we placed above to download the verified app.
Will I Face Consequences for Using Popcorn Time Without a VPN?
Yes and no. Know that all ISPs worldwide can see your activities online without a VPN. However, some of the countries turn a blind eye to copyright infringements. So, if you're from Croatia, for example, you'll probably not face consequences. But, if you're from Germany, or United Stated, you probably will, especially because of its 14 Eyes jurisdiction.
To make sure that's not going to happen, we strongly recommend using this service as a means of prevention.
Is Using a VPN for P2P Activities Legal?
Using a Virtual Private Network is legal. If your provider supports P2P activities, it's perfectly legal. If not, it will probably give you a copyright warning, after which, you'll face the consequences. But, in a majority of cases, using it for P2P activities is legal.